Every year, dedicated markets to the Advent season ensure that everyone gets into Christmas mood in Germany. Countrywide, there are thousands of Christmas markets – some of them being open the whole season or only for a day. Moreover, all of them are unique and different to each other.
This means that you are spoilt for choice.
Maybe I can inspire you to choose the right place to experience magical Christmas markets and vibes in Germany.
How about Cologne in Germany's state North Rhine-Westphalia, a.k.a. NRW?
Quick Links
Winter wonderland at Heumarkt
Let me kick off at the ctiy's origins. The Christmas market at Heumarkt is located within the old town of Cologne and belongs to the "Heinzels WIntermärchen"(probably the city's oldest). So why do I split this one with the rest?
This part offers one very special and exclusive attraction which the other part, as well as the rest of the listed locations, don't– a winter wonderland in the shape of an ice rink.
Either you rent a pair of ice-skates and do some cheeky ice-spins on your own or you simply observe the others while drinking hot mulled wine. Heumarkt offers two great observation platforms with a fantastic view of the ice rink.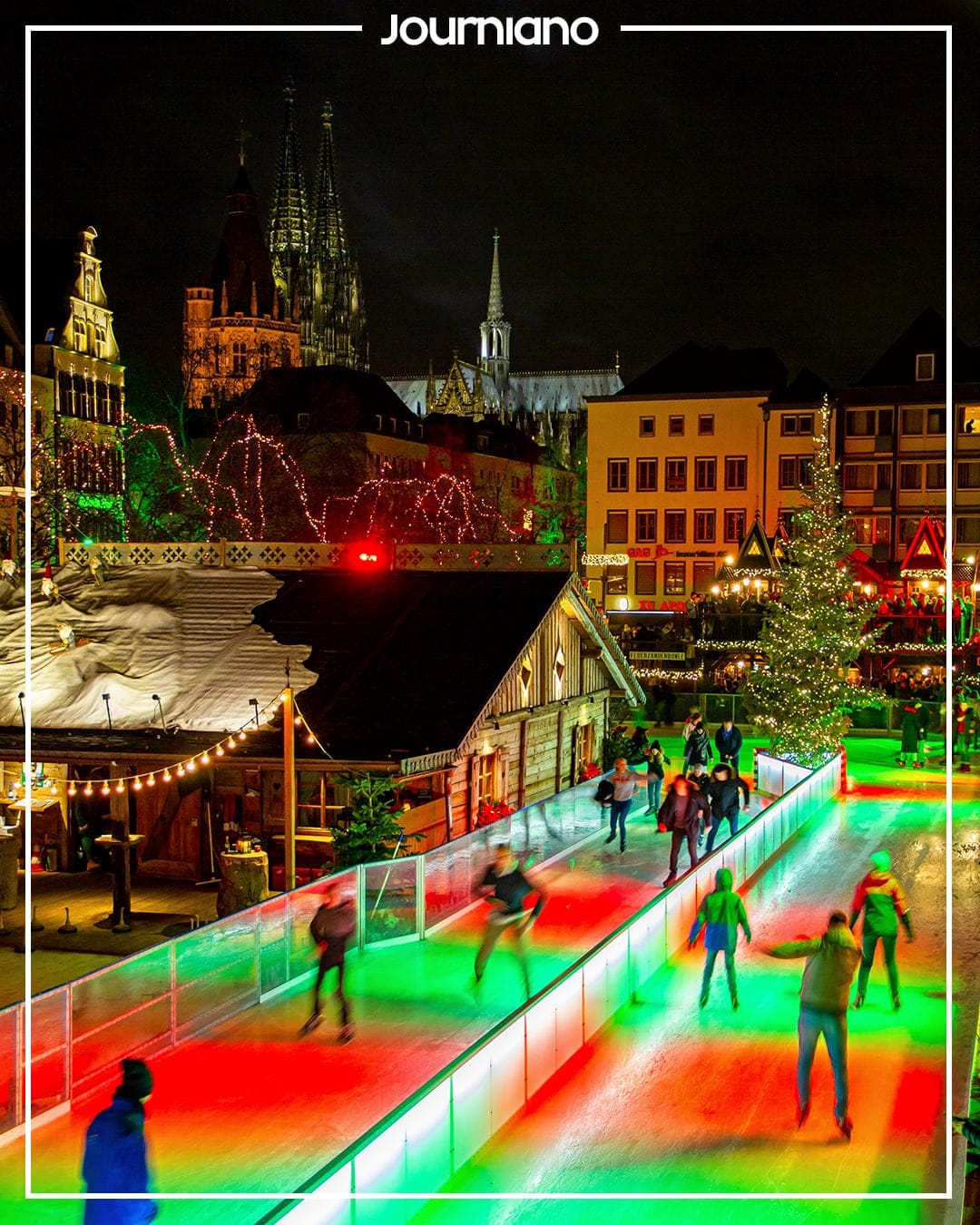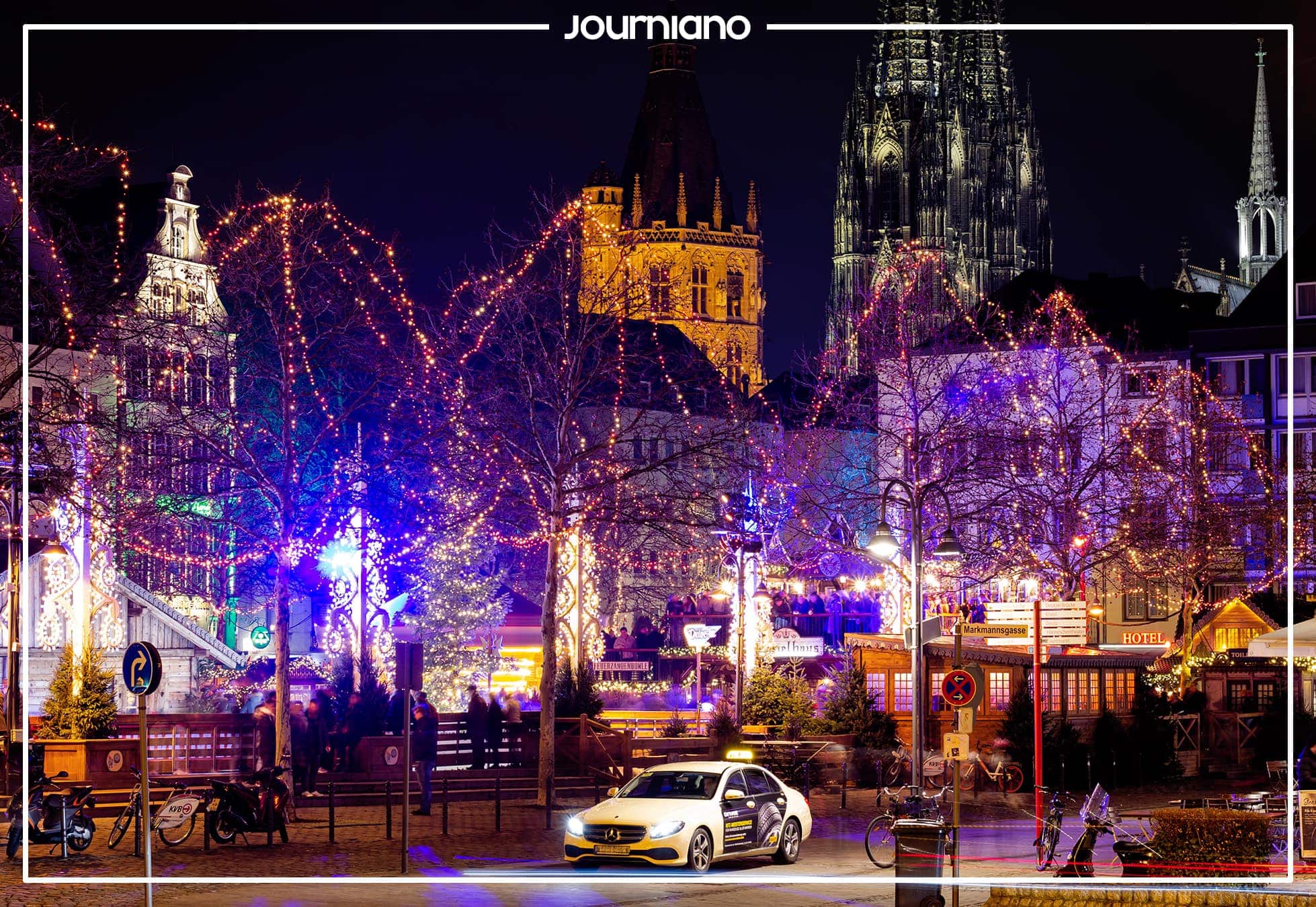 Opening dates and hours of Christmas market at Heumarkt
25.11. – 05.01.2020
everyday except 24. & 25.12.
11am – 22pm, from 26.12. 11am – 21pm
How to reach Heumarkt
Mystic Christmas market at Alter Markt
Part two of Heinzels Wintermärchen is located just around the corner at the square Alter Markt (old market). While the previous Christmas market stands out with impressive colourful flashing lights, this one scores with colourful and mystic illuminations.
This Christmas market is so magical that someone could think of being in a set of a Christmas movie. Those naked trees and monuments getting illuminated by different coloured lights evolve an unparalleled vibe.
Moreover, one of the most underrated and overlooked buildings stands right at Alter Markt – the Rathaus, Cologne's city hall. First, its facade is striking and full of details. Second, when being illuminated at nightime, it perfectly fits in the mystic scene of the Christmas market.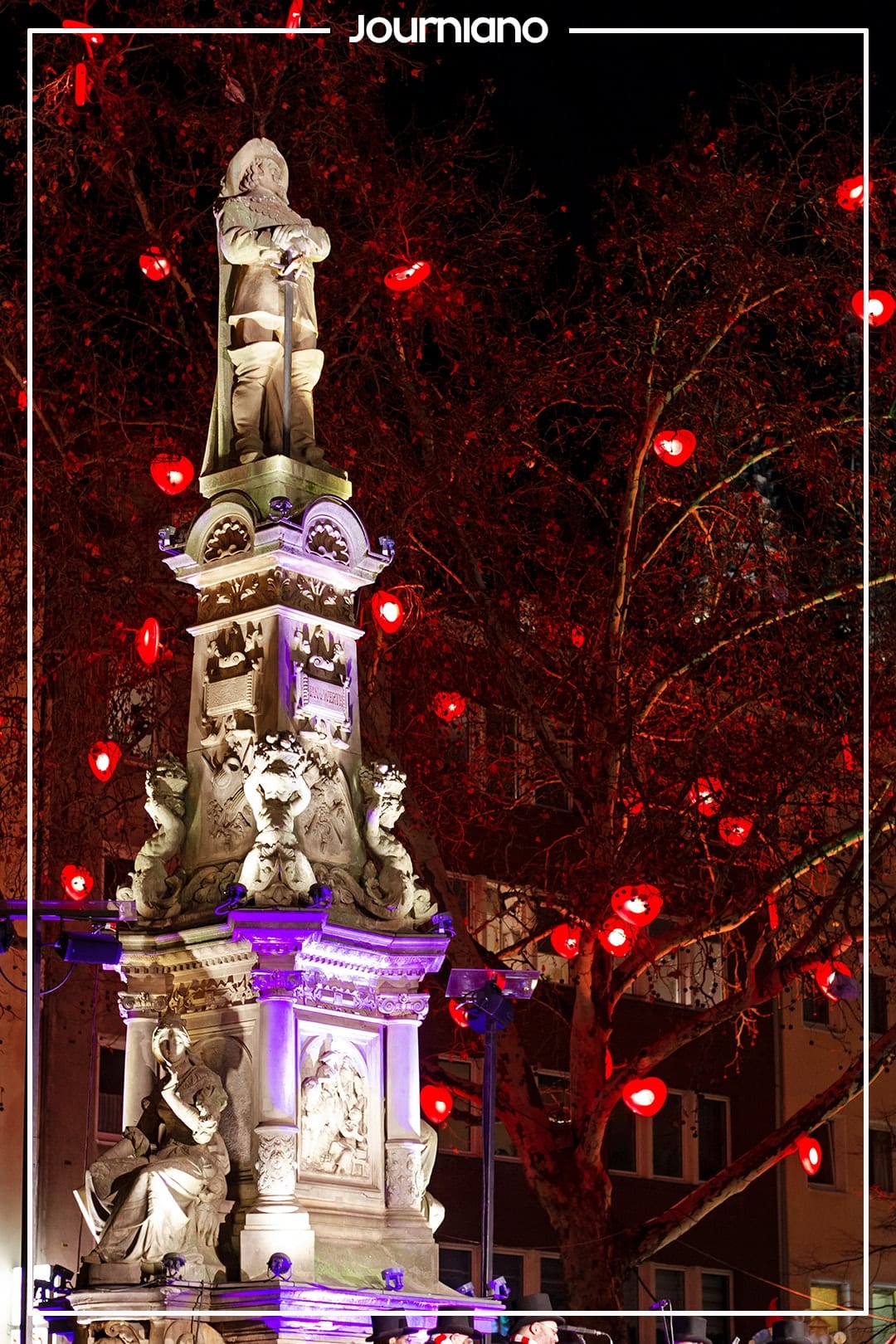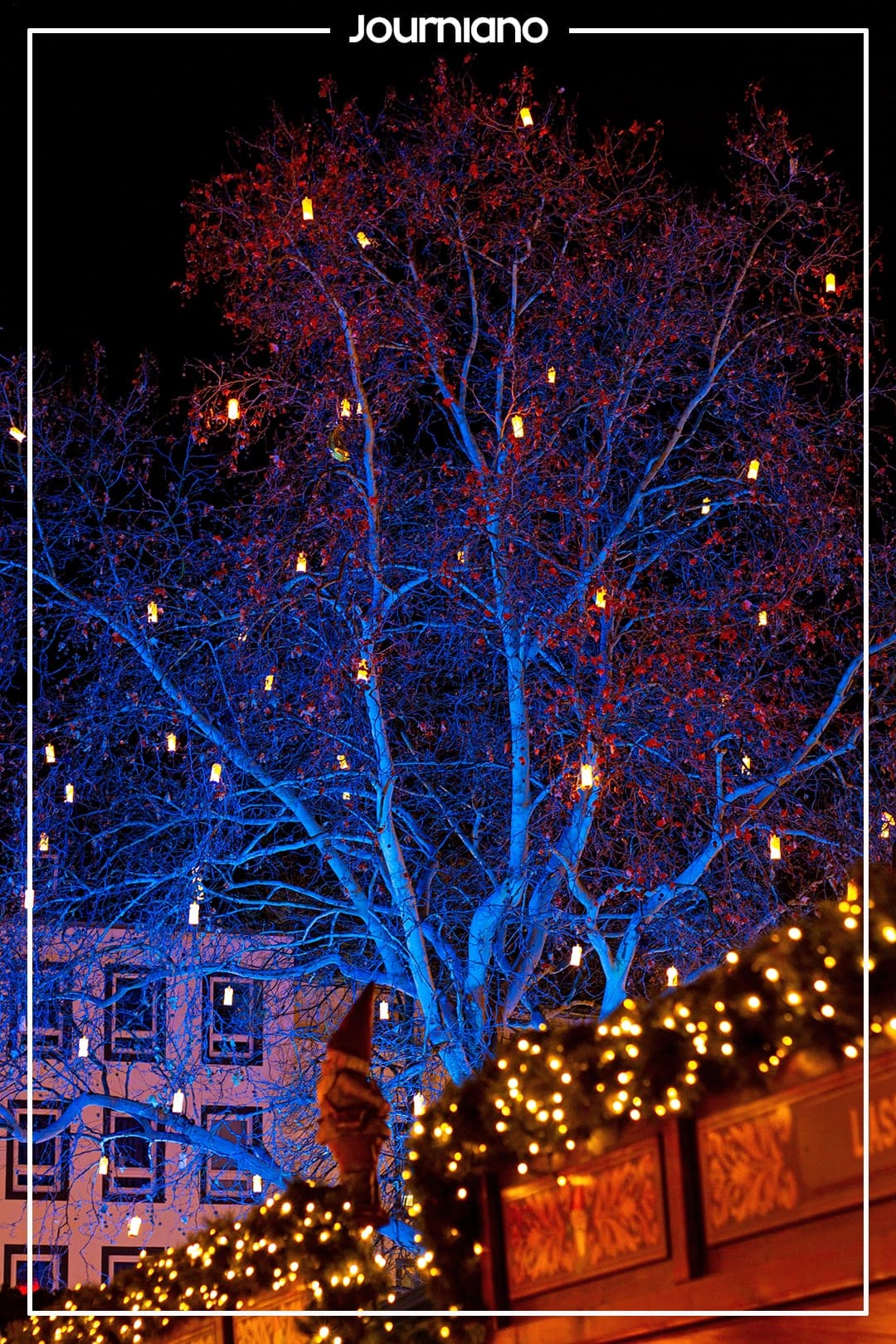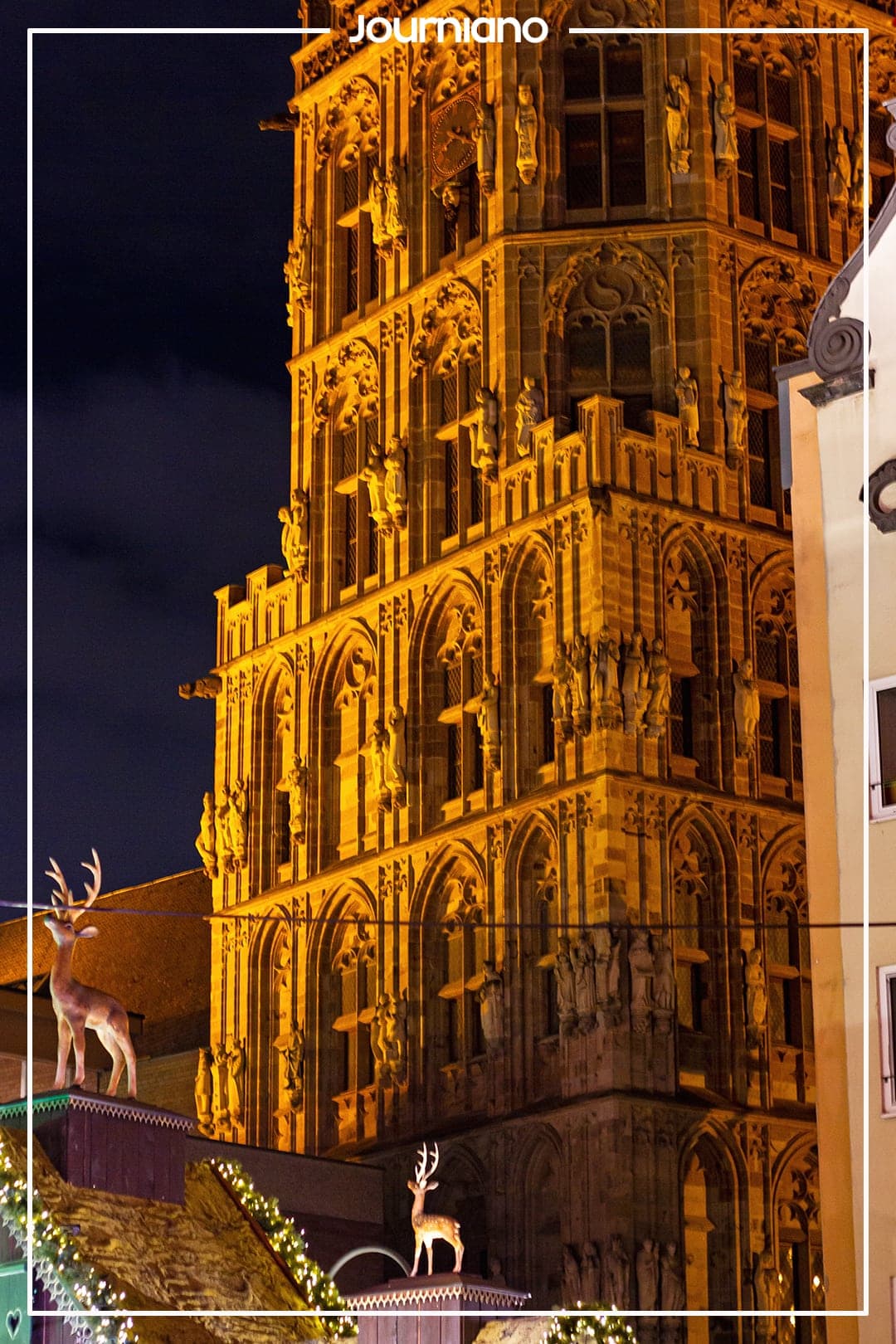 Opening dates and hours of Christmas market at Alter Markt
25.11 – 23.12.2019
Open everyday
11am – 10pm
How to reach Am Markt
Sweet Christmas market at Am Hof
A rather small but sweet Christmas Market awaits you after hopping quickly from Alter Markt to the bottom of the Dom plate. The tiny square, located at the street Am Hof, doesn't offer many attractions. Nevertheless, it's unique within the city centre, as there aren't many cosy options.
Furthermore, you can even enjoy the view of Kölner Dom without going upstairs to the plate where it's much more crowded. By nighttime, you seek the most Christmas vibes at that place.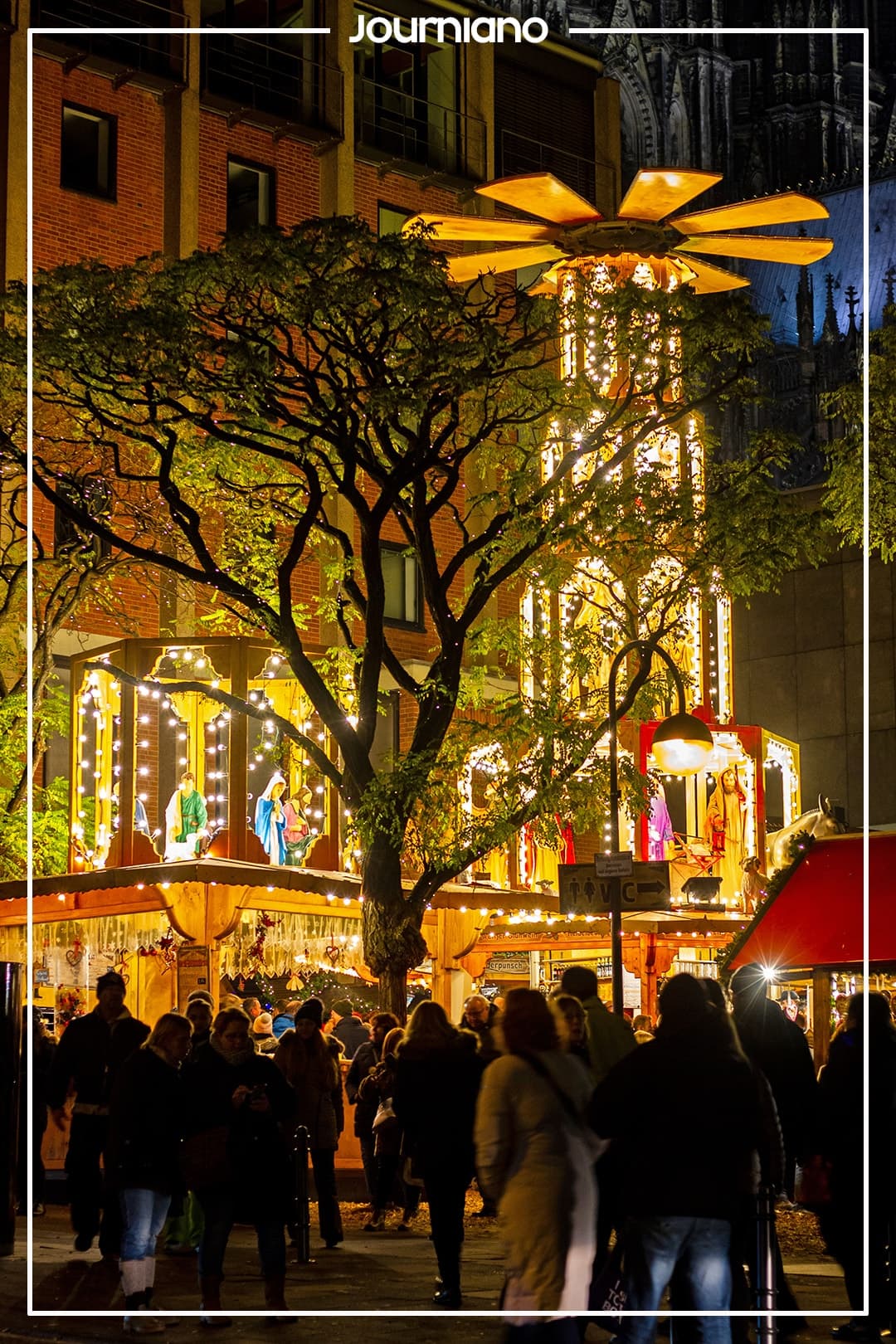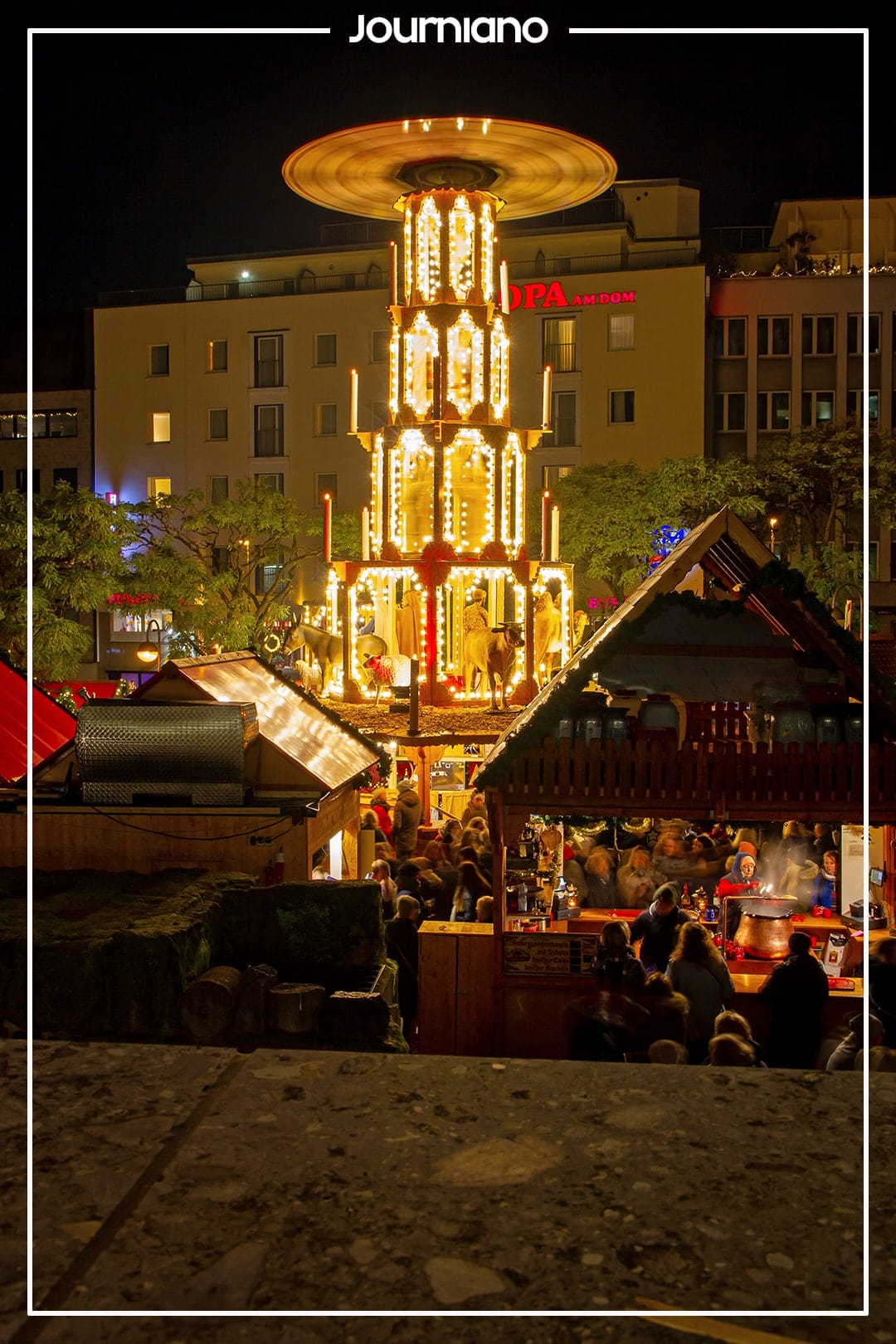 Opening dates and hours of Christmas market at Am Hof
Unfortunately unknown at the moment
How to reach Am Hof
Christmas market at Cologne Cathedral
This is maybe the most famous Christmas market in Cologne as it is located at Roncalliplatz, right at the Cologne Cathedral's gates. In the same time, it is probably the most crowded one in Cologne, thanks to masses of tourists around the "Dom" (as it is called in German) and its proximity to Central Station.
However, its red stalls create a pretty warm and gorgeous atmosphere though, especially in combination with the massive towers of Cologne Cathedral. Furthermore, a big Christmas tree increases the magical spirit at that place.
Unless you you avoid crowded places, I'd recommend to check it out at least.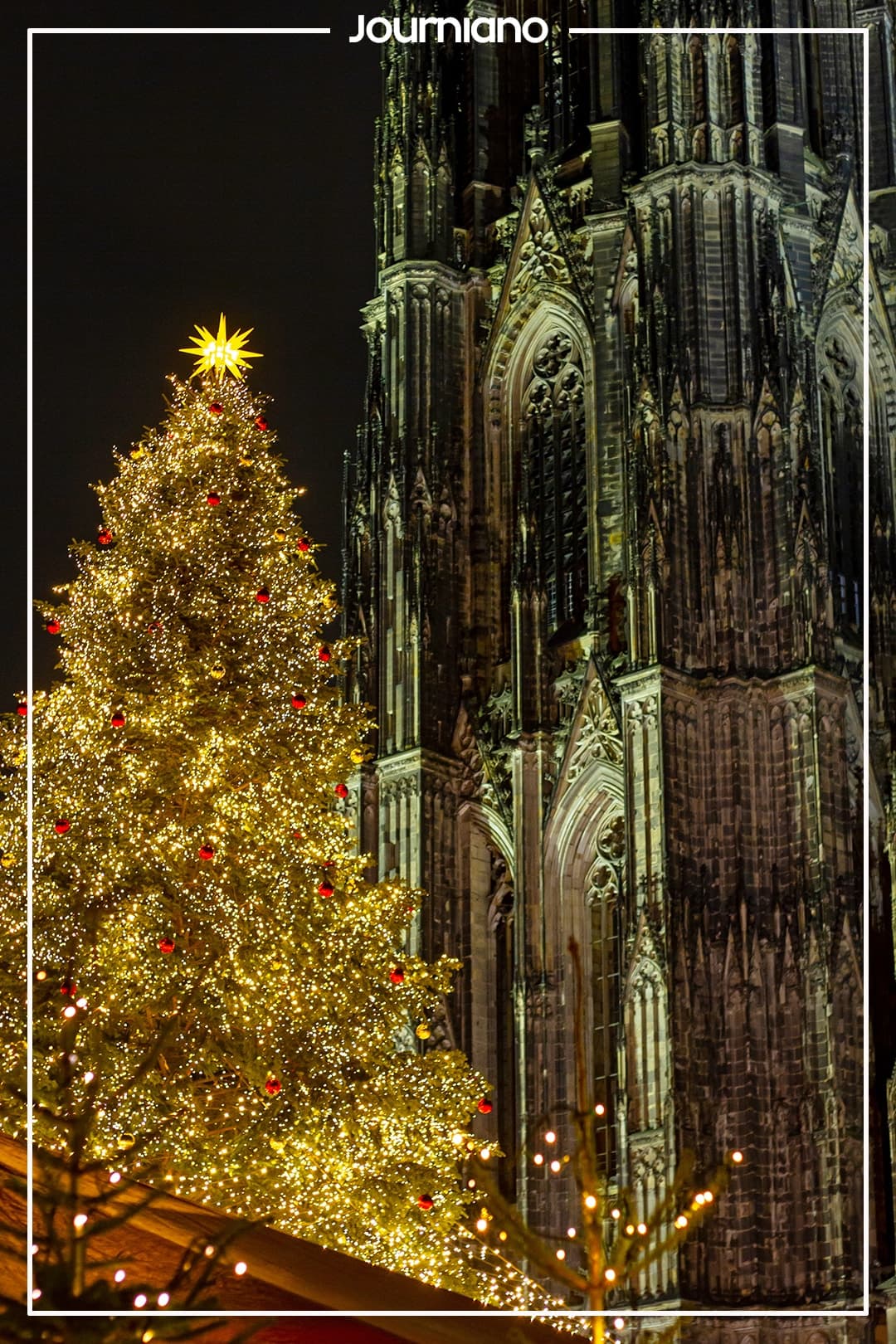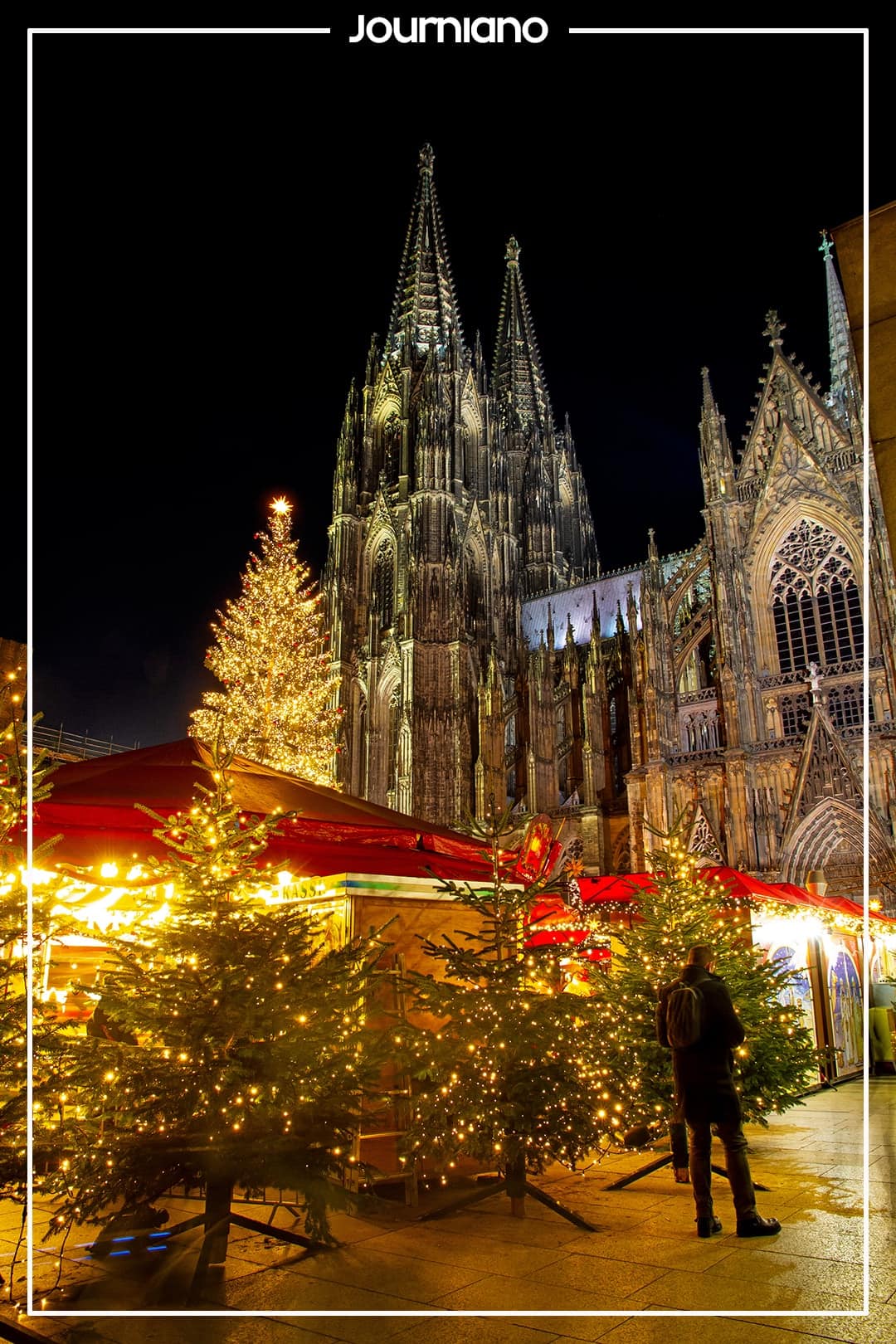 Opening dates and hours of Christmas market at Cologne Cathedral
25.11. – 23.11.2019
Open everyday
Sun – Wed 11am – 9pm
Thu – Fri 11am – 10pm
Sat 10am – 10pm
How to reach Cologne Cathedral
The smallest and cosiest Christmas market in Cologne – Lutherkirche
It's time for the smaller Christmas markets to shine bright again. Lutherkirche, located in the city's ward "Südstadt", awaits the visitors with two hand full stalls at the church's tiny courtyard. This makes it Cologne's smallest Christmas market.
Moreover, it's also the cosiest Christmas market you find in town. If you think getting bored at that small place, you're wrong. This place embodies the Christmas magic as no other. In fact, it is so well visited that you always get involved into a chat with Cologne's open folk.
One thing must be emphasised in particular. The Christmas market at Lutherkirche is a charity event. Thus, every cent you spend there, will be donated to a good cause.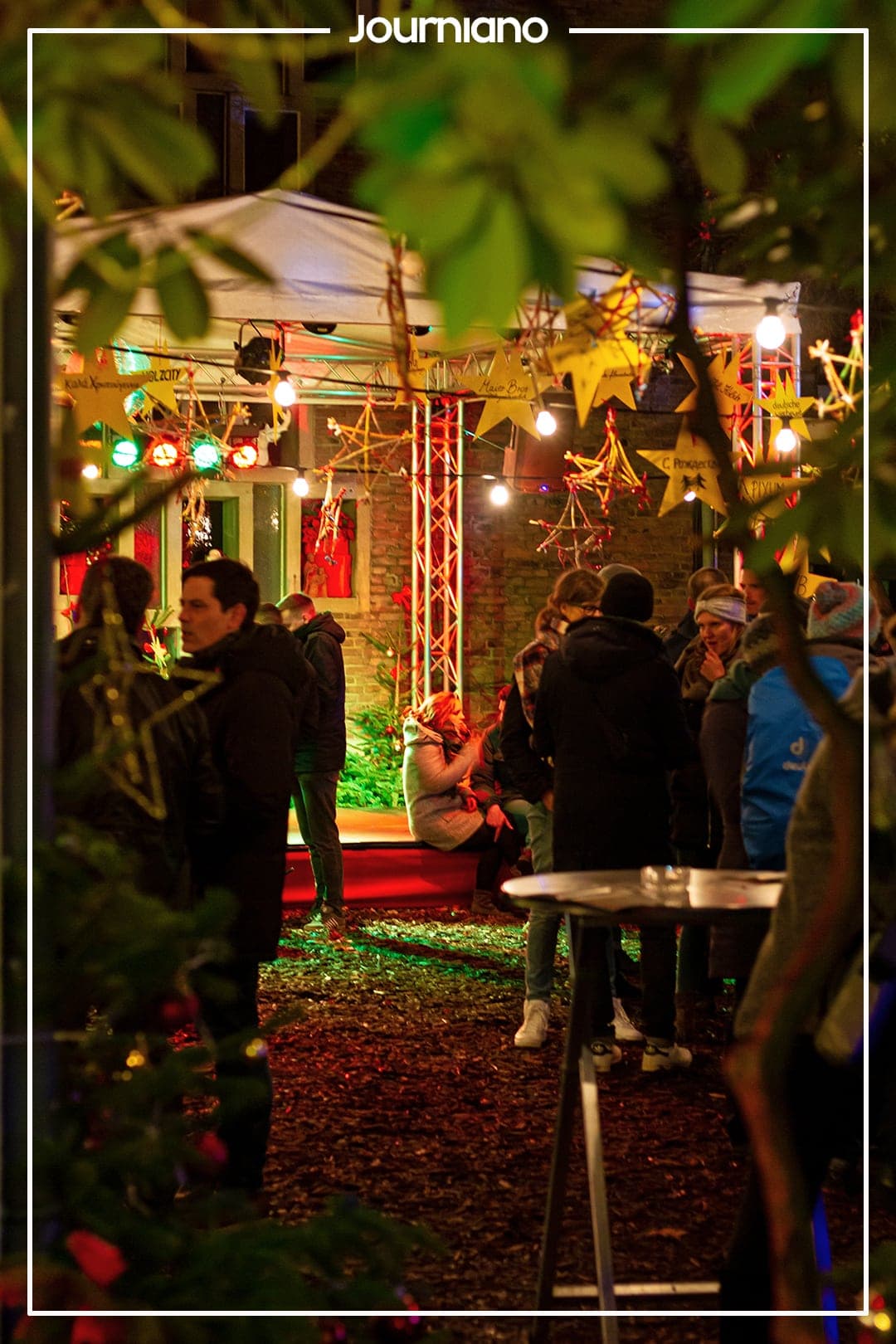 Opening dates and hours of Christmas market at Lutherkirche
20.11 – 22.12.
Open everyday
Mon – Fri 4pm – 10pm
Sat – Sun 2pm – 10pm
How to reach Lutherkirche