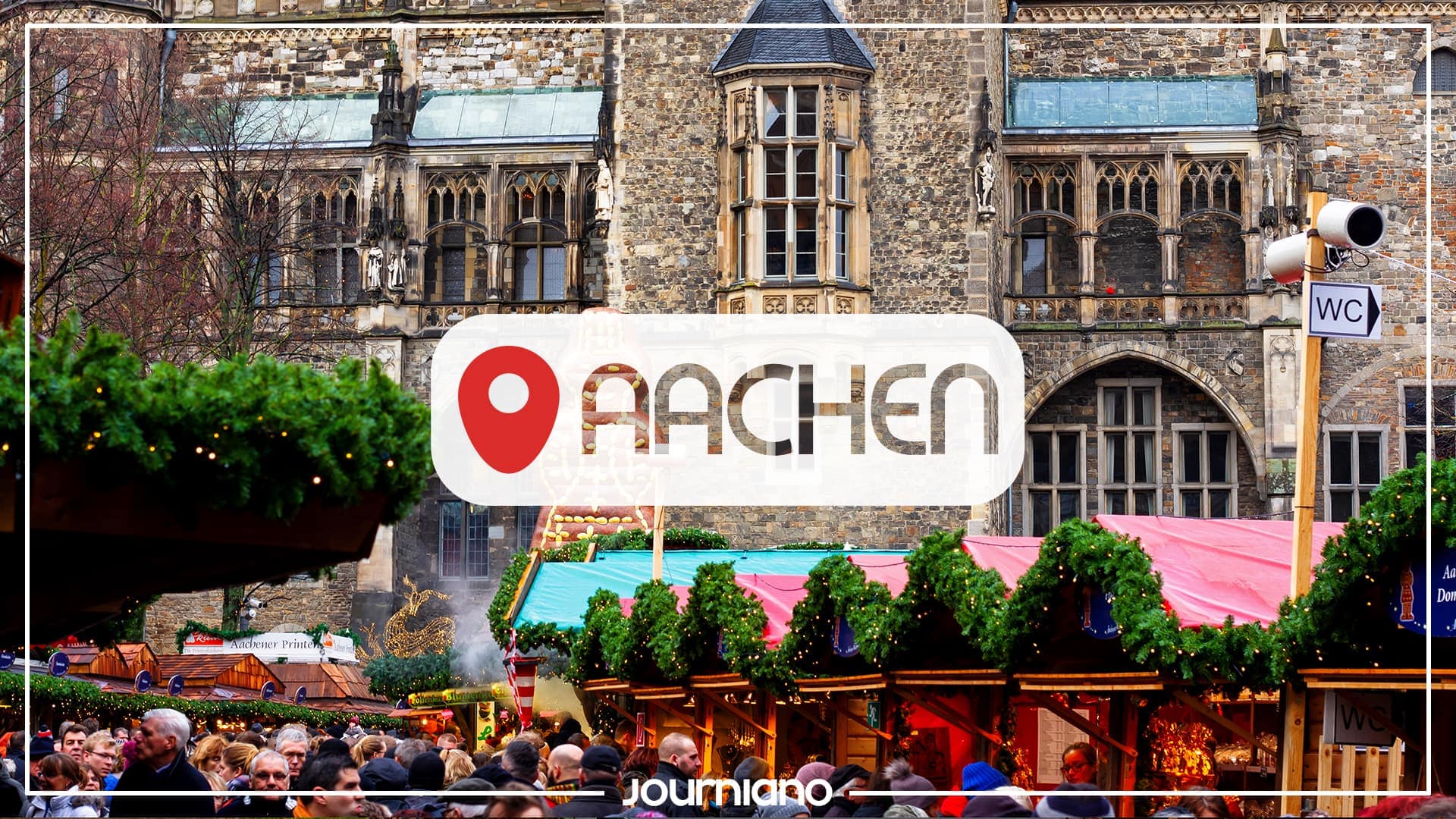 Every year, dedicated markets to the Advent season ensure that everyone gets into Christmas mood in Germany. Countrywide, there are thousands of Christmas markets – some of them being open the whole season or only for a day. Moreover, all of them are unique and different to each other.
This means that you are spoilt for choice.
Maybe I can inspire you to choose the right place to experience magical Christmas markets and vibes in Germany.
How about Aachen in Germany's state North Rhine-Westphalia, a.k.a. NRW?
Aachen is a German city close to the Dutch (Maastricht) and Belgian (Eupen) borders and approximately 60 km south west of Cologne. Furthermore, its residents are rather young due to its university, unlike the city's age. If you like old cities with great medieval touches, then check out how they can harmonize with Christmas vibes.
Quick Links
Pontsstraße – Approaching the magic
Don't hesitate to start the tour from the northern part of the city centre. Beginning at Pontstor, Aachen's beautiful old northern city gate, the following street with the gate's name Pontsstraße will lead you to the first possible magical Christmas market.
Enjoy the street's surroundings and Christmas vibes. Keep an eye to your left and right side every now and then. Architecture wise it gets very interesting every step closer to Aachen's city hall square. There, where the magic awaits you.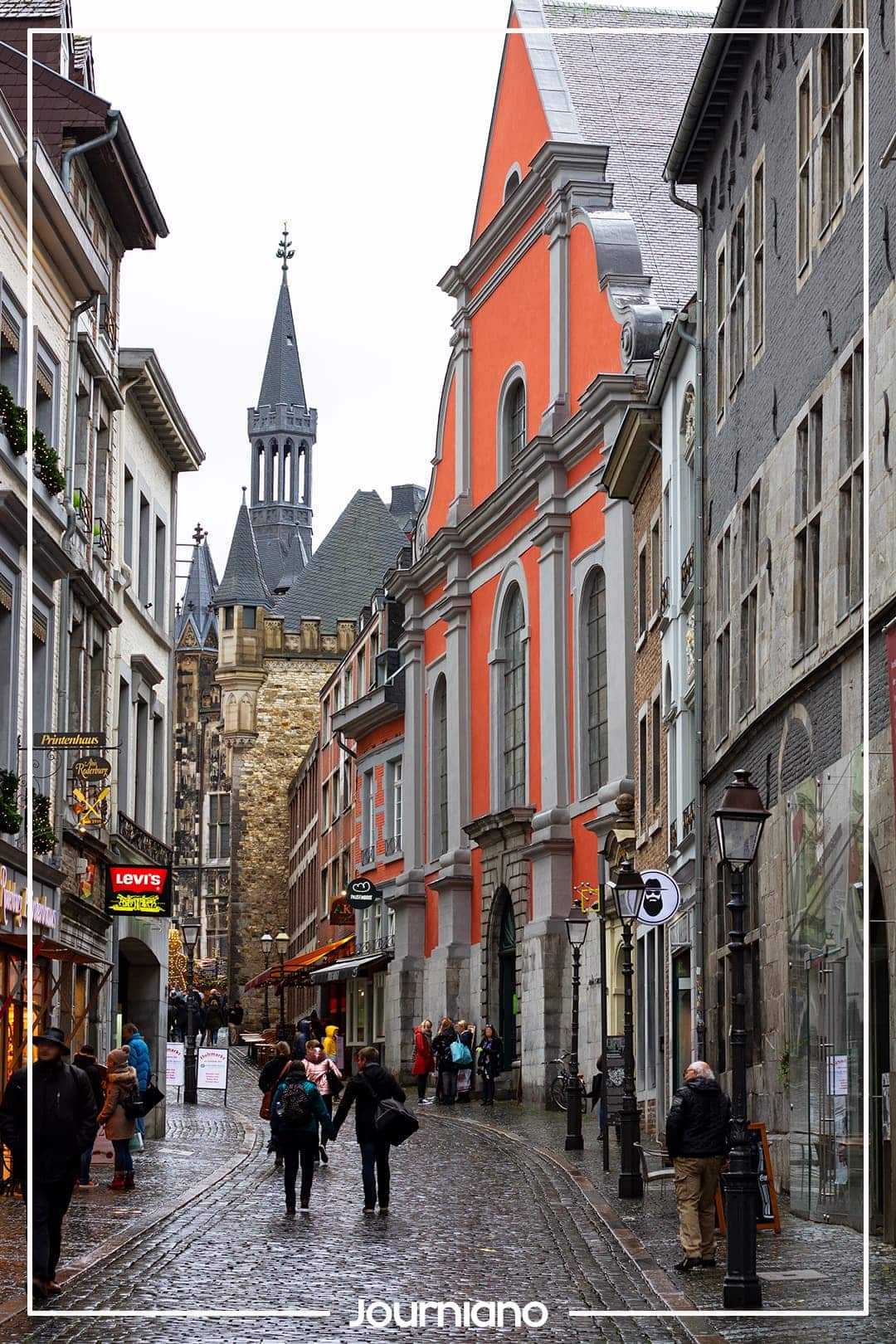 Aachen's magical Christmas market at Marktplatz am Rathaus
As if you haven't already noticed that you finally approached the Christmas market at Aachen's Marktplatz am Rathaus (market square at the city hall), you get warmly welcomed.
This Christmas market offers everything you'd desire. In case you haven't tasted Aachener Printen yet (gingerbread/German lebkuchen), this might be your chance to change it there.
Seek the atmosphere as much as possible and have a good look at the surrounding city scape. Especially the old Rathaus (city hall) is gorgeous.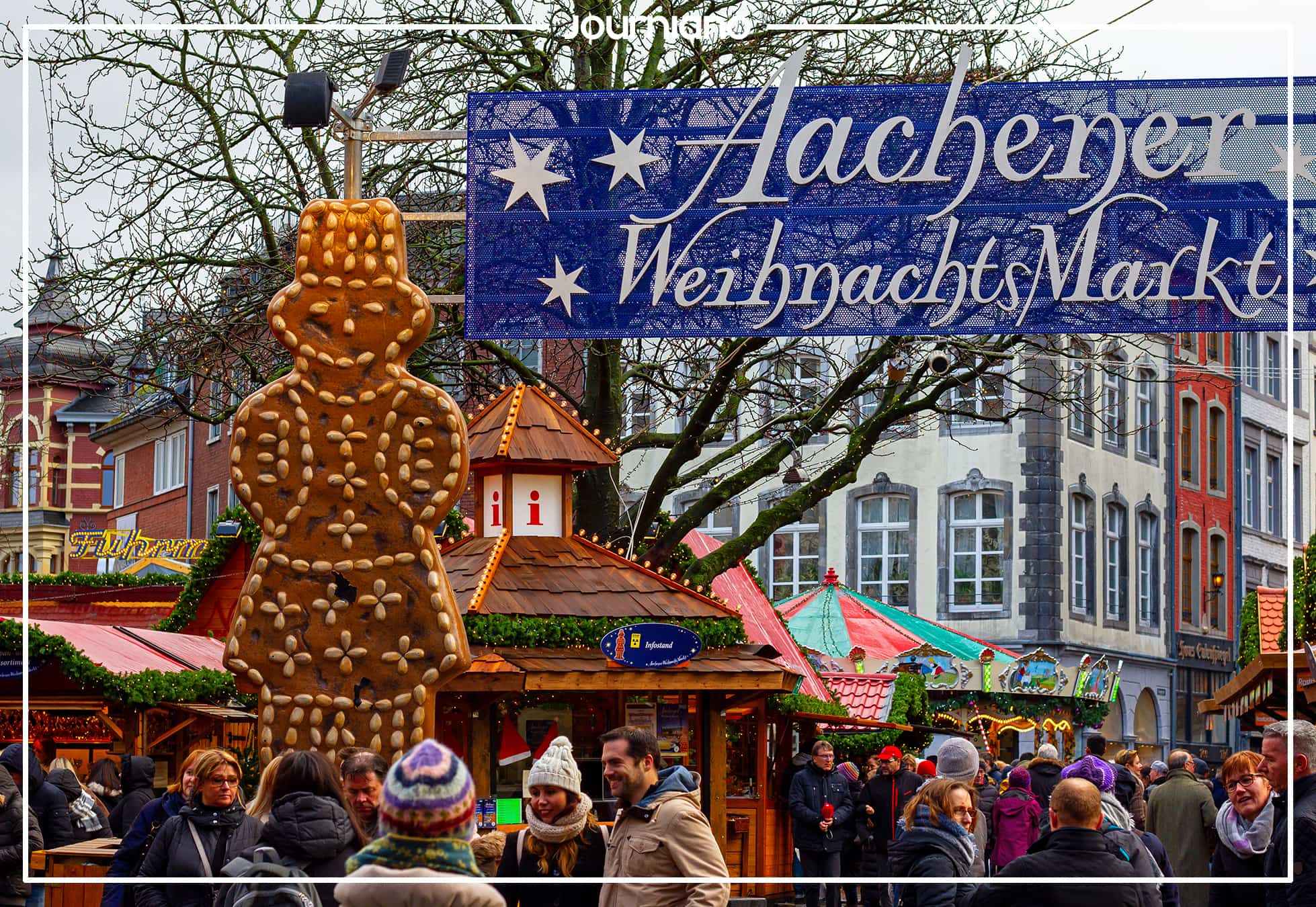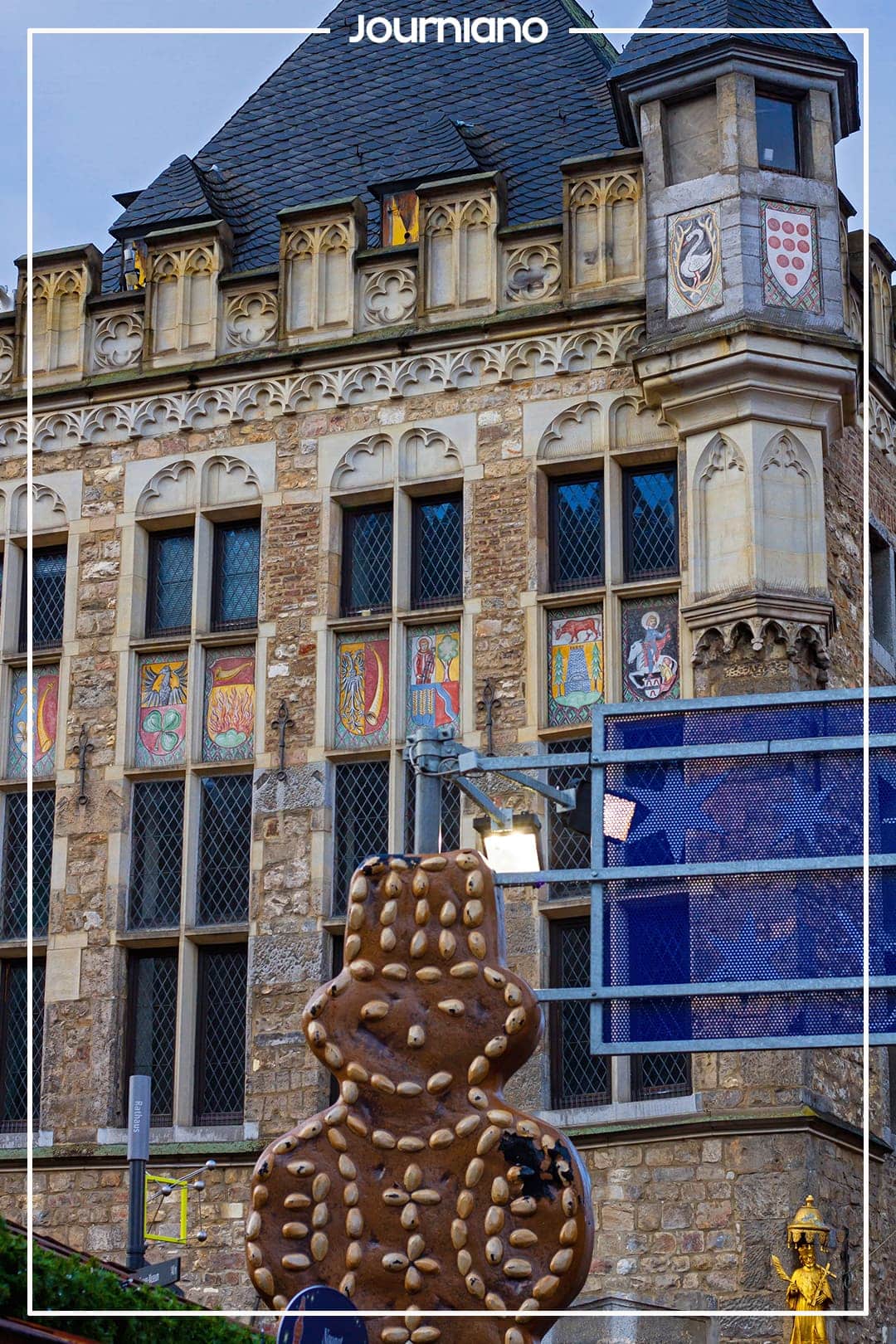 Christmas vibes along Krämerstraße
How about a short break of Christmas markets and strolling around with Christmas vibes instead?
Krämerstraße and its sidestreets offer you plenty architectural eye-candies as well as shopping possibilities. On top, the street's lovely Christmas decoration keep the vibes intact.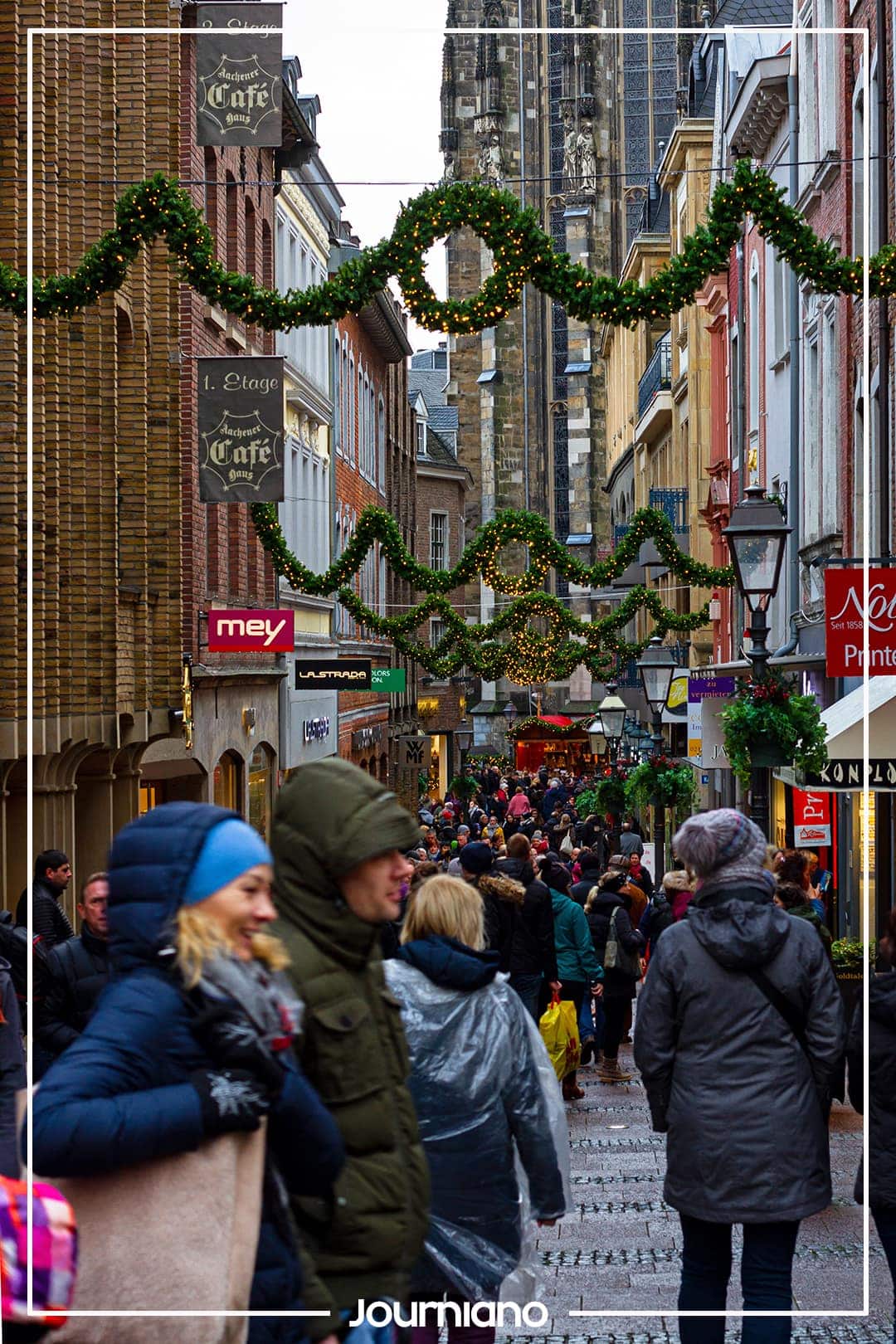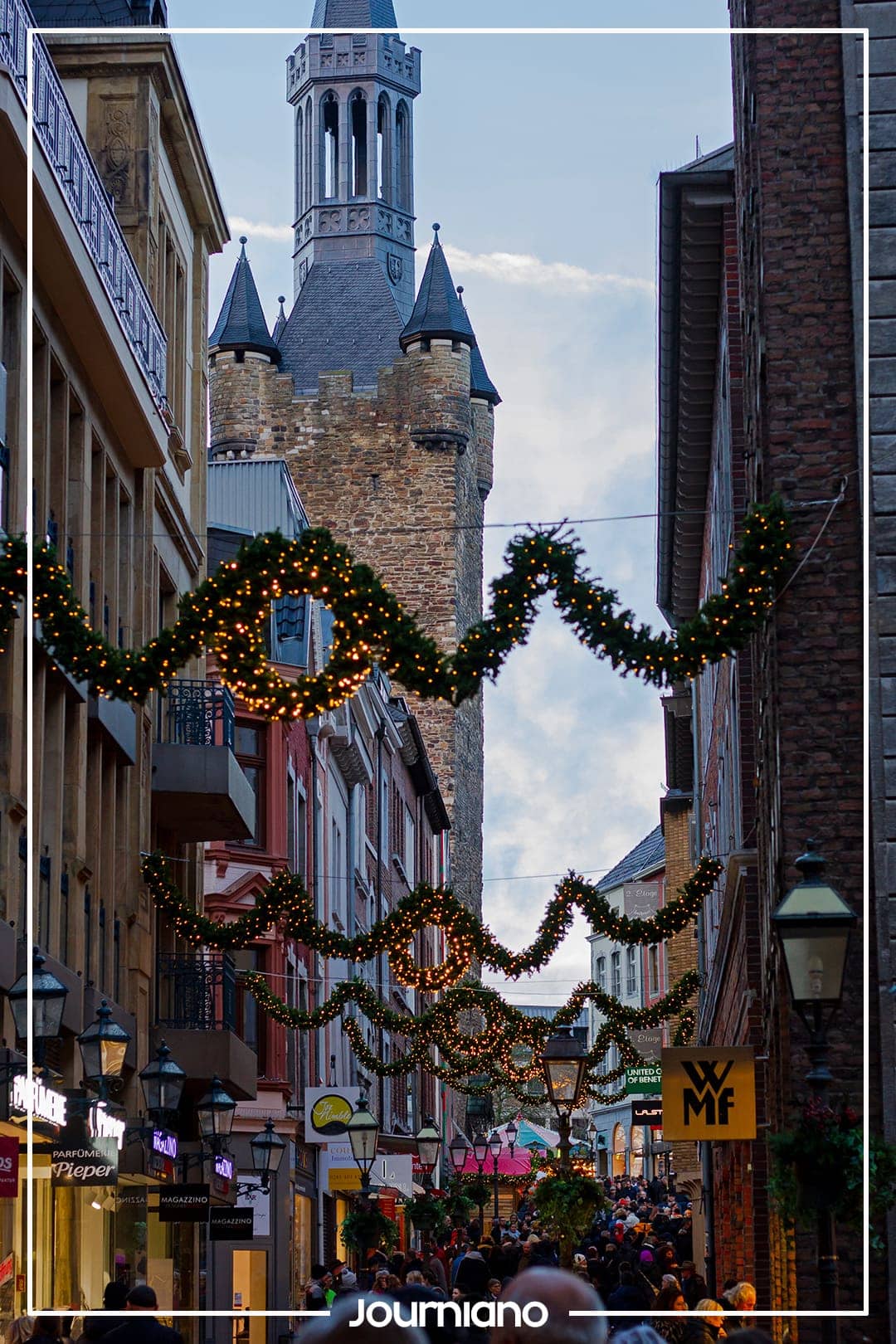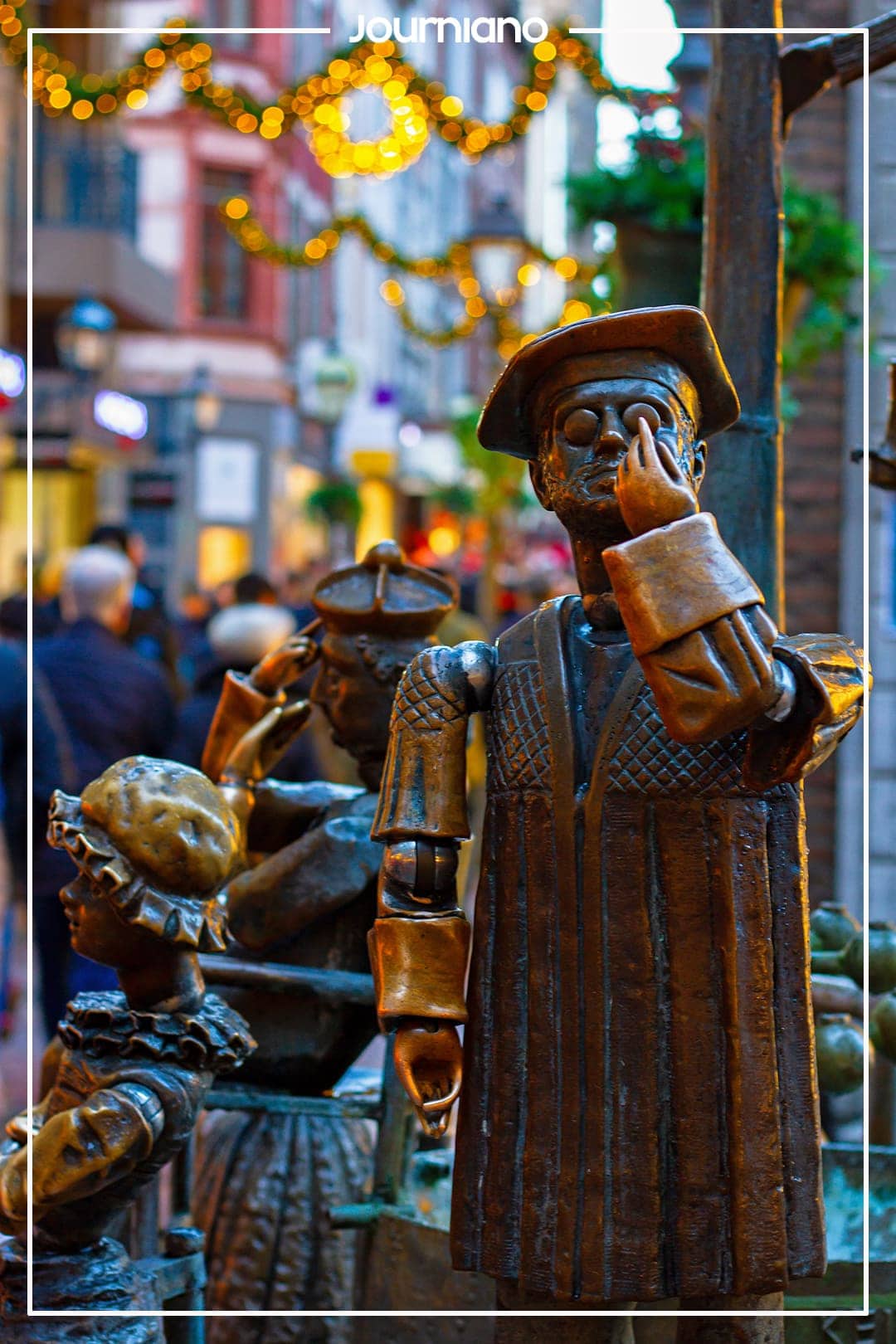 Germany's Hogwarts-kind of Christmas market at Katschhof
Now, let me present probably the highlight of Aachen's Christmas magic – Katschhof.
While the Christmas market at Marktplatz fulfils already every desire, Katschof is everything what you haven't expected. If you love the prior Christmas market's atmosphere, this one takes your breath away.
Katschhof is a massive square surrounded by Aachen's two most iconic landmarks. First, the City hall makes a return from another spectacular angle. Second, Aachen's majestic Dom (dome) stands out from the opposite site of the City hall.
Astonishingly, both landmarks create, thanks to their medieval facade design, heavy Hogwarts vibes – especially by night-time.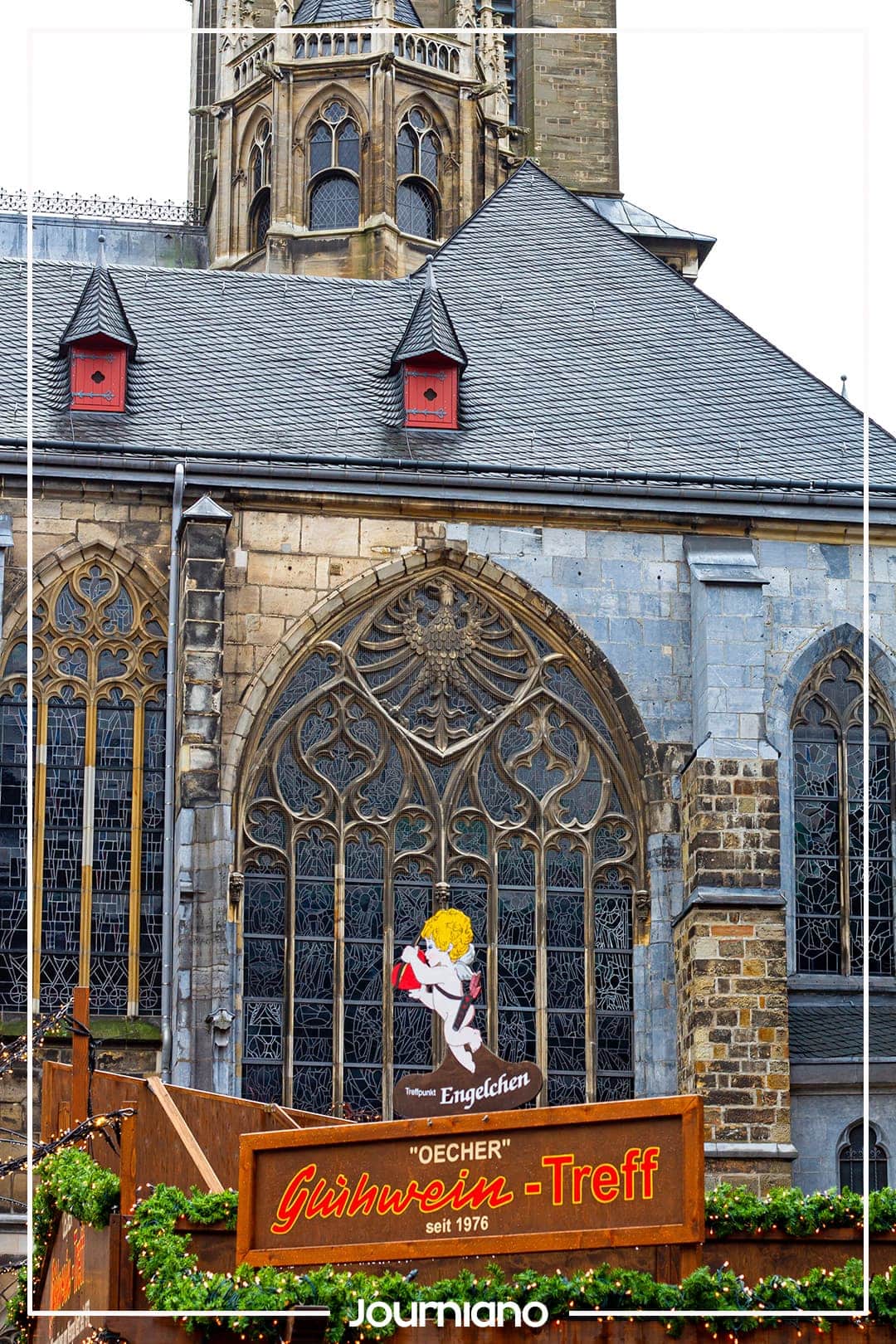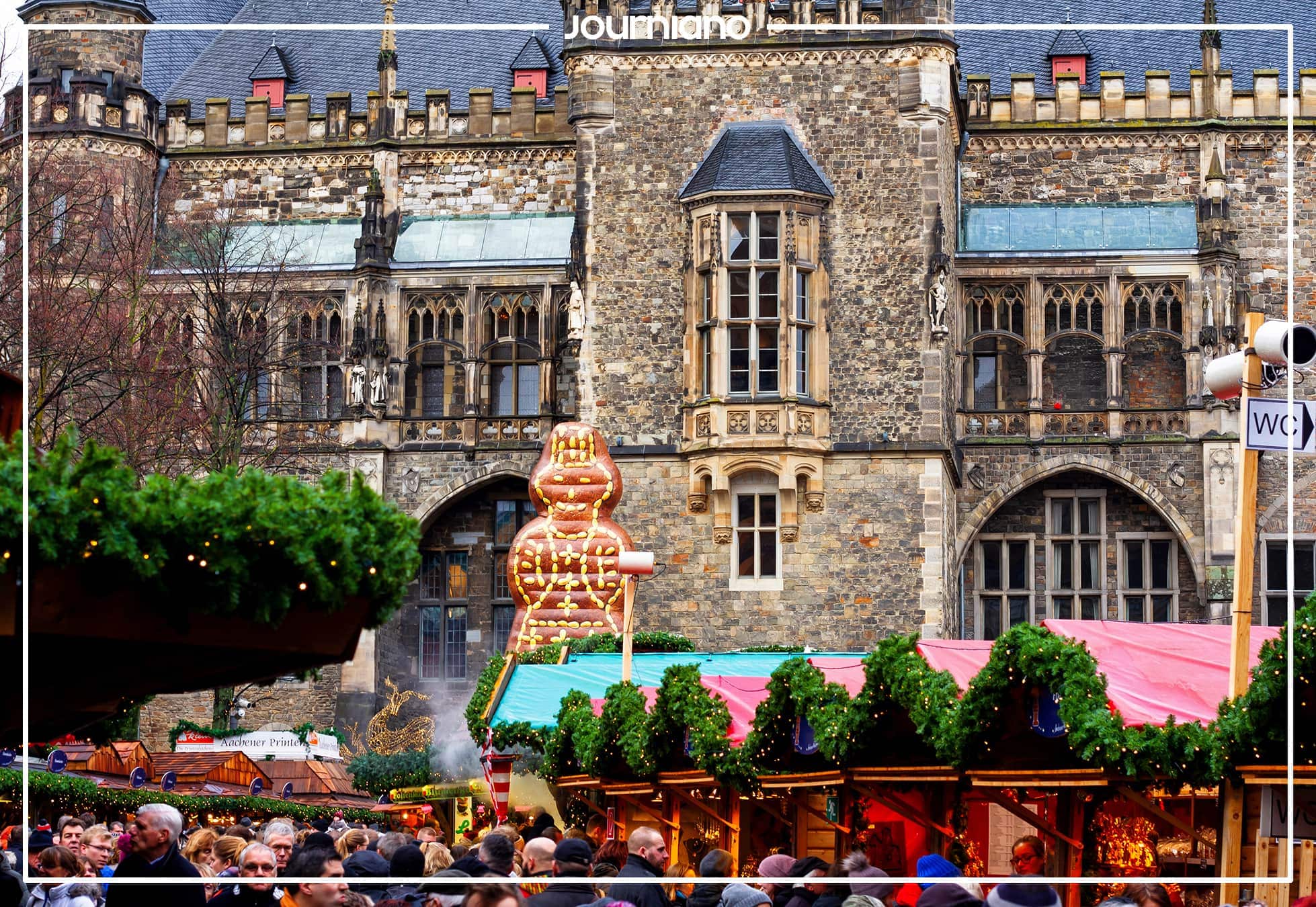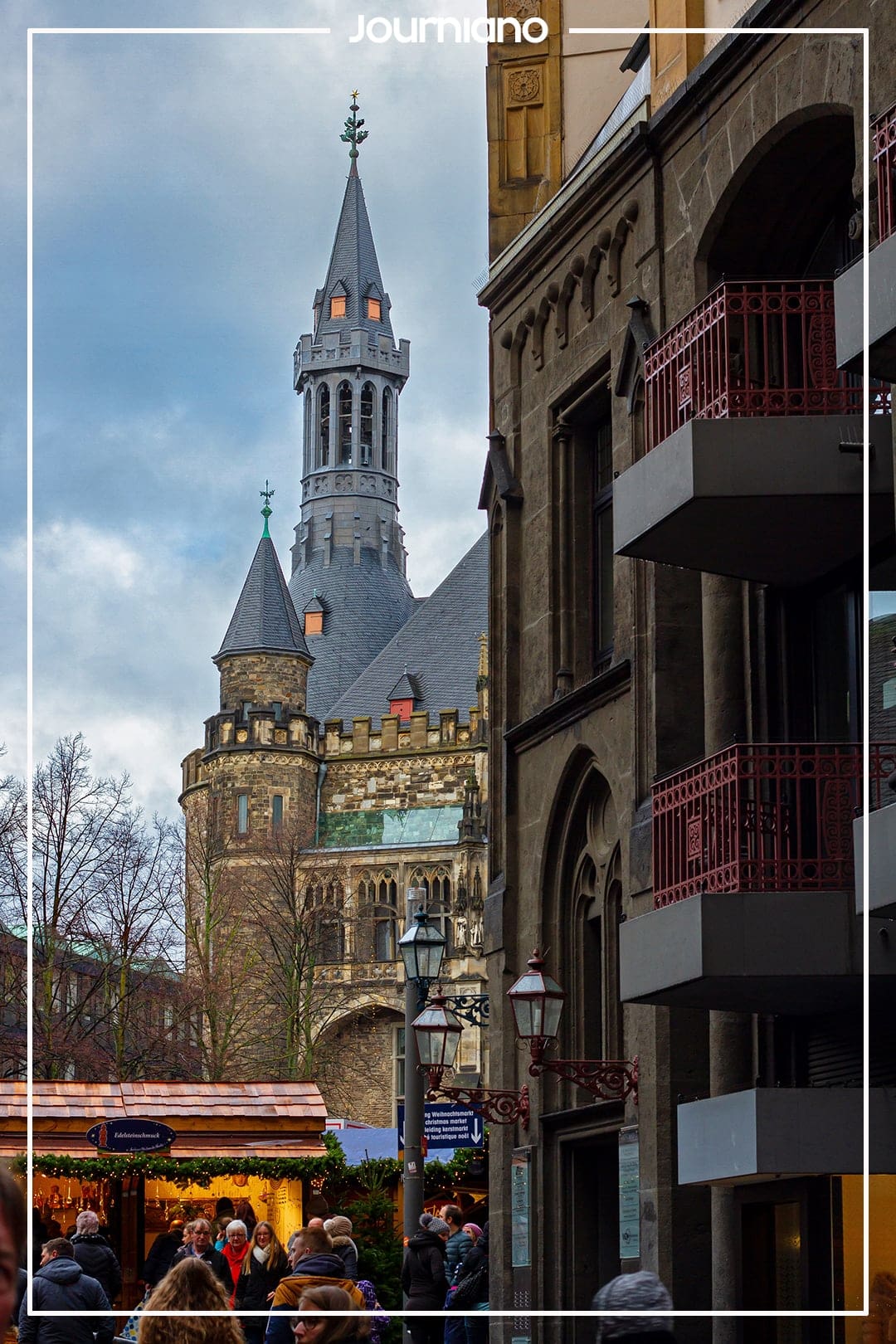 Mulled wine behind Aachener Dom at Münsterplatz
In case you still haven't seeked enough Christmas vibes yet, just walk behind the Aachener Dom. There you find a much smaller but cosy Christmas market at Münsterplatz.
I highly recommend drinking mulled wine there, as I found it to taste better than anywhere else in Aachen.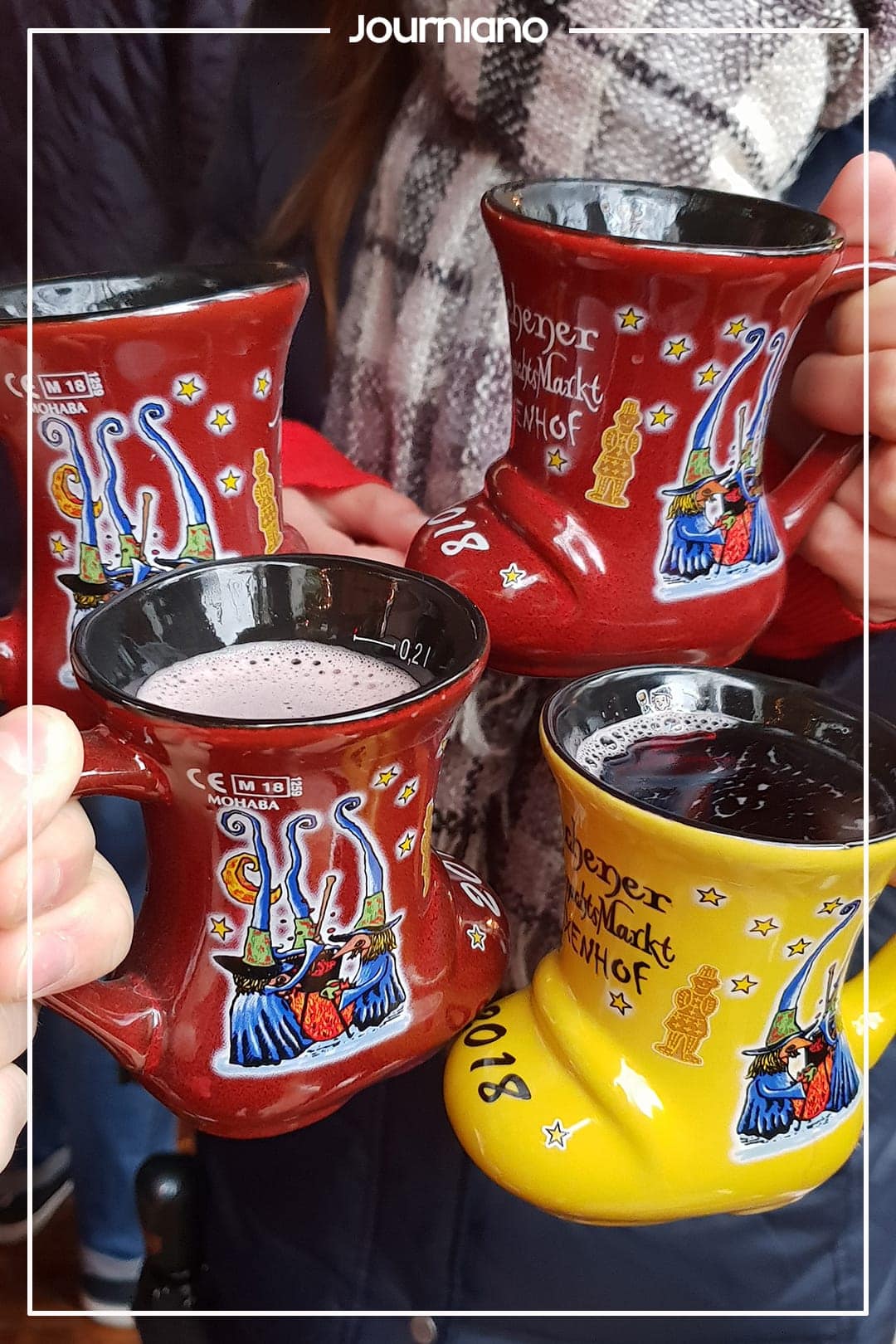 Opening dates and hours – 2019
22nd November – 23rd December 2019
daily
11am – 9pm
How to reach Aachen's Christmas markets
Aachen's Christmas markets are located within its city core. Thus, cars are not permitted there. However, there are many car parks around Aachen's centre.
Otherwise, Aachen is very well linked by rail – even Intercity trains stop there.
With the help of the map below, you'd find the right access to approach the Christmas markets.
Closing words
Due to the fact that Aachen's Christmas market gets approximately 1,5 Million visitors per year, it is one of the most popular and biggest in Germany. That speaks for itself. By adding all the mentioned factors so far, the evidence of beauty and magic with Aachen's Christmas mania come to light.
For every fan of medieval times and Harry Potter, Aachen is a must visit during Advent season.
On top of that, a wider variation of culinary delights are being offered than at other Christmas markets of its similar size.
Magic awaits you, at Aachen's Christmas markets.