Attention, tulip lovers: Tulip Fields in Germany are a real alternative to the Dutch ones. In North-Rhine Westphalia's Grevenbroich, Tulpenhof Francken amazes with marvellous tulips in every colour you can imagine. Dive in deeper to know the kick-off period and what lies beyond.
What to expect
1. About Tulip Fields in Germany and Tulpenhof Francken in Grevenbroich
Luckily, you don't have to drive all the way to The Netherlands to experience tulip fields. Surely, the Dutch are still the masters in that sector. However, the Germans do it pretty well as well.
While there are a few colourful fields everywhere spread throughout Germany, the Niederrhein (Lower Rhine) has some incredibly special ones. One of them can be found in Grevenbroich-Kapellen, located in the Greater Neuss Area.
There, Tulpenhof Francken welcomes you not only with a variety of colours but also with diversity among tulip types.
2. The marvellous Tulip Fields by Tulpenhof Francken in Grevenbroich, Germany
Grevenbroich's Tulip Fields take your breath away once you approach it. Their amazing variety in colours on such a big area is simply eye-catching.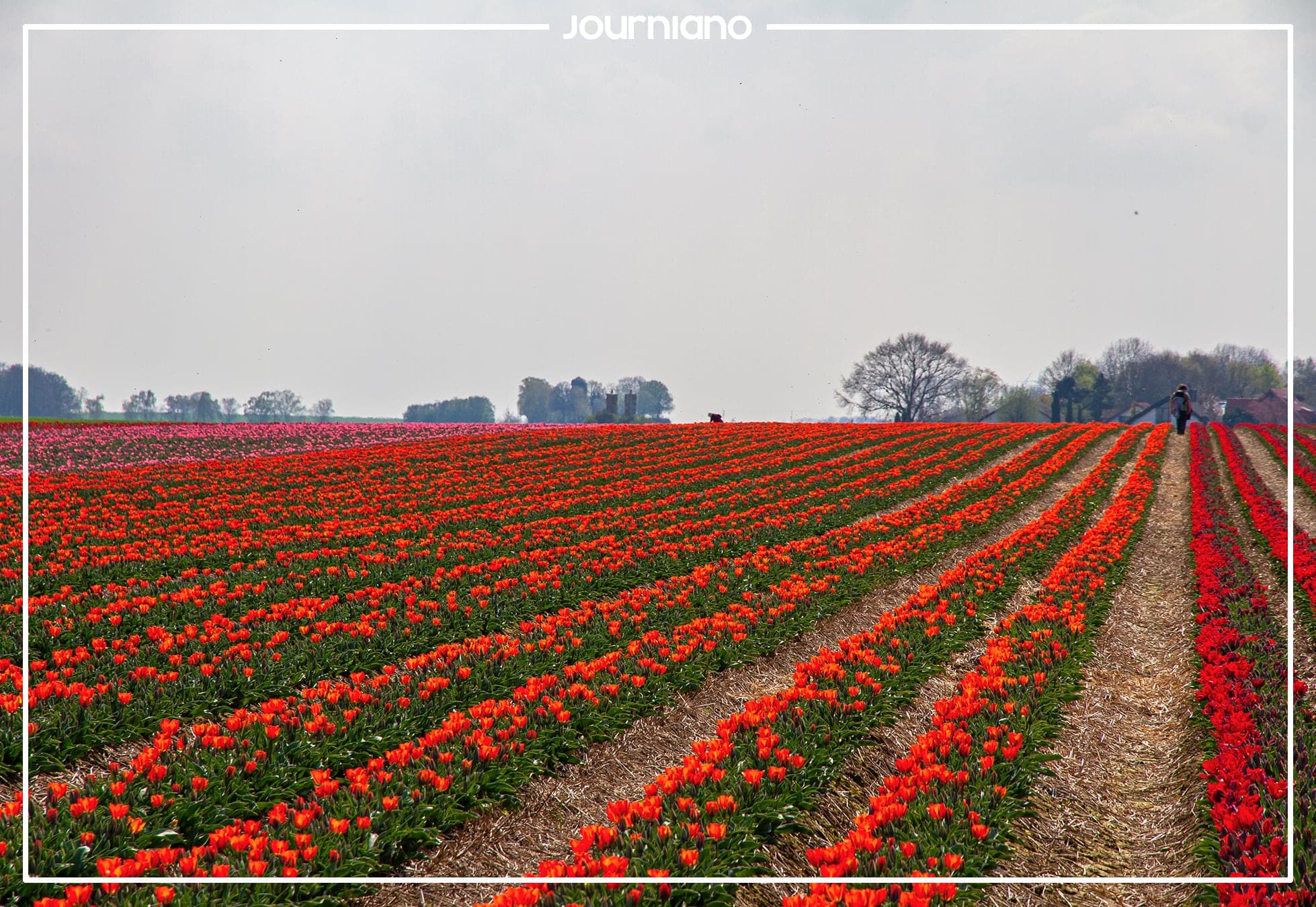 2.1 A Sea of red Tulips
From the beginning, the amount of variation is breathtaking. However, the first tulip section which sought my attention was a sea of red ones. As already mentioned before, Tulpenhof Francken cultivates a range of tulip types. Funnily, this type reminded me of red poppies somehow.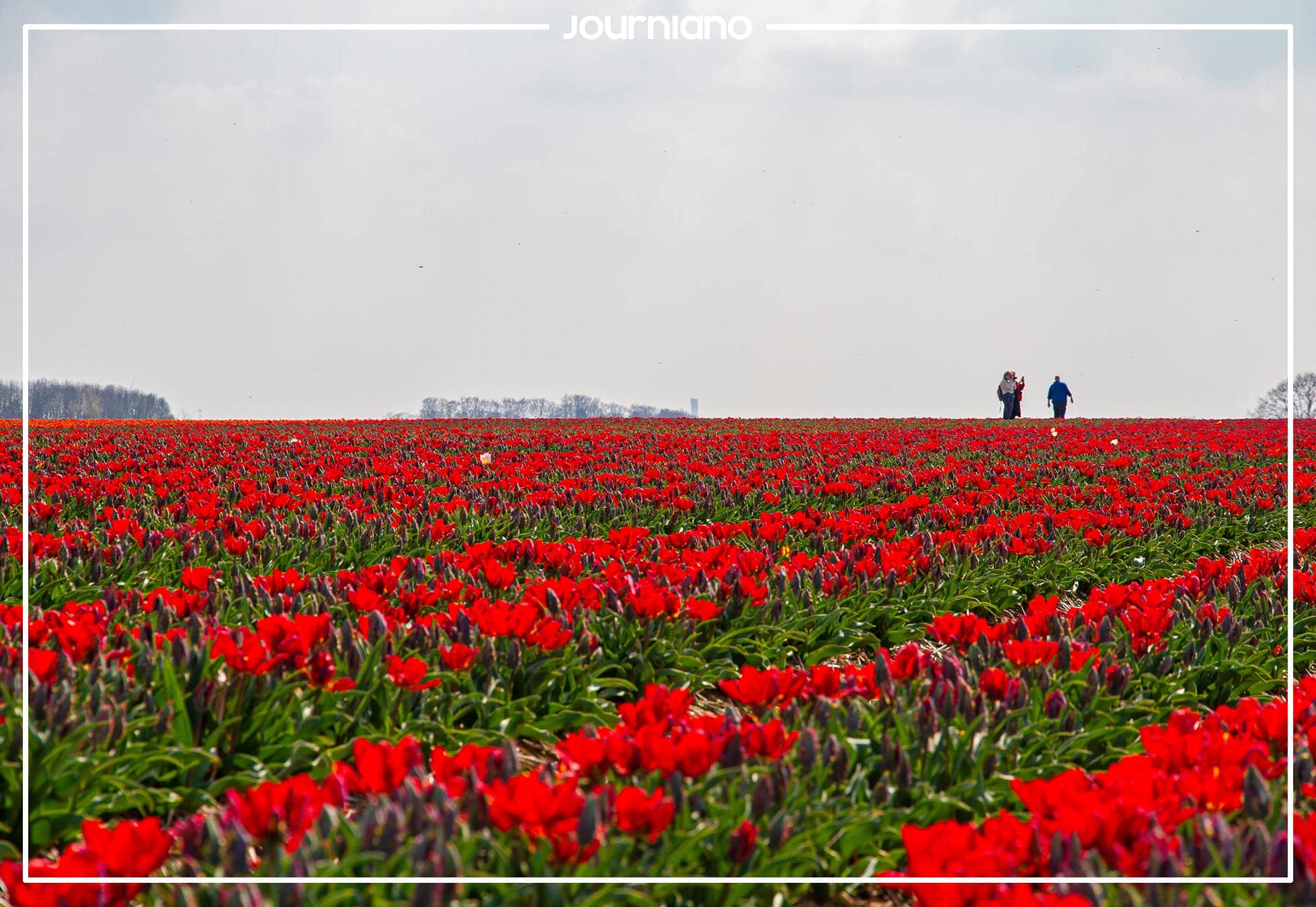 2.2 Opening up to further colours – The sheer endless Tulip Fields
By walking through the fields, you get a good feeling of their size. Astonishingly, they are sheer endless. Furthermore, by looking at the horizon, you notice how much is going on there. Besides some people taking the hundredth picture of themselves posing in the fields, all those different colours pop up beautifully.
On warm days, as during my visit, it almost feels like being in a Western Movie. All those colours you might have never imagined on a tulip, are exposed to heat haze.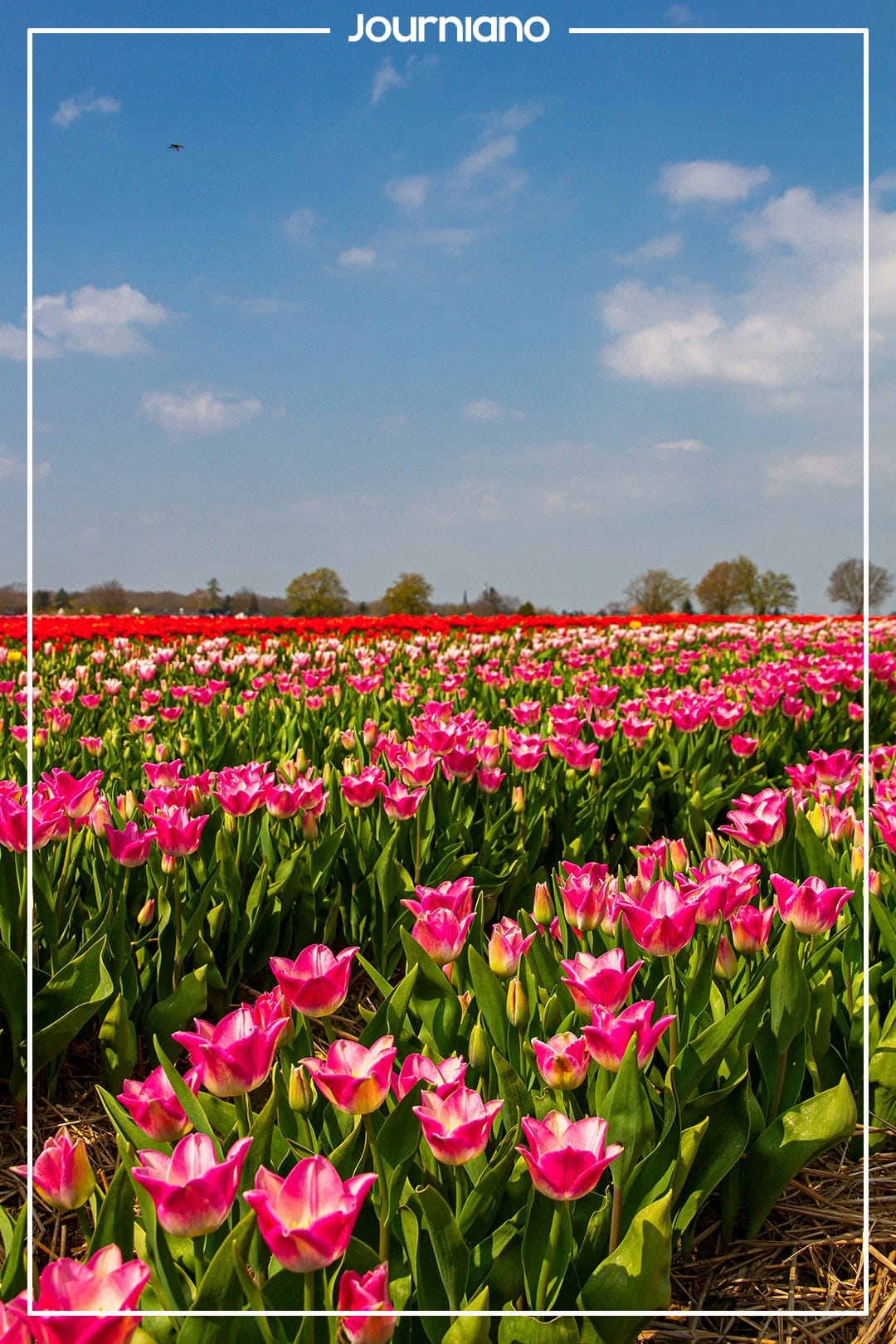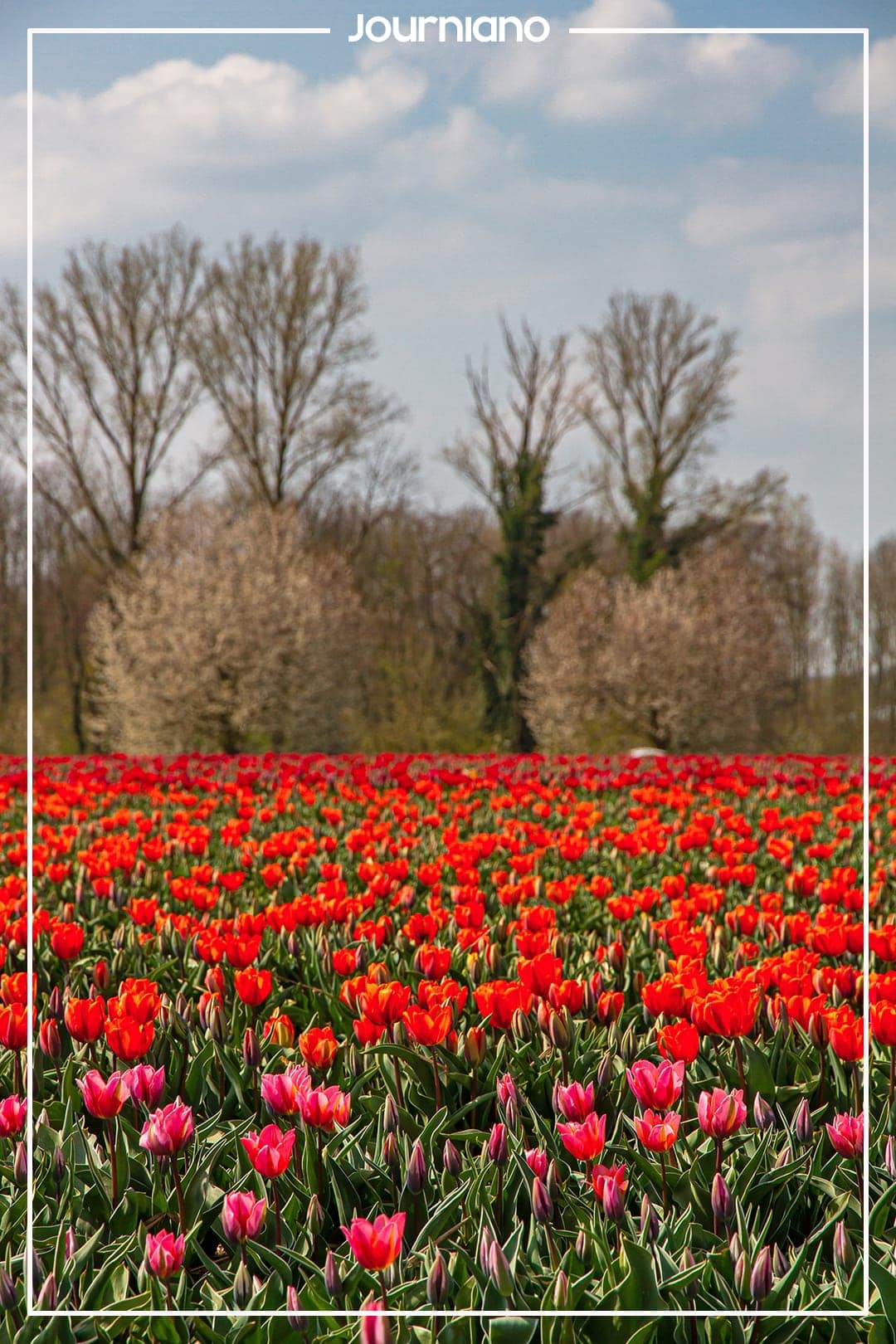 2.3 Gorgeous Line Formations
While proceeding along the fields, you encounter new tulip types and colours. Especially when the sections get narrower, you get frames of many varieties. Moreover, if you look directly into the gorgeous line formations, the curves of the ground get visible. Although the ground feels rather flat most of the time, it's unexpectedly not.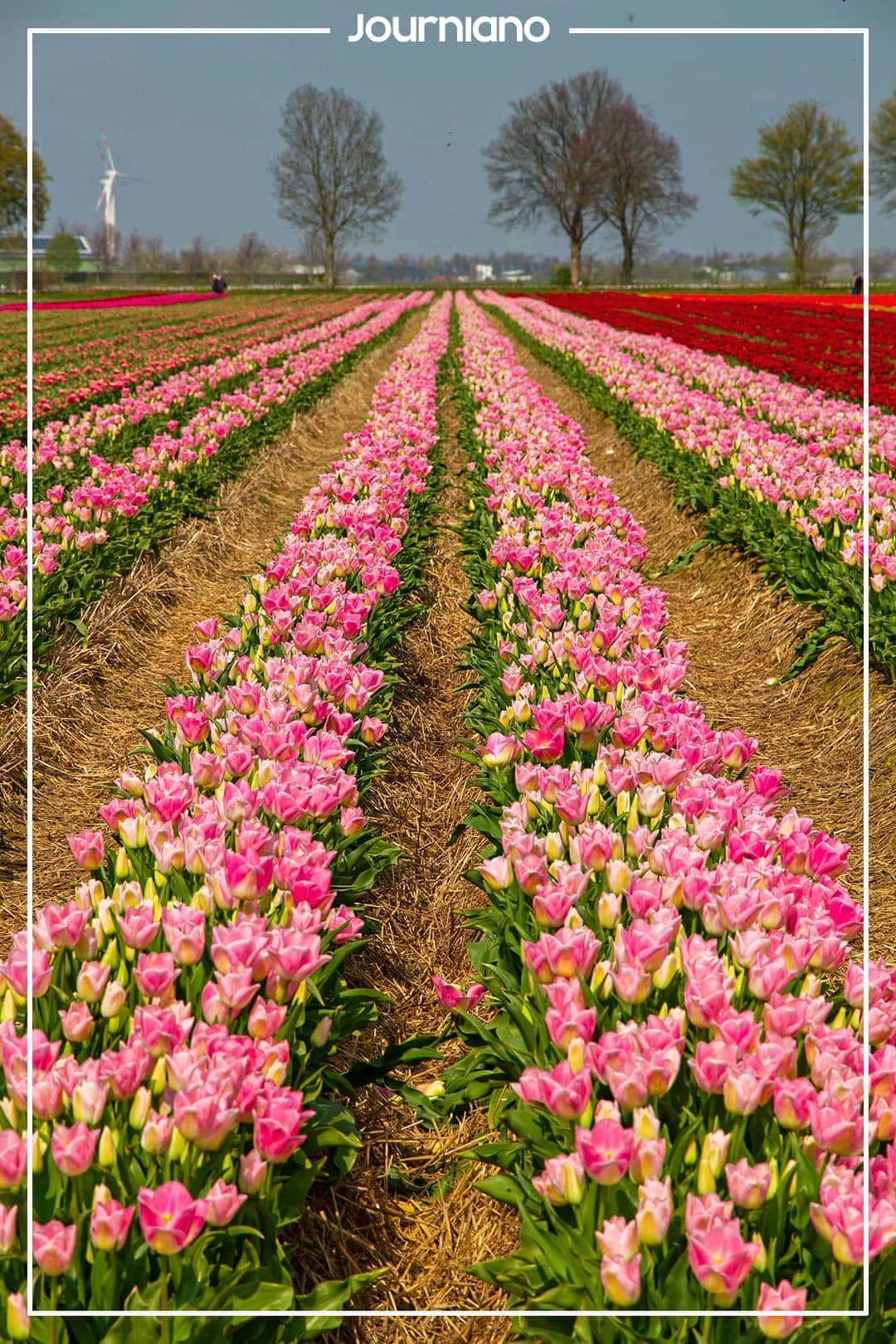 2.4 Wide open Tulips seeking Sunlight
Fortunately, there are even tulips present which open up a lot. They look so lovely as if they seek as much sunlight as possible. As you can see, it doesn't get boring.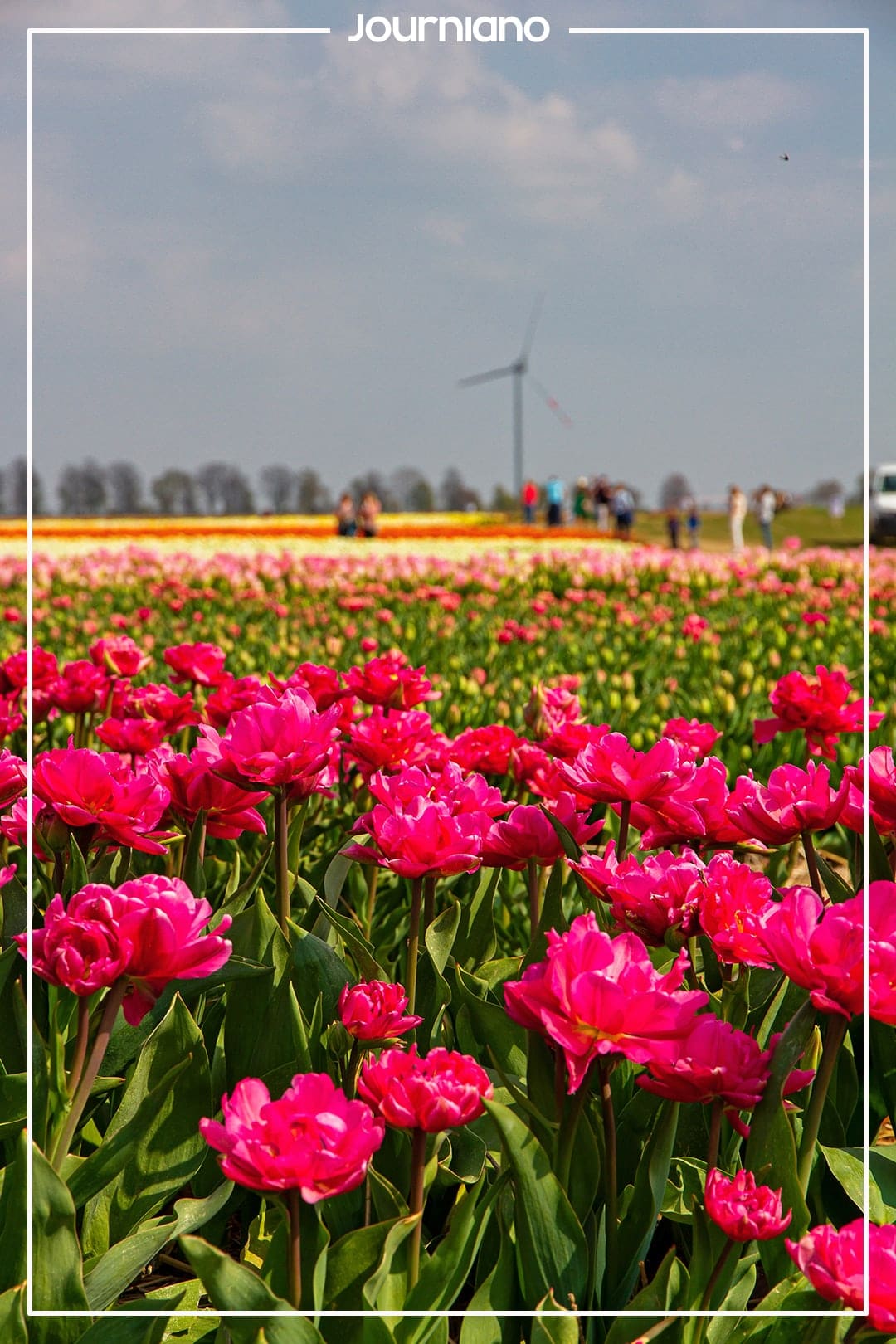 2.5 Colourful Parade meets modern Windmills
We all know those amazing Dutch tulip fields where windmills crown the photo motif. Unfortunately, those aren't present precisely in Grevenbroich. At least you get their modern version in form of wind wheels.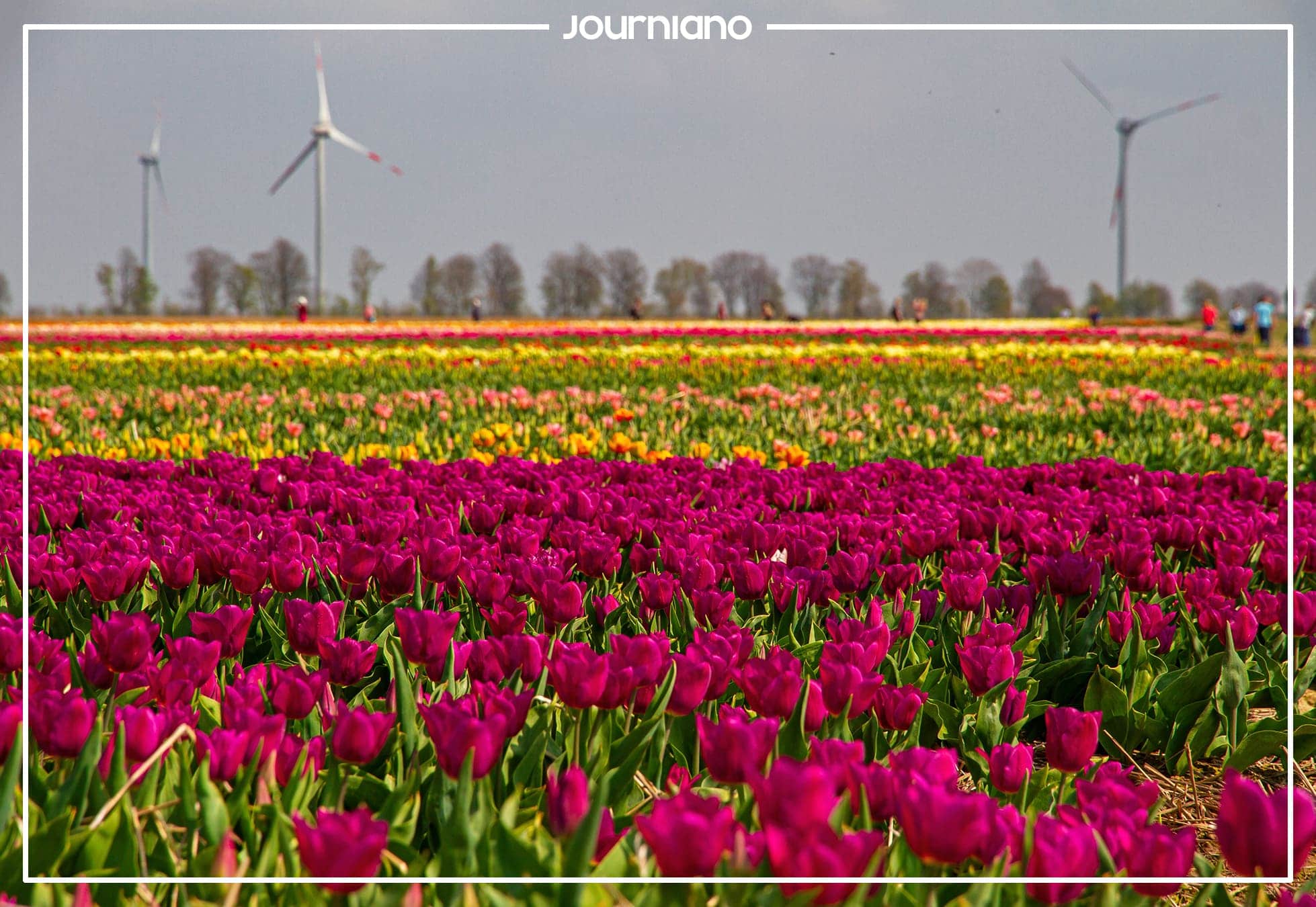 3. Fresh Tulips to take Home
The entrance to the tulip fields is free. Still, you might support the effort made by Tulpenhof Francken to make this marvellous colourful spectacle possible. Right at the entrance, you can buy freshly picked tulips in different variations. A bunch of flowers consists of 10 tulips. Depending on the type, they can cost 3-4 Euros each.
Support and make yourself or your beloved ones a pleasure.
4. When to visit the Tulip Fields in Germany
Unfortunately, the tulip fields aren't open to enter for the public in 2022. This has been communicated by Tulpenhof Francken via their Instagram channel.
Due to misbehaviour of some visitors, loads of tulips got destroyed. This resulted in the closure for the public.
Depending on where they are located this year, you might admire them at least from the street or country lanes. As soon as I get to know more, I'll post the location here.

However, keep in mind to respect the decision by the property owner to not enter the fields!
5. How to reach Tulpenhof Francken in Grevenbroich
To reach Tulpenhof Francken in Grevenbroich, I highly recommend driving by car. For your best approach, please use the embedded map below.
6. Conclusion
All in all, Tulpenhof Francken in Grevenbroich offers amazing tulip fields in Germany. Their variety in types and colours make your journey unforgettable and complete.
Please bear in mind that access to the fields is only allowed when wearing a mask. Please have a look at the many indicating labels for the exact masks allowed (mostly FFP2, surgical and KN95 ones). Moreover, they tell you how to behave in the fields.