Otranto in Salento is the right mixture between amazing turquoise coastline and history. Located at the southern Adria Coast of Apulia in Italy, it worked as a strategic point ages ago. Blessed with a lovely old town and a port, make Otranto tremendously diverse. Dive in deeper and discover all sights this gem has to offer in Salento.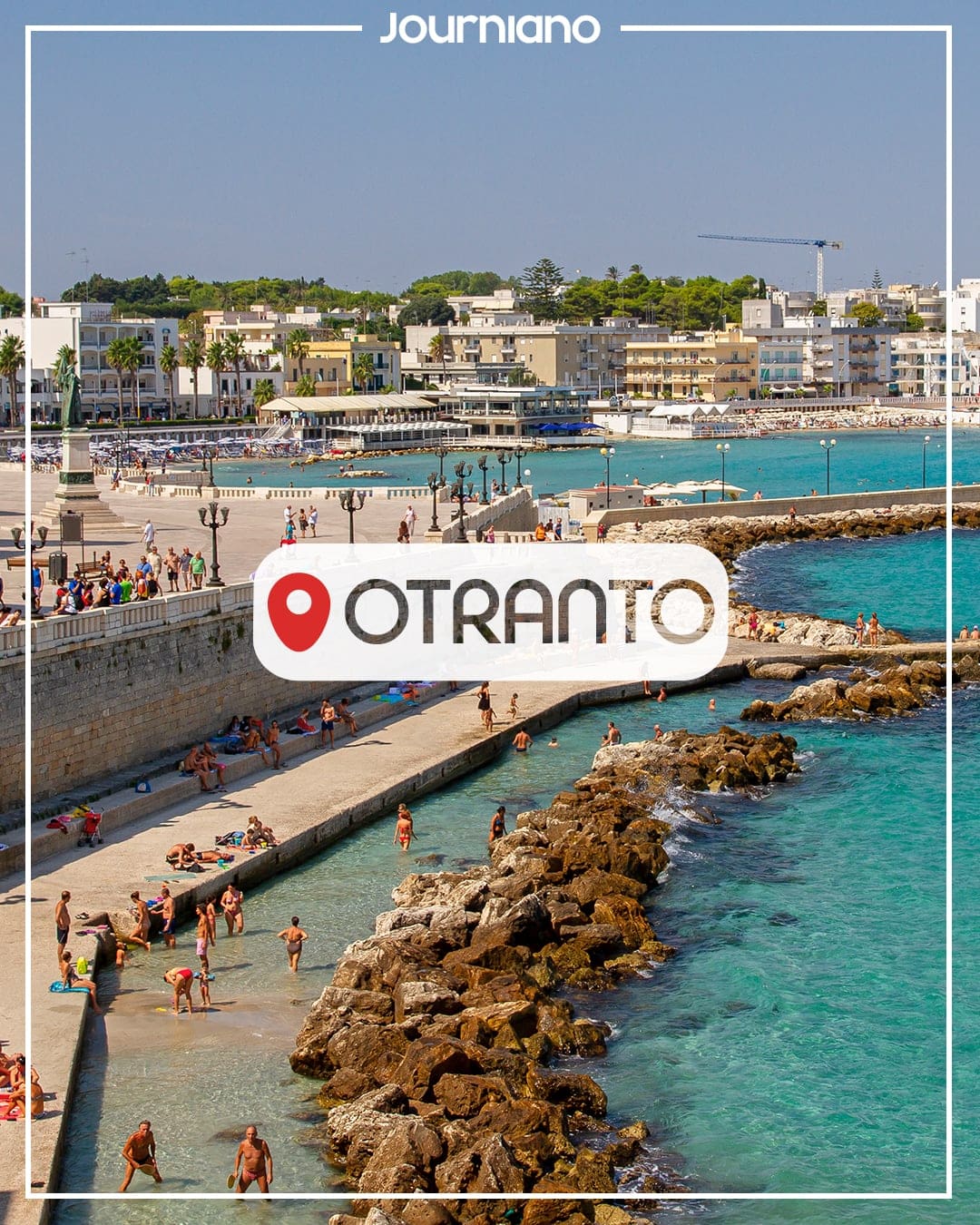 What to expect
1. About Otranto in Salento
Luckily for the town's economy, Otranto has become a magnet for visitors after the Salento was finally on the map among travelers to Italy. Situated 35 kilometres away from Lecce, the former commercial port experienced a number of conquests. Due to its location along the Adriatic Coast, Otranto served as a strategic point for many peoples. From Greeks, Ottoman Turks to the Aragoneses, this Apulian town witnessed turbulent and dynamic times. All of this left its marks here and there.
Today, Otranto stands out with its lovely historic centre and great coastline. Thanks to its turquoise waters, you get tremendous South Sea vibes.
2. Riviera di Otranto – The Apulian Town's Beachside
Normally, every approach to Otranto has the same eye-catcher – the Adriatic Sea. Fortunately, you can even kick off your journey with its town beaches. Either way, the Otranto's beaches are in private hands to some extend. So, for a quick bath in the turquoise Apulian beachside, there are some interesting spots.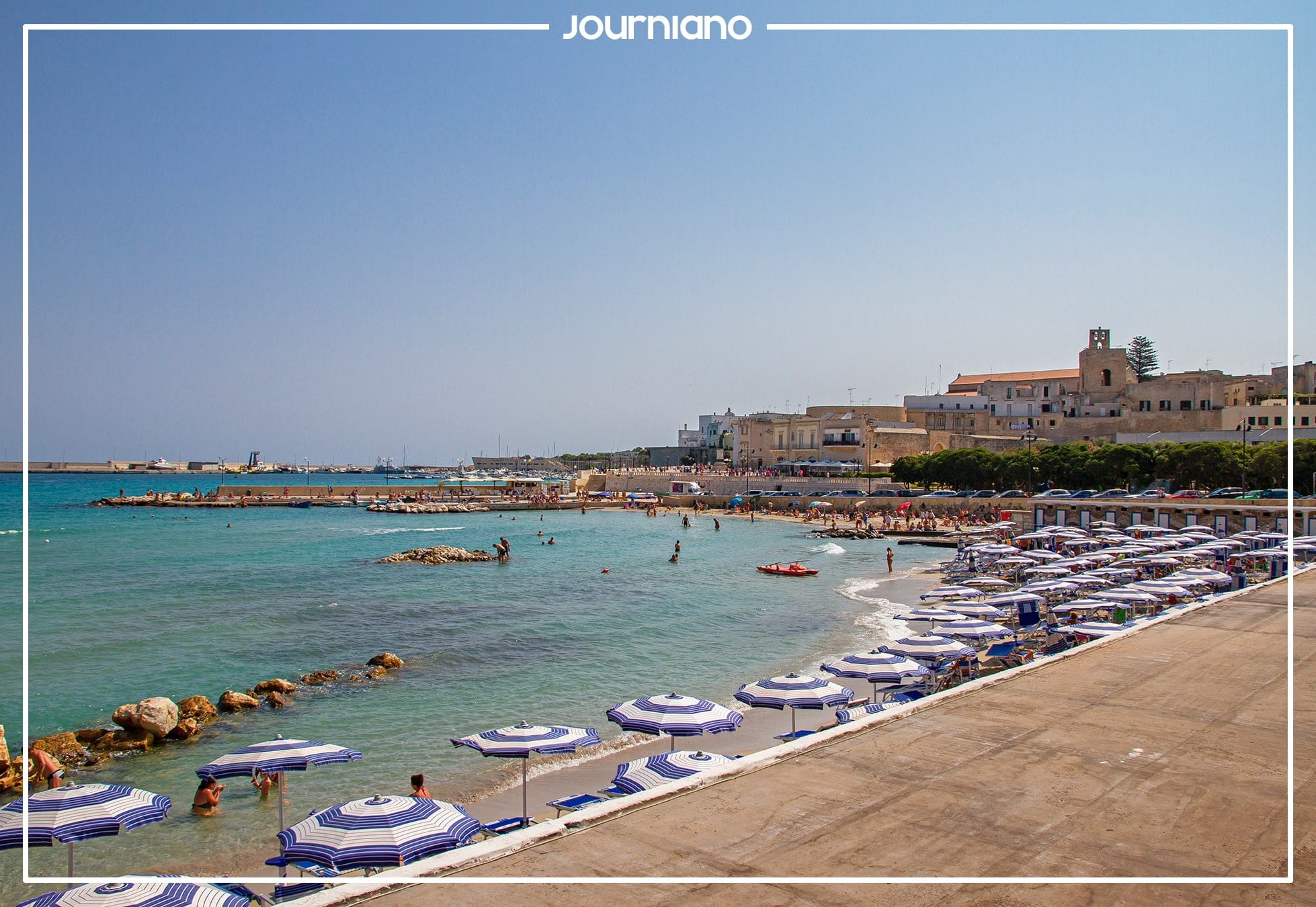 2.1 Sunbathing at the Docks like a Local
Surely, there are sandy beach sections without paying for umbrellas and such. However, the locals tend to seek other extraordinary spots along the coastline to sunbathe. Particularly, two docks at the bottom of the old town's fortress are always crowded by local people. What makes them special are a bunch of docking fishing boats for instance. Hereby, the sea vibes stand out authentically.
3. Lungomare – The Town's Seaside
Fortunately, Otranto doesn't convince soley on its fantastic coastline. Moreover, there lies a small but beautiful and densely old town. Surrounded by town walls, it resembles a fortress. Astonishingly, they offer amazing esplanades and observaion points.
3.1 Monumento agli Eroi e Martiri del 14 agosto 1480 – Remembering the brave Resistance from 1480
Luckily, there are still lots of remnants of the town wall to admire. Along the gorgeous esplanade Lungomare degli Eroi, you can notice the evolution of them pretty well. Mostly, they look like in the past. Still, some parts have been integrated into the new townscape. At this spot, a monument seeks attention. While it's the eponym of the esplanade, it also reminds people of the local heroes who tried defending Otranto from the invasion by the Ottoman Turks in 1480. Unfortunately, all were killed after refusing to change from Christian to Mohammedanism faith.
3.2 Lungomare degli Eroi – Gorgeous Esplanade between the Old Town and the Adriatic Sea
Besides the tragic story behind the esplanade's name, its current look is everything but tragic. Blessed with a wide path, strolling along the Adriatic Sea is simply gorgeous. Furthermore, you get a splendid view of the sea itself. From turquoise to deep blue, the waters of the Adria look beautiful up to its horizon.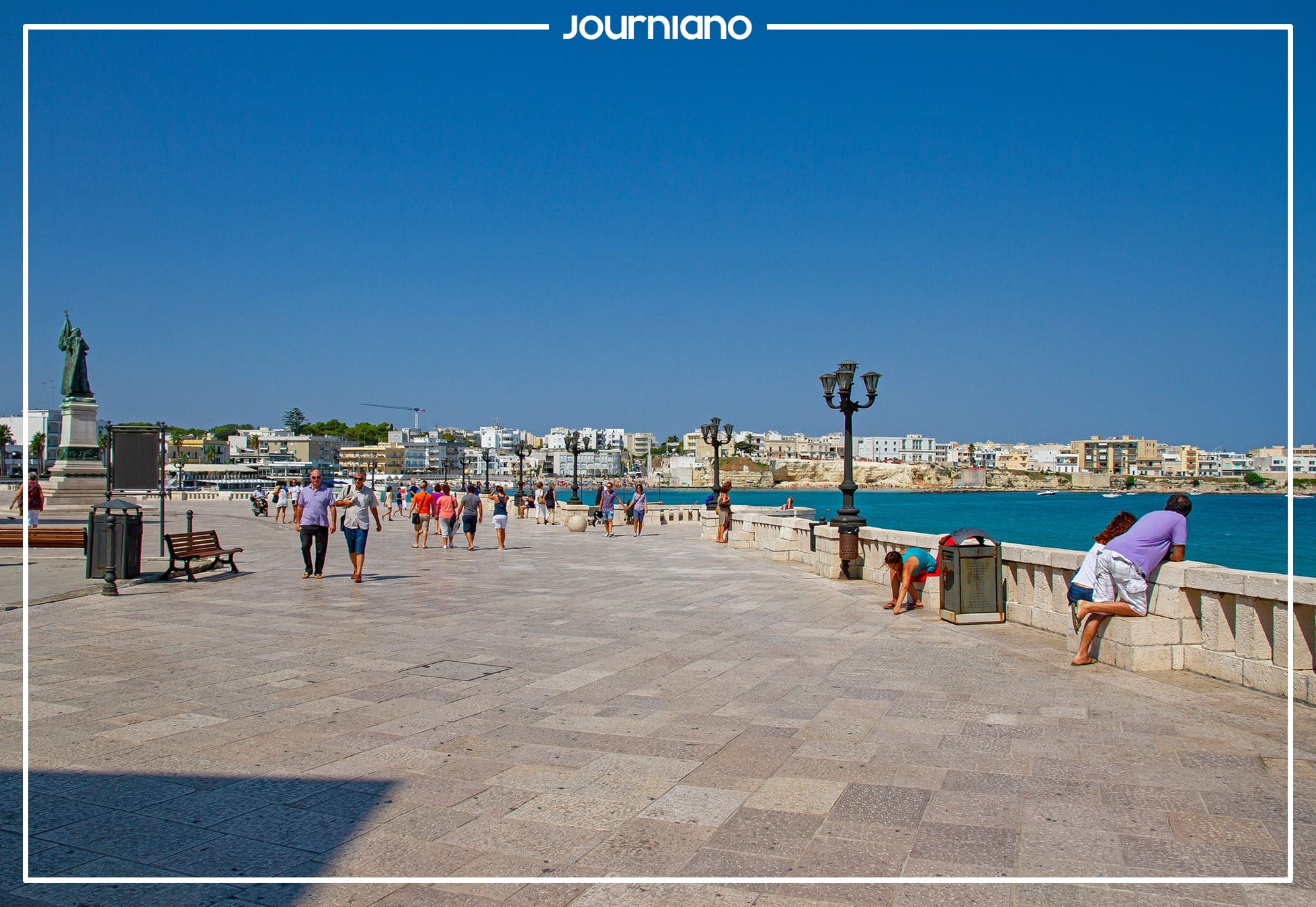 4. Gorgeous Alleys throughout the Historic Centre of Otranto
From the lungomare, it's only a stone's throw to the old town. Romantically, various alleyways welcome you to Otranto's Centro Storico. In case you're expecting the typical Italian charm, you won't be disappointed. Surprisingly, many of these alleys are so narrow that cars can't pass through. Thus, you can walk and admire in peace.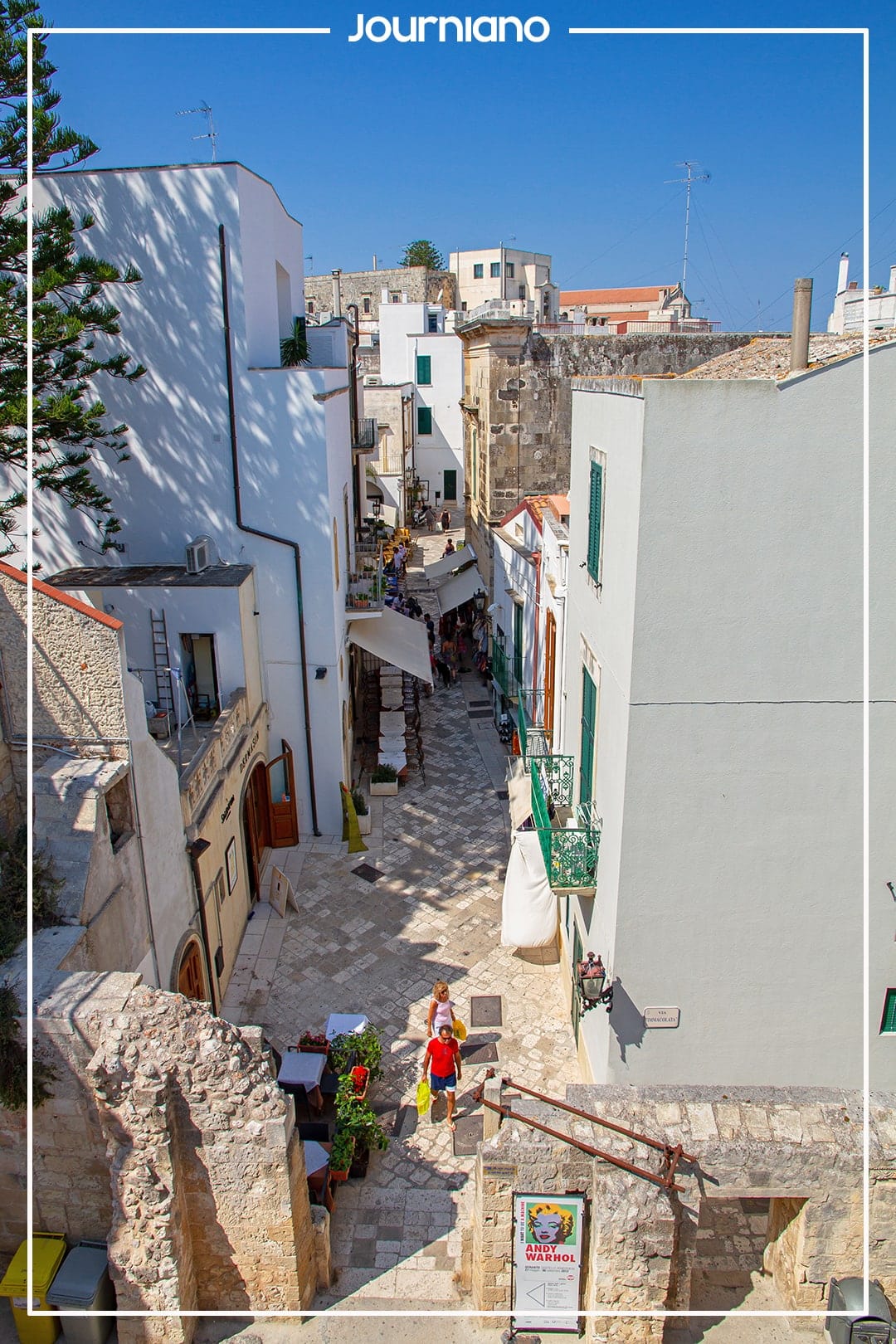 5. Baia di Otranto and the Port – A breathtaking Overview
Strolling uphill through the old town might lead you to amazing observation points. Hence, the first one can be found at the easternmost point of Via Padra L. Scupoli. From there you get breathtaking views of the old town's esplanade together with a larger chunk of the Adria.
5.1 Porto di Otranto – The gorgeous Marina
Walking southbound along the town's wall, you get to the fortress' watchtower Torre Matta. From here, you get another gorgeous view of Otranto and its seaside. However, this time it gets sweeten by dozens of boats. Astonishingly, this point of view allows you to admire the town's port. From small fisher boats to yachts, you spot anything at Otranto's marina in summer.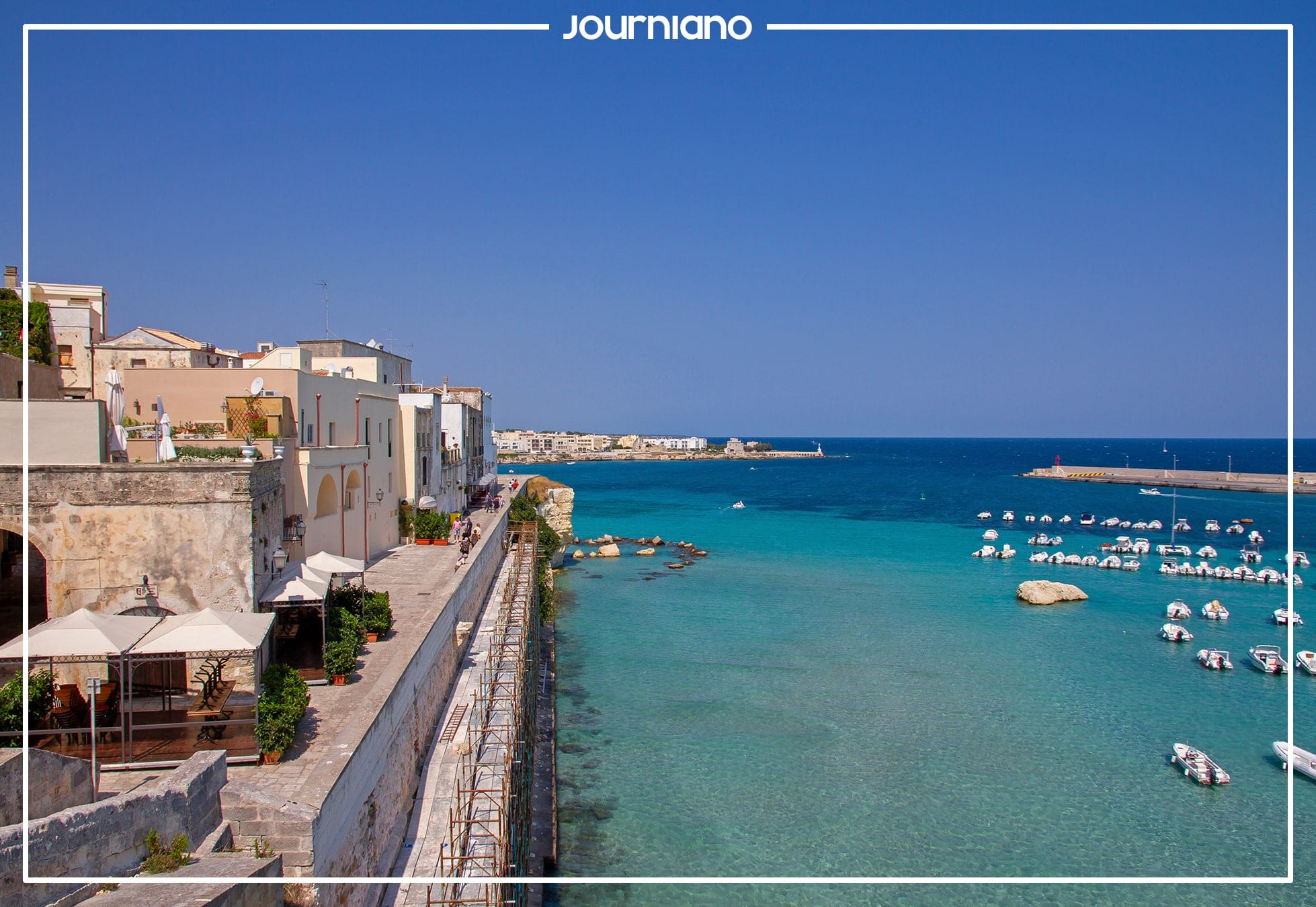 6. Castle & Cathedral of Otranto – Historic Landmarks
Besides beautiful seawaters and a lovely townscape, Otranto has also two historic landmarks on the table. Unsurprisingly, a classic Apulian cathedral but also a huge castle.
6.1 Castello Aragonese di Otranto
Since the 11th century, a castle has been situated at the current location. However, it changed its appearance many times due to many attacks. Today, the castle has the same design which has been established by the viceroy of Spain, Don Pedro Álvarez de Toledo, in the 16th century. At the time, it was a military model project. Surprisingly, most of the castle's trench is accessible to the public.
6.2 Cattedrale di Santa Maria Annunziata at Otranto in Salento
Thankfully, the Castello is not the only landmark within the old town. Otranto's Cattedrale di Santa Maria Annunziata is almost 1000 years old. The cathedral's first phase was finished in 1088. Classically, it got constructed with the white Lecce stone as almost every important building in Salento. Despite its neat and ancient appearance, you definitely shouldn't miss visiting the interior (unfortunately, I haven't entered back then). Beautifully, the cathedral's floor is a huge mosaic. Made in the 12th century, it is pretty much originally intact.
7. Palm Avenue seeking you back to the Seaside
Sometimes a journey ends there where it started. After visiting the old town, you come back to Otranto's seaside automatically. Although you might have already started at some point, you get different perspectives later on. Well, that can be the case here as well. Alongside the town's beachside, there is a splendid palm avenue. If this doesn't seek you back to head to the beach, I don't know what should.
8. When to visit Otranto in Salento
Normally, Otranto in Salento is a classic summer destination. But, that's also the time when these places are as crowded as it gets. In case you want to avoid the packed months of July and especially August, June and September are amazing alternatives. Luckily, temperatures are also high, so you can easily swim in the Adria. In case you focus on a cultural trip, spring and autumn, in general, are nice seasons for a visit, too.
9. How to get there
I recommend approaching Otranto by motor vehicle. Although there is a train station, trains don't operate on a regular basis. Furthermore, there are plenty of other attractions around to be discovered, e.g. Cava di Bauxite. These are only accessible by vehicle. Hence, don't hesitate to use the embedded map for great navigation below.
10. Conclusion
Otranto in Salento is a gorgeous town with a huge diversity for its size. Thanks to its coastal location at the Adriatic Sea, you can combine an intense cultural journey with sunbathing at the beaches or do a quick dive into the clear turquoise waters. This is definitely a place how you might imagine a summer holiday in Italy.