What pops up in your mind, when you're thinking about going to Milano? Maybe shopping in La Galleria, taking a selfie at Piazza Duomo or admiring Il Bosco Verticale. All those places got an alluring tone, right? However, one of Milano's main gateways has been overlooked tremendously by some visitors.
People who reach Milano via plane would rather miss one of the city's biggest gateways. Furthermore, it is not ranked as one of the TOP must-see spots in many guides, articles or blogs. That certain gateway is Milano's biggest central railway station.
Depending on where you live, railway stations, especially central ones, are most of the times those areas, where you don't spend time for fun. Often, they are dirty and bad maintained, linked with high criminal rates and not beautiful at all.
However, there are some examples which are magnets for visitors – even if you don't have to commute or travel through them. Cities like Antwerp, London, Porto and Liège have spectacular and unique designed as well as arranged railway stations. In fact, these are very well ranked as attractions, while Milano Centrale is often not.
When approaching the station from outside, the entrance building gives you already the impression of being from empire's days.
It looks like the Roman's gateway to central and northern Europe.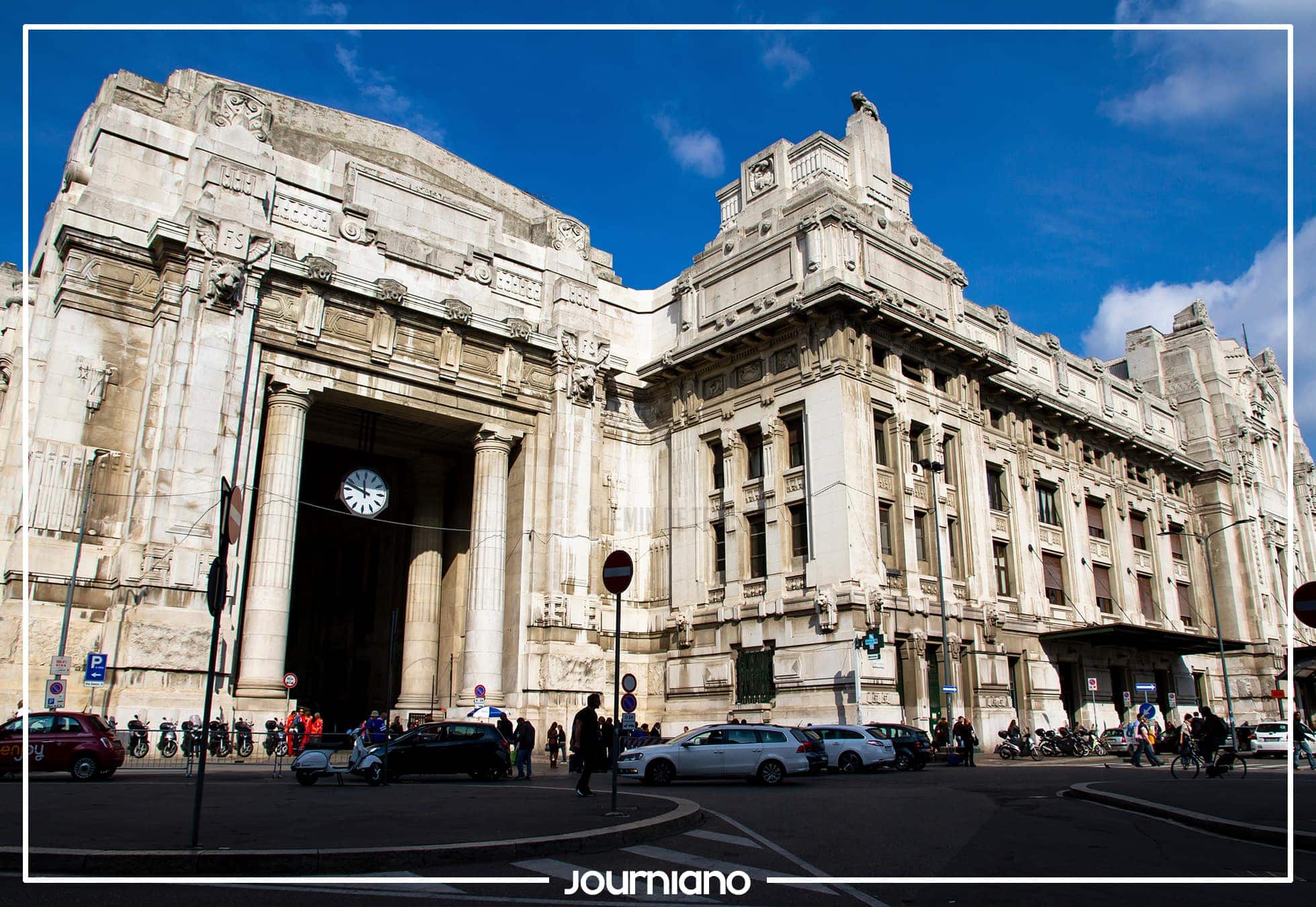 White stone, ornaments and statues of Pegasus emphasise that analogy.
Big gates welcome you inside the stations entrance hall, and well, it's pretty big – especially the ceilings are cathedral-like high. The atrium-like exposure of light enlightens the white stone and make the entrance hall look so massive, that you must take your time to observe all those details and appreciate the design. Here you find a few stores as well as the access to the Metro station.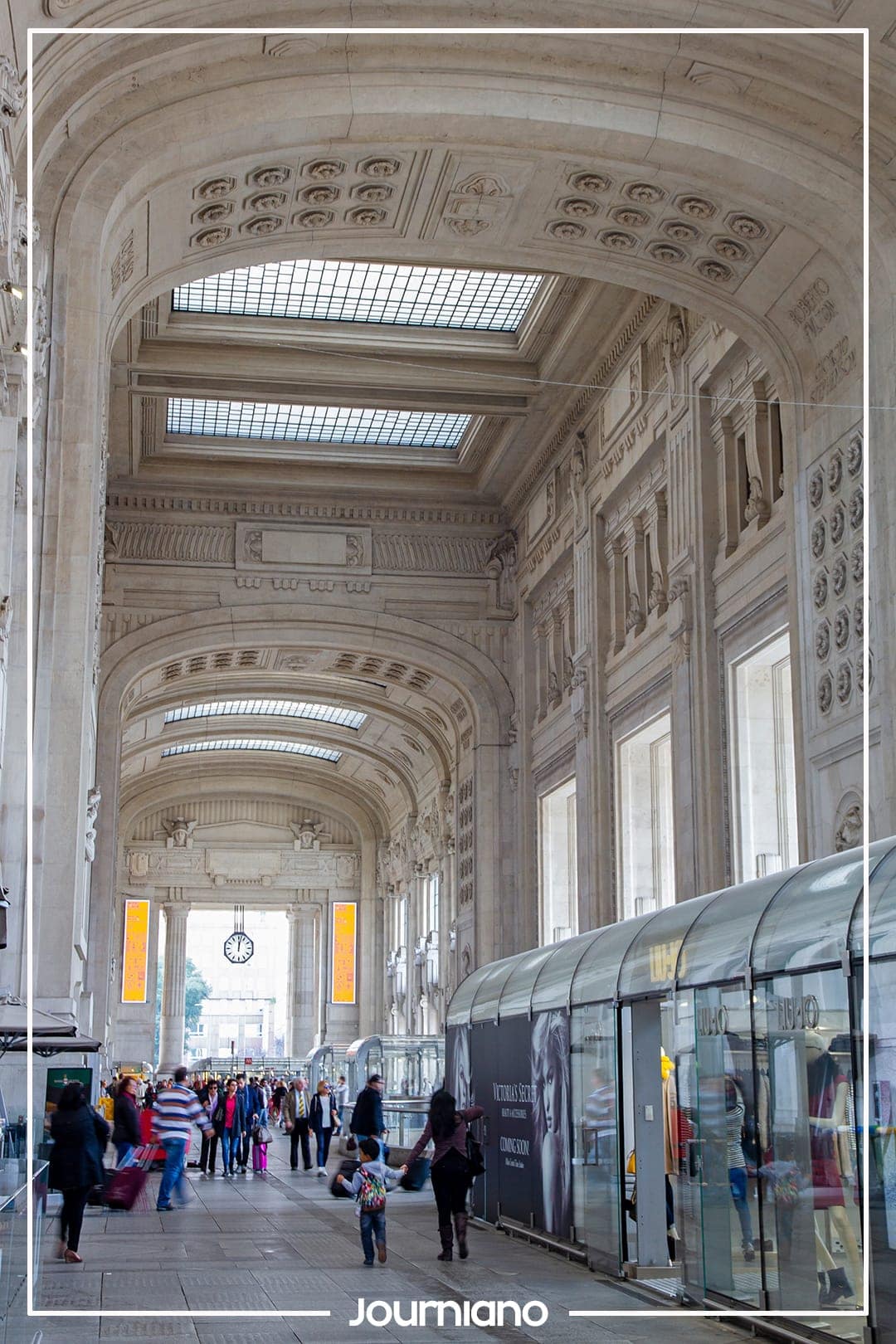 While walking along the stores, you notice that those gates after the entrance hall are not leading directly to the platforms. Instead, there is another hall.
''I mean, how can that next section be more monstrous and interesting than….never mind.''
Another hall overshadowing the previous one.
This time the basics from the first hall are kept the same – high ceilings, atrium-like exposure of light as well as compactness. On top of that, there are some tremendous and artistic differences.
First of all, by entering that section, you sense quite a different atmosphere. The colour palette is wider than before and it's already noticeable when looking at the floor. Instead of being plain grey, it shines, reflects and looks much more precious. The combination of marmoreal looking material and tesserae (mosaics) underlines the great impression even better.
But it doesn't stop there – overall, the gates leading to the platforms are enormous. Big stairways, two big columns and Abbildungen of ancient generals or rulers complete the analogy of an antique Roman temple.
This railway station is majestic and insane at the same time.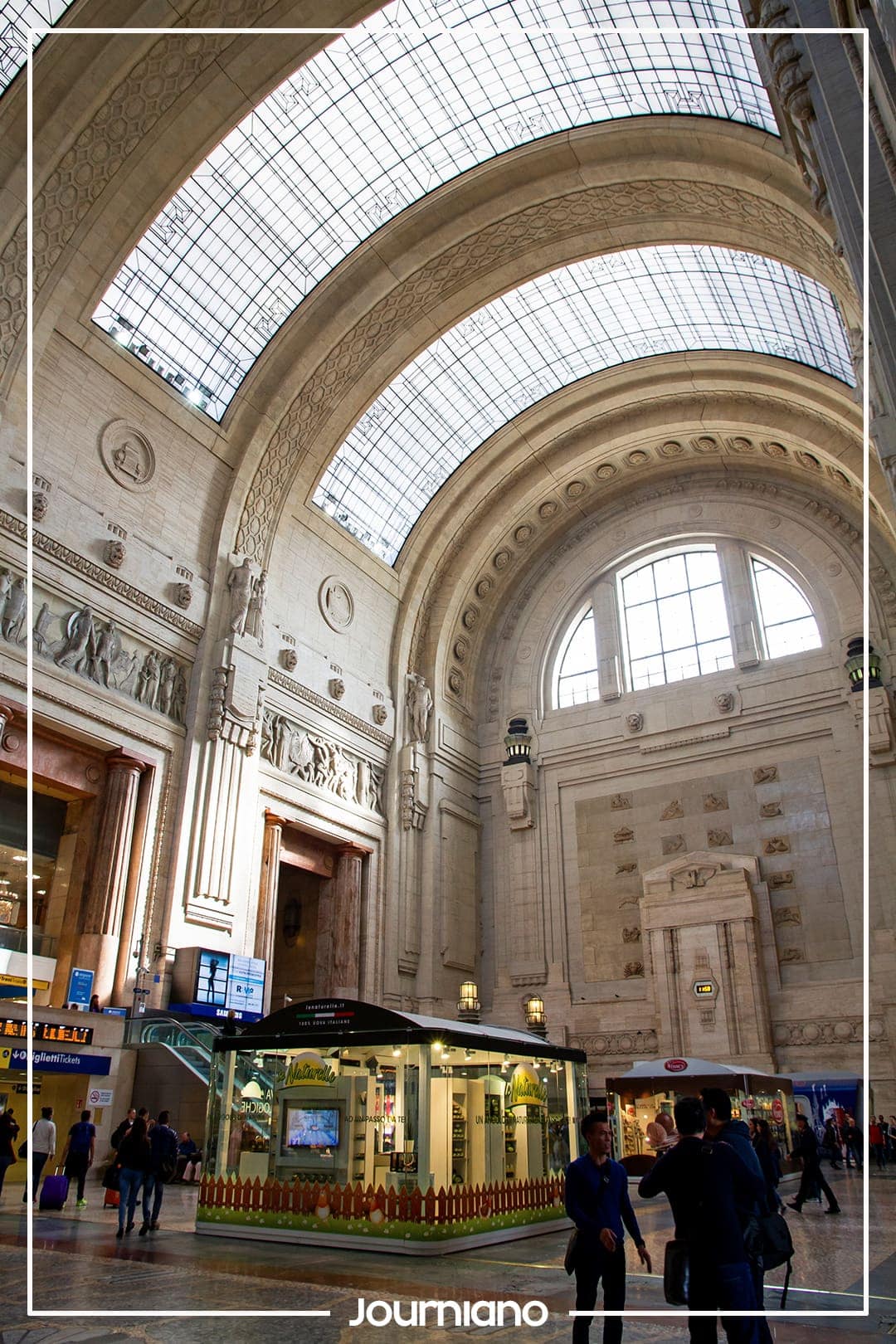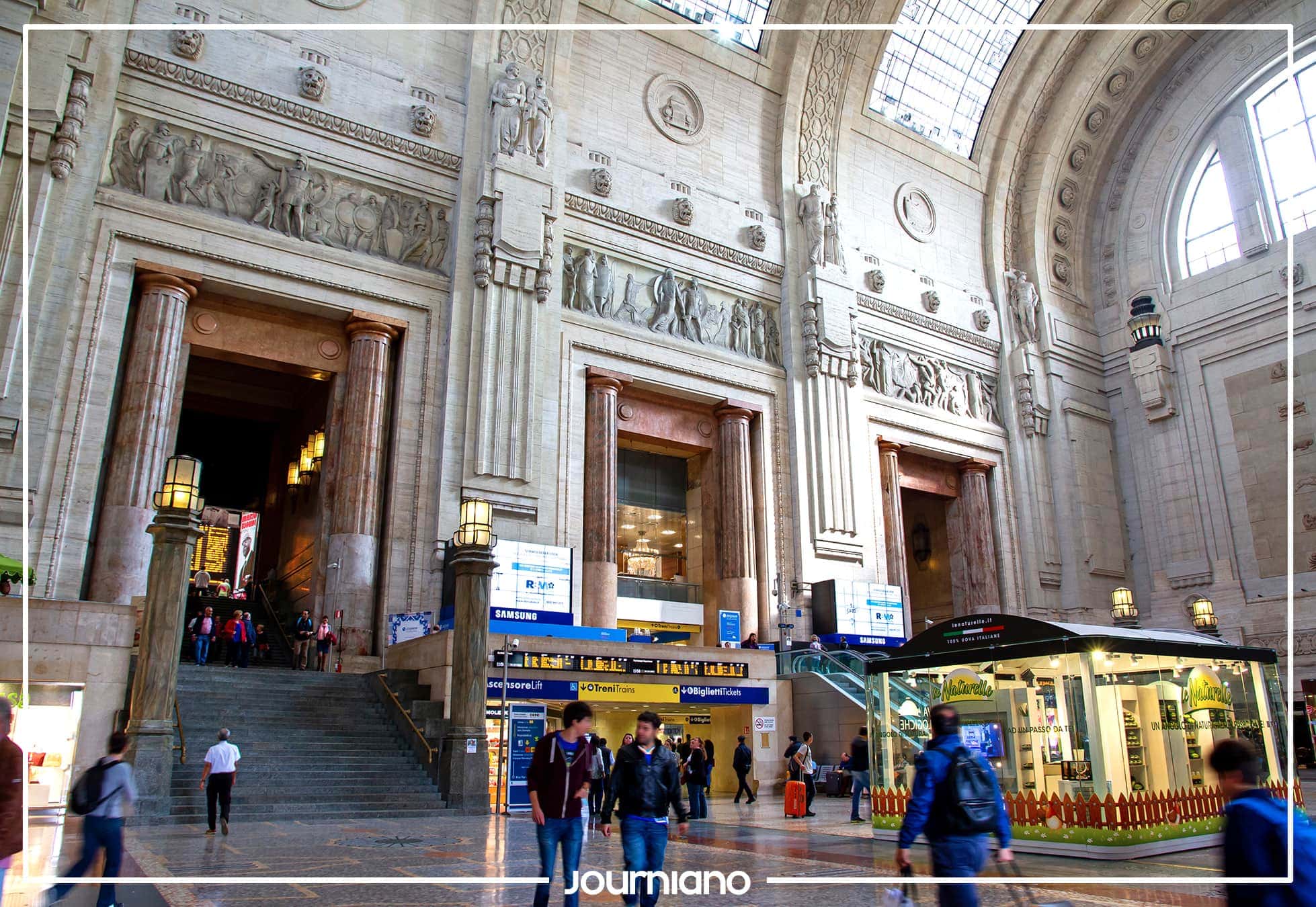 Obviously, the Roman's didn't operate any trains back in the days and accidentally, this monster of a gateway isn't even that old.
Milano Centrale was first planned in the turn of the 19th to 20th century, when Italy was still a kingdom, and suffered some bad times (World War One) and severe delays until completion. Thus, it was not ready until 1934 – a time period ruled by fascists. So, Benito Mussolini, the prime minister and simultanously dictator at that time, took advantage of the still to be completed station to undertake some changes of its scale. This lead to the insanity, making Milano Centrale even more monumental than it was previously planned plus a symbol of the fascist regime's power.
Taking this into account, it's understandable why Italian's second biggest railway gateway got its imperial appearance from. Thus, Milano Centrale's architecture is a mixture of Romanesque, Art Deco and fascist style.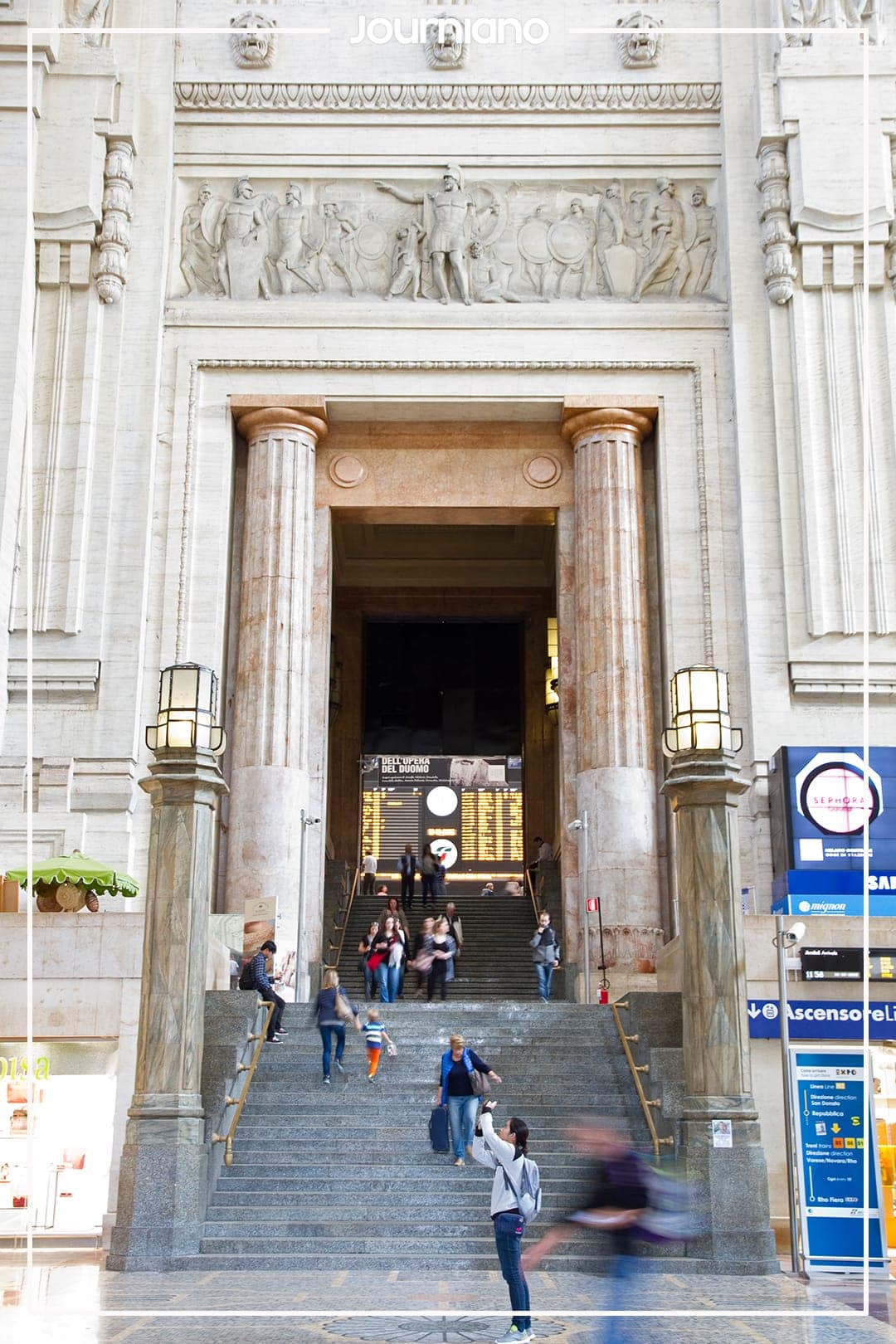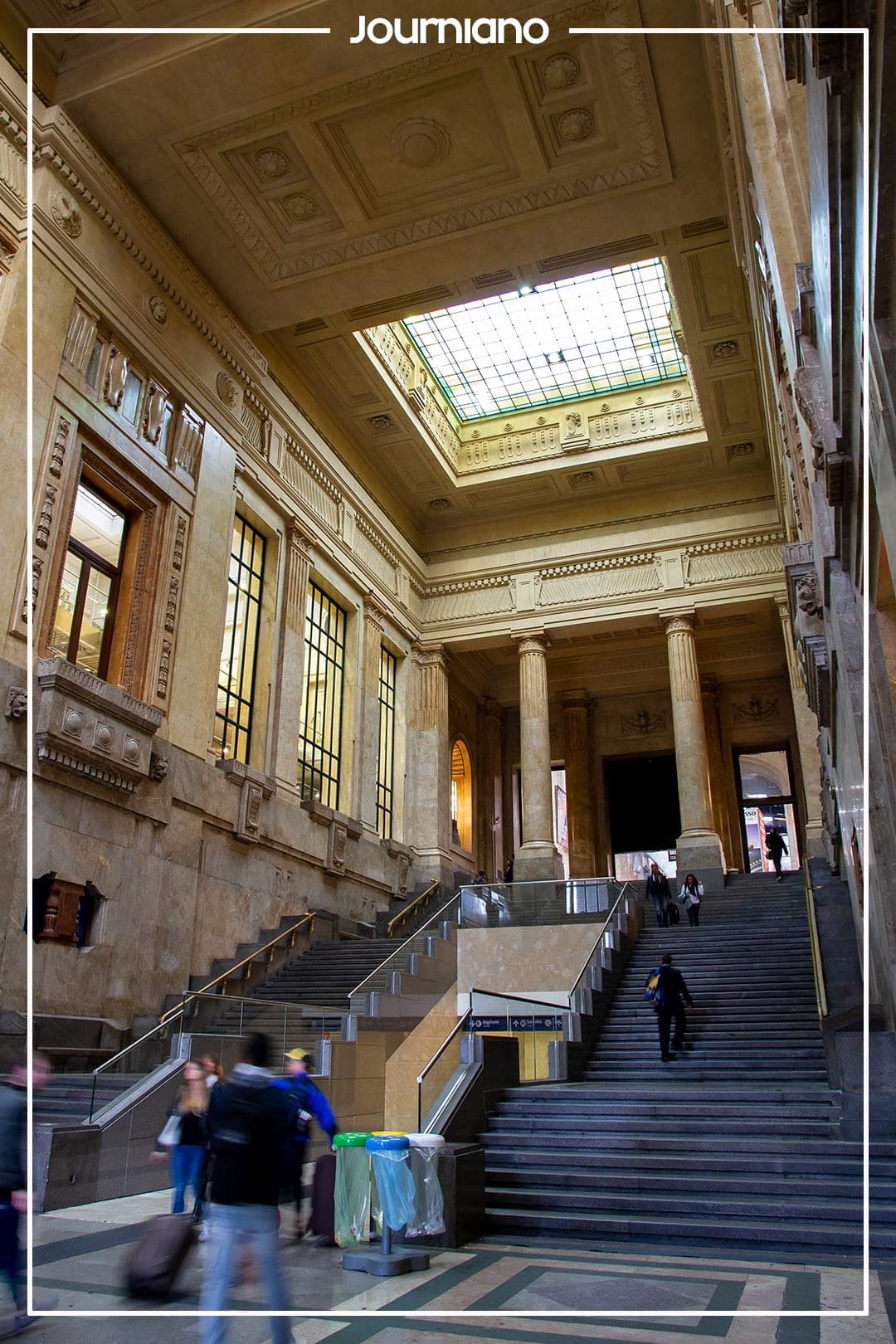 Well, putting these historical influences by side, it's an impressive example of architecture. If you arrive or depart from there, take a bit time extra to seek the impressions out of it. In case you're interested in architecture in general, rank Milano Centrale as one must-see during your trip, whether you're using it as a gateway or not. Should you have enjoyed historical stations like the ones in Antwerp or Porto before, you won't be disappointed.
On a sidenote: As I neither arrived nor departed from there, I can't show you the plattform area. However, I can assure you, that it's looking interesting. For people interested in creative photo motifs, I advise to use the stairways from subway up to entrance hall level.
How to get there