Have you ever experienced those moments, when flying over Google Maps in a certain region, which you are going to visit soon and find some huge unexpected surprises down the road? Surprises that blow your mind. Right in between the regions of Provence, Occitane and Auvergne-Rhone Alpes of South east France, you find the department of Ardèche, where our planet formed something spectacular with its resources.
It was a real hot summer day, when I meandered 250 kilometers, starting in Clermont-Ferrand, heading through the valleys of Auvergne and Parc Naturel Regional des Monts d'Ardèche – some pretty long and French names, which fitted that journey perfectly. A big part of that drive down to the Ardèrche Region was surrounded completely by nature and a village here and there.  
If I'm being honest, the vegetation and landscapes changed so many times during my journey, that I thought having crossed France from North to South. Bearing this in mind, I should have planned more time for the journey itself, to enjoy it more properly.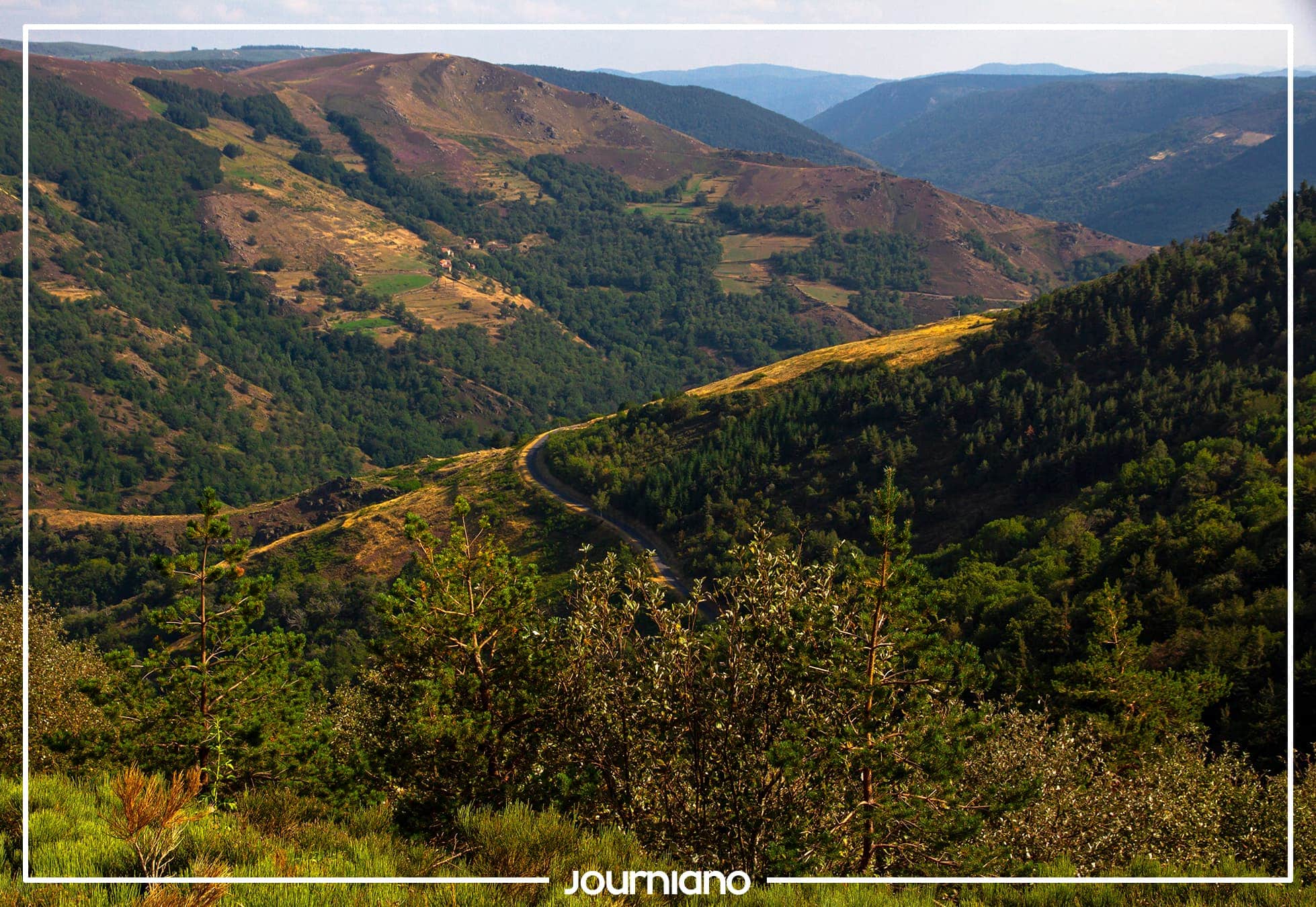 So, Ardèche, what does it stand for?
Ardèche is a river that crosses the region and, indeed, the region's eponym.
When I first crossed the river by a single lane bridge, I wasn't aware of the live impact its valley could have on me yet. Bit by bit, I started to see the cliffs, raising behind the river bed, as well as people bathing and kayaking in its waters. Furthermore, it was almost 8pm and the beginnings of the sundown gilded the entire landscape – it was a spectacular moment. To that effect, I was worried for not arriving timely at my final destination.
While approaching the city Vallon Pont d'arc, I got stuck in a traffic jam. Many residents and tourists were ready to leave the beaches of the Ardèche. Fortunately, it wasn't permanent, thus I continued smoothly. Although many people were leaving home, there was still a bunch of them at my final destination – whatever.
I jumped out of the car, headed to the riverside and confronted a huge cliff, which was toned in a lovely orange. Step by step, the star of that place and region was showing up more and more. The star that gave the city its name. If you know a bit of the French or Latin languages, you could deviate "Vallon Pont d'arc" into the English words "Valley of the bridge arch".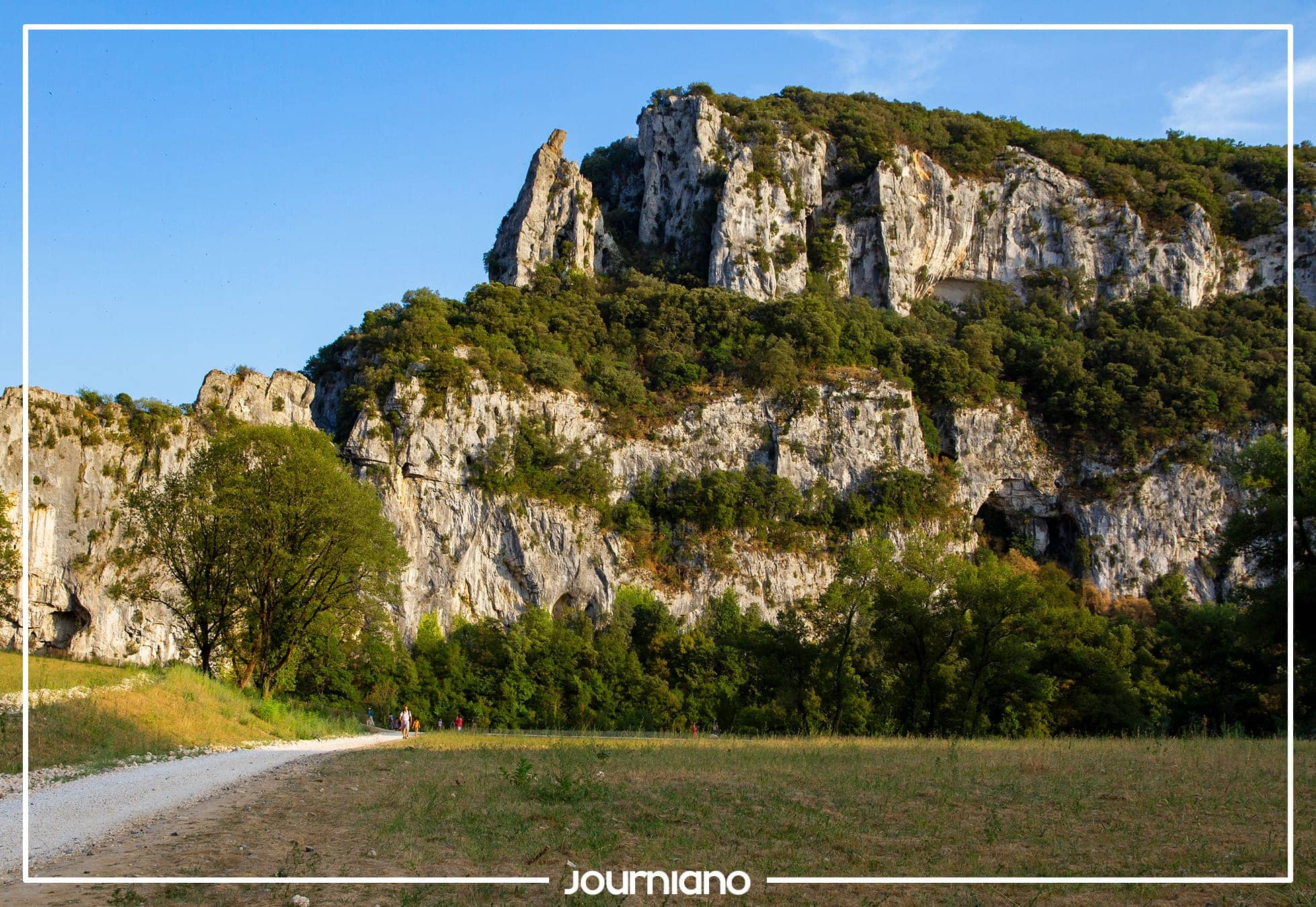 So, what would you imagine behind that name? Certainly, a bridge, constructed by human hands, connecting both sides of the valley.
However, mother nature created the bridge arch out of rocks and water stream.
It took my breath away, when I arrived at the crowded river bank. Reams of families plashed in the waters, dozens of kayaks were passing by in groups and swallows flew in droves alongside the cliffs of the valley, just to present some aerobatic figures around the Pont d'arc shortly after.
On pictures, it already seemed big and wonderful. In reality, though, it looked massive and insane!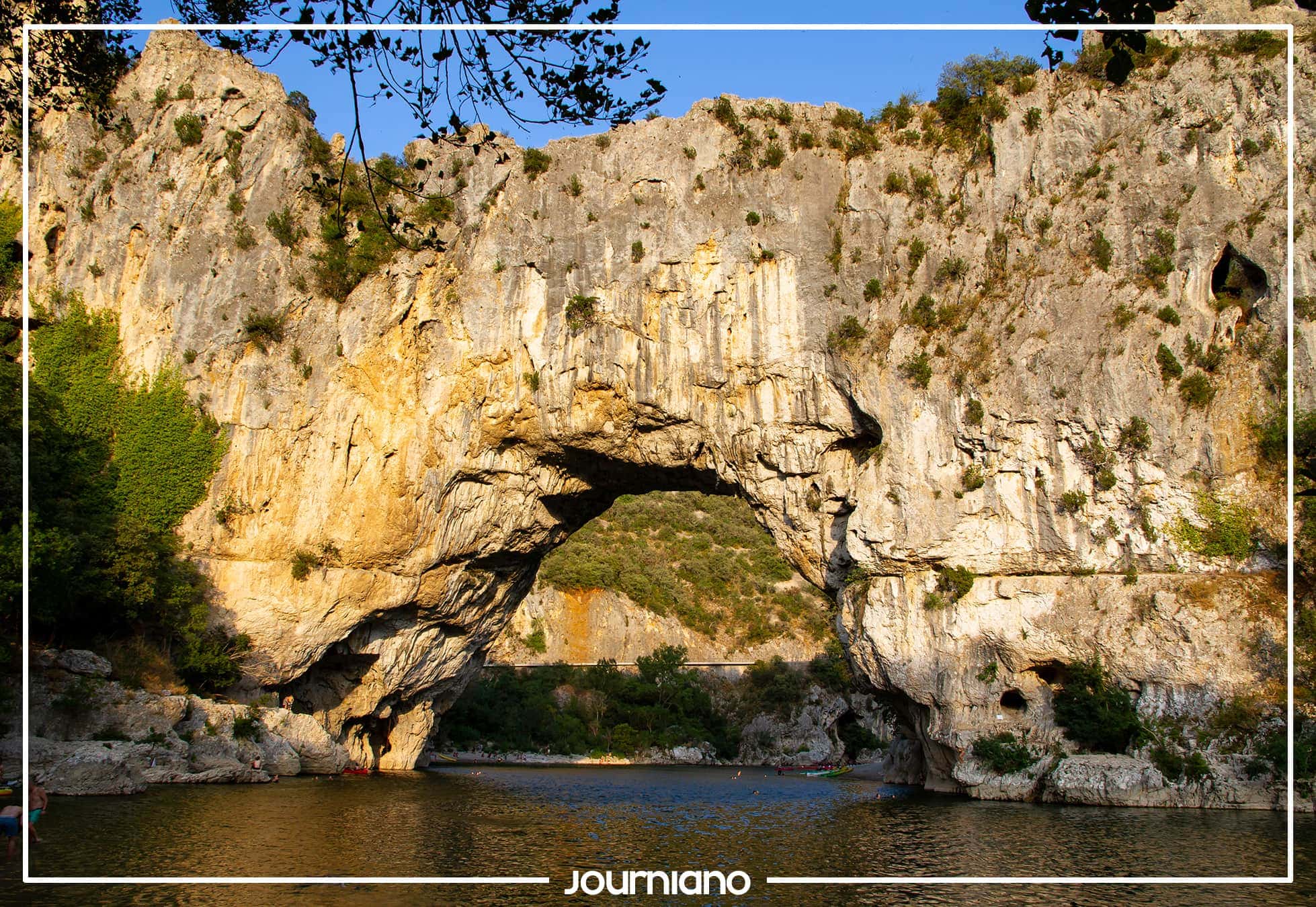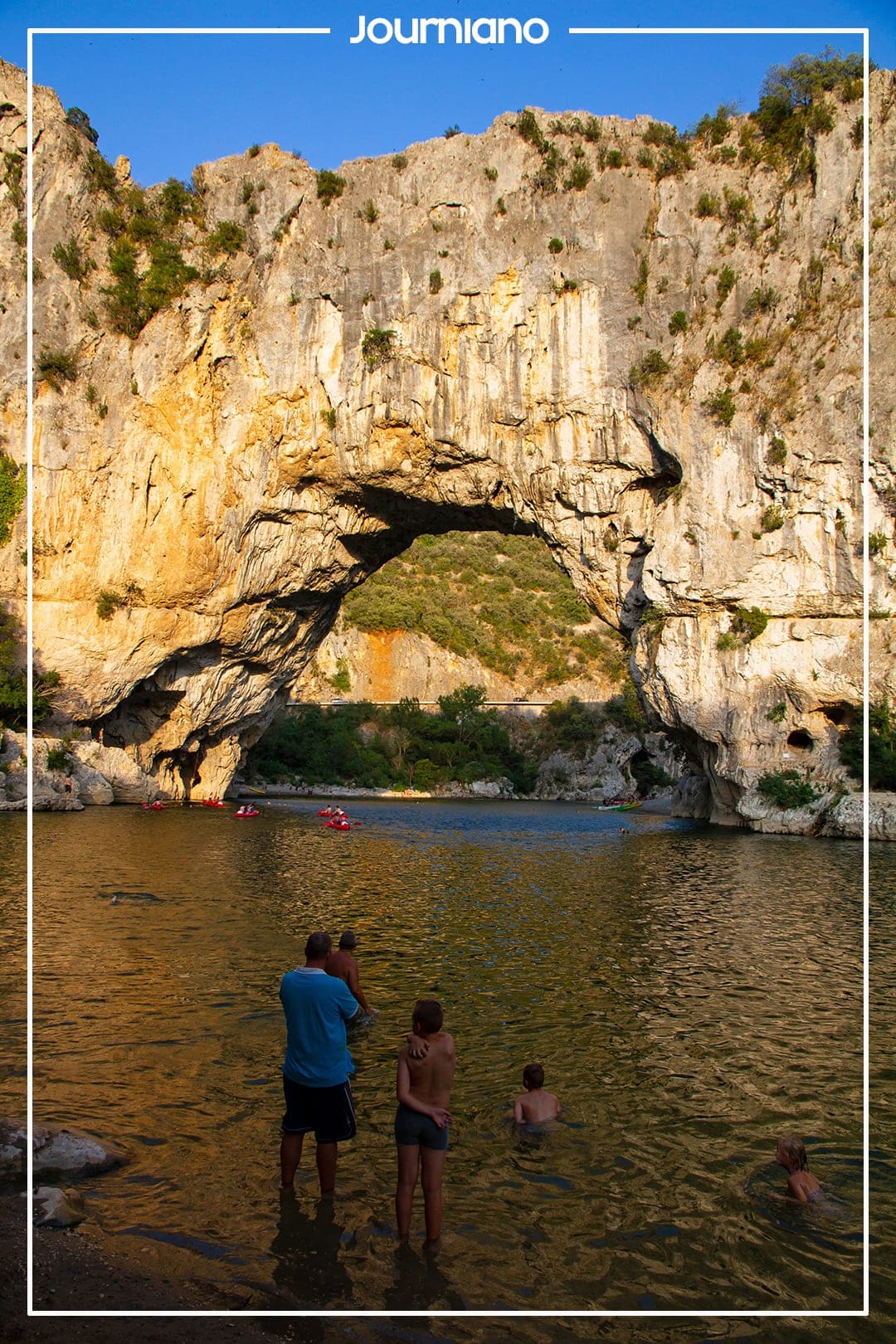 You get a sense for the scale of that monster, when you compare the size of the people and kayaks with the height of the arch – 54 meters high and 60 meters long! I melted at that sight.
What would you like to have done in my position? Probably jumping into the river and swim towards the Pont d'Arc, right?
You don't have any idea, how big my desire was to do so. Instead, I went back to my car to still win the race against time.
The sun almost disappeared behind the cliffs and I had to get another angle of view of this marvellous valley further east. On my way, I drove uphill and passed through tunnels, which seemed like they were natural finish – awesome. After 10 kilometres of road, I arrived at my final stop – the observation platform called "Belvedere de tourre in Serre de Sapins". Another pretty long French name, and yet again, it stands for something special.
You must also know that this area is also called "Gorges de l'Ardèche" (like the English "Gorges of the Ardèche"). This "gorge" can be seen from that mentioned obersvation platform.
When I got out of the car and walked to the slope, I had to control myself.
By mother nature, this is a natural masterpiece!
The Ardèche flows serpentine-wise through the valley, which created a cone-like mountain fitting perfectly into the scenery of "Europe's Grand Canyon". Further along the river, you see enormous cliffs. Everything was covered by fir trees, which gave me the impression of being in a sort of jungle.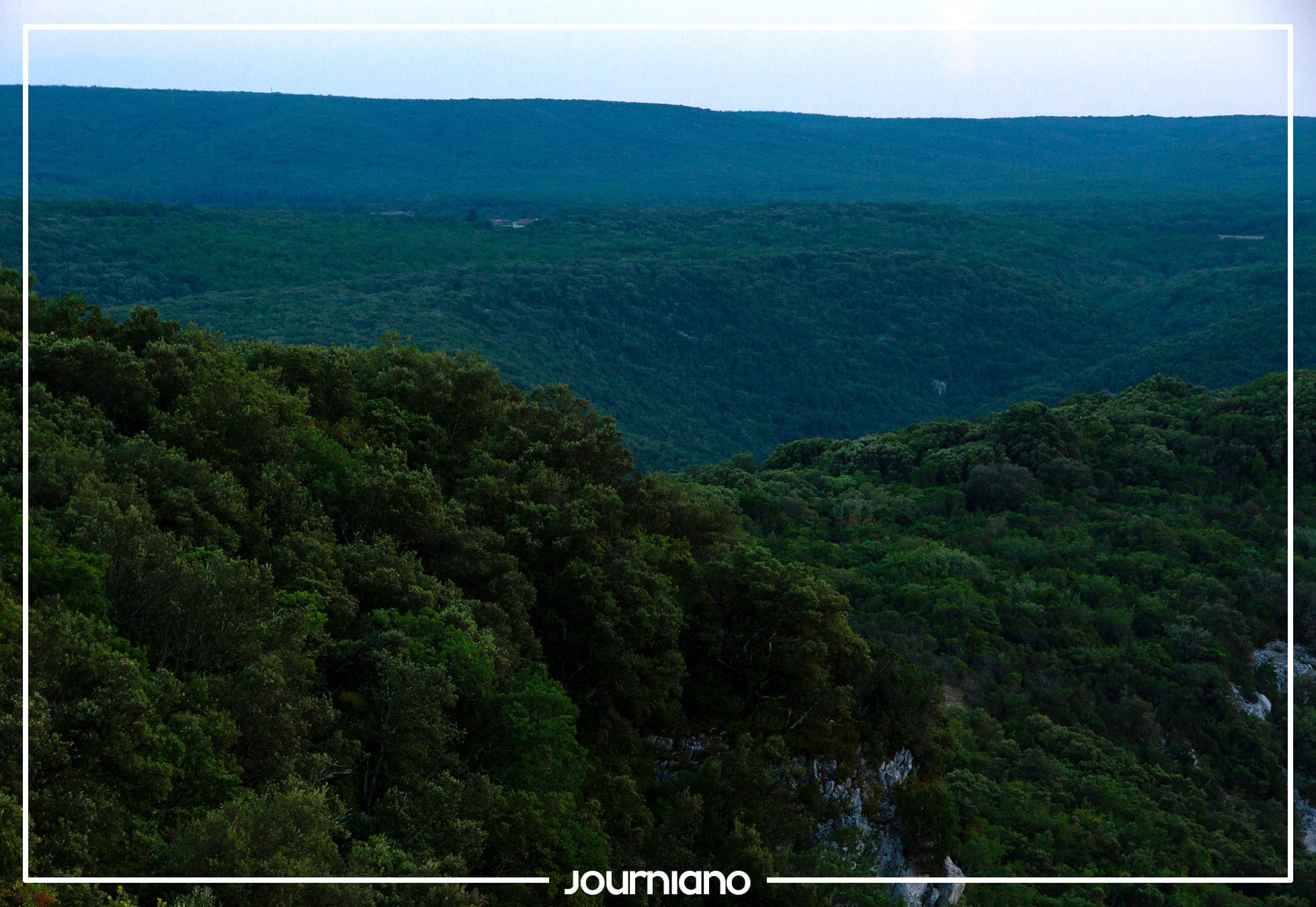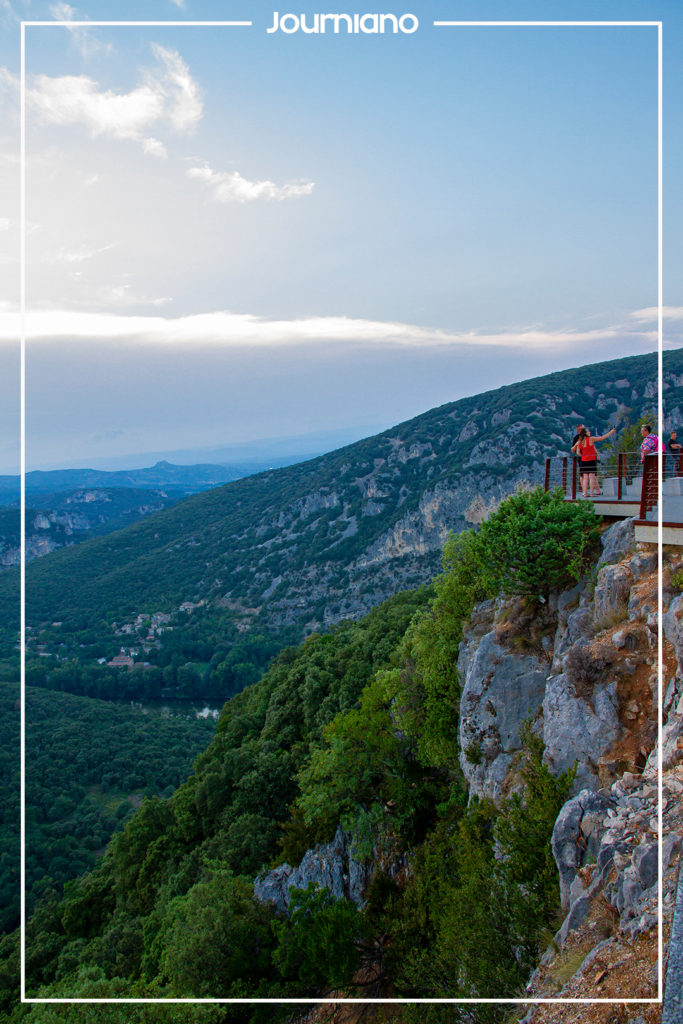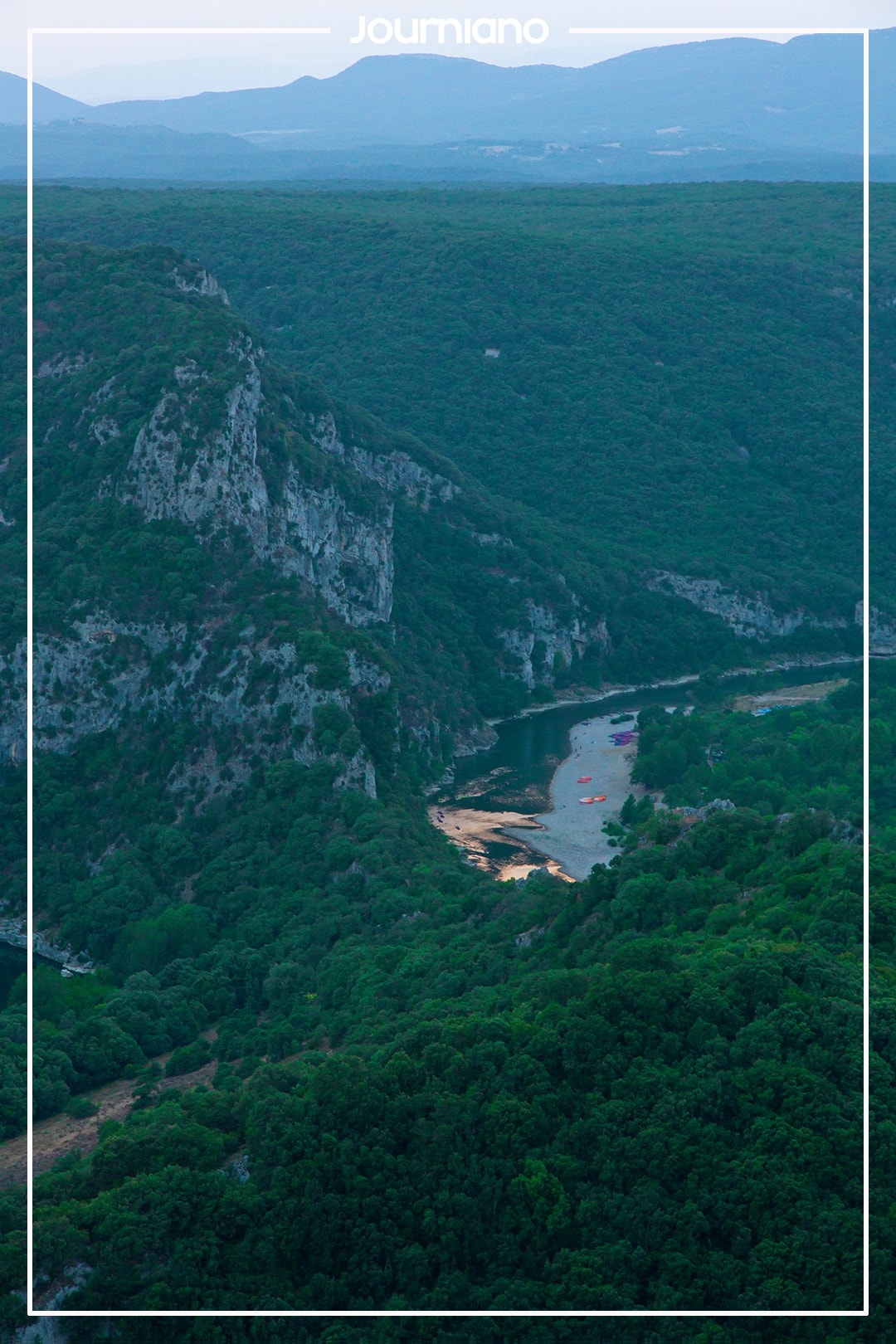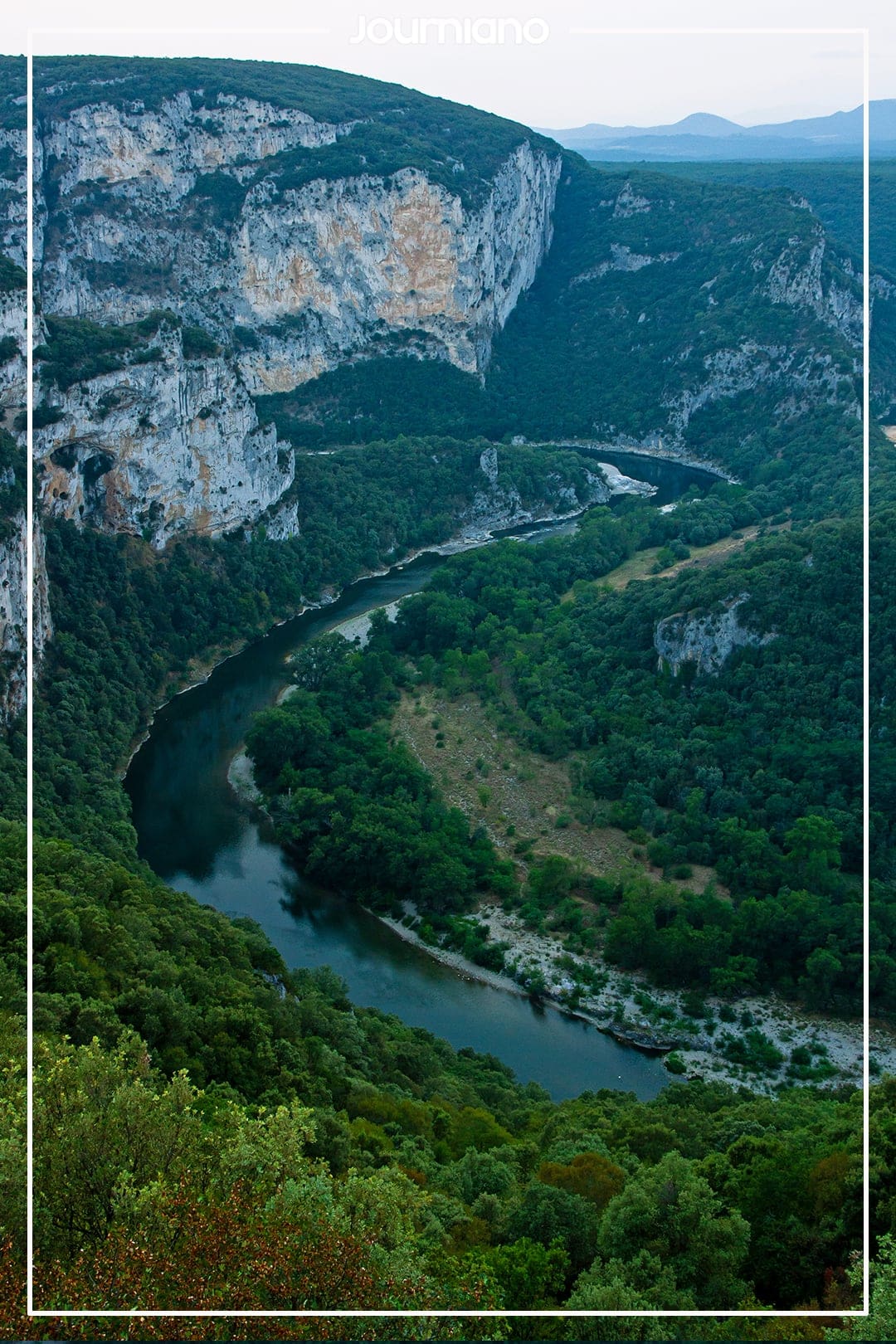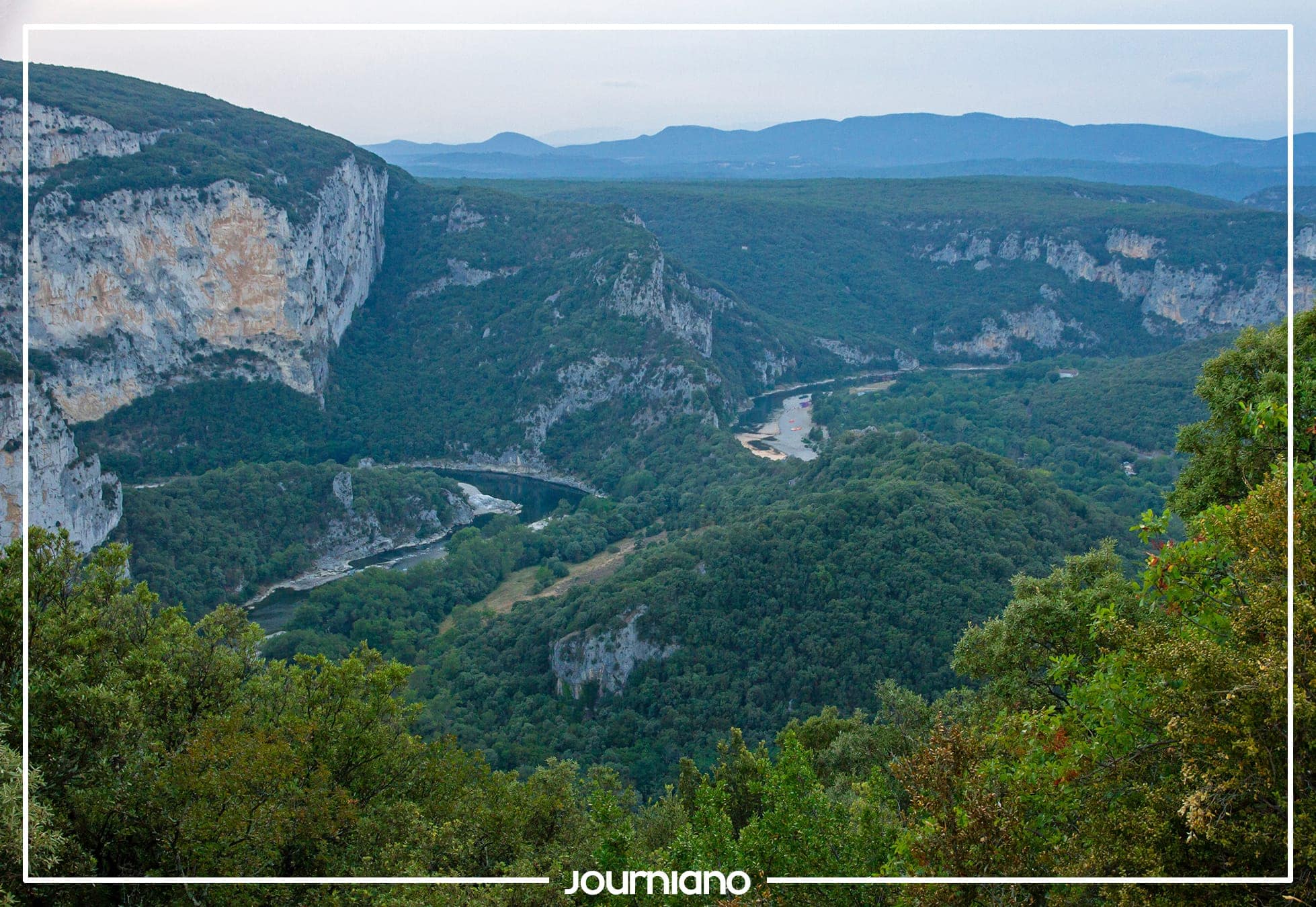 In the last moments of light, I headed back to Clermont-Ferrand after admiring that scenery one more time.
Overall, I can say, that you must calculate minimum a whole day to fully enjoy this natural spectacle. The Gorges d'Ardèche expands further east from where I took the last impressions. Furthermore, the riverbanks at river Ardèche and especially around the Pont d'Arc are too gorgeous for not spending a few hours of relaxed quality time. If you are into sports or just love kayaking, you shouldn't let this opportunity pass you by – the location and surroundings are too unique.
Although I visited that place just briefly, I don't regret it. However, I'm super excited to revisit Vallon Pont d'Arc and its natural wonders as soon as possible.  
Here you find more information about the destination.
Recommended season
Try to avoid the month of August – many locals take advantage of being on holidays, so it's pretty packed. From Mai until June as well as in September, you'll have more space for yourself. The month of October should be interesting for those who want to experience the whole scenery before autumn leaves.
How to get there