Les Impasses du Quartier Hors-Château are tight time machines. Up to eight intriguing alleys take you on a journey through the history of Liège. Dive in deeper and find out why it's worth visiting all of them.
What to expect
1. About Les Impasses du Quartier Hors-Château
Located centrally between Quartier Hors-Château and the bottom of the Citadelle, up to eight alleys lead to some pretty hidden corners of the city. Some of these are actual time machines. Why you might ask? Well, they date back to the 13th century. Timbered houses from medieval times get mixed with bricky worker's houses from the glory industrial era. Today, these impasses are places of ease. Especially their decoration and appearance make them a must-see in Liège.
Do you actually know what "impasses" actually are? They are not simple alleys but cul-de-sacs a.k.a blind alleys. Thus, each of them, except for a few exceptions, is its own world. Fortunately, this diversity makes it worth strolling through all of them.
2. Impasse de la Vignette
So, let's lick off with the first alley, Impasse de la Vignette. This one is located pretty close to the church Collégiale de Saint Barthélemy and lies at the quarter's eastern end. In case you want to get hooked immediately, Impasse de la Vignette will fulfill it pretty well.
2.1 Lovely first Impression
White bricky facades, decorated by plants welcome you once you enter Impasse de la Vignette. Cobblestones lead you to an archway of curiosity. In addition to that, you start noticing window frames and bars being painted in gorgeous tones. Normally, you don't expect overstimulation in such a tight alleyway – I mean, I didn't either. However, surprises lurk everywhere.
2.2 Overstimulating Mediterranean Vibes
Paying close attention to the alley's details is utterly important. The risk of missing some highlights is high. Especially when you get hit by a shift of tones. While colours were only there to highlight details, their roles change severely.
Adjoining to Impasse Vignette, you encounter a small but colourful courtyard. From purple flowers to yellow facades and baby blue window frames, this screams more like the Mediterranean than former industrial-heavy Liège. If you're lucky, the Mediterranean flair gets reinforced by local cats strolling through the quarter. But hey, that's one of many surprises which await you in the Wallonian city.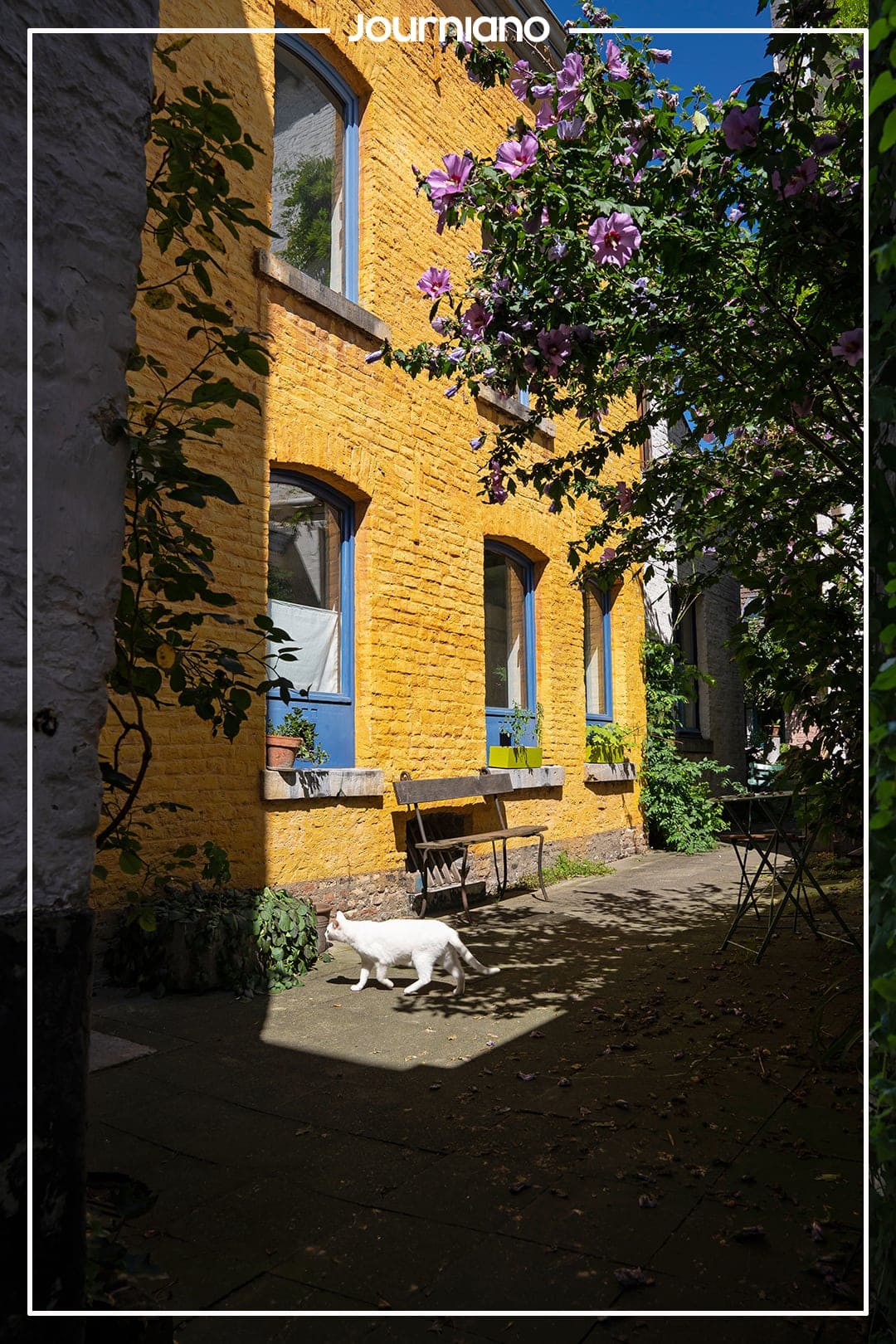 2.3 Green packed Impasse meets Industrial Architecture at the Bottom of the Citadelle
Proceeding the alley's path northbound, allows you to experience another beautiful and diverse phase of Impasse de la Vignette. After passing by the small chappel, you encounter the bottom of the Citadelle. On the left side of the Impasse, white walls are totally covered by ivy. On the opposing side, workers' houses from the industrial era deliver warm tones. All that gets rounded up lovely by blooming front gardens.
Although Impasse de la Vignette finds its closure here at this point, the appetite for more hidden alleys has hopefully increased by now.
3. Impasse Hubart – A fast Glimpse on the more open Alleyway
Parallel to Impasse de la Vignette, Impasse Hubart stands out with a much wider and open appearance. Moreover, a mural illustrating a faceless woman wearing a kimono strikes immediately in your eyes. Unfortunately, I've only got a glimpse and haven't entered it properly. Instead, I explored the next ones properly again.
4. Impasse de l'Ange & Impasse de la Couronne – A Duet between two intriguing Alleys
Are you ready for a duet? Two intriguing alleys find together for an amazing final act. Thankfully, both Impasse de l'Ange and Impasse de la Couronne are still lovely on their own.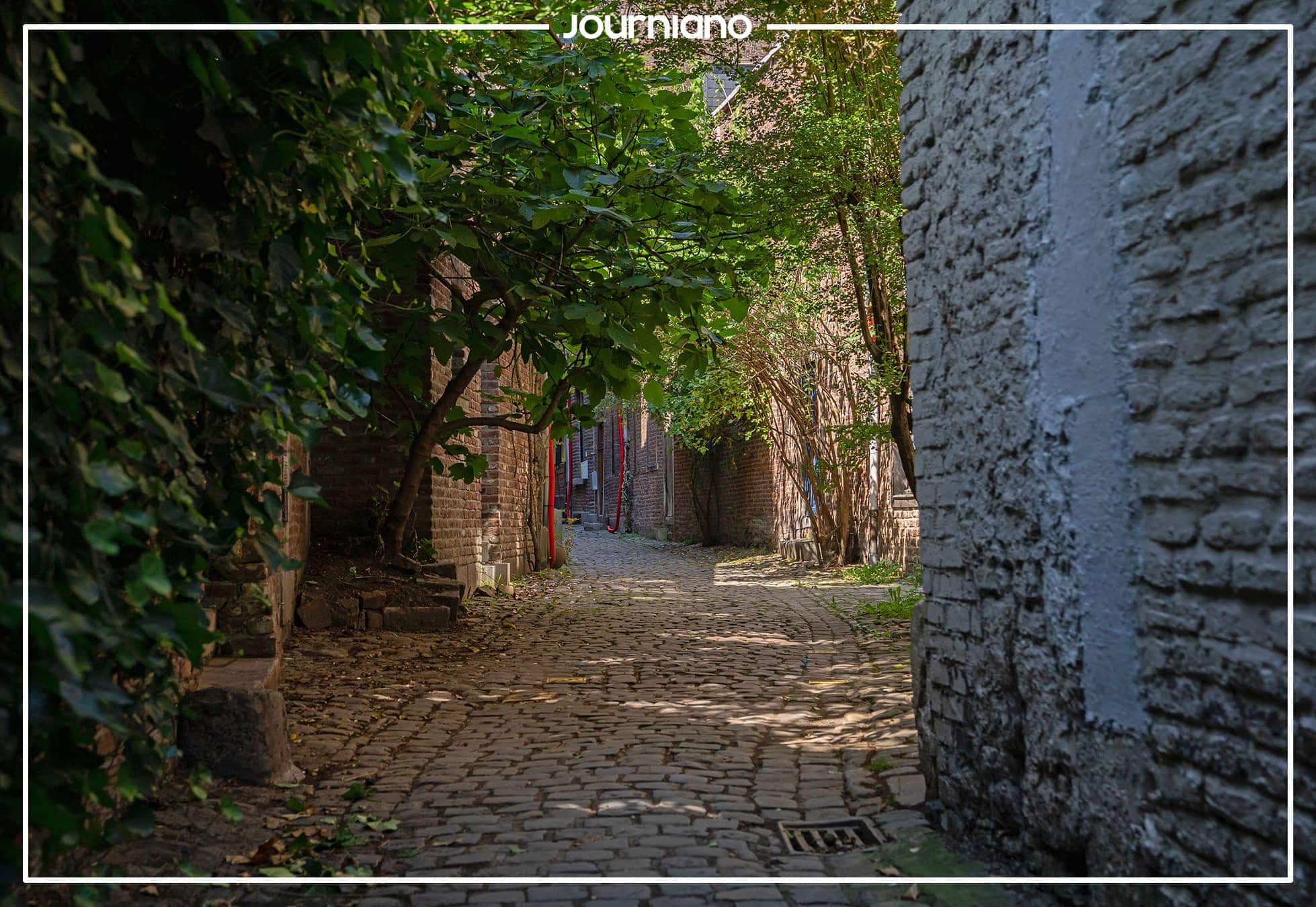 4.1 Impasse de l'Ange
Beautifully, green archways welcome you at Impasse de l'Ange's entrance from Rue Hors-Château. Mostly industrial brick houses dominate the alley scene here. However, here and there some very old timbered houses appear in-between. What's also typical for this impasse are red downpipes. They can be noticed alongside every house's facade. Fortunately, I can say that they look charming in combination with their environment. Overall, this is again a peaceful and gorgeous-looking corner of Liège.
Do you like surprises and big impacts? Then don't proceed to the alleys' end and turn back. Back at Rue Hors-Château, you take the next alley and stroll to its end. There, you find the mentioned final act of the intriguing duet.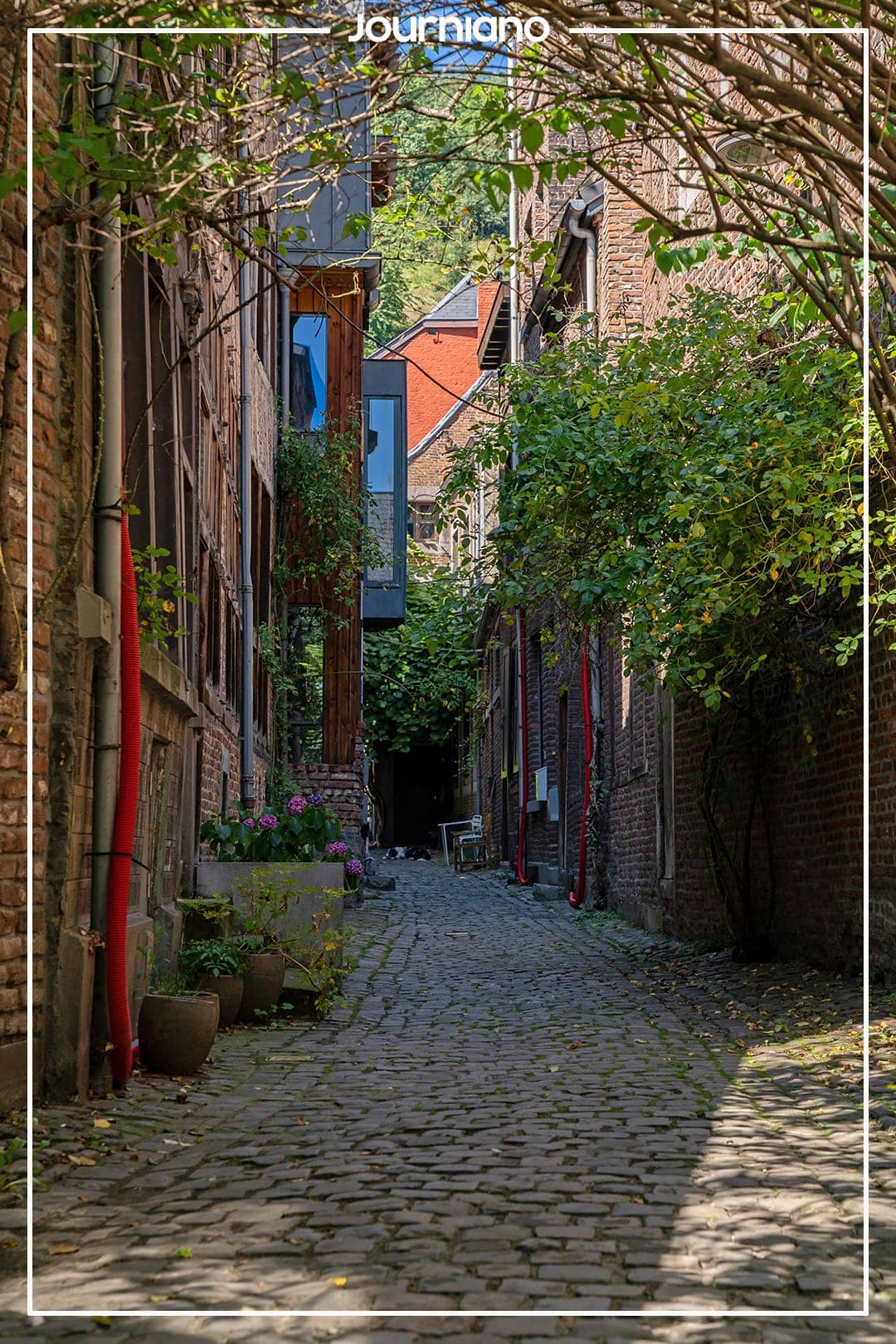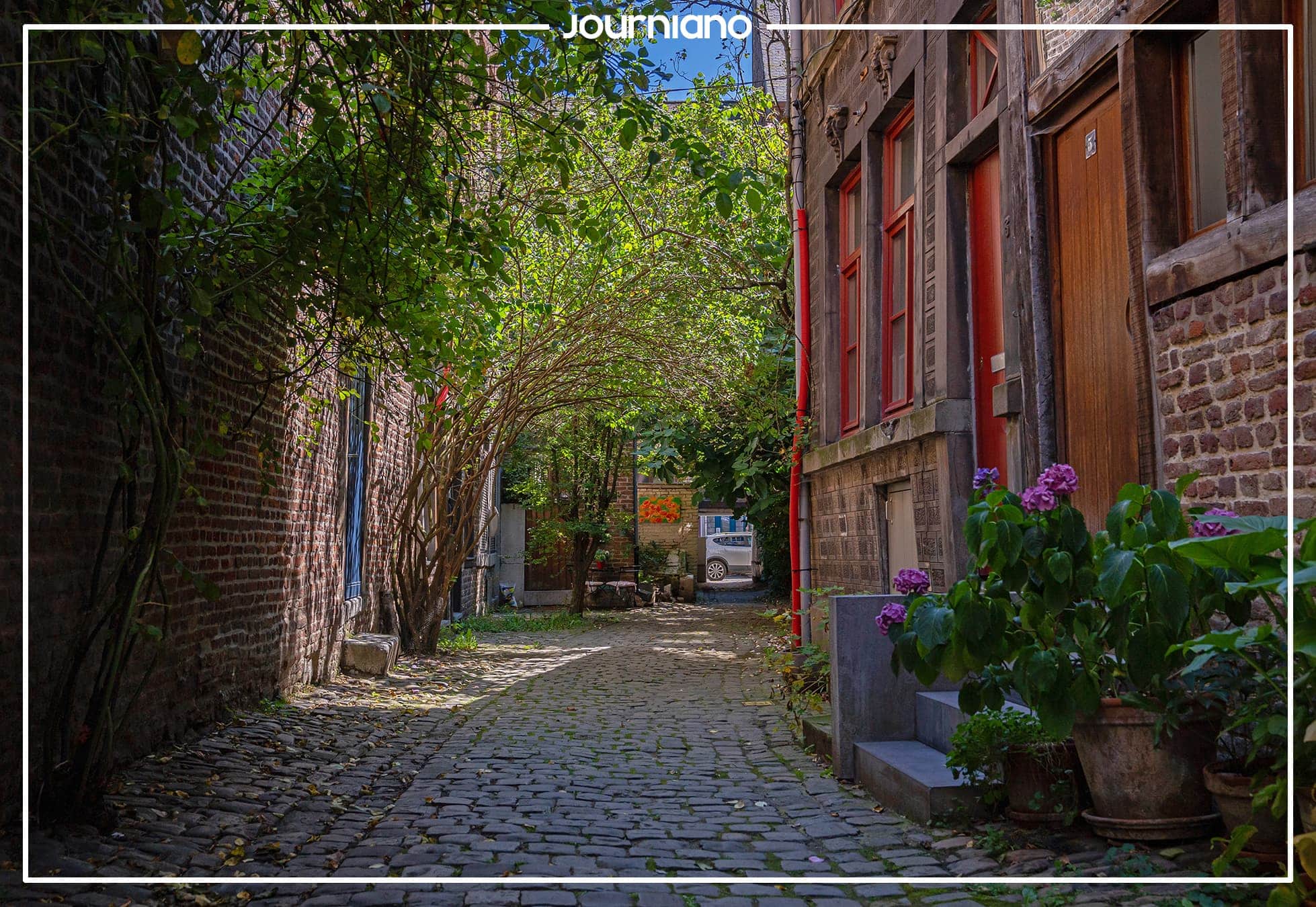 4.2 Impasse de la Couronne
Other than its duet partner, Impasse de la Couronne starts mysterious and bricky. On top of that, it is also much tighter. But hey, diversity is always welcome, right?
Still, the setting changes slowly while proceeding to the alleys' end. Astonishingly, grapevines and roses grow along the facades framing the tight impasse. At some points, they even cross sides. Hence, creating neat archways. From now on, this is getting romantic, for real.
4.3 Amazing Courtyard – The Duet's final and magical Act
There it is, the duet's final act – an amazing courtyard. Realising that this place is a thing, made me speechless. Amazingly, this place offers so many details to spot. Moreover, the variety of colours on the surrounding facades make it picturesque par excellence. To be honest, it hit me so hard that I was literally imagining living and chilling there next to all these splendid plants. For sure, it's a magical place and can't be missed.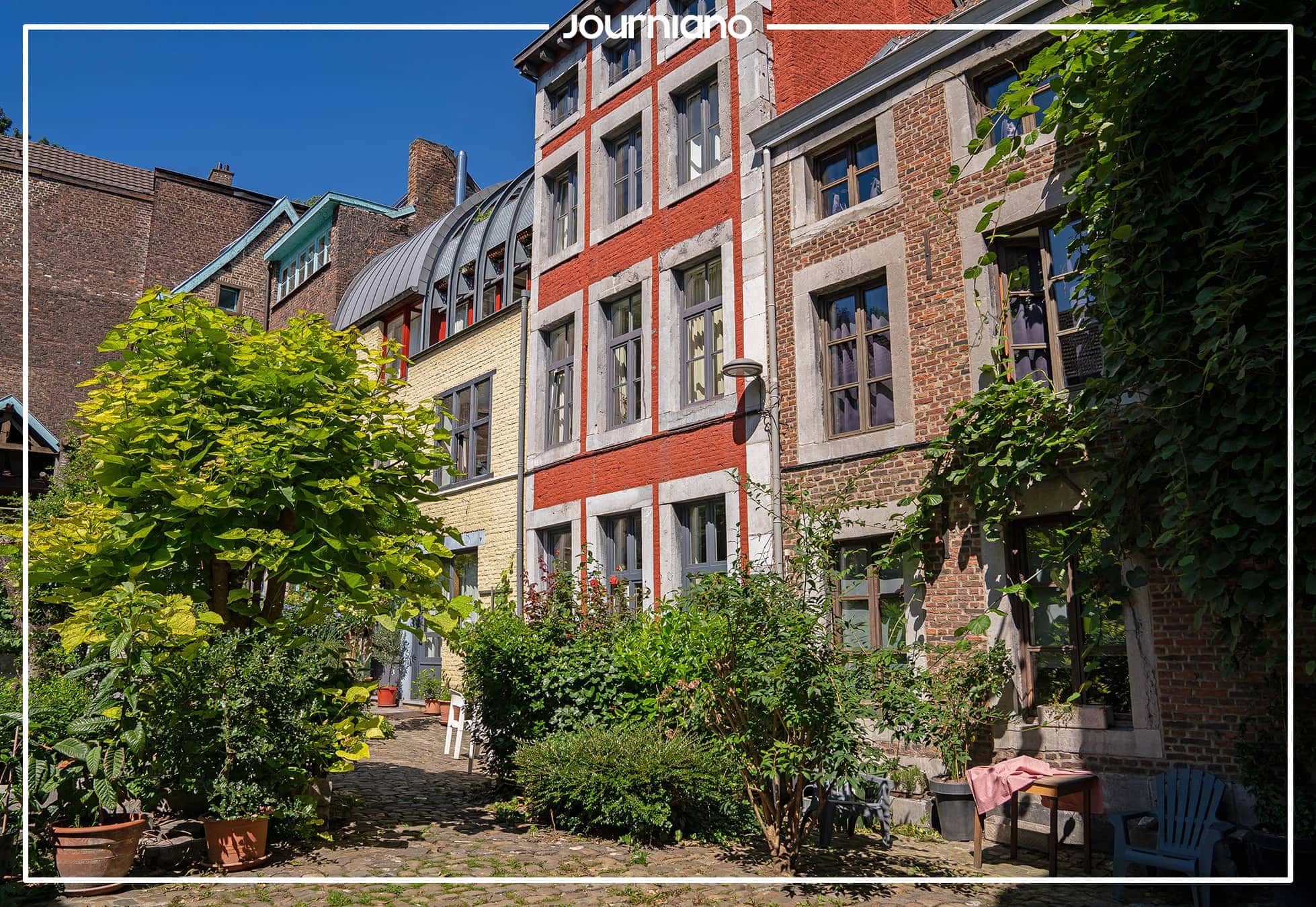 5. Impasse Venta
Last but not least, there's another tight alleyway I've visited by myself. Impasse Venta might lack the amount of vegetation and the variety of its predecessors. However, you could touch both facades framing the alley while going through, as my mate proves it in the picture below. Yes, somehow it looks claustrophobic. Otherwise, it's exciting at the same time.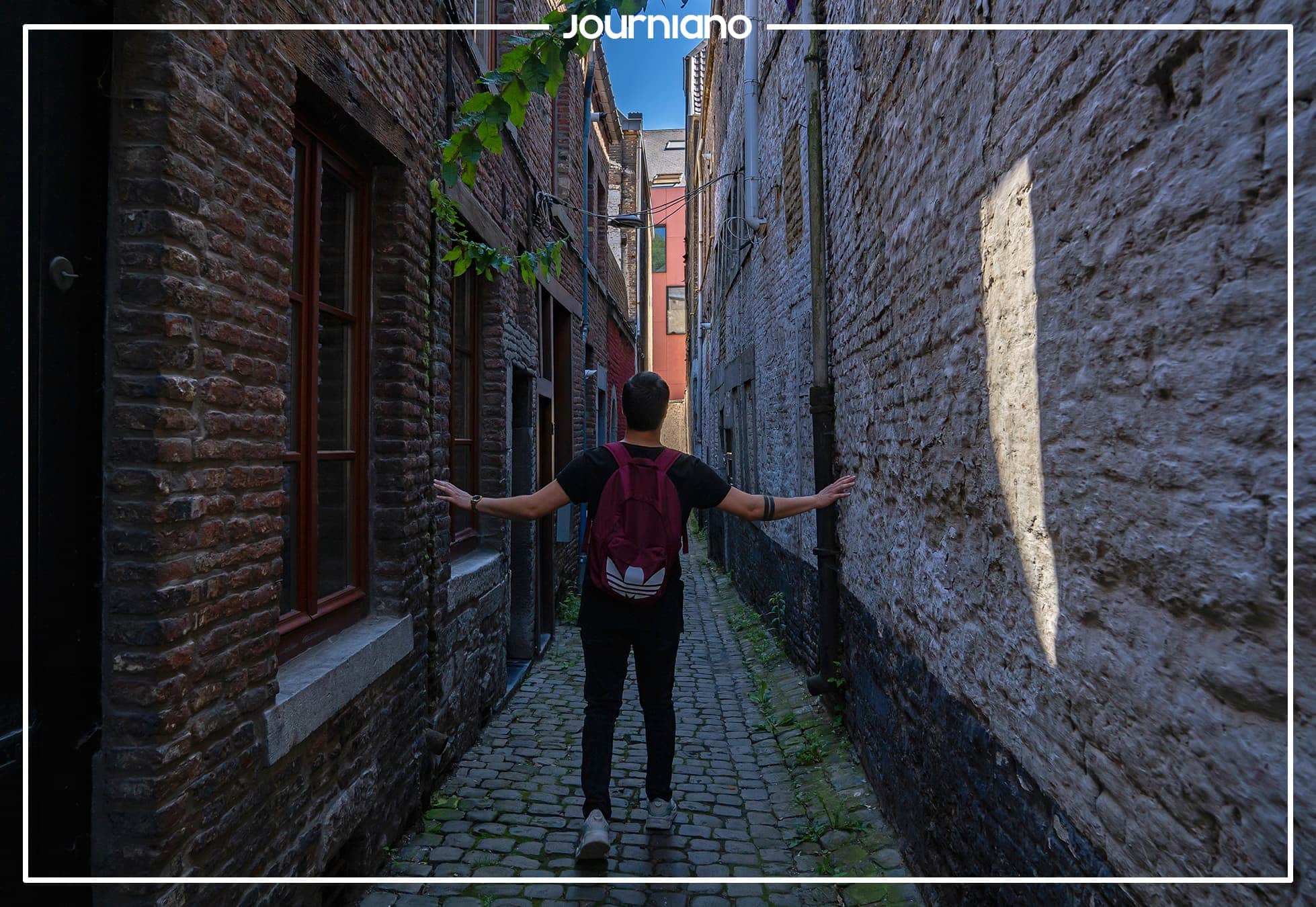 6. Further Alleys among Les Impasses du Quartier Hors-Château waiting to be discovered
Yet, there are further alleys waiting to be discovered. Next to the five mentioned impasses, there are another three. Although I missed them on my first visit, you shouldn't at yours. Below, you can click on the listed alleyways to find their exact location.
7. When to visit Les Impasses du Quartier Hors-Château
Les Impasses du Quartier Hors-Château can be visited year round. Nonetheless, I advise you to consider going there between spring and autumn. Due to those lovely plants and flowers alongside the alleys, this place gets even more magical.
8. How to get there
Fortunately, those impasses are easily reachable. Accessible from Rue de Hors-Château, they are located very centrally and close to Liège's majestic stairway Montagne de Bueren. Don't hesitate to navigate with the map embedded below.
9. Conclusion
When visiting Liège, you shouldn't sleep on those hidden and magical gems. Thanks to being located centrally and close to Liège's super attraction Montagne de Bueren, Les Impasses du Quartier Hors-Château can easily fit into your journey. Moreover, their diversity, intimacy and picturesque appearance alone make it worth a trip to the Wallonian city.