Hold on, purple poppy fields in Germany are the next blooming phenomenon. Beautifully, these colourful siblings of the well-known red ones cover two entire fields in Dortmund. Dive in deeper to not missing out on this flowering gem.
What to expect
1. About Purple Poppy Fields in Germany
In recent years, a lot of farmers realised that bees were in danger. Thus, they started seeding their fields with wildflowers. Among these, poppies were prominently presented. However, they have been red most of the time. Astonishingly, there are purple ones as well. Compared to their red siblings, they seem much taller. In fact, they can become 1,5 metres tall. Funnily, this sort of poppy is also known as opium poppy and is being normally cultivated between June and August.
Luckily, a farmer seeded these purple poppies on two of his fields in Dortmund, North-Rhine Westphalia.
2. Mohnfeld in Dortmund Großholthausen – The Purple Poppy Field
Situated at the western edge of Großholthausen ward, an amazing field is shining purply at the southern side of Kruckeler Straße. Beautifully, purple poppies decorate the landscape. Furthermore, their beauty forces you to stop and have a closer look.
2.1 The Beauty of Opium Poppies
Fortunately, there are some narrow paths that lead you into the field. Thus, you avoid destroying it. Once you are on the same level as the opium poppies, you start noticing their full beauty. Compared to their red siblings, they rather resemble tulips. On closer inspection, the picture below might show off their similarity.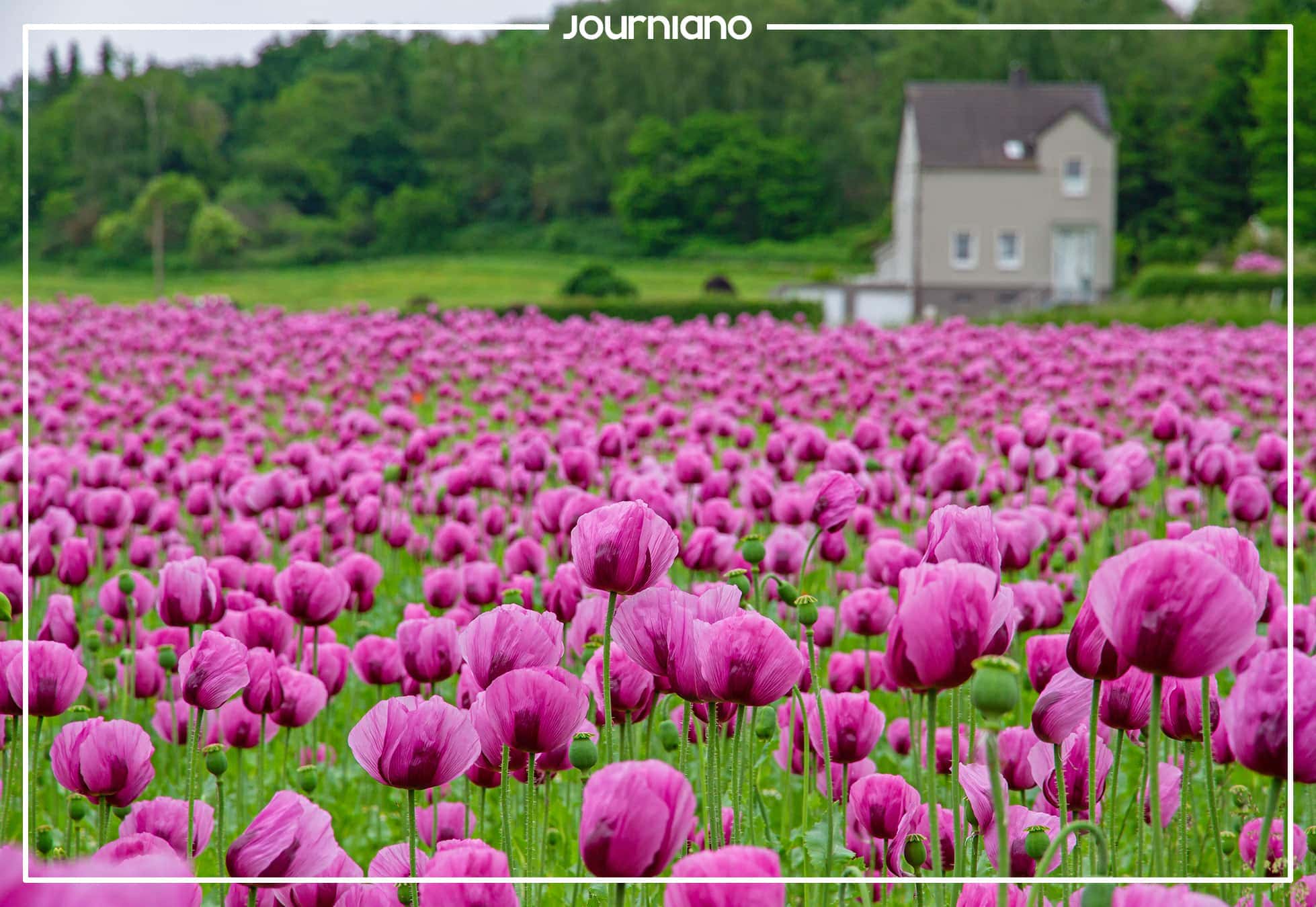 2.2 Tall Purple Flowers welcome you for amazing Shootings
Astonishingly, there is another factor that makes the purple poppies literally stand out. In fact, it's their height. Reaching up to 1,5 metres, these flowers are not only serving for stupendous landscape and nature photo motifs. Moreover, they welcome you for amazing shootings. Luckily, there are some narrow paths in between the rows of poppies.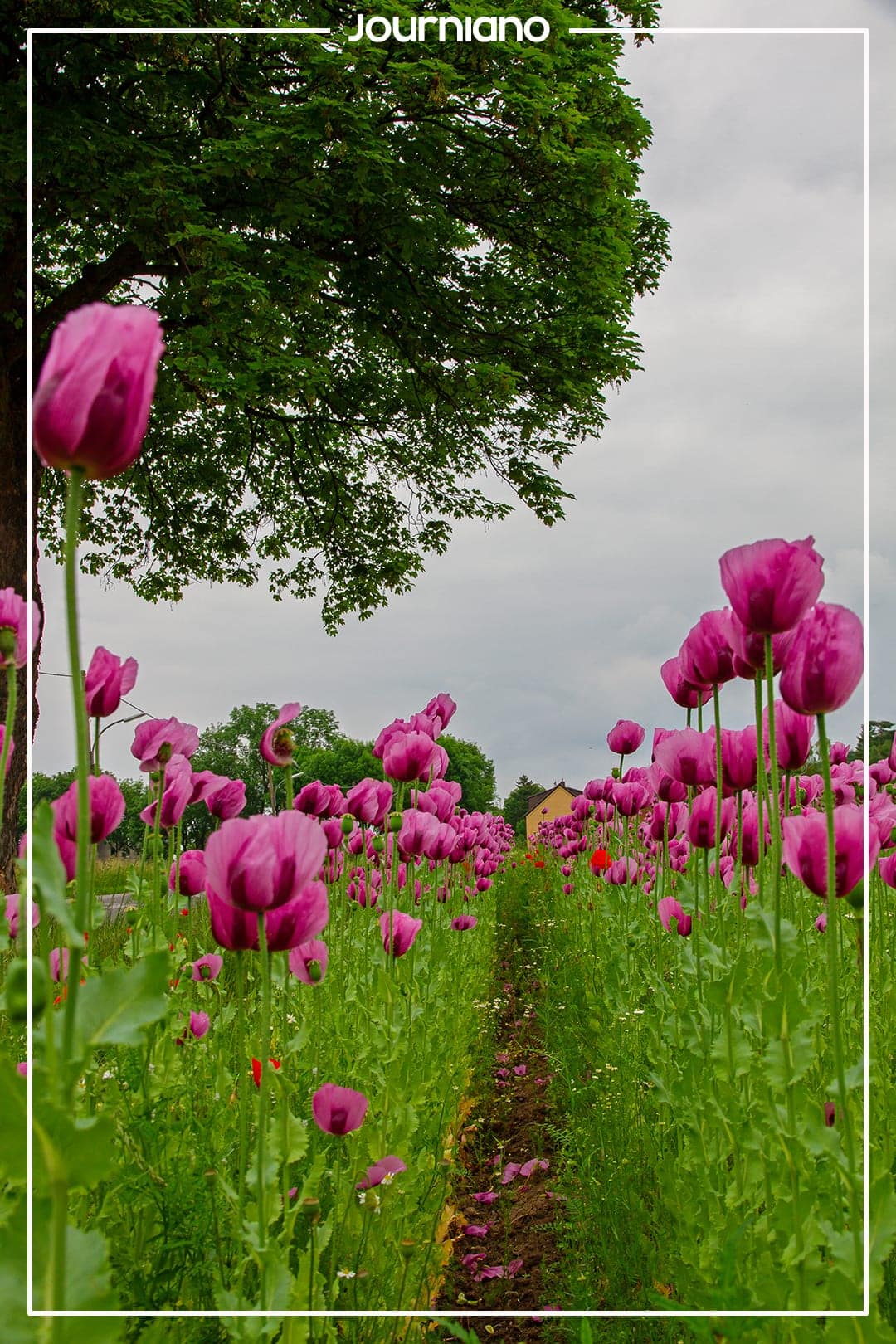 2.3 Purple Sea of Poppies – When Nature makes you stay and addictive
Strolling along the field enables further angles and perspectives. While some would say they look identical, photography lovers will disagree and find new details here and there. Especially, when you can extensively capture the purple sea of poppies. In addition to that, there are spots with more red poppies sneaking into the blooming party.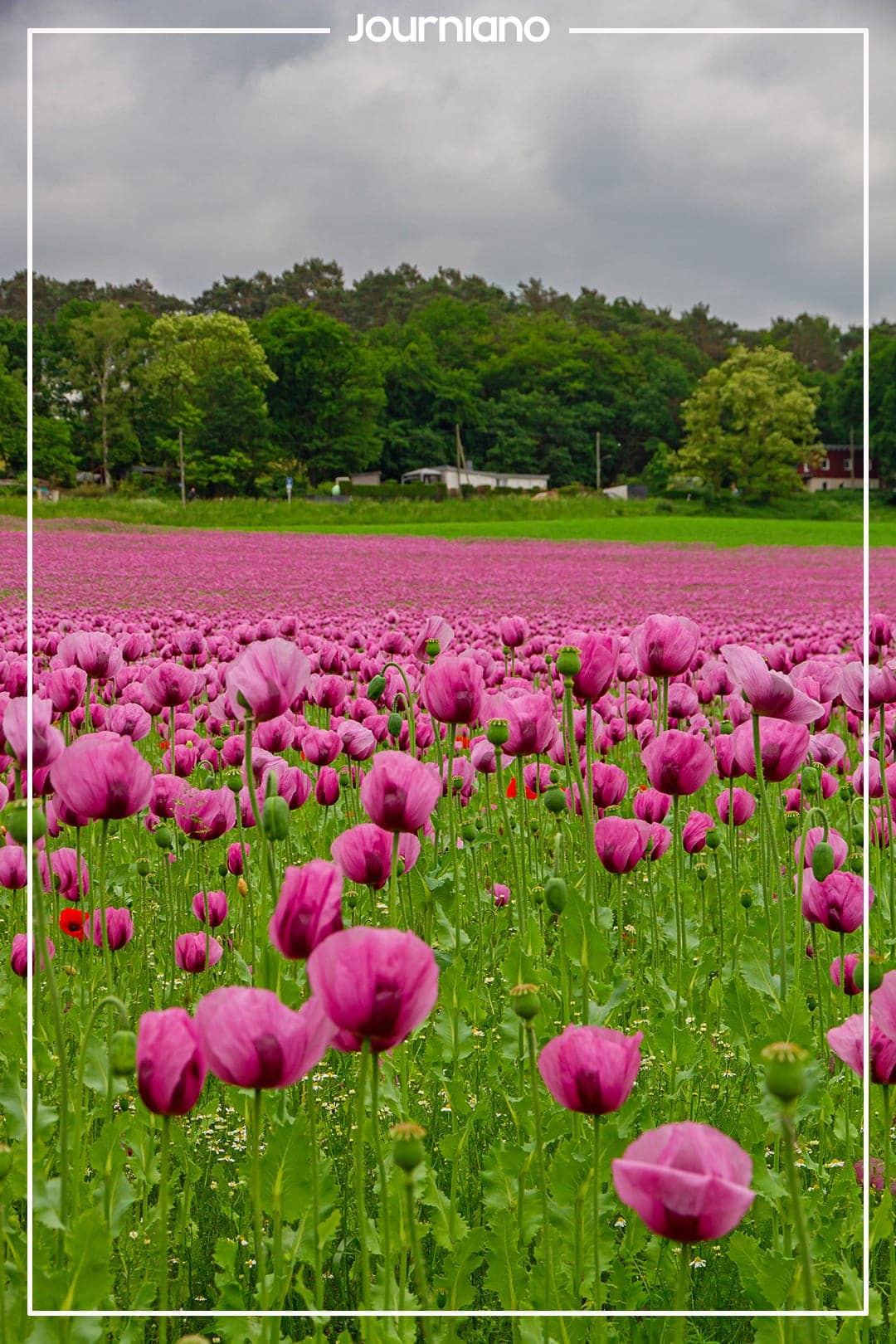 2.4 Kudos to the Farmers of Kornkammer Haus Holte
On your approach to the Mohnfeld in Dortmund, you might encounter an informative sign. There, you get further insights into the motivation behind having seeded purple poppy fields. Thanks to the organic farm Kornkammer Haus Holte, this marvellous eye-catcher could be made possible.
3. When to visit Purple Poppy Fields in Germany
Unfortunately, most of the poppies alrealdy lost their blossoms since Sunday, the 13th of June.
Usually, poppies tend to appear from early June on. After researching about this Mohnfeld in Dortmund, I came to the conclusion that it started blooming from early June on. To make you feel safe, all of my shown pictures were taken on the 7th of June of 2021. Thankfully, most of the flowers weren't that open yet. Thus, you might have a few weeks of time to admire this purple phenomenon. Still, I recommend you to not hesitate too much. You never know when the farmers want to harvest their poppies.
4. How to get there
Located in a rural area, the purple poppy field can easily be reached by any vehicle. Be aware of the fact that parking lots are limited. Parking along the street seems to be tolerated for a short time. Thus, you might search for official parking in the neighbourhood. To be safe, you can easily approach the by train as well. From Dortmund-Kruckel station, the Mohnfeld is only 16 minutes away by foot. Either way, please don't hesitate to use the embedded map below.
5. Conclusion
Purple poppy fields in Germany are definitely marvellous in Dortmund Großholthausen. After the amazing periods of Sakura and tulips, the organic farm of Kornkammer Haus Holte from Witten has made the next blooming spectacle possible. Although red poppies are lovely to look at, that purple sea of poppies is beyond gorgeous. Last but not least, not many people can claim to have taken pictures with opium poppies. So, be one of the lucky ones.