Have you ever considered spending holidays at the Ionian Sea in Salento – Italy? You've never linked the Ionian Sea with Italy before? Well, then I invite you to discover its marvellous and clear turquoise sea, waiting to blow your mind.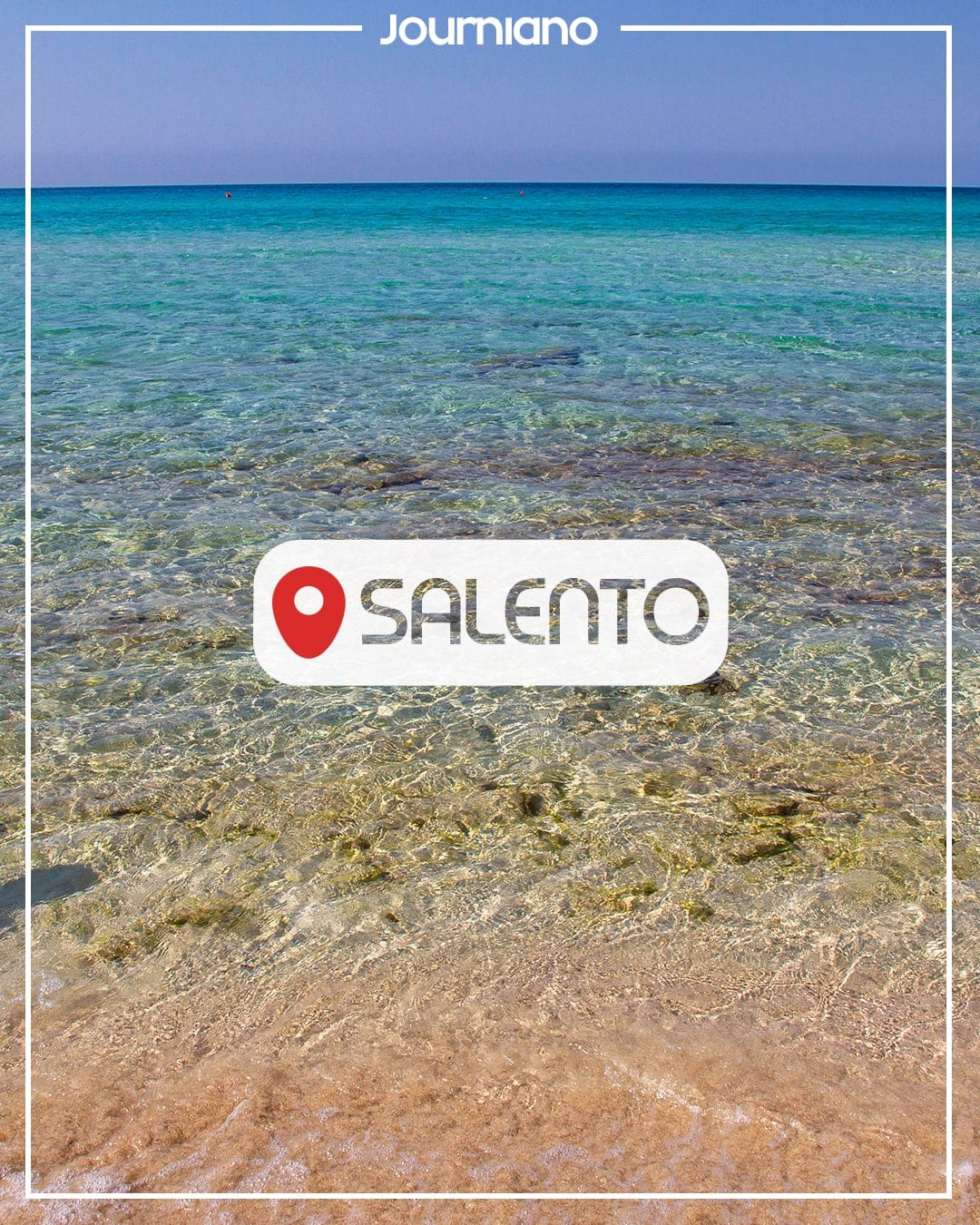 Quick links
1. About Salento and the Ionian Sea
Salento is home to top wines, culture, marvellous baroque cities and top Italian cuisine. Moreover, it's also known as Italy's heel. Due to the fact that it forms Apulia's peninsula, most of Salento is surrounded by water – the Adriatic and Ionian Sea.
Many people associate the Ionian Sea rather with Greece than with Italy. With this article, I want to show you the alternative and also amazing Italian coasts of the Ionian Sea in Salento.
2. Nardò's Ionian Sea Coast
Beside the fact that Nardò's old town is a baroque pearl and an Italian town of your imaginations (as featured in this article), its municipal area covers a vast chunk of the Ionian Coast in Salento. Those 22 kilometres of coastline offer a great variation of sights, beaches, bays and much more.
The first highlight is a place where primitive nature meets one of the cleanest waters of the entire Italian coastline.
3. Porto Selvaggio – Maybe the most untouched natural place at Salento's Ionian Sea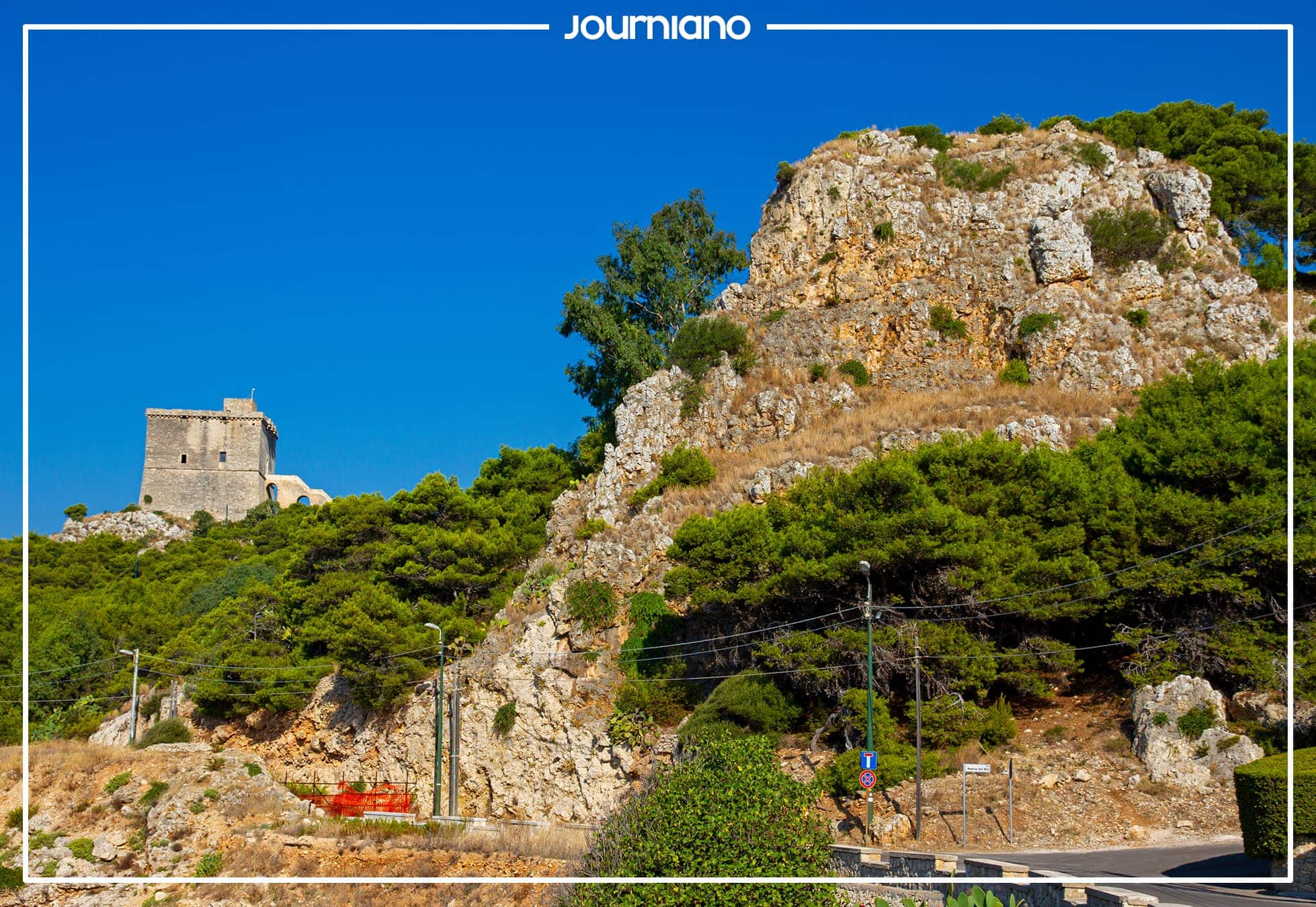 Imagine a place untouched by the environment. A place where nature is still in command. This place might not be enormous per se, but still is big for an environment where agriculture occupies most of the land. Expect a place with dense wood, one of the clearest sea waters of Italy and other natural surprises. Welcome to Porto Selvaggio.
3.1 Pineta di Santa Caterina – At the bottom of a natural spectacle
Porto Selvaggio is accessible through different points – only by foot, mountain bike or boat. This time, I will focus on a great trail route, which you can access from Nardò's coastal village Santa Caterina.
When you approach Santa Caterina from Nardò by car, it's going downhill. Just before arriving the coast, you can see the Ionian Sea at the horizon – a splendid picture. Navigate to "La Rotonda", a sort of dead-end street, and try to park your car along the street. Now, you arrived at the bottom of a natural spectacle – La Pineta di Santa Caterina.
Standing between the Ionian Sea and a pine forest is a clash of sounds and breezes. From the sea coming, you sense the maritime air and hear the clash of waves against the coastal rocks. While from the pine forest you can listen to the concert of crickets and breath a particular fragrance of fresh woodland air. It's simply amazing!
You remember that it went downhill to reach this point? This time it's going uphill through the Pineta by foot, to reach Torre dell'Alto, a coastline tower.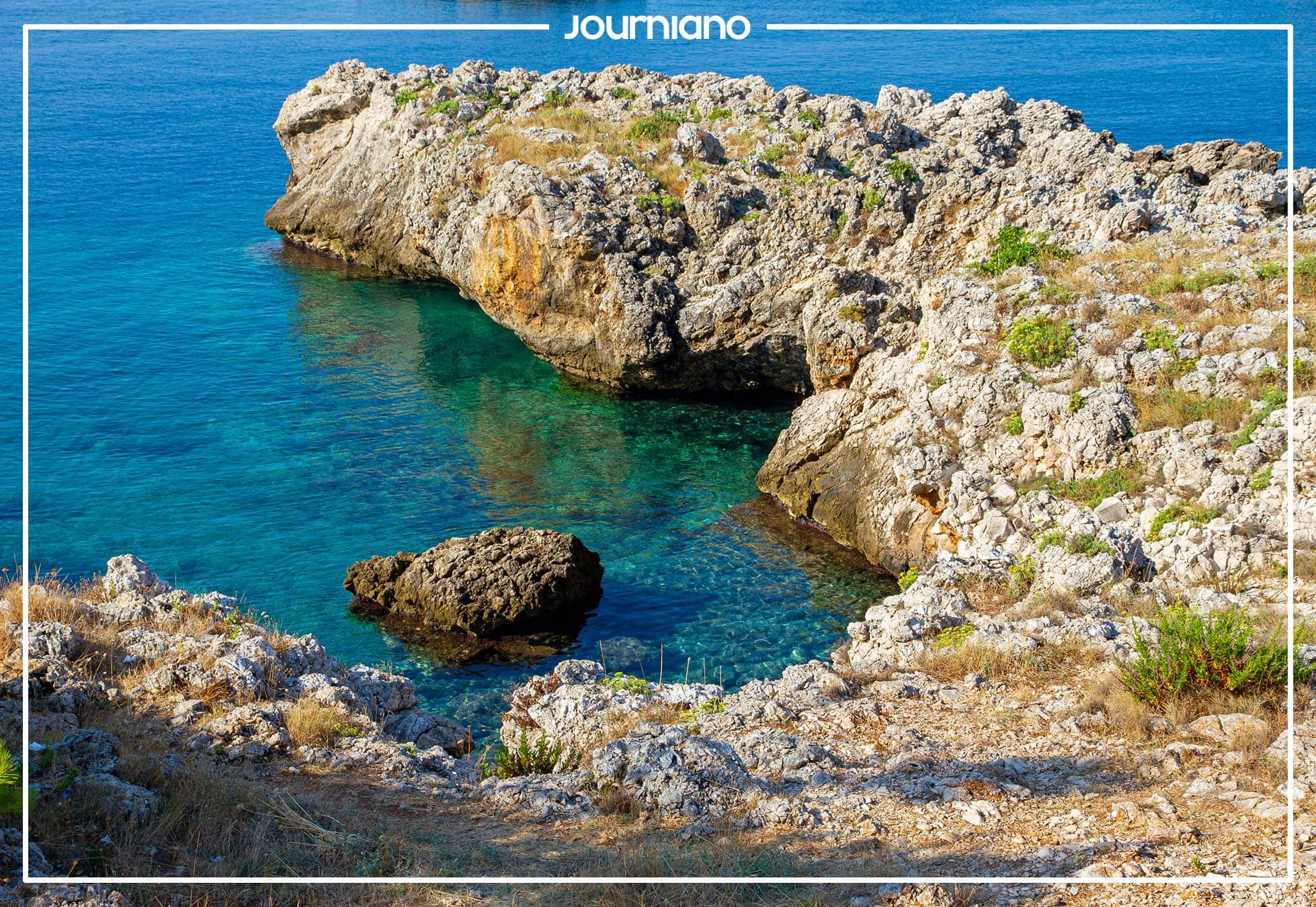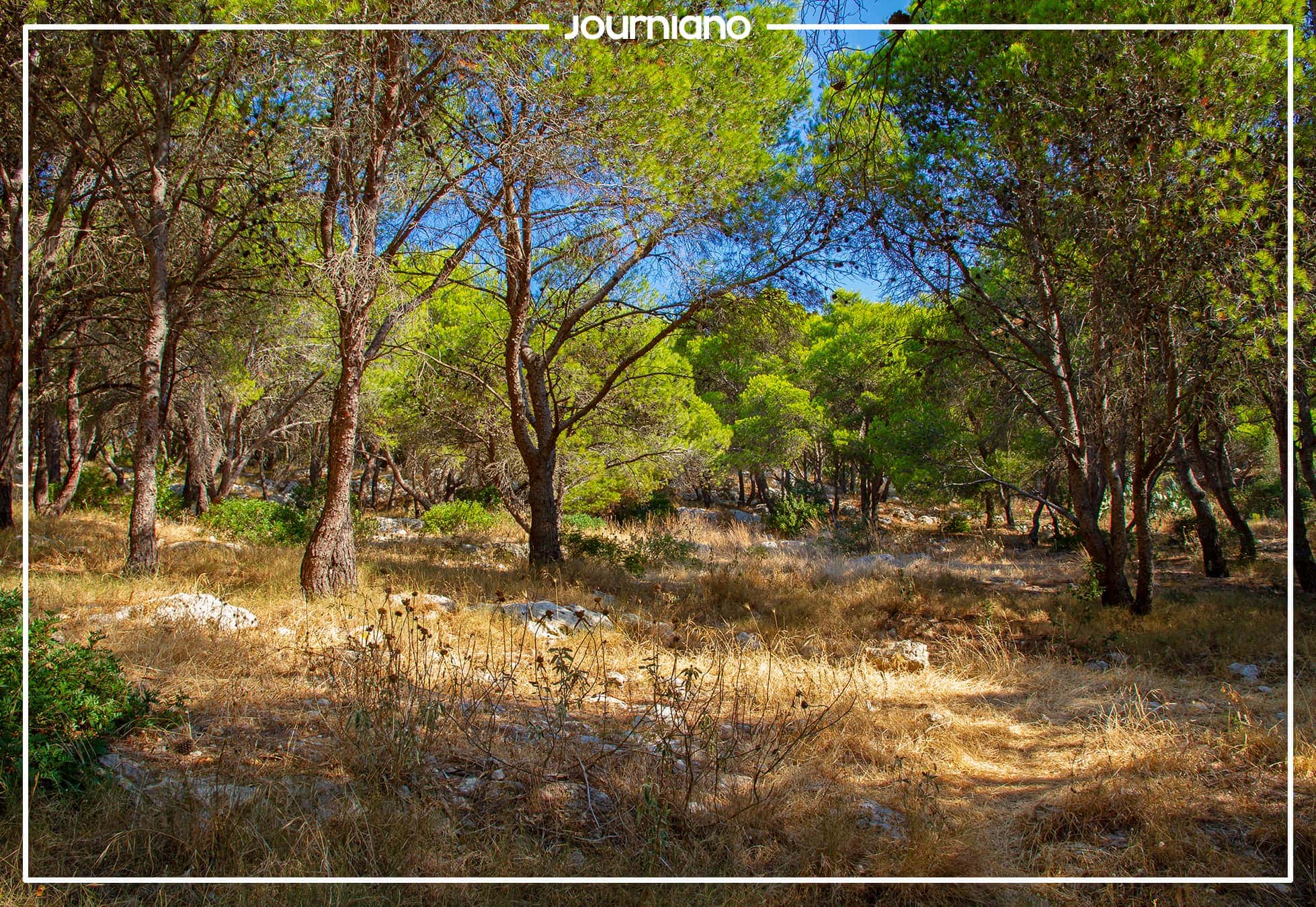 3.2 Torre dell'Alto – Tremendous overview of Porto Selvaggio and the Ionian Sea
Inside the pine forest, an ancient stairway leads you to Torre dell'Alto, while the sounds of the crickets can be heard from everywhere. It is located 50 metres above sea level. Thus, you can expect great things to see.
Once arrived, the old observation tower, built under command of the Spanish in 1569, definitely will catch your eyes first. That's no surprise because it's massive. Especially its stairway is a great spot to take some pictures of yourself. While doing that, you might notice what a tremendous overview you get from there.
An enormous piece of coastline covered by pine trees. Only its rocks are free of them, waiting for the waves to clash on them. Deep blue waters as far as your eyes can see. Below your feet, along the 50 metres high cliff, you can look inside the clear waters of the Ionian Sea.
This view will let you stuck there for a moment. Maybe you will sit on a rock and just live the moment and life.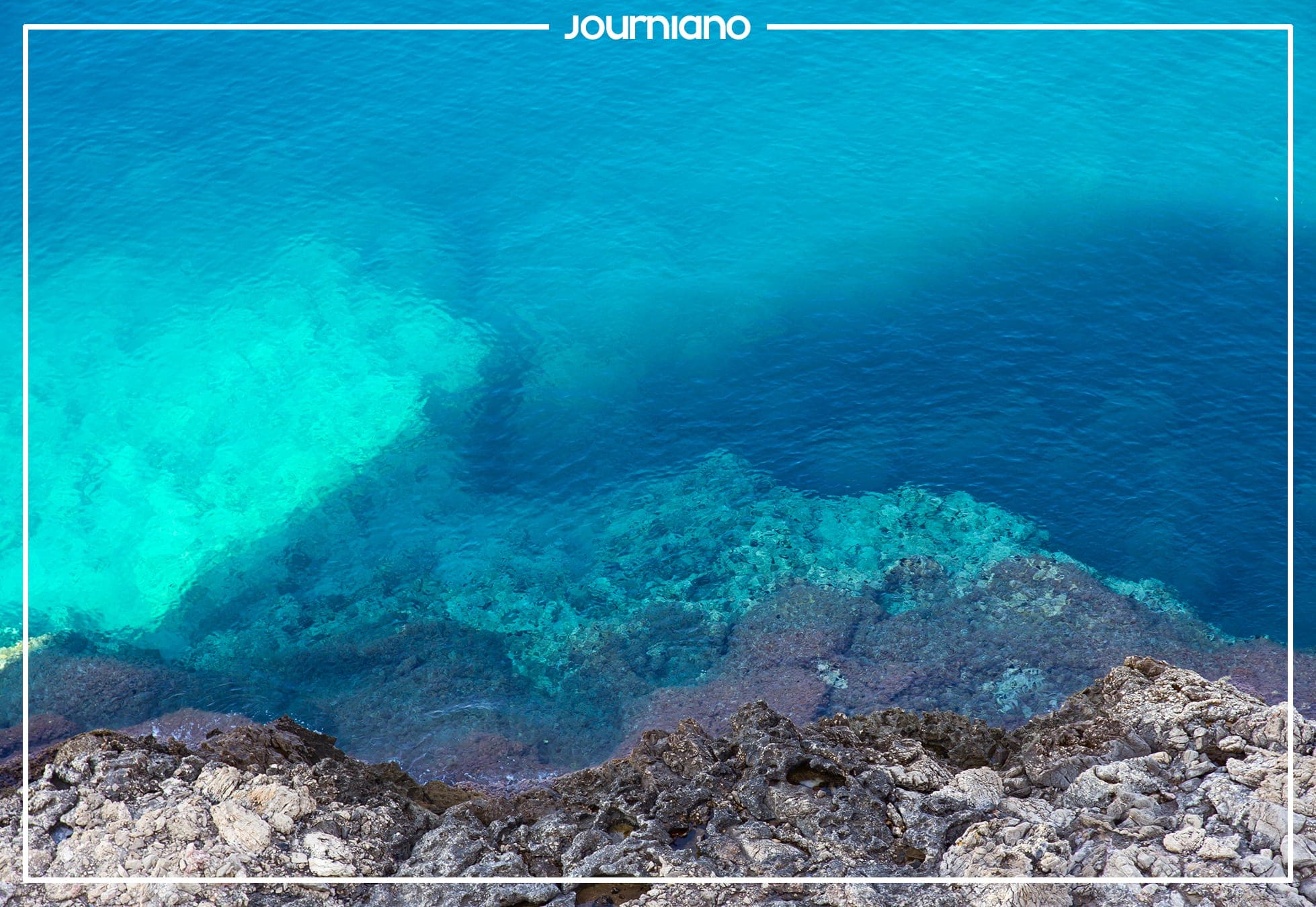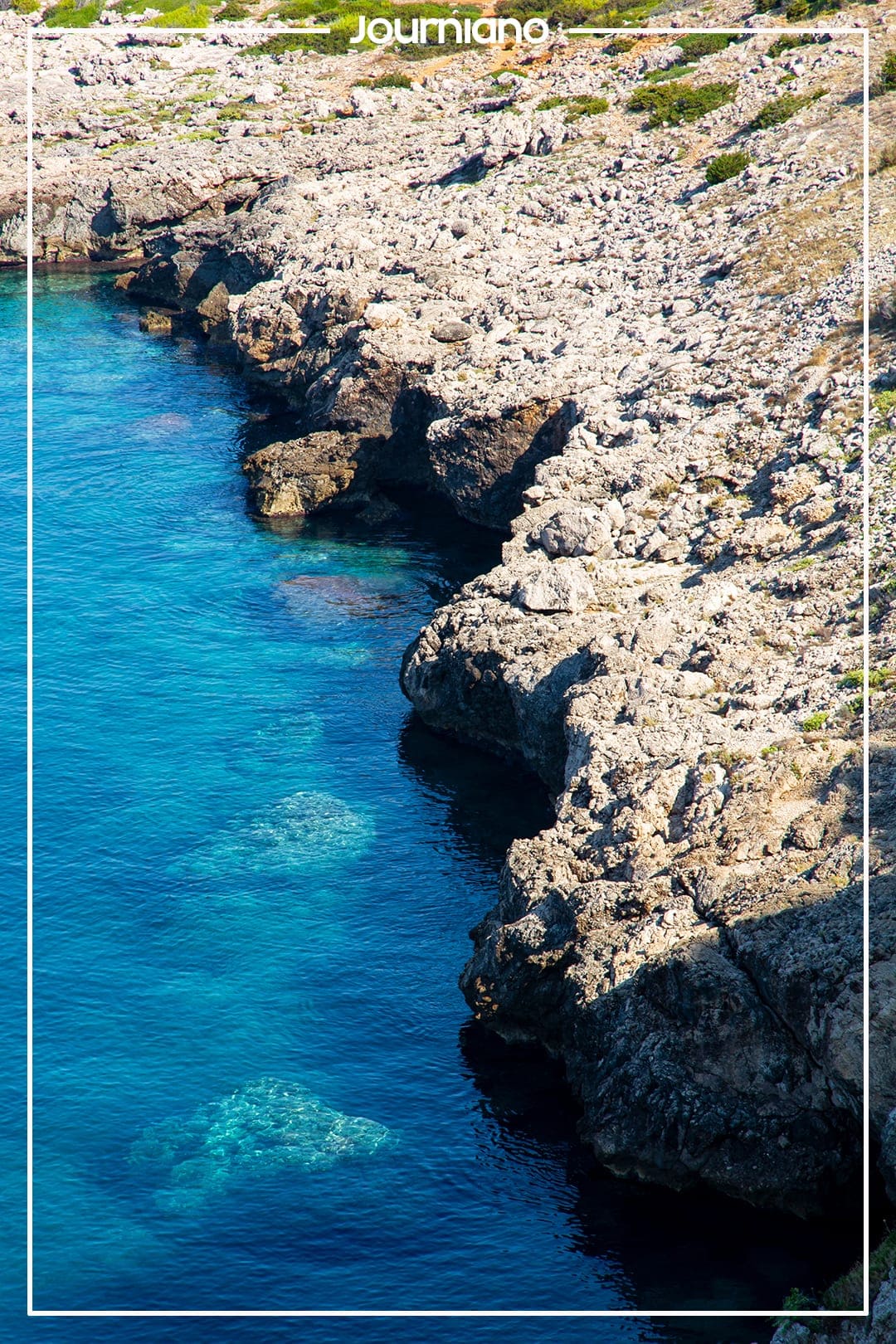 3.3 Going down to the coast through Pineta di Porto Selvaggio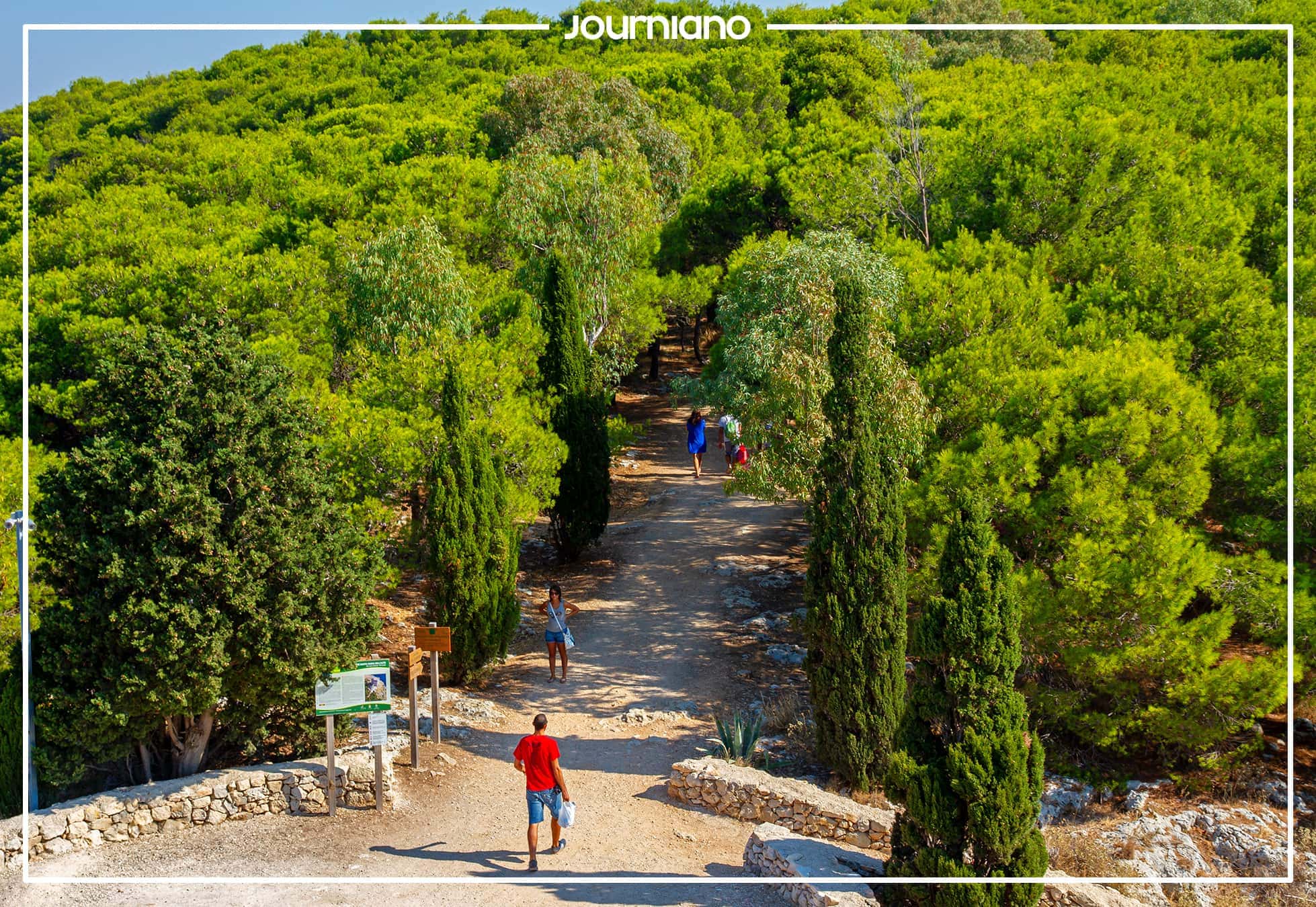 What about continuing hiking through the pine forest, while approaching the coastline?
Yes, it's going down!
On the way, various spots enable splendid and new views of Torre dell'Alto as well as the Ionian Sea. Especially the observation point "Belvedere di Porto Selvaggio" offers additional great panorama views.
Great views aside, from now on, the clear sea waters should have given so much appetite to you that you simply want to arrive down at the coast.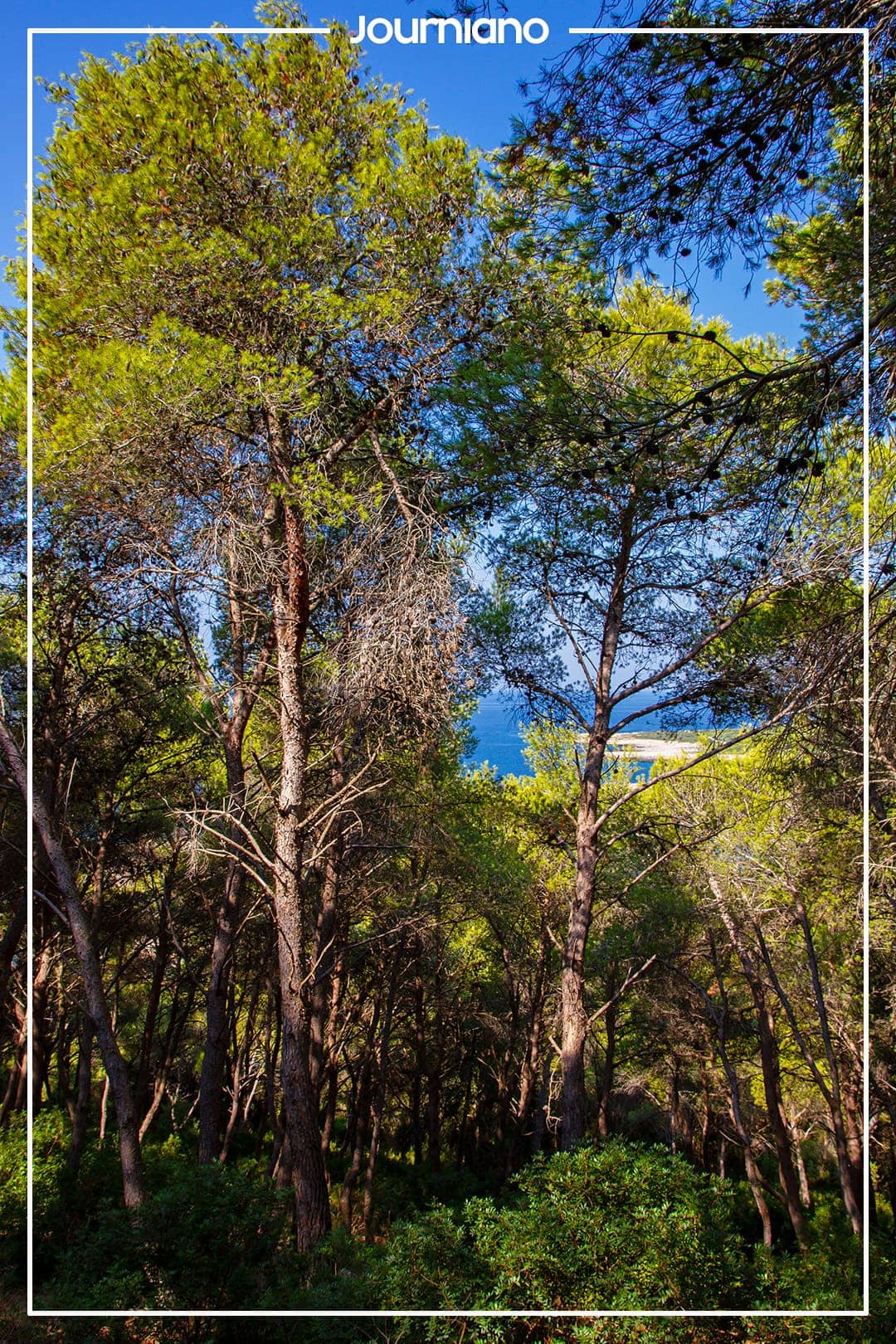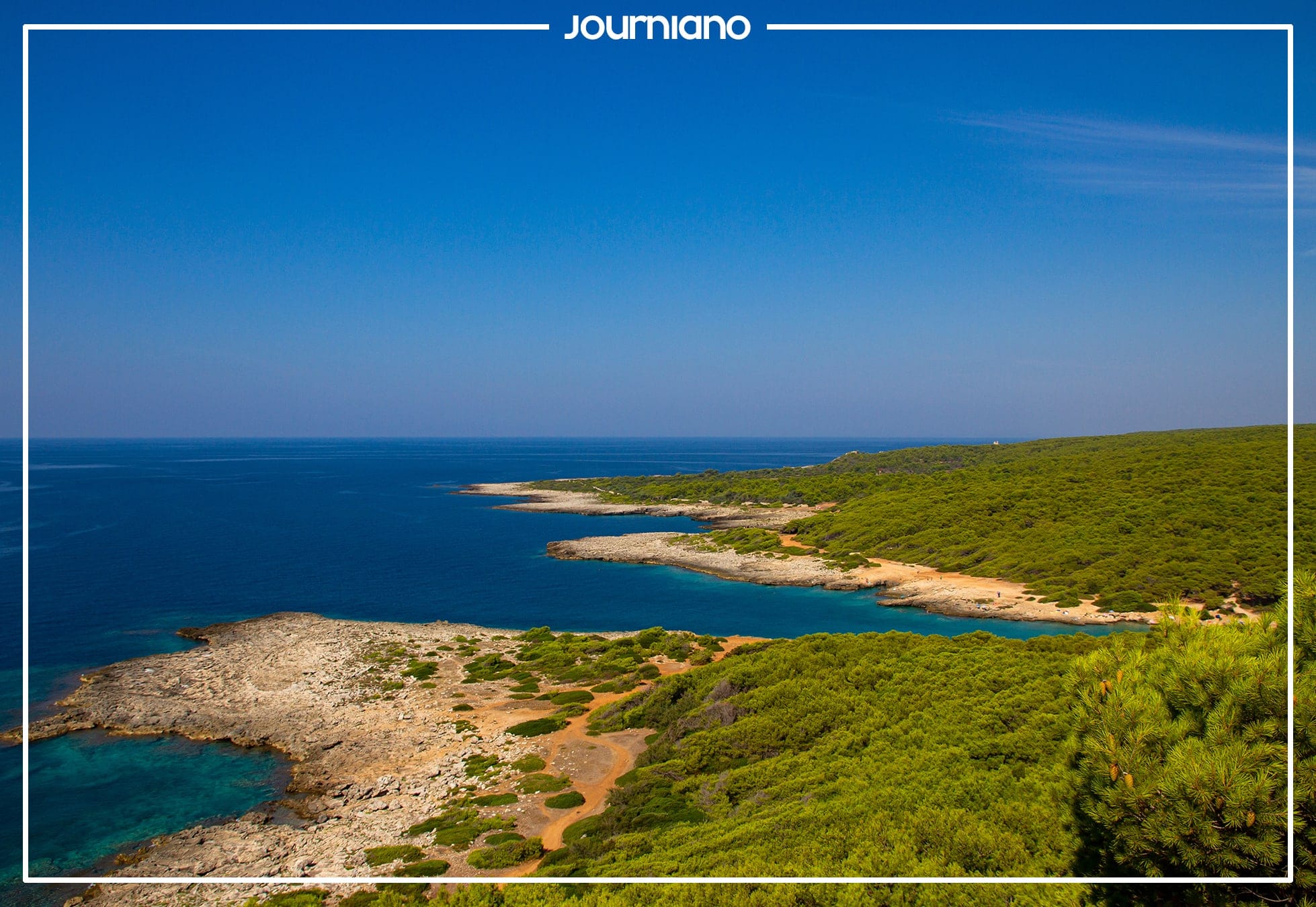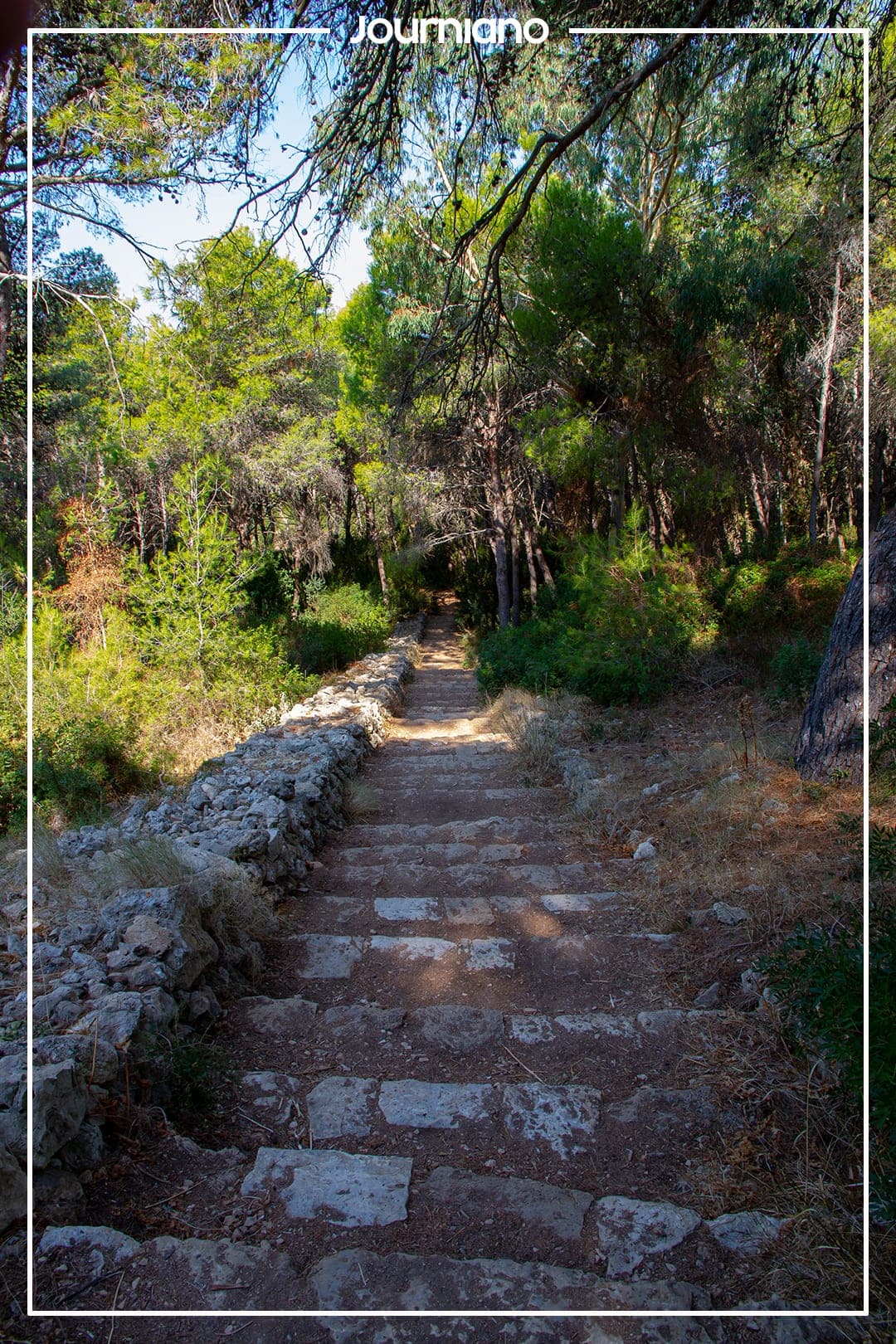 3.4 Marvellous clear turquoise Ionian Sea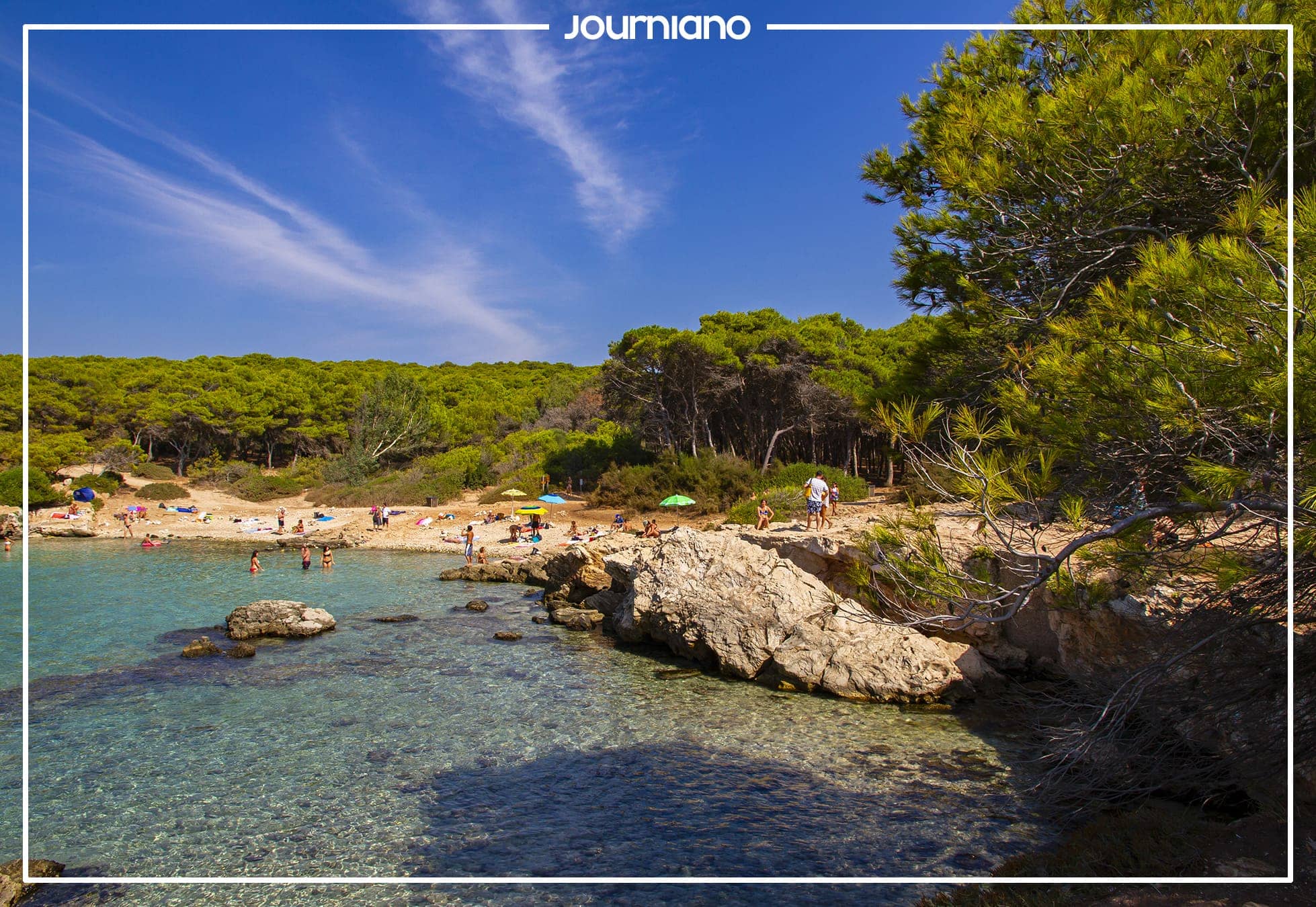 Are you ready to leave the pine forest and embrace the Ionian Sea?
You arrived at Spiaggia di Porto Selvaggio, a lovely and small beach, surrounded by rocks. Don't expect a beach with fine white sand here. Either way, this part is sort of a lagoon which makes it a great place to enter the Ionian Sea much more smoothly.
Did I say smoothly? The water is fresher than anywhere else at the Ionian Coast of Salento. A freshwater source causes this phenomenon. Hence, you might indeed need more time to adapt before jumping like a happy child into the sea.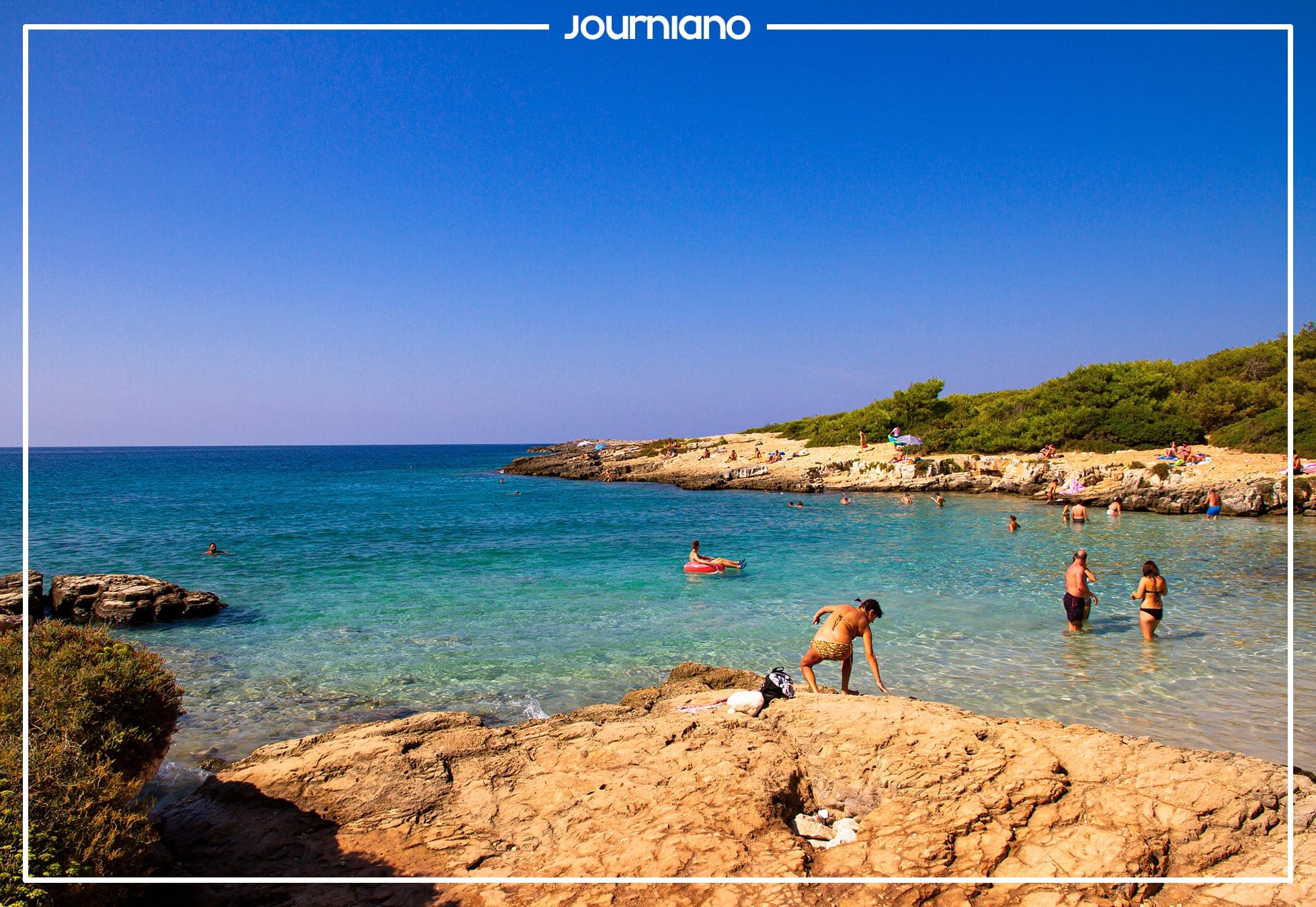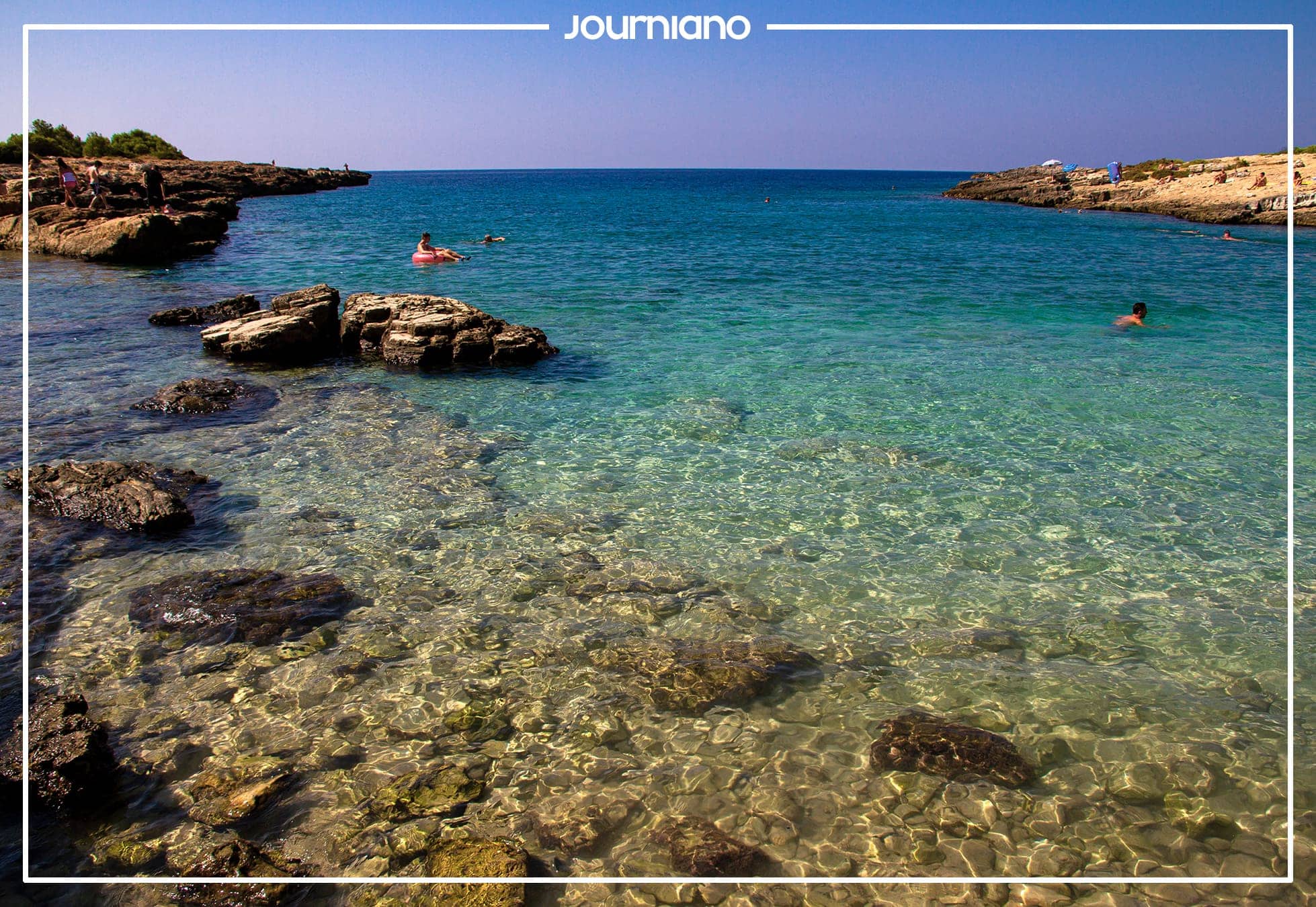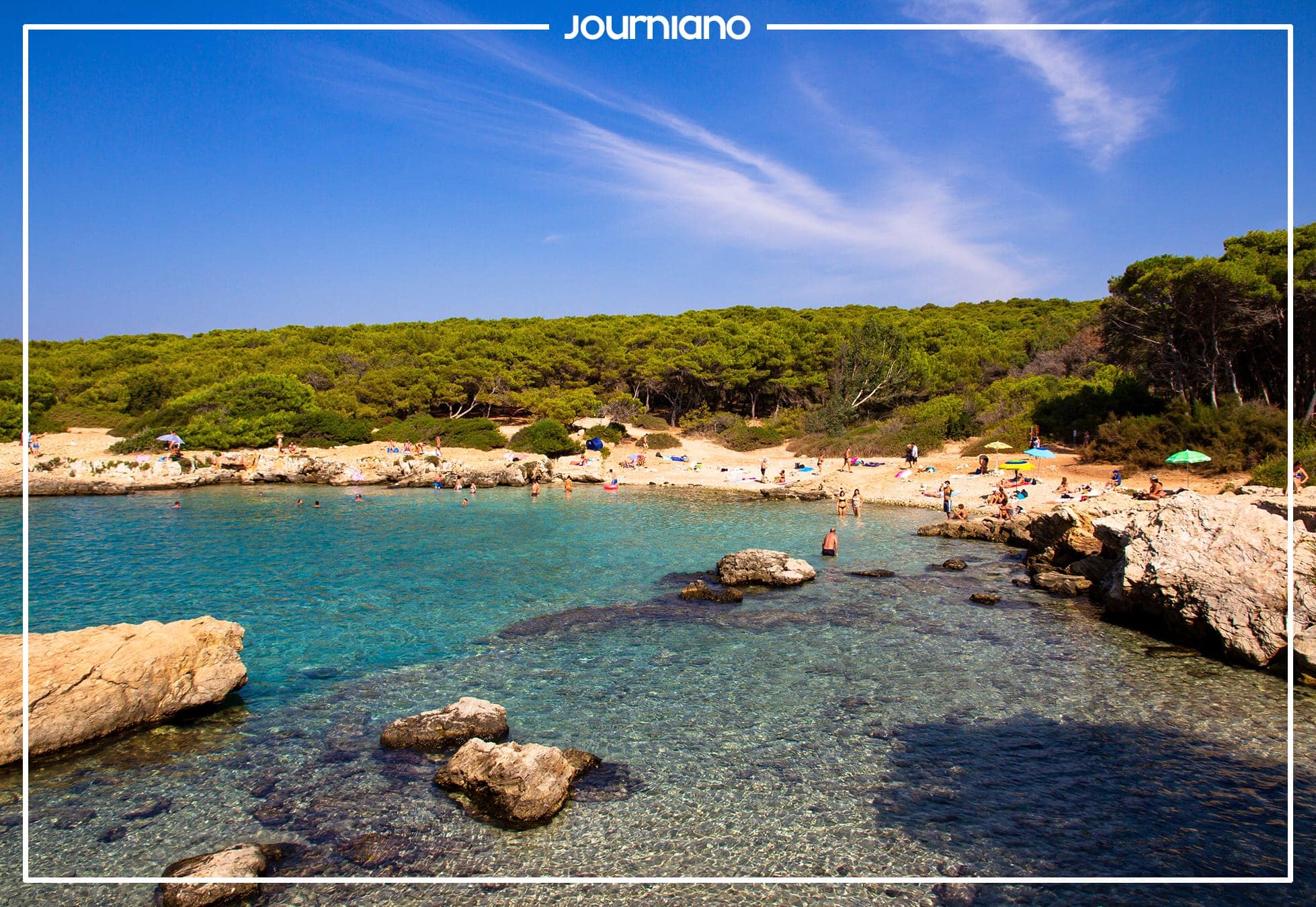 In case you want to snorkel, don't do it in the bay. The mentioned freshwater mashes up with the saltwater, resulting in blurred views. Thus, it's much better to seek the proper coastline for crispy views underwater.
Porto Selvaggio is also an awesome place for picnics with your crush or beloved ones. The dense pine forest enables almost unlimited space under its trees, where you can perfectly escape during the midday sun. It's definitely not lacking shadows.
Are you a sunset lover? Then you shouldn't miss how the sun goes literally to bed in the Ionian Sea. There are sunsets and there are sunsets in Porto Selvaggio. If you can spend a whole day there, you better don't miss that natural and colourful spectacle. Otherwise approach Santa Caterina's vivid seaside town, hit the bars and experience the sunset from there.
Either way, experiencing Santa Caterina's nightlife (bars and restaurants), after spending a whole day at the beach or the woods, is a must at least once.
Are you down for a walk? Well, there is another coastal town to be discovered within reach.
4. Santa Maria al Bagno and its Quattro Colonne
Another coastal town in Nardò awaits your visit. Santa Maria al Bagno is only a 20 minutes' walk away from Santa Caterina and bigger than its sister. Exactly like its sibling, the nightlife at seaside is splendid. A vast range of bars and restaurants are ready for your disposal.
Not only is Santa Maria al Bagno a must go during nighttime, but also during daytime. There is a little town beach with clear turquoise waters. Although it is super crowded most of the times, the approach to the beach alone, coming from Santa Caterina along the coastal promenade, is worth the view.
On the assumption it might be finished for Nardò's biggest seaside town, I have another hot spot, which shouldn't be missed. Probably, I'm referring to the town's landmark on land- and seaside – Le Quattro Colonne.
Built in the 16th century as a coast tower for defence, similar to Torre dell'Alto, it got partly destroyed shortly after by enemies. Like being intended, only the centre of the construction was hit. Until today, the tower's four corner pillars remained.
Imagine these four pillars (colonne) were still connected. It got attacked by enemies, yes. However, to me, the defence tower became much more aesthetical. Every pillar became its own thing and still harmonises with the others. Now, the former tower rather resembles a destroyed castle.
Keep the castle in mind and locate yourself at the coastline around Quattro Colonne. Now, you get an impeccable picture with lots of palm trees and the Ionian Sea surrounding it.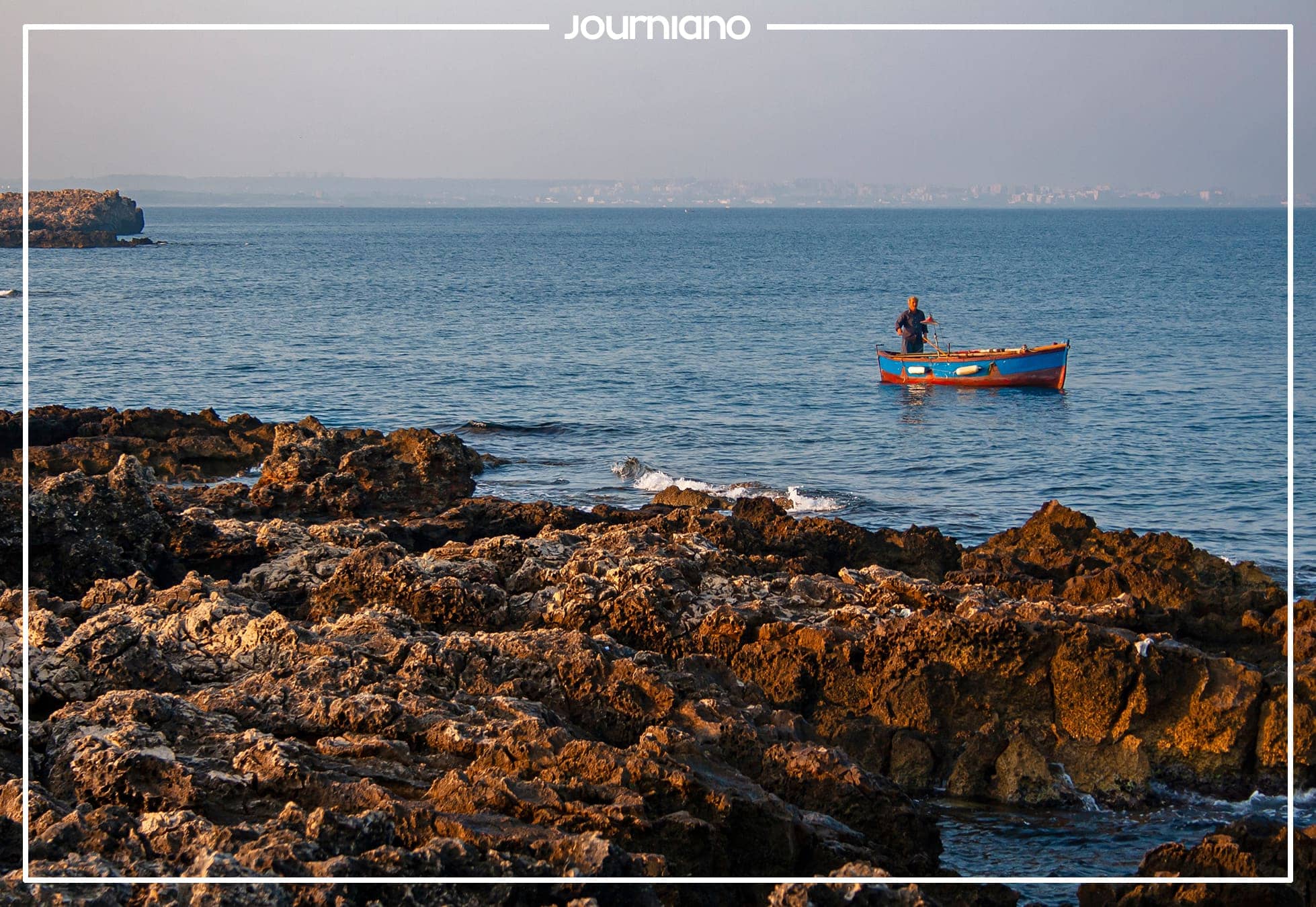 As much as it sounds like a grande finale for Nardò's coastline attractions, they don't stop here.
5. Sant'Isidoro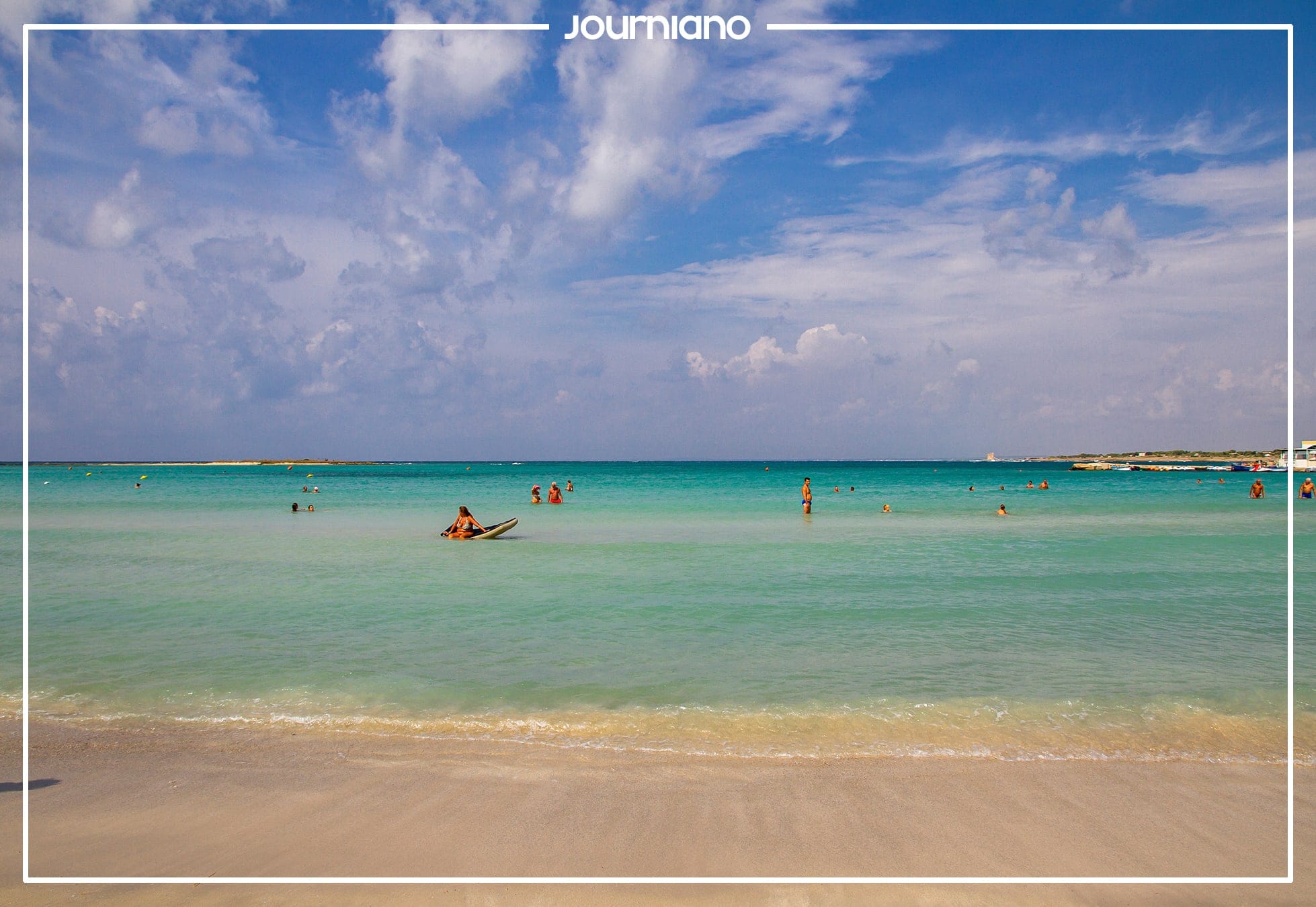 Nardo's coastline is mostly rocky. However, a proper sandy beach can be found in the city's northern territory – in Sant'Isidoro.
Just in case you are approaching from Nardò: There are two possible ways reaching Nardo's sandy edge. You either take the fastest and rather repetitive way through fields or drive along the coast and through the woods of Porto Selvaggio. Thus, I definitely recommend the latter.
As soon as you arrive there, you'll probably notice that there is a big chunk of the beach reserved for the surrounding hotels – especially during July and August. Hence, fingers crossed that there is space for you left in the public area. Still, it's worth a try.
Nevertheless, the beach and water are top-notch here. Depending on what time you enter the Ionian Sea, it has a wonderful turquoise tone. This is a great place for swimming and beach sports, as the sea is rather calm.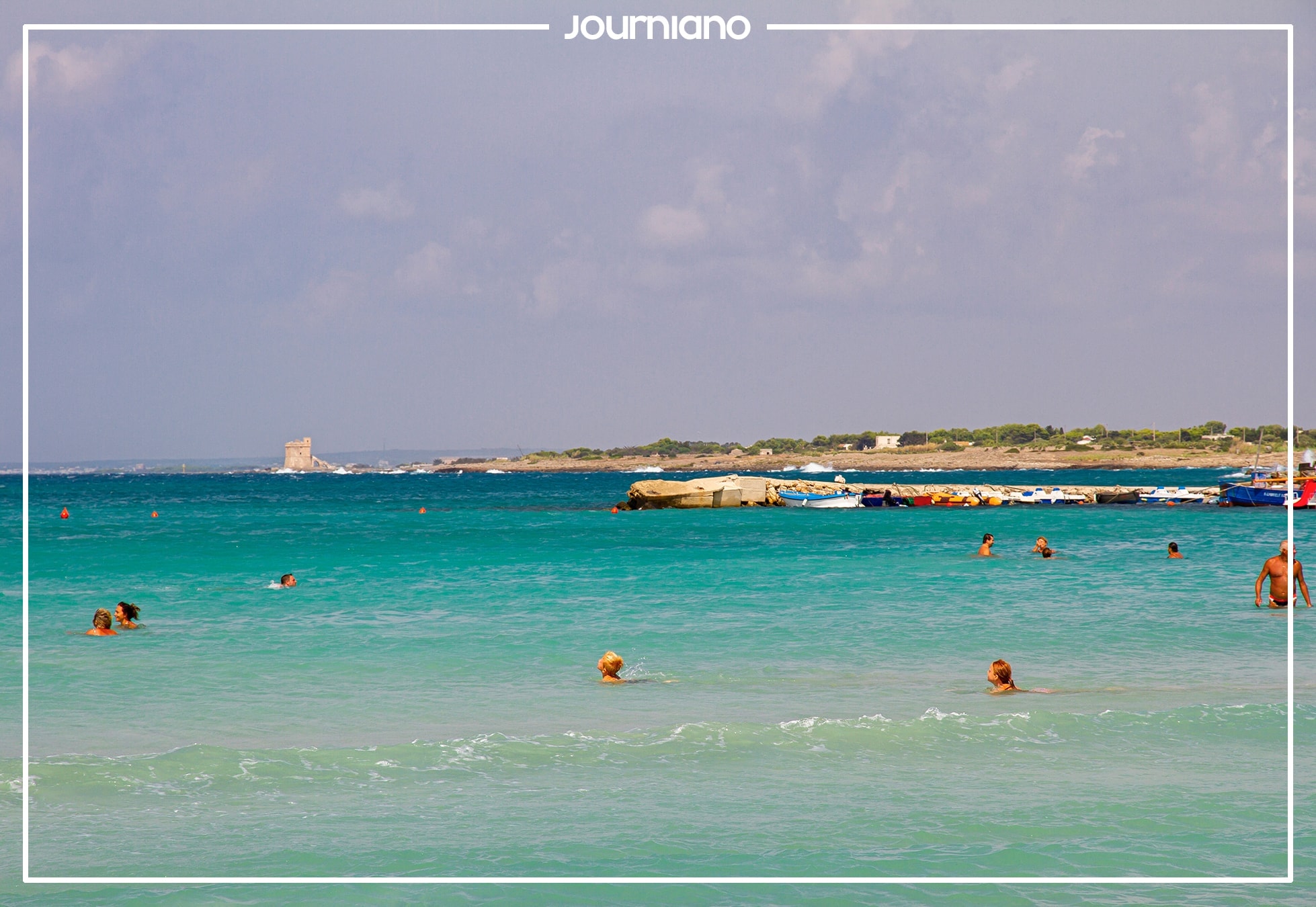 If you'd like to rent a pedal boat or something similar, you can do that as well. Unless you're a great swimmer, this activity unlocks comfortable access to another beach on Isola di Sant'Isidoro, an island 450 metres away from the main spot. Along its rocky coast you can also snorkel quite nice.
So, are you ready for an upgrade or haven't you found any space at Sant'Isidoro's beach?
6. Porto Cesareo – Gorgeous beaches and a lovely port town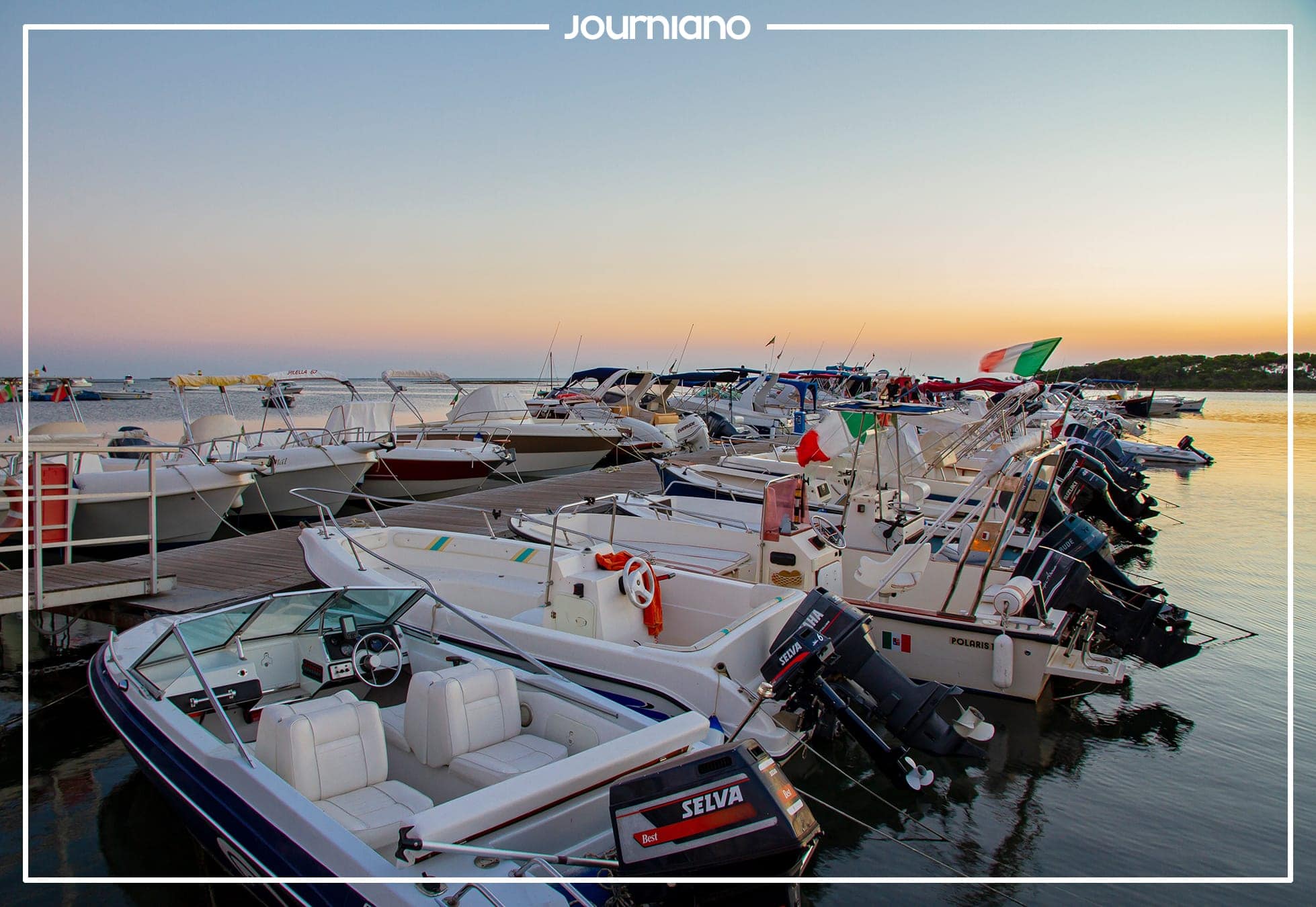 Are you more an absolute sandy beach type of person? Then, we're leaving Nardò's territory and head five kilometres up northwest to its ex. An ex which took almost every sandy beach of Nardò's coastline after divorcing.
Porto Cesareo belonged to Nardò, until it became independent in 1970. Now, it's proud home of many gorgeous beaches of Salento's Ionian Sea. While Nardò's biggest sandy beach in Sant'Isidoro doesn't even measure 500 metres, Porto Cesareo offers seven kilometres of it!
6.1 Porto Cesareo's gorgeous beaches
The biggest and most popular beach in Porto Cesareo is "Spiaggia di Torre Lapillo". Thus, it gets very crowded in midsummer. However, in off peak season, it gets spacious. Still, you should visit it. Here, the Ionian Sea presents itself in its true colours. The colours you might link with the South Seas.
As mentioned before, Porto Cesareo got various beaches, both big and small. From Punto Prosciuto, also a massive and gorgeous beach, down to smaller ones in the urban area – it's up to you where to go. Maybe visit them all – especially those of Isola Grande, an island located right in front of the town. You can either swim or take a boat to reach it.
Fun fact, Isola Grande is commonly called Isola dei Conigli – Bunnies Island. Until last year, there was a huge population living on the island. Unfortunately, you can't cuddle any of them anymore. Probably they've been transferred somewhere else. To be honest, it's quite a pity because bunnies lived there since the 50s. The island is still worth a visit.
6.2 The port town of Porto Cesareo
After your beach activities, you should slowly start exploring the lovely port town of Porto Cesareo. Stroll down the Riviera and cherish the view of the Ionian Sea with hundreds of docking boats.
Hopefully, you'll get there in time to experience the sunset. Imagine all these boats chilling at the docks or floating on the calm Ionian Sea. Isola Grande's pine trees behind become silhouettes. And then, the star of our skies gently merges with the sea – tinting it into its warm colours, while creating a flare of red colours at the sky. Bellissimo!
Now, do literally whatever you want. Get Gelato or an Aperitivo, check out the town and much more. I really dig these vibes during the evening there.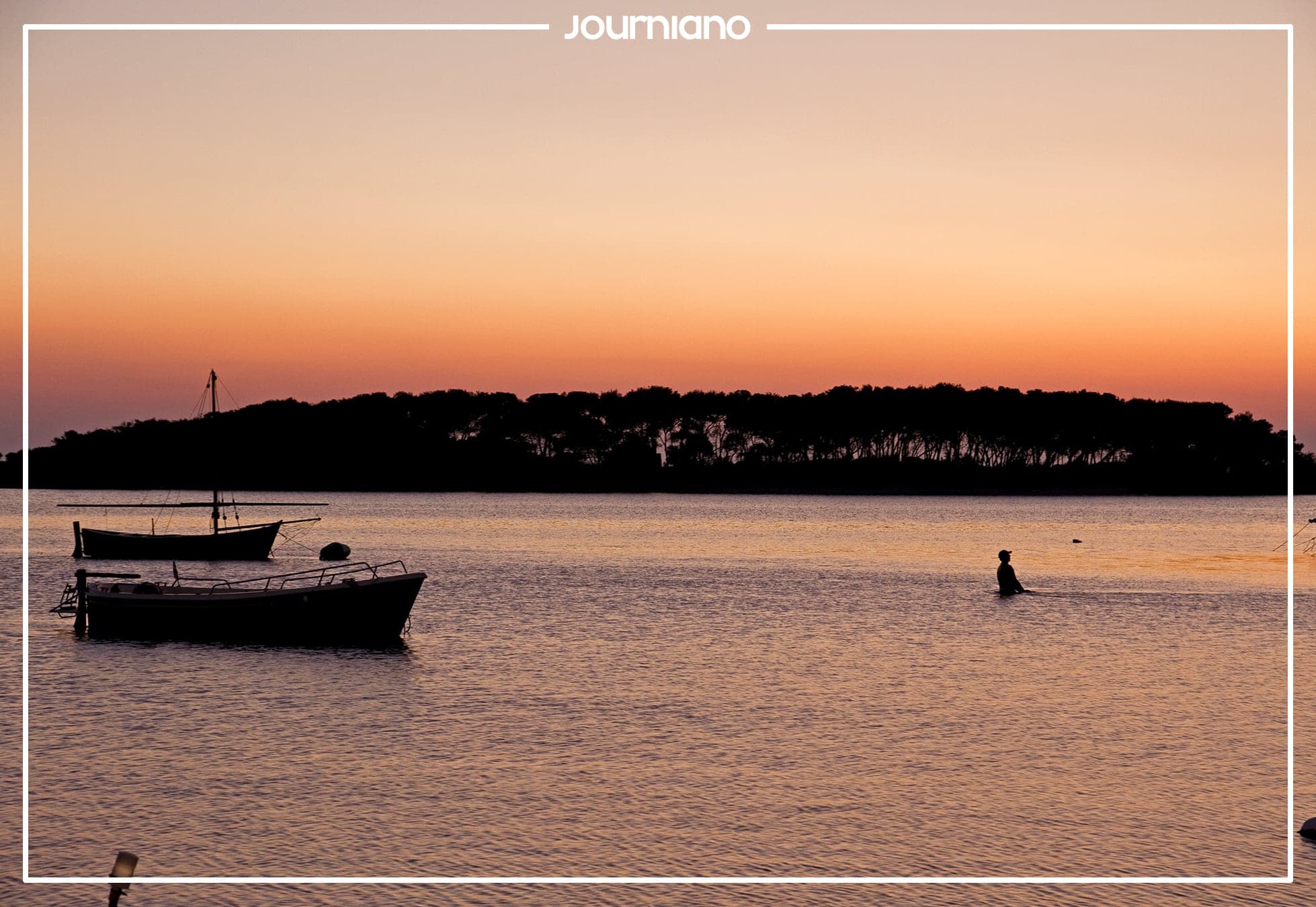 7. Gallipoli
Are you ready to explore another beach? Then, it's going south along the Ionian coastline to Gallipoli. Although Gallipoli has a very beautiful, interesting and historic old town, I have to skip it, for now.
Gallipoli is located 16 kilometres south-west from Nardò. Thus, another attraction nearby. The next and last target of this article can be found south-east from the city's centre. This is probably one of the biggest beaches of Salento's Ionian Sea – the Golf of Gallipoli.
7.1 Prime Beach at the Ionian Sea – Spiaggia di Baia Verde at the Golf of Gallipoli
If you are seeking a beach with clear and turquoise waters, then you are definitely getting it here. The Golf of Gallipoli counts the length of round about ten kilometres of which five of them offer sandy beaches. A big chunk is thankfully still maintained for the public.
The beach section "Spiaggia di Baia Verde" is a safe bet for a journey to the European South Sea. The name speaks for itself: the beach of the green bay. Personally, I've had my closest South Sea experience here.

The Ionian Sea had the clearest and the most saturated turquoise waters at Baia Verde. Thus, I'm going to repeat the Salentini (inhabitants of Salento): "Maledives? No, Salento!"
Another fact I dig is the visibility of Gallipoli's old and new town from Baia Verde. I'll show you a glimpse of the town in a separate dedicated article in the near future.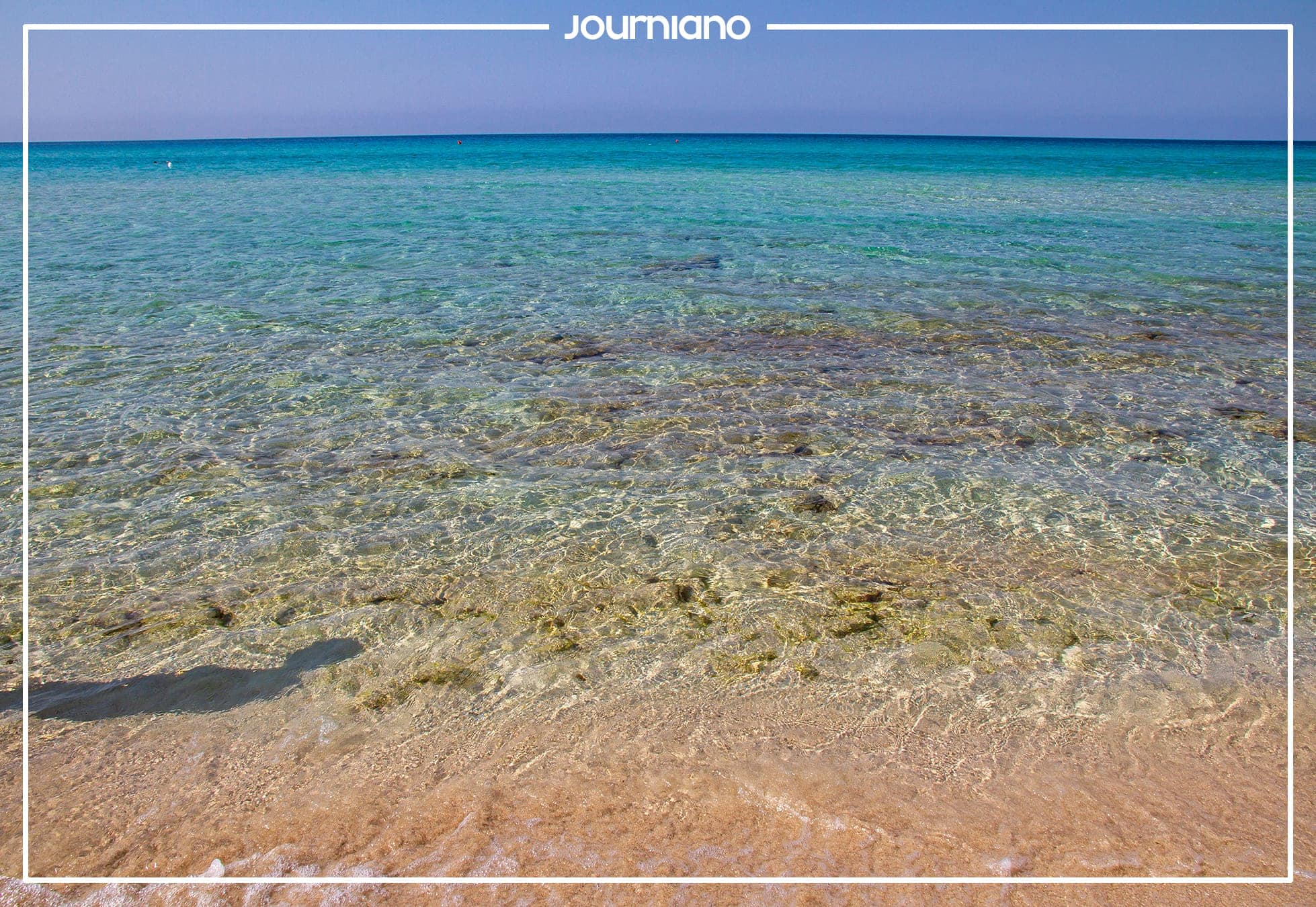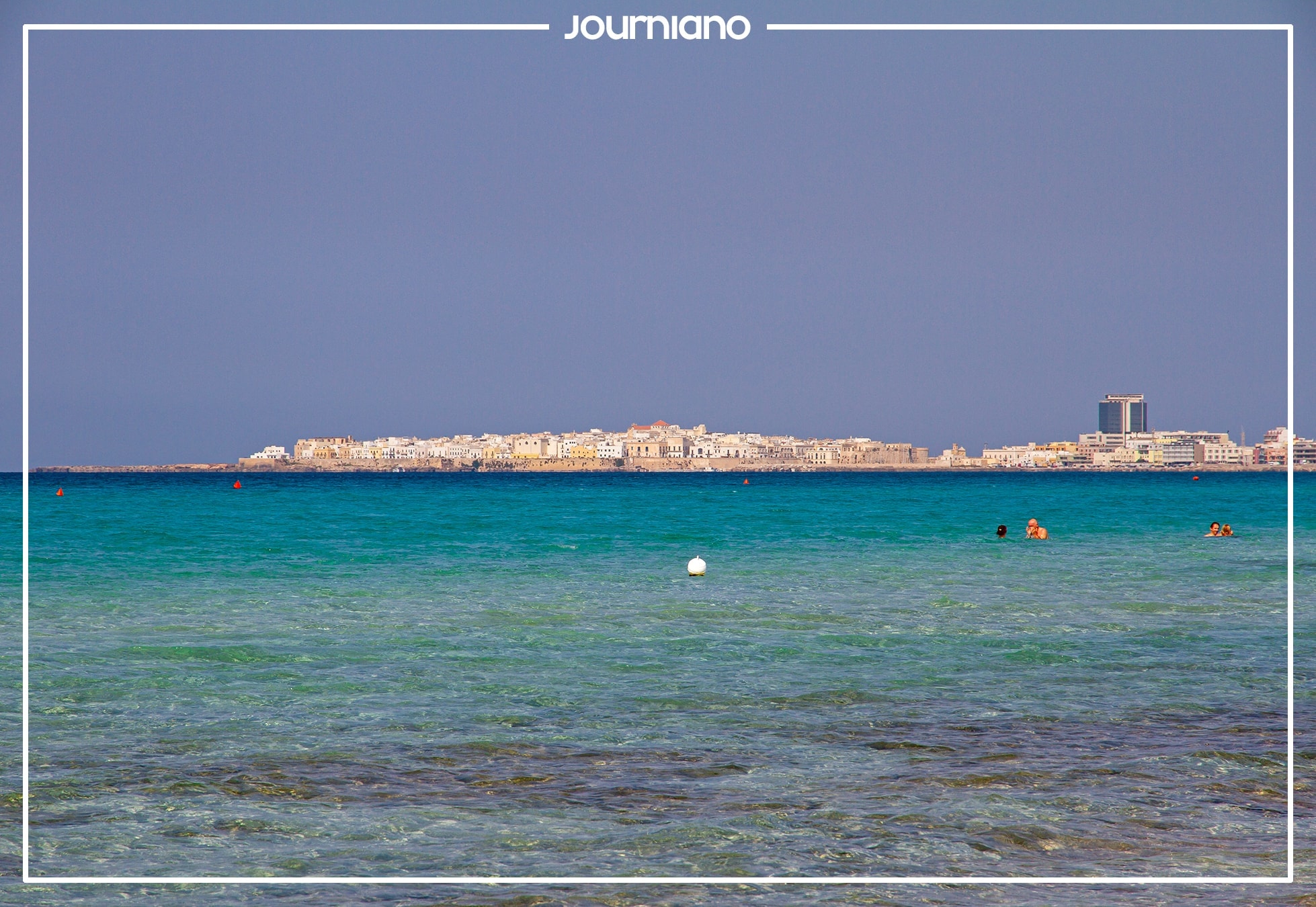 8. When to go
Salento's Ionian Sea and Coast can be visited year-round unless you want the full beach experience.
So, if you really intend to go swimming and snorkelling without getting a cold afterwards, I recommend these periods:
Off-peak season
May – June
September – October
In the above mentioned periods, beaches will definitely not be packed. Mostly Salentini will frequent them in that time. Thus, if you focus on the natural and chill aspect, the Off-Peak season is the time to go. However, many attractions will be closed off-peak.
Peak season
During peak season, Salento's beaches are packed. Especially in August, when most of the people in Italy have plant holidays, Salento is one of the most visited places by Italians. Nevertheless, there is also a positive side effect for a group of people who love nights at the esplanades of sea towns.
You've got a wider range of bars and restaurants during peak periods. Furthermore, a lot of attractions are ongoing. In case you like to socialize and meeting a bunch of new people, peak season is your season.
As I experienced both seasons, I liked them for what they have to offer.
9. Conclusion
All in all, Salento's Ionian Sea and Coast is a top address for spending quality time, experiencing a South Sea wise journey and much more. It's up to your type when visiting Salento. Nevertheless, the experience will be top-notch.
The presented beaches and towns are just a glimpse of the total amount on offer in Salento. There are many more great beaches along the coast from Gallipoli to Santa Maria di Leuca, such as Pescoluse.
Bear in mind that public transport is very sublime in that region. Hence, I totally recommend doing a trip to Salento with at least a rented car or motor scooter. When arriving by plane at Brindisi or Bari Airport, rent a vehicle. In case you're approaching Salento by train, try to get a vehicle at Lecce Station at the latest.
Having the choice to decide which beach or place to spend your time every day, is luxury in Salento. There are too many gems waiting to be seen and discovered by all of you in Salento, folks.