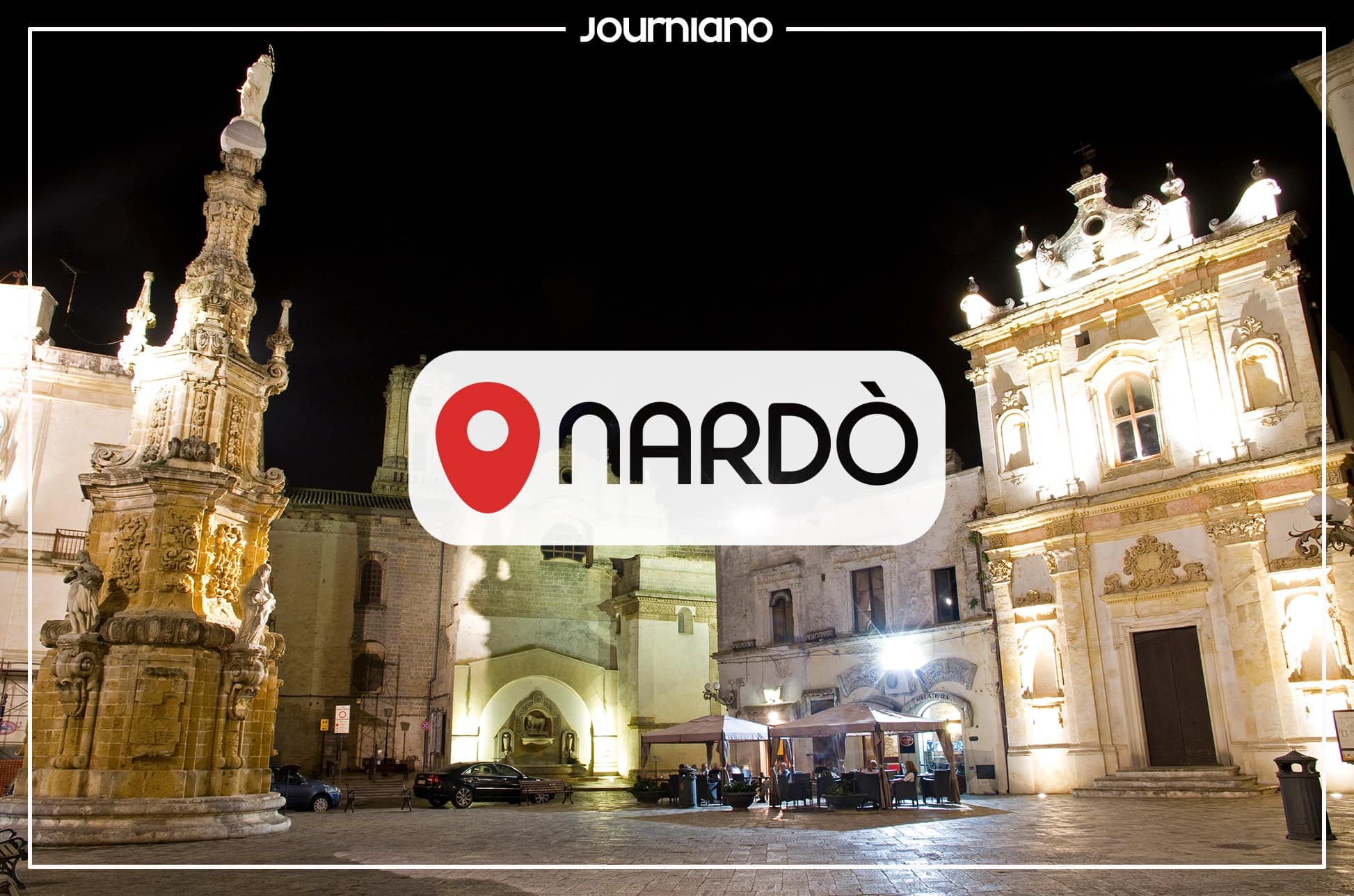 When you imagine an authentic trip to Italy, what does it need to meet your imaginations? Maybe it needs cultural sites, great food and drinks, lovely historic cities and splendid seacoasts, for instance? Have you ever heard of Salento, the Peninsula of Puglia (Apulia) and Italy's heel? If yes, have you ever considered in taking a journey there?

In this four-part series, you'll get four specific inspiring reasons for your next journey towards Salento.
May I present the first reason, the historic centre of Nardò
Some of you might have heard of Nardò in connection with motor sports – and yes, there is one of the most impressive test circuits in the world, own by Porsche and known as 'Pista di Nardò', where car manufactures like Mercedes-Benz, Ferrari, and up to 90 other companies from the automobile industry test their vehicles in terms of speed, for instance.

However, Nardò has a bunch of other and larger attractions – one of them is its historical centre, 'il centro storico'.

Il centro storico di Nardò is a prime example of an Italian city core that you'd imagine to be. Overall, it's well preserved and intact as it was planned and built within the city wall.

So, what can you expect from a typical Italian city core – at night?
Quick Links
1. A grandiose city gate in shape of a castle – Castello Acquaviva
Nardò has like many other similar historical cities various gates which lead you inside. While Nardò lacks a classic main gate with an archway, it offers you an impressive castle located at the most southern part of 'Il centro storico'.

Il castello di Acquaviva is a medieval castle which marks the beginnings of the city when the Dukes of Acquaviva started to have its base there near the end of the 15th century.

Although the castle looks light orangish during daytime, it resembles being made with moonstone at night-time, which is quite astonishing to look at. Nowadays it's home to 'Il municipio' (city hall) and looks more like a palace. Furthermore, you'll also find Nardò's urban park 'Villa Comunale' right behind the castle.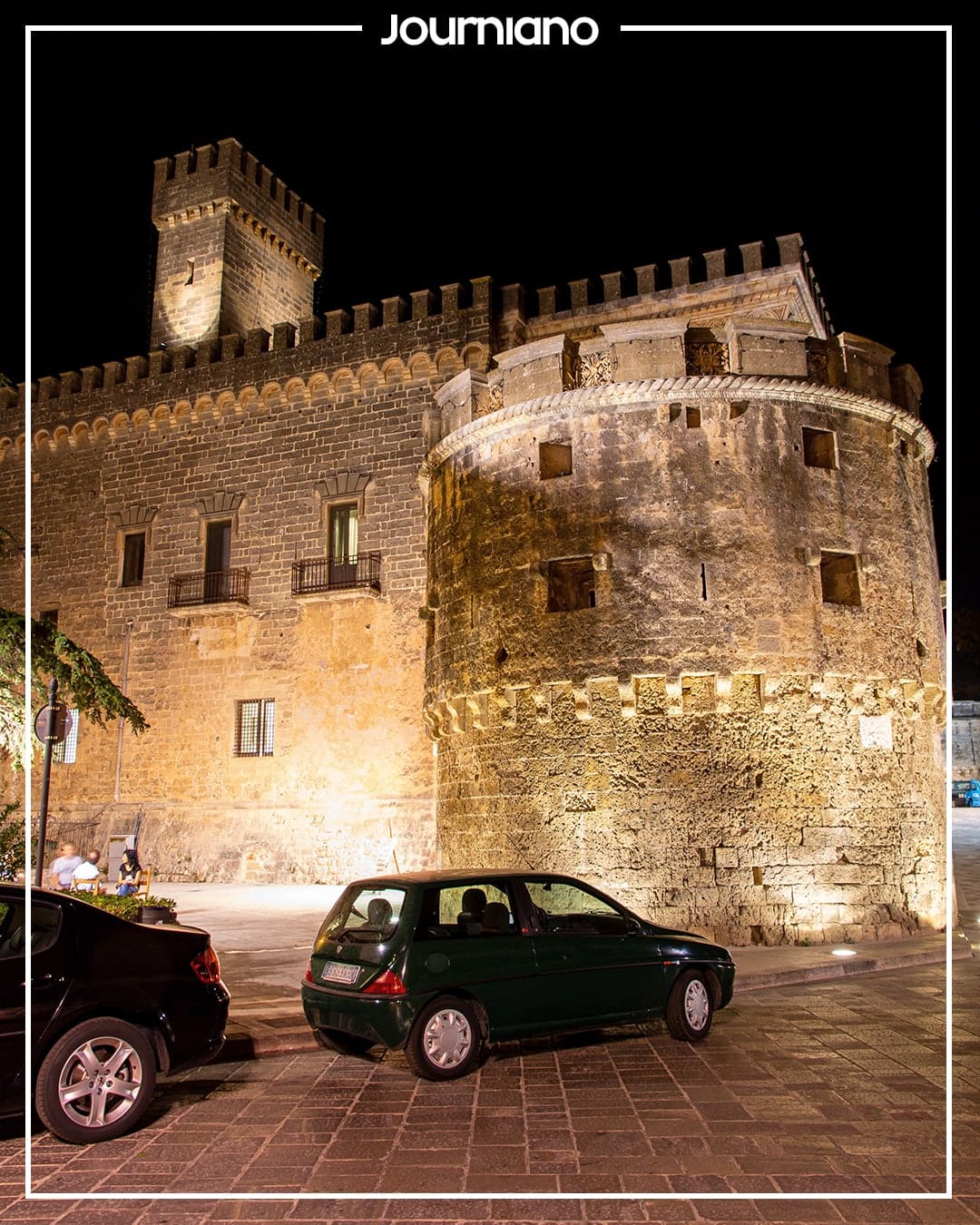 2. Lovely alleys and street scenes leading to monuments
After leaving the castle, you'll start to stroll through a labyrinth of alleys. Even though Nardò's centro storico' is not that big compared to those of other Italian cities, it's quite dense and compact. If you have time, don't look at a map, just stroll and admire the atmosphere.

It may happen that you leave the historic centre per accident before seeing its cuore (heart). Exactly as everything in life, this can have its advantages, as you would encounter other great stuff and monuments. At many points you can see the remains of the city wall and sometimes you'll be able to see monuments like 'Il Tempietto dell'Osanna', a small temple located on a roundabout dating back 1603.

Once you are facing the small temple and placed towards the boulevard, stop there turn back and resume tracking the heart of Nardò. From now on, you'll bump into some other interesting and historic monuments and buildings. Thus, never forget to spot the cityscape to your left and right, enjoying the peculiarities.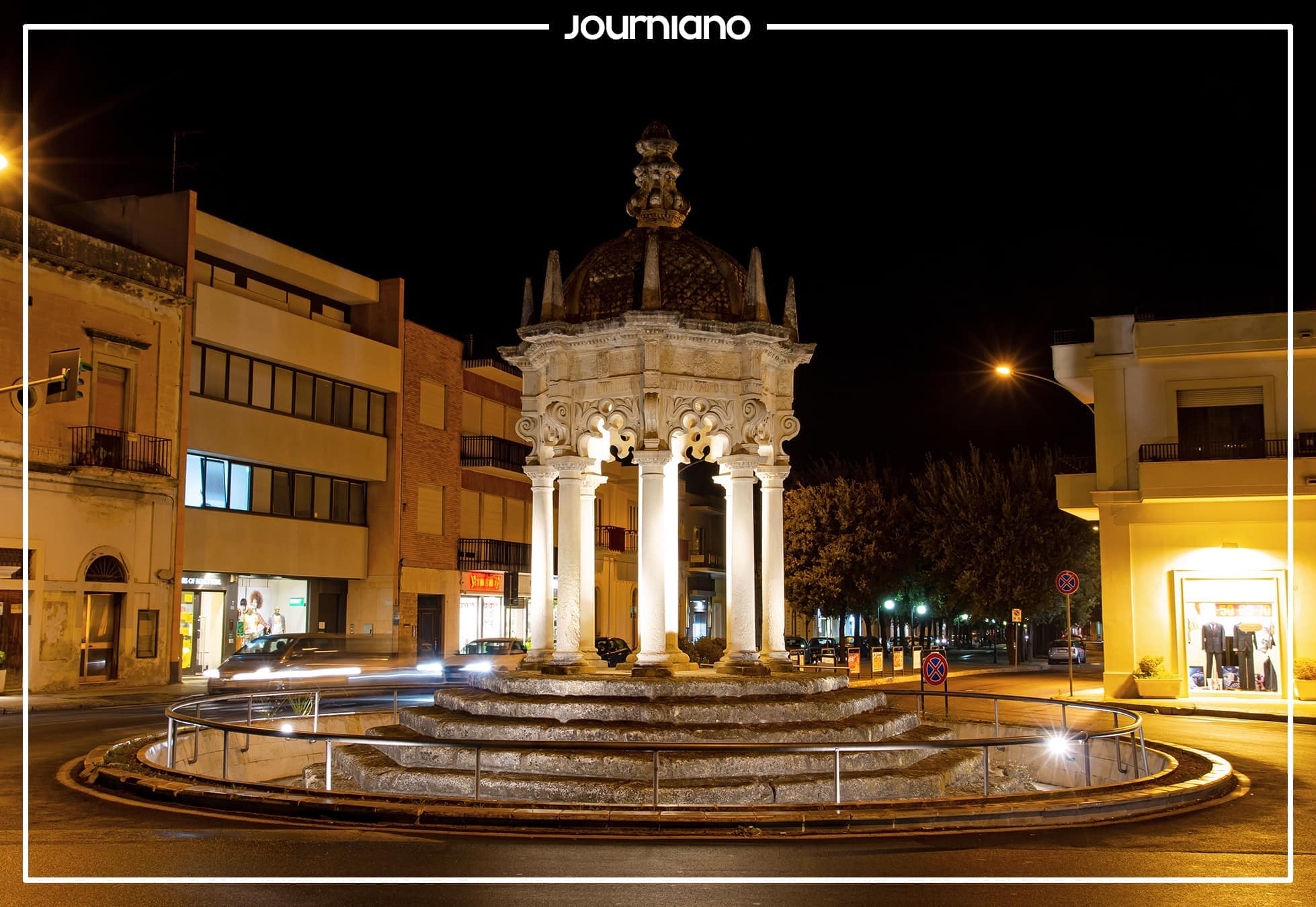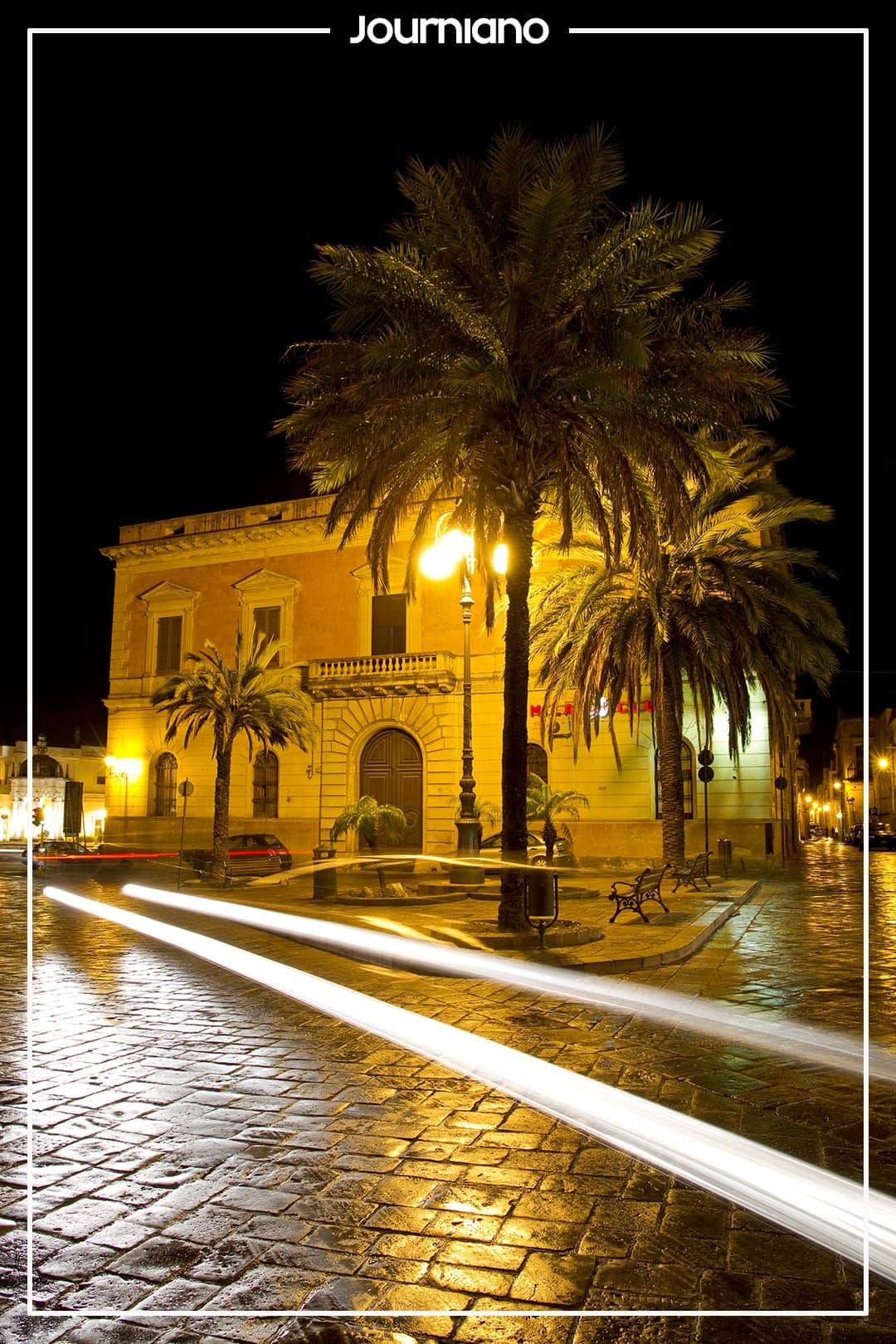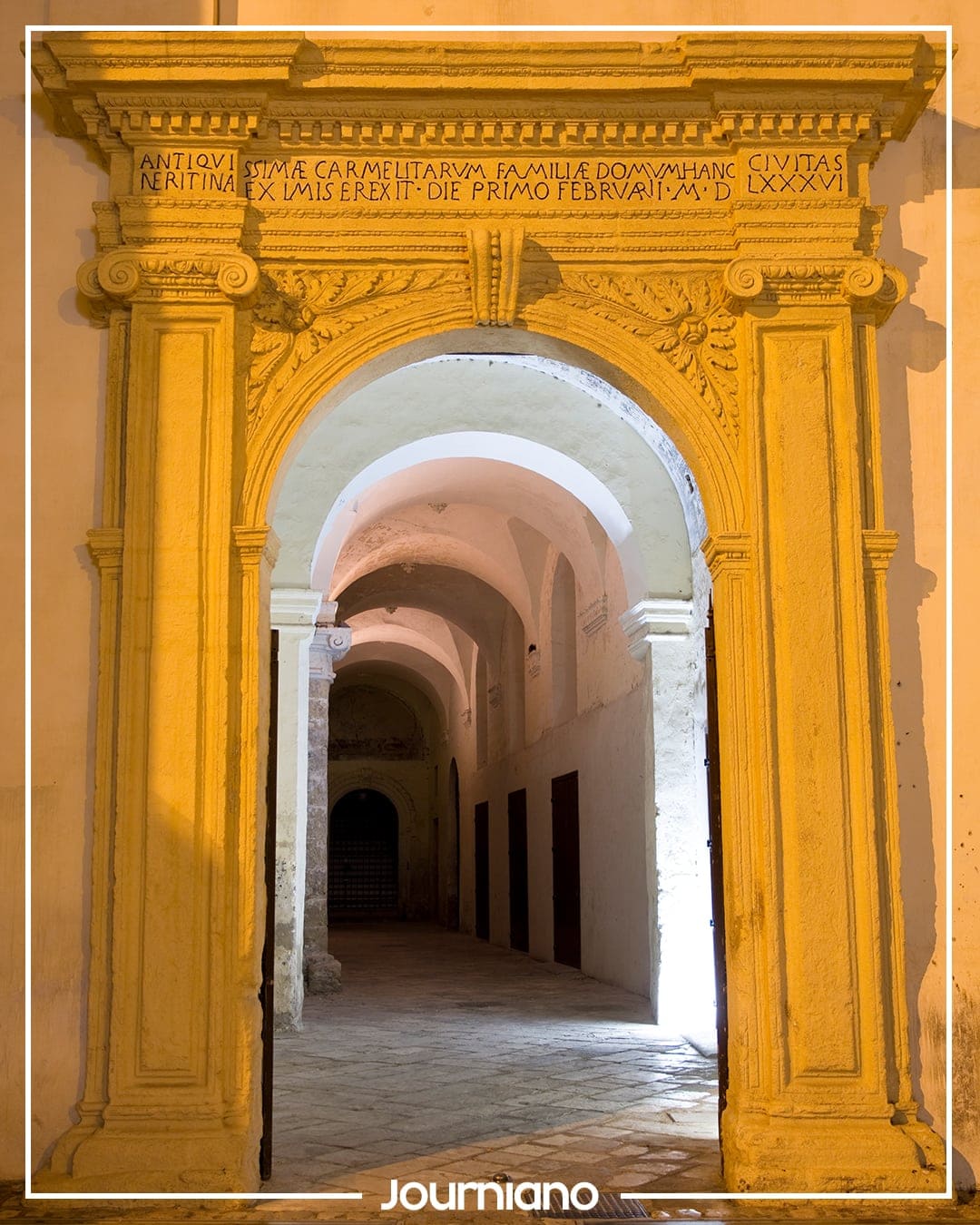 3. Nardò's marvellous main square – Piazza Salandra
It doesn't matter which path you take direction you approach Nardò's heart. As soon as you see a striking pinnacle, you know you find yourself on the main square – benvenuti a Piazza Salandra.

The square is surrounded by various historical buildings, where old and young gather, drink and eat and celebrate together. In short, it's a piazza where life is celebrated.

However, standing here you are wrapped in a magical atmosphere. So, even when you're holding in deep conversations, talking about important stuff like the upcoming football match between Inter Milan and Juventus Turin, you'll get distracted by the beauty of Piazza Salandra.

One architectural highlight is indeed the already mentioned pinnacle, called Guglia dell'Immacolata. This 16-meter-tall artwork has got so many details you could admire for hours. So, if you haven't noticed by now, the pinnacle alone tells you which architectural direction heavily dominates Nardò – il barocco (baroque).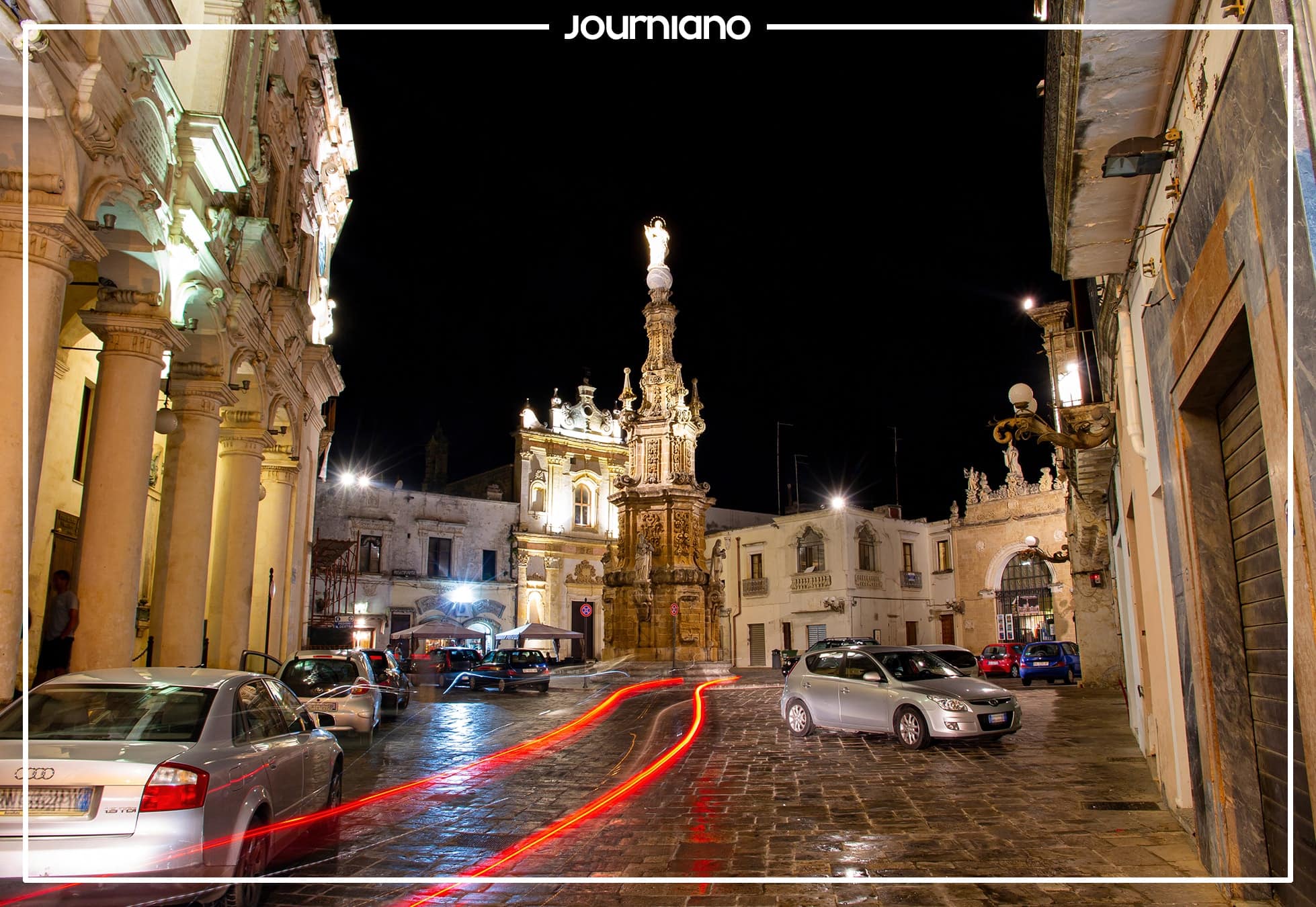 4. Dozens of churches – Decine e decine di chiese
Do you know where the influences of baroque don't give any indication of slowing down? Well, at churches, obviously.

Nardò's centro historico got a bunch of them plus others outside along the city walls. During your stroll, you will spot a church here and there, one richer than the other in terms of decoration. Speaking of their interiors, they are pompous as much as possible.

In general, Nardò's churches are not that big – unlike one of them. The historic centre possesses a cathedral – its residents also call it, Duomo di Nardò. La basilica cattedrale di Santa Maria Assunta (dedicated to the Assumption of the Virgin Mary) is the city's biggest and most important church.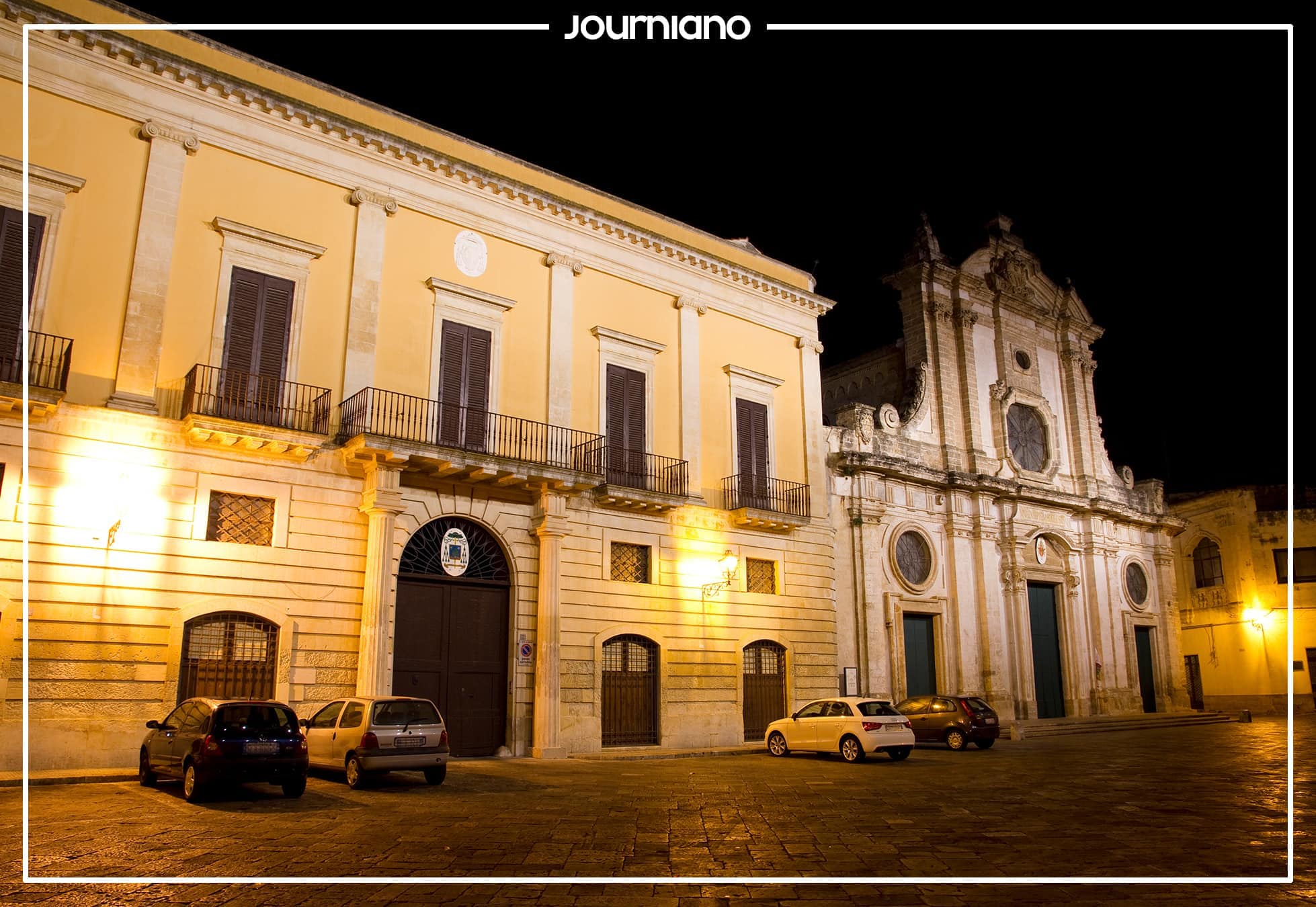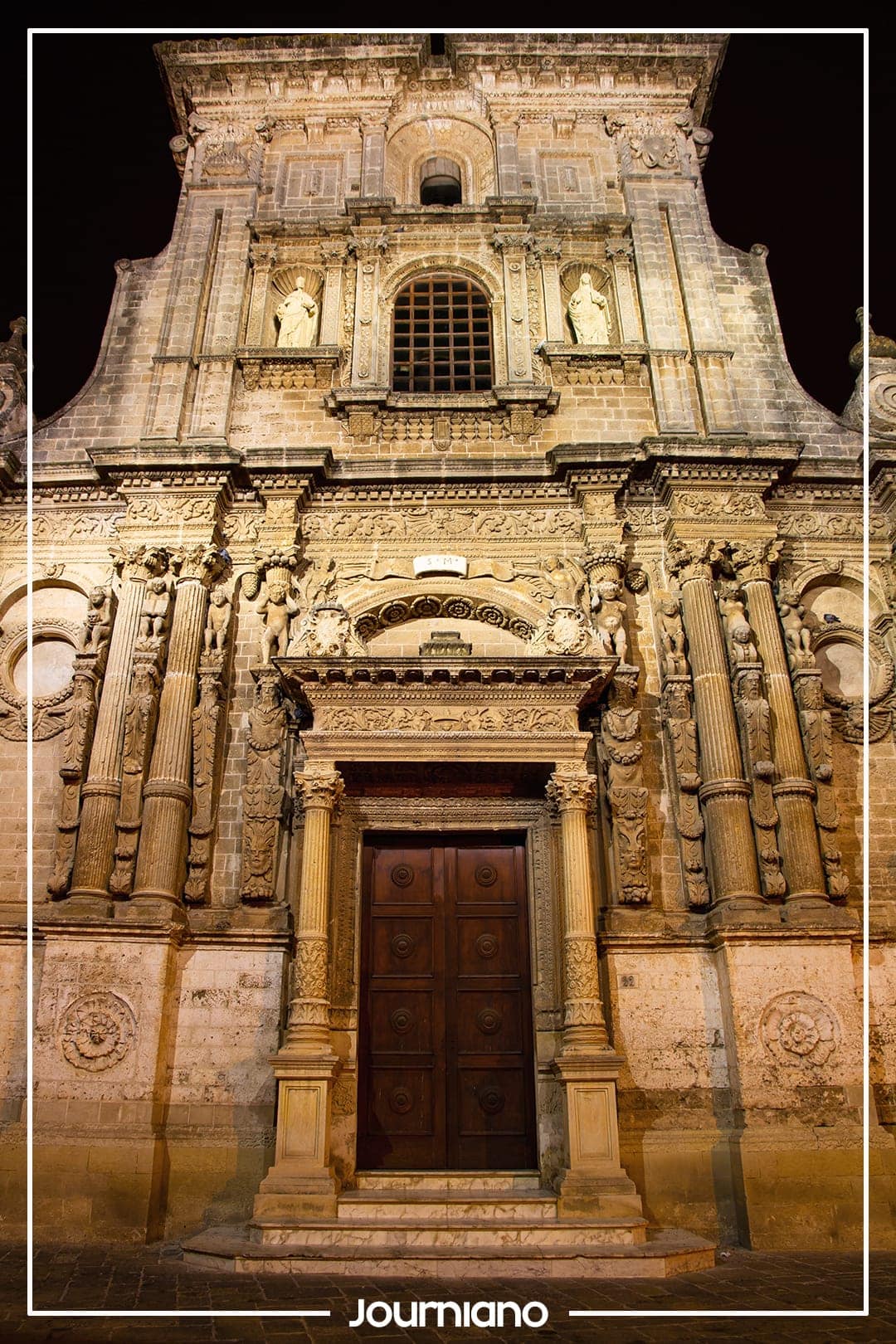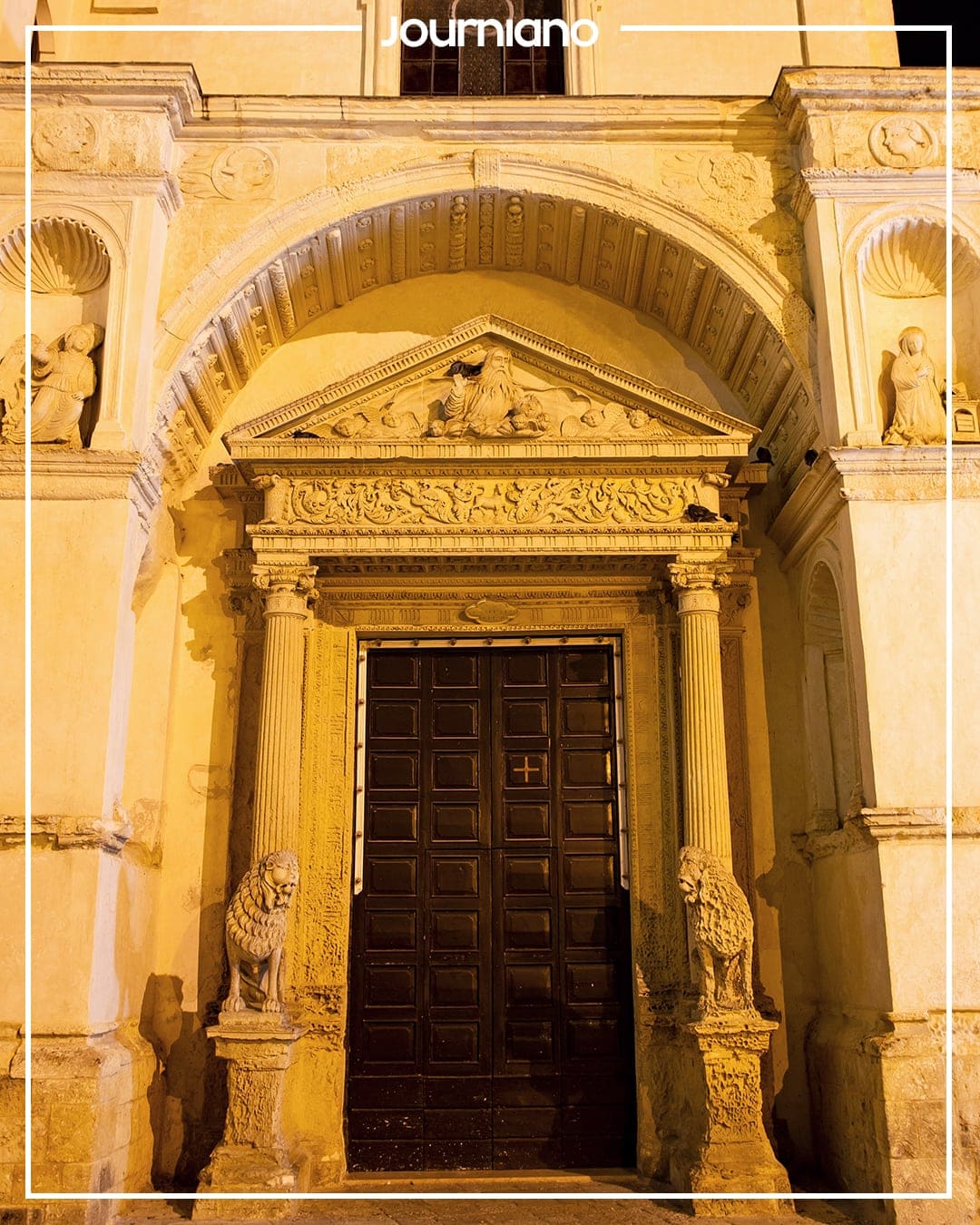 Where to eat and drink in the historical centre of Nardò?
The almost 300.000 m² big centro storico di Nardò has many options where you can have a drink or a good meal. Either you discover them yourself or you give the following considered spots a chance.

In case you're hungry already close to Castello Acquaviva check out Trattoria di tradizione L'inferno. There the dishes are not only very tasteful but also very well presented.

Should you stroll around around the ancient city walls in the east, I'll recommend Il Gabbiano for a small and fast snack. Il Gabbiano is a typical Italian Pasticceria (pastry shop) and Bar, where you get some delicious sweets, Aperitivo or a fast Caffè.

Its special location inside a remnant of the ancient city wall offers you a special and elegant atmosphere. If you like that style, then Jazzy City Nardò might be the option for a real dinner.

In the core around Piazza Salandra you find dozens of smaller restaurants and bars. If you are after a location with a great price/value ratio and authentic plates from Salento, you should give Antica Trattoria Salandra a try.

Another great spot for typical regional dishes, would be Antica Macelleria Fai behind the Old University. Its entrance alone is worth to visit.
Where to stay in Nardò?
In Nardò you don't find typical hotel brands. Thus, bed and breakfast as well as apartments are the most offered accommodation options. The fact that almost every house and building have a terrace on its rooftop, some apartments have authentic advantages in Nardò because of the possible city view and vibes you'll get from up there.

You can find your accommodation on classic search engines like booking.com or Airbnb.
How to reach Nardò?
Nardò is reachable by either plane, train or car.

The closest operating airports are Brindisi (around 70 km away) and Bari (around 170 km away). Both have a good amount of regular flights from many airports across Europe. While Bari is busier in numbers of flights, Brindisi is much more convenient.

Two regional railway stations serve Nardò from Lecce where you must transfer when arriving fully by train. Although its names Città (City) and Centrale (Centre) sound very functional when travelling to Nardò, they aren't.

As public transport and taxis are almost not existent, you need someone to pick you up, which isn't normally the case. While Città is somehow manageable when heading to an accommodation in the city's heart, Centrale is a real pain, as it is situated in the remote area of Nardò.

So, if you take a train down to Salento, book your ticket until Lecce and rent a car there to proceed down to Nardò. Having a car for your journey in Salento is a no-brainer as many places are here, there and nowhere.

To calculate certain distances from and to Nardò, check the map below.
Closing words
All in all, the historic centre of Nardò is great to kick-off your journey in Salento. It offers everything what you'd expect from a typical smaller Italian city – narrow alleys, top-notch architecture, marvellous square and great places to taste the flavours of Salento. Furthermore, experience the city centre also during daylight.
What to expect in Part Two of the Salento series?
In the next issue, we will leave Nardò city and head to its next heritage – its coast. However, there will be more beyond Nardò. So, please be excited.