Biblioteca Salaborsa in Bologna is a highly missed gem when strolling through the attractions of the city centre. Get to know why this library and former stock exchange hall around Piazza Maggiore should be checked out.
What to expect
About Biblioteca Salaborsa in Bologna
Right in the heart of Bologna, you might pass by its main library. Located at busy square "Piazza del Nettuno" and inside the huge building complex of "Palazzio d'Accursio", Biblioteca Salabrosa can be overseen quickly with all the other landmarks around.
Only by coincidence did I entered the library. While searching for a Café to take a good Espresso in the late afternoon around Piazza Maggiore, Google Maps advised me to go inside that library. As I didn't expect anything spectacular, the surprise was pretty overwhelming. More on this later.
In 2001, the municipal library has been established in the "Salaborsa", which literally means stock exchange hall. So, how did the former stock exchange become the city's biggest library?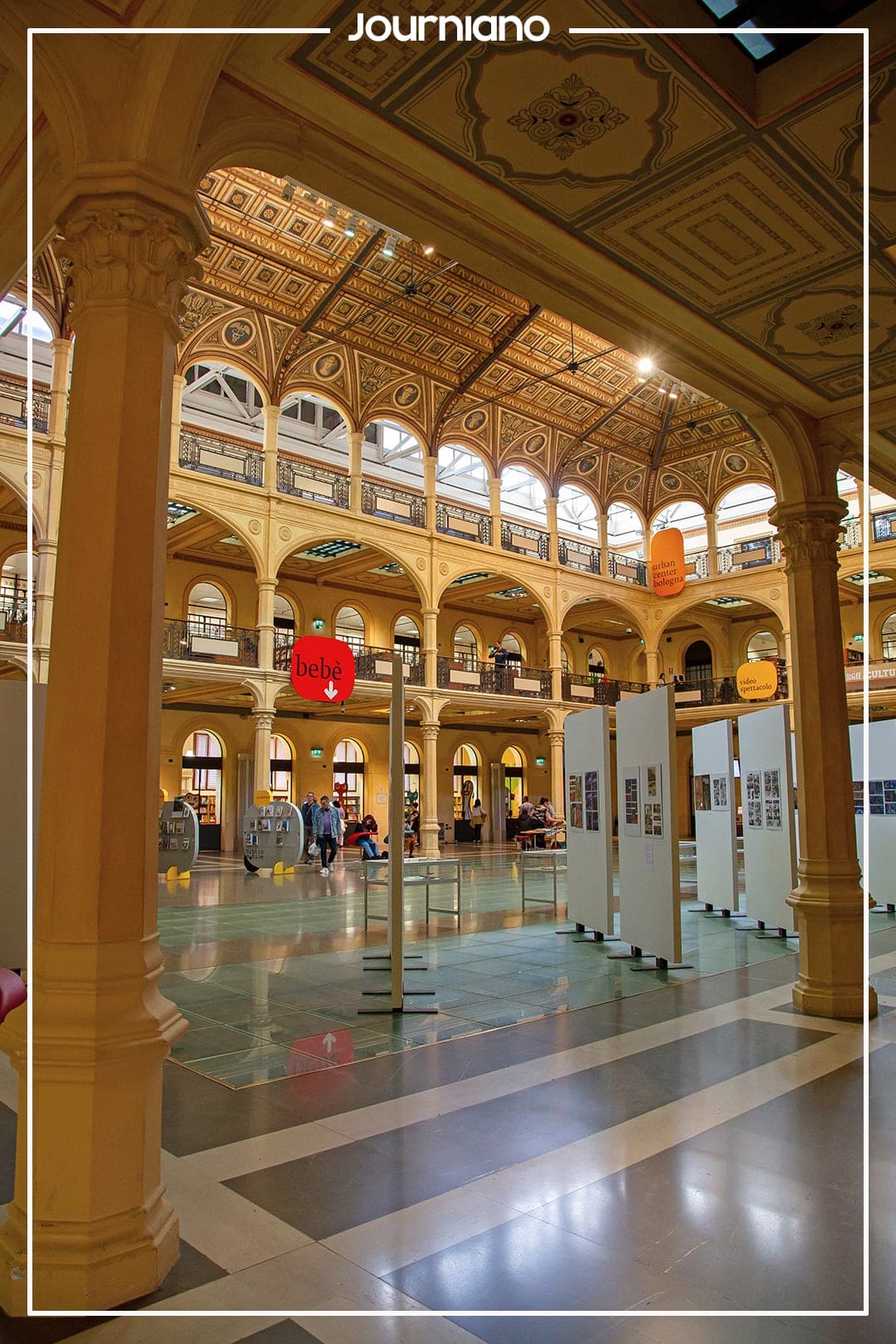 How the Stock Exchange became a Library
Funnily enough, only after being active for around 20 years, the stock exchange closed already in the early years of the 20th century. Bear in mind, that this building and hall you see in the picture were built for the sake of an exchange hall. Before its existence, there was simply a courtyard.
Thus, what happened next? In the 20s it was used as a sort of economic restaurant. During the second world war and shortly after, games of basketball were held inside the hall. Quite an amazing place for a game of basketball if you think about that. Furthermore, Salaborsa was also the place for a theatre in the after years.
Finally, in the year of 1999, the city council decided to transform the stock exchange hall into a public library. From 2001 at its opening until today, it has kept this particular role.
Strolling around Biblioteca Salaborsa in Bologna
When entering Biblioteca Salaborsa in persona, you get positively surprised, as hinted before. The typical theatrical indoor design, which you can notice inside some European exchange halls from that era, makes this place somehow epic.
Due to the upper levels being designed like stands in a theatre, your view moves automatically to the gorgeous ceiling design. Ornaments, golden elements and an atrium make it stand out.
In addition to the outstanding-looking upper levels, the ground floor has a special gimmick, which I personally missed during my visit. Some cyan coloured glass cuts let you look into the lower ground, where the remnants of an ancient Roman forum can be seen. Don't miss that feature when you visit it for sure.
As this is a public library, you can freely stroll around and walk up the upper levels. Unfortunately, as it was almost closing back then, only the first floor was still accessible to me. Once being up there, you don't leave that fast. Do you remember the mentioned theatrical stands? Well, it's amazing standing there by yourself and enjoy the overview of Biblioteca Salaborsa. While people walk up and down the main hall, others are studying or discussing along the aisles of the stands.
Opening Hours
Due to the ongoing pandemic, the opening times of the library can vary a lot. As long as the situation hasn't stabilised, please check their official site for exact opening hours here. (Unfortunately, it is only available in Italian)
I will refresh the opening hours in this section once normality has re-established.
How to get there
Biblioteca Salaborsa is located super central within Bologna. Please use the embedded map to navigate to the library the best way possible for you.
Conclusion
Bologna's public library Biblioteca Salaborsa is definitely worth a visit for various reasons when strolling nearby Piazza Maggiore. Its architectural design and great requalification purpose make it a great indoor stop. Maybe you're also in the mood for an Espresso, so can hit two birds with one stone.