Jardím das Oliveiras in Porto takes you to an urban but green oasis. The name says it all: A garden full of olive trees awaits you for a great chilly break and much more in the middle of the city.
What to expect
About Jardím das Oliveiras in Porto
This particular project is known under various names. "Praca de Lisboa" (Lisbon Square), "Passeio dos Clérigos" (Clerigos' Esplanade) and "Jardím das Oliveiras" (The garden of olive trees). As I focus more on its public benefit, I call it by its third common name, Jardím das Oliveiras.
Interestingly, there are historic reasons why people can't decide the proper name for this spot. Since the 19th century, this location was important for commerce. In 1839, the public market "Mercado do Anjo" was inaugurated. Although its existence lasted more than 100 years, most of its life it worked like a parking area.
This resulted in renaming that place "Clérigos Shopping" in the 90s. What didn't come with much surprise, it found the same fate as its predecessor a few years after. Thus, the city came together with architects and its citizens to discuss the future of this place in 2007.
Finally, in November 2013, Porto received an urban gem at this location. The creative team of "Balonas & Menano Architects" designed this stupendous hybrid building, combining commercial areas with an urban park. Jardim das Oliveiras and the commercial passage Passeio dos Clérigos were born.
Passeio dos Clérigos – Commercial Area on Ground Level
This project has two sides of the medal. One of them is its ground level, where you find commercial areas along an alternative as well as nicely designed alleyway. As you probably will approach it from the Clérigos side, coming up from Aliados, this will be your first impression.
Thus, you probably face the facade first. Funnily, the facade of the ground level reminds me of those thick olive tree's roots. What a coincidence that comparing the artistic take with the originals can be made here.
By entering the wide-open alley, you start strolling through Passeio dos Clérigos (Clérigos' esplanade). On your left and right you find various stores, cafés and bars by common brands. What's more interesting, is the fact how the architect designed the look of the rooftop, seen from the ground level.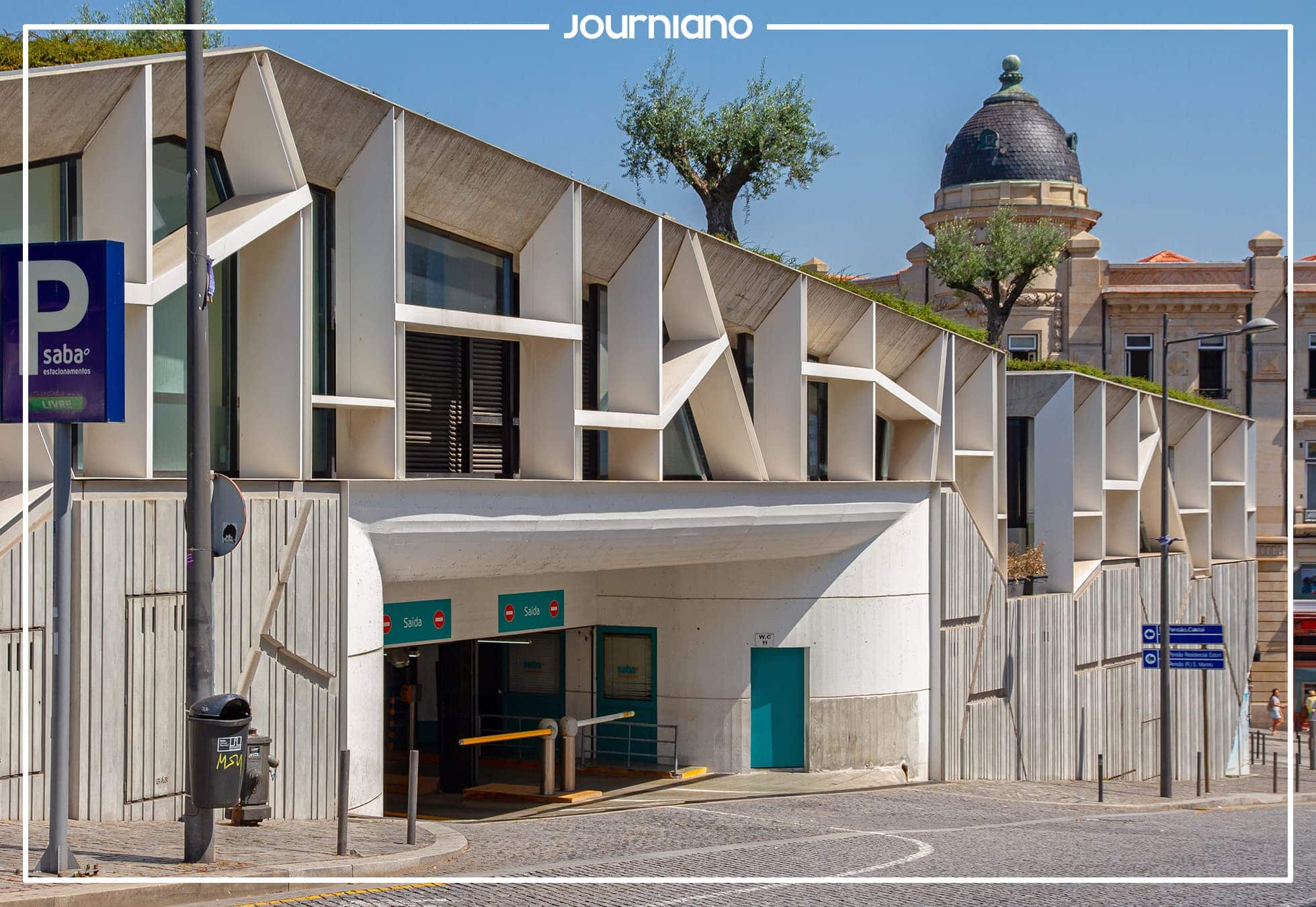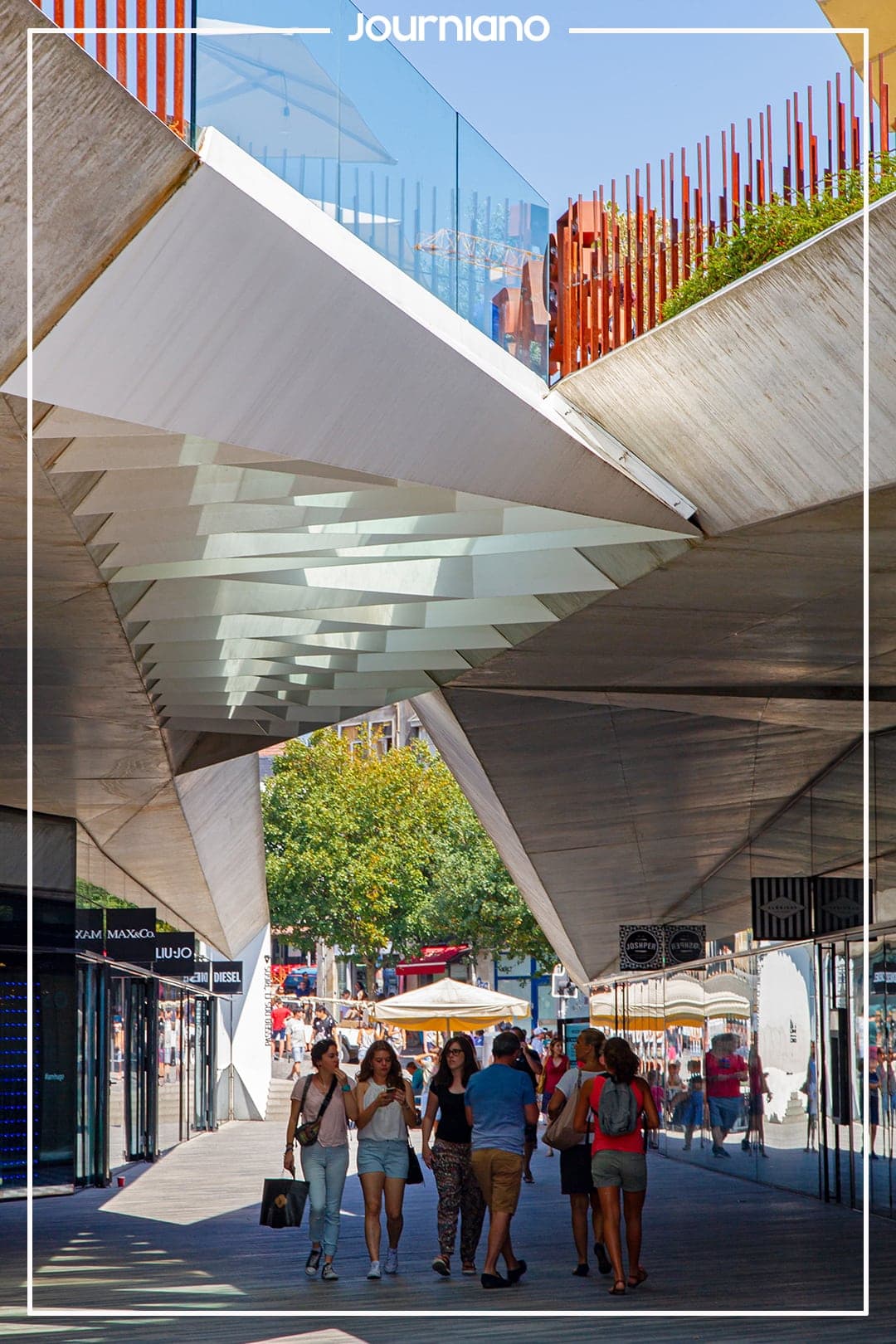 It doesn't matter if you pass at day- or night-time, there are so many interesting perspectives and photo motifs to be captured from here. Especially if you turn back to the Clérigos side and notice how artistically its clock tower is being framed.
At the end of Passeio dos Clérigos, you arrive right in front of both the University of Porto and famous bookstore Livraria Lello (which I also covered in an article before). Before checking out any of these, it's time for the real deal.
The marvellous urban Rooftop Park with its 50 Olive Trees
Jardím das Oliveiras can be translated literally into "The garden of the olive trees". Up to 50 olive trees have been planted across this rooftop park. Most of them can be found in the public area. Thus, you can chill or picnic in their shades, cuddle with them or whatever you're up to.
Jokes aside, this area is literally the newest hotspot of Porto to meet, chill, have a drink or simply celebrating life. Its central location, next to so many important spots and the university, makes Jardím das Oliveiras the meeting point for so many generations, as well as locals and tourists.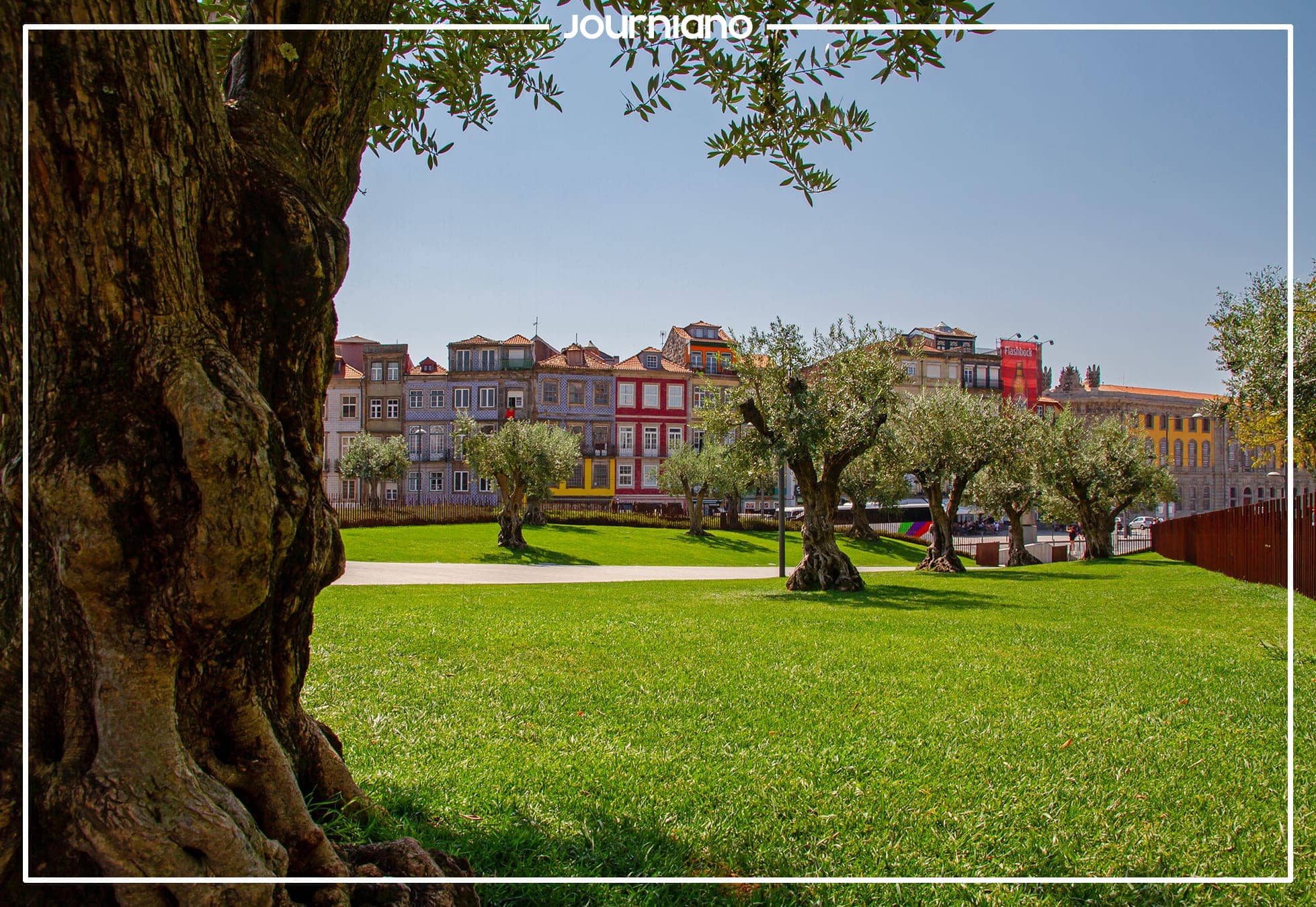 There's also a cool bar playing great music and offering additional place on the rooftop park, which I cover later on.
Another positive side note to be added is that the park is accessible. This means people of all generations can easily meet up there.
Now, just relax and imagine being there for a moment, before I take you up for a majestic aerial view of this marvellous place.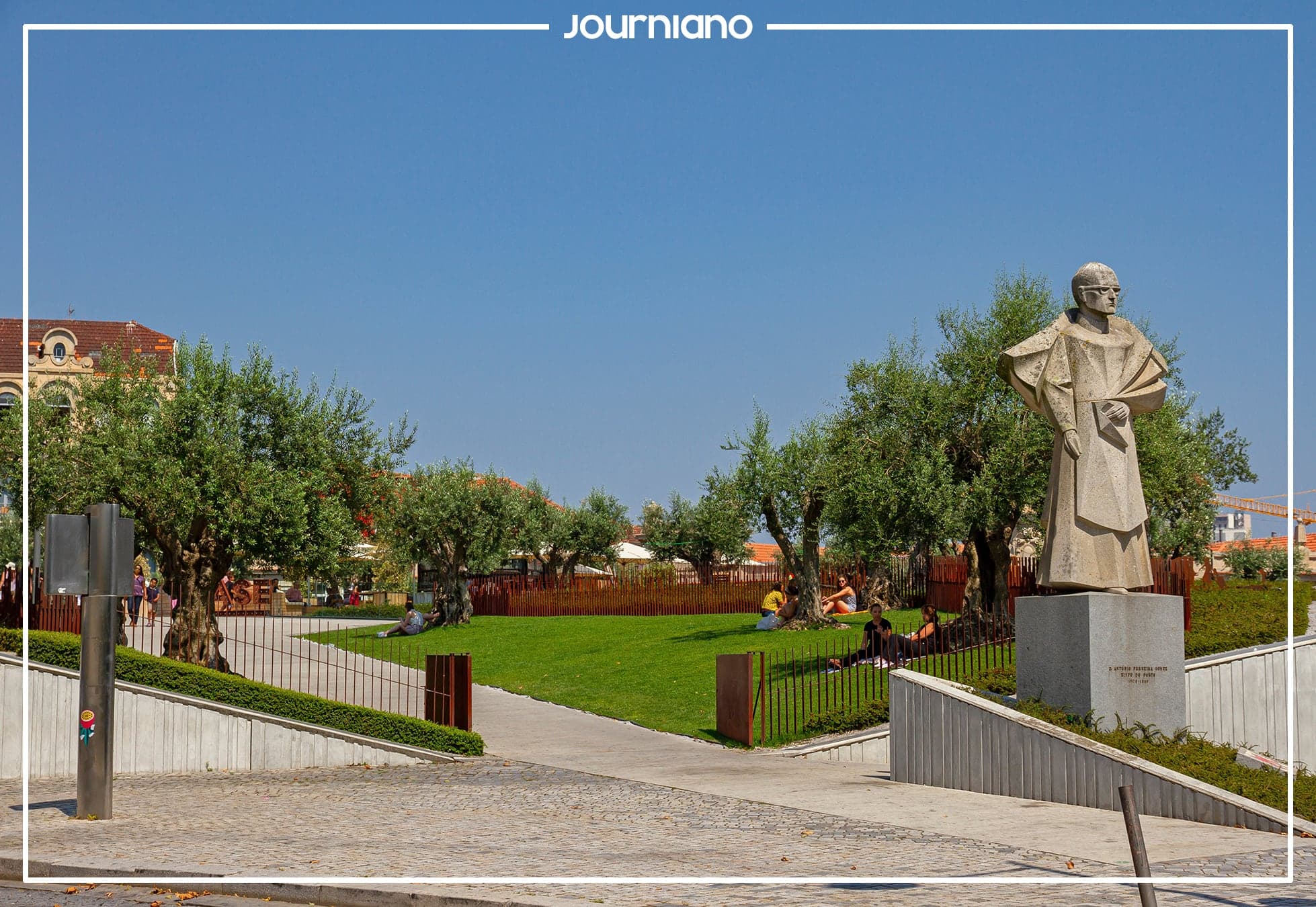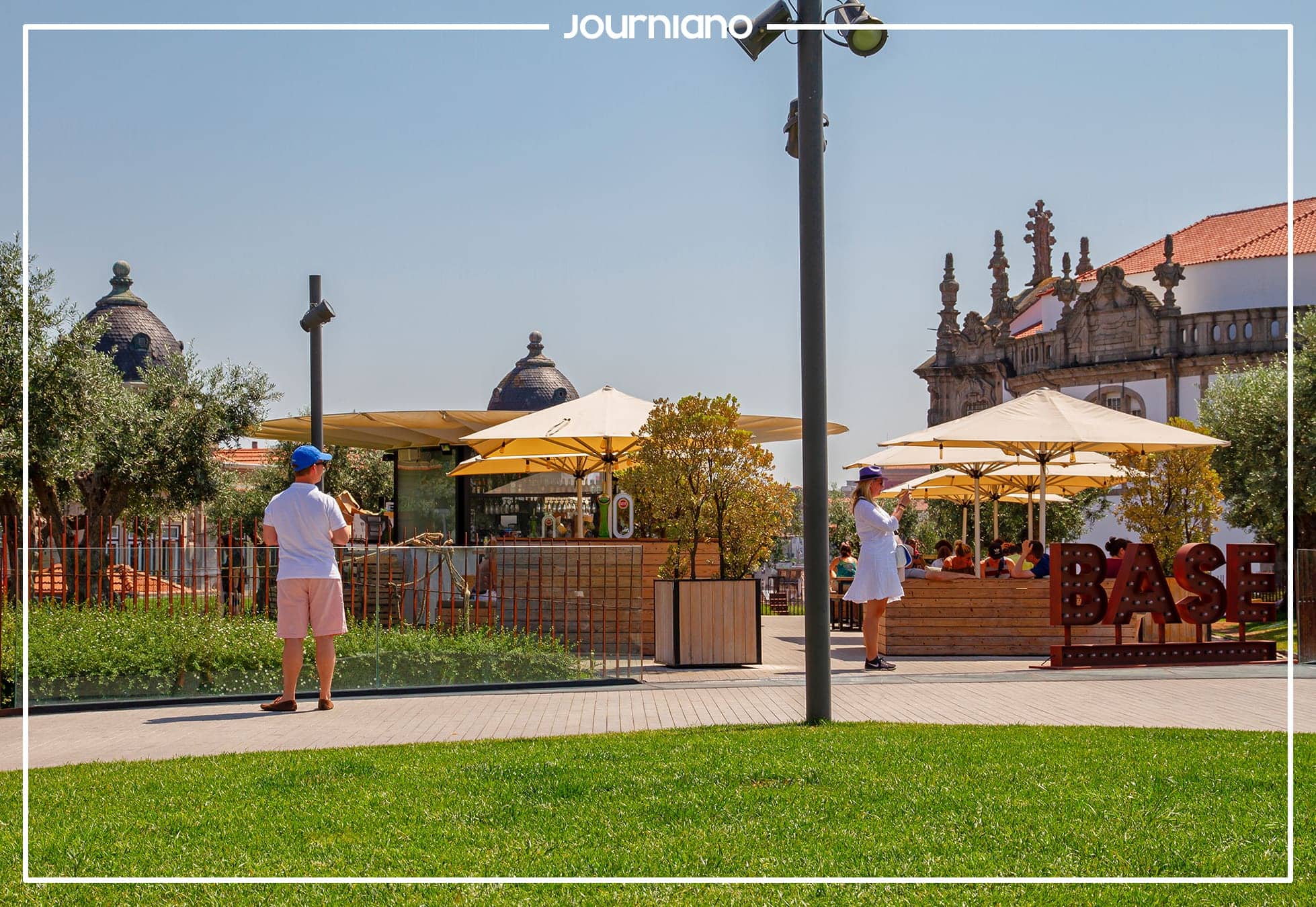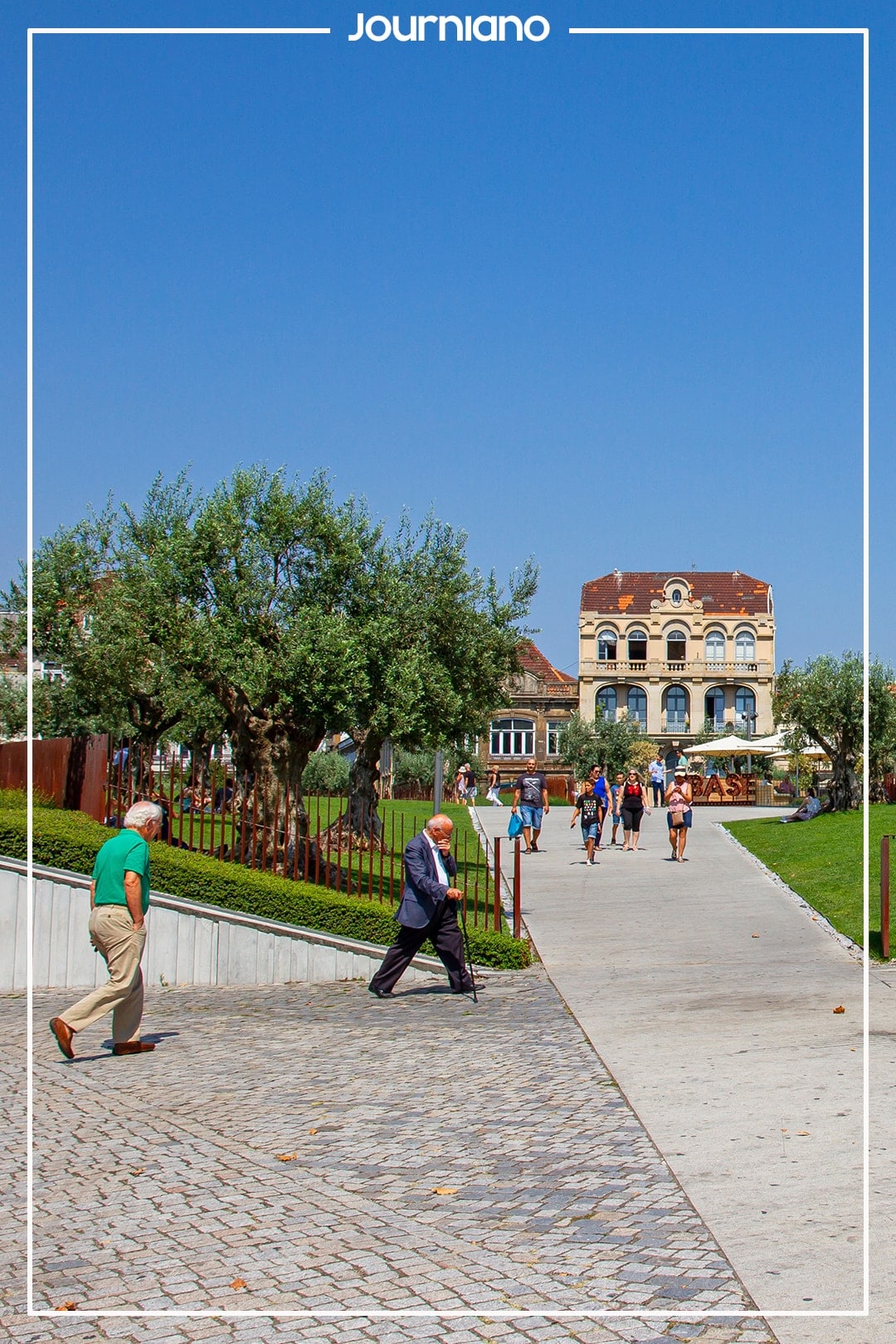 Jardím das Oliveiras seen from Portugal's tallest Church Tower
Yes, experiencing the garden of olive trees for real is good and stuff. However, can you imagine how amazing it is to see that urban park in one piece surrounded by its lovely environment? Nah, you cannot. Hence, let me enlighten you.
Torre dos Clérigos, Portugal's tallest church tower and the city's landmark, which can be seen from most angles in Porto, offers a 360-degree observation balcony. Although there is a wide range of "miradouros" aka observation throughout Porto, the view from here is impeccable.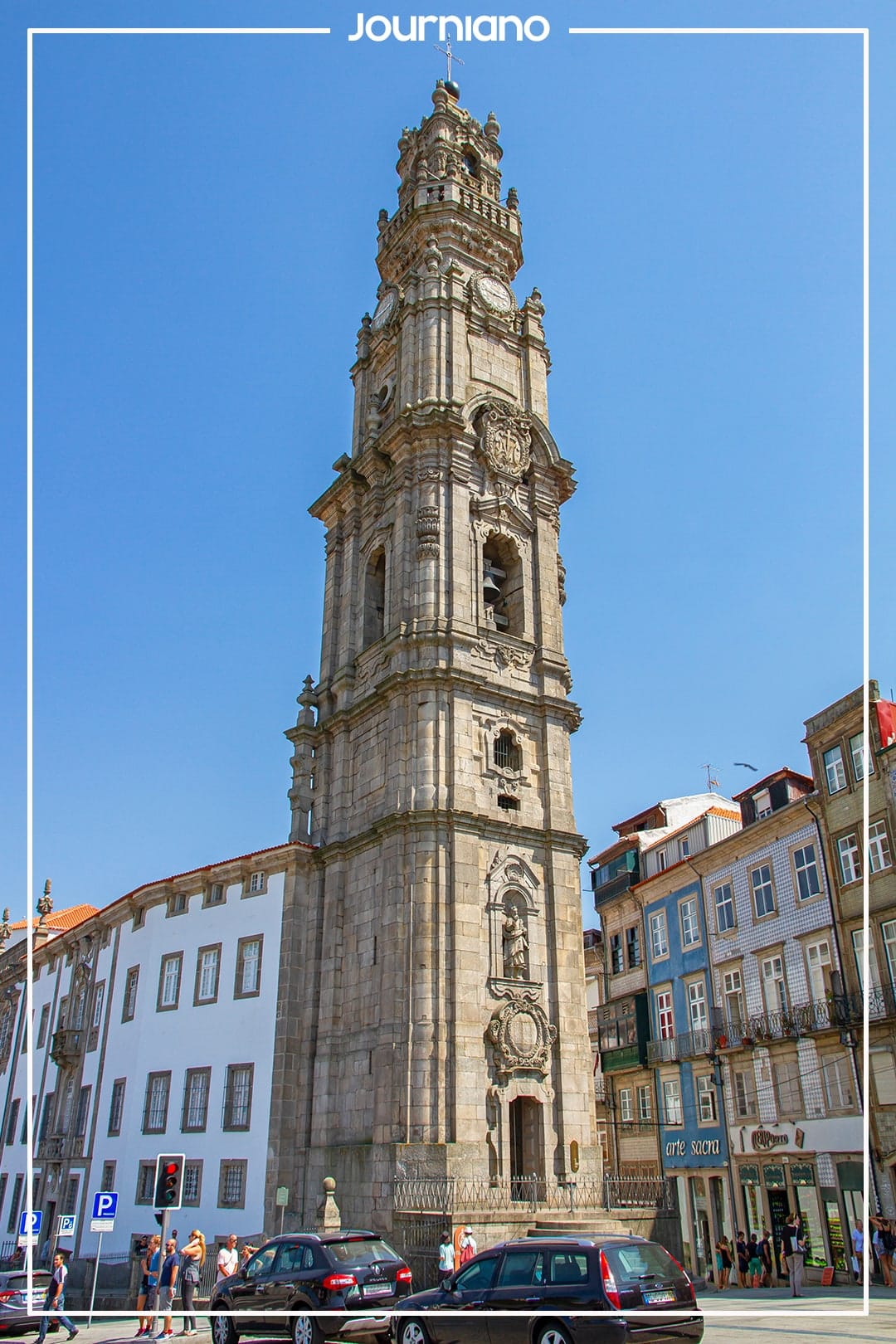 From nowhere else will you get such a majestic view of Jardím das Oliveiras in Porto. The saturated green of the well-maintained grass of the rooftop park shines so brightly, it almost outperforms the sea of orange roofs across the city.
I can only recommend going up the tight stairway for this and many other views of Porto and neighbour city of Vila Nova de Gaia. A full in-depth article about the church and tower of Clérigos will be released soon here.
Nevertheless, it's not yet finished with Jardím das Oliveiras in Porto. I still owe you a few words about the rooftop park's bar.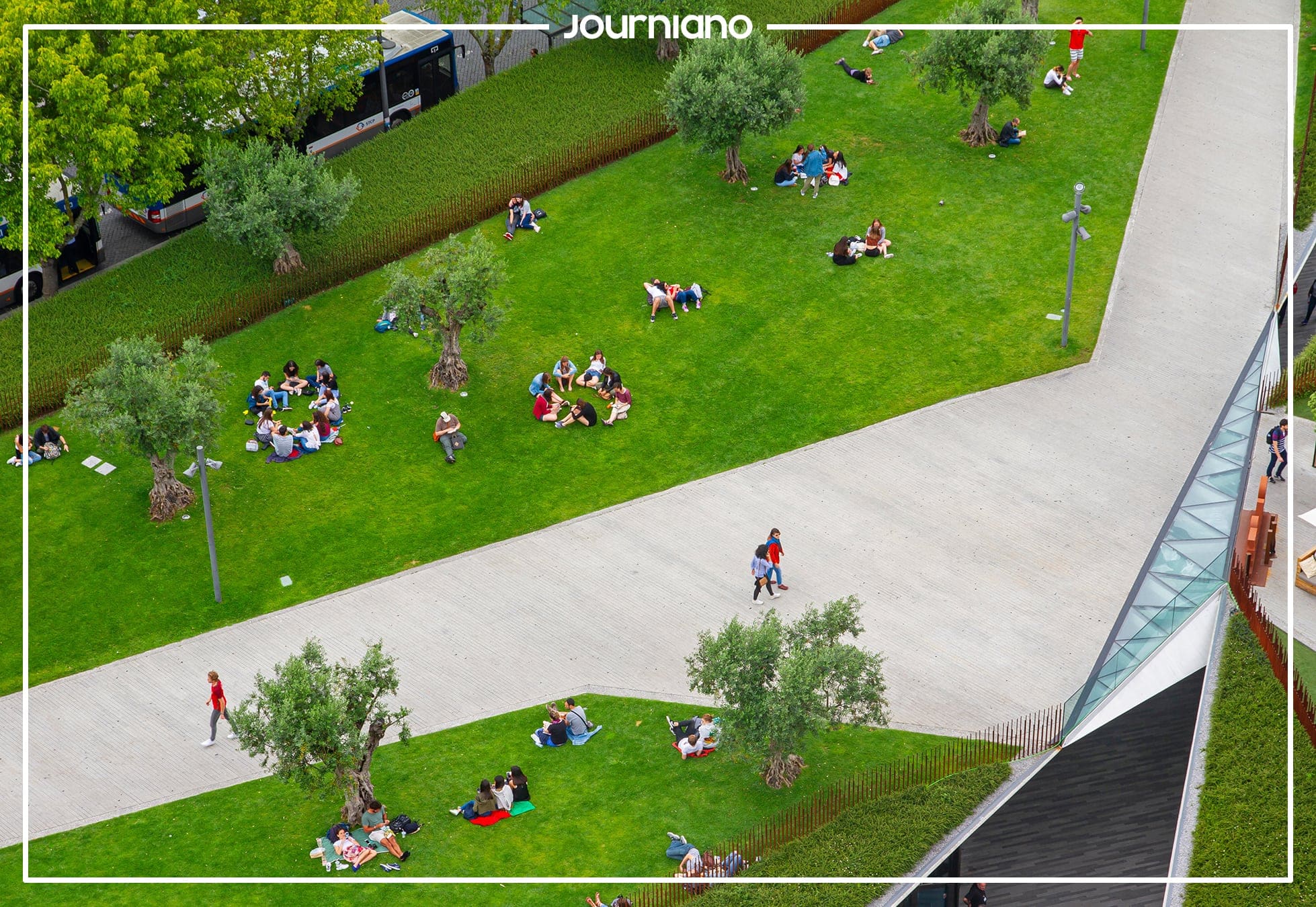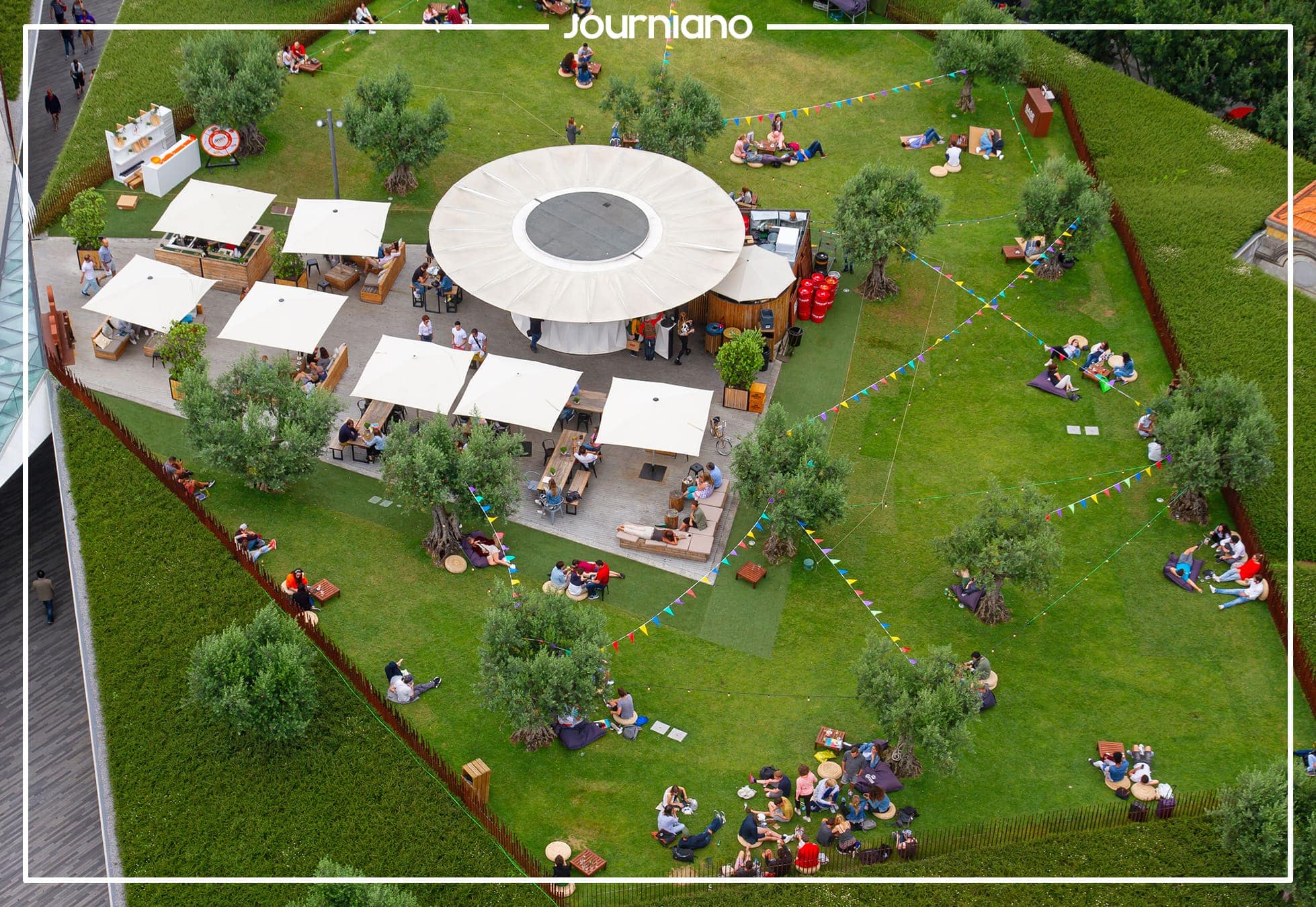 Come down for a Chill and Drink at the Rooftop's Bar Base
Whether you walked your ass off through Porto or the stairways of Torre dos Clérigos, you deserve a great break full of good vibes and a drink.
Thankfully, there is an amazing open-air bar called "Base", located right on the rooftop park. Their music playlist, with songs by Tom Misch or FKJ for instance, delivers great chilly but also jamming vibes at the same time. So, you decide if you wanna chill and feel or feel and dance.
Drink-wise you get everything from ice-cold Super Bock beer to long drinks and more. Should you be hungry as well, Base delivers as well.
At night, the bar turns on the light bulbs, while DJs occasionally start to play their sets for an unforgettable journey in the vibrant epicentre of Porto.
Watch the embedded video below to get a feeling, how amazing a visit to Base can be.
When to visit Jardím das Oliveiras in Porto
Normally you can have a great time at Jardim das Oliveiras in Porto during every season. Still, the warmer months elevate the experience to another level. Especially due to more events being held there.
How to get there
The marvellous rooftop park is located super central next to the University of Porto and Clérigos Church. I recommend to reach it by foot, but you can for sure drive there by bus as well. Furthermore, there's also a parking garage below the park. Navigate through the embedded map below to access Jardím das Oliveiras the way you want.
Opening Hours for the Rooftop Bar Base
Due to the ongoing pandemic, there are no guaranteed opening hours for the bar Base. As soon as normality is back, I'll implement the exact opening hours here.
Conclusion
Jardim das Oliveiras in Porto is an attraction you shouldn't miss at all. The crossover between a commercial area on the ground level and a public park on its roof has turned into one of my favourite urban redevelopment projects.
Bringing more green space into the city centre is always welcomed. However, this project is truly an achievement on so many levels. Plus, the open-air bar Base rounds up the fantastic journey at the garden of olive trees pretty well.