Rathaus Elberfeld is one of the few tall landmarks of Wuppertal. Although it's standing out, the marvellous town hall doesn't get the praise it deserves. Dive deeper to explore why this building is one architectural reason to give Wuppertal a visit.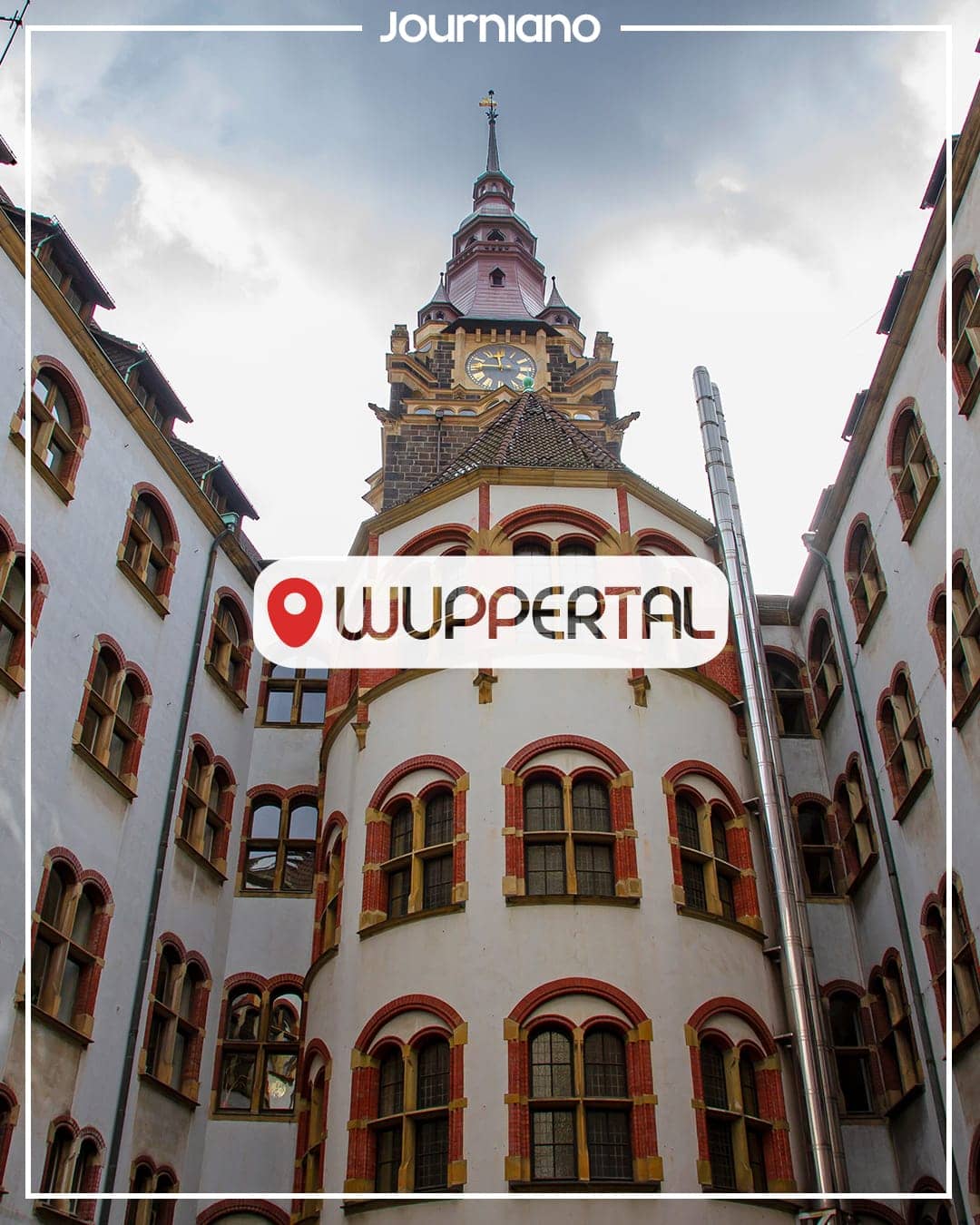 What to expect
1. About Rathaus Elberfeld
Back at the end of the 19th century, Wuppertal didn't exist as a city per se yet. Today's wards like Elberfeld and Barmen were still independent. Due to Elberfeld's economic rise at the end of the 19th century, a larger and monumental town hall was needed.
From this, it follows that the new "Rathaus" was completed in 1895. However, it got only inaugurated in October of 1900, together with the revolutionary suspension rail system "Schwebebahn".
Its role as an official town hall didn't last long. After merging Elberfeld with Barmen and other former independent cities to become Wuppertal in 1929, the functions of the town hall moved to Barmen. Ever since, Rathaus Elberfeld has solely had an administrative role within the city council.
Nonetheless, it still is one of Wuppertal's striking landmarks. Designed in the eclecticism style, the town hall stands out especially with its 79-metre-high clock tower. Moreover, there are more treasures to be discovered.
2. Dominating the Skyline throughout the City Centre
Once you enter Elberfeld, you might notice the town hall's clocktower. Particularly the newly designed main station and its bus terminal offer a decent point of view. If you are patient enough, you can experience the epic Schwebebahn passing in front of the Rathaus. Historically as aesthetically, this is a moment to be witnessed together.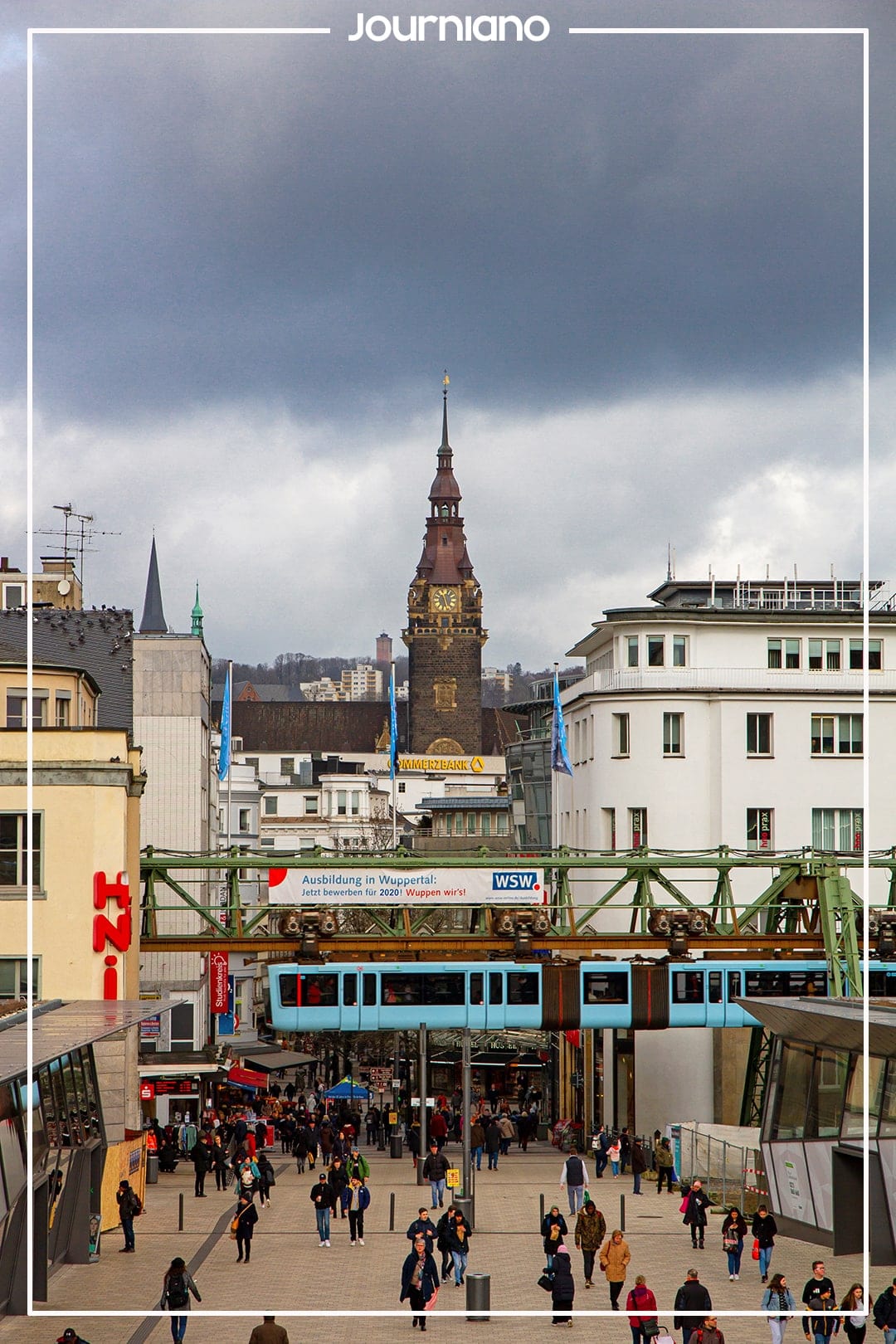 Another great ensemble can be discovered and taken from the street "Wall", right next to the "Von der Heydt Museum". Funnily enough, this museum's building was the former town hall of Elberfeld.
Now, by approaching the striking building, you don't just get closer to it. Further perspectives and surprises await you.
3. Confronting Wuppertal's striking Town Hall from Neumarkt
Right in front of Rathaus Elberfeld's main entrance, Neumarkt, a market square, delivers the first cherry on the cake. Do you know those fountains where a man stands on top while holding a trident from Italian cities? Well, there it is. Wuppertal also got one of these Neptune Fountains.
To be precise, the sculptor Leo Müsch from Dusseldorf copied the Neptune Fountain from Trento in 1901. Other than in Trento, Müsch made the fountain out of red Main sandstone. All this is thanks to the jubilee of Elberfeld's association for city beautification. Hence, the official name of this fountain is "Jubiläumsbrunnen" (Jubilee Fountain).
The almost 12-metre-high red fountain definitely creates an epic ensemble with its counterpart.
Are you interested how the town hall looks from inside for a change?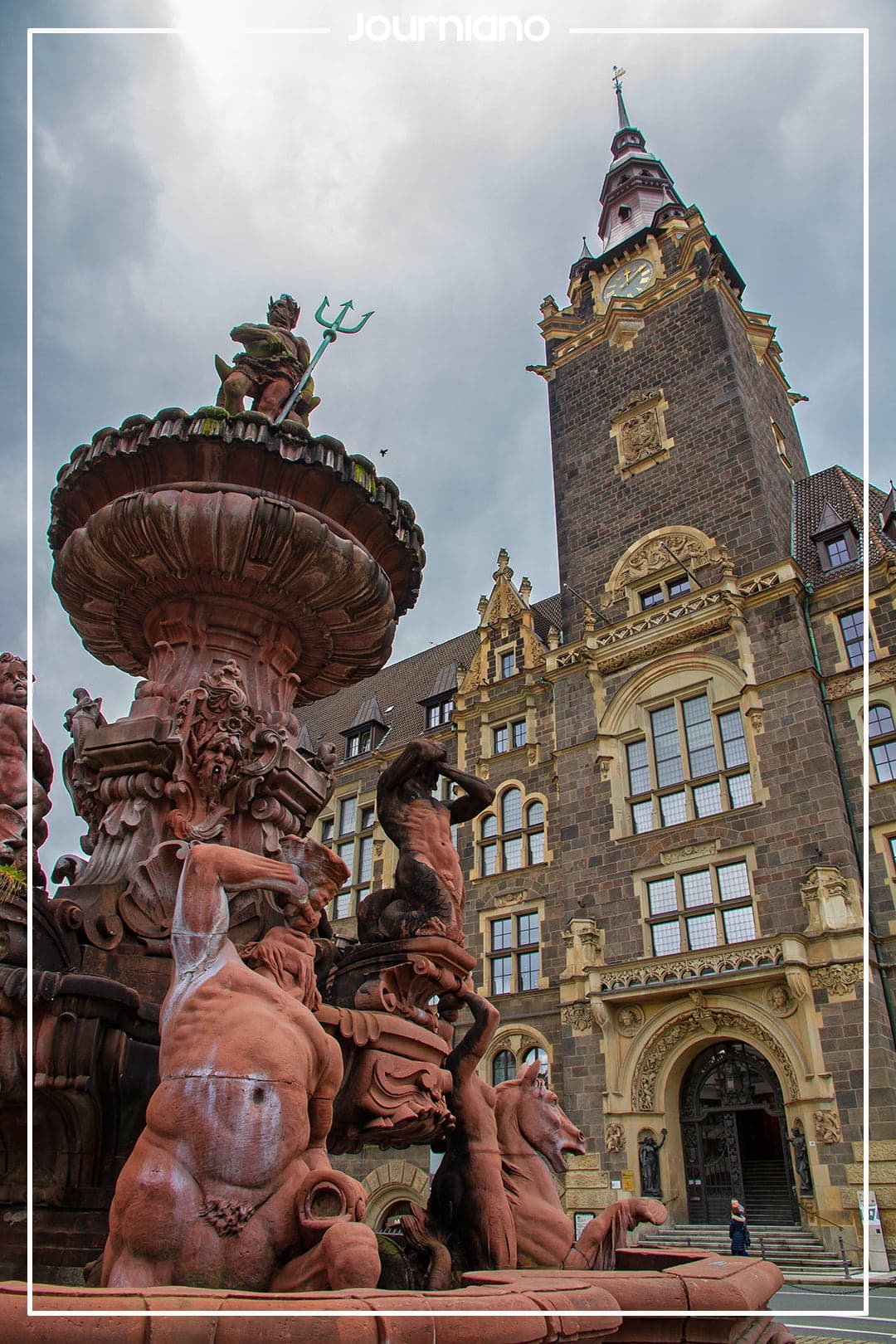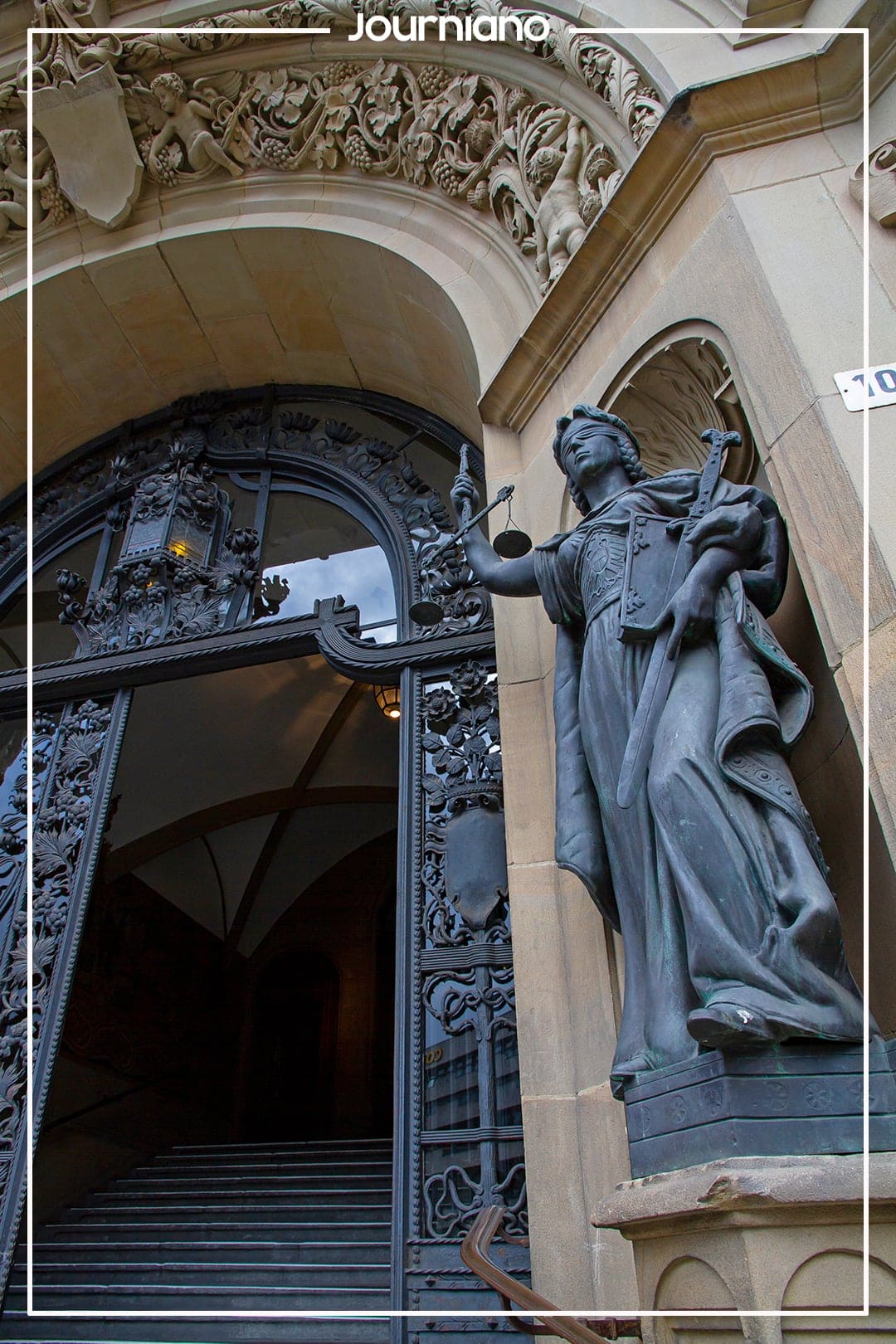 4. Inside Rathaus Elberfeld
Immediately upon entering the building, its wall design implies greatness to come. A colourful paint shows representatives and emblems of the former cities and towns, which formed Wuppertal in 1929. Furthermore, the paint ornaments even the entrance frame. So, it extends amazingly from one wall to the other.
In contrast, the foyer avoids paintings at all. Is it bad though? Absolutely not, and here's why. Since not only the foyer but also the other four levels were built with vaulted ceilings, the interior shines with a clean design. Due to its organic structure, Rathaus Elberfeld reminds me a lot of typical monasteries and churches from Portugal.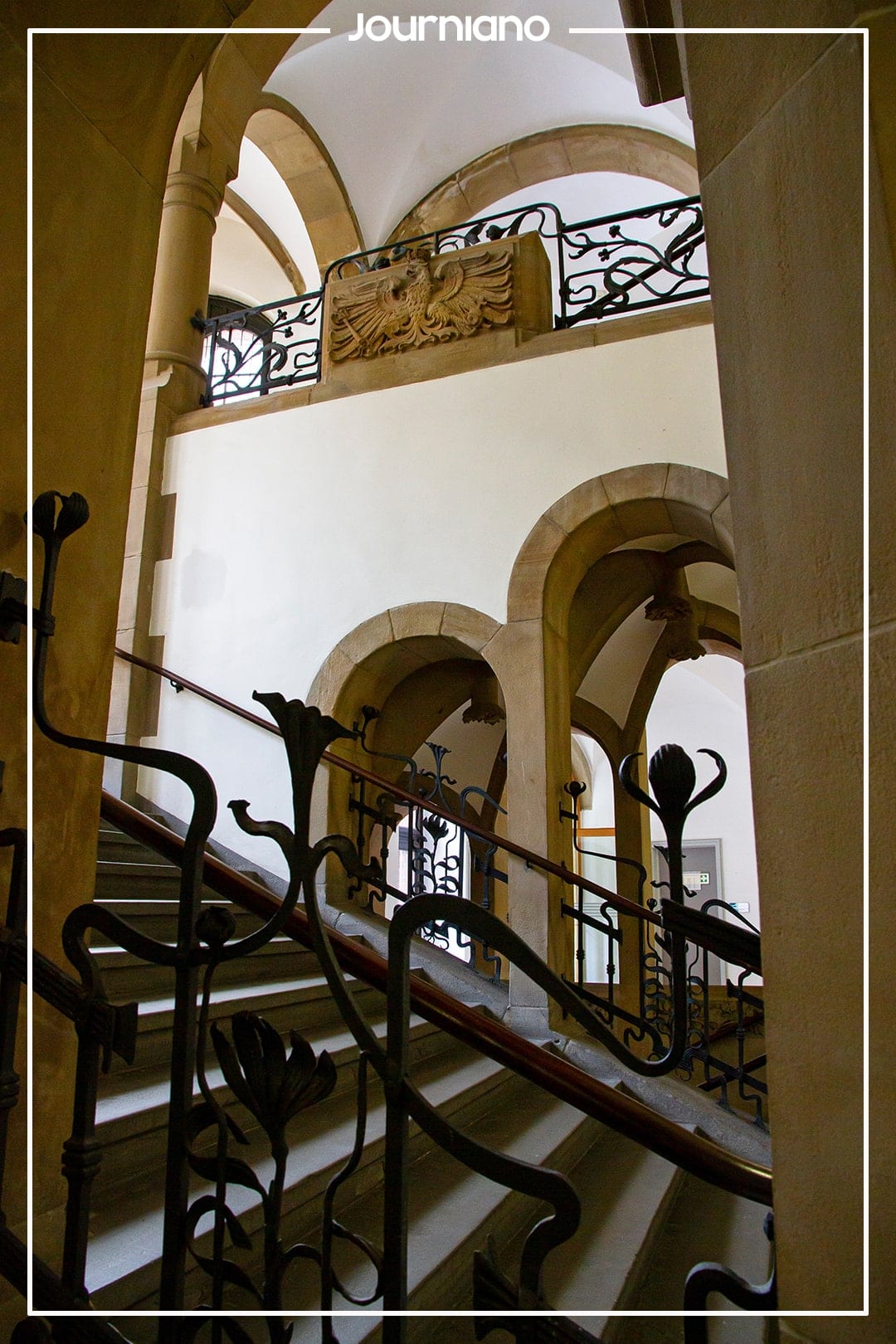 5. The Town Hall's almost secret and splendid Courtyard
When walking along Rathaus Elberfeld via Friedrichstraße, a further highlight lurks behind a passage route. Keep your eyes open because it can be missed pretty easily.
I'm referring to the town hall's courtyard. Oh boy, what a courtyard!
First of all, the courtyard is being used as a parking area for cars, which sounds underwhelming. However, when you raise your head up and turn through 360°, the magic kicks in.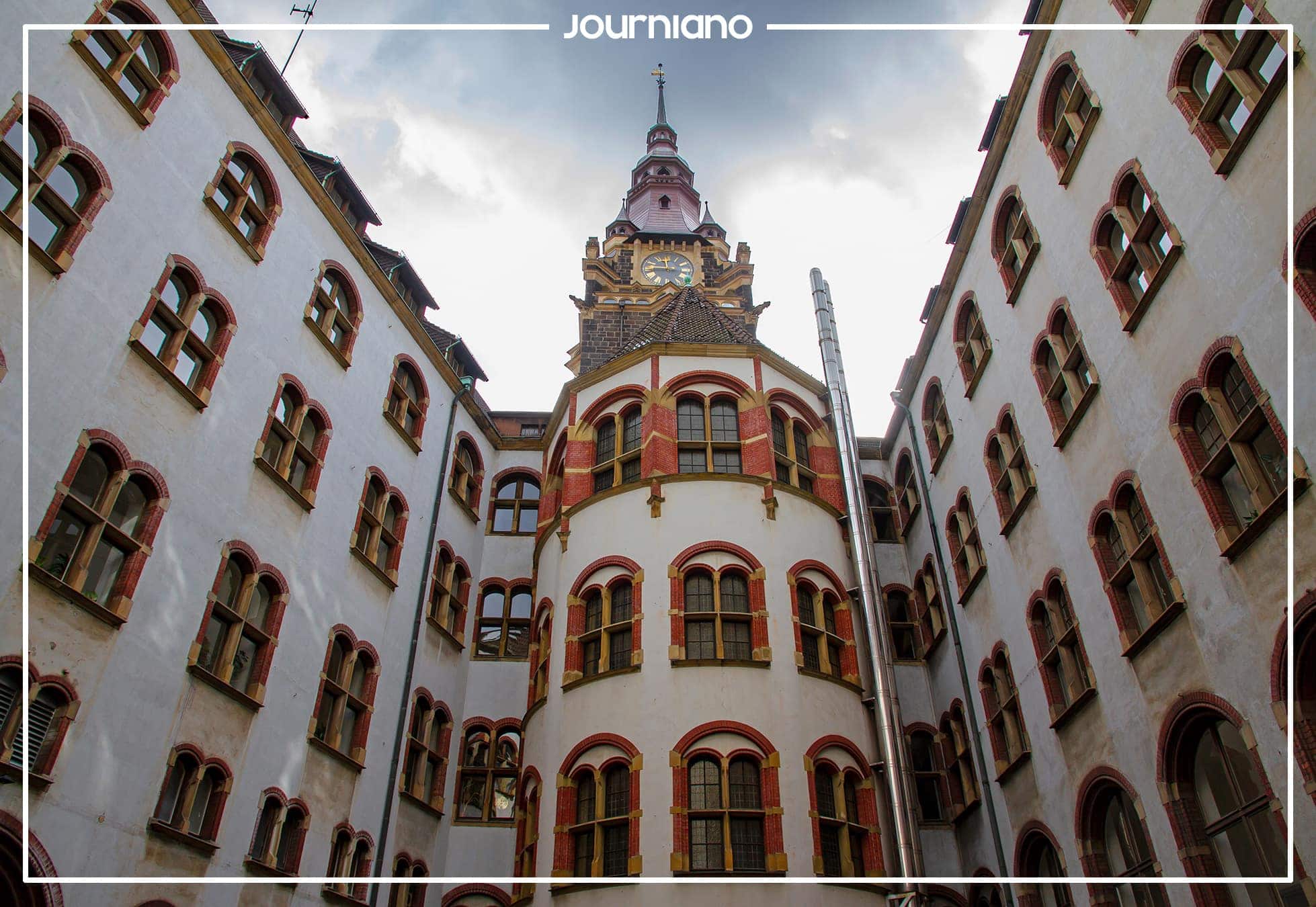 Everything here is designed differently than on its official public side. White facades shine bright, while red-yellowish bricks frame the windows warmly. Additionally, two towers, which are half integrated into the main corpse of the Rathaus, face each other and deliver the first geometry vibes.
Talking about geometry, there's even a much bigger deal. From the courtyards' corners, a tremendous perspective can literally be summoned. This particular perspective lets Rathaus Elberfeld frame the sky in a fascinating manner.
Fun fact, my friend Daniele, who lives in Wuppertal and also loves taking pictures, didn't know this spot before going on tour with me. To be clear, he guided me. Still, as you see, there are always secrets in familiar places yet to explore.
The same still goes for Rathaus Elberfeld.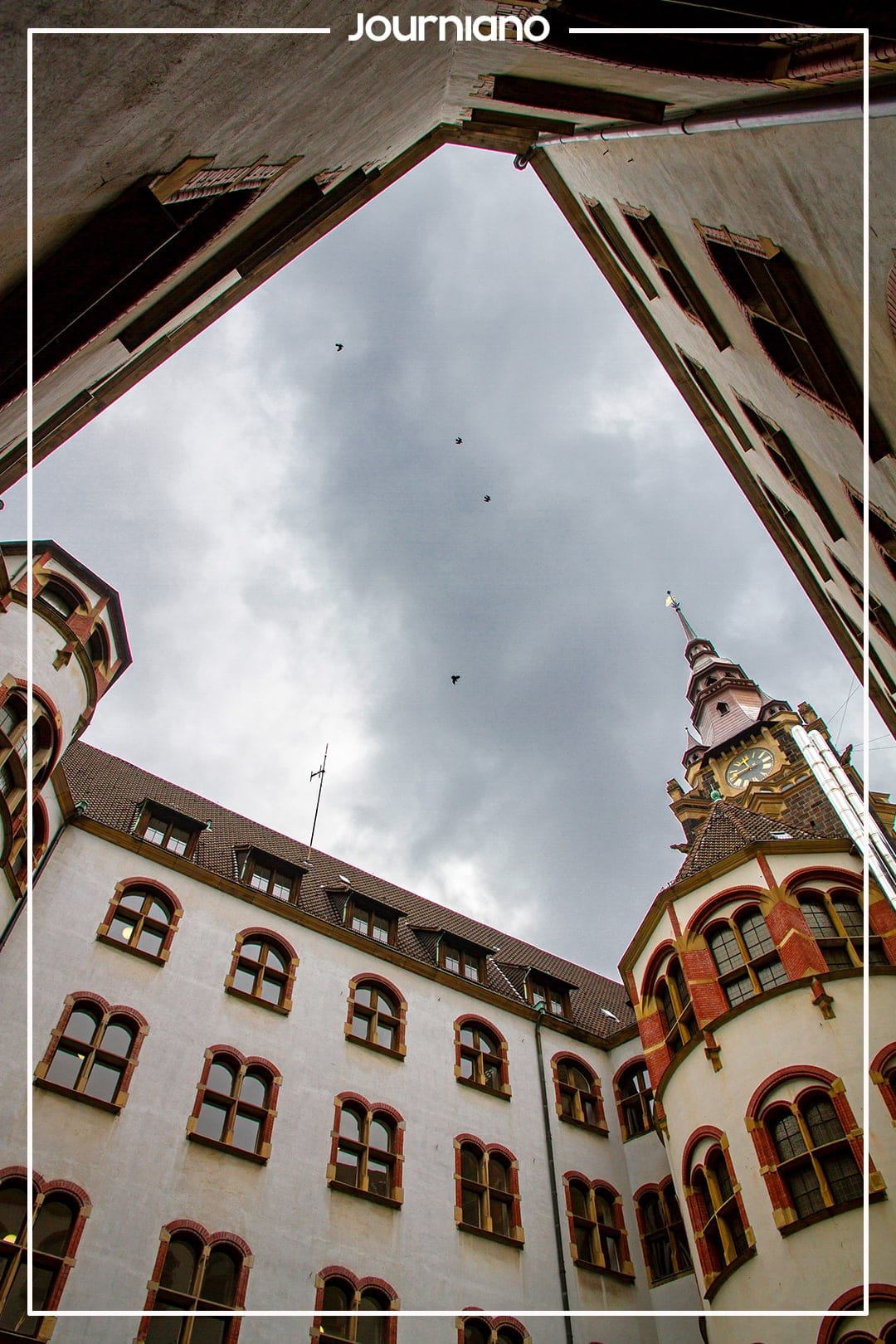 6. A different Facade Design at Willy-Brandt-Platz
North westerly from the clock tower, the town hall has another different facade design. At Willy-Brandt-Platz the building presents itself in colours, which you expect in Southern European cities like Girona or Modena. A mix of warm yellow, beige and light red tones makes Rathaus Elberfeld as versatile as possible. Moreover, that brick frame design around the windows previously seen from the courtyard continues here.
On top of that, Willy-Brandt-Platz puts the town hall in great urban scenery with trees, people and a nice statue of the Bergish lion. So far, these have been great insights and perspectives of the town hall. I might stop here, yes. But no, I'm going for a final round.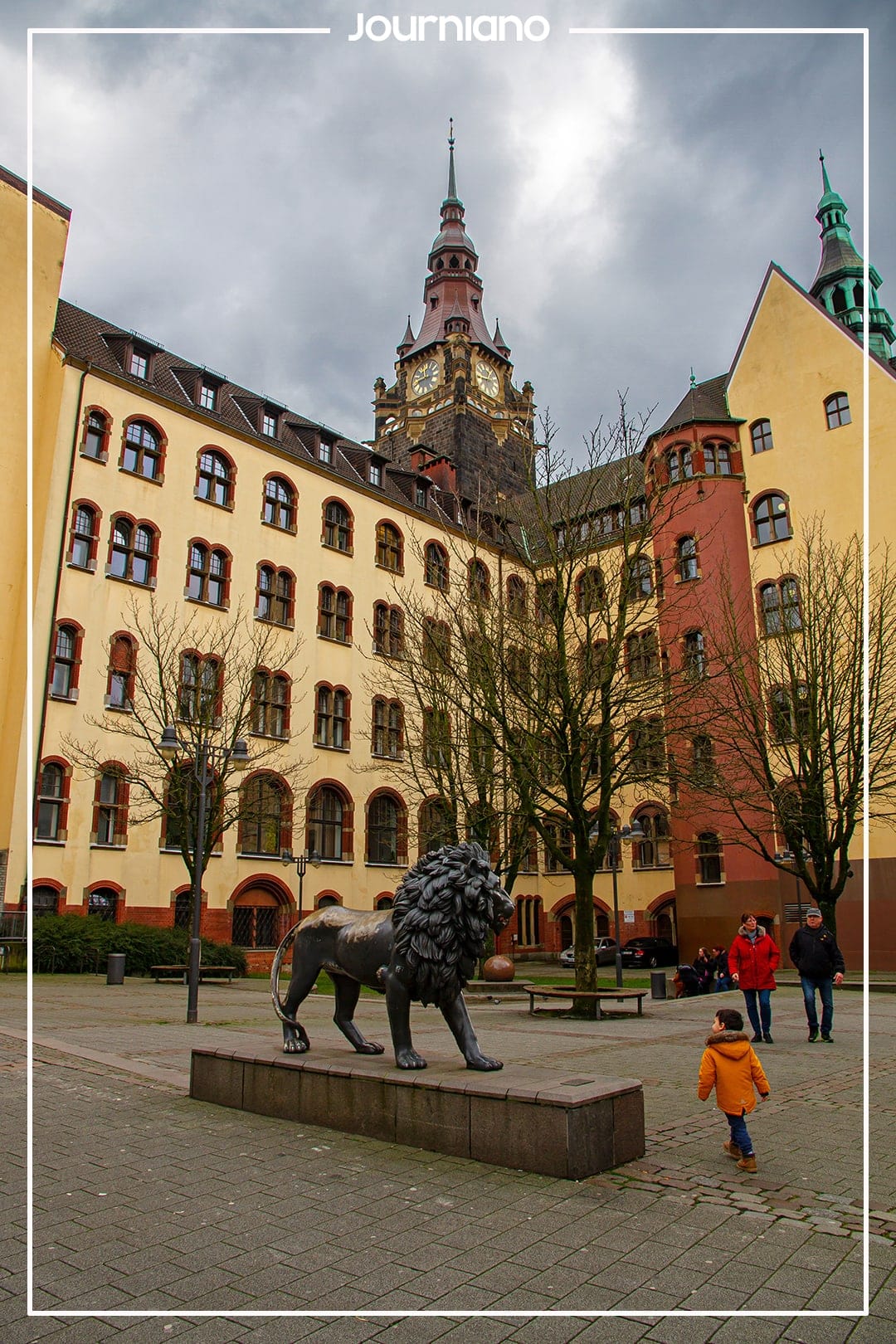 7. The highlighted Appearance of Rathaus Elberfeld at Night
Last but not least, I don't want to keep back the ultimate perspective or form from you.
Although Rathaus Elberfeld looks fantastic in the daytime, it amazes me the most during the evening. The way this building gets highlighted by a few light spots is absolutely fantastic. However, you're always better when working in a team. So, why not put the Neptune fountain onto the big picture?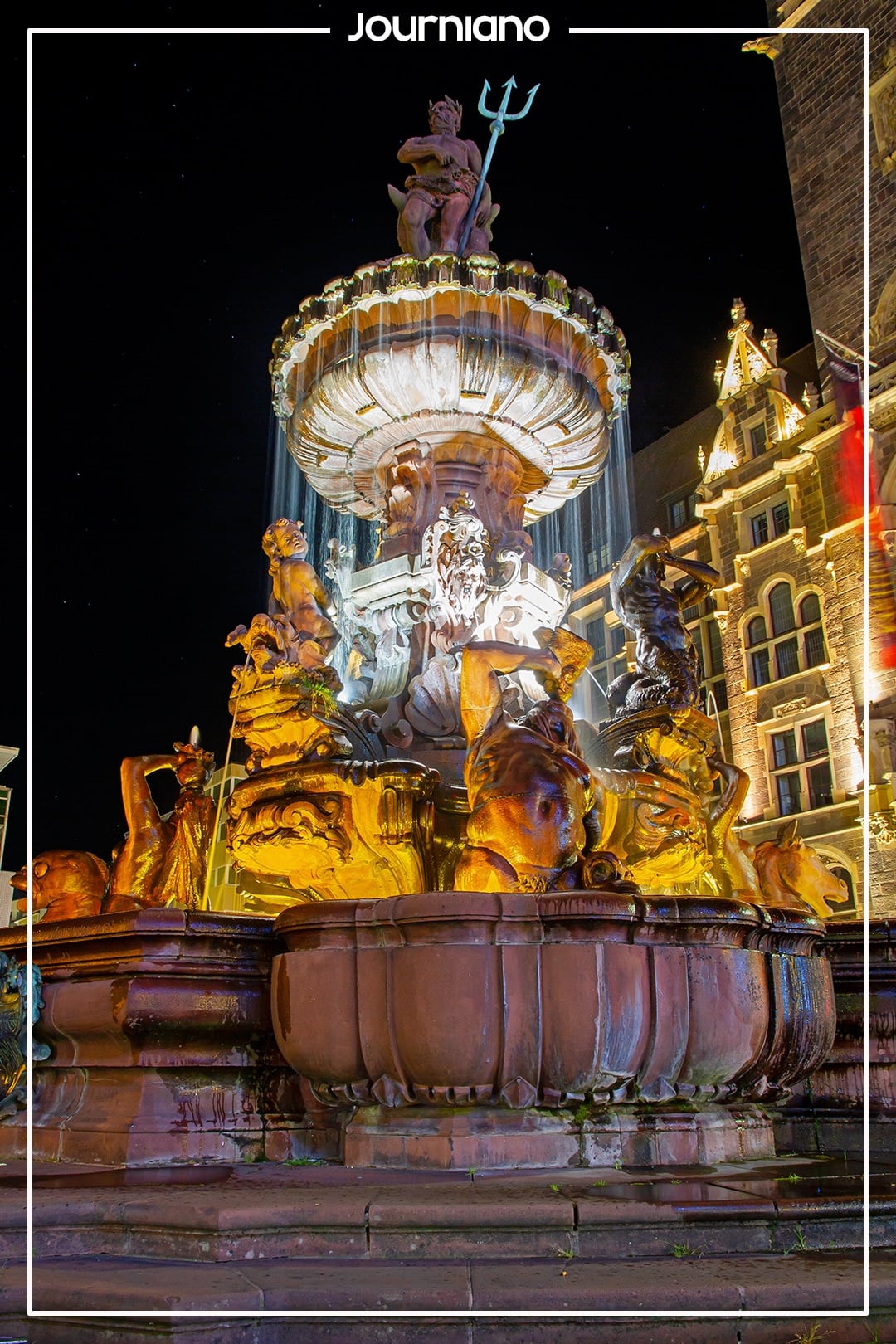 8. When to visit
Rathaus Elberfeld is a landmark worth visiting all year round. The winter months offer the benefit of experiencing night-time mode already from 4:30 pm when the blue hour kicks in earlier between December and January.
In terms of entering the town hall, you might first check out their official site here, because of the ongoing pandemic. As it is a public building, the entrance is free.
9. How to reach Rathaus Elberfeld
Due to its central location, Rathaus Elberfeld can be reached fast by foot from the main station. Still, there are bus stops right next to the town hall as well. In case you're approaching by car, there are plenty of car parks in proximity.
To navigate yourself the best way possible, please use the embedded map below.
10. Conclusion
Rathaus Elberfeld is a worthy landmark of Wuppertal. Its rich diversity of architectural styles both inside and outside, make this town hall a year-round visitor magnet. Moreover, with surroundings like the square Neumarkt with its gorgeous fountain Jubiläumsbrunnen, the greater picture gets complemented impeccably.
Kudos to my friend and great photograph Daniele for guiding and touring with me through his hometown Wuppertal. Without him, I wouldn't have seen many great sights this city has to offer. Check out his Instagram account packed with awesome perspectives from Wuppertal.