Burg Blankenstein in Hattingen is a surprising gem in the Ruhr Area. Situated right in the rivers' valley, the surrounding location adds beautifully to the overall journey. Thus, dive in deeper to explore further reasons which might drive you to visit this medieval castle with a view.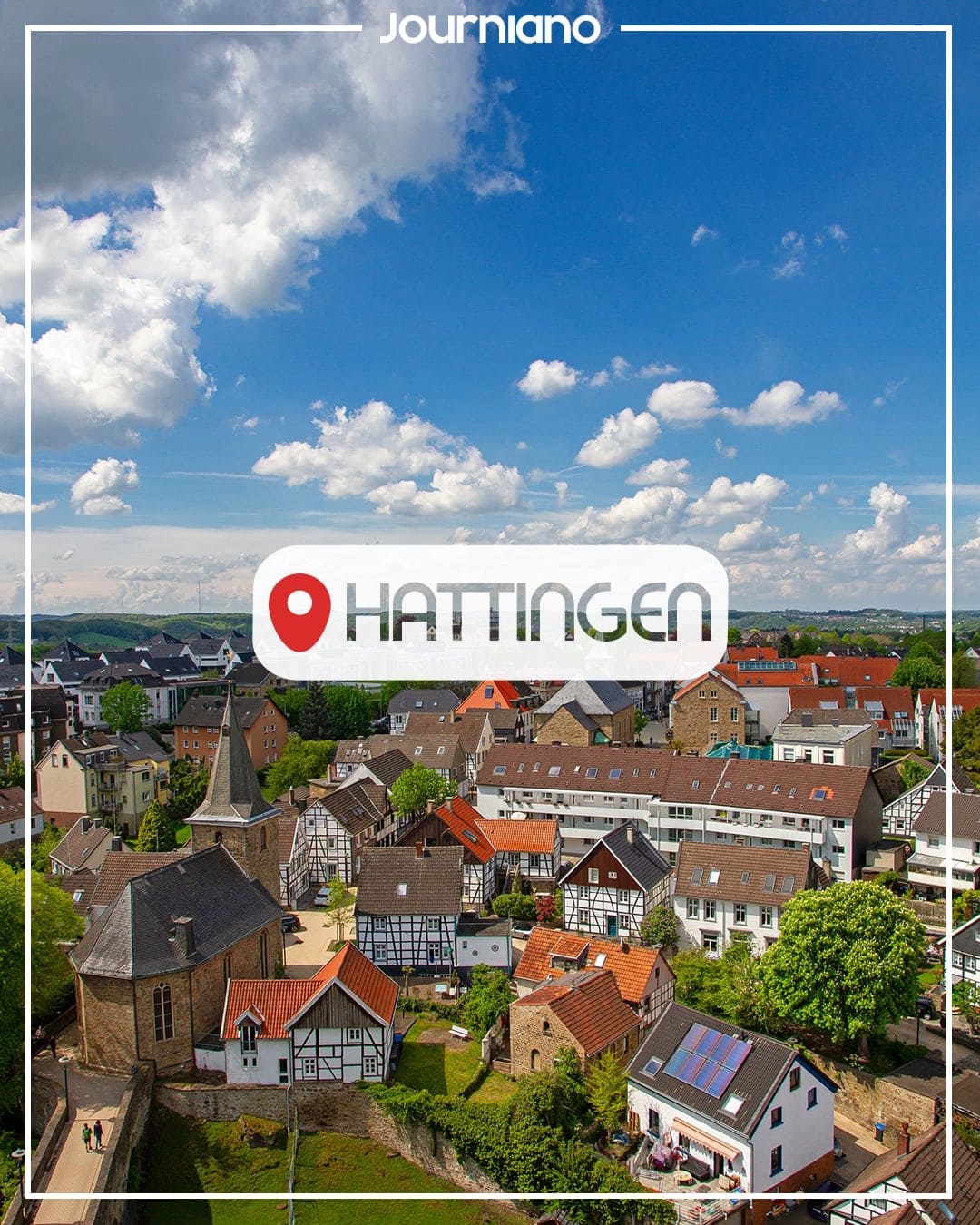 What to expect
1. About Burg Blankenstein in Hattingen
Mostly, Hattingen is located among people in the region for its timbered house-heavy old town. In fact, this city got much more to offer beyond its historic centre. Among these, Burg Blankenstein literally stands out. Sitting on a rocky promontory, this medieval castle, originating from the 13th century, prominently catches every visitor's eye.
Although some call it a ruin, most of the castle is still intact. Especially the still accessible tower plays an important role. Bear in mind that this castle stands about 70 metres above the Ruhr river. Still, there's more to Blankenstein than just this medieval castle.
2. Altstadt Blankenstein – Kicking off in the Old Town
Astonishing, Blankenstein is not only a castle but also a district of Hattingen. Luckily, it also got a historic core next to the Burg. Hence, let's kick off with it.
2.1 Marktplatz – The Town's Core
Thanks to the existence of Burg Blankenstein, a community evolved around it in the aftermath. Today, most of the old town is still existing. What mostly stands out, is the Marktplatz. This neat square is surrounded by a catholic church from the early 19th century, the Stadtmuseum and further old buildings.
2.2 Strolling towards old Sights
Due to the fact that Blankenstein is situated on hilly land, heading to the castle means going downhill. Surprisingly, there are more sights along the way. Particularly, the evangelical church from the 18th century can't be overseen.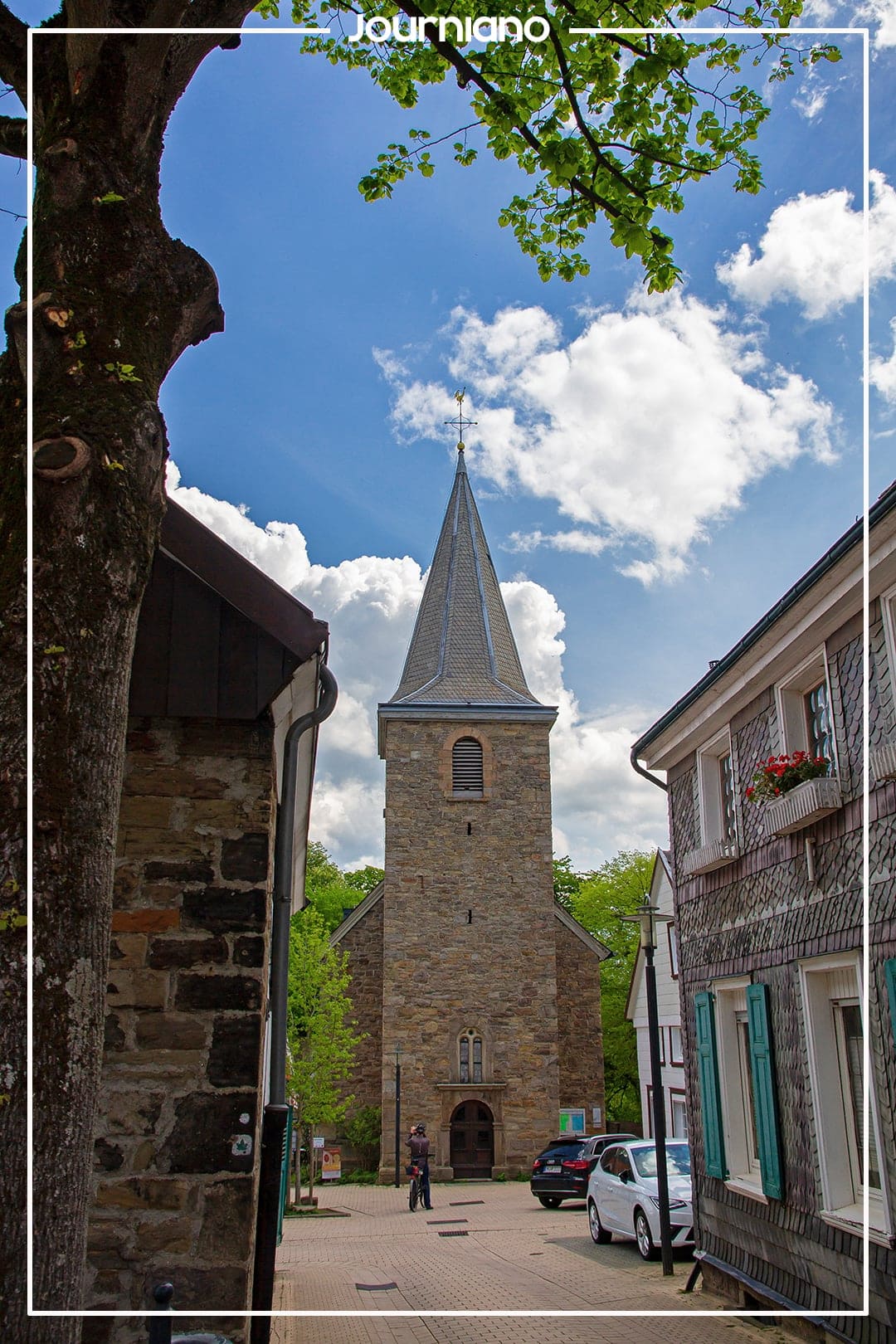 2.3 Timbered Houses round up the Townscape
Similar to Hattingen's central old town, Blankenstein can impress with a few timbered houses as well. So, don't miss looking into sidestreets when you're strolling through this lovely town.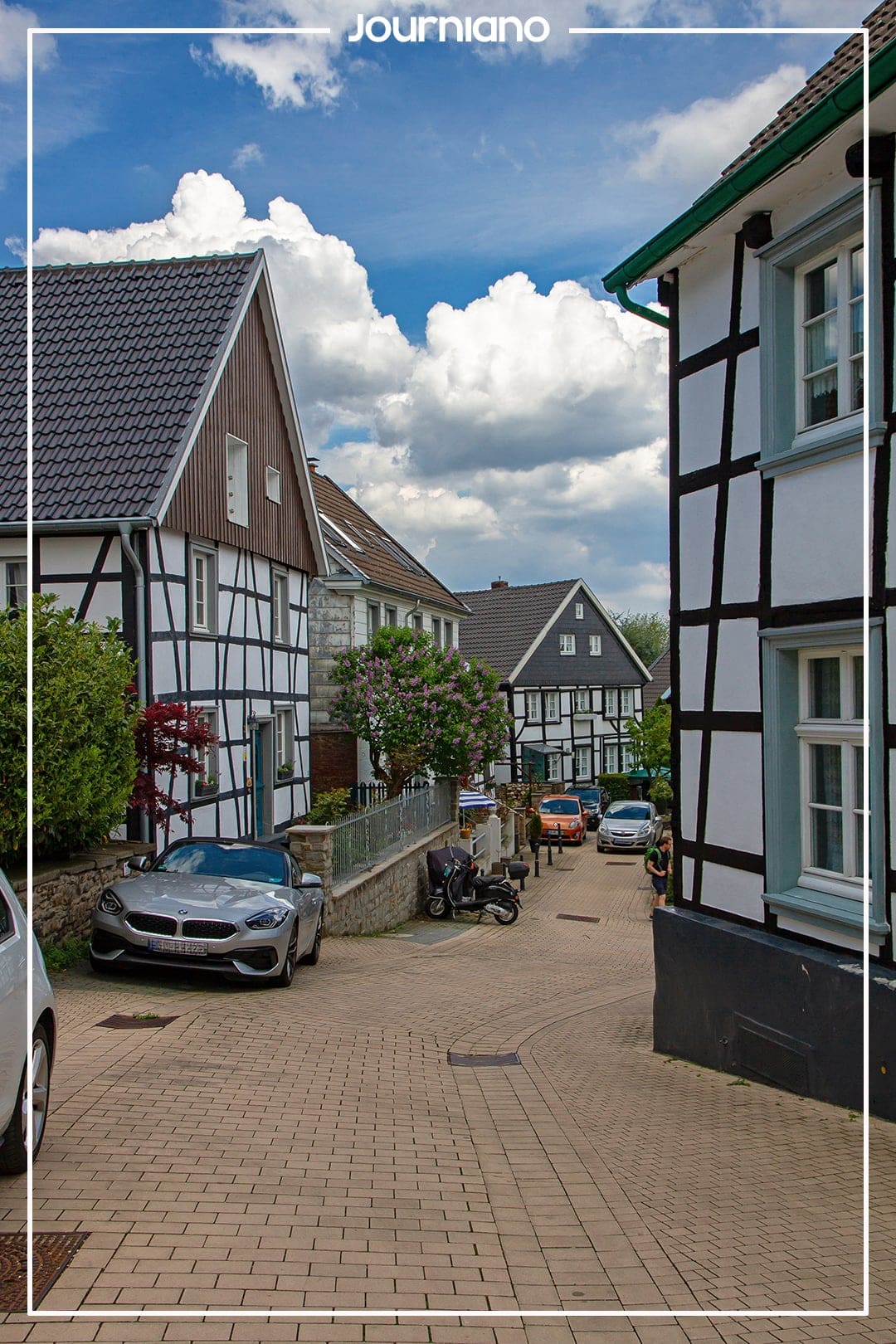 3. Burg Blankenstein in Hattingen from Ground Level
Experiencing Burg Blankenstein is a double-sided journey. Firstly, exploring the castle from its ground level.
3.1 Approaching the Castle via an old Bridge
Surprisingly, the castle used to be a moated castle by the looks. Why do I assume this? Well, after passing by the evangelical church, an old bridge crosses sides. Although there's no water surrounding the castle directly anymore, it still looks impressive. Furthermore, you finally get a proper view of Burg Blankenstein from this bridge.
3.2 The Castle's lovely Courtyard
Fortunately, the castle's courtyard is not just a museum. Thus, some of the remaining parts of the castle are being used as an event location. Plus, there's also a lovely catering area in the open air. Crowned by nice trees, this part of Burg Blankenstein makes you settle for a while.
3.3 New Perspective of Blankenstein's Old Town
While settling, enjoy a new perspective of Blankenstein's old town from the castle's courtyard. Framed by vegetation, the Altstadt stands out with a rather orange tone. Luckily, this is only a teaser of that what comes in phase two of the journey.
4. Gorgeous View of the Ruhr Valley from Burg Blankenstein's Tower
Now, it's time to start phase two of the journey at Burg Blankenstein. While the ground level looks neat, the real gem is located upstairs. To be precise, on top of the 26 metres high castle tower. I promise, reaching the observation platform is already a journey on its own.
4.1 Admiring the former Riverbed of the Ruhr – Alte Ruhr-Katzenstein
Hold on, folks! Epicness awaits you on Burg Blankenstein's highest point. Fascinatingly, a 360 degrees panoramic view is being offered – and it's for free. Starting with the jaw-dropping view of the former riverbed of the Ruhr river, all stereotypes about the Ruhr Area diminish. The nature reserve of Alte Ruhr-Katzenstein is simply amazing to look at. Probably, you will notice a lot of details like ponds showing the river's former pathway. Take your time.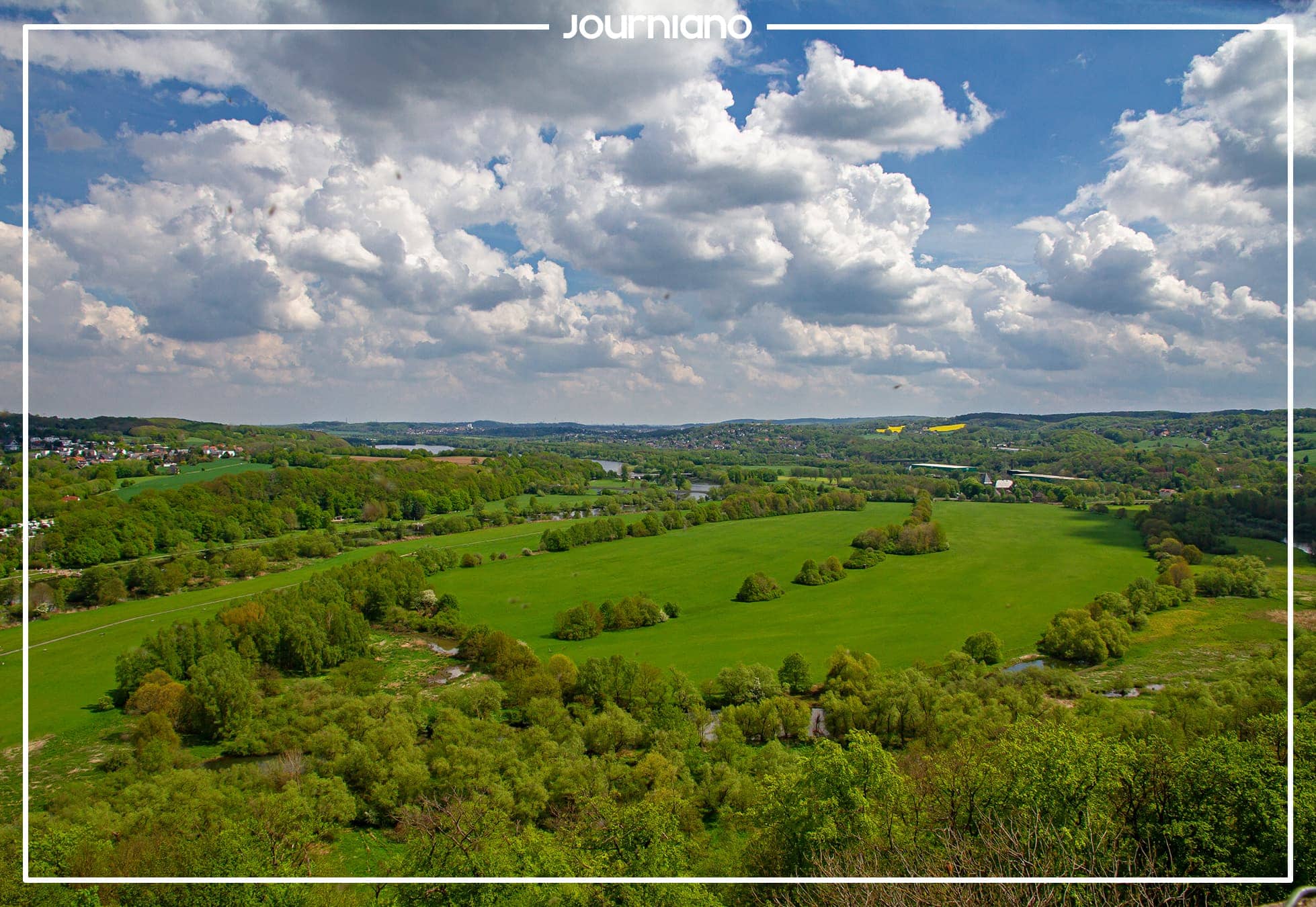 4.2 Stupendous view of Stiepel in Bochum Süd
Well, if you move forward and refocus on the northern direction, you may notice the stupendous hillside of Stiepel. Located in Bochum-Süd, this rather village-like scenery fits perfectly with the overall picture you get. Hence, the visible church emphasises the receiving vibes pretty well.
4.3 Amazing panoramic Landscape
Although it's no secret anymore, the panoramic view continues to amaze. Focussing towards the northwest, the extensive view over the Schleusenkanal next to the Ruhr is simply outstanding. Hopefully, you're as lucky as me and get a spectacular picture of clouds on top as well.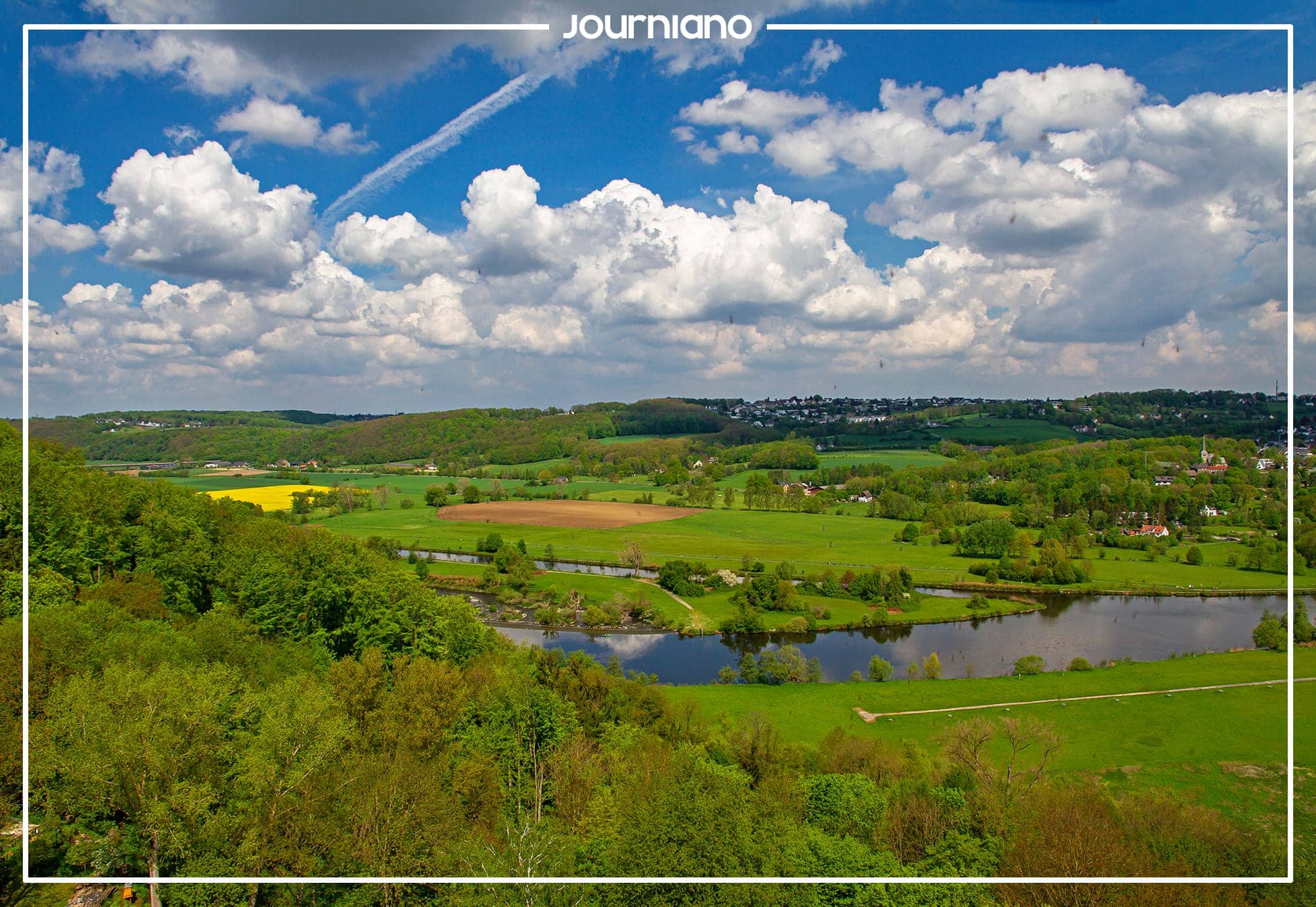 4.4 Breathtaking View of Blankenstein's Old Town from the Castle Tower
Last but not least, there is an amazing final. Rounding up the already splendid experience, the castle tower enables a breathtaking view of Blankenstein's old town. Remember when I said that Burg Blankenstein had to be a moated castle in the past? Well, look close next to the old bridge and you see its remnant.
Besides the gorgeous townscape, there is more to admire. As already mentioned before, Hattingen has a lot of attractions. Thus, some of these can be guessed at the horizon. Its mountainous shape spoils a bit in which direction these places head to. On the left side, you might notice a big antenna. There, where the Langenberger Sendemast (transmission mast) stands out, a topographic marvel can be visited. Elfringhauser Schweiz, which is literally the Ruhr Area's Switzerland, takes you to a different cosmos.
Finally, this perspective also leads towards Hattingen Altstadt and Burg Isenberg on the right side.
5. When to visit Burg Blankenstein in Hattingen
To visit Burg Blankenstein in Hattingen properly, I highly recommend the period between May and October. Imagine the visible landscape with autumn leaves. Lovely imagination, isn't it? For more information about the castle's restaurant and event location, please visit their official website here.
6. How to get there
Burg Blankenstein is being served frequently by public transport. Thus, it's well linked to the city centre of Hattingen. Plus, there is also a big parking area at the castle's bottom. Nonetheless, don't hesitate to use the embedded map below.
7. Conclusion
Burg Blankenstein in Hattingen is a lovely destination for a short trip or even an extension to the old city centre. Combined with the old town of Blankenstein and the marvellous views from the castle tower, makes an unforgettable journey in North-Rhine Westphalia's Ruhr Area. Thanks to its close proximity to the Ruhr Valley, your excursion can be beautifully extended to the surrounding natural areas.