Do you call yourself a Matcha lover? In Dusseldorf Heerdt, Matcha Café WAKABA offers you a journey to Japan's green tea plantations with their delicious range of Matcha creations.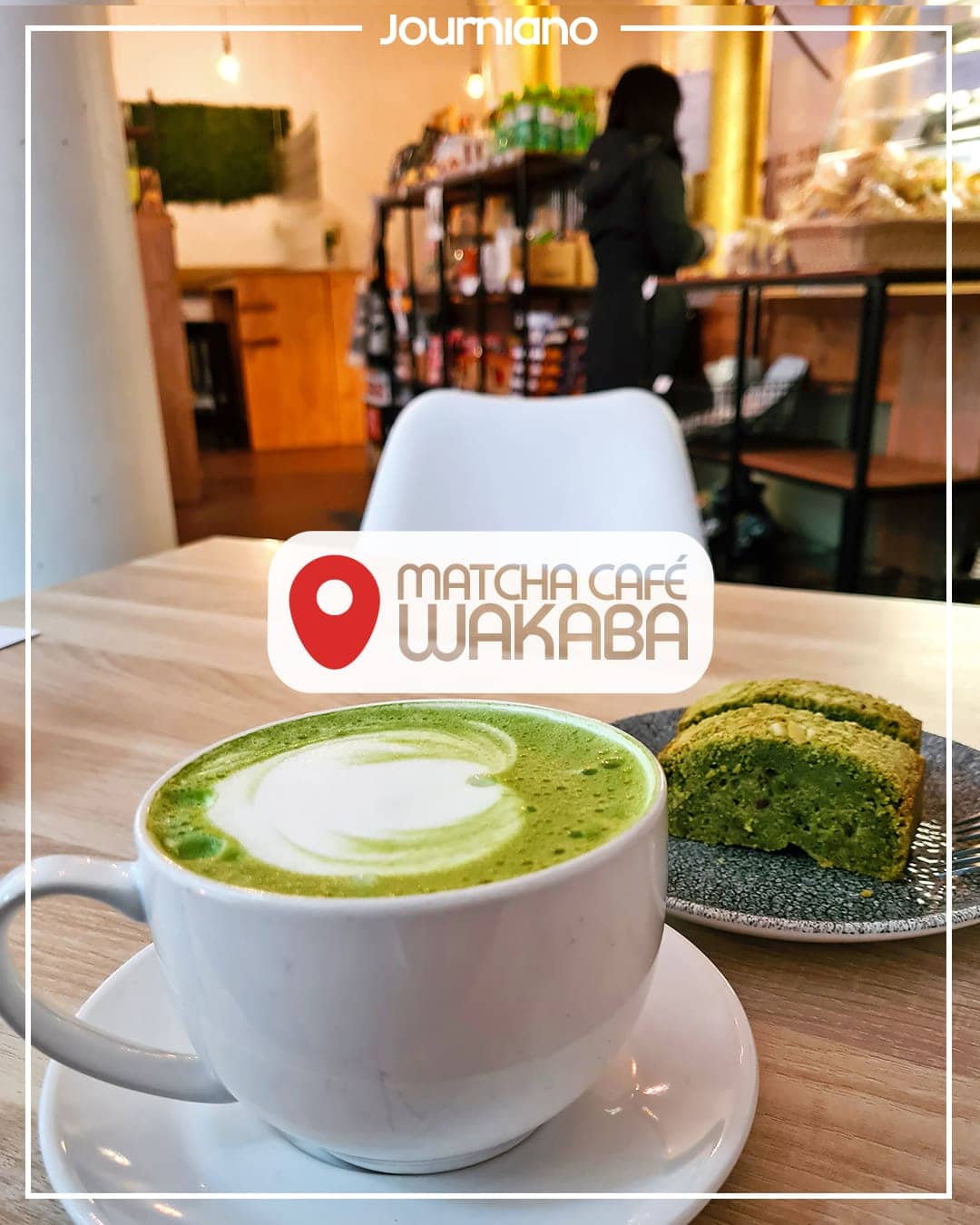 What to expect
1. About Dusseldorf Heerdt and Matcha Café WAKABA
Dusseldorf's most western located ward, Heerdt, experiences some good times recently. With a lot of new and requalification projects, the quality of living increased indirectly. Gastronomes kept an eye on the dynamic ward ever since.
One gastronome recognised the potential a few years ago – Matcha Café WAKABA.

In February of 2018, Asuka Ohashi opened WAKABA and made it Dusseldorf's first Matcha Café.
2. Grounded interior with nice highlights plus a Japanese Pop-Up super market inside
Matcha Café WAKABA expects you with a spacey interior. At first sight, you might get the impression that the interior is plainly decorated. The colour white is very dominant here. However, on the second impression, the interiors slowly pop up one after another.
Some pillars have been painted in a rusty golden colour. Even a hanging lamp adapts that golden theme. What also strikes into your eye are colourful packagings of various Japanese and other Far Eastern products. Next to Dorayakis, sweets and cup-noodles by Takumi, you also find sacks of rice and other groceries for Japanese cuisine.
Furthermore, one wall has been covered nicely with moss, which resembles a green tea field. And here we have the perfect transition point to WAKABA's specialty.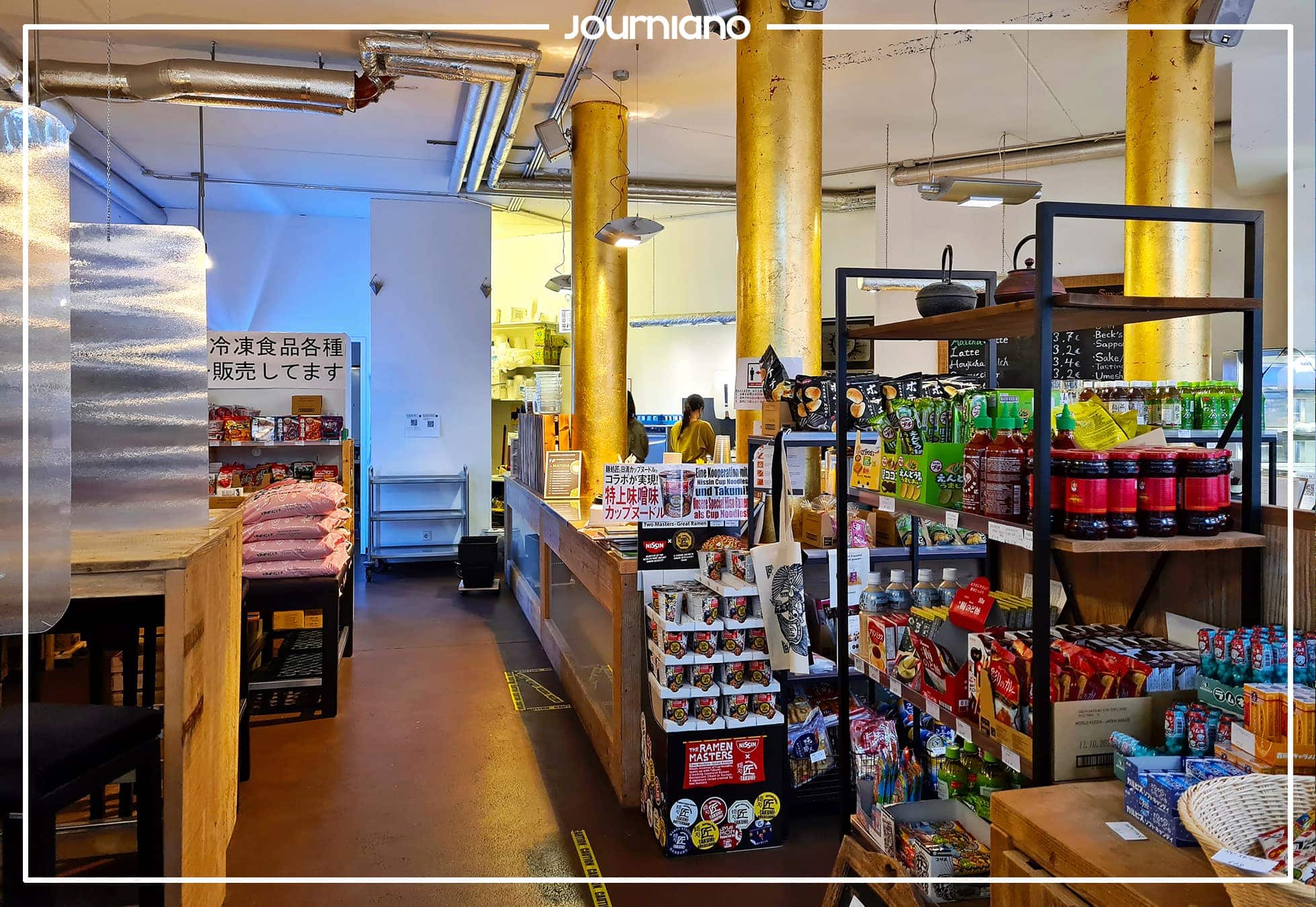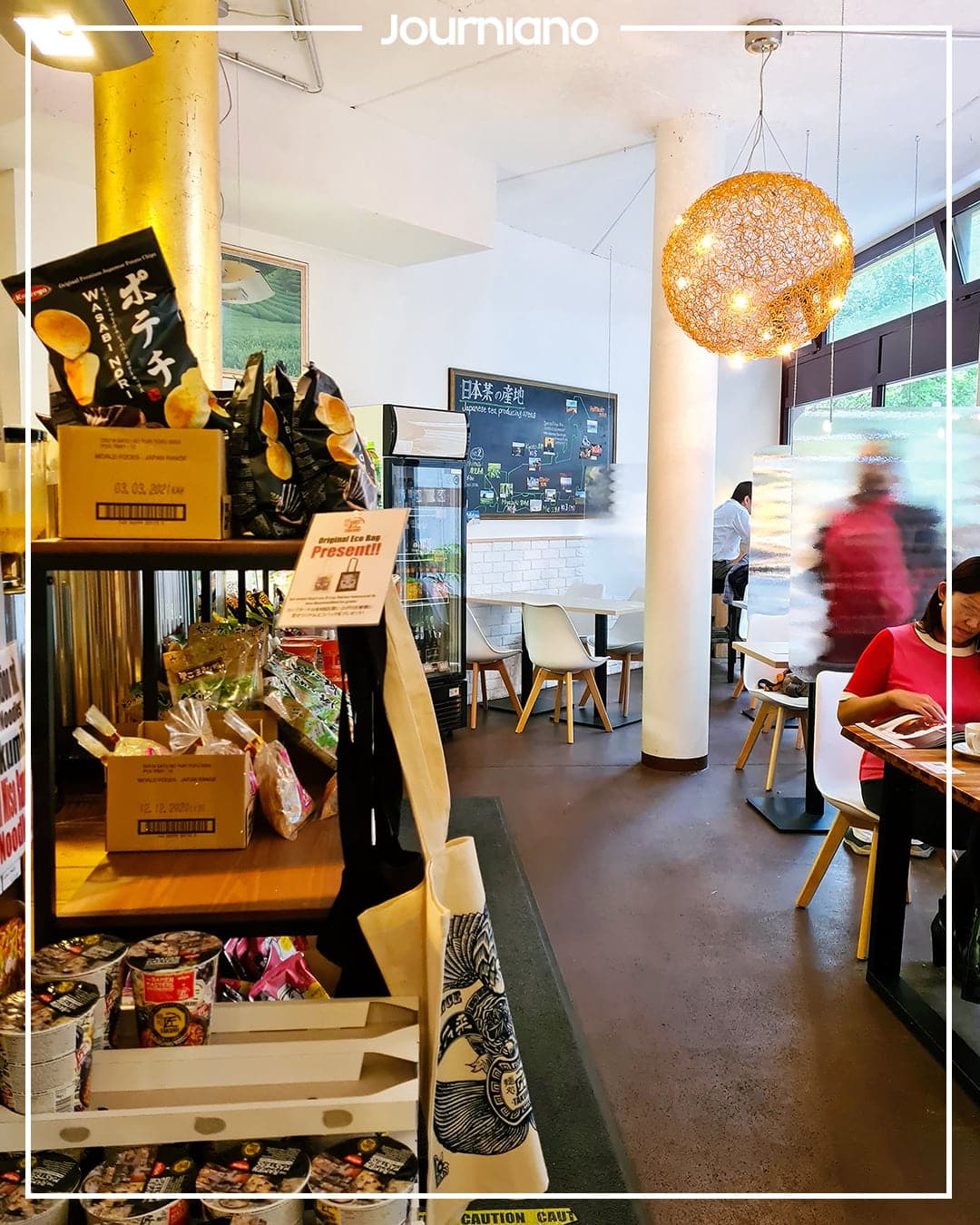 3. Matcha Café WAKABA's Essentials – Delicious Matcha Creations
As the Café's name already implies, WAKABA specialises in Matcha delicacies. The green finely ground powder made out of particular green tea leaves is a popular alternative to classic green tea in the Far East. Believe it or not, there are many ways how to incorporate it into food and drinks.
3.1 WAKABA's delicious Matcha Drinks
One way to serve Matcha is by combining it with milk. Similar to a Cappuccino, just without Coffee, Matcha Tea can be served with frothed Milk. The result is a classic among Matcha Baristas – the Matcha Latte.
Matcha Café WAKABA's ensemble is perfection in terms of intensity and taste. During every sip, my mind immediately got beamed to the origins of this tastefulness. Funnily, a map of Japan, showing locations of green tea plants for Matcha, was hanging on the wall next to me. Keep also an eye on the Matcha Drinks on offer.
But as already mentioned, there are further ways to incorporate Matcha.
3.2 WAKABA's moist and intense Matcha Pastries
Think about how your palate would react when it experienced a Matcha infused pastry. Sounds like sort of a rollercoaster, right? Now, imagine you'd eat a moisty brownie which looks totally greenish.
Folks, it's true, all of it. Matcha Café WAKABA truly offers Matcha Brownies. When you dig both brownies and Matcha, as I do, you'll freak out. Guess what, they taste heavenly! The inner consistence of the paste is truly moist and melted in my mouth. Check also their other Matcha Pastries.
In case you don't like Matcha at all, there are, of course, many classic alternatives. Moreover, WAKABA doesn't rely solely on typical Café drinks and pastries.
4. Warm Japanese Dishes are also being served
On top of the classic coffee, tea and pastry stuff, Matcha Café WAKABA also offers warm Japanese dishes for lunch. From 11:30 A.M. until 15:00 you can order Japanese Curries, Karaage Menus and much more. Check out there lunch menu on their Facebook profile here.
For now, I haven't had lunch at WAKABA yet. As soon as I have, you'll see my review about it at this very place.
5. How to reach Matcha Café WAKABA
Matcha Café WAKABA can be reached by the vehicle of your choice. Should you arrive by car, I recommend parking here below the bridge of Brüsseler Straße. The closest public transport stop/station is just 100 metres away.
Simply navigate with the below embedded map to reach WAKABA at the best.
6. Opening hours
Matcha Café WAKABA opens during these days and hours:
MON – FRI 09:30 – 20:00
SAT Closed
SUN 12:00 – 17:00
7. Conclusion
Matcha Café WAKABA is a top-notch address for authentic Matcha drinks and pastries both in Dusseldorf and the surroundings of the Rhine Ruhr area. Due to the fact that they import the Matcha directly from Japan, emphasises their aim for quality. Moreover, they offer a good range of Japanese and Far Eastern products in their pop-up surper market store, simply to round up the journey. Last but not least, there is great stuff for everyone, even if you want to lunch or don't like Matcha.