Watch out Ramen Lovers – Takumi Heerdt conquered Dusseldorf's left Rhine Side. Get to know what the Ramen Experts came up with their fifth restaurant in the Rhine Metropole. Promised, they offer a different and probably greater Japanese experience than ever before.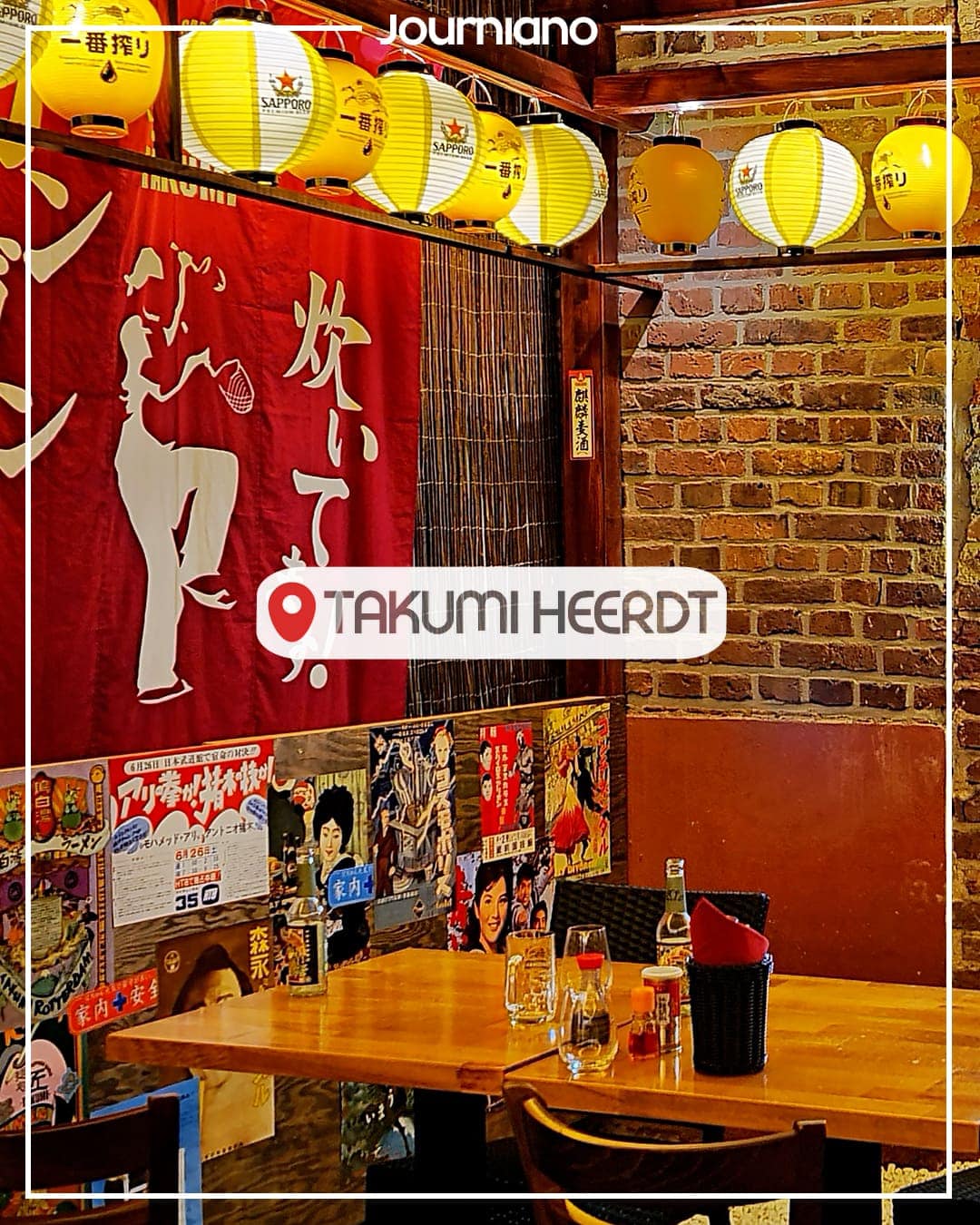 Quick links
1. About Dusseldorf-Heerdt and Takumi
Düsseldorf-Heerdt is the city's most western ward and has been neglected for a long time, as its neighbour ward "Oberkassel" claimed the spotlight for itself.
1.1 Heerdt's second spring
Recently, Heerdt experiences its second spring in terms of real estate investments and quality of life. Well, it's located at the Rhine River, offering a pretty nice boulevard at the riverbank, and just a stone's throw from the city centre. It was just a matter of time.
This development also results into an increase of interest by gastronomes. Thus, Düsseldorf's Ramen Experts from Takumi kept an eye on the interesting development of Heerdt as well.
1.2 Takumi – Ramen made in Düsseldorf
Since founded in Düsseldorf in 2007, Takumi serves the city's inhabitants and its visitors with their authentic and delicious Ramen creations. Let it be Miso, Tonkotsu or Veggie based, they got them all for your individual preferences.
Authenticity is amongst others being guaranteed by using real Japanese noodles, which are being imported from Hokkaido's capital city, Sapporo. Furthermore, every employee I witnessed in service or in the kitchen for five years, speaks Japanese. In addition to that, being welcomed by a loudly and hearty "Irasshimasse!", makes you instantly feel being in Japan.
Recently, this feeling has been brought to Düsseldorf's left Rhine side – to Takumi Heerdt.
2. Takumi Heerdt – Number Five in Düsseldorf
Takumi Heerdt is the fifth addition to the Ramen Empire in Düsseldorf. Located inside a really nice-looking house with a rich façade, the entrance is already very welcoming. There is also a small terrace available at the entrance, which lets you get spoiled by what might come.
3. Japanese Welcome
"Irasshaimasse!" – a warm welcome from the bottom of the hearts came from the Takumi Heerdt Team once entered their restaurant. In the beginning it looks pretty much like most of the Takumis. On the left side they have the open kitchen. However, on the right, there aren't just seats and tables.
A huge wooden map of Japan's four major islands – Hokkaido, Honshu, Shikoku and Kyushu – is displayed on the wall. The right illumination technique makes it stand out even more. While looking around and searching for more details, a door leads you directly to Japan.
4. A breathtaking Japanese decorated conservatory
Imagine standing in a room where there is a stargate which spoils you a glimpse of Japanese illuminations from their typical traditional festivals. Well, that's literally how I felt, when looking to Takumi Heerdt's conservatory.
Folks, this is proof that there are still restaurant operators who want to create more authenticity and something unique with every additional store they open.
Japanese lanterns hang from the conservatory's ceiling, illuminating the space with the necessary amount of light to create a cosy mood. Reed mats, huge red flags and posters, designed by Takumi himself, decorate the left brick wall astonishingly.
The frontal and right brick wall are covered by smaller merch and contribute to the warm and cosy vibe. Furthermore, a part of the ceiling is covered by a sheet, which adopts the warm light from the lanterns.
I must say, it felt like being in Japan!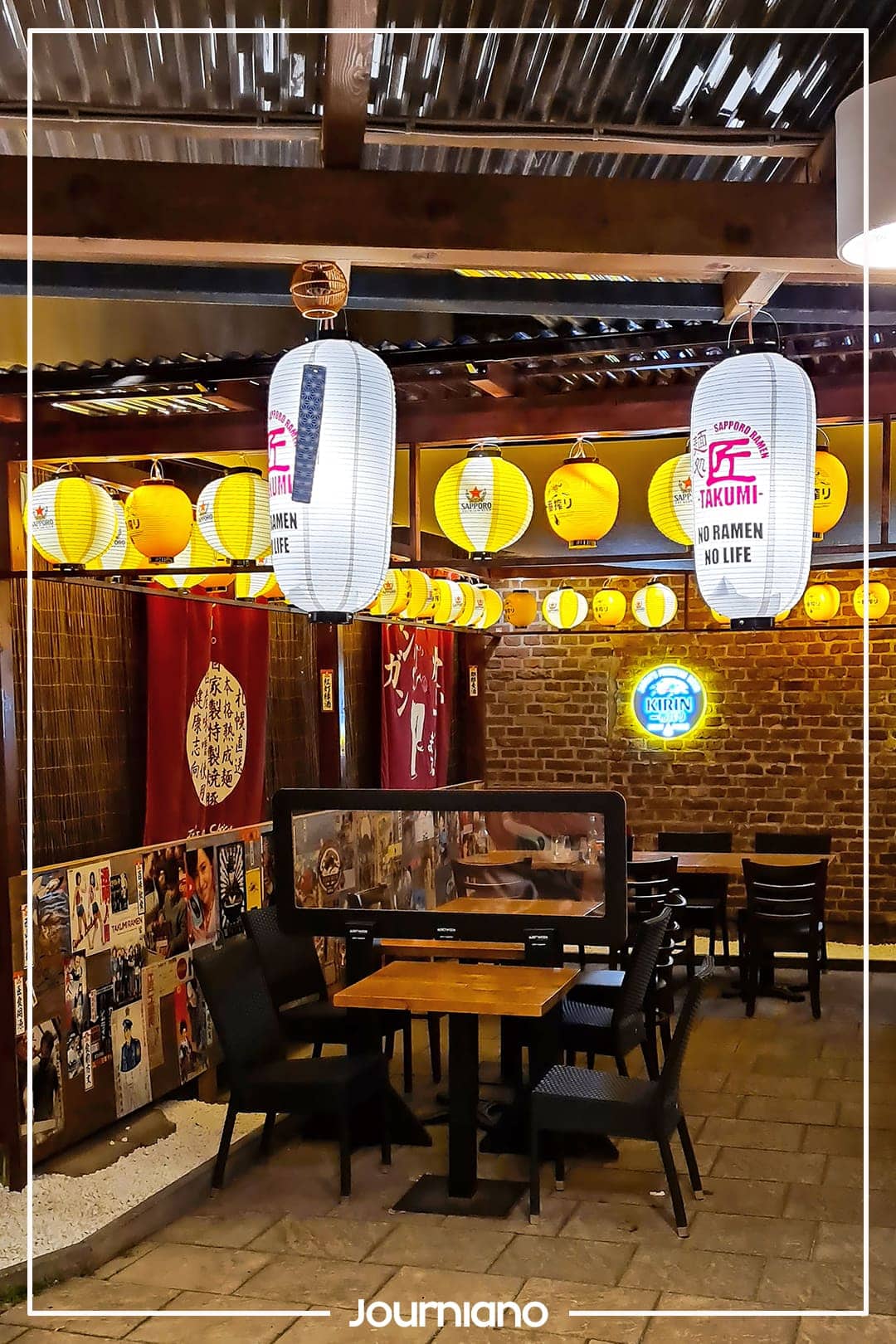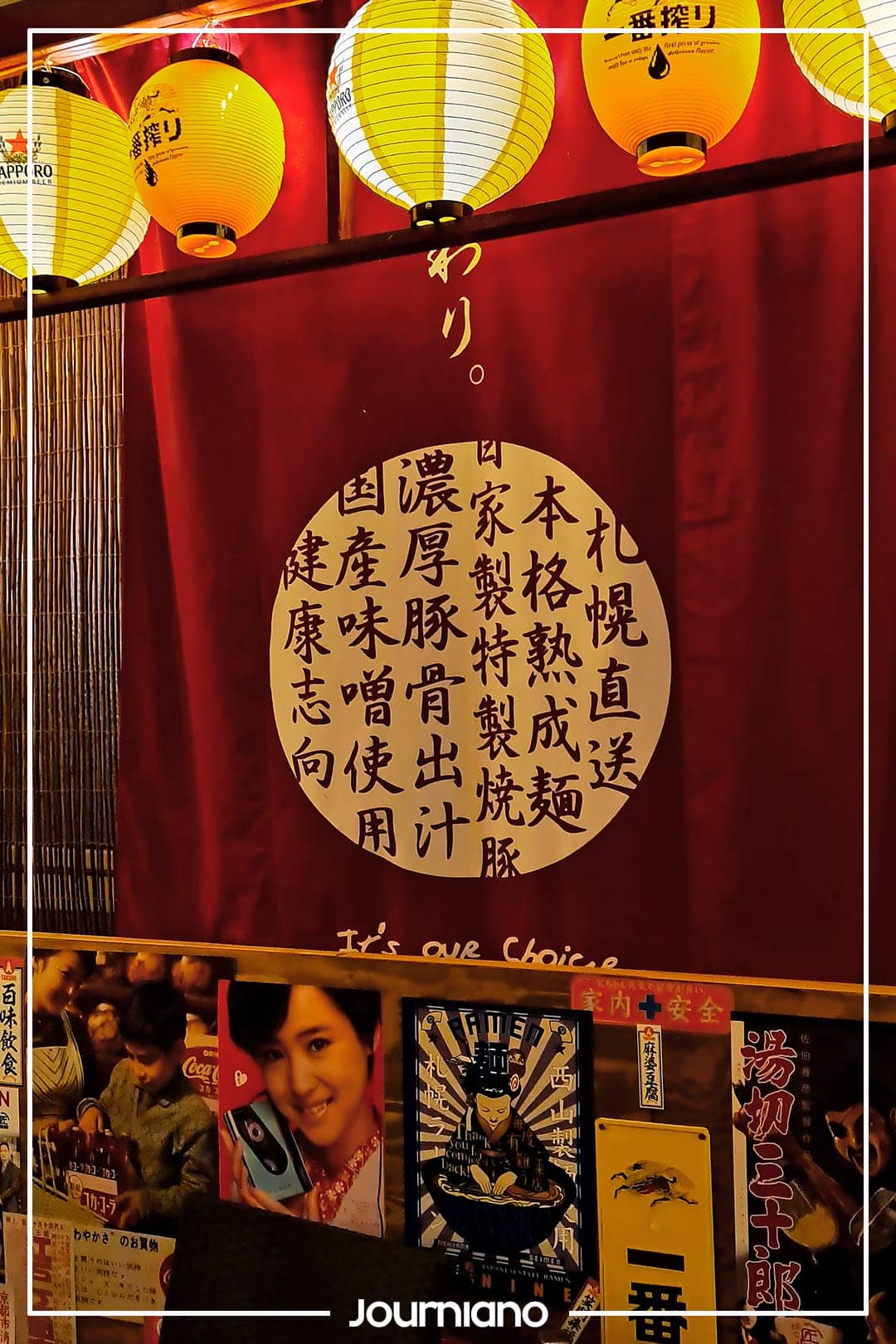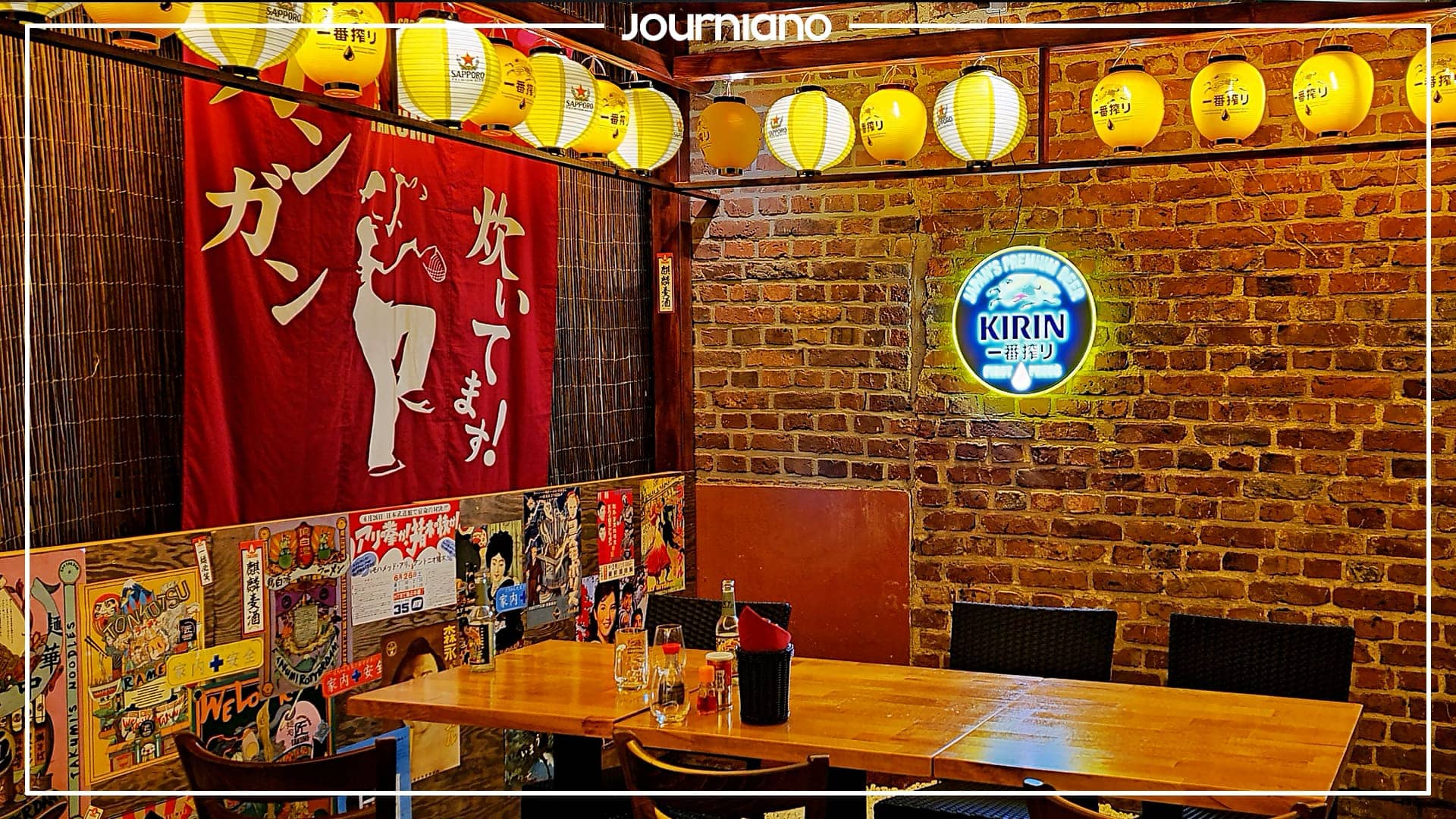 5. Authentic Japanese starters
So, it's finally time to talk about Takumi's essential: Authentic Japanese Food.
What better way to start with some starters. Japanese street food classics are very recommended entrées before the main meal arrives.
While Italians serve bread in the beginning or Portuguese start with olives, Japan's ultimate starter snack are Edamame. Those salty green soybeans are a light kick-off and delicious.
How about continuing with beloved Japanese dumplings a.k.a. Gyoza? You can order them either vegetarian or filled with meat. I've tasted many Gyoza in my life. Thus, I came to the conclusion that Takumi serves one of the best Gyoza I had outside Japan.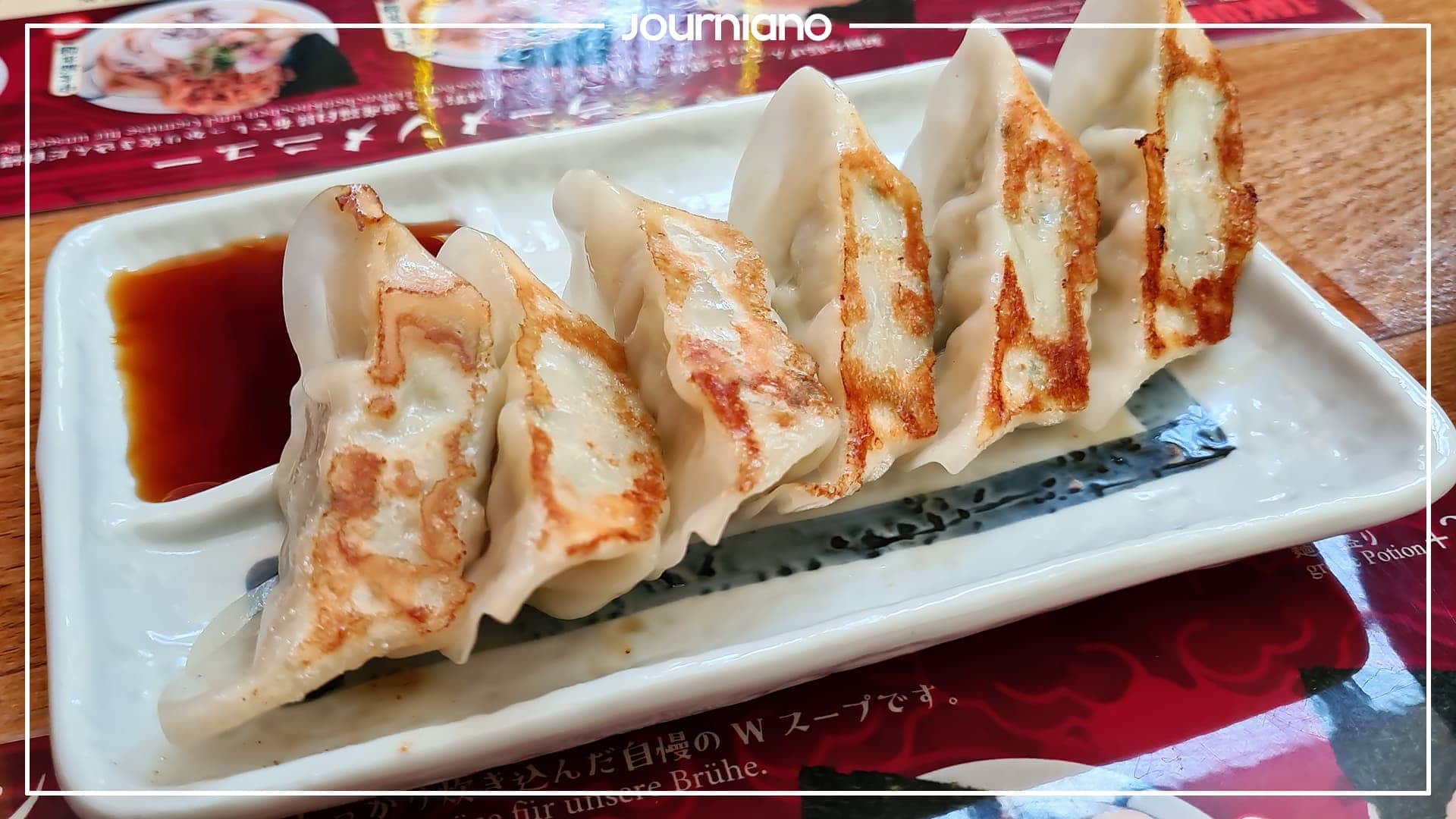 In addition to that, I've got another special recommendation which not many have tried before. Osaka's street food number one – Takoyaki. These fried and delicate octopus-balls are being served with Japanese Mayo and Otafuku sauce. I promise, you'd experience a culinary delight with them.
The great thing about these starters is that they work like Spanish tapas. You can share them among a group of people, and everyone gets the chance to taste one of these delicious Japanese appetisers.
6. No Ramen, No Life – An explosion of tastes
It's time to speak about the highlight which makes Takumi so popular among Japanese food lovers: their Ramen.
Takumi's slogan is literally:"No Ramen, No Life!" This already implies that a lot of effort and love is being put into their noodle soup creations.
Takumi Heerdt offers three soup variants for almost every Ramen.
Miso: Ramen noodles in miso flavoured soup
Shoyu: Ramen noodles in soy-sauce flavoured soup
Shio: Ramen noodles in salt flavoured soup
This time, I chose Special Tonkotsu Ramen on Shoyu base. The soy-sauce flavoured soup delivers thicker stock and stronger flavour. Moreover, the chosen ramen is rich in great ingredients.
Delicious grilled prawns marinated in garlic sauce meet crisp vegetables. To be honest, I've never eaten prawns that good! And I've had a lot and various of them in my life. So, the first surprise succeeded.
Furthermore, thin and tender pork belly slices are also part of the team, whose quality is top-notch. You also get a vegetable tempura patty which completes this marvellous composition.
However, the real stars are the stock and the noodles. Have I already mentioned that they import the noodles straight from Sapporo? Well, I repeat it again. From Sapporo with love. These noodles alone are delightful.
But combined with Shoyu stock, it elevates you to outer space. Let me put it this way: The soup got so much character that it tries to tell you a story while slurping. A story told by a Samurai about his adventures in rural Japan.
Ouh boy, this ramen was quite a journey to be sincere.
SUGOI OISHII – すごい おいしい!!! (it is very delicious)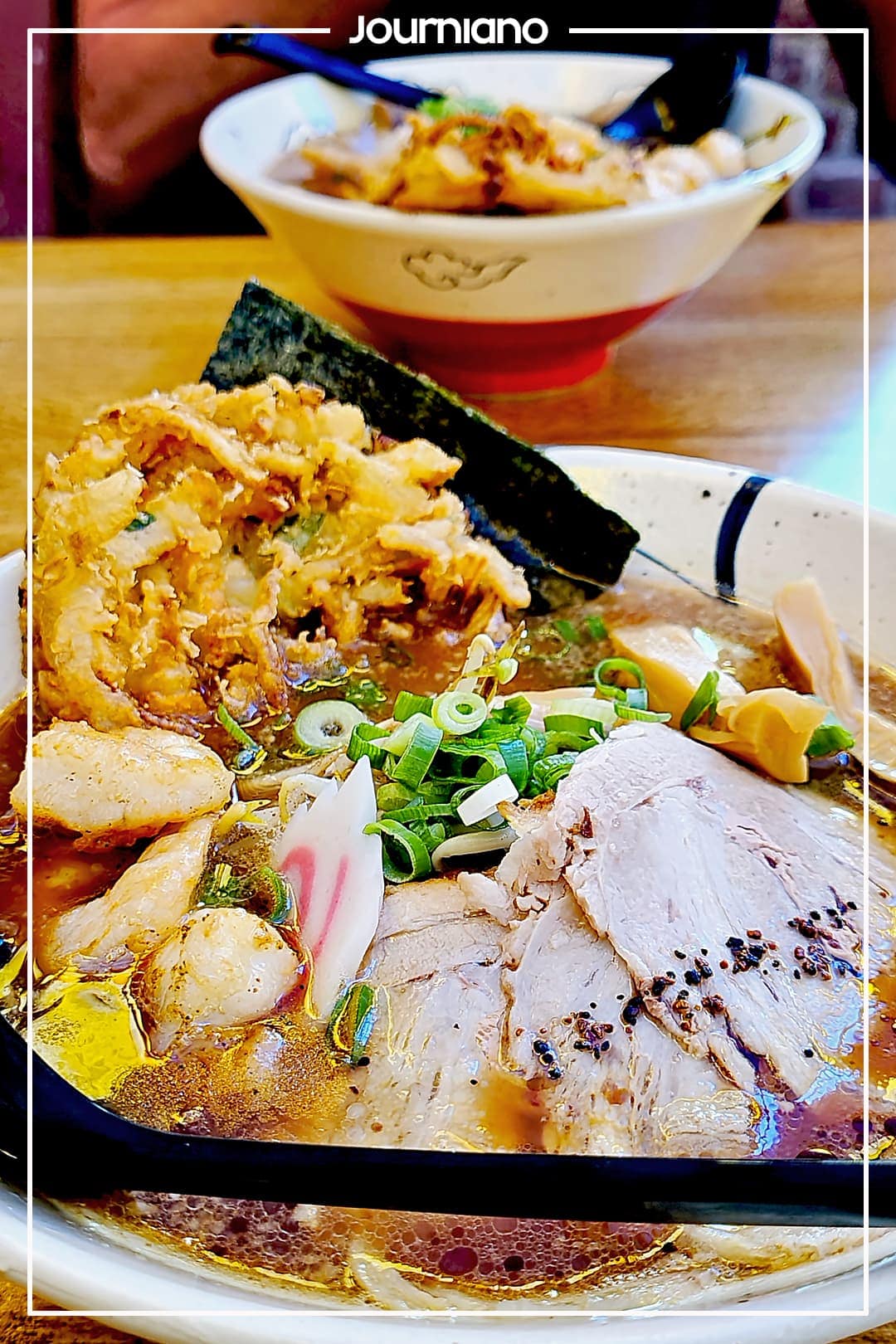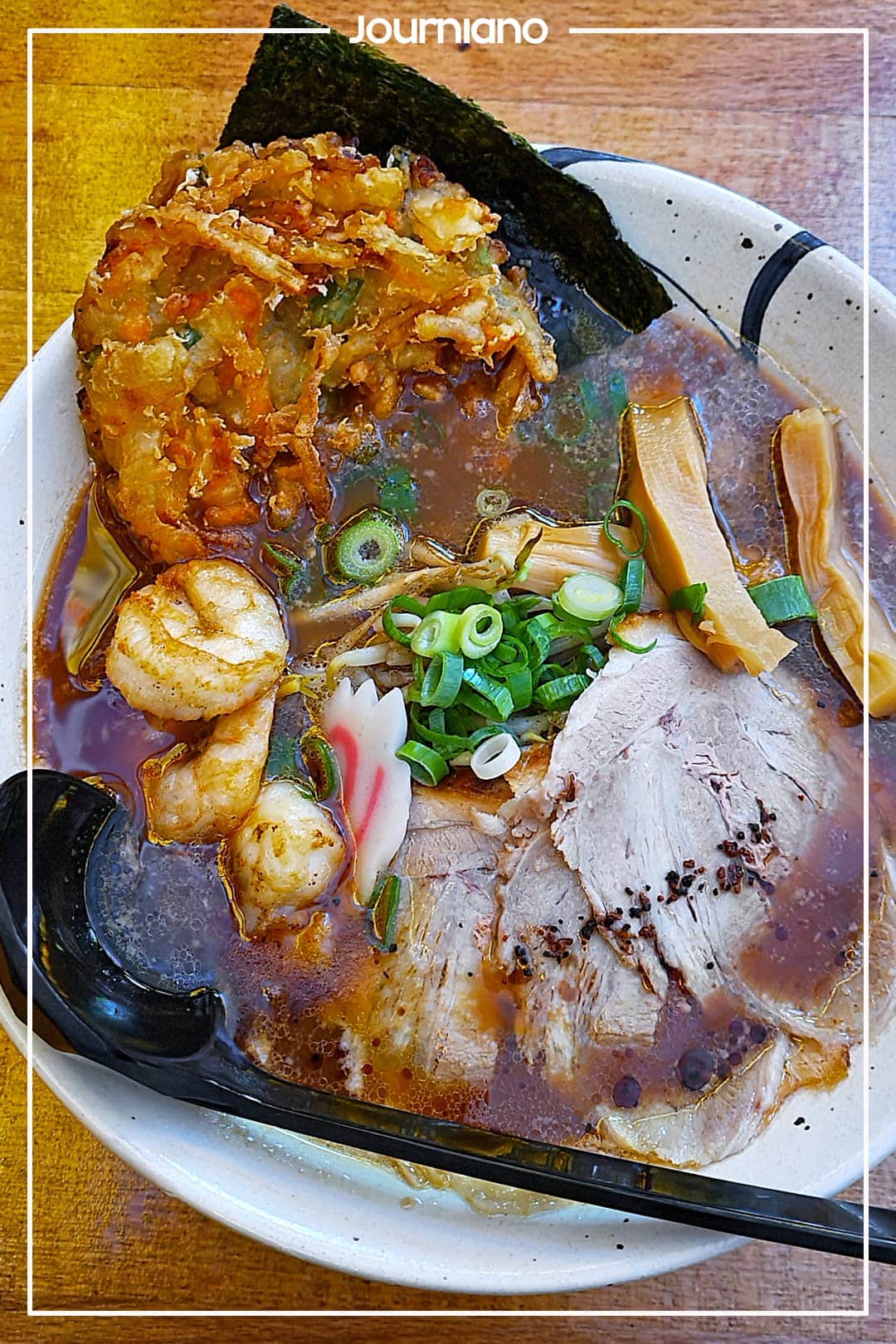 7. How to reach Takumi Heerdt
Takumi Heerdt is easily reachable by public transport. Tram Station "Lohweg" is only a jump away. Driving by car can be tricky because of the lack of park spaces, unless you want to walk.
Just navigate with the below embedded map to reach Takumi Heerdt with your vehicle of choice.
8. Opening hours
MON & THU-FRI: 12:00 – 15:00 (14:30 last order) / 17:30 – 22:00 (21:30 last order)
TUE: Day Off
SAT-SUN & Holidays: 12:00 – 15:30 (15:00 last order) / 17:00 – 22:00 (21:30 last order)
The above-listed opening hours correspond to their update from 12th September 2020. Check Takumi Heerdt's social media accounts for updated opening hours before planning a visit. They post them daily via their stories.
9. Conclusion
Takumi Heerdt is a top-notch place to experience Japanese cuisine – especially their ramen. I highly recommend it to everybody. There are various ramen types, so even people who like it vegetarian will get their money worth.
To everybody who frequently visits Takumi's other Ramen Shops, you get a new experience in Heerdt. Their interior and conservatory design moves you mentally straight to Japan. Don't miss this unique journey! Because, No Ramen, No Life!