Surprisingly, Sakura in Düsseldorf Kaiserswerth has become a thing since 2021. A brand-new pink avenue beautifies the old town. Find out more about this lovely blooming hot spot and why it should be on your cherry blossom hunting list.
What to expect
1. About Sakura in Düsseldorf Kaiserswerth
Düsseldorf's northern ward Kaiserswerth is pretty old and historic. The exact same applied to its amazing chestnut tree avenue along its market square. Unfortunately, due to bark-beetles, these trees got sick, and some died. As a result, the Kaiserswerther Markt had to get rid of its gorgeous avenue.
Thus, something had to replace it as it looked ridiculously empty at Kaiserswerth's heart. Temporary 20 flower buckets fill the gap since the end of February. So, what's inside them? Astonishingly, cherry trees!
2. The new Sakura Avenue at Kaiserswerther Markt
When I first saw those 20 cherry trees blooming on Kaiserswerther Markt, my jaw dropped. Not long ago, I mourned for the loss of the chestnut tree avenue. Within a second, I literally saw Phoenix rising from the ashes. From that moment, Düsseldorf officially expanded its catalogue in terms of Sakura hotspots.
2.1 Strolling through the gorgeous Sakura Avenue in Kaiserswerth
Once you properly enter the Markt and stand right in front of this avenue, deep joy unleashes from the bottom of the heart. Amazingly, they managed to make these tiny cherry trees stand out. Together with the buckets, they reach up to 4 metres in height. Hence, it feels like going through a proper avenue.
Moreover, many great views are being enabled, where the Sakura frames the surrounding old buildings. In terms of photo motifs, there are endless possibilities. Especially seeing the former town hall being framed by cherry blossoms, is like a dream you've actually never had. But now it's top-notch being real.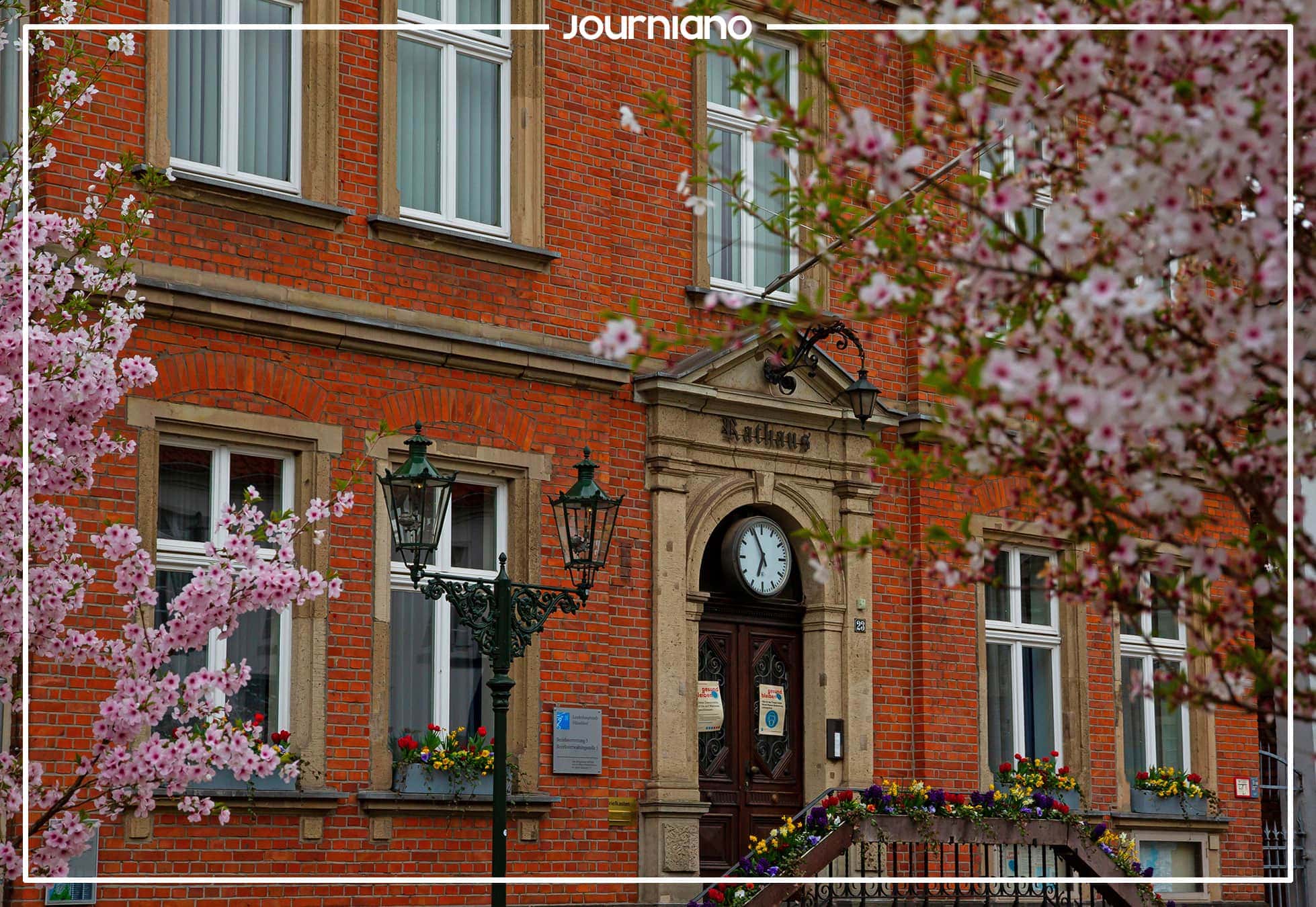 2.2 Amazing Perspective of the Cherry Blossom Fest
Every one of us knows these moments which seem unsurpassable. Did I have this feeling during my stroll through Kaiserswerth`s Sakura avenue? Absolutely. However, as they say, don't count your chickens before they hatch.
Blessedly, the western end of the Markt discloses one epic perspective. The cherry blossom avenue gloriously frames the small high rise in town. Never ever could you set the scene more effectively.
Although this marks the highlight in terms of cherry blossoms, some sneaky flowers might almost steal the show. In case you pay attention, the former town hall will put the cherry on top of the cake.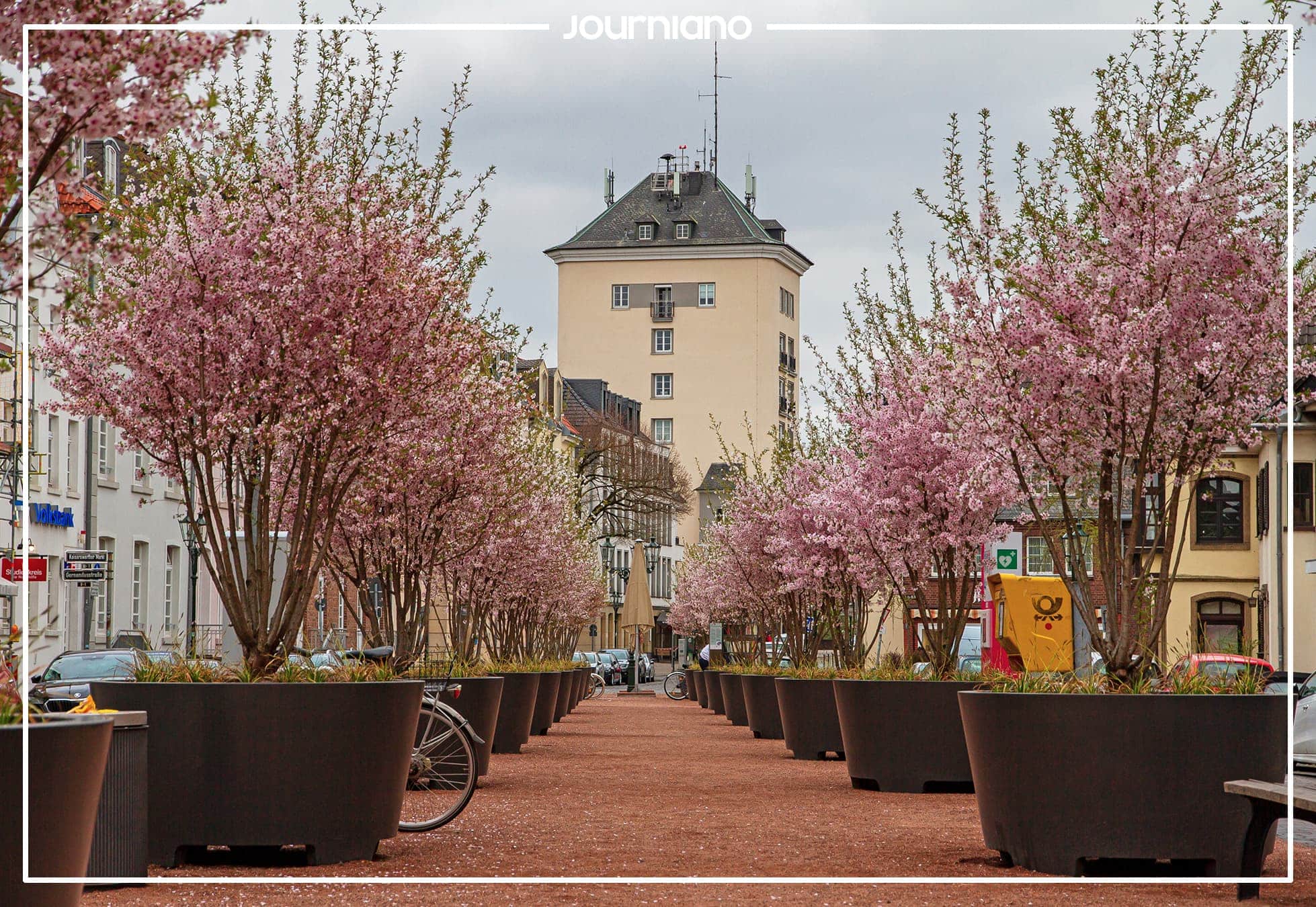 2.3 When Cherry Blossoms aren't sufficient – Additional Flower Parade at the former Town Hall
Came for cherry blossoms, stayed for other flowers. That's what literally happened to me. Hopefully, I can convince you to do the same.
So, along the stairway's handrail of the "Rathaus", a great variety of colourful flowers have been installed. Now, the entrance side looks as gorgeous as ever. While its brick facade is already tremendously expressive, these flowers round the picture perfectly up.
Now, by walking upstairs, totally new views open up. Particularly, the panorama of Kaiserswerther Markt is breathtaking. If you hunker down a little bit, Sakura and these beautiful flowers add explosive spring vibes to the point of view. Last but not least, don't miss to capture the colourful feature between the flowers and the colourful buildings located at the end of the Markt.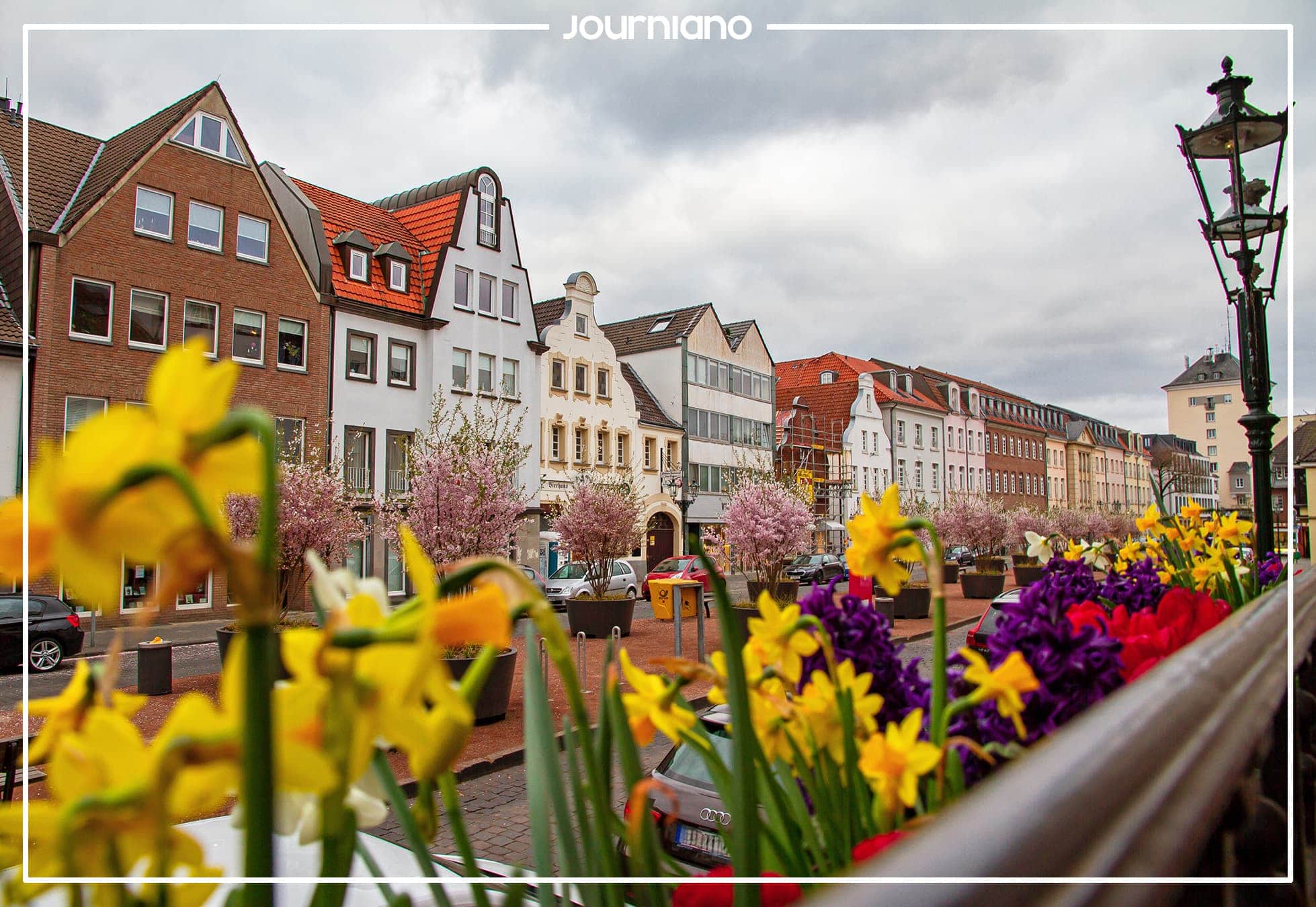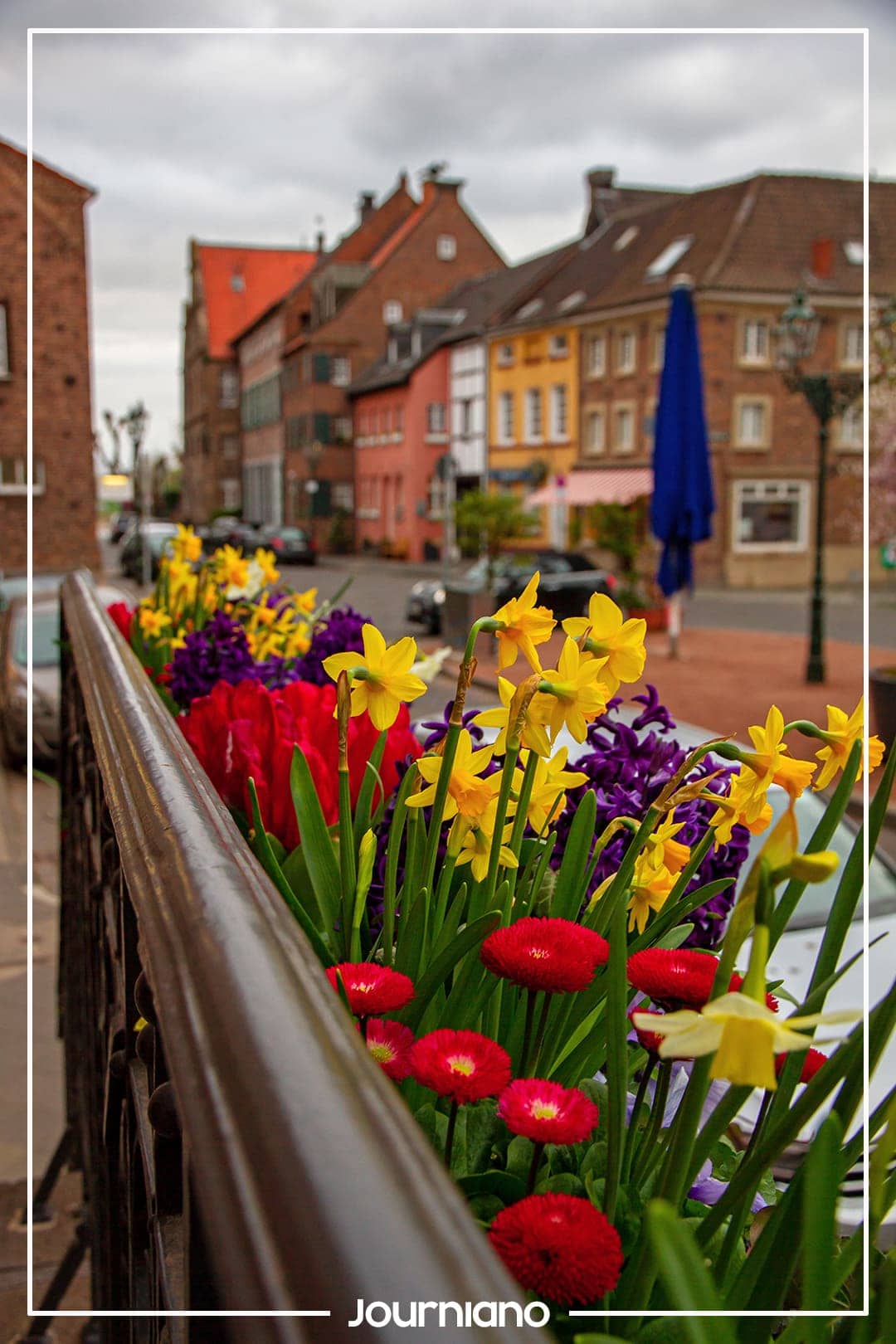 3. When to visit the Sakura in Düsseldorf Kaiserswerth
As this article has been updated for 2022, you've probably don't have much time left to experience the Sakura in Kaiserswerth. Hopefully, the provisional buckets stay there at least until next spring. Nevertheless, this is the approximate period to admire the lovely cherry blossoms there:
23th of March – 4th of April of 2022
4. How to get there
The cherry blossom hot spot can easily be reached by public transport. Take the U79 until Klemensplatz and walk up to five minutes to get there. Unless you're going by car, there can be free parking lots along Kaiserswerther Markt. To be on the safe side, there are bigger car parking spaces here and there. To navigate the best way possible, don't hesitate to use the embedded map below.
5. Conclusion
Surprisingly, Sakura in Düsseldorf Kaiserswerth elevates the historic centre to the next level. The variety of blooming perspectives matches perfectly with the old and charming surroundings. Thus, this new pink avenue is a must-visit for cherry blossom hunters in Düsseldorf. Besides that, Kaiserswerth rounds up the journey amazingly with additional spring gimmicks.