Spotting cherry blossoms at Alexanderplatz in Krefeld is absolutely a journey per se. Unlike the usual pink avenues, here you can experience how Sakura frames a lovely square. Dive in deeper to disclose the surprises beyond the blooming hotspot.
What to expect
1. About Cherry Blossoms at Alexanderplatz in Krefeld
In the midst of the city centre of Krefeld, a special square seeks the attention of locals and visitors every spring. Thanks to a bunch of Japanese cherry trees, which were planted in the post-war years, Alexanderplatz is the eye-catcher.
Since 1885, the green square pleases the area. Due to the donation of property by a local oil mill operator, named Alexander König, the city could establish this Platz after the donator's vision. 28 years ago, the city retransformed the square's presentation after its historical version.
Today, this place is a lovely urban garden. Surprisingly, its pink sensation is not the only reason for standing out during April though.
2. Approaching the Square from Lewerentzstraße
Yes, one thing is certain when you approach Alexanderplatz from Lewerentzstraße. Your jaw will drop. Astonishingly, the resulting perspective offers a dense cherry tree party. Yet, the square's structure isn't recognizable. Even the buildings surrounding it are being covered by Sakura. Although this is not the typical pink sky you'd like to pass beneath, the impact is different but gorgeous here.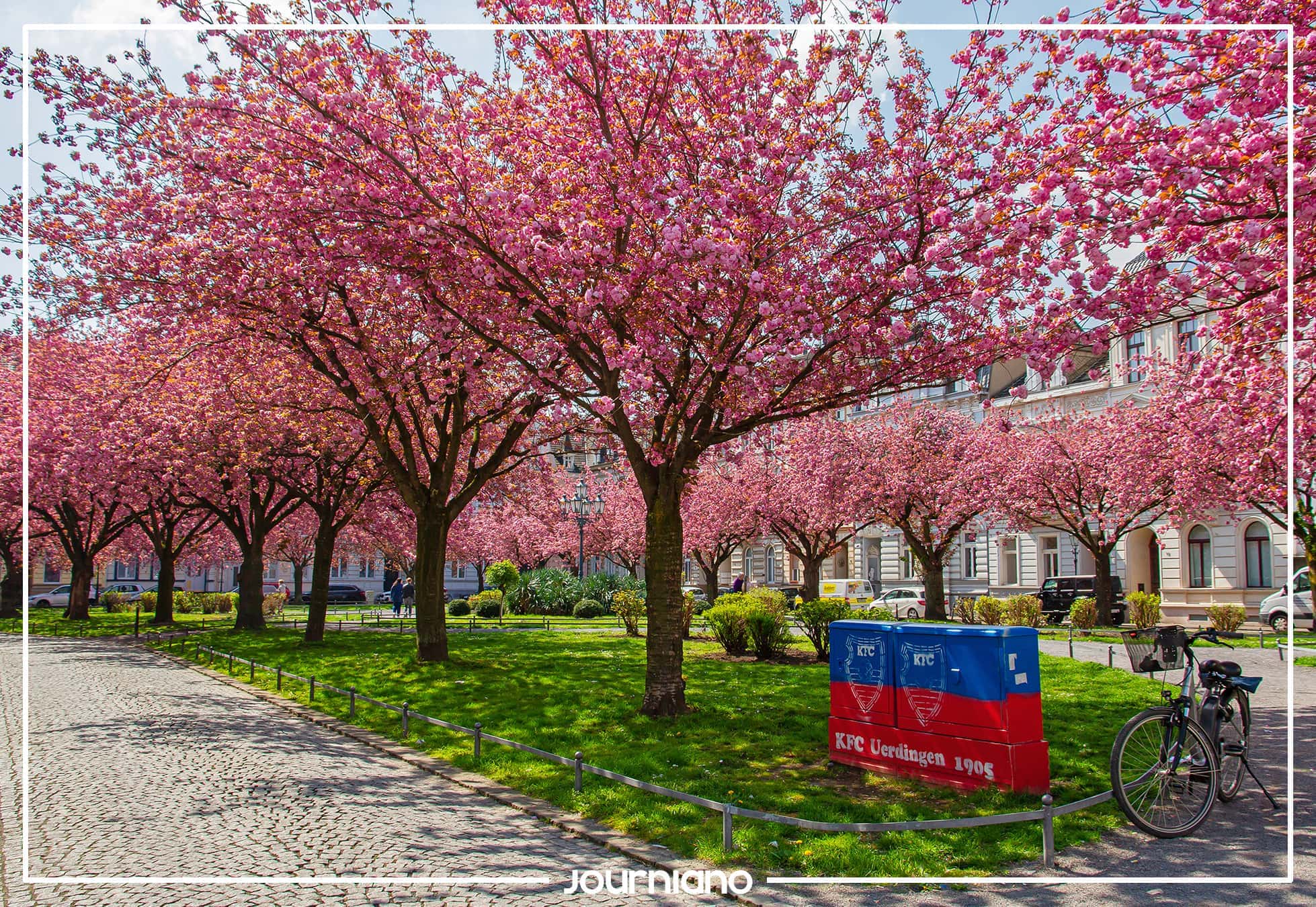 2.1 Experiencing the Square's Structure
While you dive in deeper, the structure of Alexanderplatz becomes apparent. Small meadows and a variety of plants decorate the square's inner life. However, in its centre, a marvellous quintet of lampposts sticks out beautifully. Furthermore, there are interesting paths that may guide you through the Platz. Otherwise, your eagle eyes spot something off the square.
2.2 Sneak Peeking through the Sakura Curtains
If you pay close attention early on, you might notice another great aspect of Alexanderplatz. By sneak peeking through the Sakura curtains, marvellous rows of houses come to light.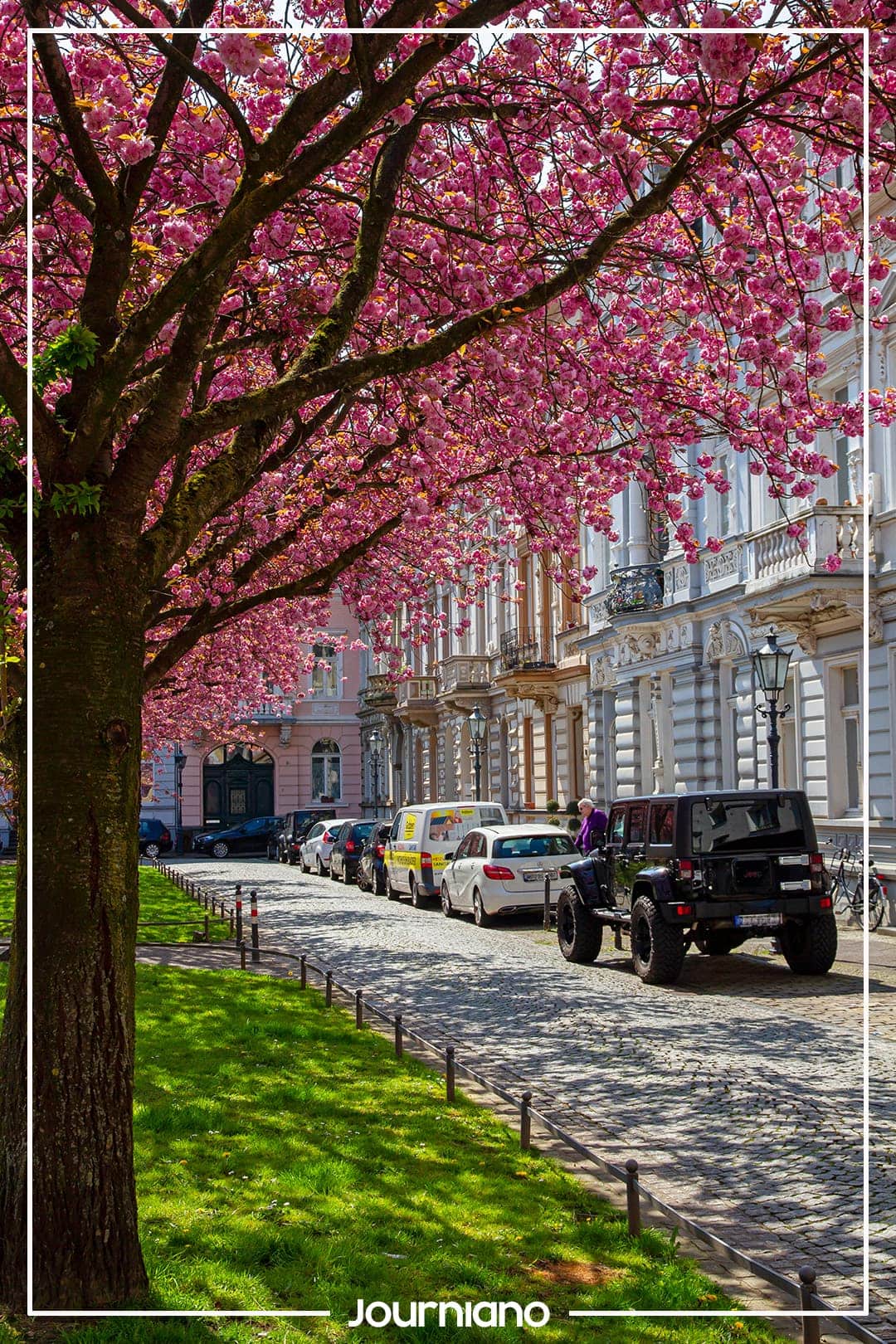 3. Cherry Blossom featuring gorgeous Architecture at Alexanderplatz
Remember, we're not in Paris but Krefeld. Fortunately, this is the city's joker. Due to the fact that Krefeld boomed in the 19th century economically, the city got expanded after the imperial design. Thus, it looks geometrically correct. Besides that, the architects and builders didn't hold back in terms of facade designs.
3.1 Amazing Facades meet Sakura in Krefeld
Here there are, the amazing facades surrounding Alexanderplatz. Mainly built in the late 19th as well as early 20th century, these houses amaze not only by their design. Their colourful appearance fits perfectly to spring vibes. Furthermore, here and there fantastic balconies crown the view. Still, nothing beats their collaboration with branches packed with cherry blossoms.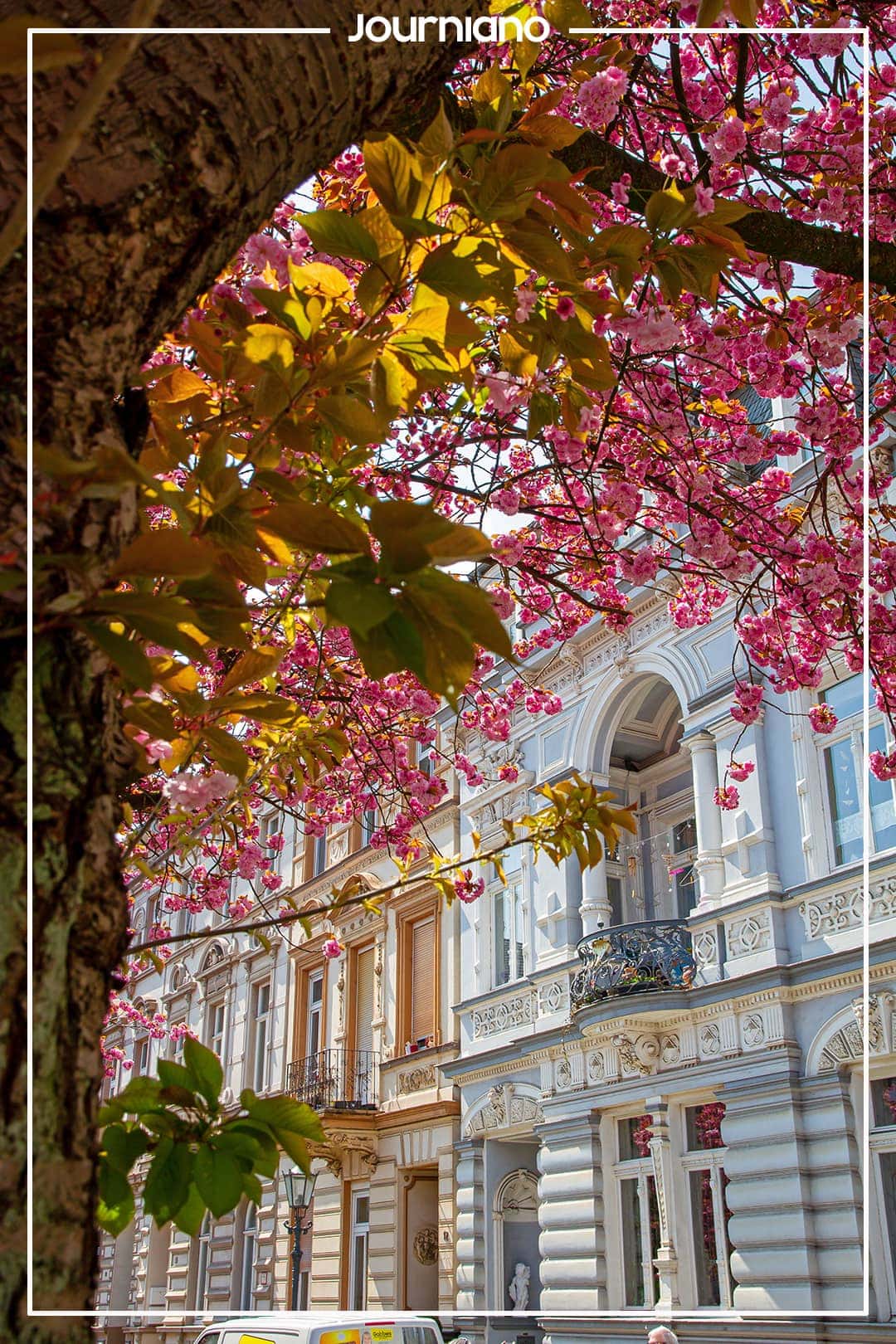 3.2 Amazing Details from the Wilhelminian Style Era
Moreover, the houses strike with many details. As it was common for Wilhelminian Style, facades were ornamented with a bunch of lovely stuff. Particularly, the man's face above the great balcony is a prime example.
3.3 Colourful Facades at the South Side
Furthermore, the south side of the facade parade at Alexanderplatz is an amazing architectural closure. Their colourful contrasts are even stronger to each other than before. Hence, you could take pictures for hours.
Admittedly, one house from the south side seeks your attention for different reasons.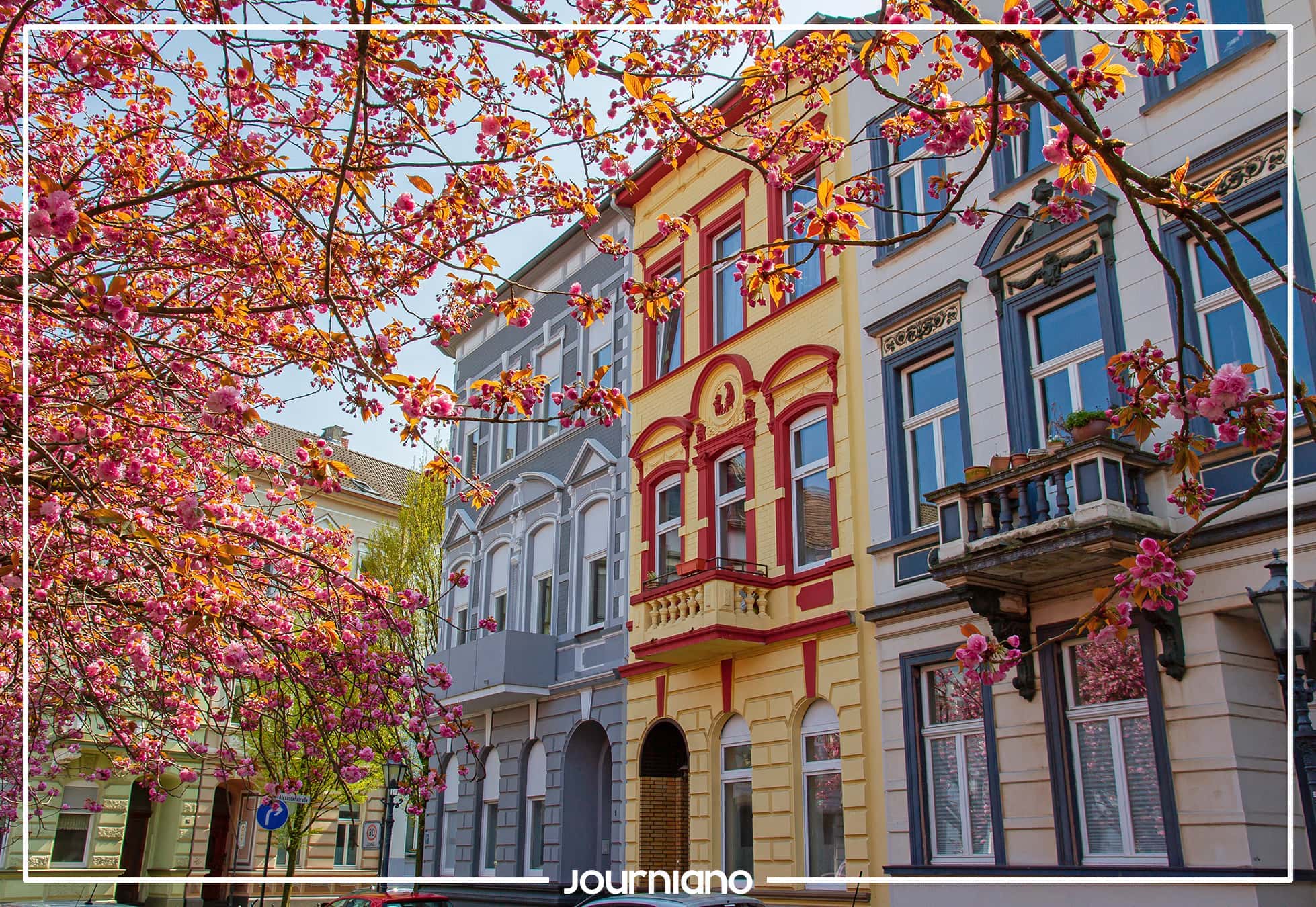 4. Joseph-Beuys-Haus
Among those detail and colour heavy houses, one white one steals your attention for something else. It's house number five. There, the internationally acclaimed artist Joseph Beuys lived his first three months of his life in 1921. Normally, Beuys gets linked with Düsseldorf, where he also worked as a professor in the Kunstakademie. Nevertheless, it seems like the city of Krefeld is proud of that.
5. The blooming Square – Cherry Blossom Mania at Alexanderplatz
Aside from being the birthplace of artist Joseph Beuys, Krefeld can actually be proud of the beautiful Alexanderplatz. The lovely urban oasis attracts people from within and outside the city. While this is not Bonn with cherry blossom avenues at first glance, it is a different format on the same level.
5.1 Row of Cherry Trees creating Pink Ceiling
Imagine being surrounded by blooming cherry trees. There's no gap in-between them. You're are being fully encircled by pink blossoms. Amazing, right?
Having that said, you might feel like in a microcosm.
As I already visited a bunch of Sakura hotspots, I've never experienced this constellation before – neither in Bonn, Düsseldorf, Kaarst nor elsewhere in NRW.
Moreover, the cherry trees at Alexanderplatz have a certain age. Thus, they have a certain height and size. Although not comparable with majestic Sakura skies in Kaarst or Bonn, you also get a nice pink ceiling here.
5.2 Praising the great Mix – The Square, its Cherry Trees and architectural Surrounding
Last but not least, Alexanderplatz amazes because of its great mixture of sights. Its historic square design and row of houses represent the good old days from the past. Somehow, old town vibes float around here. However, the Sakura rectangle is absolutely the cherry on the cake.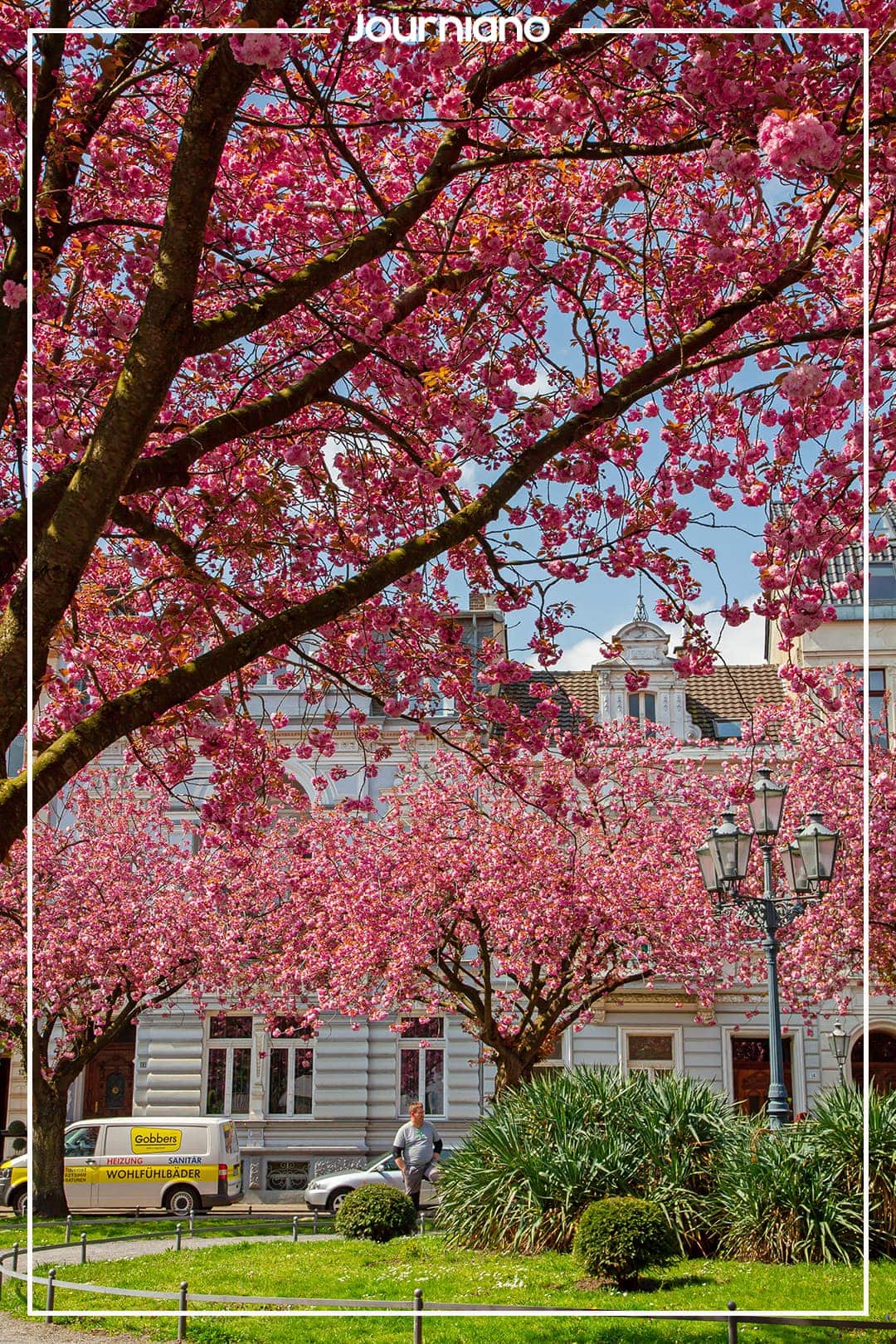 6. When to spot Cherry Blossoms at Alexanderplatz in Krefeld
Fortunately, the cherry blossom season at Alexanderplatz is about to begin in 2022. You can spot the pink blossoms approximately in the following period:
10th – 20th April of 2022
7. How to get there
Situated in the city centre, Alexanderplatz is easily reachable. You can easily walk there from the central station if you arrive by train. There's also a dedicated bus stop which is being served every 30 minutes. Should you prefer to approach by car, there are many car parking lots available.
Nonetheless, to enable the best journey possible, please navigate with the embedded map below.
8. Conclusion
Alexanderplatz in Krefeld offers both an additional and a different cherry blossom journey. Thanks to its geometrical layout, you get the unique feeling of being in a microcosm. Moreover, the gorgeous architectural surrounding rounds up the visit beautifully. If you seek something else than the classic cherry blossom avenues, this place has to be added to your bucket list.
However, why don't you have both?