Can you remember having visited a museum because you were excited for either the historical, artistic and cultural stuff they exhibited or the achievements of a brand? If you did so, have you ever been distracted by the museum itself those times? As yet, I experienced that only a few times. My first time was something special though.
It was a very cold winter day in February 2018, when I visited some friends in Stuttgart. Although the sun was shining and the sky was clear blue, my friend, who I was hanging out with that day, suggested to visit the Mercedes-Benz museum, where he has been working at. As I haven't seen a lot of the city yet, I was a bit sceptical at first glance. However, he assured me that it's going to be exciting. At that point, I was thinking about all those older and elegant Mercedes models.
Well, If I said that I am big passionate visitor of museums, I would be lying. Before spending a lot of time inside an exhibition hall, I'd rather walk through Stuttgart and experience the everyday residents' life. Everything what I just said, had no importance anymore, when I stood in front of that museum.
If I imagined a terminal for space flights, that would have been my output.
I couldn't believe my eyes. Being a fan of architecture, I was getting excited to kill two birds with one stone. That dynamic facade already prevented me to go inside – it has too many variations which are all worth to be shot.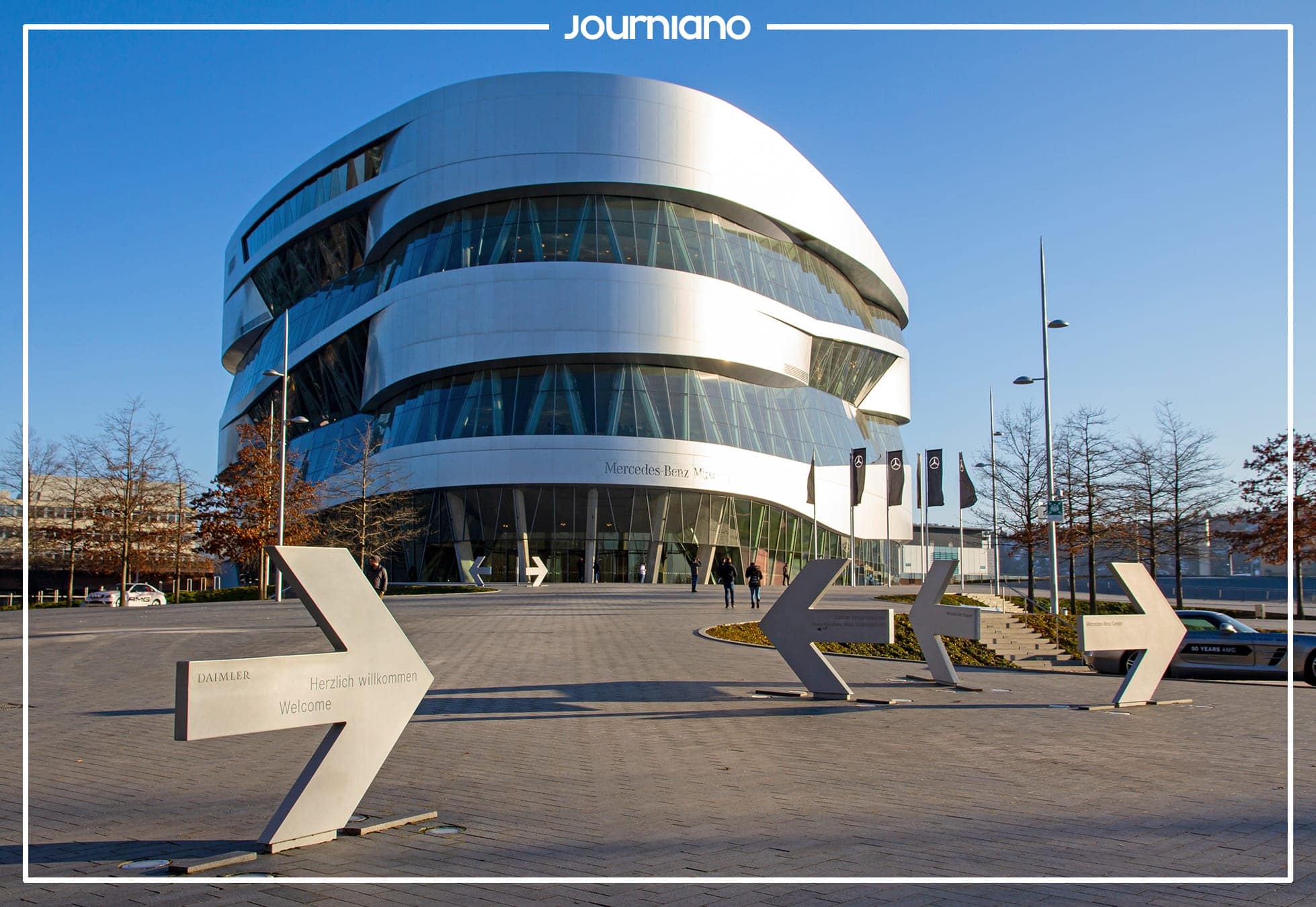 Inside, I got real goose bumps and another sense for the museum's real dimension. The entrance hall is practically a massive atrium – looking bigger than a cathedral. When I saw those futuristic spacey elevators moving up and down along those moonstone-like walls, the space cowboy in me was ready to enter that spaceship. Of course, this happened all in my mind.
Ben van Berkel, a dutch architect and his architectural office UNStudio, designed this marvellous building. He and UNStudio were also responsible for the futuristic looking Arnhem railway station and the Erasmus bridge in Rotterdam, which is a famous photo motif. The museum was inaugurated in 2006 and is the most visited one in whole Stuttgart (10 Million visitors from 193 countries).
Surprisingly, the museum starts from its highest level, as the elevators brought us there. The exhibition kicks-off with the beginning of Mercedes-Benz' automobile history in 1886. In total, the museum is divided into seven sections, or as they call it, myths. While every myth showed a collection of their achievements, they also had a general historic timeline wall, showing some important world events.
An exceptional architectural path led to the seven myths.
So, how are these myths connected? Well, the architects panned out the path greatly. As you might remember, the exhibition started at top level. As a consequence, the myths continued by circling to the lower levels, while passing by extracts of history. Sometimes the buildings architecture was highlighted, for instance, by a futuristic looking staircase going along one part of the gallery. These areas let a lot of light into the museum, which changed the atmosphere inside.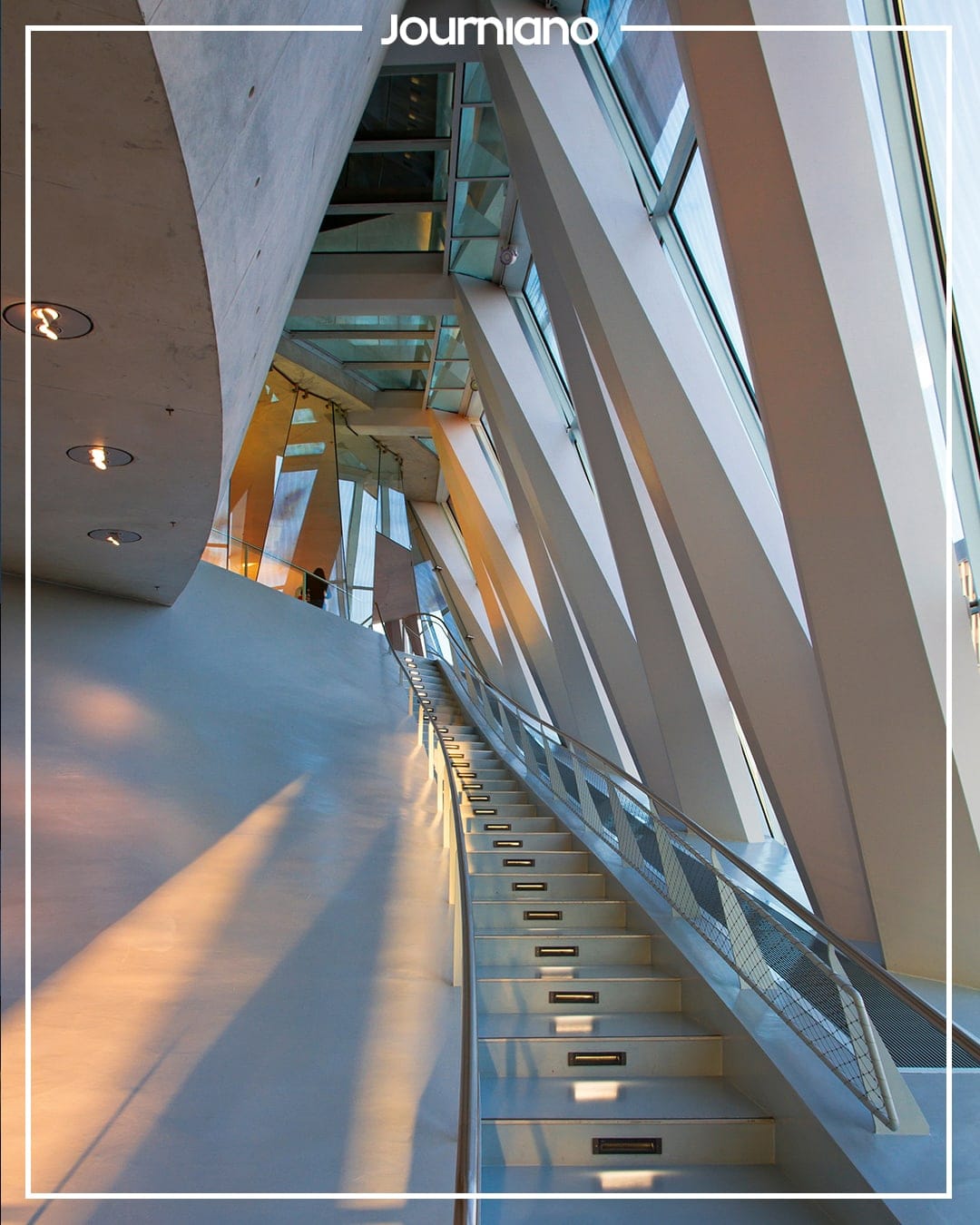 For me it was really exciting seeing all those old and classic cars – especially their shape is something what makes them unique. On top of that, how they presented them gave me big excitement. In the classic sections, everything is designed to give justice to the spirits of those historic cars. The E-cars section, however, was emphasised in a modern way by using LEDs or dynamic stages. Thus, the interior design was as important as the building's appearance (see the cover picture).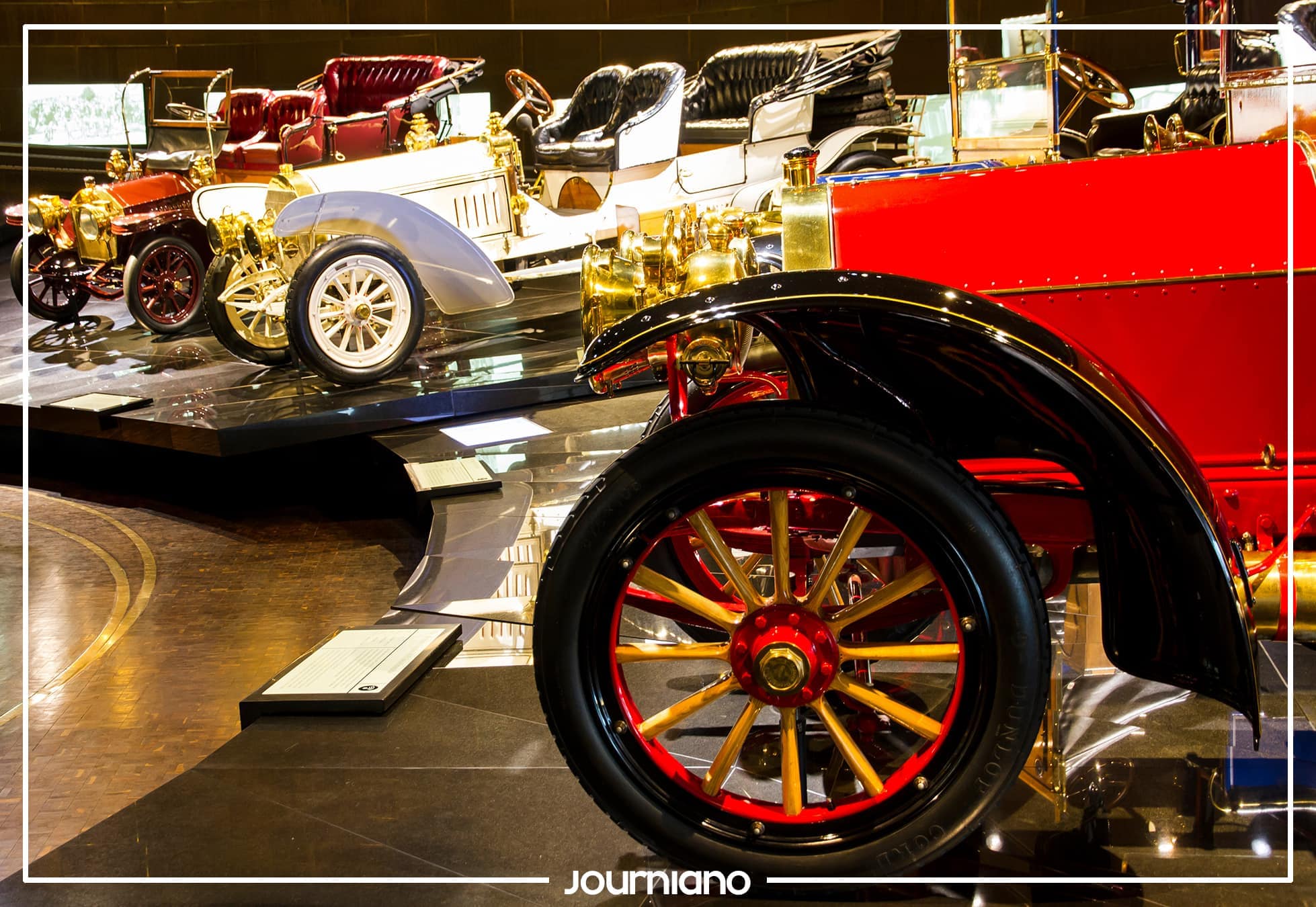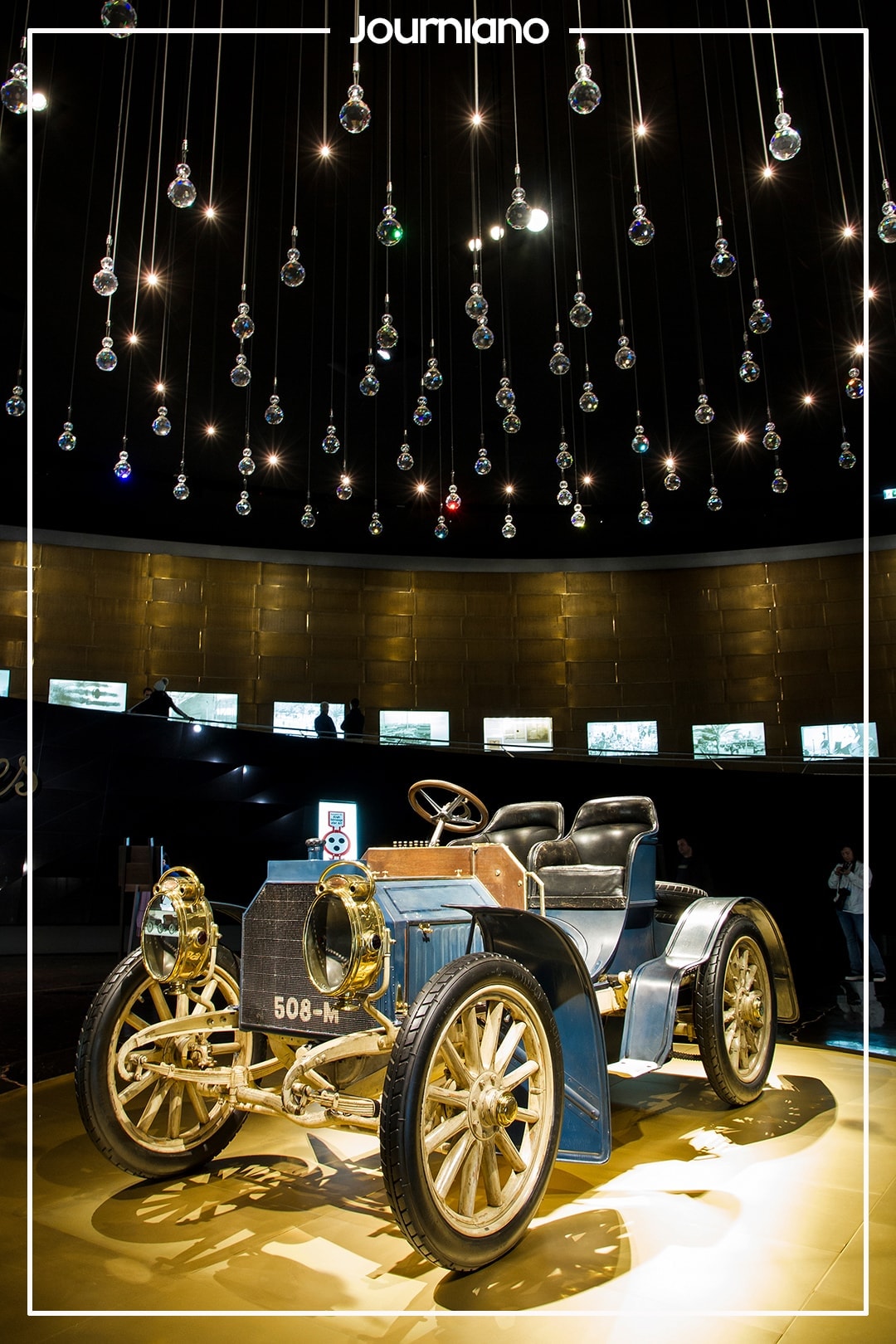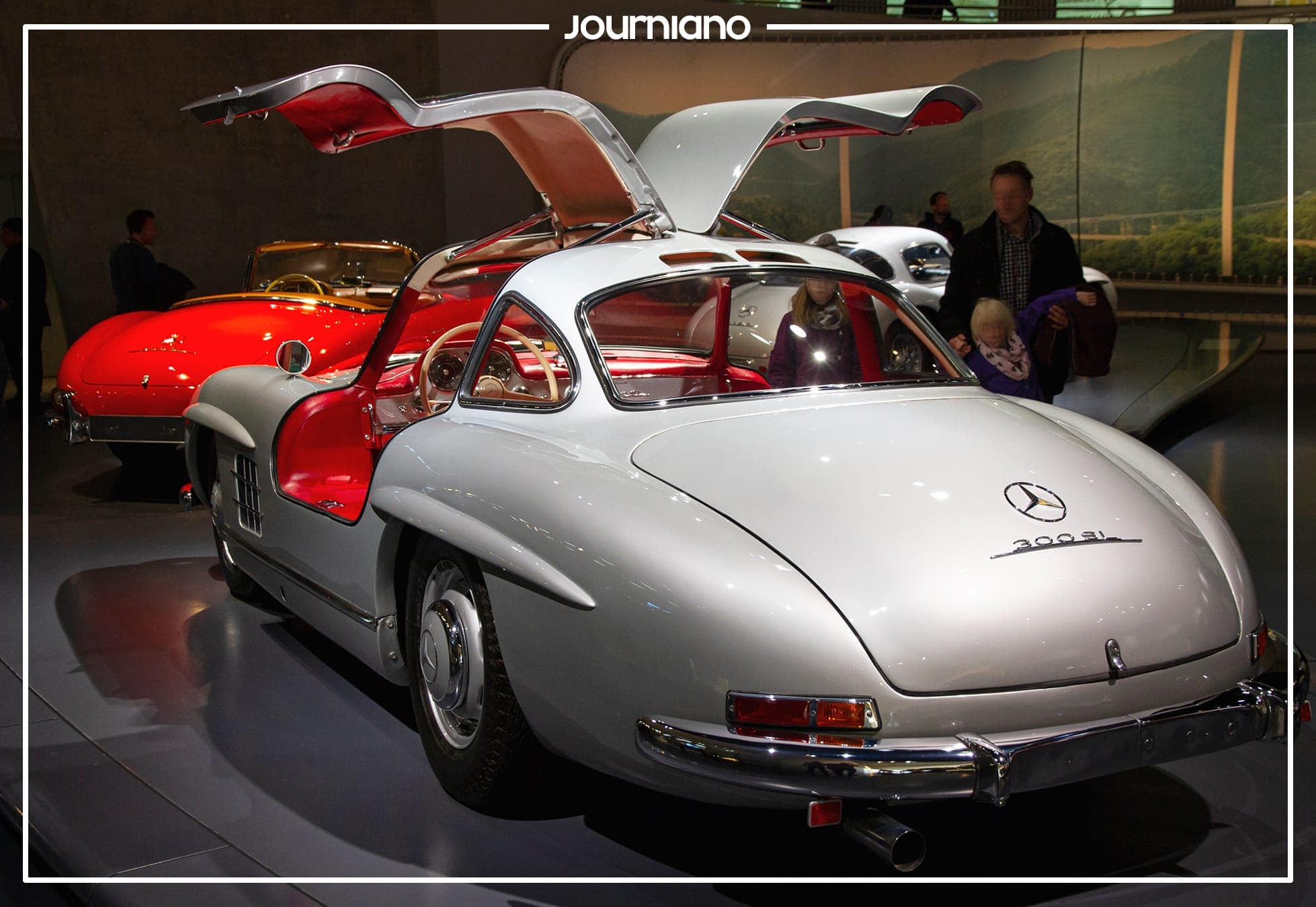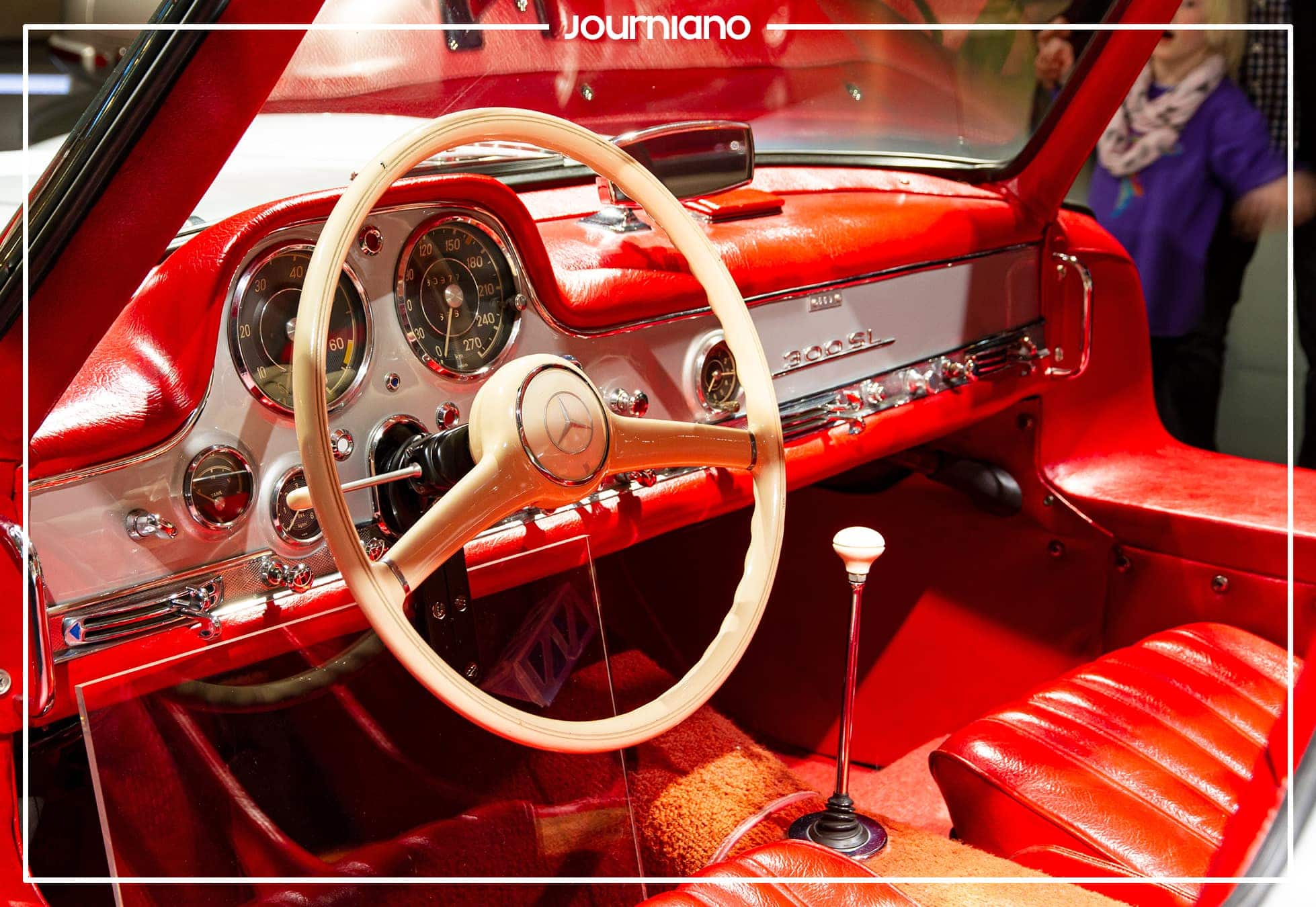 The racing myth was the last section and another favourite of mine. I encountered a mix of AMG, Formula One and classic racers. Especially the classic section had my attention – my friend told me a great anecdote about one of Mercedes-Benz older racers, which somehow broke the brand's tradition of wearing a silver paint. This one was painted in red and looked like one of Enzo Ferrari's classics – it was no coincidence.
He laughs best that laughs last.
Many decades ago, Mercedes participated at a race, which was being held in Italy. As they used the silver brand colour already back then, Italians could easily distinguish them from the Italian red cars at the track. This resulted into sabotaging the race when a silver car drove by. In response to that fiasco, Mercedes came up with the idea of painting their racer red – exactly like the Italian ones. Guess who won afterwards.
Moreover, the last myth took great advantage of the building's circling. Three curved tracks spread along the walls simulating a race between the brand's cars. One of them was exactly attached to the wall with some super crazy designed cars à la "Back to the future".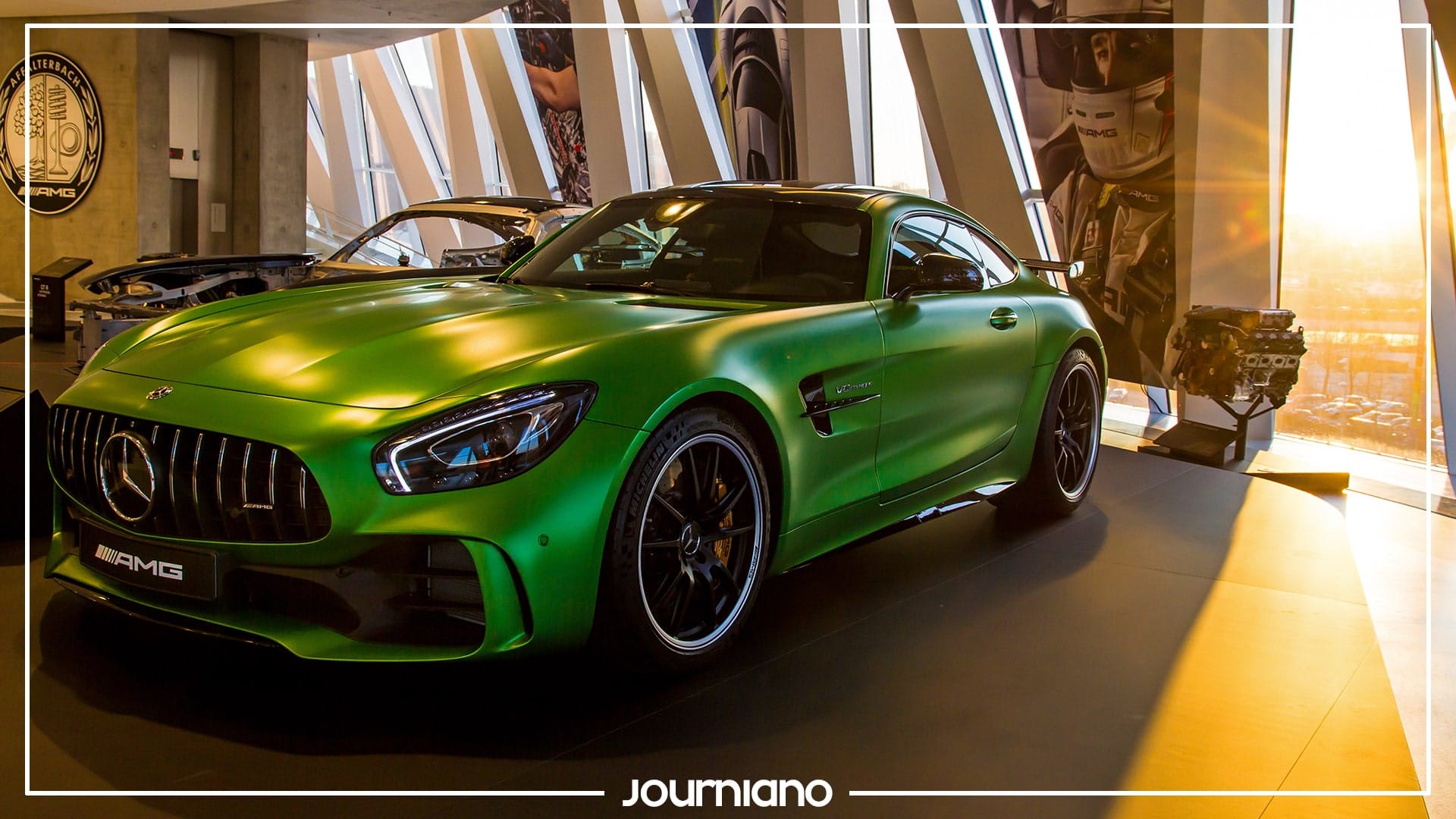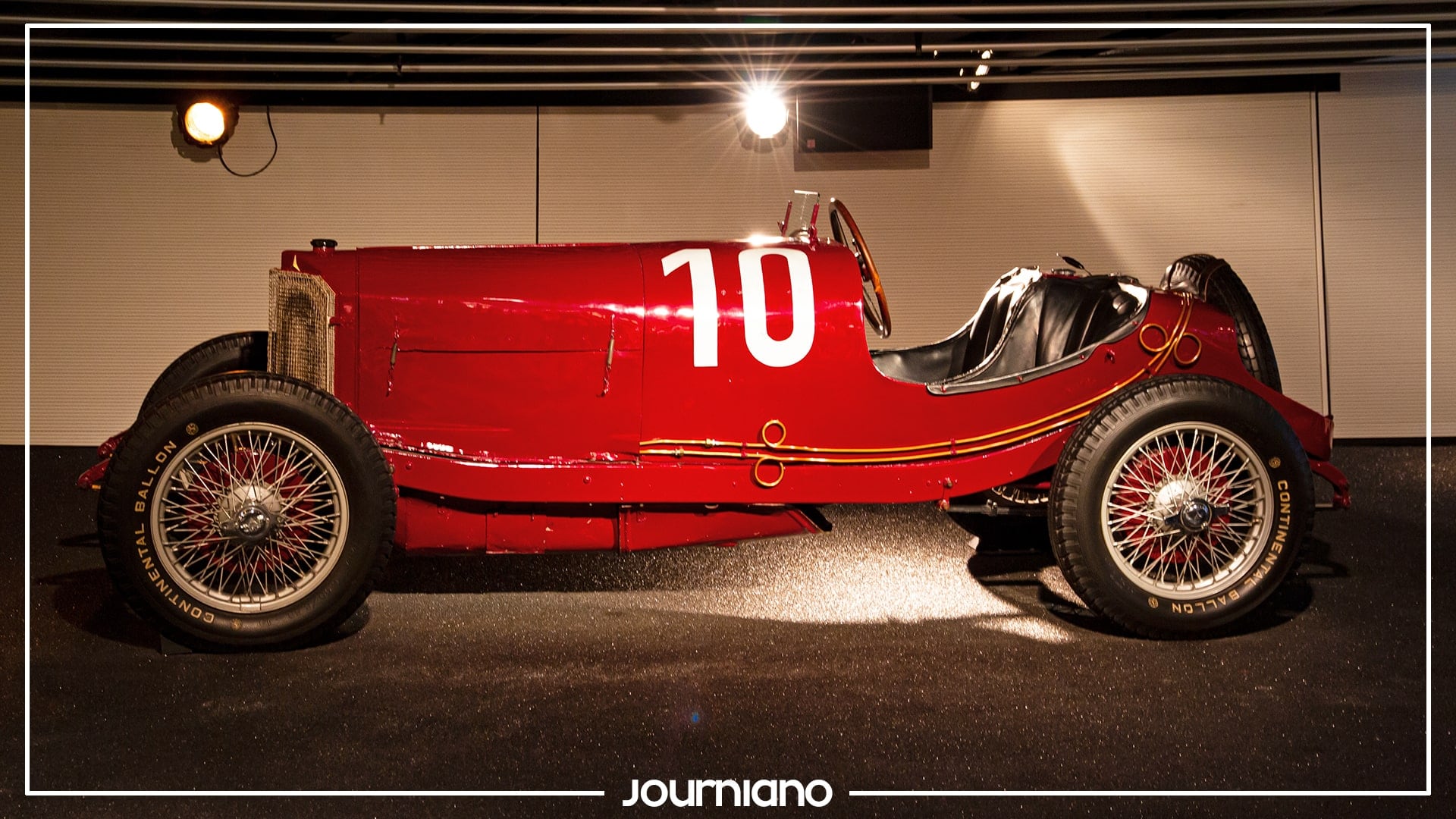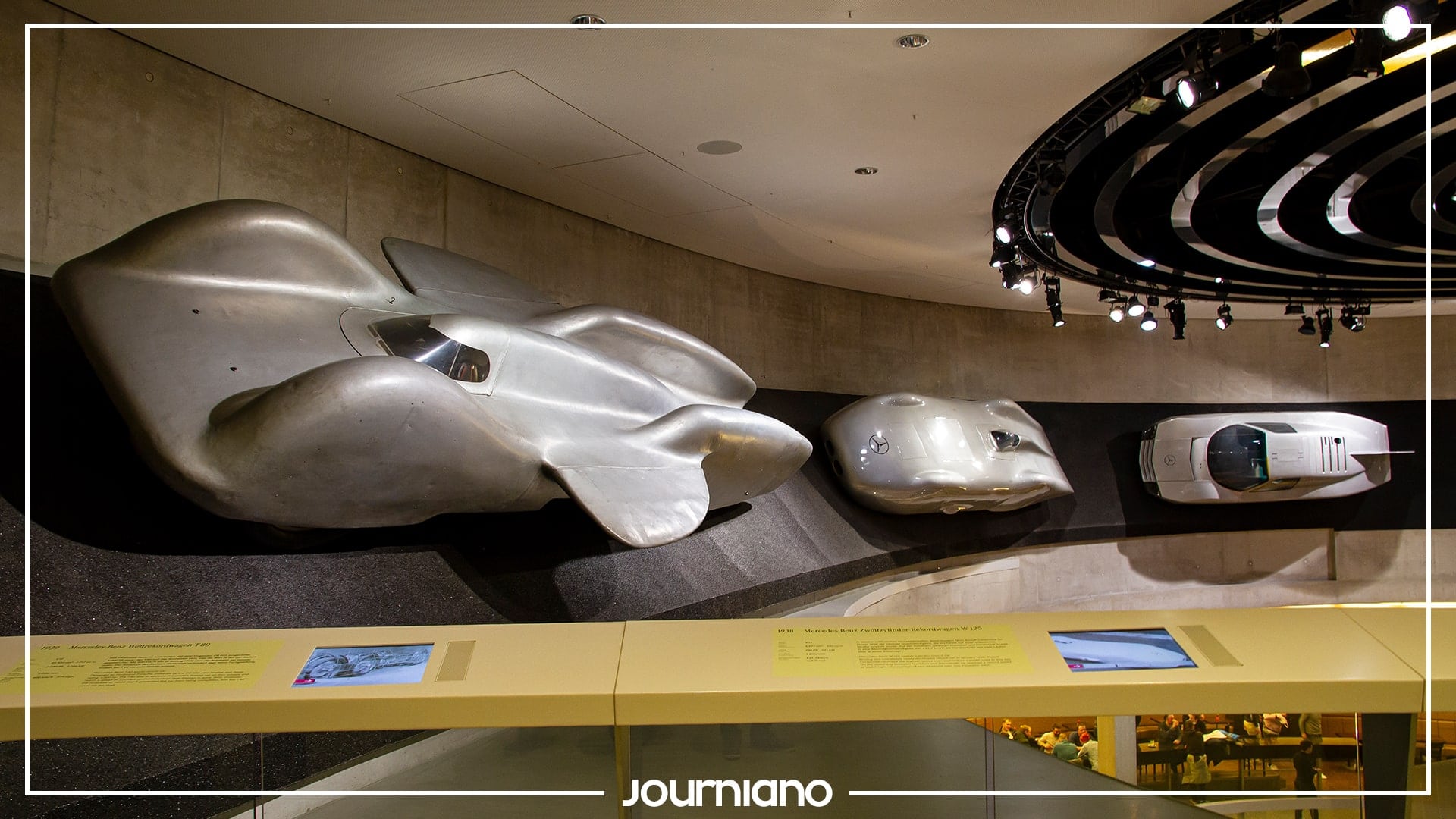 Another final personal highlight in that section was the interaction between the exhibition and atrium, which was emphasised in the best way possible during my visit.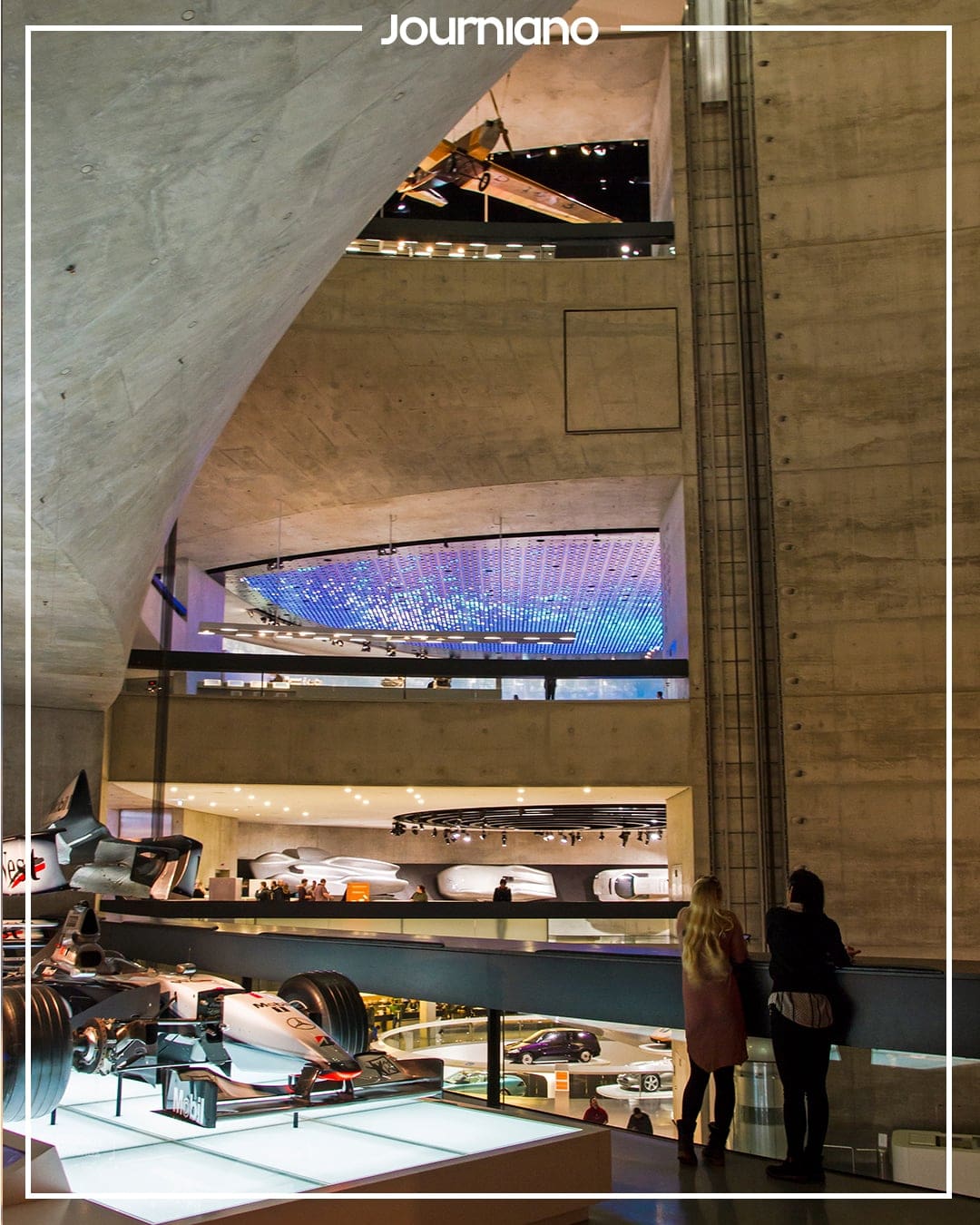 As we came late in the afternoon, the possible visit time was up sooner than I wished. However, it paid off greatly for me. The big amount of over 150 exhibited cars combined with accompanying history generated already huge content. Beyond that, the museum's architecture surprised at the arrival and made me admire it during my visit. Thus, I can recommend the Mercedes-Benz museum to everybody – whether you love cars, automobile technology, big brand's histories or unique architectural concepts. For those who love some anecdotes, I advise you to take, at least, the audio guide.
So, if you are around Stuttgart and the weather is bad, the museum is one of the most authentic alternatives at every time of the year.
Opening hours
Tuesdays to Sundays 9 a.m. to 6 p.m.
Box office closing time: 5.00 pm

Closed on Mondays.

Please note the opening hours during the holidays.
How to get there
For more visitor and ticket informations, please visit this site.