Cascata da Portela do Homem is a cascade that you wouldn't localize in Portugal, either in your dreams. Dive in deeper and explore the marvellous emerald oasis in the Portuguese National Park of Gerês.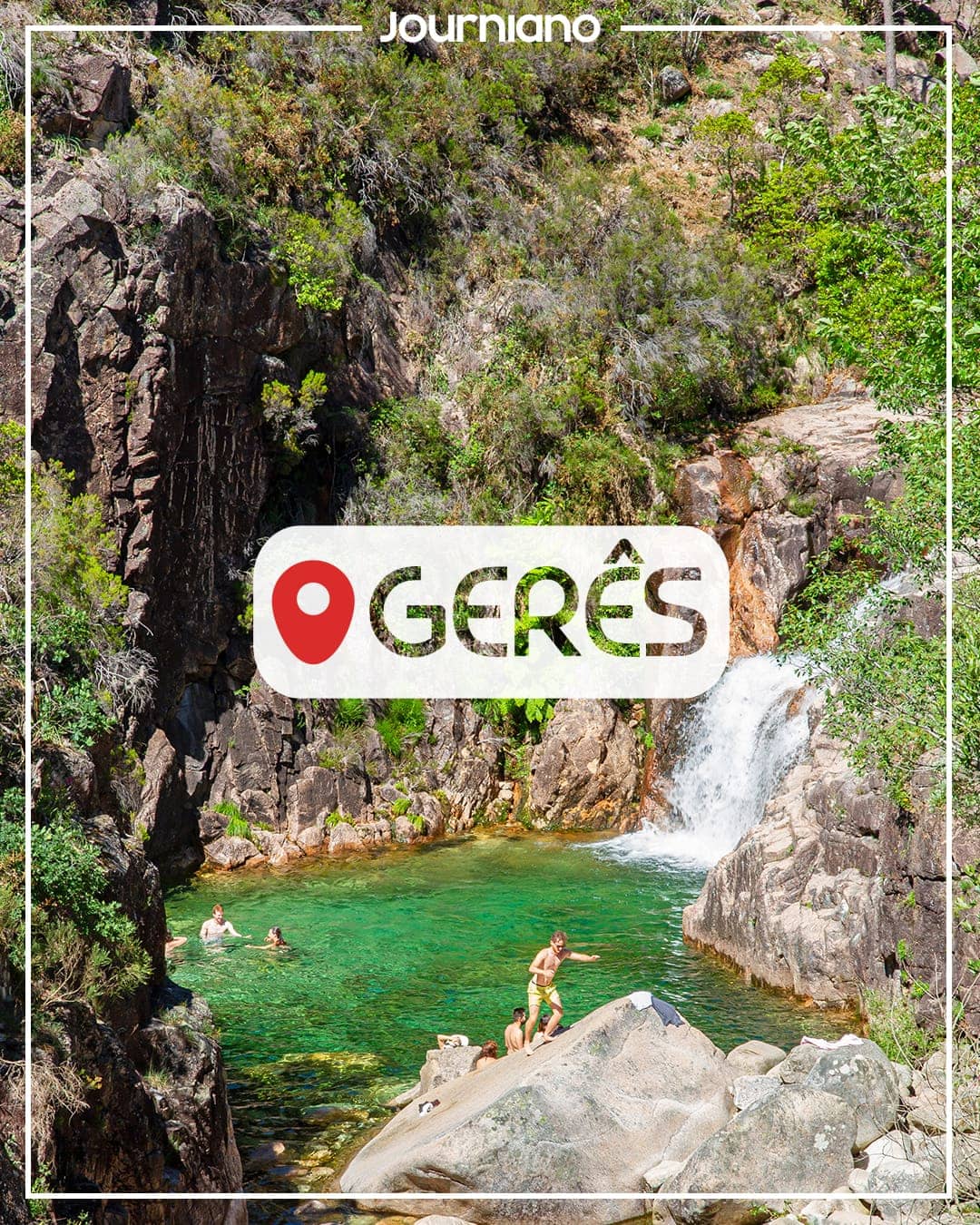 What to expect
1. About Portela do Homem in Gerês
Situated in the country's north, Portugal's only National Park "Peneda-Gerês", mostly called solely Gerês, is heaven on earth for every lover of nature. From heavy mountainous sceneries to watercourses, there's a wide range of natural sights. Especially the watercourses stand out a lot there.
You must know that Gerês is home to a variety of cascades. Thus, it seeks a bunch of people who love to hike to these treasures. One of these waterfalls can be found right at the border to Spain's region Galicia – at Portela do Homem.
Fun fact: the only parking area is situated right at the border. So, if you want to touch Spanish ground for a moment, you can easily.
Nevertheless, the cascade of Portela do Homem is situated in-between a mountain pass (the Portuguese meaning of Portela). So, expect breathtaking sceneries.
2. Cascata da Portela do Homem – The lovely rocky Cascade
By approaching this marvellous place on earth, you already get teased. To park your vehicle, you cross the waters via a bridge. From this bridge, you get a stupendous view of Cascata da Portela do Homem and its scenery.
2.1 Looking down to the clear Waters
Do you remember where you look first when standing on a bridge's balustrade? For me, it's the way down. Particularly when looking into rivers, I always search for fishes. Fishes aside, what you see here at Portela do Homem, is amazingly clear water floating along beautifully formed rocks in a wild manner. Only when raising your head, the protagonist gets full attention.
2.2. The breathtaking Cascata da Portela do Homem and its Surrounding Scenery
And there it is, the star of the journey. Surrounded by the breathtaking scenery, the cascade looks tiny in comparison. Furthermore, you see a glimpse of an emerald-looking lagoon, framed by rocks, cliffs and vegetation.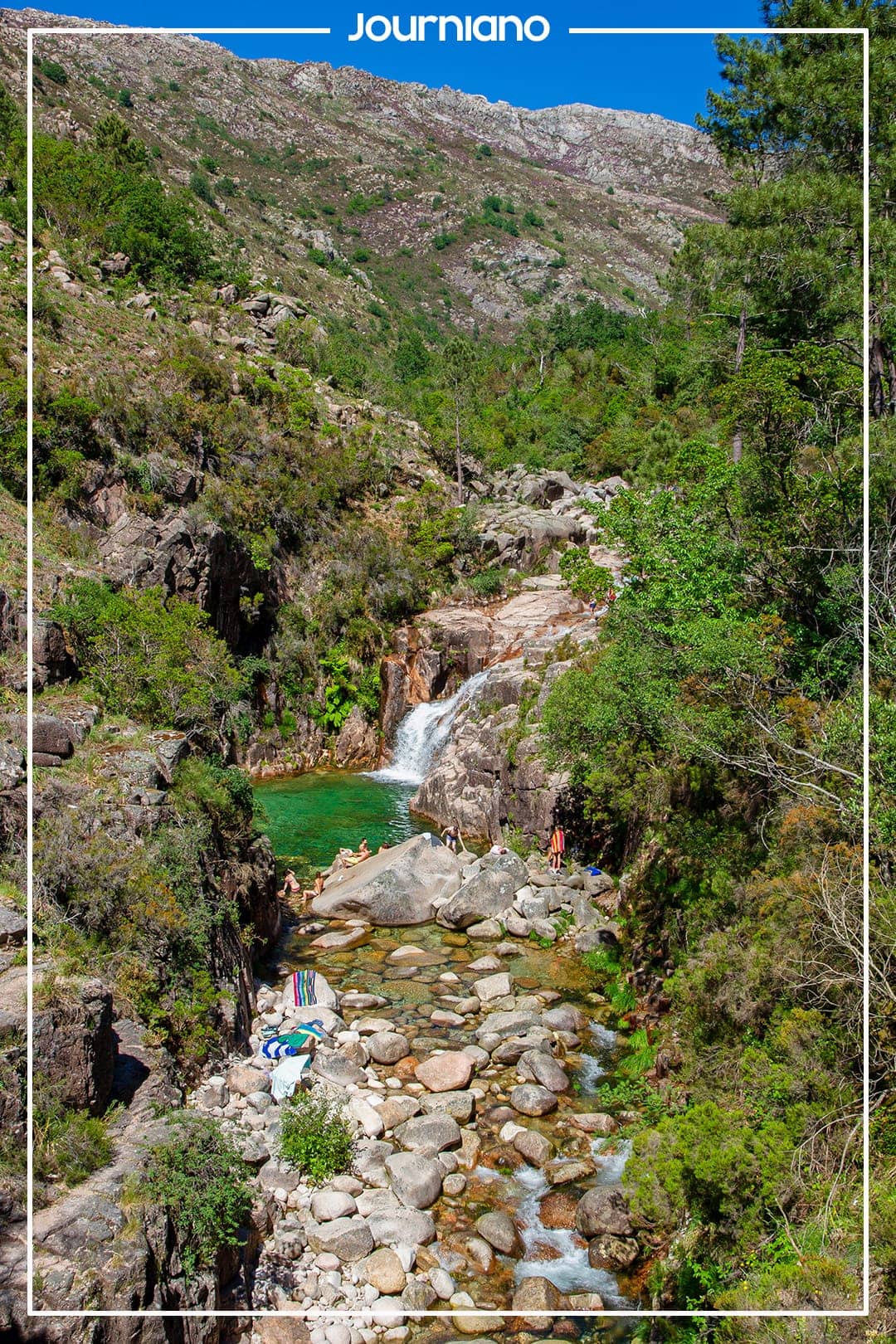 2.3 The first Emerald Lagoon at Cascata da Portela do Homem
Besides cascades, Gerês is also rich in emerald lagoons. Some of them are a few metres deep. Thus, you can dive or jump from the cliffs and have fun. Nonetheless, the lagoon filled by the waters of Cascata da Portela do Homem looks simply magical. Depending on the sun's location, the water's intensity of its emerald appearance changes pretty amazingly.
3. Hiking along River Rio Homem
Did I say that the cascade is the star of the journey? Well, yeah and you know why? Because it officially kicks off from there. Admiring the first emerald lagoon is easily accessible. However, to proceed you must be prepared for a little hiking adventure along the eponym of this area – river Rio Homem.
3.1 Wild Landscapes like in Canada
To let yourself go into that adventure, you have to leave the official path. Plus, you need good gripping shoes or you go barefoot. Hence, descending the official path down to the river is as adventurous as playing Uncharted games on your PlayStation. Here, the only difference is that it's real. I'm kidding, it's doable.
Once arrived at Rio Homem, you should simply seek all impressions possible. If those landscapes don't remind you of Canada, they will be saved as Gerês-like from then on.
3.2 Massive mountainous Surrounding
Moreover, the surrounding mountains are just overwhelming. Astonishingly they make you feel small like an ant. From this point, you realise that there is only nature around. By the way, did I mention that wolves live in this National Park? Pretty amazing, right?
3.3 Wild Natural Action
Every now and then, the water flow of Rio Homem can become wild and massive. This fact contributes to the overall vibe of this journey. Especially, when the journey becomes a sort of Jump and Run game à la Crash Bandicoot because you need to jump from one rock to the other. Due to my gusto, I'd call it a neat challenge.
Above all, every successful challenge needs to be rewarded, right?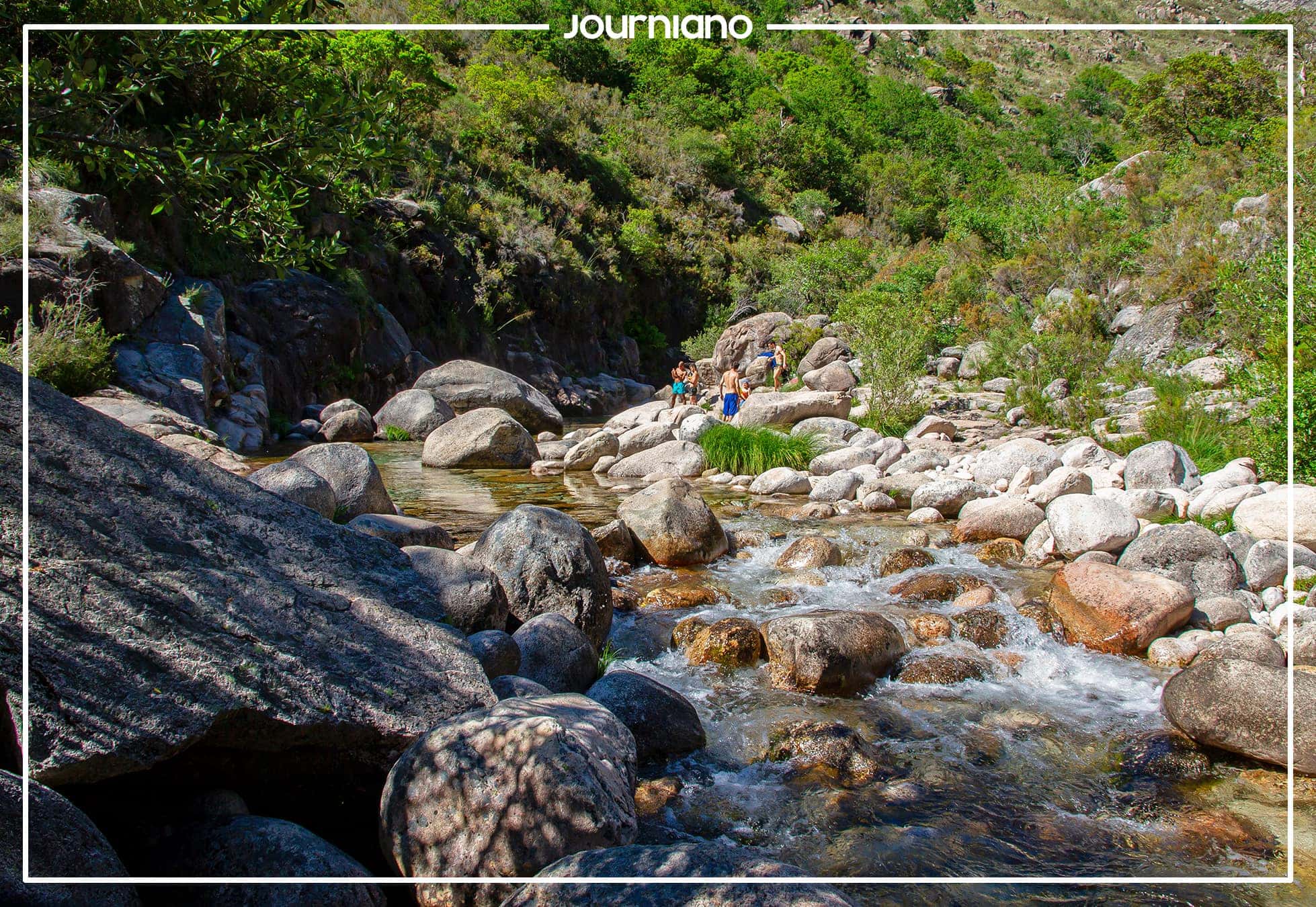 4. The Emerald Oasis
After the adventure, reward yourself at the second emerald lagoon of Portela do Homem. Although the water is cold as ice, you'll feel like being in heaven. This emerald oasis got it all. Various cliffs to jump into the metres-deep lagoon are just a few possible activities for those who still need adventurous adrenaline. Most importantly, just enjoy every second to the fullest at his breathtaking place in Gerês, Portugal.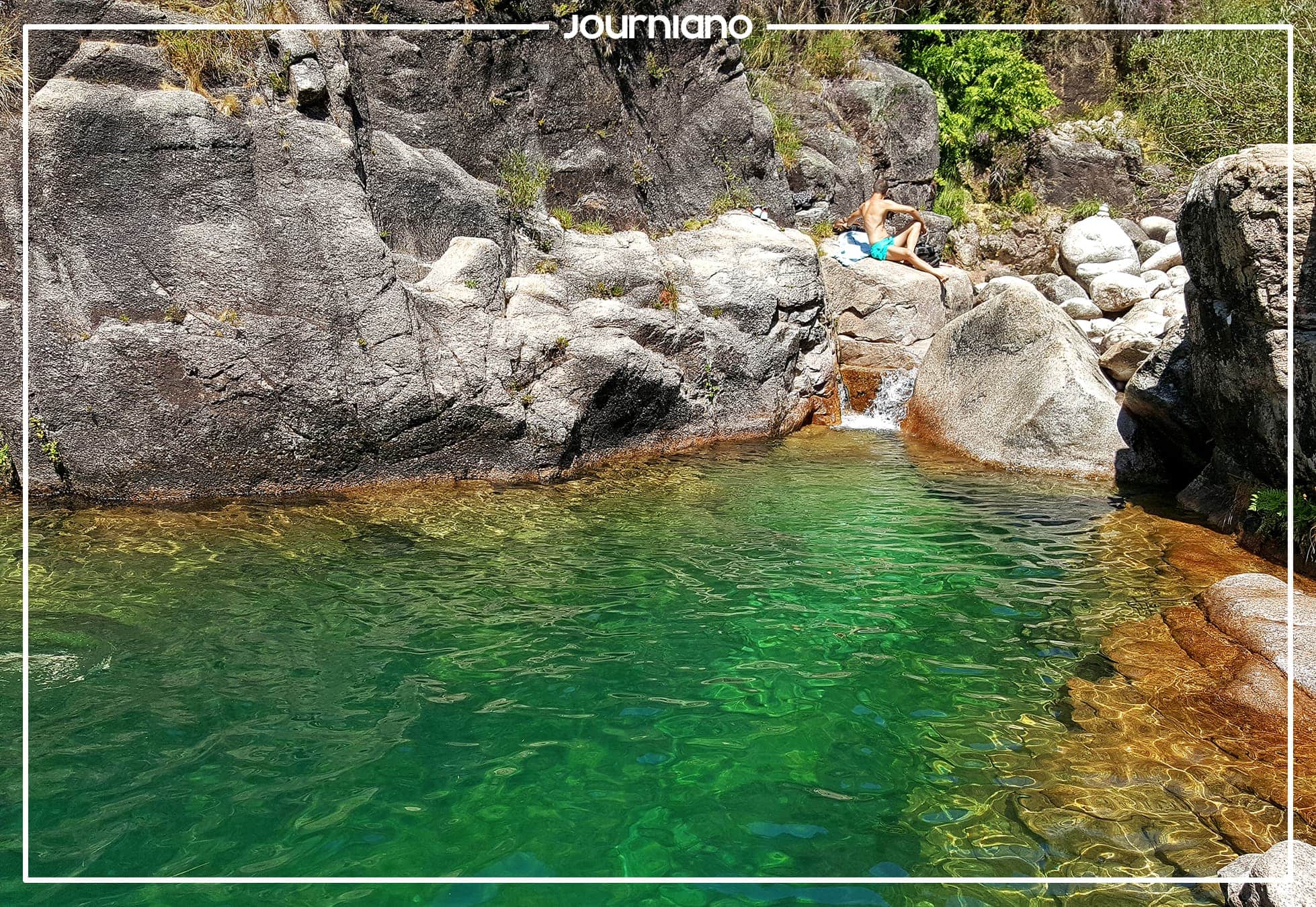 5. When to visit Cascata da Portela do Homem
Cascata da Portela do Homem and its surrounding scenery are the most spectacular and accessible from Spring until October. Although nothing speaks against visiting it in the winter months, the National Park might be closed due to floodwater. Should you be lucky during winter, you may see massive water flows kicking through the mountain pass.
For everyone who would like to take a bath in the amazing emerald lagoons, try to get there in the following months:
I highly advise you to not visit it throughout August. Due to the countrywide holidays and many existing tourists, this place is packed with people. To let you know, I visited this place both in June and August. In June, it was much less busy.
Bear in mind that the waters are cold as ice. Once you overcome it, you will enjoy it though.
Just as a reminder, the National Park might close if too many people visit this place during summer as well.
6. How to get there
To reach Portela do Homem, you need a vehicle to get there. Luckily, there's a parking area in close proximity. As this place is in the middle of nowhere, don't hesitate to navigate the best route possible through the map embedded below.
7. Conclusion
Cascata da Portela do Homem is literally one of the greatest places to make your journey unique in Portugal. Thanks to the great variety of natural sceneries in the Gerês National Park, an amazing journey is guaranteed. From an adventurous hike to swimming or jumping into the amazing emerald lagoons along River Rio Homem, there are so many amazing activities possible. Thus, don't miss out on this emerald oasis, when in Portugal – especially in the North.