Japanischer Garten in Düsseldorf is a gorgeous place to escape everyday life. Especially during spring, this Japanese Oasis takes you on a journey to the Far East. Dive in deeper and get to know what else is in store for this beautiful garden at the city's Nordpark.
What to expect
1. About Japanischer Garten in Düsseldorf
Situated in the city's gorgeous Nordpark, the Japanischer Garten in Düsseldorf brings joy to its visitors since the 70s. Designed by Japanese landscape architects Iwakii and Shojiro Ishiguro, the Japanese oasis surprises with a lot of variation within the 5000 square metres. Although it attracts many Otakus, this garden is a gem for everyone with a passion for aesthetics in Little Tokyo.
2. Approaching the Japanese Oasis and its Pine-Tree Skyline
Depending on your way of approach, the Japanischer Garten could blow you away within seconds. Besides the overall beauty of Nordpark, the Japanese Oasis takes you straight towards Nippon. Due to its immense contrast, the Far Eastern botanical garden feels like being in a different world.
What stands out from the beginning are the gorgeous pine trees. While their number is high, their density makes it look like a unique and natural skyline. Furthermore, their shape is so unrivalled that they look like futuristic cities built in the air.
3. A lovely Pond crowned by Pines, Flowers and Kois
Moreover, these pine trees also surround the garden's lovely pond. Depending on the sun's location, its water surface becomes a majestic mirror. So, this might be the reason for the place's nickname, "Garden of Reflections".
Nonetheless, pines are not the only ones crowning this Japanese lagoon. During the month of May, amazing azalea flowers create a pink collar around the water. As if this wasn't enough, a bunch of Koi beautifully add colour to the pond's cosmos.
4. Walking up to the Garden's Waterfall
Again, the Japanischer Garten wants to top itself once more. Thanks to a secret path in the garden's backside, you get to a point which many visitors overlook completely. Precisely, this rat run leads you on a small hill where a small but lovely waterfall springs up.
4.1 The Waterfall's overlooked Source
Although this waterfall is tiny in the first place, the discovery of its source makes it a big find at the same time. To get to the point, you get an almost exclusive perspective. Its surrounding vegetation makes it a very shadowy spot. Still, a small frame of light enables a view of the part of the waterfall which anyone sees. Luckily, you're reading this paragraph. Thus, you're getting the bonus content.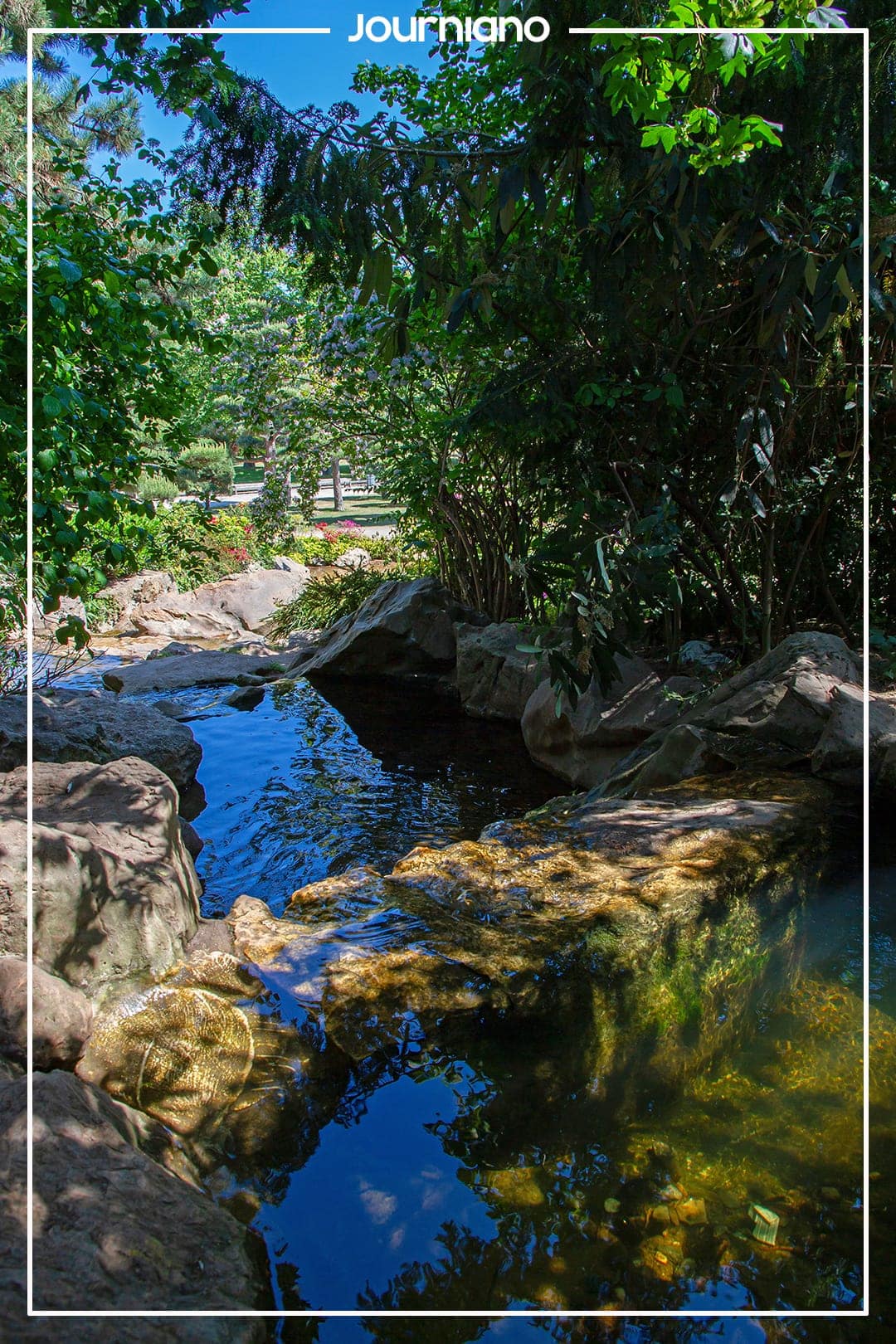 4.2 A blooming Perspective
Who climbs up a hill, needs to get down again, right? This is surely the case here as well. By walking down along the cascade, you get an amazing perspective of the Japanischer Garten. Thankfully, azaleas aren't the only flowers to be present here. Hence, you get a wonderfully blooming framing of the scenery.
4.3 At the Watertfall's Bottom
After the nicely hidden excursion, you get to experience the waterfall like everyone else. Without undermining this view, as it is for sure lovely as well.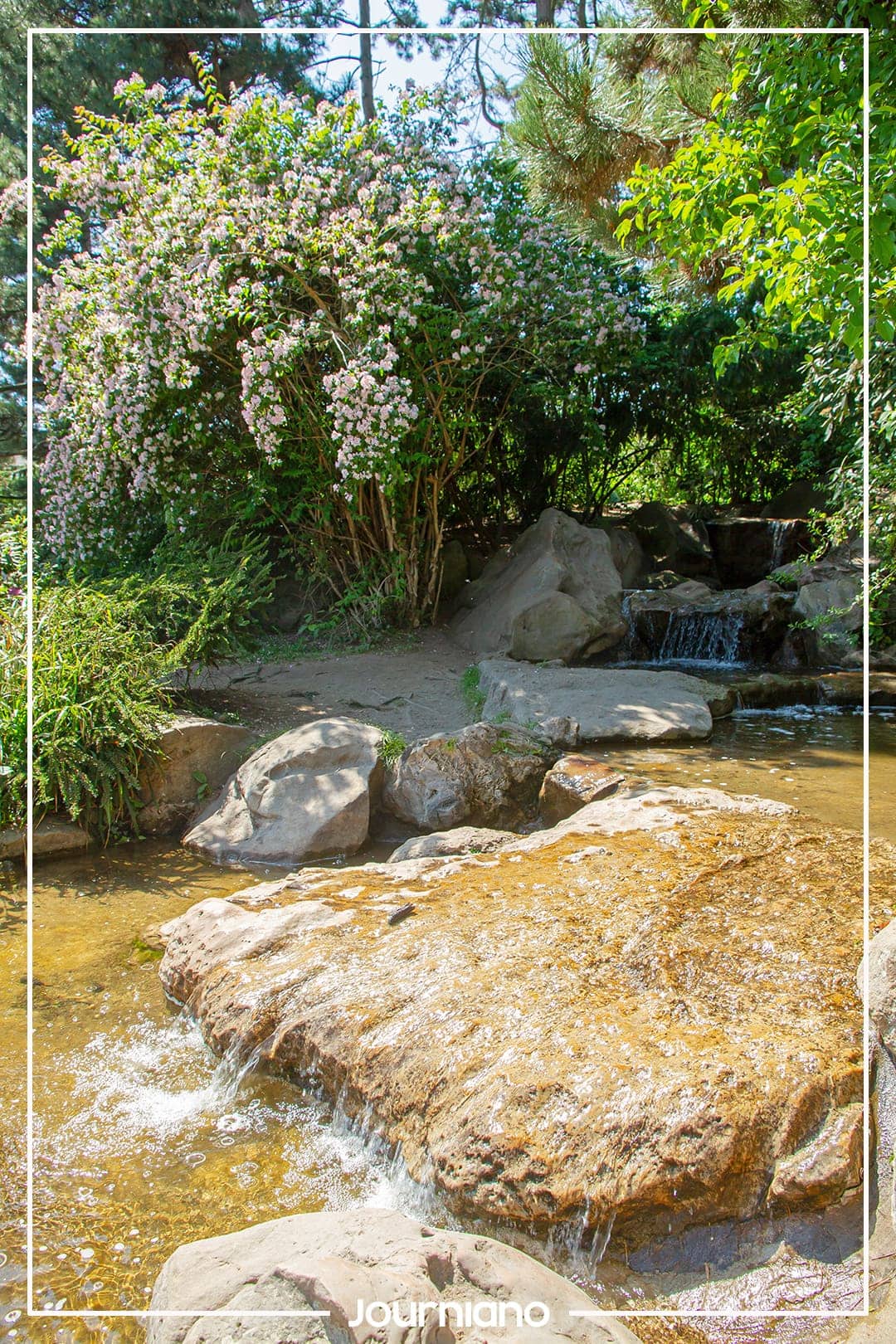 5. Further Overviews of the gorgeous Japanese Garden Design
To round up the experience, there's another nice detail to be emphasised. Created in Japan, traditional stone sculptures decorate the Japanischer Garten in Düsseldorf as well. Called Stone-carving, this technique is being pursued since the Nara age in the 8th century, when Buddhism started to be a thing in Japan.
Last but not least, the garden's northside offers some great lawns to chill or for having a picnic next to the waterfall.
6. When to visit Japanischer Garten in Düsseldorf
The Japanischer Garten in Düsseldorf is overall a nice place to visit year-round. However, its full potential begins slowly in April when Sakura trees start blooming nearby. Nonetheless, the garden's peak can be experienced during May, when azalea, rhododendron and other flowers start blooming.
For 2021, expect the following period for the colourful spectacle as seen in my pictures from 2020.
7. How to get there
Located in Stockum between the exhibition area and the Aquazoo, the Japanese garden can be accessed from many points. Thankfully, the dedicated Nordpark tram station is being served up to every 5 minutes from Düsseldorf's main station. Thus, taking public transport is a comfortable alternative. Moreover, there is, of course, also a parking area for cars.
As many people arrive by foot or bike, please don't hesitate to use the embedded map below.
8. Conclusion
All in all, the Japanischer Garten in Düsseldorf takes you on a journey towards the magical Far Eastern places. Its beautiful and blooming variety makes it undeniably a must-visit during spring. Moreover, if you want to feel like in one of Ghibli's wonderful settings like in "My Friend Totoro", you need to visit it this year. Spring aside, this Japanese oasis is a cosy place to relax throughout the year.
As a last note, don't forget that it is situated in the great Nordpark. Expand your journey with further gardening and colourful highlights.