Zietenstraße in Düsseldorf is the place to go when searching for the ultimate cherry blossom spot in North-Rhine Westphalia's capital city. Find out what makes this boulevard in the Golzheim ward so special.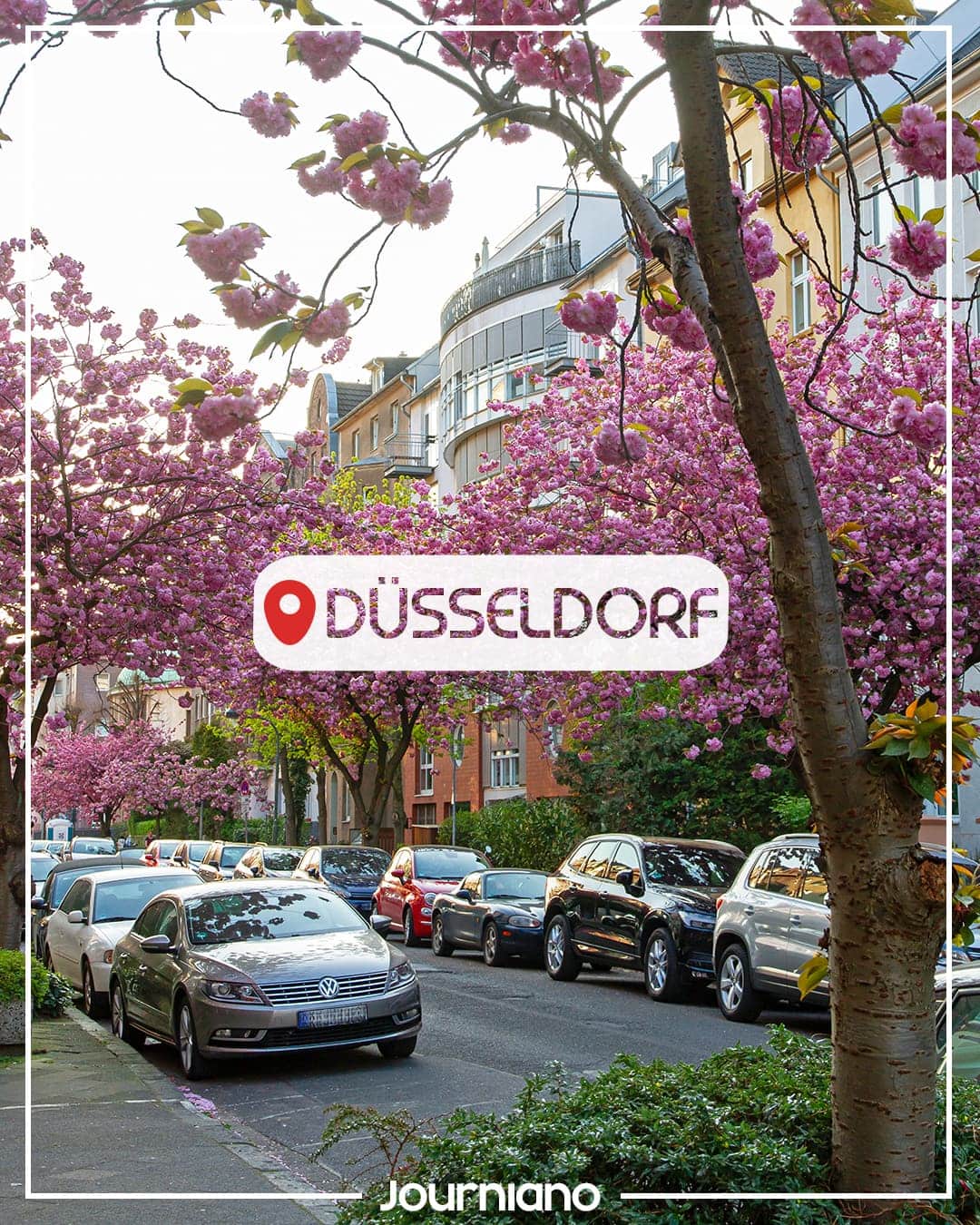 What to expect
1. About Zietenstraße in Düsseldorf
During the expansion of residential areas at the beginning of the 20th century, the city of Düsseldorf created Zietenstraße. Situated at the eastern edge of the ward Golzheim, bordering at the Derendorf ward, the street comprises a length of about 500 metres. Until today, many buildings from that era, mainly from the imperial period (Kaiserzeit) are still existing there. Although they contribute a lot to the charm of Zietenstraße, a natural phenomenon steals the show around April.
2. Entering the Cherry Blossom Boulevard from Kaiserswerther Straße
There are two possibilities to start the blooming journey at Zietenstraße. Either you start from the east at Rossstraße or the west at Kaiserswerther Straße, nearby the Rheinpark. In this article, I start from the western entrance.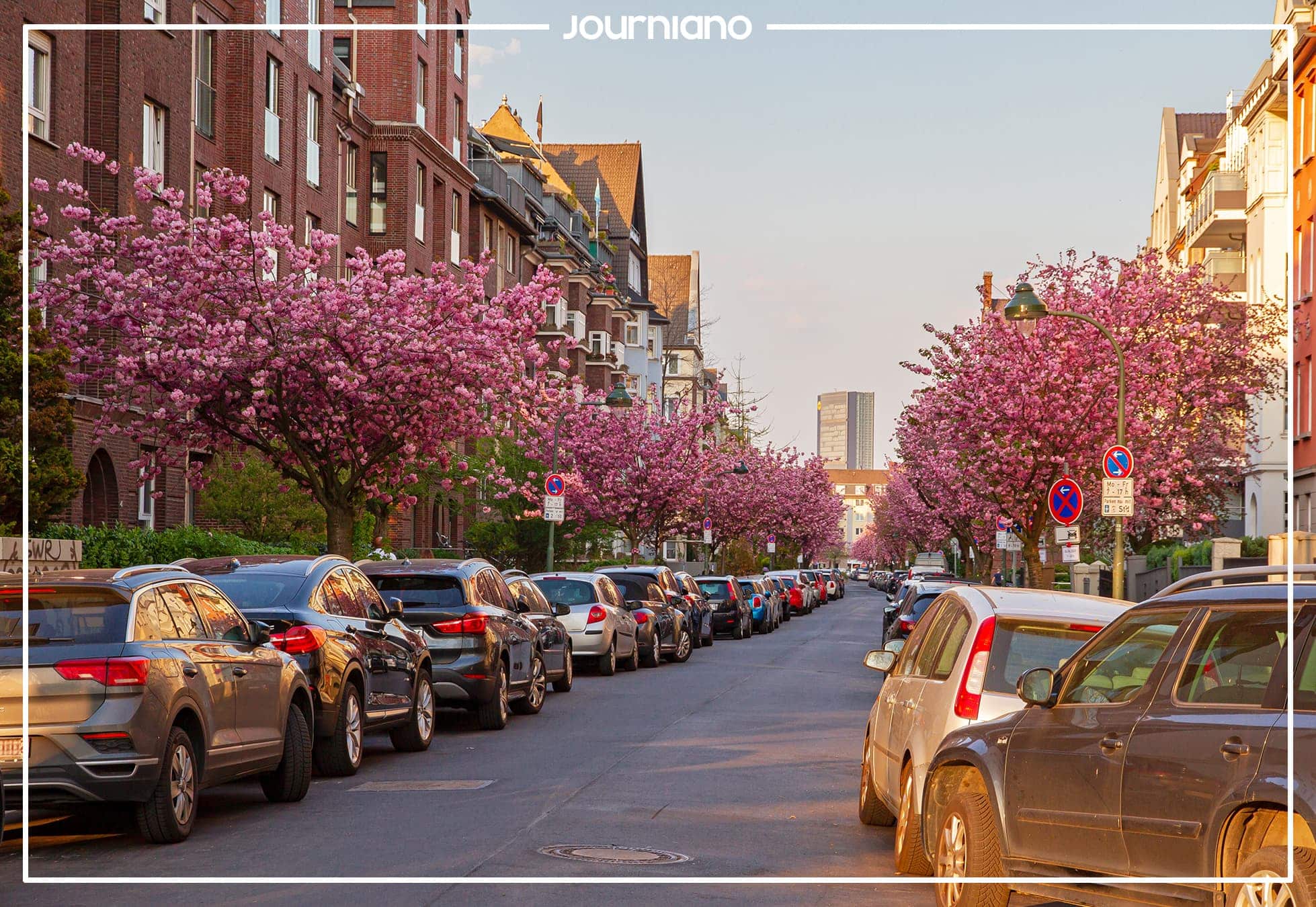 2.1 Getting flashed by the Pink Boulevard
Once you approach Zietenstraße, you get flashed by the amount of pink blooming trees. Its beautiful radiance combined with the street's sheer size makes you stand still first. Welcome to Düsseldorf's longest and charming cherry blossom boulevard.
3. 500 Metres packed with Cherry Trees
When a street offers 500 metres of Sakura, you better embrace it to the fullest. As this is the case at Zietenstraße, pay attention to every tree. From young to older ones as well as from small to bigger ones; every tree offers various photo motifs and perspectives. Especially small surprises like nesting boxes sweeten the spotting session.
Moreover, by doing this, you observe the environment at a much higher level.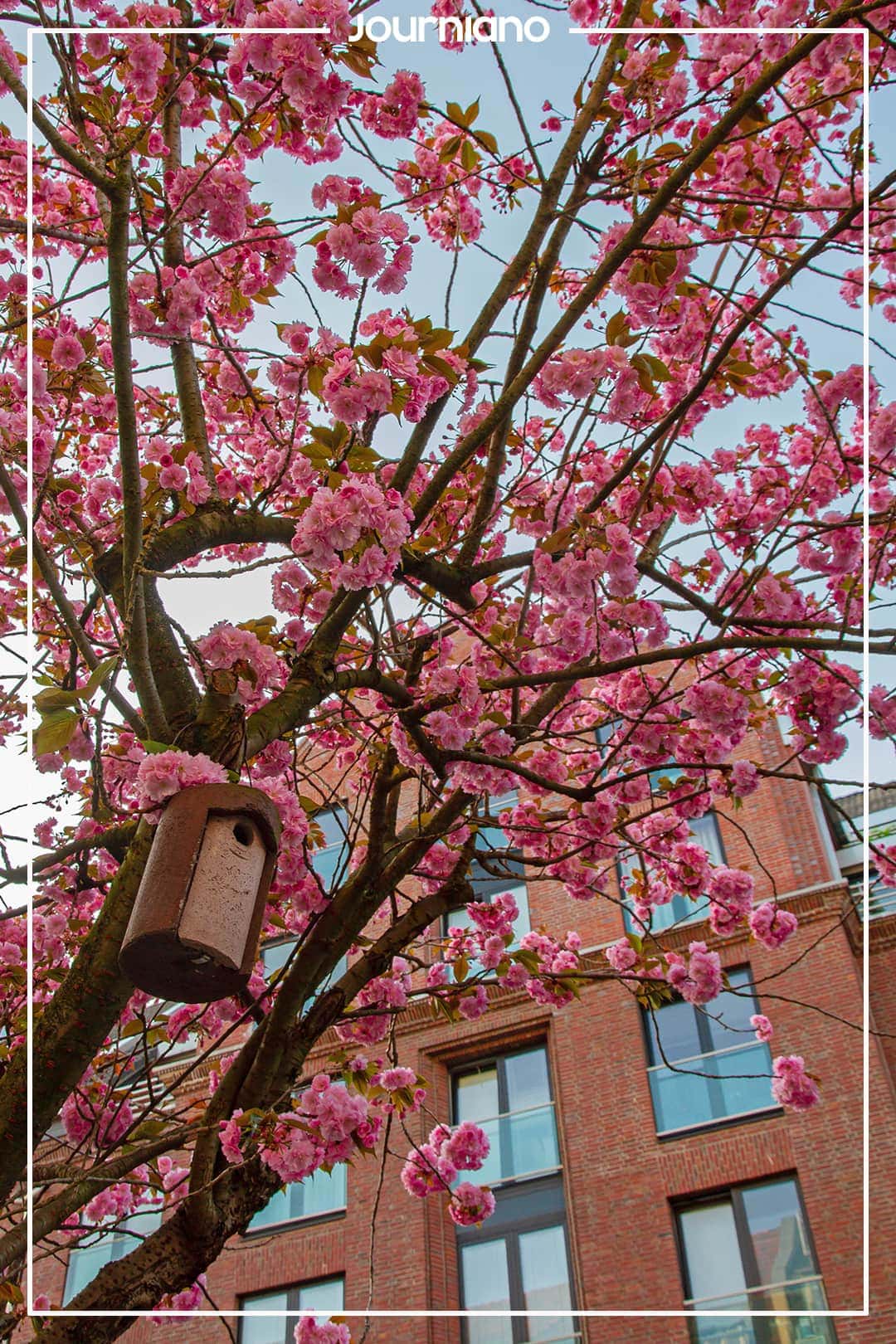 4. Beautiful House Facades round up the Journey
Zietenstraße is blessed with a great variety of facade designs. Thus, it's mandatory to observe the environment closely. While some are gorgeous on their own, they get more picturesque with those pink blossoms.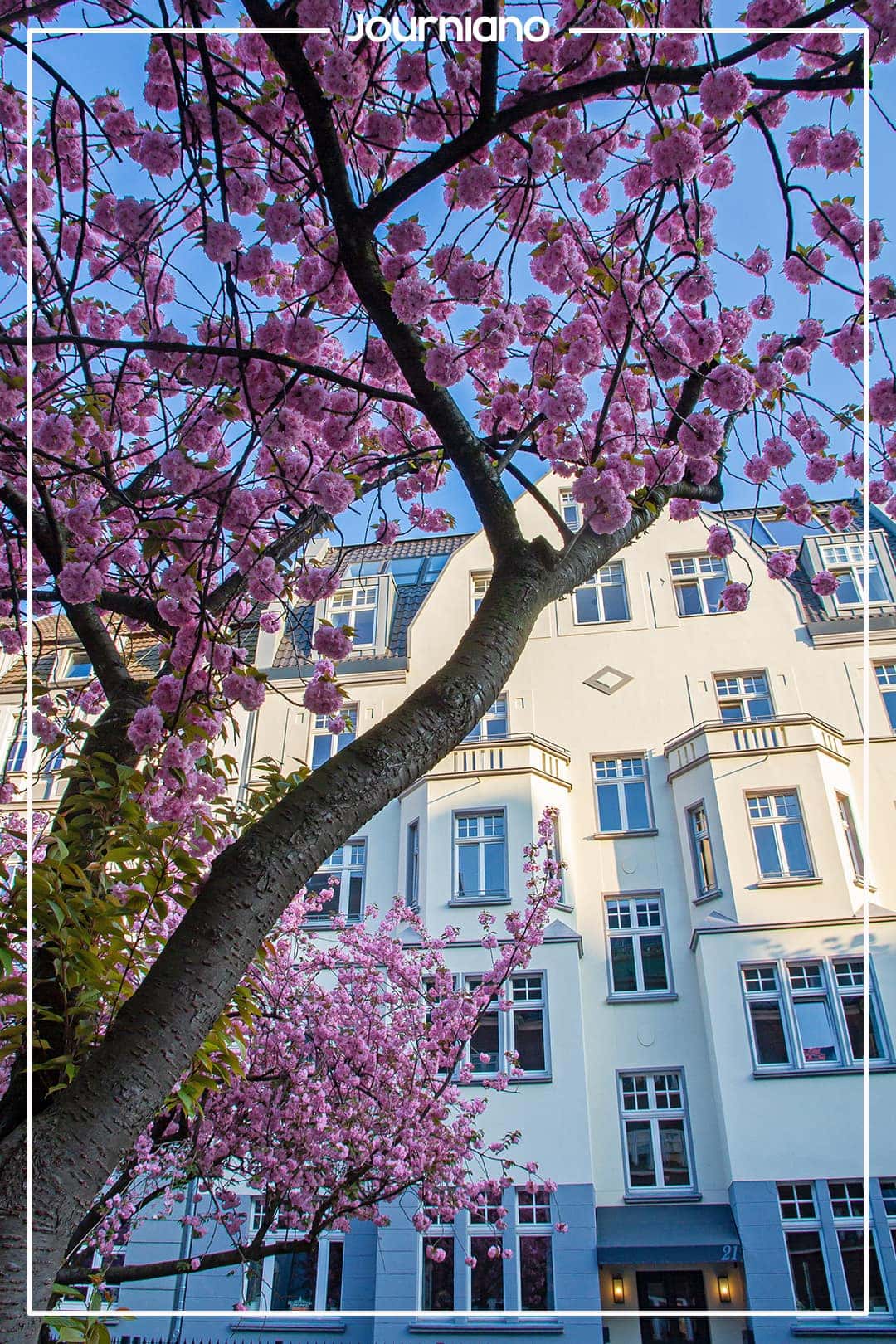 4.1 Combining the Sakura with Architecture
Featuring the surrounding urbanity with the Sakura rounds up the journey. Even if you live in Düsseldorf, you might feel like being on a city trip. You explore your city in a completely different way. So, for people from outside, this is exactly what they also should think. Being on a journey.
Düsseldorf is known for its amazing architecture from almost every century possible. Here, you get a great mixture of the early 20th's. Combined with the marvellous cherry blossoms, the resulting contrast is amazing. Particularly with bricky facades, the flowers stand out even more.
4.2 Framing particular Facades with a natural Decor
However, at some points, it's even possible to frame those buildings beautifully. Plus, if you catch those with a natural decoration as well, you're playing in the Champions League. Yes, I'm talking about the classic one – ivy. Its presence brings in a little bit of welcomed natural deviation.
5. The New Synagogue at Zietenstraße in Düsseldorf
Halfway through your journey, Zietenstraße gets a bit wider. This is thanks to the New Synagogue, which is being surrounded by a small square. Here, the facade dominating environment gets a major break. Due to the synagogue's architecture and colour palette, there's a nice shift of focus taking place.
As a sidenote, a devastating arson attack took place on the synagogue in 2000, unfortunately.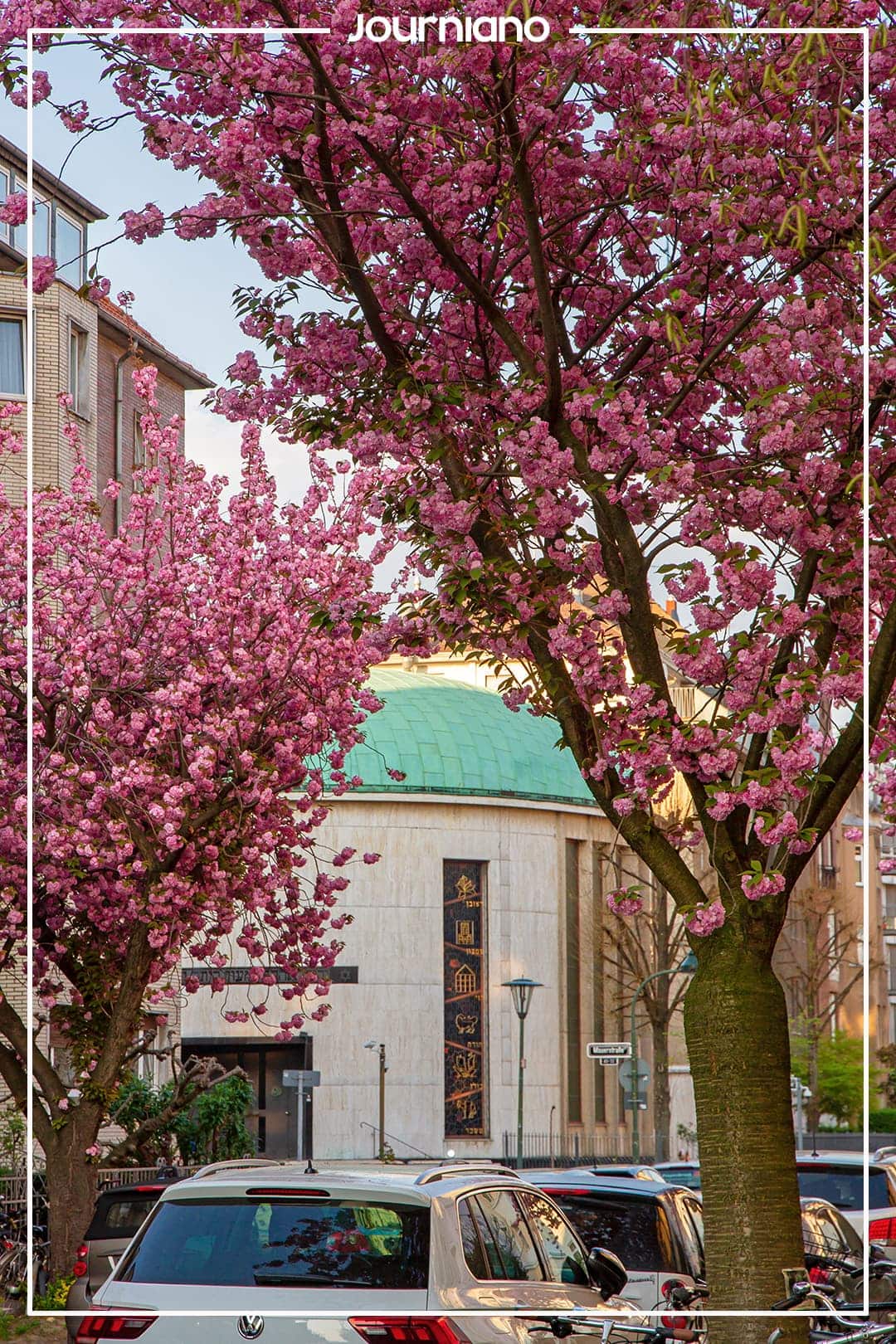 6. Gorgeous Street Scenes
For some people, densely packed streets might be less attractive because of their number of obstacles. Whereas others see this as a chance for great possibilities. By changing the perspective, you might find a bunch of additional photo motifs. Besides all the cars parking along with the gorgeous cherry trees, there are also colourful bikes or motorcycles parked on the roadside.
If you're lucky, some of them enable great street motifs. Luckily, there were some classic Vespas parked, waiting to be staged with that amazing pink scenery, during my visit.
7. Admiring the amazing Cherry Blossom Boulevard from Rossstraße
So, what else does this marvellous boulevard has on offer? Well, definitely an amazing conclusion as soon as you come close to its end at Rossstraße. From there the view of the cherry blossom avenue is impeccable. In case your journey takes place at twilight, you get similar light conditions as in the picture below.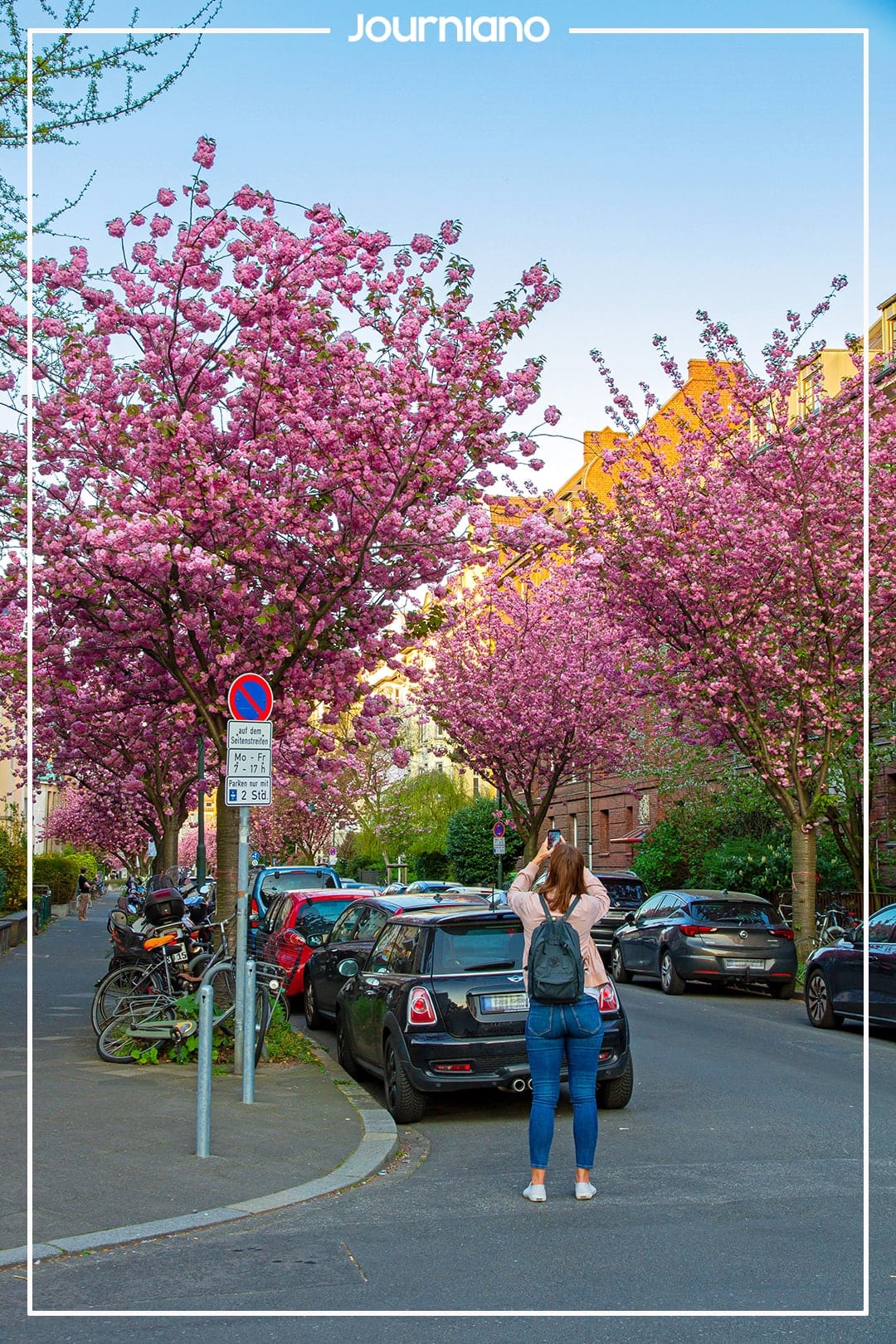 8. When to visit Zietenstraße in Düsseldorf during Cherry Blossom Season
Although some blossoms already popped up, the Cherry Blossom Season is yet to start at Zietenstraße in 2022. You can experience the blooming phenomenon roundabout in this time frame:
9. How to reach
Zietenstraße in Düsseldorf Golzheim can be reached easily. In case you come by public transports, the closest underground station is Kleve Straße/Victoriaplatz. If you prefer approaching by car, I recommend parking along the Rheinpark at Cecilienallee.
Either way, please don't hesitate to navigate the best way possible with the embedded map below.
10. Conclusion
Düsseldorf's longest cherry blossom boulevard in Golzheim should be visited if you're seeking grandiose spring vibes. Its amazing features, especially, the urban environment makes Zietenstraße feel like being on a city trip – even for locals. Last but not least, it's also a neat alternative to Bonn's busy majestic Sakura avenues.