Two Cherry Blossom Avenues in Krefeld can fulfil your dream of walking below a pink flower's sky. Dive in deeper and get to know how gorgeously Krefeld's super Sakura hotspot lets you forget your everyday life.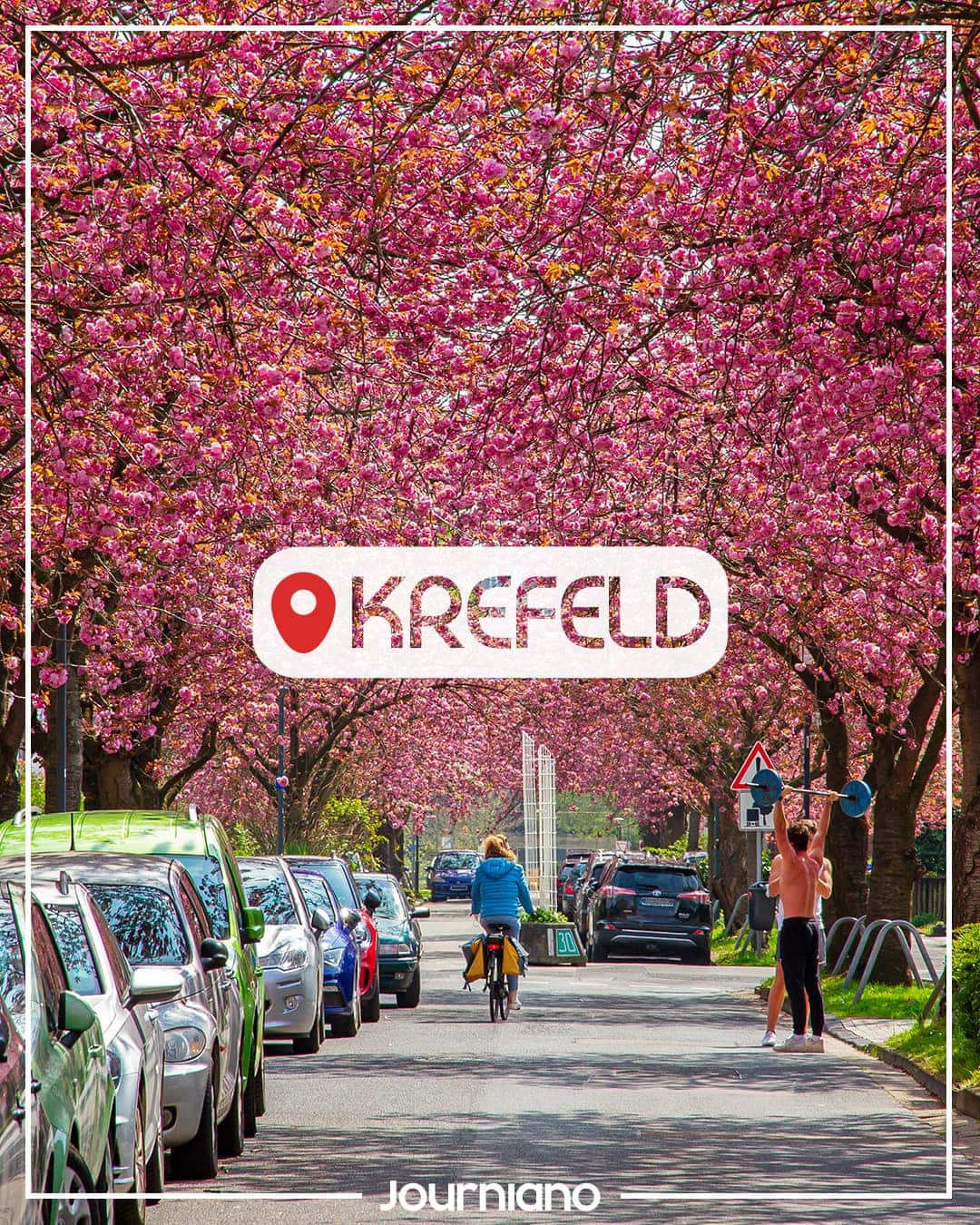 What to expect
1. About Cherry Blossom Avenues in Krefeld
The city of Krefeld, located in North-Rhine Westphalia, amazes with its Cherry Blossom hotspots. Fortunately, two particular ones can be found side by side in the Bockum-ward. Situated in a calmer residential area, the Sakura is as expressive as it gets though. Thus, two amazing pink avenues create cherry blossom skies and tunnels – Gneisenaustraße and Waldhofstraße.
2. Gneisenaustraße – The first Pink Avenue in Krefeld
So, the first avenue, which I present to you is Gneisenaustraße. With about 150 metres in length, it is the smaller of the two. However, due to its density of cherry trees, it doesn't have to hide from its bigger neighbour.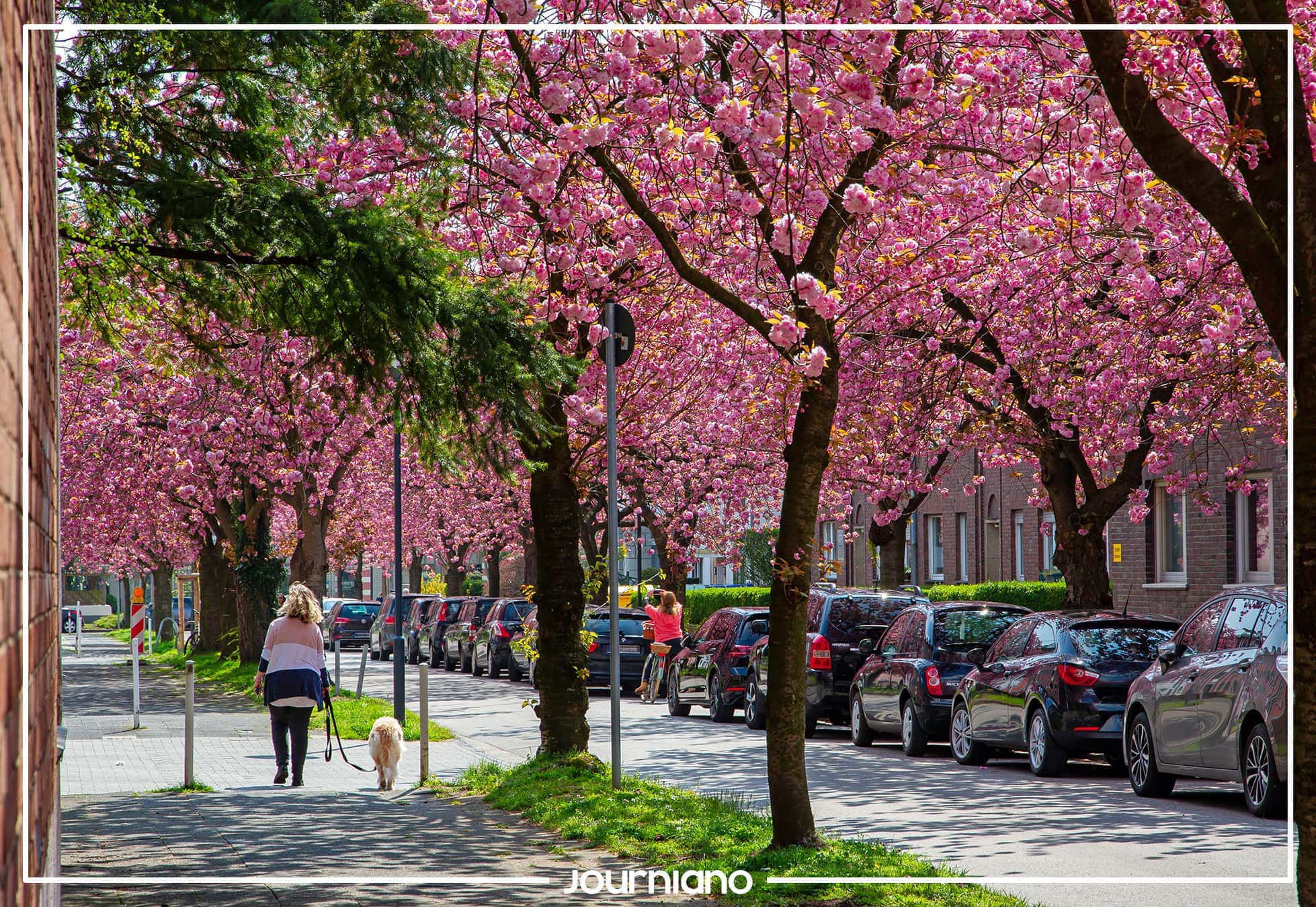 2.1 Looking southwards into the Sakura Tunnel
Luckily, Gneisenaustraße offers various perspectives on its cherry blossom spectacle. Looking southwards into the Sakura tunnel is definitely gorgeous. Please bear in mind that you mostly face backlight from this angle throughout the day.
2.2 Looking the other way around
Walking along with these marvellous cherry trees at Gneisenaustraße is a blast. In addition to that, the view from the street's southern entrance is as lovely as the northern one. Still, the tunnel might appear longer from this perspective. This is due to the additional cherry trees behind the actual avenue, which gets divided by Germaniastraße.
2.3 The northern Part of Gneisenaustraße
After surpassing the crossroads with Germaniastraße, the cherry theme continues with a few trees. That being said, it's definitely worth looking back to the avenue and admire it from a further distance. So, should you take pictures with zoom, you might be lucky to achieve real street scenes with participants like cyclists and such.
3. Waldhofstraße – The second and greatest Sakura Avenue in Krefeld
Surprisingly, the second Sakura avenue is the parallel street to Gneisenaustraße. Counting 260 metres in length, Waldhofstraße offers a longer experience through the pink dream world. Moreover, when starting from the northern entrance, you face probably the greatest angle to the Sakura sky in Krefeld. If I remember correctly, its cherry trees are also the highest in this area. Astonishingly, this is only the first phase for Waldhofstraße. Therefore, its second phase starts after crossing Paul-Schütz-Straße.
3.1 Tropical Vibes featuring Sakura in Krefeld
Amazingly, the second phase of Waldhofstraße kicks off nicely with a natural feature. At the roadside, small tropical plants bring a little bit of variation to the picture. Thus, the contrast between green and pink is a great additional photo motif.
3.2 The Sakura Avenue where Cherry Blossoms are within one's Reach
While the first Sakura phase at Waldhofstraße had rather tall trees, its second one enables anyone to grab the cherry blossoms by their beauty. Blessedly, the trees' arches have a tendency to reach the ground. Nowhere in Krefeld will you walk so close below these blossoms than here.
3.3 The last Look on Waldhofstraße from its southern Entrance
To round up the lovely journey through the Sakura heaven, you definitely have to take look at Walhofstraße's southern avenue from the intersection at Germaniastraße. Here, you get another marvellous perspective of Sakura Mania in Krefeld Bockum.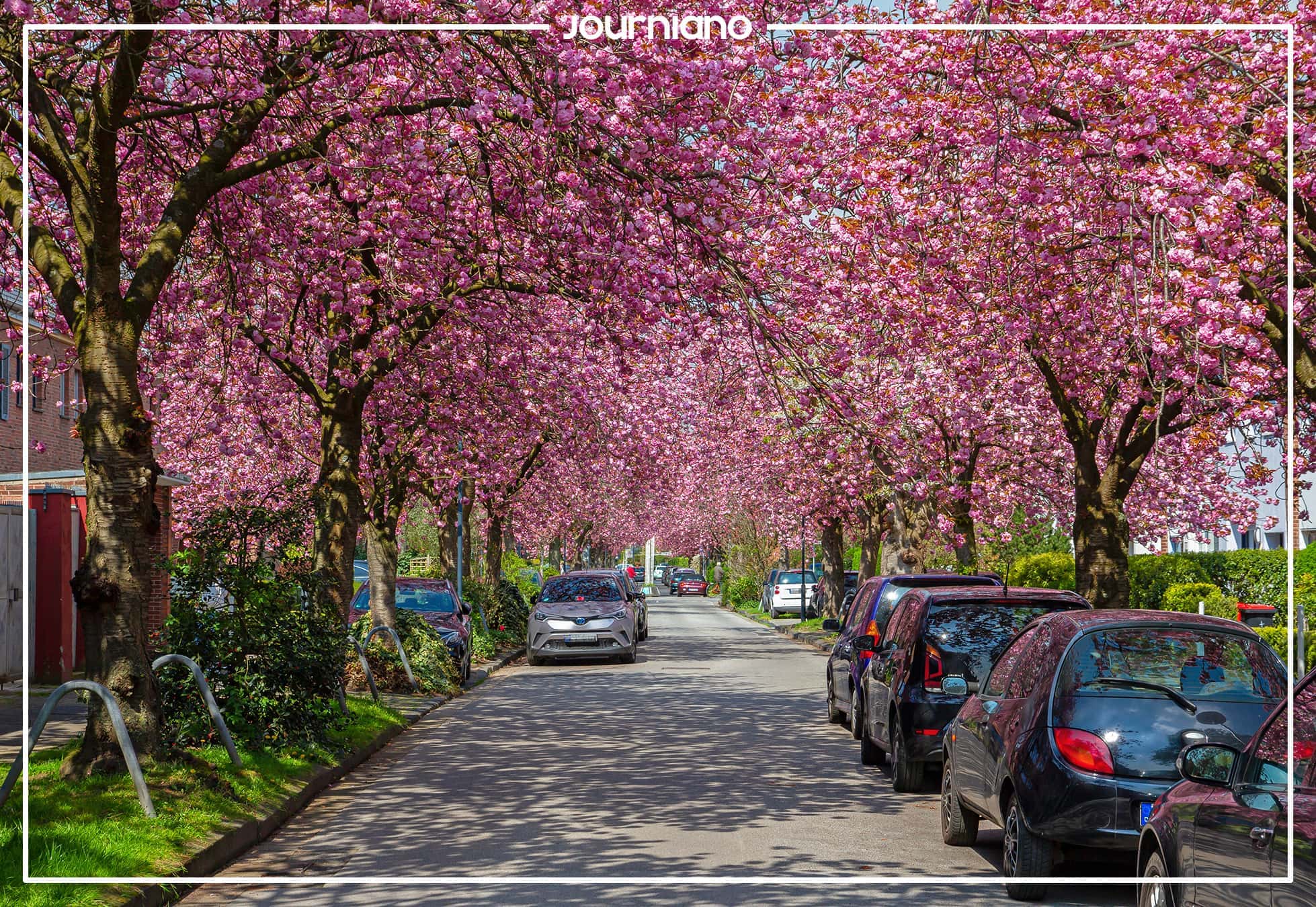 4. When to visit both Cherry Blossom Avenues in Krefeld
Krefeld's two cherry blossom avenues are about to bloom in 2022. Expect to experience that gorgeous natural spectacle during the following period:
10th April – 20th of April 2022
5. How to get there
Both Gneisenaustraße and Waldhofstraße can be reached pretty well by either car and public transport. Normally, there are enough parking lots to be found in the residential area. Furthermore, two tram lines stop nearby at Sprödentalplatz.
6. Conclusion
All in all, experiencing the two cherry blossom avenues in Krefeld Bockum is literally a daydream. Both Gneisenaustraße and Waldhofstraße offer amazing perspectives and let you walk below Sakura skies. Especially for anyone who missed the majestic cherry blossom hotspots in Bonn, Krefeld compensates nicely with these two avenues. Don't miss a unique journey that only takes place approximately two weeks per year. Last but not least, you might add another amazing Sakura hotspot in Krefeld to your list.