Do you consider celebrating the release of cherry blossoms? Two majestic Cherry Blossom Avenues invite you for Hanami – the Japanese outdoor party for blossom viewing in Bonn, Germany.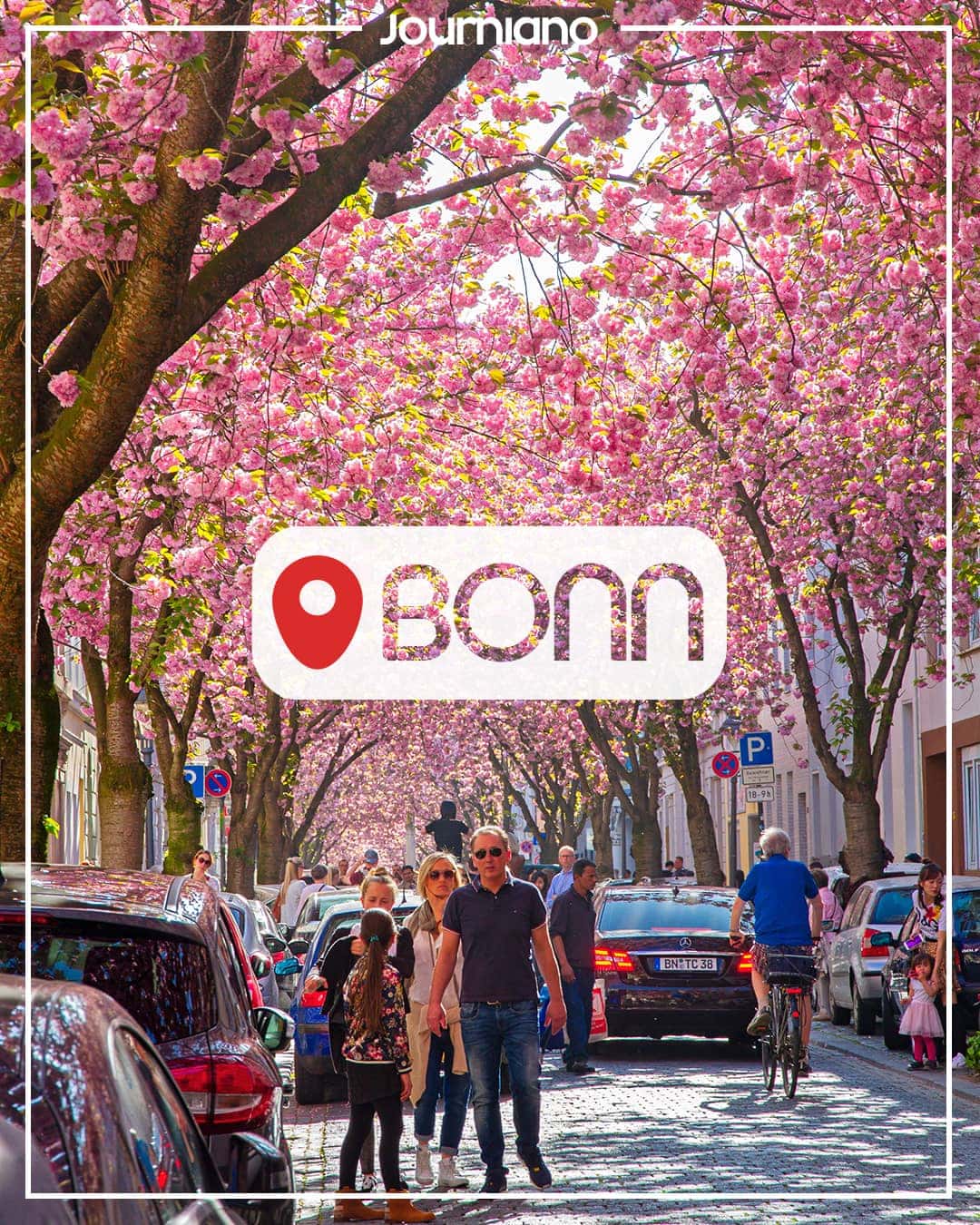 Every year, many people anticipate the depressed looking winter mood to be replaced by the return of green. In between, nature delivers a colourful and gorgeous spectacle. An explosion of love and life – the bloom of spring.
In the German city Bonn, this natural event can be viewed in a majestic way.
Quick links
About Bonn
The former German capital city Bonn is located in the western part of the country. Besides being blessed with a lot of green areas and having the river Rhine passing through the city, Bonn is also the place of birth of Beethoven and university town.
Thus, all these factors make Bonn liveable and a city of culture. However, especially one neighbourhood stands out with its old town charm, range of alternative bars and restaurants as well as a natural spectacle.
A spectacle, which in fact lasts only for at least two weeks – two majestic Cherry Blossom Avenues.
Nordstadt – The entrance to Bonn's Cherry Blossom Avenues
Bonn's Nordstadt is an interesting neighbourhood. While it's home for many alternative and authentic bars and restaurants, it gets also called Altstadt – Bonn's old town.
Most of that Altstadt area has been built in the 19th century. Thus, it's not that old compared to classic old towns like Dusseldorf's for instance. However, the real old town was hit severely during WW2, what resulted into the demolition of the remaining houses.
Nevertheless, the new Altstadt has its charm – especially during sunny spring days when two of Nordstadt's streets become one of the most beautiful avenues in Europe.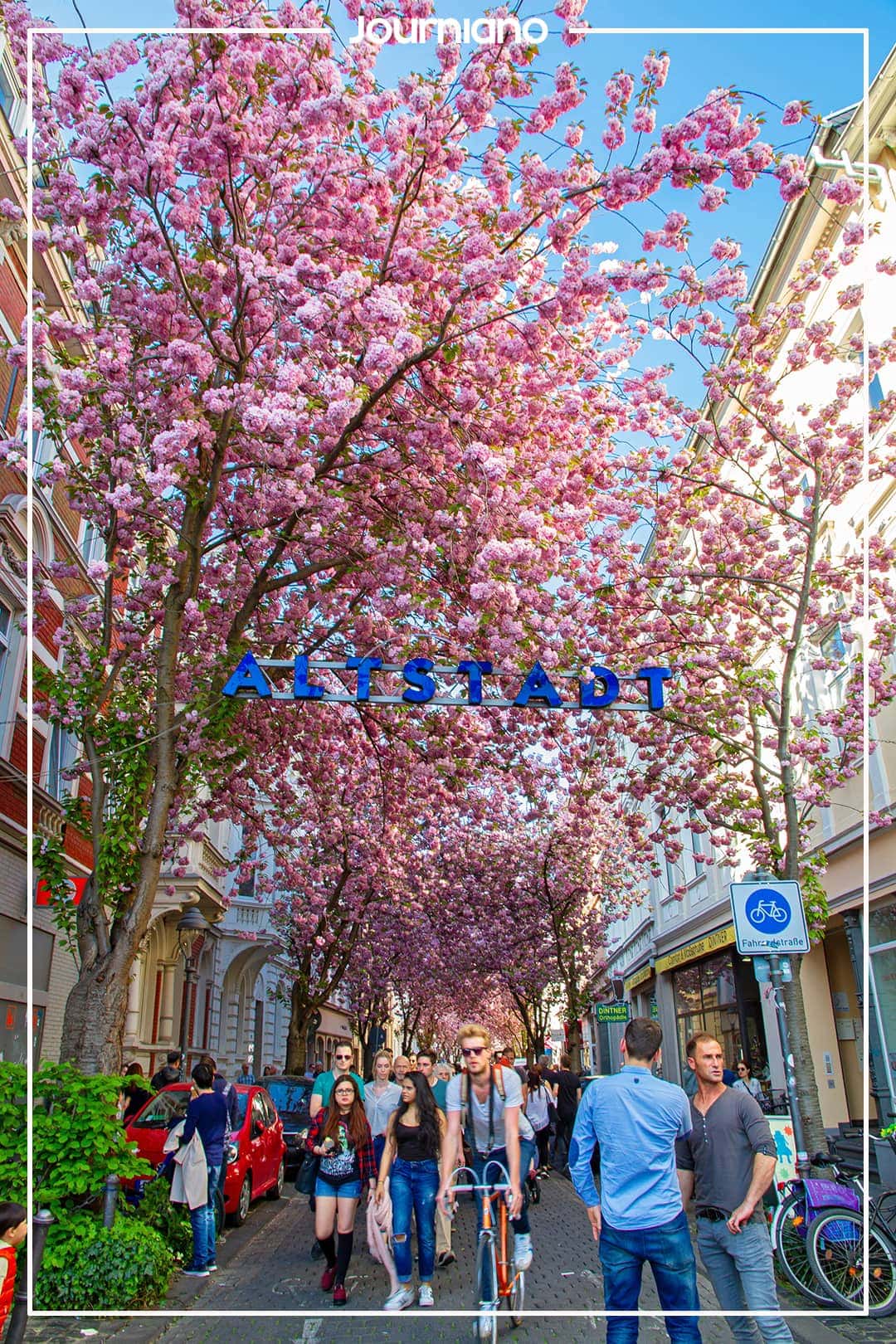 Here you have a nice overview of Bonn's Nordstadt:
First Cherry Blossom Avenue – Breite Straße
So, where do you find two of Europe's majestic avenues in Nordstadt, Bonn?
The mentioned Altstadt should be entered through the shown "Altstadt-gate" Thus, I consider to start your journey from the southern end of Breite Straße. From there on, the 450-meter-long Breite Straße, invites you to Bonn's first majestic Cherry Blossom Avenue.
Sure, there are cherry trees planted almost in every city. Still, what you encounter there is leagues above what you experienced before, unless you've been to Japan during Hanami before. In case you aren't under pressure of time, I promise to you that you might be stuck in that street for a certain amount of time.
Celebrating the cherry blossom under the Sakura archway
When in Japan, Hanami is celebrated while sitting under a cherry tree with friends. This normally takes place in parks, so it's not quite adaptable here in Bonn. Yet, you are able to practice it the urban way.
Once you come close to the Sakura archway (Sakura means cherry blossom in Japanese), you can decide to either grab your cam or simply admire the majestic pink flower tunnel. Maybe try to do both, otherwise you won't proceed anymore.
Personally, I felt like being in heaven under the Sakura archway.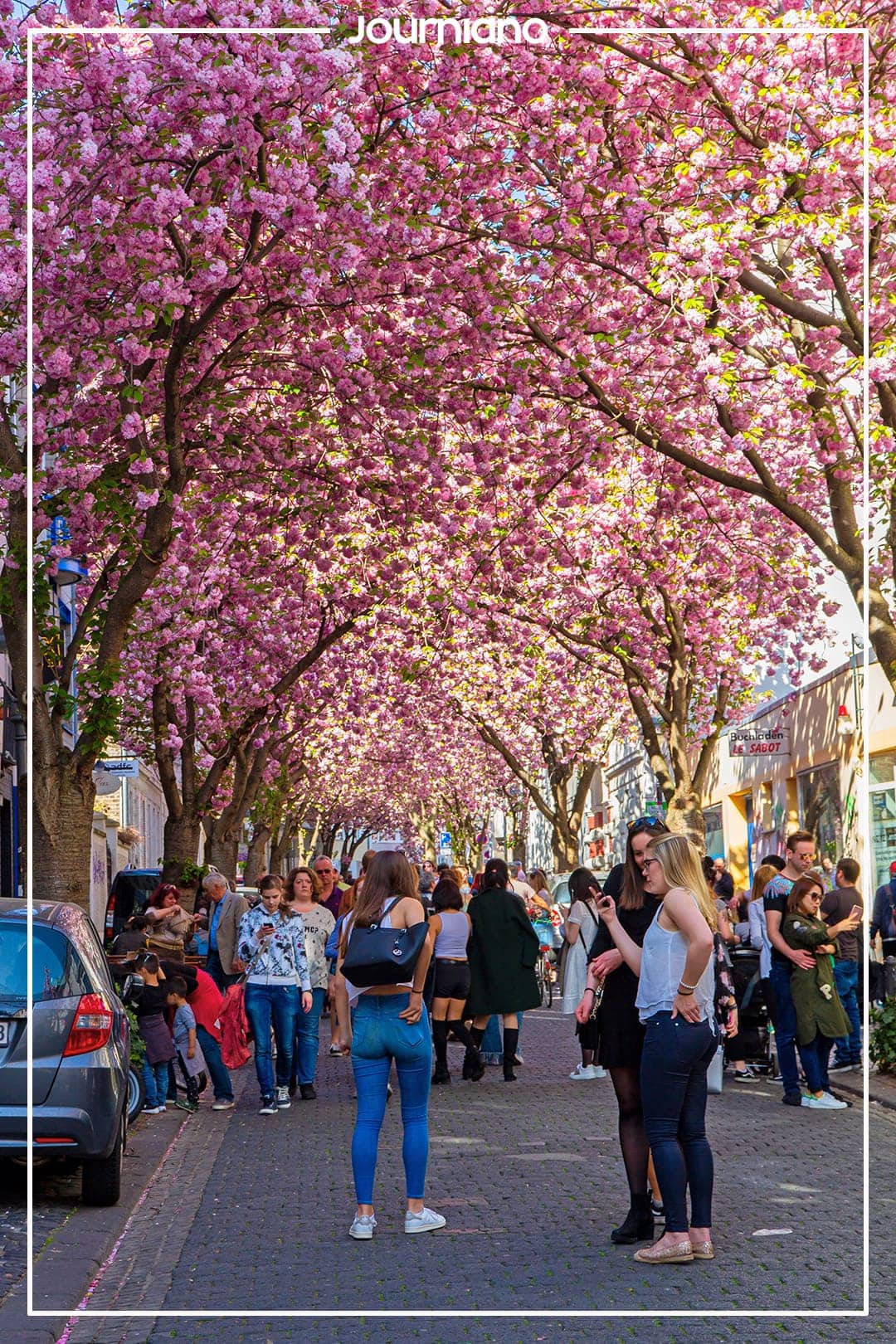 As you know, every dream comes to an end – even this one. Admittedly, it ends solely for a short amount of time. When Breite Straße ends, you find yourself at busy Kölner Straße. Turn to the left and walk some meter. Keep an eye on your left side and sometime the street sign with the name "Heerstraße" will appear.
The Sakura dream is, indeed, not over yet.
Heerstraße – The second Cherry Blossom Avenue
Folks, prepare yourself for another 350-meter-long Cherry Blossom Avenue. This time, you go to the next level.
As gorgeous as the previous avenue was, Heerstraße shows no limits to dreams and love. Call me illusional, but to me the second Cherry Blossom Avenue has somehow an even more impressive Sakura archway. From this point, I welcome you to heaven again.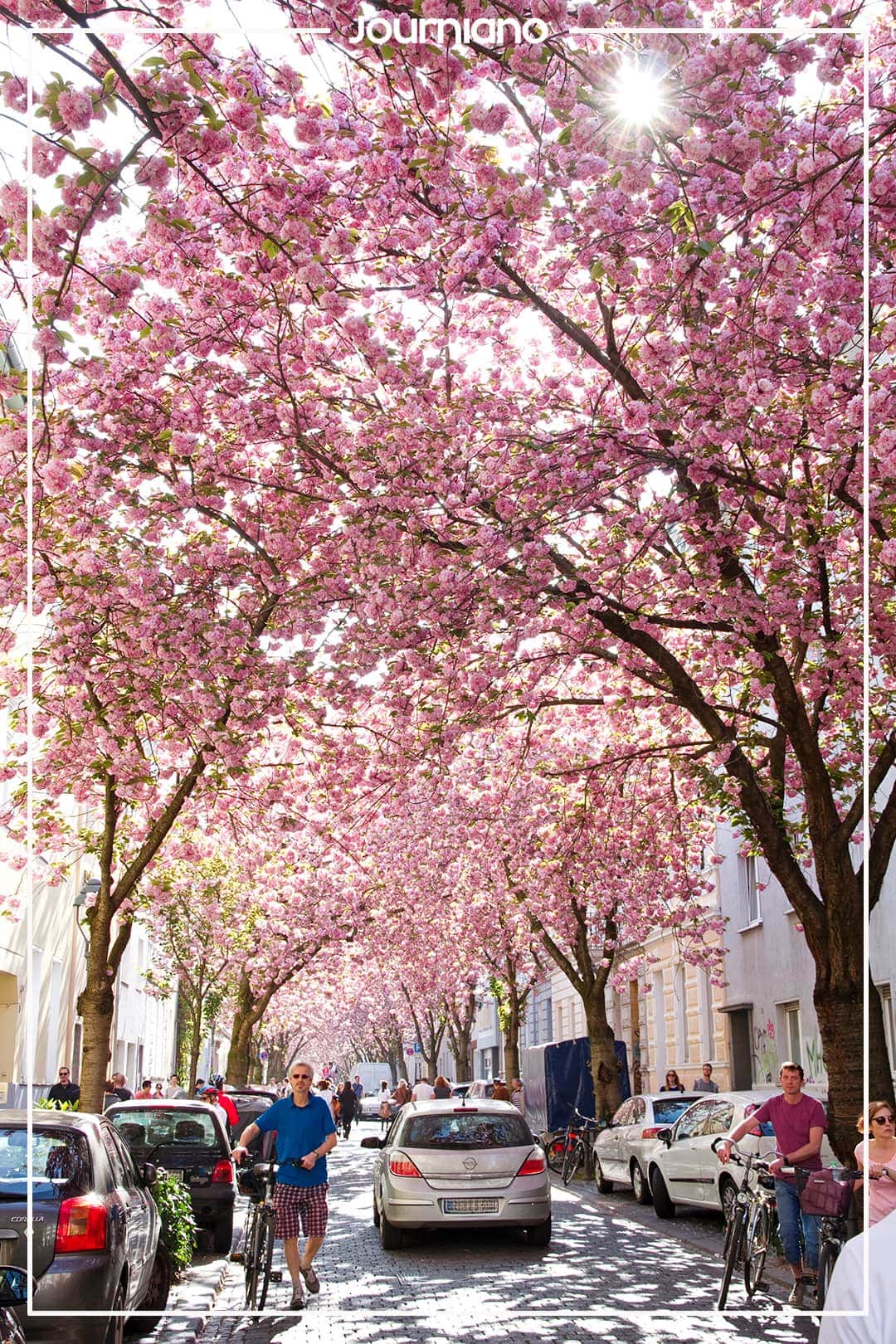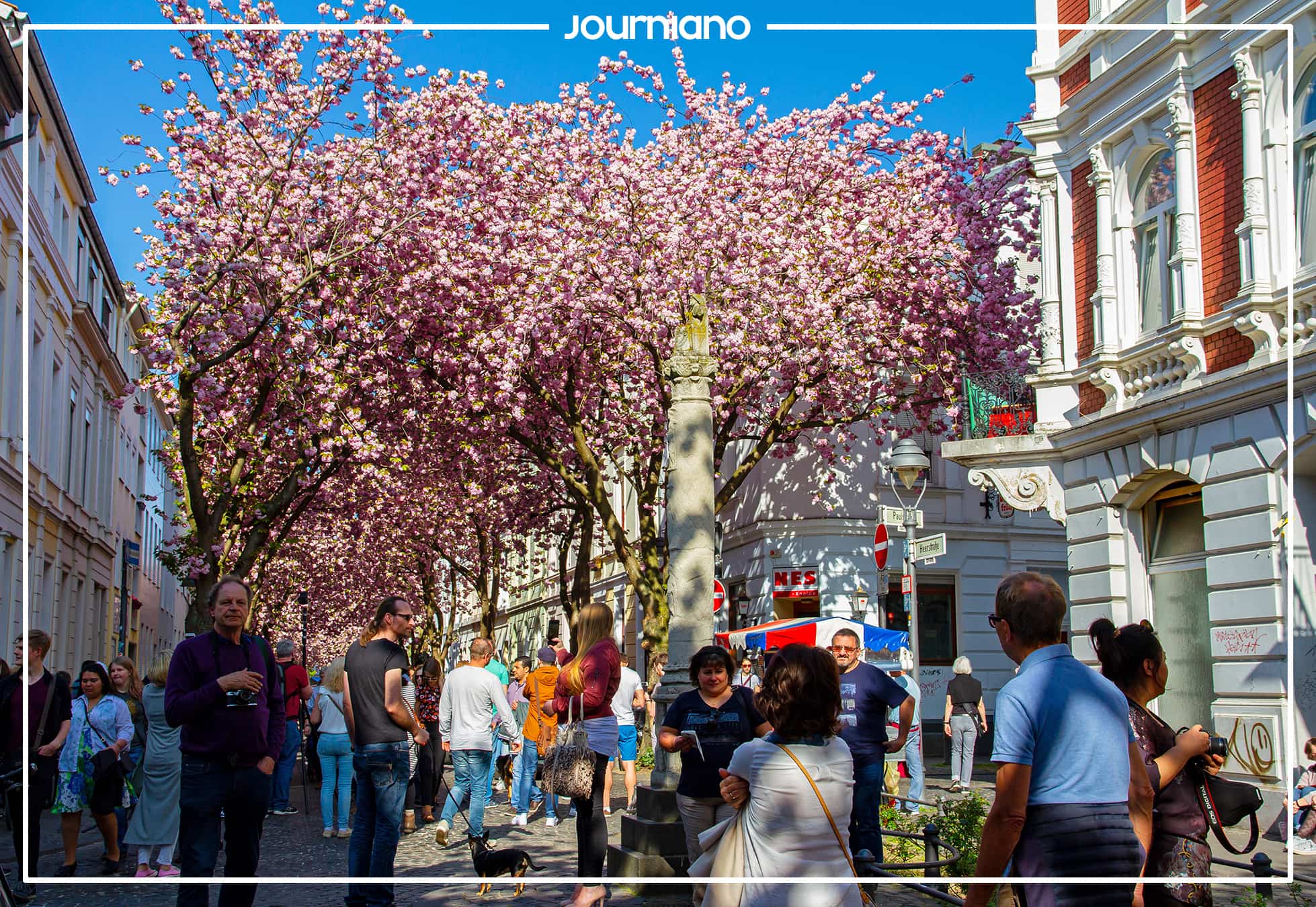 Urban life feat Sakura Mania along Heerstraße
Similar to Breite Straße, Heerstraße also offers a lot of vibrant urban vibes along its Cherry Blossom Avenue. In my opinion though, those vibes are stronger with Heerstraße.
In fact, it's simply beautiful seeing so much life in all those Cafés, Bars and Restaurants. Just imagine sitting at the roadside, drinking a cold drink, the sun hitting on your skin and admiring the majestic scene at the same time.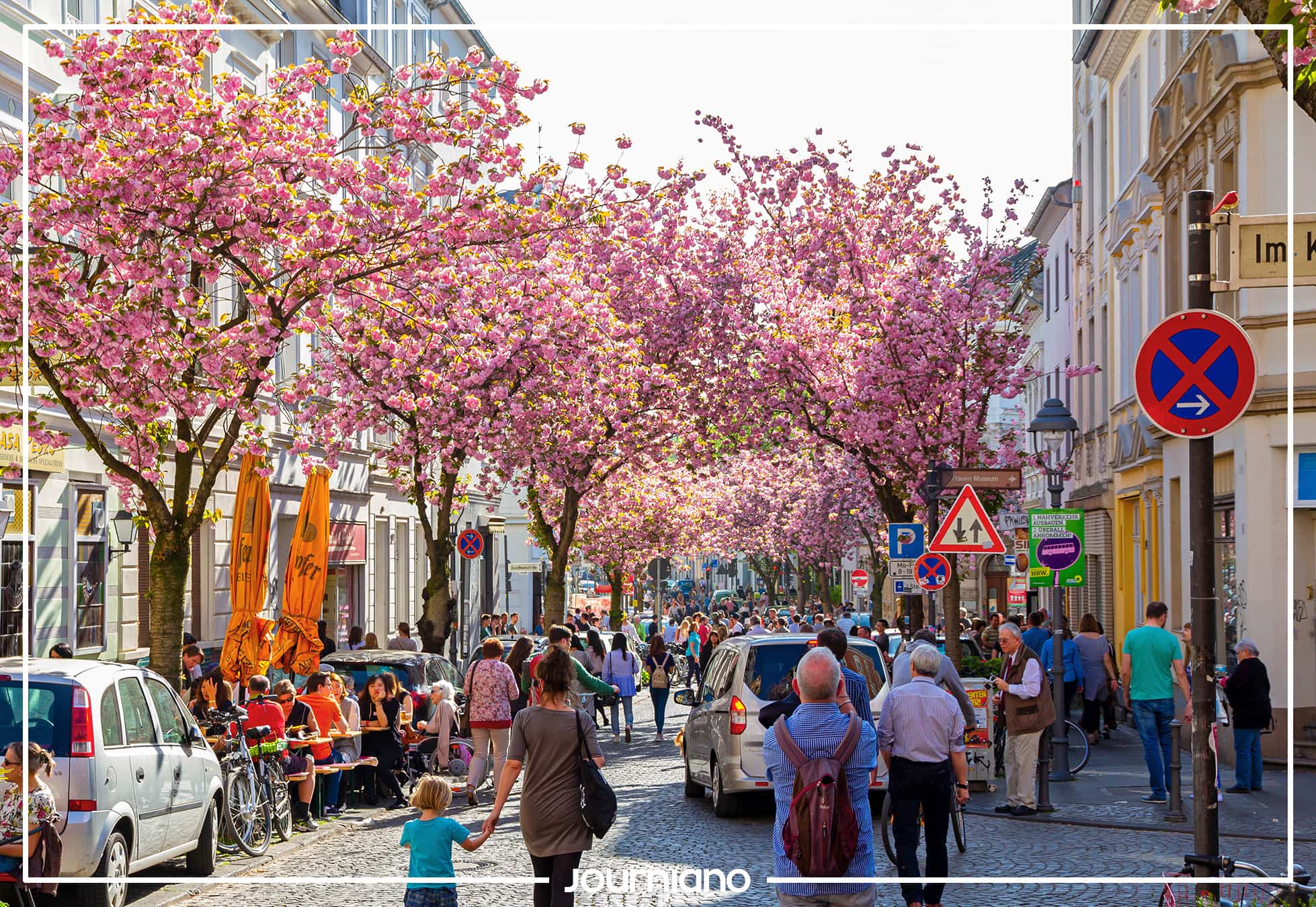 When architecture collaborates with Cherry Blossoms
Furthermore, I need to finally emphasize all those old and wonderful facades along these two avenues. Especially the sections when Wolfs- and Dorothenstraße join Heerstraße, the architecture starts an amazing interaction with the cherry blossom.
Having pink cherry blossoms meeting these yellow facades, hit by sunlight, is a marvellous collaboration. Hopefully, you encounter great weather conditions to experience it the best way.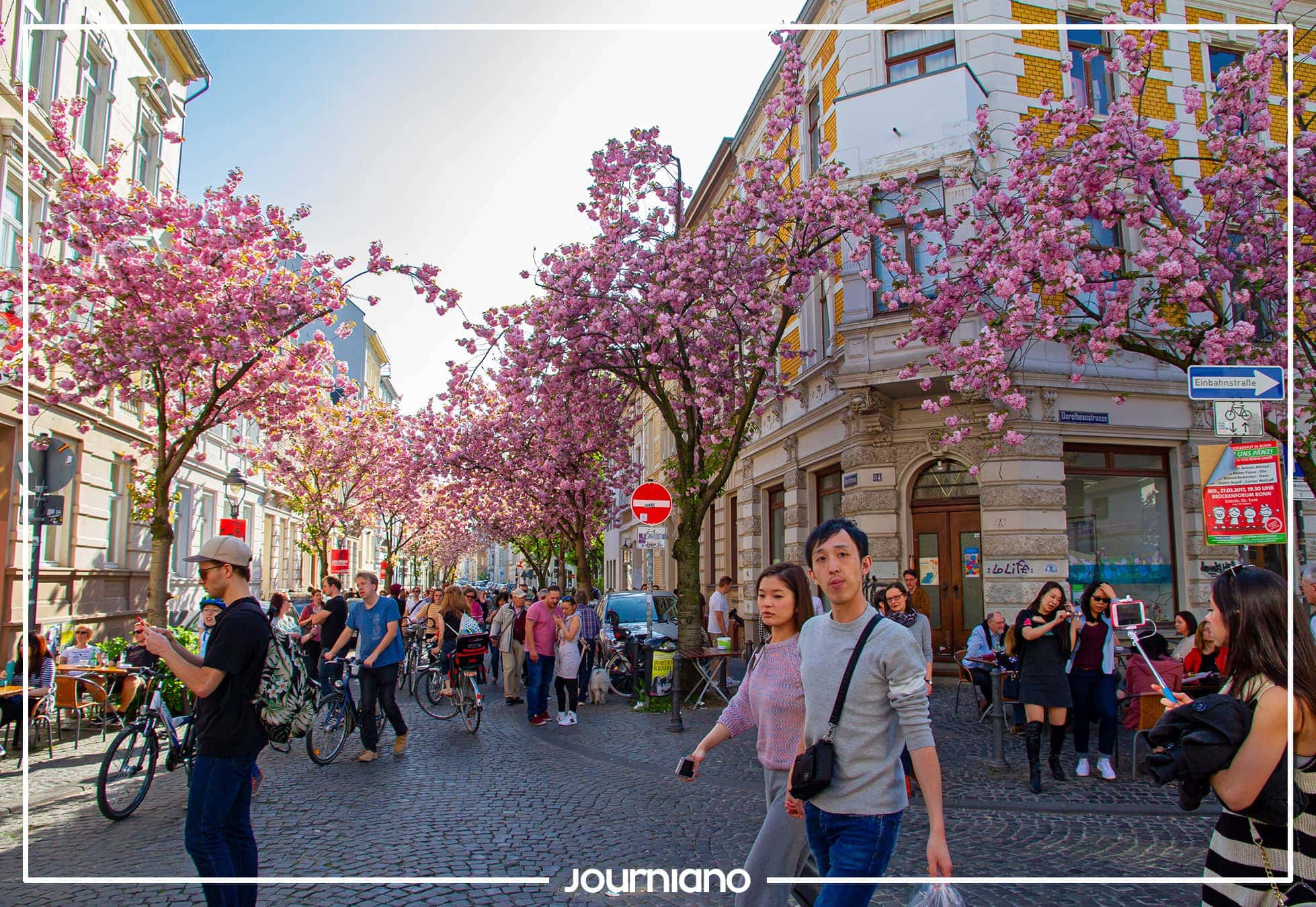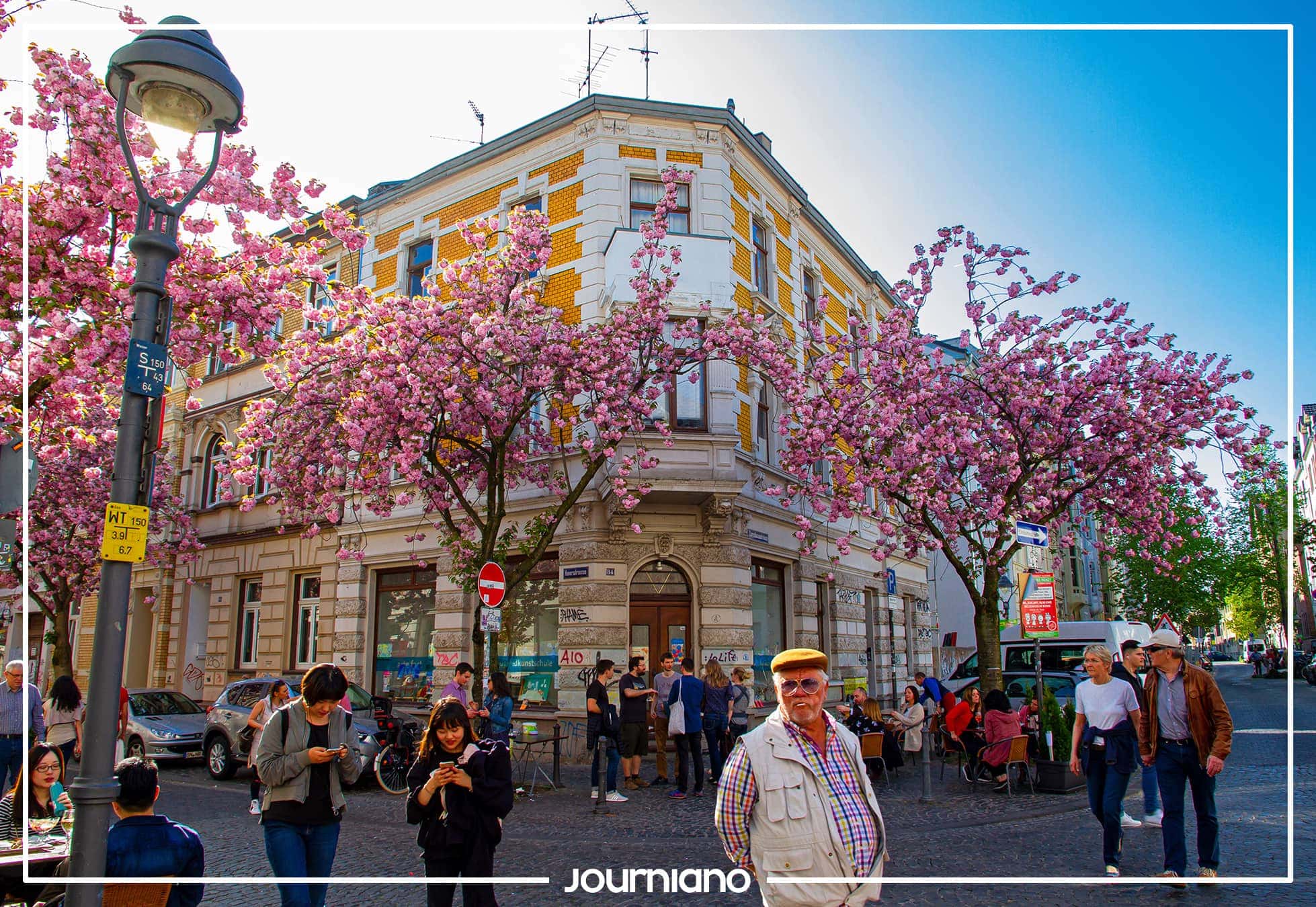 When it's best to visit Bonn's Cherry Blossom Avenues
All the images from this article were taken at the beginning of April. Due to warmer temperatures in winter 2020, the beginning of Cherry Blossom might be preponed into March this year. This site should estimate the blossom pretty well soon.
As you noticed in my pictures, it was pretty crowded when I visited Cherry Blossom Heaven. Try to avoid weekends, especially Sundays, unless you like masses of people. 😉
Conclusion
To put it simply, there is no way around Bonn this spring!
Jokes apart, in case you love spring vibes and especially cherry blossoms, Bonn is the ultimate address to visit. By avoiding Sundays, huge crowds will be avoided. However, urban vibes along the avenues will still be intact in their alternative and authentic cafés, bars and restaurants on Fridays for instance.
Moreover, you should also consider visiting Bonn's Sakura hotspots even in the evening. Check out my article about the magical pink sky at night here.
If you have already visited Bonn's Cherry Blossom Avenues or need similar spots, check out my articles about Sakura hotspots in Düsseldorf, Wuppertal, Kaarst and Ratingen.