If you search for a special café in Madrid, Chilling Cafe – located in the alternative district Malasaña – is one address you should consider.
What to expect
1. About Malasaña and Chilling Cafe
Malasaña is one of Madrid's alternative districts, which is located in the northern city. Due to the fact that it is popular by students, young and alternative people, gastronomic concepts with a certain zeitgeist can be found here a lot.
Well, and there is one café which hits the spirit of the time right on the spot. Chilling Cafe is a cosy place to be. A place where only vegan ingredients create great specialties. Here, it doesn't matter if you come by for breakfast, or something in-between. Their philosophy for fresh meals and ingredients will knock you out the park.
2. Cosy Interior with Far East Highlights
Once you enter Chilling Cafe, there are two themes which are striking – cosiness and Far East vibes (in particular Japanese ones). The interior space is rather compact but still not too narrow. Décor-wise the walls and shelves indicate that the people running this café are fans of Far East culture. However, it's not only noticeable there, but also in their menu.
3. Vegan Menu – Chilling Cafe's Essentials
Chilling Cafe's menu offers a decent range of vegan drinks and meals for every time of the day. Even fresh prepared and limited lunch specials vary every day. My brother and I visited the café for a cosy breakfast and that's what we got.
3.1 Vegan Substitutions for Milky Drinks
As coffee is my fuel to kick-off the day right, I opted for a Cappuccino. So did my brother. You can choose at least three substitutions for milk – soja, oat and almond milk (there might have been more). We both went for oat milk which we've never had before. Well, it fitted very well to a Cappuccino. It's nutty aftertaste helped a lot to it.
So, how about the food?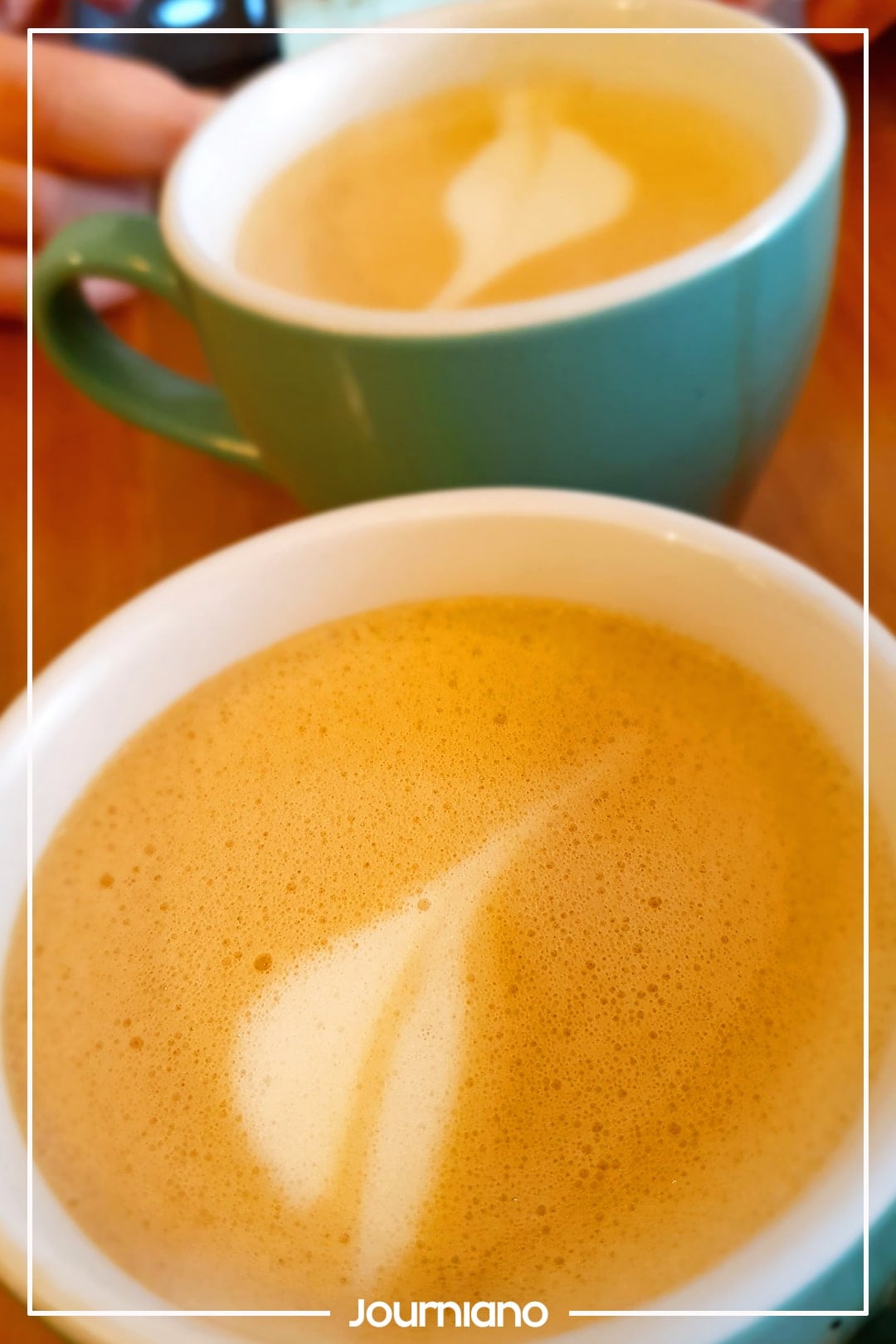 3.2 Vegan Pancakes with a Far East Signature
The moment I read matcha pancakes on the menu, I was ready for a sweet gourmet adventure. My brother followed me by choosing pancakes with fresh fruits instead (normally also served with ice cream).
At first, we were wondering why these pancakes would take so long to make, as we were expecting classic ones. It turned out that they were made differently, like Japanese Pancakes – so much thicker.
Just the look of both pancake variations alone has been top-notch.
These were indeed our first vegan pancakes and they tasted delicious. Furthermore, did the matcha not only enable the green colour but also delivered an authentic flavour. On top of that, a vegan crème accompanied the pancakes, which tasted amazing.
Last but not least, the pancake combo with fruits was great as well.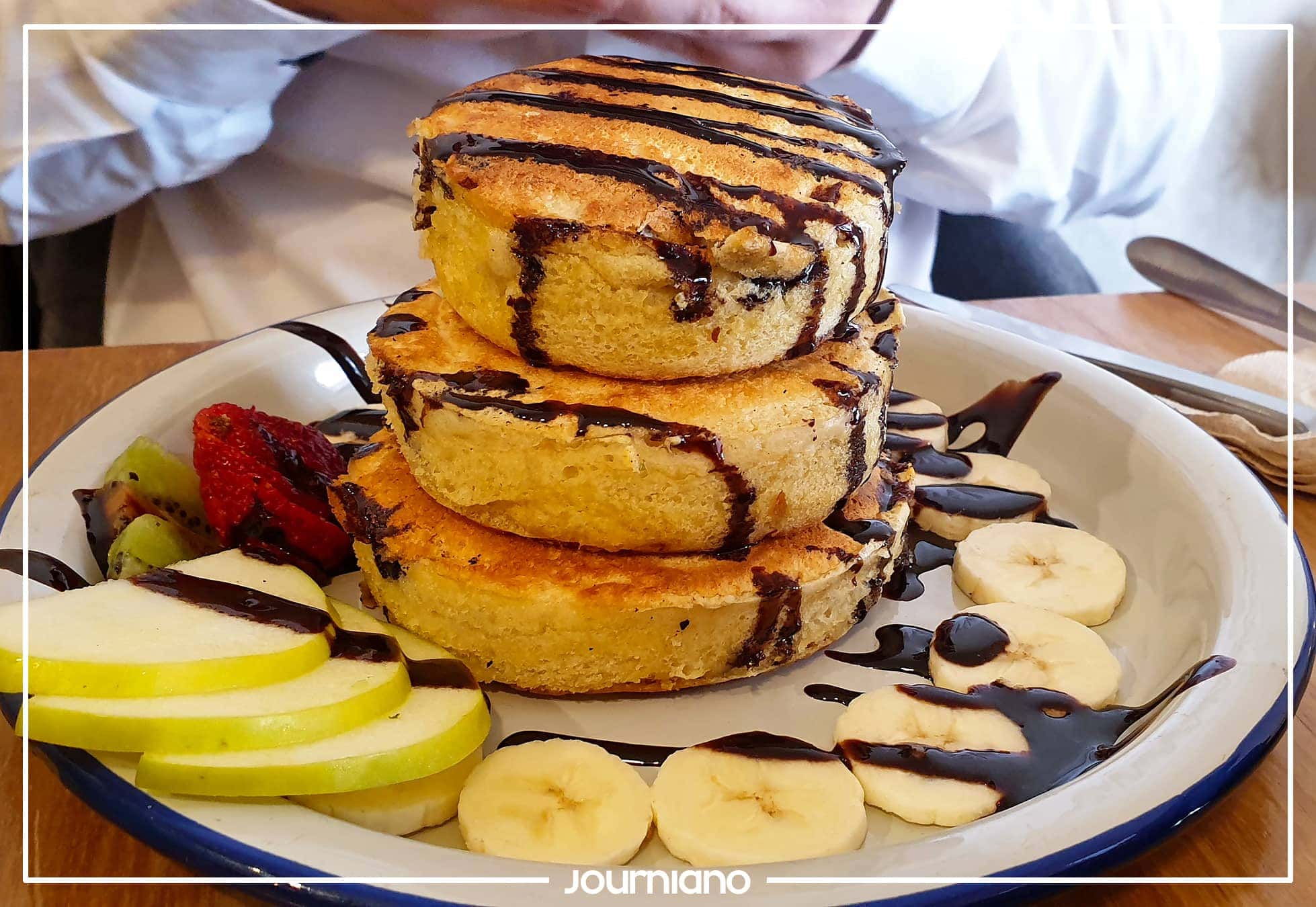 4. How to reach Chilling Cafe
Chilling Café is located at the southern edge of Malasaña. Thus, it's only a stone's throw from super busy Gran Via.
These are the closest metro stations to reach the café:
Noviciado: approx. 5 minutes by foot
Calao: approx. 4 minutes by foot
Callao: approx. 3 minutes by foot
For further and individual navigation, please check the embedded map below.
5. Opening Hours
Chilling Cafe is open at the following times:
MON 10:00 A.M. – 04:00 P.M.
TUE Closed
WED-SUN 10:00 A.M. – 08:00 P.M.
Please note that opening times can vary, especially during the pandemic. Please check their Instagram here, where they release opening variations on a regular basis.
6. Conclusion
All in all Chilling Cafe is definitely a great place for a delicious breakfast made out of alternative and vegan ingredients. As someone who's not a vegan but likes to widen his culinary horizon, like me, this place fulfils that desire pretty well. Moreover, did I cherish those Far East vibes inside the café throughout their décor and menu.
Like already mentioned before, Chilling Cafe offers also daily lunch specials and much more, even for take away. Although I haven't tasted them by myself, the pictures and people's reactions on Instagram and Google Maps speak for themselves. Check their Insta feed below for deeper insights about their menu.