Foz do Douro expands everyone's journey to another dimension in Porto. From an almost endless esplanade leading along both the Douro River and the Atlantic Ocean to many more attractions, the city's western part rounds up greatly the already offered diversity. Thus, dive in deeper and find out the treasures at the Douro delta.
What to expect
1. About Foz do Douro
Foz do Douro is Porto's most westernmost ward. Due to its unique location along two amazing watersides, it is one of the most exclusive districts to live in. Thankfully, you don't need to pay rent to experience it at its core. So, what can you expect? Definitely a lot of water, amazing panoramics, avenues, waves and much more. Here, the Douro River starts an intimate romance with the Atlantic Ocean.
2. Kicking off from Fluvial
Approaching Foz do Douro by bus or tram from downtown, leads you to Fluvial. From there, you can start admiring the last two kilometres of the Douro River. Surely, you can also hop off earlier or walk all the way from the Ribeira.
2.1 Lovely Promenade along the Douro
One thing is certain: Foz do Douro's promenades are green. One park leads to the other. Beyond that, there are a bunch of possibilities to chill, have a drink and enjoy the view.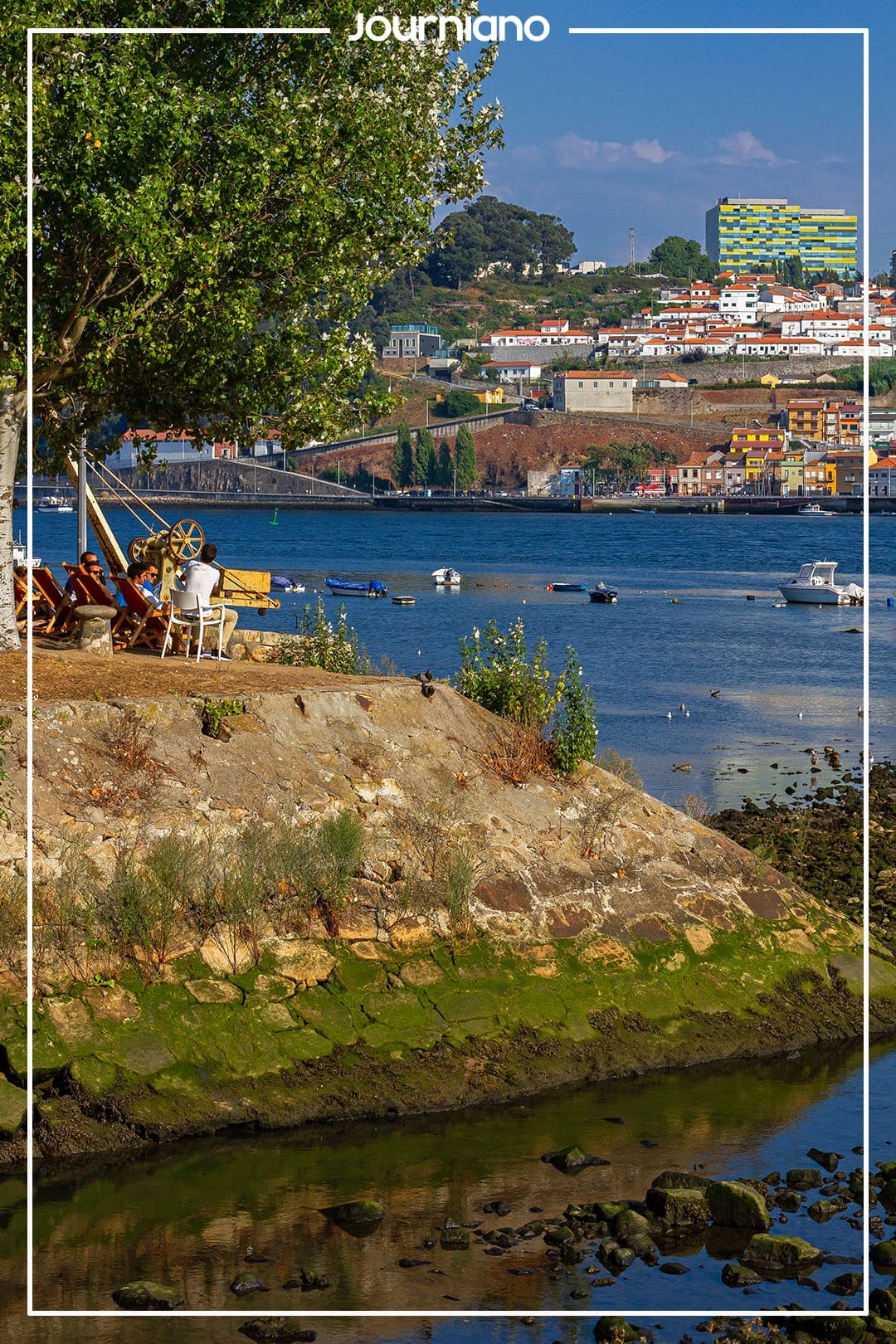 2.2 Amazing view of Vila Nova de Gaia's Marina
Although the views of Vila Nova de Gaia from Porto's Ribeira or the Dom Luis I Bridge are impeccable, there are further interesting perspectives to see. Luckily, Foz do Douro offers some of them for instance. Here, you get an amazing take of Gaia's marina and another hilly part which is being dominated by yellow painted houses.
3. Gorgeous houses along the Riverbank
Since Foz do Douro is an exclusive area to live in, the buildings look extraordinary as well. From contemporary concrete houses to older designs with turrets, their variety is great to look at. Besides that, park designs get wilder and wilder. Remember these funny carrot-like palms in the picture below for later.
4. Fishing Vibes
What can't be missed in a port city are the fishing vibes. Not only do a number of fishing boats float along the Douro riverbank. Moreover, you encounter many fishermen standing there as well. Now, the transition point towards the Atlantic Ocean can be seen in the far distance. Exciting, isn't it?
5. Passeio Alegre – The amazing Palm Avenue
Do you remember the previously shown palms which barely sprouted out from the ground? Well, there are some which do the contrary. Welcome to Passeio Alegre, where palms try to surpass each other while forming an amazing avenue.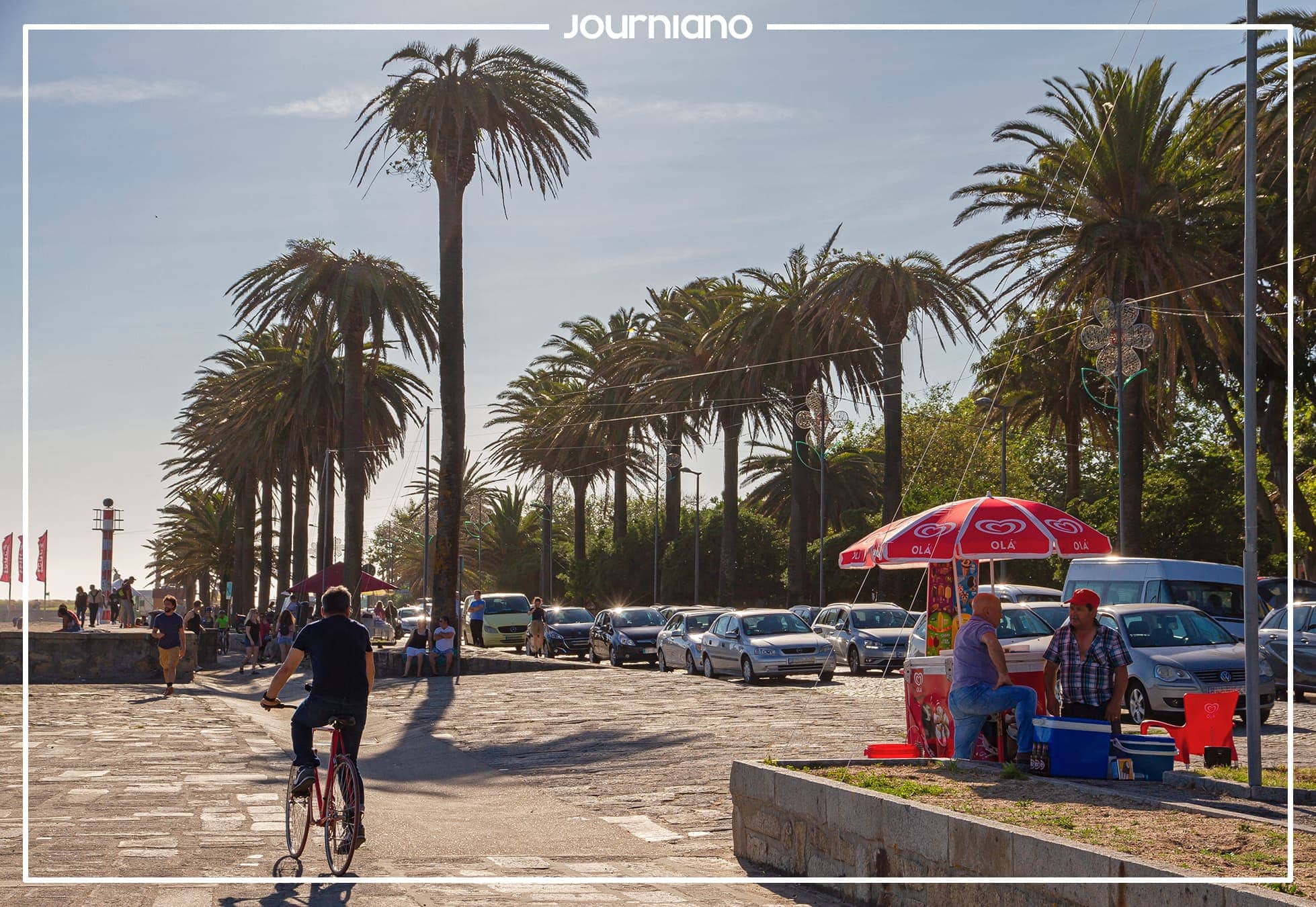 5.1 The gorgeous Palm Parade
Probably I don't know enough palm avenues in Europe. So, I associated it with the famous one in L.A. Nevertheless, these palms are a huge twist. Astonishingly, they literally crown the last metres of the Douro River. It's like saying farewell to a good friend. Moreover, they are amazing to look at.
5.2 When Palms enrich an already great Panorama
At the avenue's end, you approach the final moments of the Douro. However, that's not all that you can expect. Do you remember all those lovely views since the beginning of the journey? Stupendously, you can have them all in one panorama now.
6. Farol de Felgueiras e Barra do Douro – Where the Douro River kisses the Atlantic Ocean
The time has come for the Douro to merge with the Atlantic Ocean. Like during intimate intercourse, one wild participant impresses the other. As you can imagine, it's the Atlantic to wildly kiss the shy and romantic Douro River. Amazingly, this phenomenon can be witnessed along breakwaters with beautiful gimmicks.
6.1 Walking between the Atlantic Ocean and the Douro River
Imagine walking between a river and the ocean. Funnily, this is indeed a thing at Foz do Douro. By walking along the Barra do Douro, you can spot the calm waters of the Douro on one side and the wild waves of the Atlantic on the other.
Furthermore, you get exciting scenes when looking northwards. As there is a parallel breakwater, you might get surprising moments with a new horizon. Beautifully, it shows how far this coast can lead you further.
6.2 The ultimate Fishing Scene
Moreover, Barra do Douro attracts many fishermen trying their luck to catch a nice meal straight from the sea. If you're coming by during the late afternoon, the great backlight enables you to this silhouetting photo motif. This and its spreading vibes are worth visiting this place.
6.3 The sunkissed Lighthouse Farol de Felgueiras
Unsurprisingly, the lighthouse Farol de Felgueiras marks the highlight at this place. Whether sunkissed or hit by waves, it is one iconic piece of Porto's Atlantic Coastline.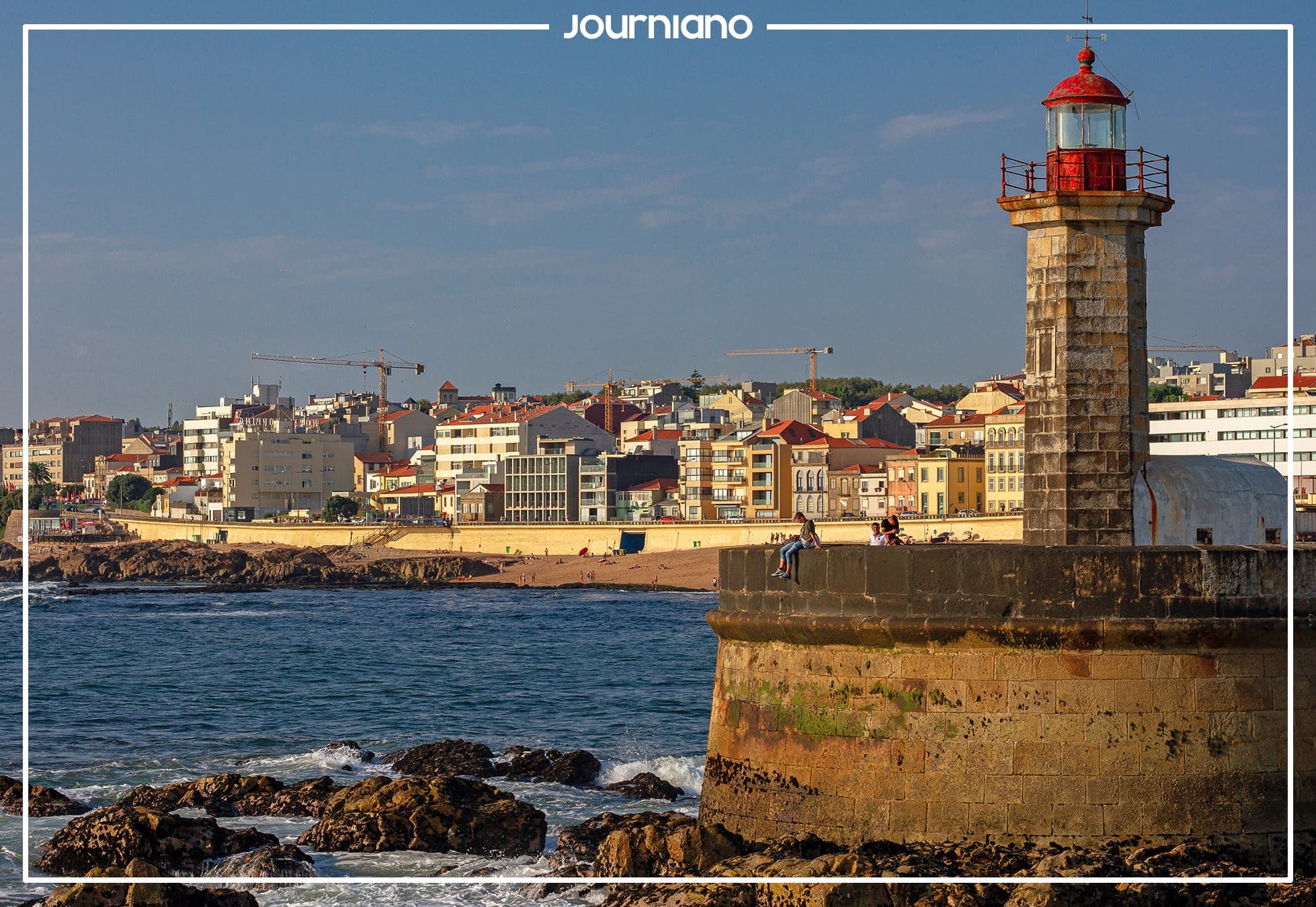 6.4 Looking to the Port of Leixões in Matosinhos
Amazingly, the view reaches the port of Leixões in Matosinhos from the breakwater's tips. Even the marvellous architectural port for cruisers, resembling some sort of shell, is clearly visible.
7. Praia do Carneiro – Beaches after Beaches and much more
So, that's it? Fortunately, Foz do Douro still has some treasures to be checked and chilled out. Starting from the lighthouse, there are numerous beaches welcoming you for a chill, sunbathing and much more. Due to the fact, that this is located along the Atlantic, you may expect a vivid ocean most of the time. Praia do Carneiro is the first larger beach that allows you a great watch of mighty waves. Although this isn't Nazaré, those waves can escalate quickly here.
Last but not least, there are further attractions like the Pérgola da Foz, seaside bars, etc. For the real treat, just walk along the coast until reaching Matosinhos. Astonishingly, some of the best fish restaurants can be found there.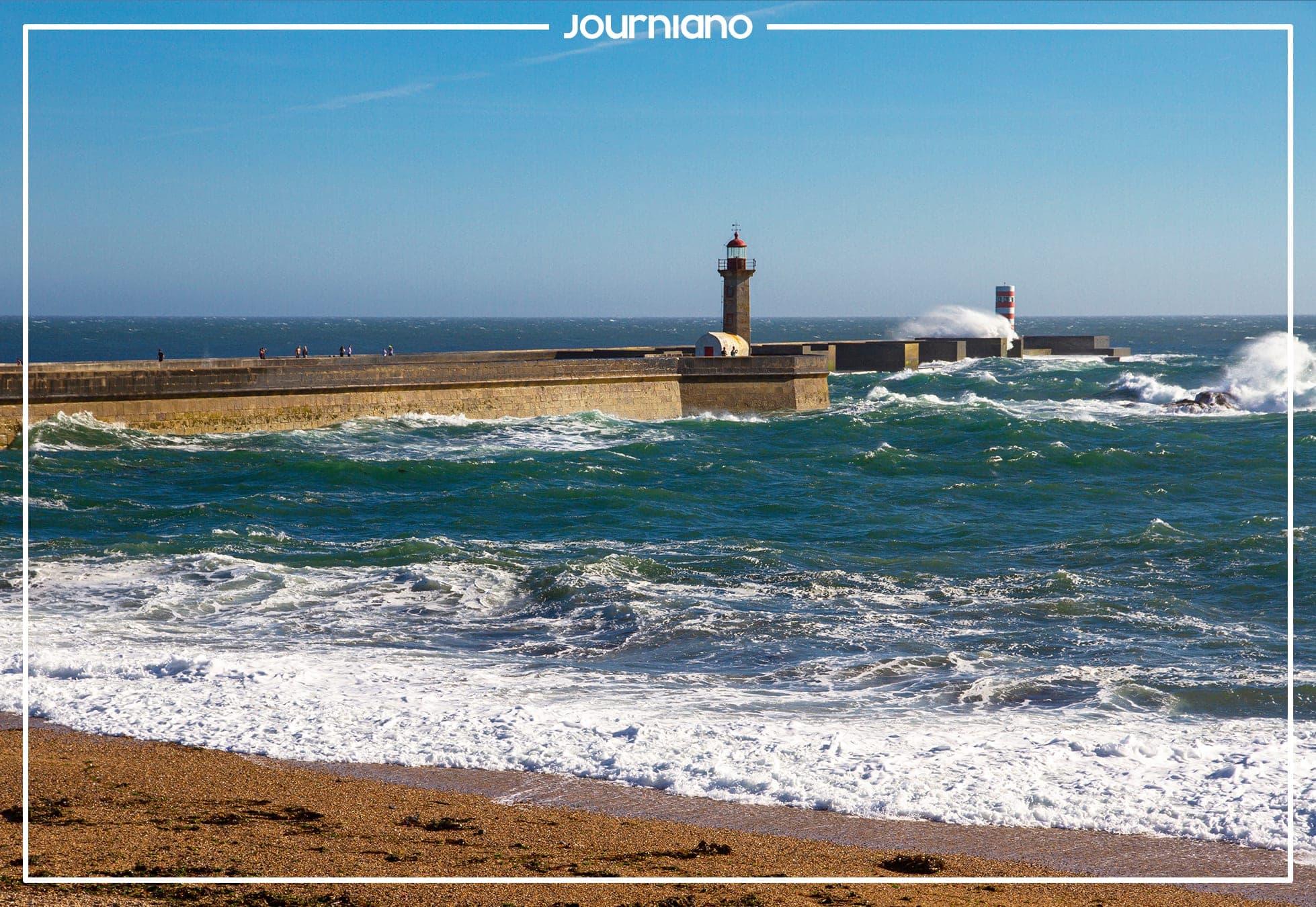 8. When to visit Foz do Douro in Porto
Normally, Foz do Douro is an amazing area to visit year-round in Porto. The fresh and salty air is definitely not to be missed. However, bear in mind that it can be very windy there. Thus, check the weather forecast first before heading there.
9. How to get there
Due to its massive coastline, Foz do Douro can be approached from many points. Although there are parking lots along the beach, they might easily be occupied. Hence, public transport might be the way to get there best. Remember that the historic tram operates until the palm avenue.
Either way, don't hesitate navigating with the embedded map below.
10. Conclusion
Foz do Douro gives your journey in Porto the amazing maritime kick. Thankfully, kilometres of gorgeous esplanades, two completely different waterfronts, amazing sights along the way and much more contribute to an unforgettable experience.