Nordpark in Düsseldorf is one of the greatest places where nature evolves in the city. Situated in the city's north, multiple and diverse attractions from horticulture are being shown in this urban park. Dive in deeper and get inspired for a potential blooming journey.
What to expect
1. About Nordpark in Düsseldorf
Nordpark in Düsseldorf opened in 1937 during the Nazi-Regime. Throughout the park, you notice architectural and design elements from this period. Almost everything is symmetrically arranged. However, here and there it gets curvy. Fortunately, the 35 hectares big park surprises with a huge variety of flora and fauna. Moreover, it is a place to charge your inner battery in any way possible.
2. Wasserachse – Beautiful Waterplay surrounded by Flowers
Kicking off your journey at Nordpark can have different starting points. Nonetheless, I begin more or less from the official entry point. While this would be a parking area with a view of the Aquazoo, the first real attraction of the park itself marks a beautiful waterplay, called Wasserachse. Mostly, it stands out forming an archway. It would be quite awesome if you could pass through in summer.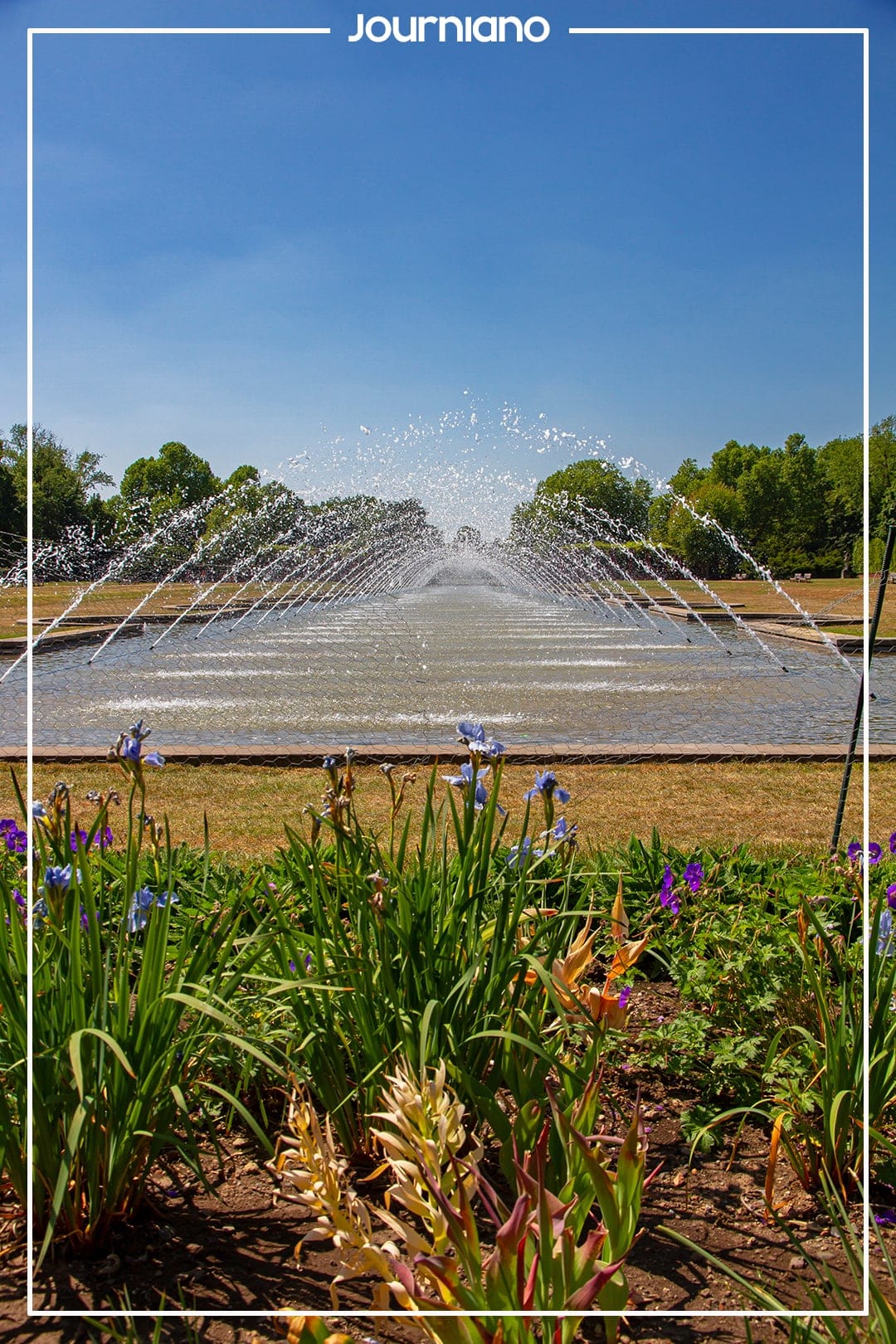 2.1 Surrounding Flowers beautifully round up your first Impression
Although the waterplay gets your attention first, something else is going to distract you for a bit longer. Beautifully, the Wasserachse is surrounded by many types of flowers and plants. Especially during spring, their variety of colours pops up amazingly. Then, this place smells like heaven when the lavender is being planted.
2.2 A different Perspective of the Water Arches
At the end of the water arches, stairways lead you to an elevated square. From there, you get a different but also beautiful perspective of the Wasserachse. As you can see in the picture below, the low wall welcomes you to have a seat and enjoy the view.
3. Fontänenplatz und Pergolen – Where Wisteria stands out during Spring
Astonishingly, that elevated square is being crowned by a gorgeous fountain in its centre. From spring to autumn, its water plays get amazingly into various heights. However, a blooming spectacle steals the show during spring.
3.1 Beautiful Wisteria decorating the Square's Pergola
Gorgeously, the square's northern pergola stands out with a particular flower in May. Beautiful wisteria decorates its bars which makes you feel like walking under a wisteria sky. Especially during sunshine, amazing photo motifs can be taken from a variety of angles. While the pergola facing the water arches looks a bit more cultivated, the other one next to the Ballhaus has a certain primitive vibe. Although this spot is rather compact, it may unleash the atmosphere I imagined at Angkor Watt's ruins.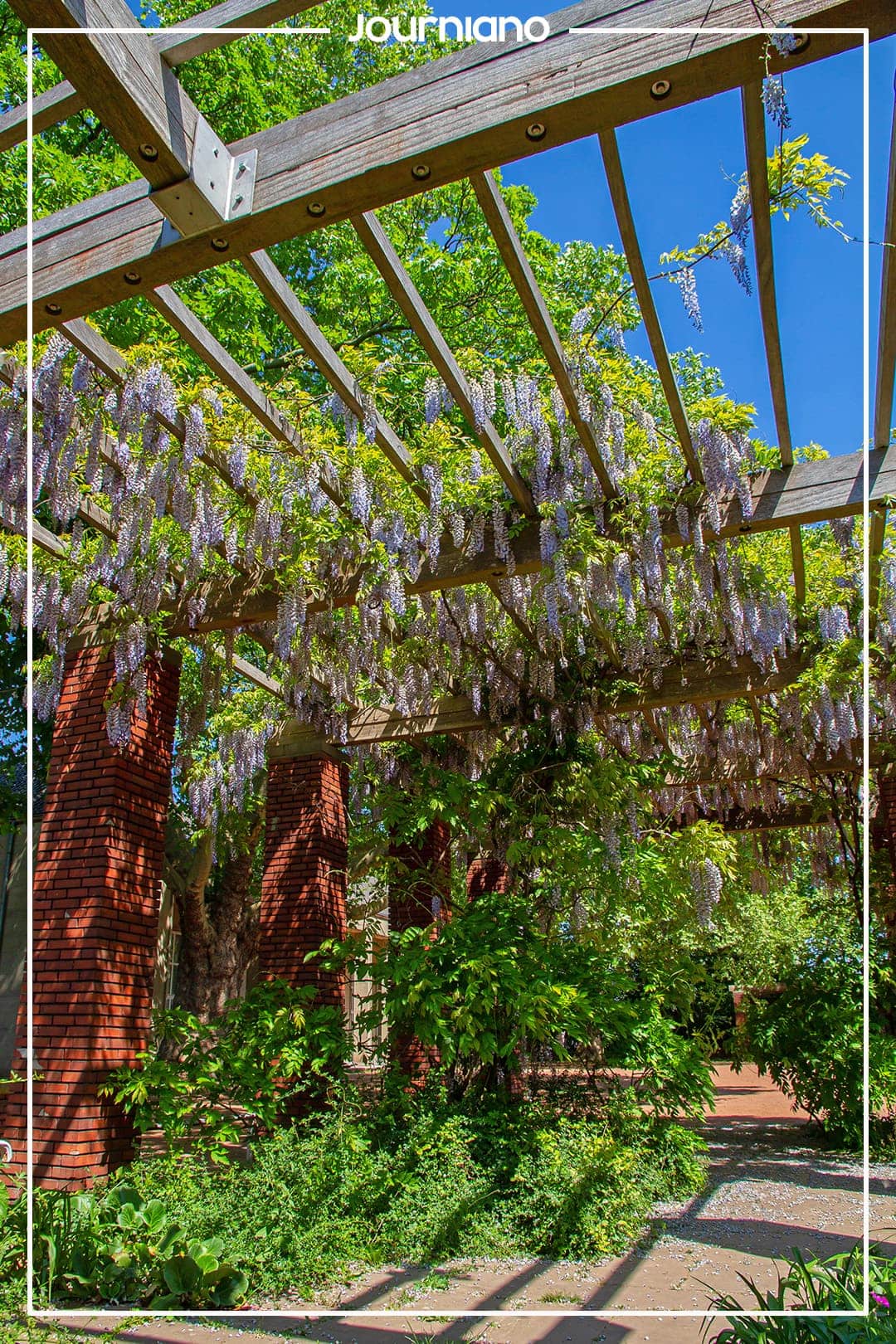 3.2 Sneak Peek of a blooming Festival
After confronting an already diverse number of flowers, it won't stop here. Besides lavender and wisteria, there are many more to admire. Next to the bricky pergola, you might meet Rhododendron flowers, breaking the rather blue tone. Thus, you might get excited about a blooming festival.
4. Wassergarten – Literally the Garden Eden at Nordpark
After a blooming stroll, the wisteria adventure gets surpassed by this next attraction. In the park's southwestern area, you literally encounter a miniature format of Garden Eden. Likewise symmetrically designed, the Wassergarten delivers instant chills.
4.1 The Wisteria Dream
What already looked lovely previously, stands out much more now. Surprisingly, the size of wisteria is insane here. Moreover, due to its different arrangement, they get sunkissed by the sun. Thus, those marvellous colours shine picturesquely. Folks, this is the wisteria dream.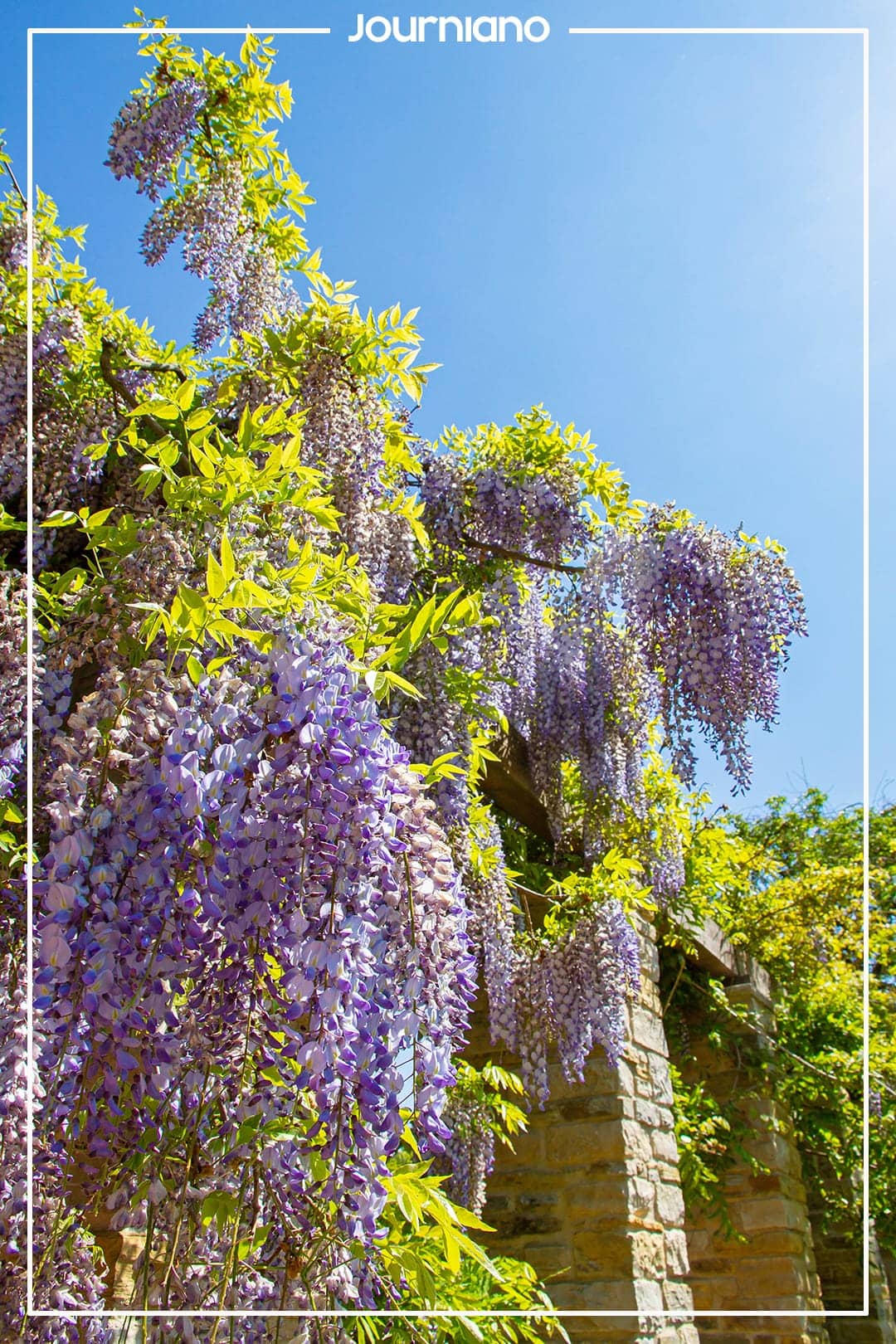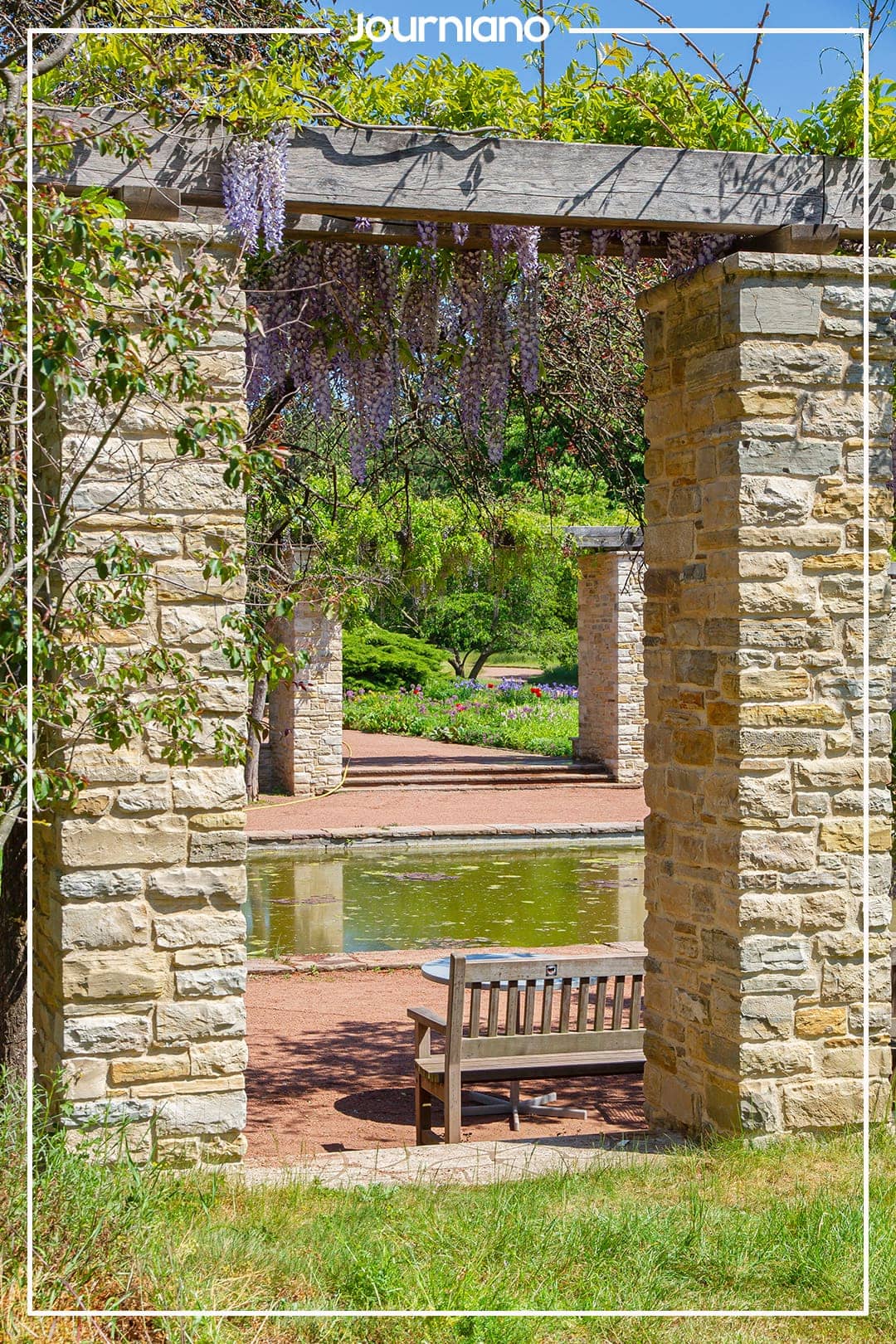 4.2 The Water Garden's Core
Surely, this pergola made from sandstone forming the Wassergarten is gorgeous. Still, entering its core is as peaceful as it gets. In the middle of the water garden, a rectangular pond establishes the centre of silence. Hence, have a seat on one of those benches alongside the pergola and listen to the relaxing sounds of nature.
4.3 The blooming Front Gardens surrounding the Wassergarten
Besides the striking wisteria and peaceful core at the Wassergarten, there's an additional blooming surprise. Particularly the path leading to it from the northeast is decorated gorgeously with a bunch of flower types. Beautifully, these blooming front gardens round up the eye-catching journey at Nordpark's water garden.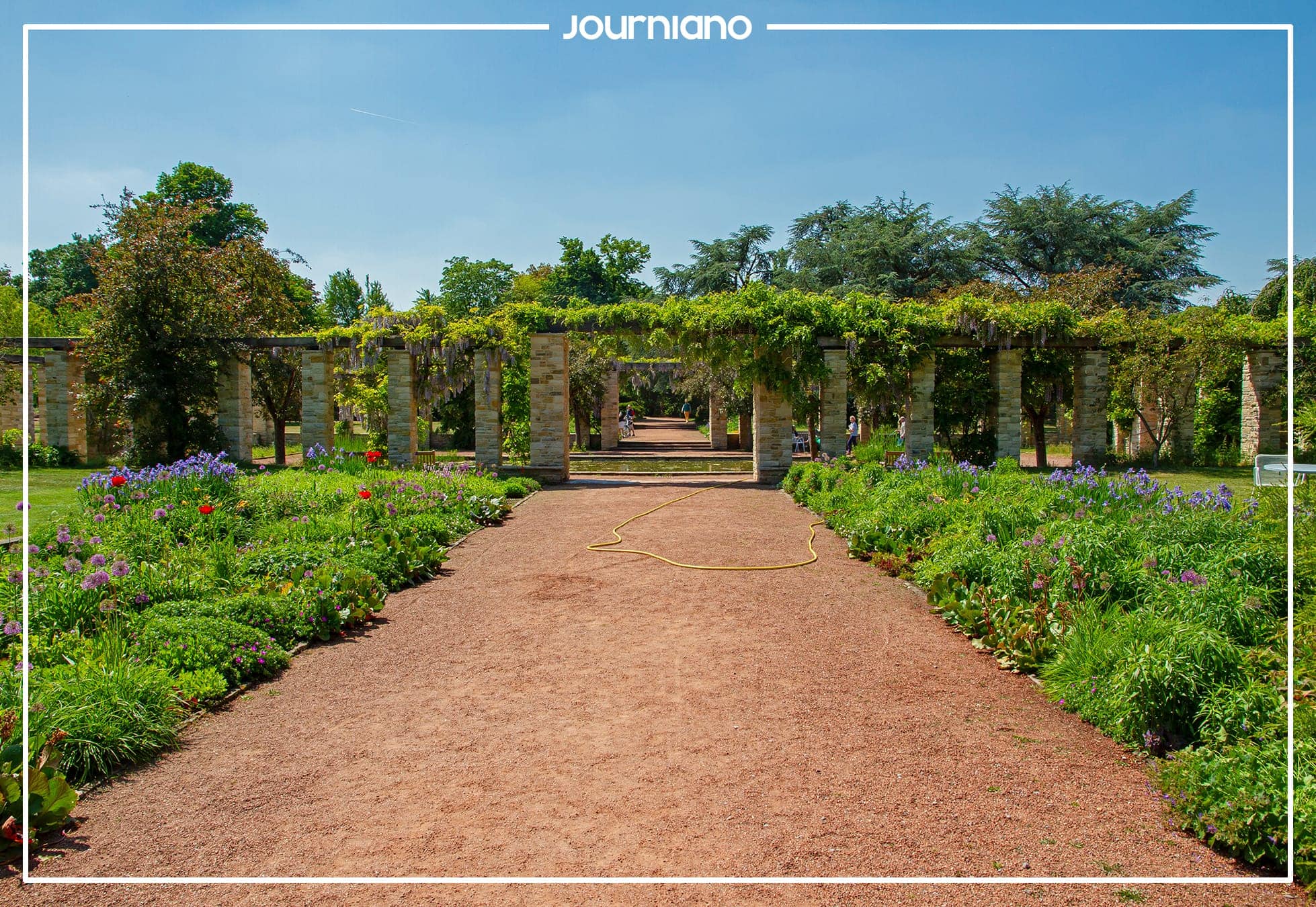 5. Japanischer Garten – The Far Eastern Oasis
Unsurprisingly, the part of the park which breaks the symmetry has been opened decades after the opening of Nordpark. Thus, the Japanischer Garten sticks out with its flowing structure. Since the 70s, this Far Eastern Oasis shifts the tone completely throughout the park. Hence, dive in deeper to explore the colourful, blooming and hidden spots of this Japanese garden in my dedicated article here.
6. Tanzkreis – The blooming Amphitheatre
Last but not least, there's still one gem you might miss during your visit. Funnily enough, I missed it for quite some time as well. In the northernmost area of Nordpark, a rounded structure may surprise your eyes. Although many flowers and plants cover the grades surrounding the central meadow, the resemblance of an amphitheatre can be noticed on closer inspection. Surely, the Romans are not responsible for this. Still, what is officially called "Tanzkreis" (dance circle) was clearly inspired by them. Today, amazing flowers replace the spectators for good.
As a short sidenote, there's quite a great ice-cream parlour just a jump away from here.
7. When to visit Nordpark in Düsseldorf
In case you're a local who just seeks a run or a simple stroll, Nordpark in Düsseldorf is worth a visit throughout the year. However, I highly recommend visiting the park from mid-April on. In May, the blooming festival reaches its peak. Until October, it's still lovely to visit. Moreover, bear in mind that the shown water plays are mostly active from May until October.
All the shown impressions were taken from the month of May.
8. How to get there
Nordpark is easily accessible by either private vehicles, public transport or bike. Don't hesitate to use the embedded map below to navigate perfectly.
9. Conclusion
When in Düsseldorf during spring, Nordpark is a no-brainer. Almost nowhere in the city can you find such a density of blooming and gardening attractions. Its mix of symmetry, waterplay and atmospheric themed areas may seek you in for hours. Furthermore, does no place in Düsseldorf offer such an amazing existence of wisteria like this one. Concluding, Nordpark is a place to find inner peace, meet with beloved ones and have simply good times.