La Confluence in Lyon is the area for chasing contemporary sights in the French City. A diverse mix between colourful architecture, waterfronts and verdancy makes this contemporary quarter an alternative hotspot in Lyon. Don't skip this chance to dive deeper into La Confluence and its gems.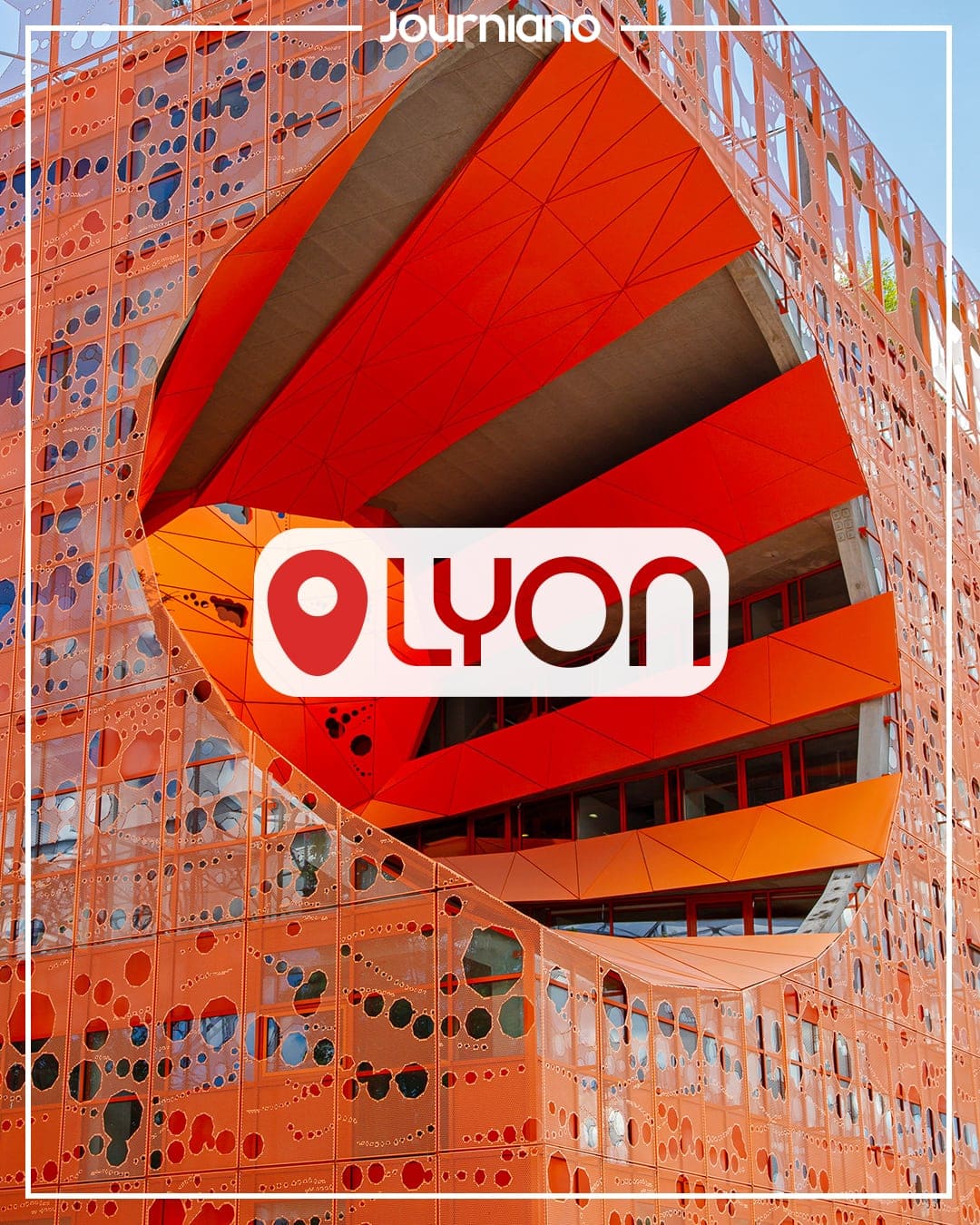 What to expect
1. About La Confluence in Lyon
Lyon's southern part of its middle island, Presq'île, is literally the confluence of both the Saone and Rhone River. At this point, they merge and proceed as River Rhone. Thus, this quarter has obviously adapted this phenomenon to its name – La Confluence.
Until 1995, the Confluence Area was dominated by industrial and logistical activities. After the demise of these industries, the city kicked-off the requalification plan for the 150 hectares of big space in 2003. What has been behind that plan? Developing a quarter with a great quality of life.
On top of that, La Confluence has become Lyon's experiment for modern and contemporary architecture.
2. Crazy Architecture around the Marina of Confluence
Let's start with those architectural treasures from the Marina of Confluence. Right in-between a huge shopping centre and a row of super interesting buildings, lies the port basin of this quarter. From here you can take the Vaporetto and float along Lyon's rivers for instance. However, architecture is the focus now.
At the northern side of the basin, a mix of corporate and living purposed buildings stand out with their variety. Every building is different in terms of architectural design. Especially the office buildings are creative as it gets. From mirroring facades, which look like huge solar plates, over to some kind of scrabble-looking designs.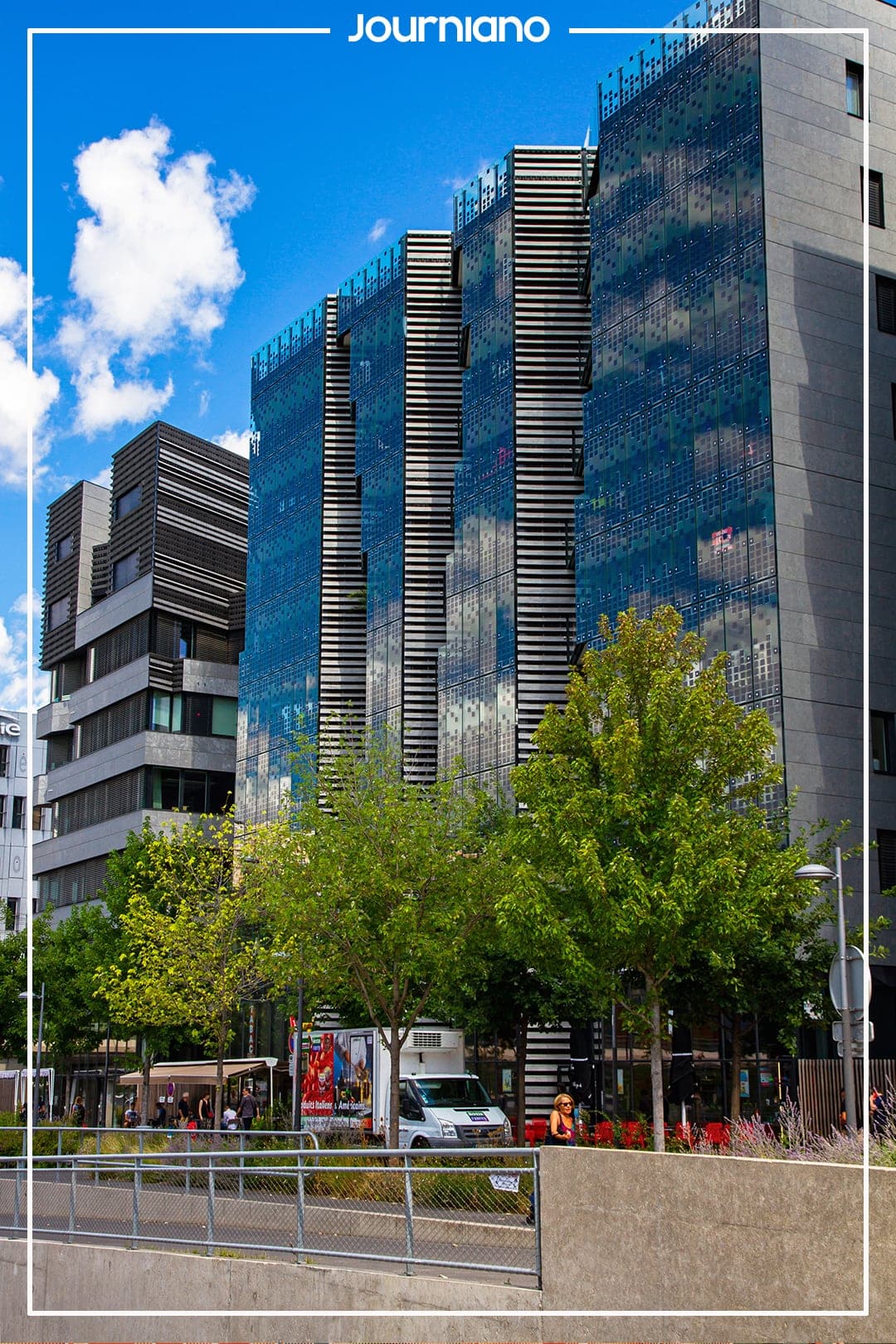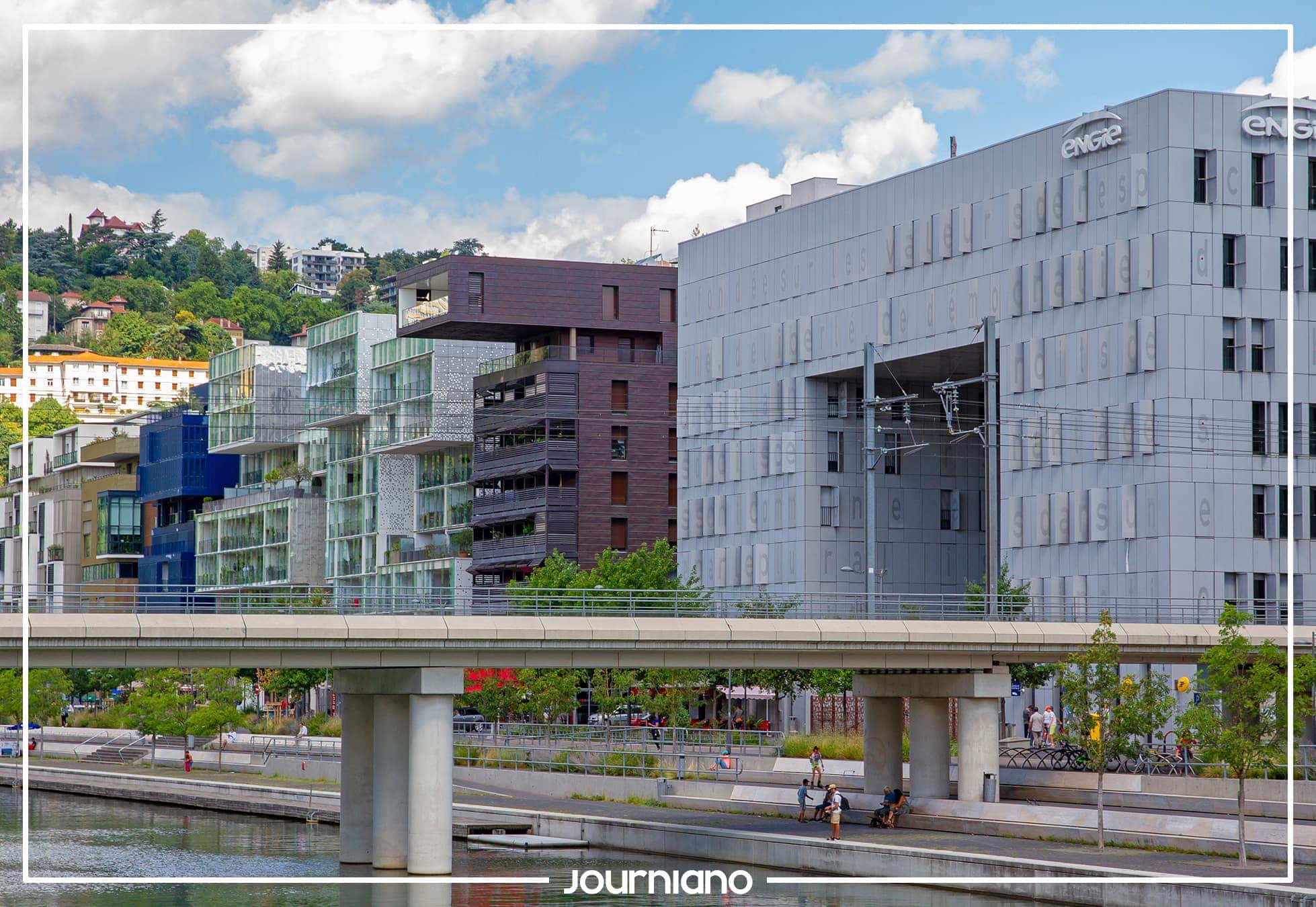 In contrast, the residential part takes another approach. While not that crazy, the design is solid and modern. Still, one of these buildings is striking among them. It looks like the architect likes containers and Jenga a lot. Five blue container-looking blocks are placed on top of each other. Plus, three of them ordered staggered to one another, enabling nice terraces. Looks crazy but it first perfectly.
Moreover, there is the marina next to a neat pedestrian bridge, linking both sides of the port basin. The docking boats and yachts create a special vibe. They remind me of the quarter's proximity to one of Lyon's rivers – the Saone.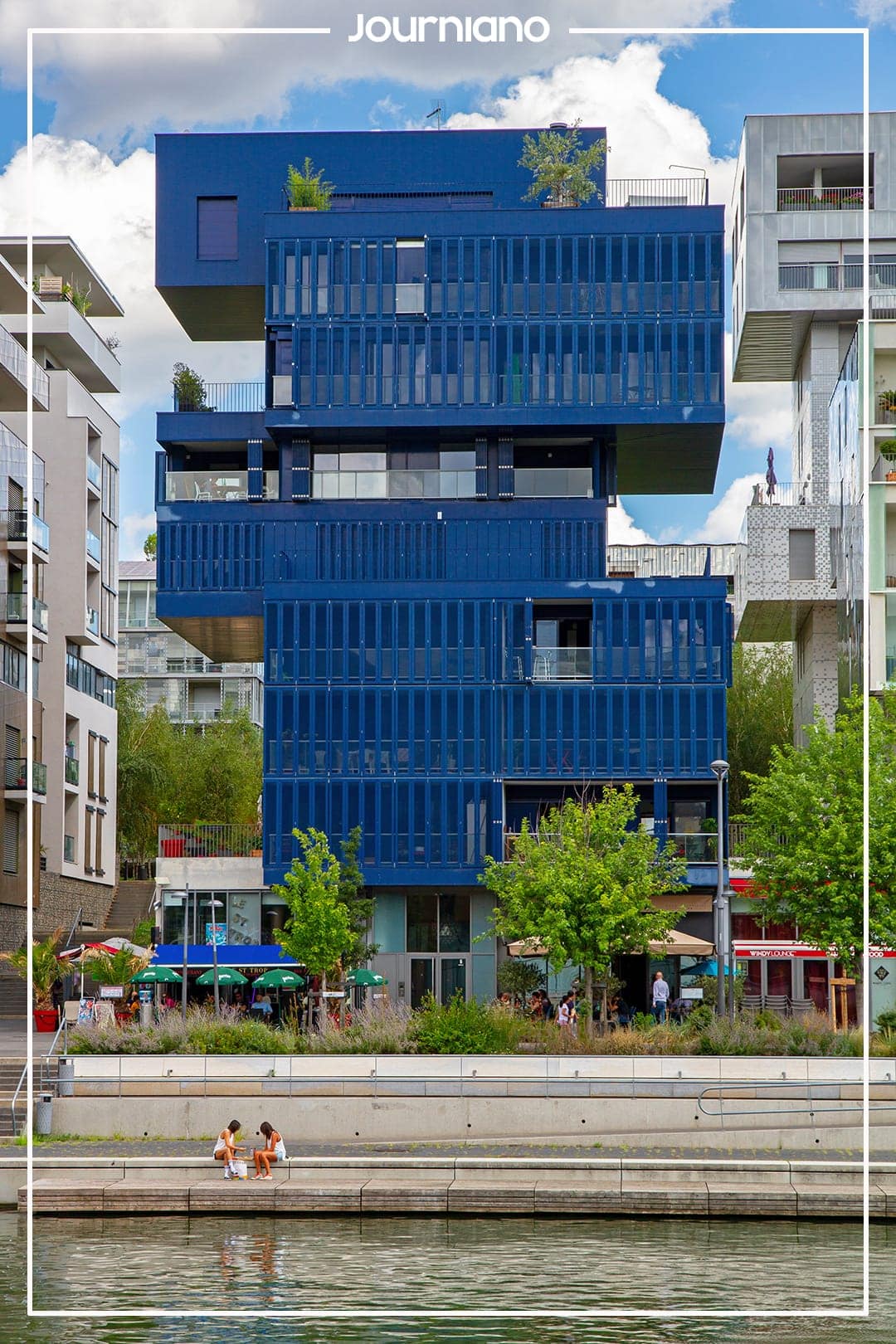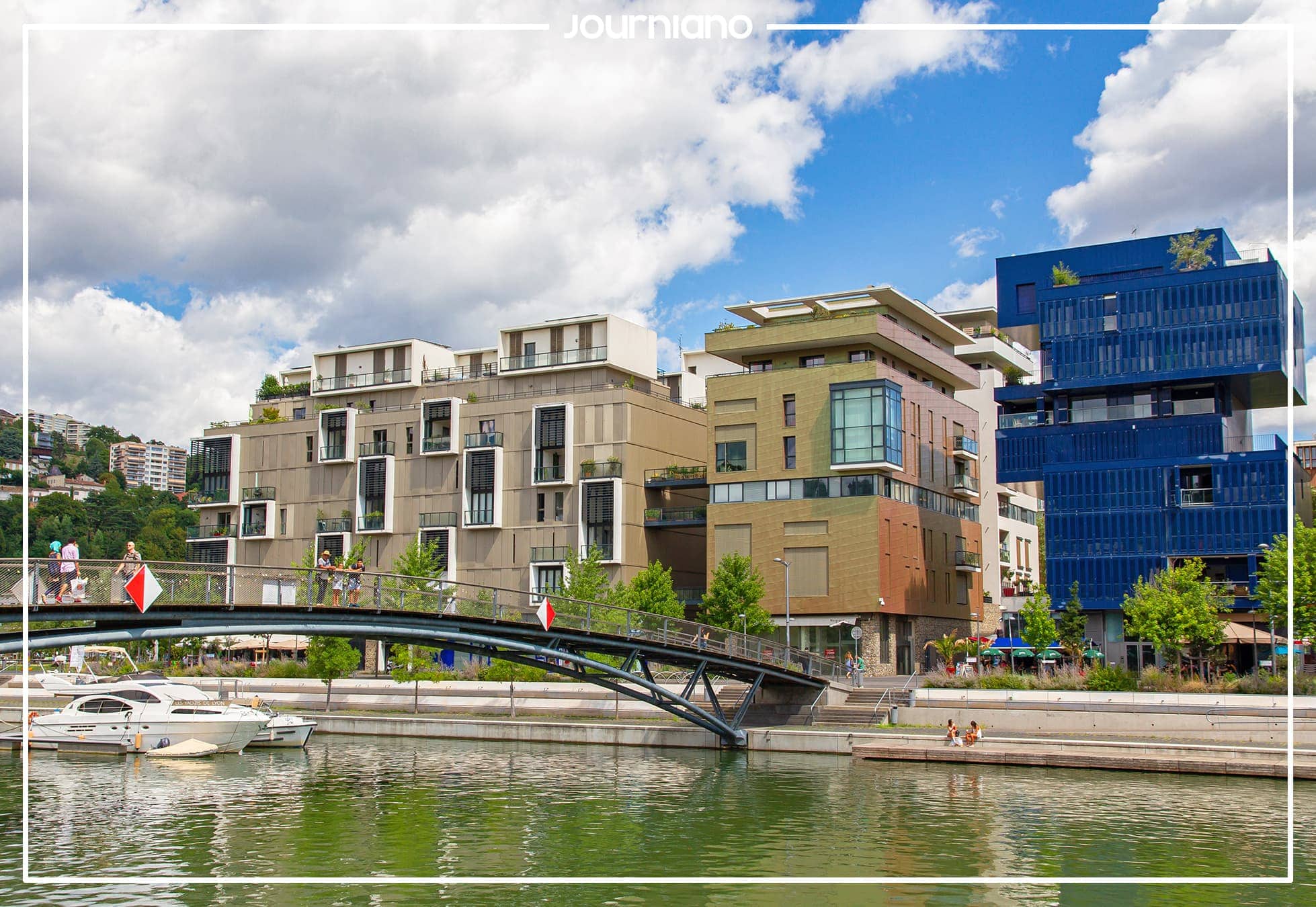 3. Strolling along the Saone River in post-industrial La Confluence in Lyon
Luckily, La Confluence is blessed being located right at two riverbanks. Especially the one at the Saone River adds something special. Furthermore, various architectural highlights are located along this particular riverbank.
3.1 Beautiful Waterfront and panoramic View along River Saone
Do you know what I like a lot? The clash of nature and urbanity. Fortunately, this can be experienced greatly along River Saone in La Confluence. The beautiful waterfront offers a great panorama of the opposing hillside, which belongs to the commune La Mulatière. Its verdancy and dense tree population enrich the view a lot.
Quai Rambaud, the promenade along the riverbank, shows signs of the past pretty well. Inactive rail tracks and cranes have been kept to emphasise the industrial history of this quarter. They definitely add charm as well as character to the environment. Plus, there are gorgeous boats docking all over the riverside.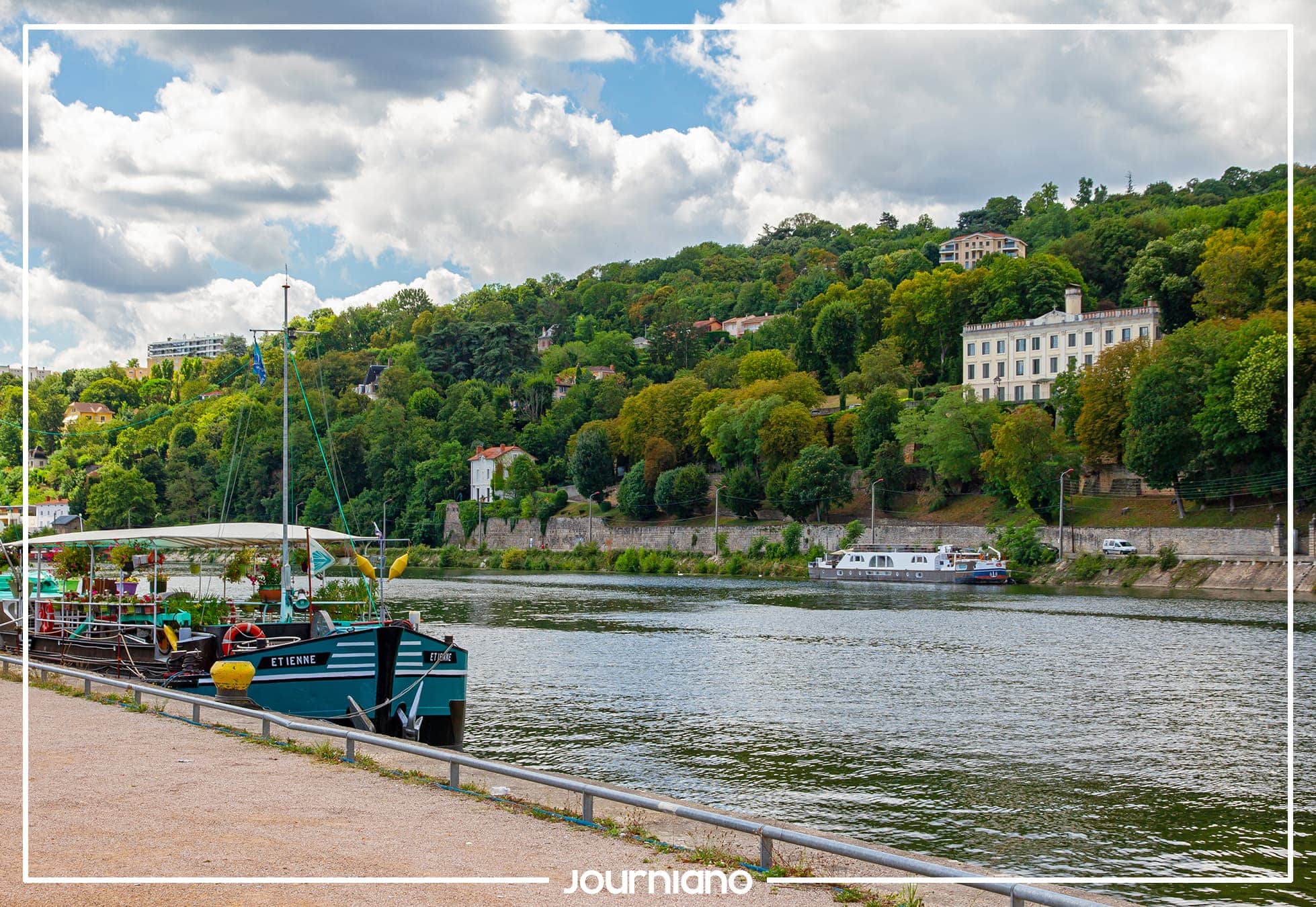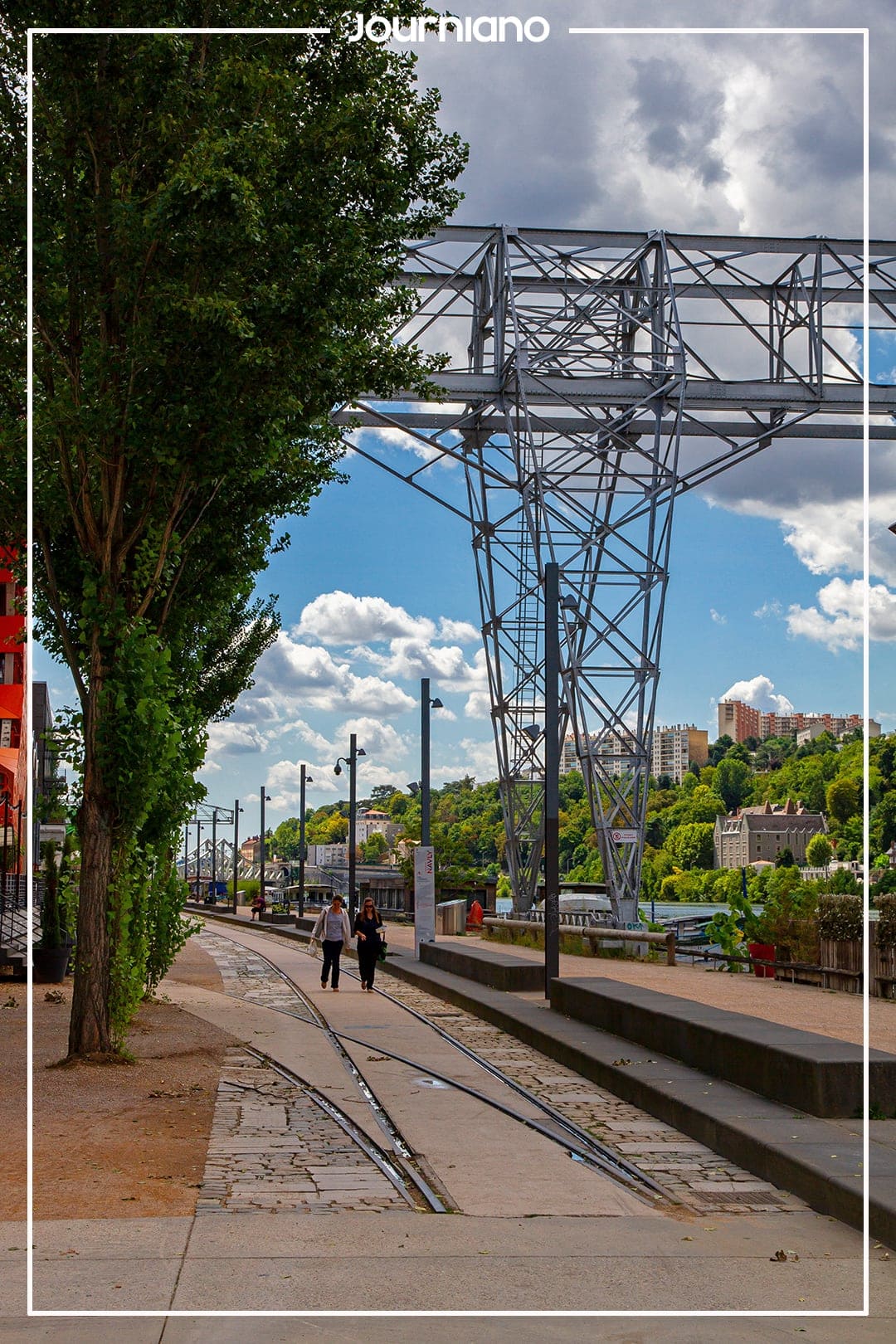 For visitors coming here for the first time, there is a lot going on on both sides. So, you might stroll slowly and admire everything. Whereas locals tend to move faster along River Saone. A special public transport vehicle provides fast commuting.
3.2 Getting around by an autonomous Shuttle
Lyon implemented a commuter for everyone who needs to move within La Confluence. For free!
The NAVLY is an autonomous shuttle that operates from the Marina to the southern tip of the quarter. Back then, it was the first autonomous vehicle I experienced operating. It's definitely a good alternative for workers in this area to move fast, along with all the architectural highlights. Especially two gaudy ones.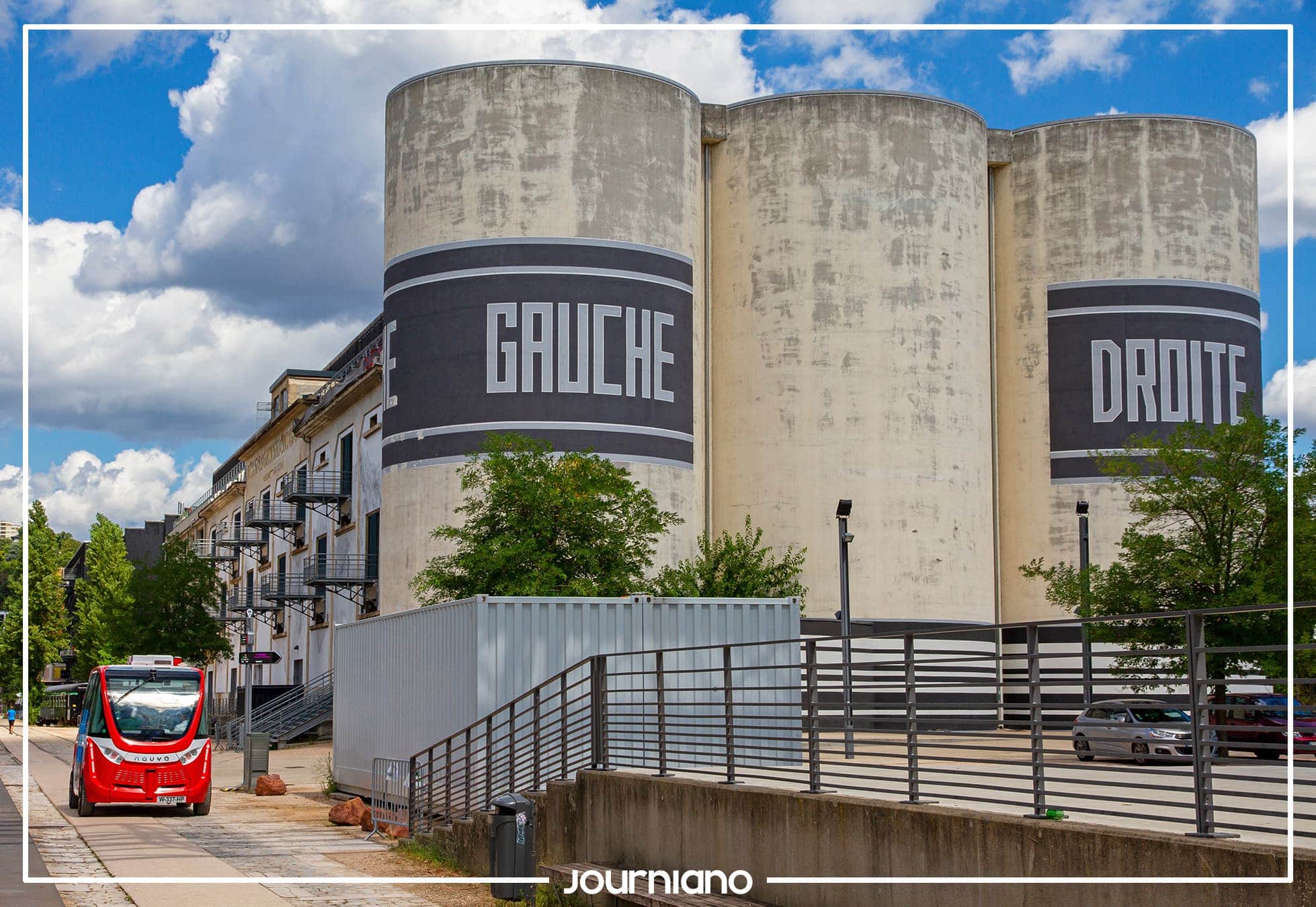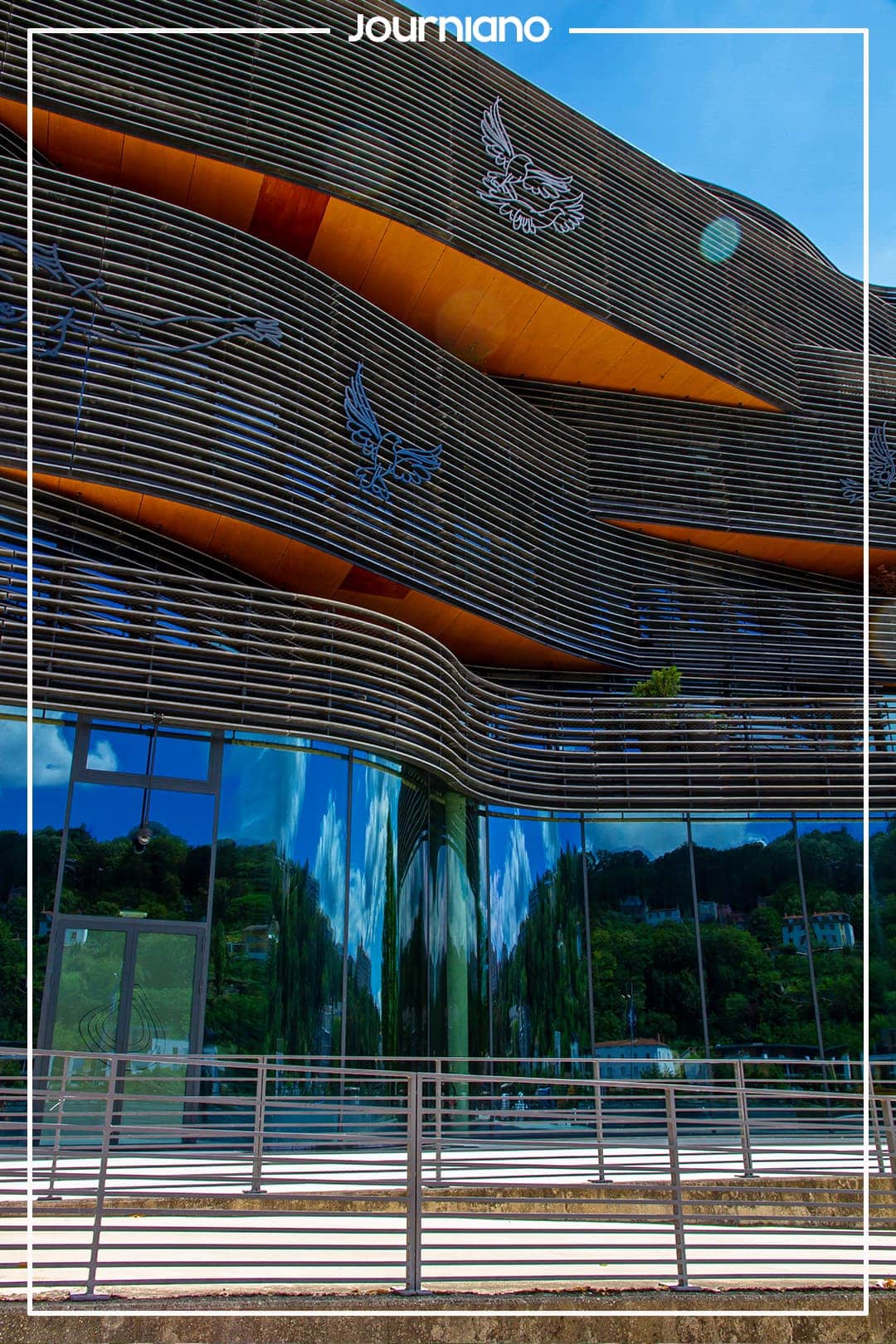 3.3 The Cubes of Confluence – Colourful explosive Architecture
Imagine being smashed by the appearance of a building because its design is off the charts. Furthermore, the colourful presentation hit the saturation mark pretty high and neon-like. If this never happened to you before, it will for sure with the Cubes of Confluence.
Being hit by the bus doesn't imply something negative, to be clear. At least in this case.
Nevertheless, the architects Jakob and MacFarlane designed two cubes with similarities. They both stand out in terms of design and their colour coat. Still, they have their unique differences.
3.3.1 The Orange Cube
In 2010, the first Cube was completed in La Confluence. Its striking orange facade stands out from the rest and enables a good mood, even though the weather might be bad. The high colour saturation might make you speechless in the first place. But shortly after when you notice its huge hole leading to an atrium, the jaw-dropping impression is close.
First of all, this was the first time I saw architects using holes through facades to create an atrium. Creatively, this is a great alternative solution to enable more natural light into the offices. Secondly, the theme of holes proceeds with the rest of the facade as well. Somehow, they look like oxygen bubbles you see in the water when the windows behind reflect the blue sky.
So, what about the Orange Cube's sibling?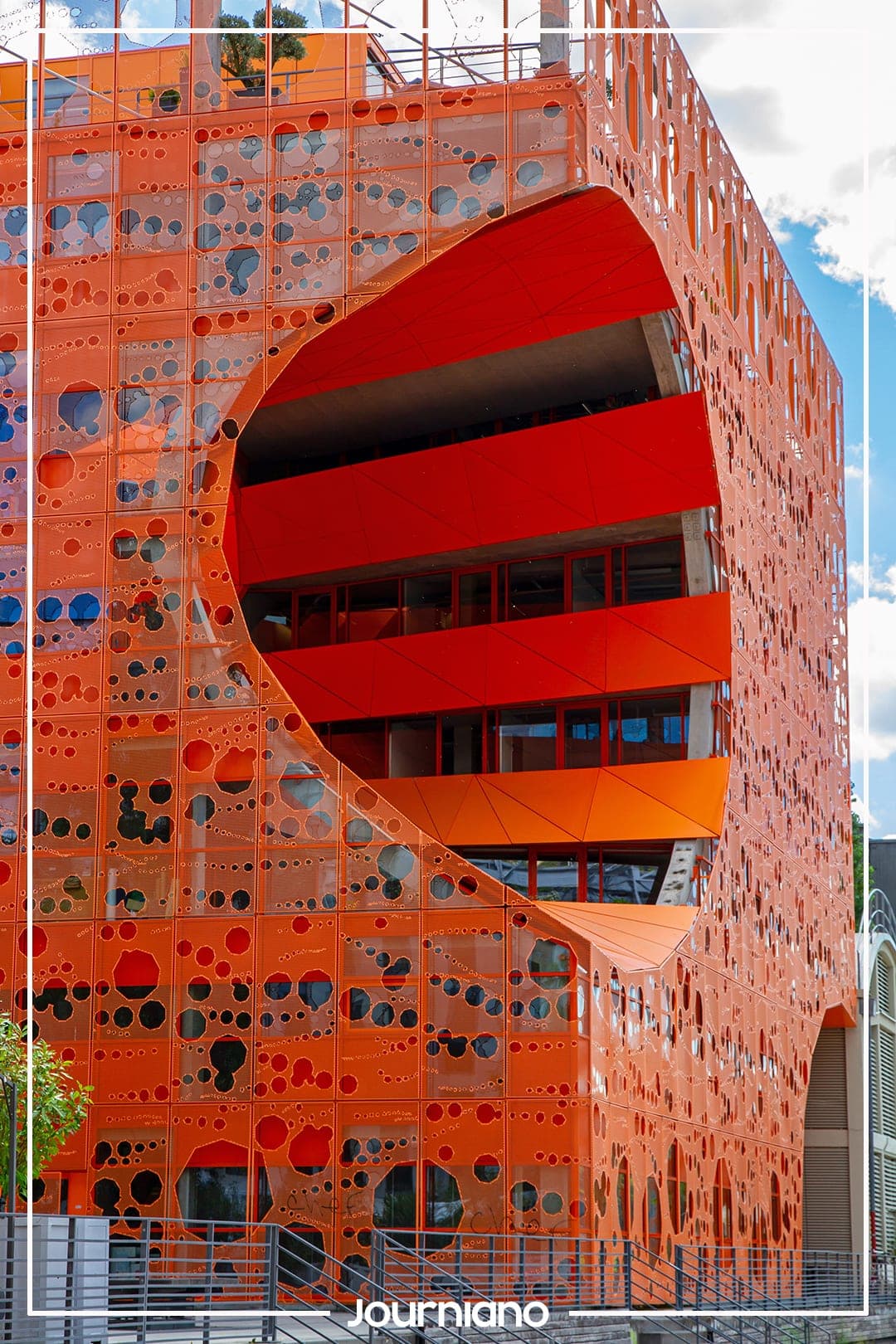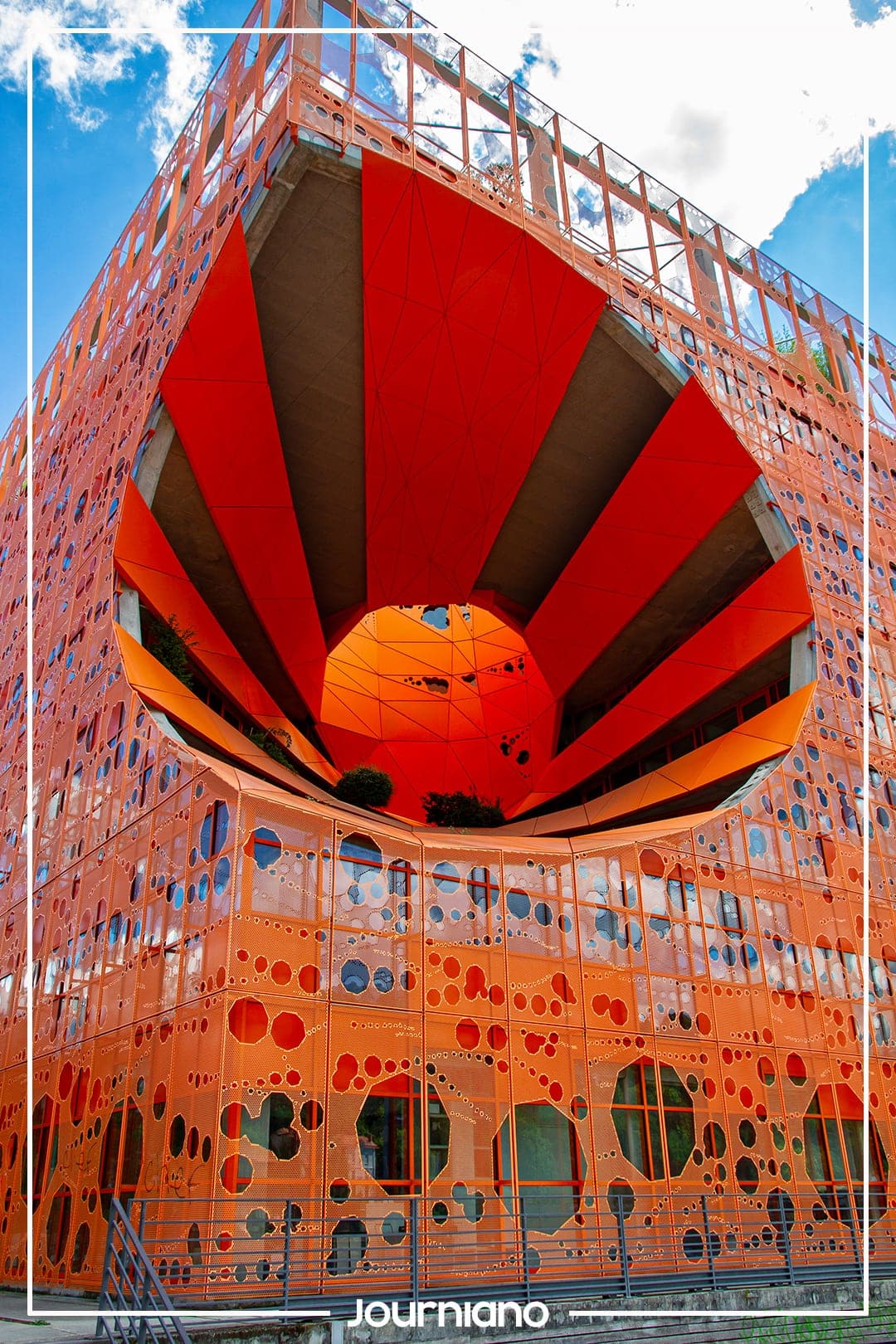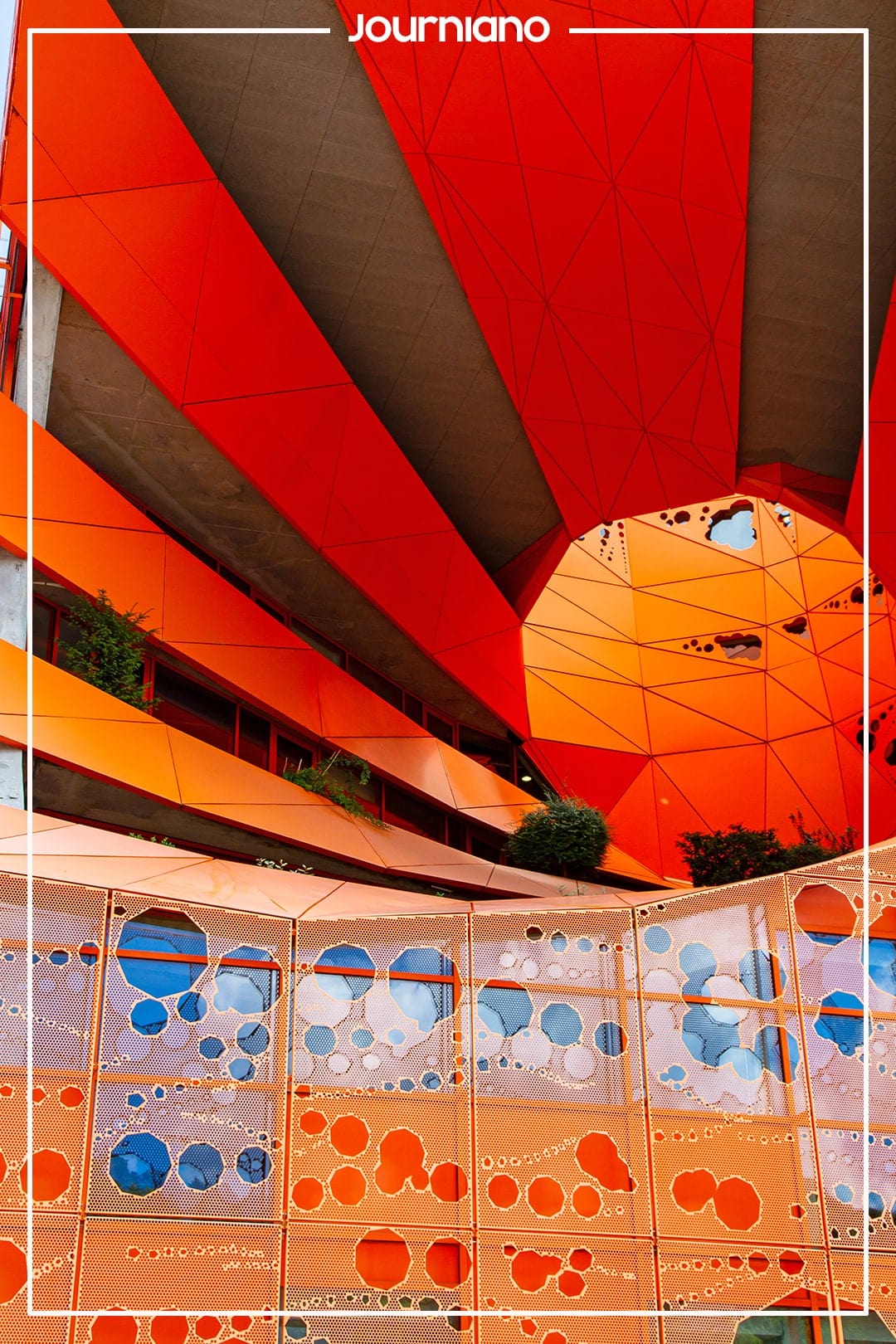 3.3.2 The Green Cube
Four years after completing the Orange Cube, the green one was finished. Almost located 500 metres away towards the southern tip of Confluence, the Green Cube is slightly bigger than its older sibling. Built for the television studios of Euronews, this Cube got a major difference. It got an additional hole. Unlike the Orange Cube, the green one has its atriums more centred instead at its corner.
What's also fascinating, is the fact that the green colour is somehow neon-like. It reminded me of the neon green policeman sticker I received for succeeding with my bike exam back in the days. Nice memories. Maybe that's the reason why I dig that obtrusive green tone.
Well, if you think that La Confluence has nothing crazier to offer architectural-wise, I have to warn you. There's still something to be unveiled.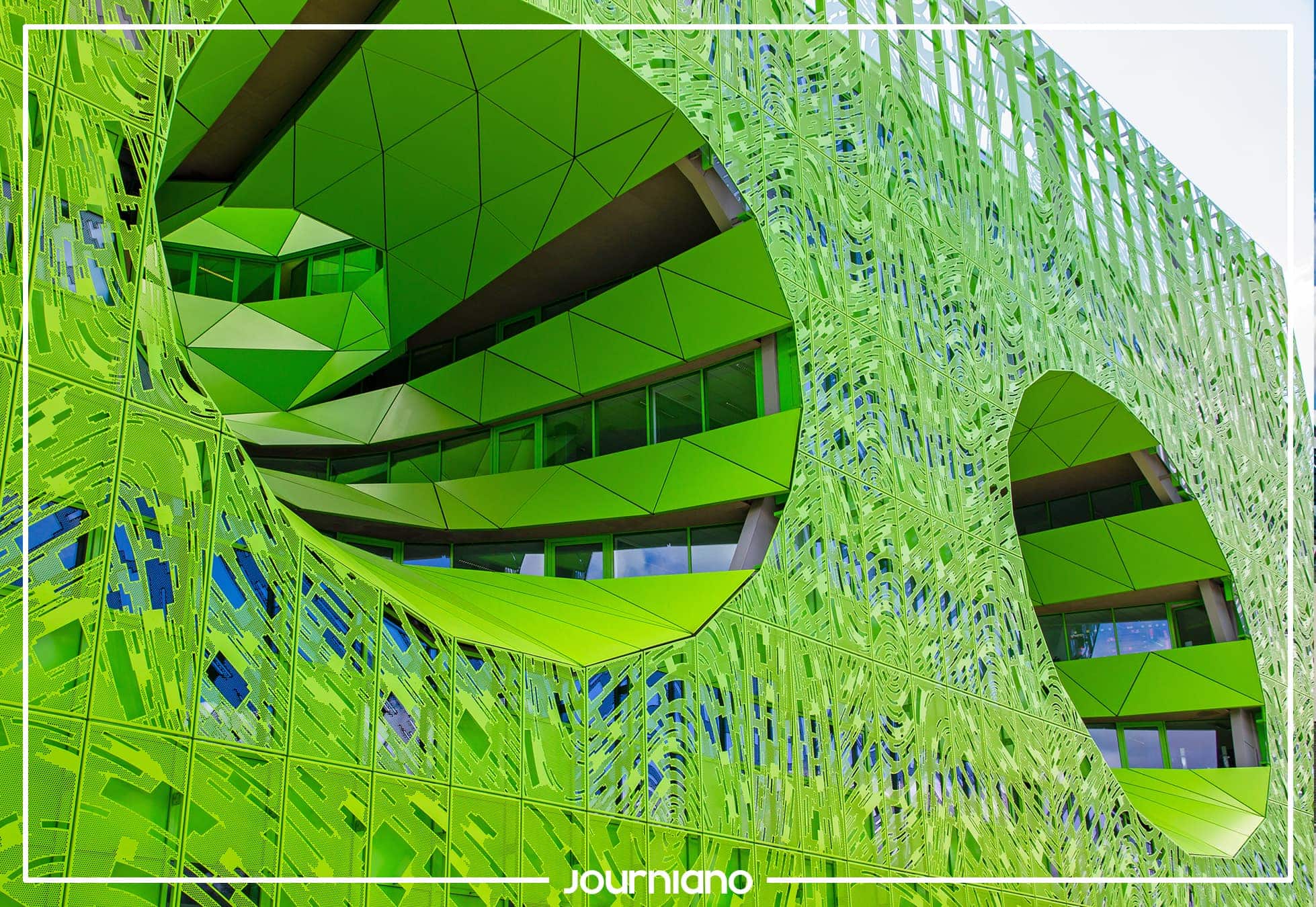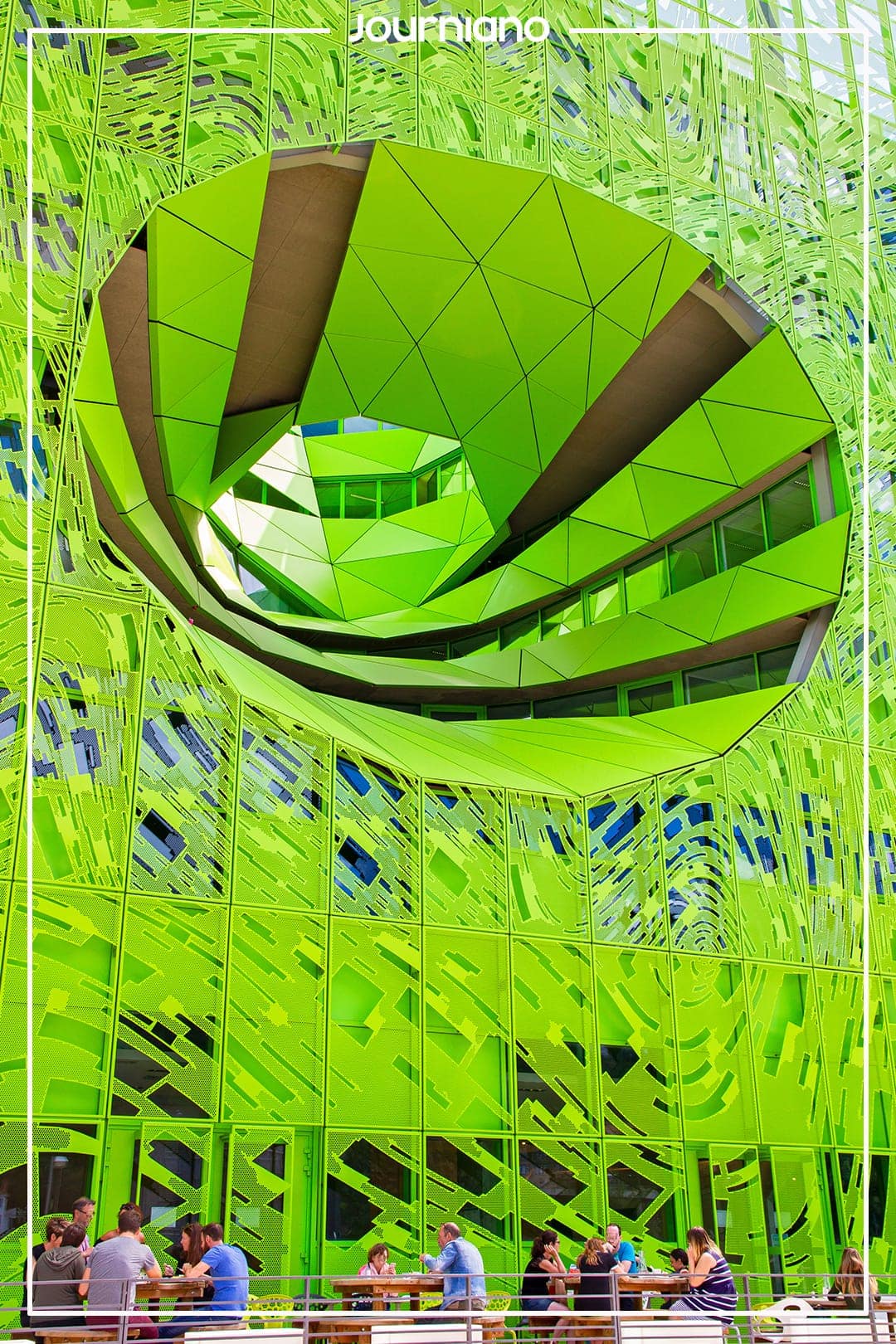 4. Musée des Confluences – The contemporary Highlight at the Southern Tip
When you design a museum for anthropology and natural science in a quarter, where architecture is as creative as it gets, what may the architects come up with? Yes, a contemporary ride of creative freedom resulting in the highlight of La Confluence.
I'm talking about Musée des Confluences, located at the very southern tip of both La Confluence and Presq'île. I'm also referring to the museum that almost doesn't have a straight edge.
You can say that this building got more forms and shapes than I've had during geometry classes. Completed in 2014 and designed by the Austrian architects coop-himmelb(l)au, the museum's design derives from their concept of "The crystal cloud of knowledge". Personally, I like this concept a lot.
Thus, it's unsurprisingly that one pilar is shaped like a tornado. It makes sense.
Moreover, the museum offers various possibilities to walk below its main corpse. Or to put it another way, its main cloud. One of them provides shades during hot days. Right above a neat pond, the cloud is almost within reach. It's nearly unbelievable how elaborately this museum has been designed.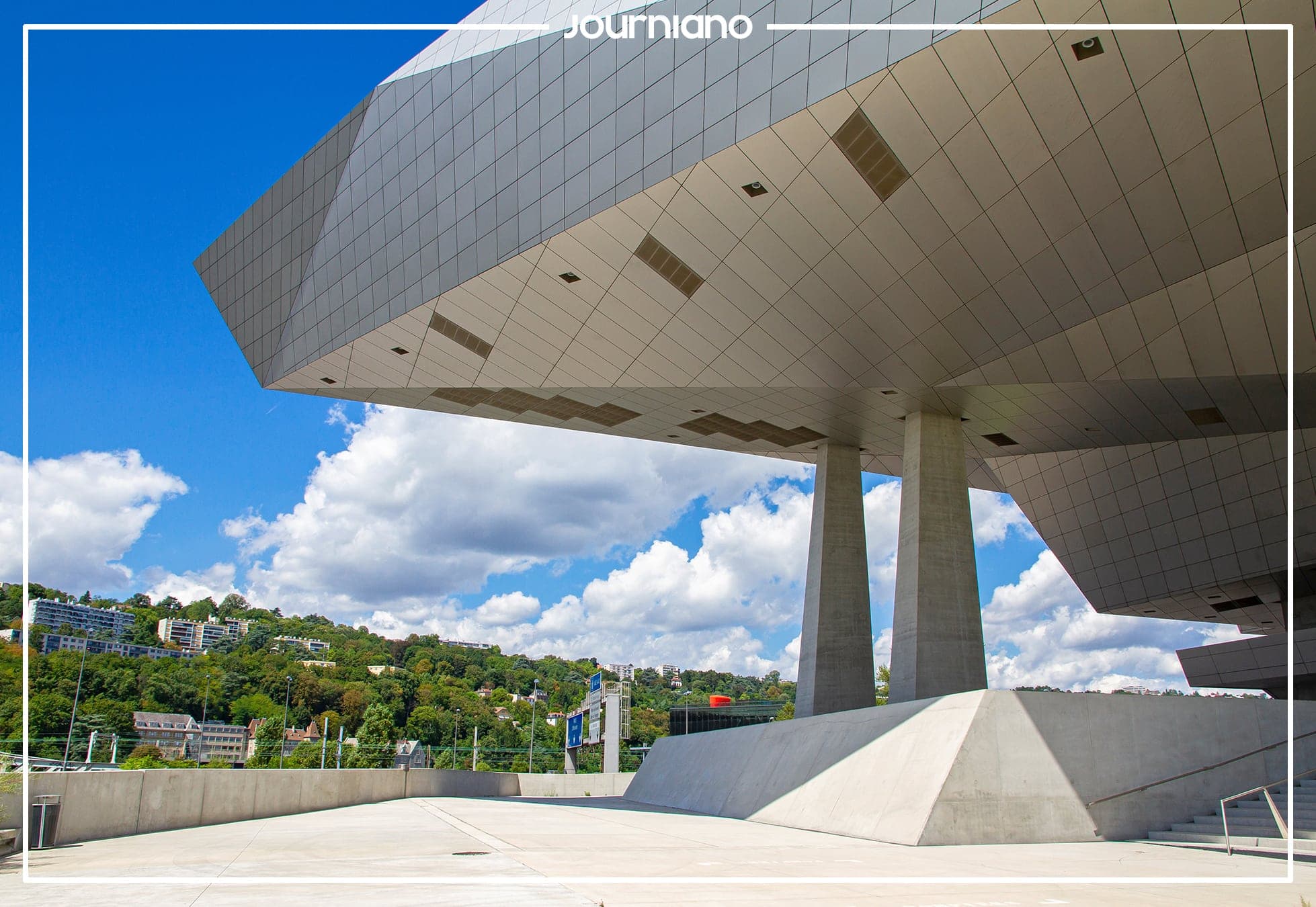 After seeing almost entirely blind walls, the facade opens up towards its entrance. In contrast to the main part, this segment is built solely out of glass elements. Hence, allowing a variation in its appearance and enabling sky reflections. From this point of view, it's pretty noticeable what an amazing architectural monster Musée des Confluences is.
Unfortunately, due to time constraints, I wasn't able to visit the exhibition inside the museum. It's indeed double unfortunate because the entrance hall is special on its own. For further information about the museum, please click here.
5. When to visit La Confluence in Lyon
Due to the focus on architecture, La Confluence is a top year-round attraction. However, to experience the ultimate journey, I advise you to visit this quarter between spring and autumn. Strolling along the riverbank of the Saone has much more impact during that period.
For further information about La Confluence, check out their official website here.
6. How to get there
La Confluence can be reached easily by public transport and by car. Depending on your approach, there are tram stations both in the northern part and the southern part of the quarter. You can also walk straight from Perrache Station, which is 15 minutes away on foot.
For the best navigation possible, please use the embedded map below.
7. Conclusion
To sum it up, La Confluence is the contrast to every other quarter in Lyon. Here, architecture knows no boundaries. Thus, it's the epicentre for contemporary sights in the city. Furthermore, some buildings are so unique that they shouldn't be missed. Last but not least, the riverbank along the Saone River, with its great panoramic view on the opposing hillside, complements the fantastic journey.