Schlosspark Heltorf is being frquently overlooked among the parks in Düsseldorf. Located in the northern ward Angermund, this palace garden stands out amazingly with a huge number of Rhododendrons. Moreover, it's the second oldest deposit for these types of flowers in Germany. Dive in deeper to get further insights into the natural attractions Schlosspark Heltorf has to offer to you.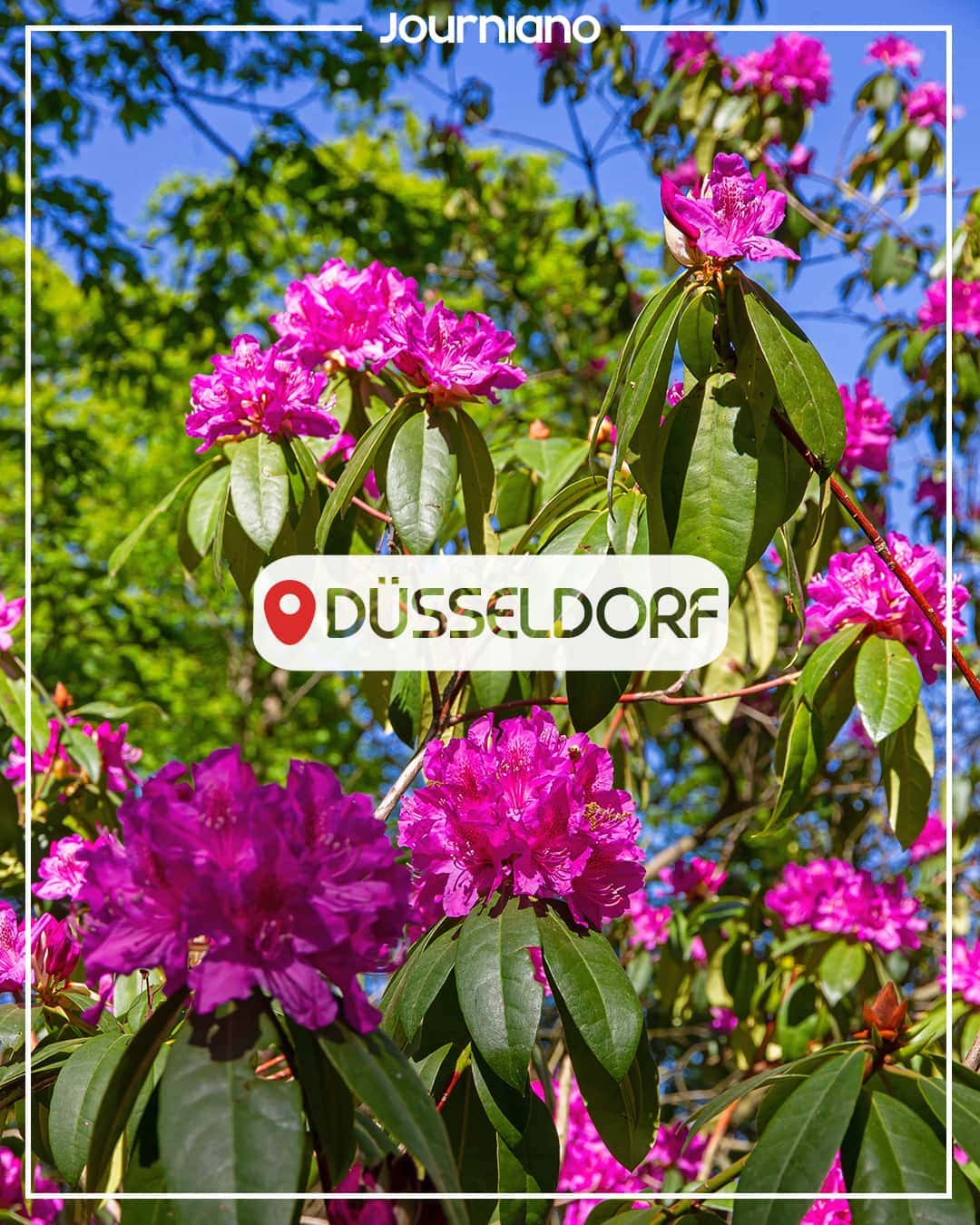 What to expect
1. About Schlosspark Heltorf
Designed after layouts in English landscape style, Schlosspark Heltorf is a gem of a park. Situated in Düsseldorf North, Angermund, the palace garden is mostly a huge wood cell. Inside, you find a bunch of natural attractions. Beautifully, flowers stand out the most at Heltorf. Especially, the cultivation of Rhododendron is huge here. Schlosspark Heltorf counts as the second oldest Rhododendron deposit in Germany.
You have to know that this park has a long history. Since 1799, the first-ever planted tulip tree in Heltorf is still existing there. From 1803 until today, the Schlosspark got its present appearance thanks to the cultivation of forestry operation by the count family of Spee.
Nonetheless, despite the park's richness, it's being overlooked by many people. So, if you haven't visited Heltorf yet, I'm going to change it.
2. The Park's Lovely Waters – Ponds & Creek
Kicking off your journey from the park's entrance at the castle side rewards you with lovely waters. From ponds to a creek, Schlosspark Heltorf got a few beautiful water places.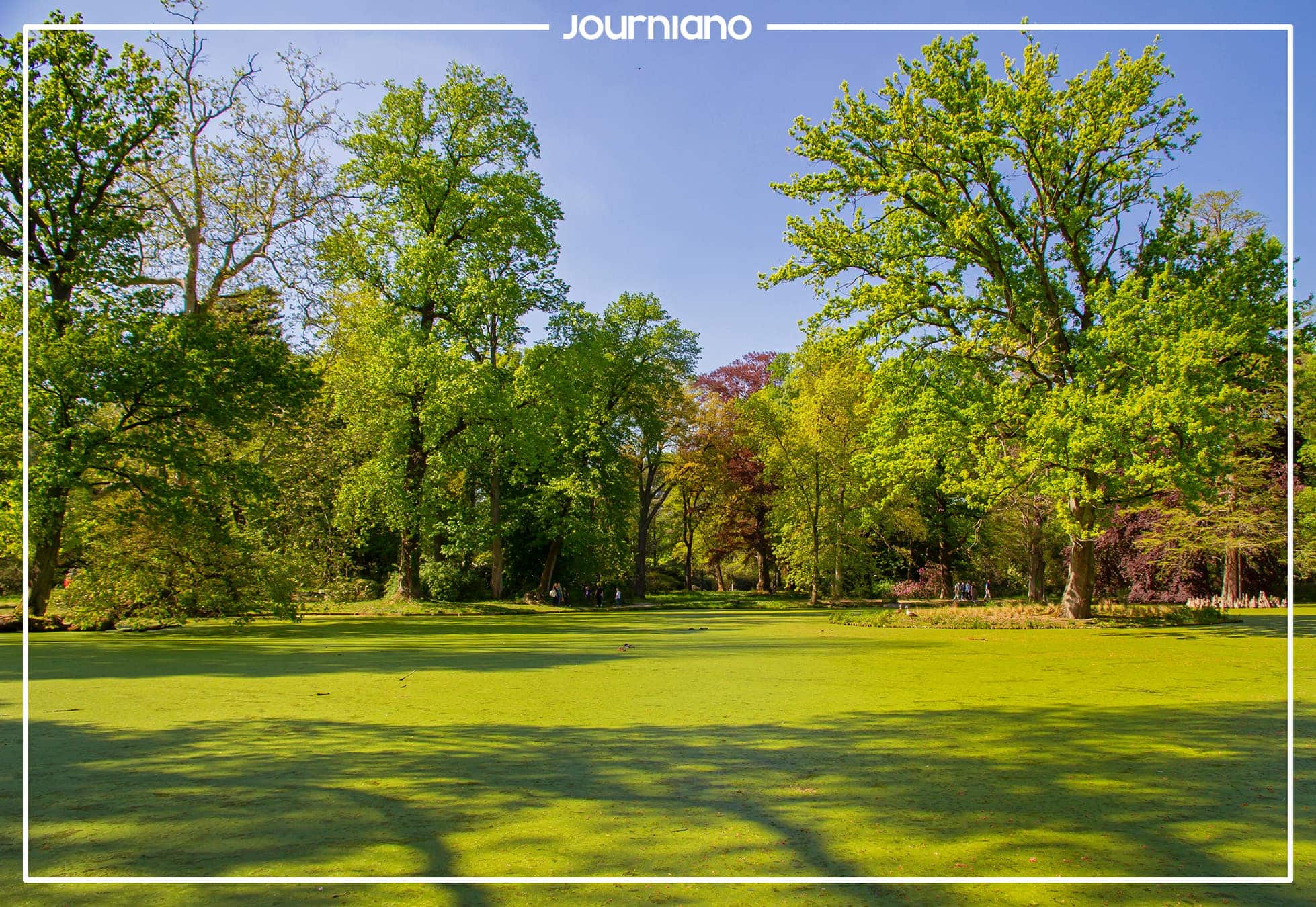 2.1 The green Pond
Have you already seen a pond that doesn't look like one? Probably, because the water was not visible? Well, if not, you might find your first one at Schlosspark Heltorf. Starting from the entrance to the palace, the park welcomes you with a great green pond. Without noticing the water source, you could be tricked. Moreover, I highly recommend going around it to capture it with parts of Schloss Heltorf.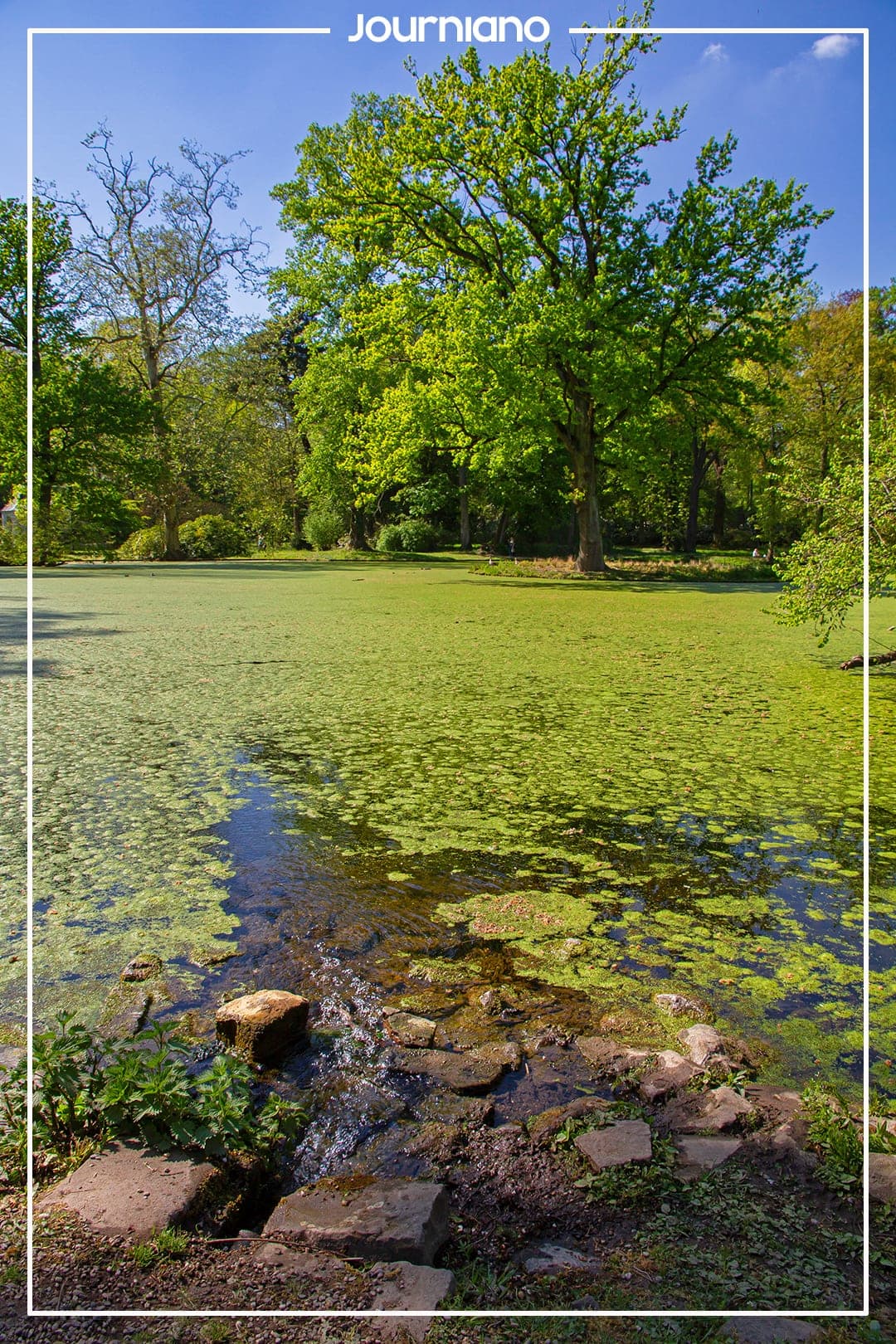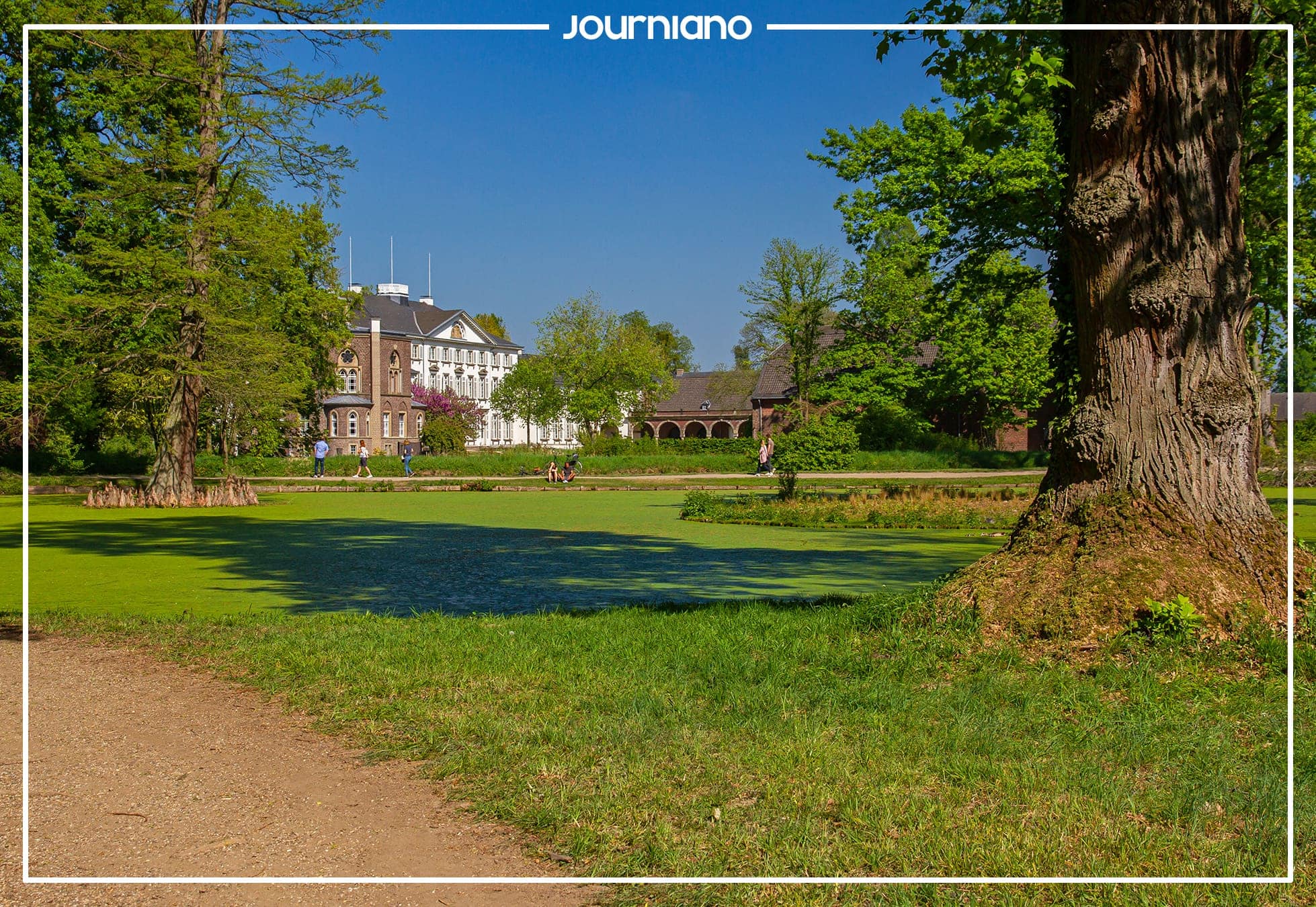 2.2 The mystic water mirroring Pond
After the green pond follows the mystic and water mirroring pond. Further down the park's woods, there is another pond with different characteristics. Astonishingly, its surrounding creates a mystic vibe around it. Furthermore, you might experience gorgeous mirroring effects on the water's surface. At the pond's northwestern edge, you can also sit at its bank, chill and seek nature at its finest.
2.3 The Ponds' and Palace Ditch's Water Donator – The Angerbach
Unsurprisingly, Angermund's eponym flows through Schlosspark Heltorf. The creek Angerbach, also just called Anger, feeds the waters of the park and the palace. Although you encounter it right from the start, it proceeds along the remoteness of the palace garden.
3. The Park itself – Woods & Green Spaces
A stroll through Schlosspark Heltorf also means a stroll through the woods. Thankfully, it mostly consists of a forest. Astonishingly, the park is blessed with massive and old trees. Somehow, it gives you the impression of being in a city packed with highrises. However, instead of concrete and glass, you get proper green highrises made of wood and fitted with thousands of leaves. Thus, breathing fresh air is mandatory here.
3.1 Wide and Open Spaces
Besides the dense woods, Schlosspark Heltorf surprises with wide-open spaces as well. Here, you get another great sense of the park's magnitude and beauty. As there are multiple paths available, you might get lost easily. However, don't worry because the journey is the reward.
4. Rhododendron Heaven – The blooming Star
Finally, it's time to emphasise the blooming star of Schlosspark Heltorf. Blessed with a huge variety, the Rhododendron pops up beautifully throughout the park.
4.1 Close Look of the Blossoms
Luckily, Rhododendrons are prime models for shootings. You can capture them with their environment or from up close. Thanks to its huge number in the park, you can take them from every angle and in every colour. Especially the white ones caught my eye for detail shots. Seemingly looking like apple blossoms, they harmonise tremendously with a certain bouquet.
4.2 Enriching Paths throughout the Park
Funnily, you don't have to search for Rhododendron in Schlosspark Heltorf. As a matter of fact, they find you. Beautifully, they enrich a lot of paths throughout the park.
4.3 Taller Versions decorate the Sky
Besides just enriching the park's paths, those Rhododendrons reach shapes and sizes which are breathtaking. Astonishingly, some of them get really tall that they literally decorate the sky.
4.4 Majestic Compositions round up the Rhododendron Heaven
After all, you find certain areas, where Rhododendrons are arranged in epic ways. Rounding up the Rhododendron heaven, majestic compositions allow them to look like blooming valleys.
5. Other Colourful Flower Types add to the Journey
Last but not least, it's not all about Rhododendron. In fact, Schlosspark Heltorf delivers with other flower types as well. Similar to the park's star, they appear in multiple shapes and colours. Unfortunately, I don't possess the knowledge of a florist. Hence, naming you the upcoming flower types is difficult. In case you know them, I'd appreciate your support in the comment section a lot.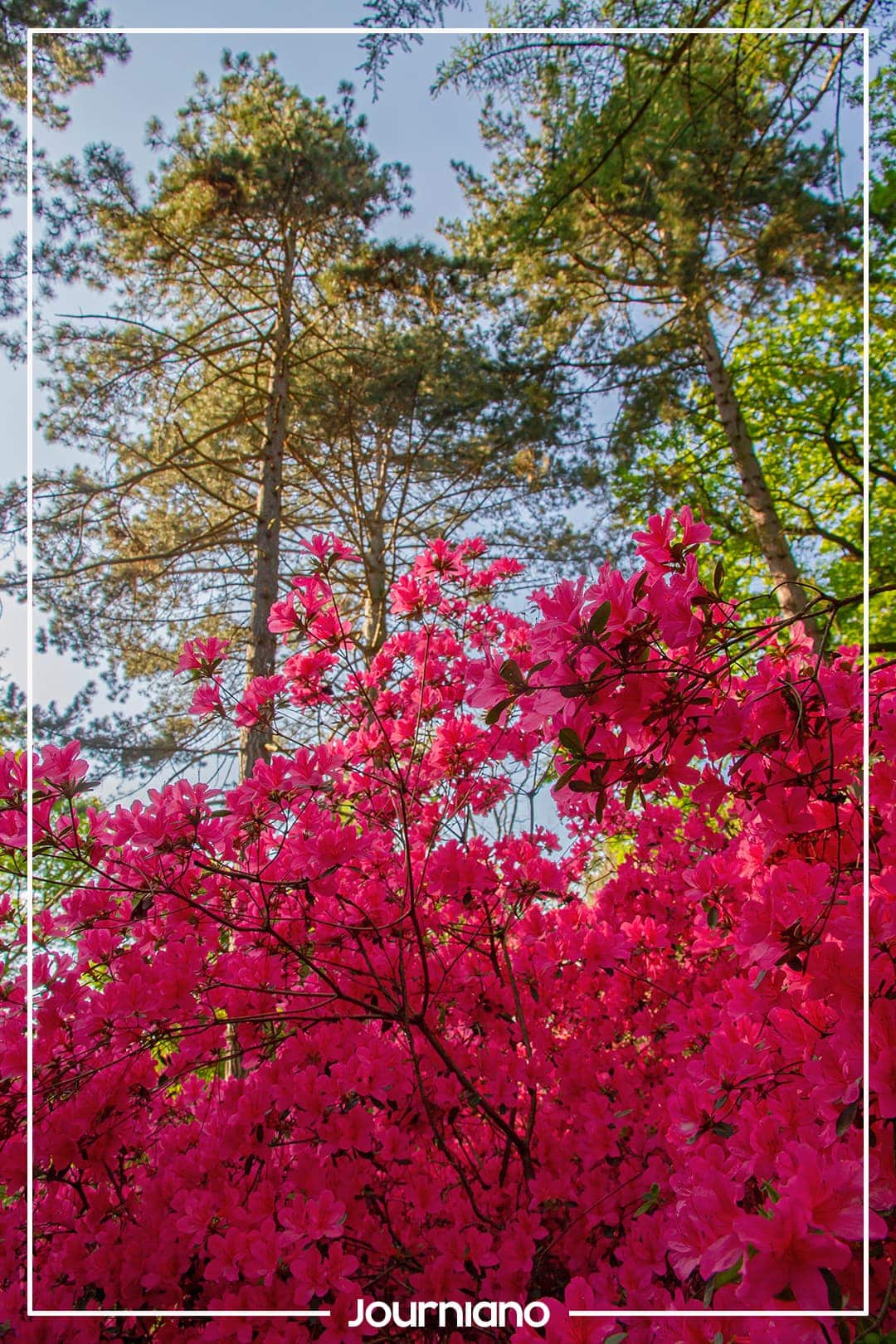 6. When to visit
Schlosspark Heltorf is mainly open to the public from spring to fall. To experience the Rhododendron heaven at its fullest, you have to plan the months of May and June. The exact time period the park is open during 2021:
2nd of April – 31th of October from 10 am until 6 pm
Please bear in mind that the park can be closed due to ongoing events. The upcoming Sunday, the park closes because of an event, for instance. To be safe, don't hesitate to visit their official site for opening updates and more here.
7. How to get there
Schlosspark Heltorf is accessible by any way of approach. Luckily, the western entrance can be reached by the underground line U79 via Froschenteich Station. Otherwise, the eastern entrance at the castle can be reached easily from Duisburg Rahm Station. Moreover, there is parking space for cars in front of the castle as well. Nevertheless, don't hesitate to navigate the embedded map below.
8. Conclusion
Schlosspark Heltorf is by far one of the most interesting and mysterious parks in Düsseldorf. Thanks to its amazing and dense forest cell, you kill two birds with one stone. On top of that, the rich existence of Rhododendrons and other colourful flowers, make this palace garden a unique gem in North Rhine-Westphalia. Especially in spring, it's a must-visit.