Do you seek a very original place to spot the Sakura flower in Wuppertal? If so, there's a location where you can frame the Schwebebahn with the gorgeous pink cherry blossoms. Dive in deeper to explore this marvellous perspective.
What to expect
1. About Sakura Flower in Wuppertal
Every spring kick off with amazing blooming flowers. Especially the Sakura flower, a Japanese cherry flower, is one of the firsts and most dominant. While some German cities in NRW, North-Rhine Westphalia offer even entire Sakura avenues, Wuppertal however is more original in this category.
In no other European city will it be possible to capture cherry blossoms framing a suspension rail like the Schwebebahn.
2. The Cherry Blossom Park at Bayer Factory – The Sakura Sky
The pink place to be is located in-between the Schwebebahn stations Varresbecker Straße and Westende. As soon as you get off from one of these stations and head to the other, you can't miss the high concentration of cherry trees next to the Bayer factory.
By definition, this isn't exactly a park. Still, as soon you walk below these trees, your world changes. The blue sky gets replaced by a pink one. You're standing under a beautiful Sakura sky. Not even Bonn manages this effect, although it forms sort of a cherry blossom tunnel.
Furthermore, this Sakura heaven is located right next to the Wupper River. Thus, the Schwebebahn passes by super close.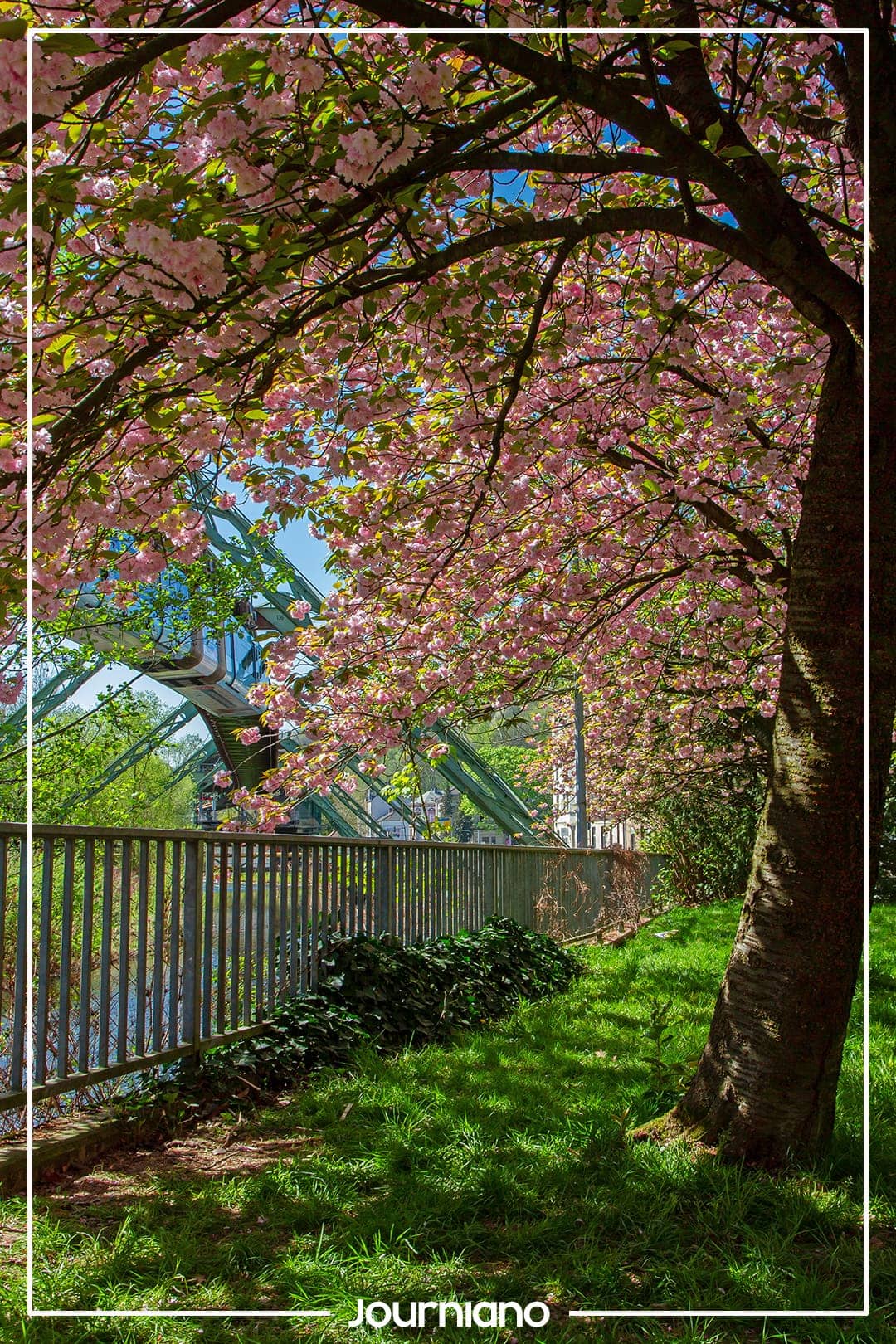 3. Sneak peeking between Cherry Blossoms
Long branches packed with Sakura flowers cover the view towards River Wupper. Perfectly for a little sneak peeking. At some points, the gaps between the branches are very narrow. So, you can capture the suspension railway being dominated by gorgeous cherry blossoms.
Moreover, the Varresbecker Straße station is visible from here. Hence, you can easily spot the Schwebebahn going inbound and outbound.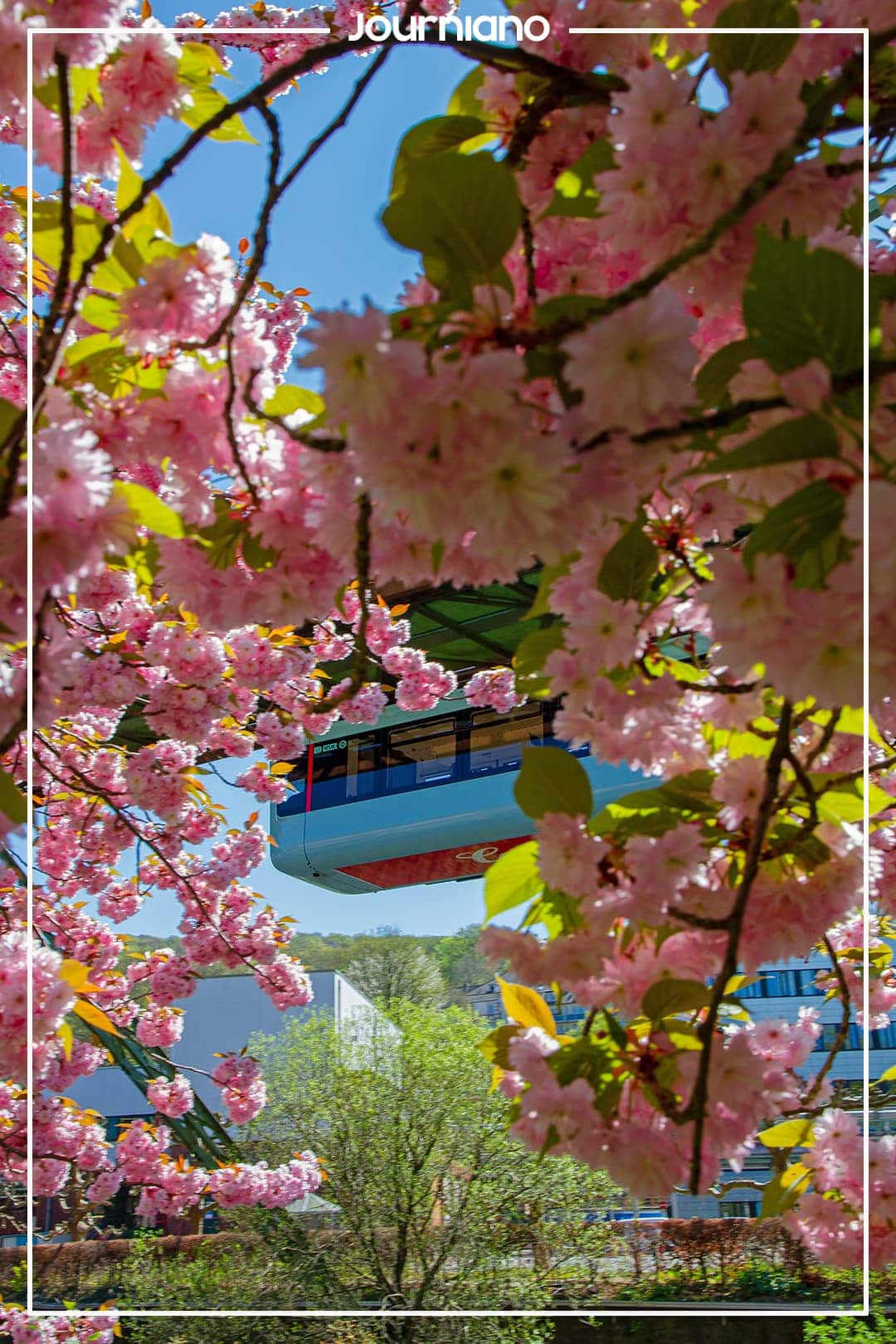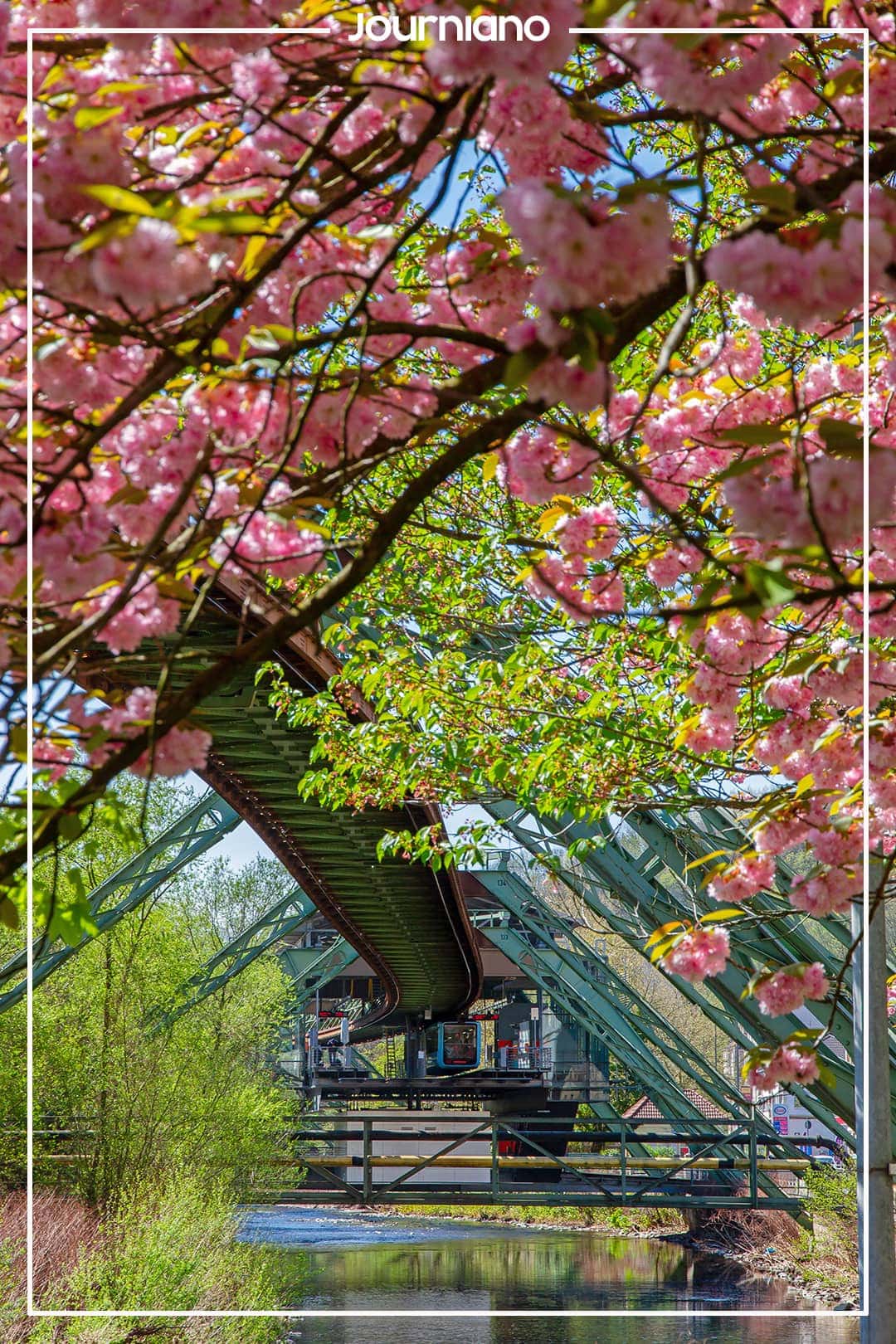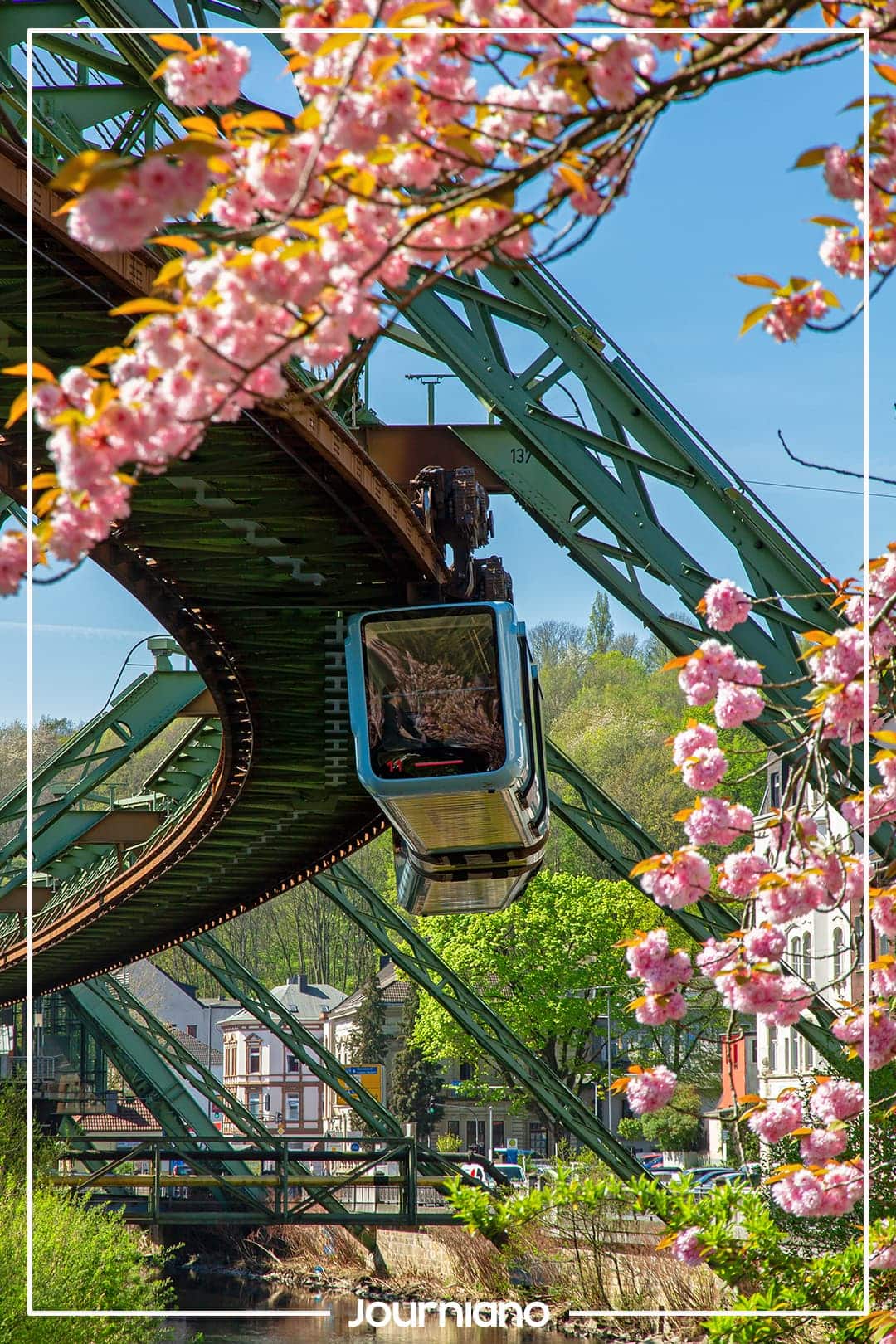 4. Schwebebahn feat. Sakura Flower in Wuppertal
This little park offers many possible perspectives of the Schwebebahn. You can stage it in various angles. Featuring it with Sakura flowers is only one option. The existing scenery offers much more.
4.1 Looking towards Varresbecker Straße Station
By looking towards Varresbecker Straße Station, the Wupper River enters the stage in your photo motifs. Now, the contrast between colourful nature and industrial innovation reaches its peak. Plus, the green environment emphasises this particular effect.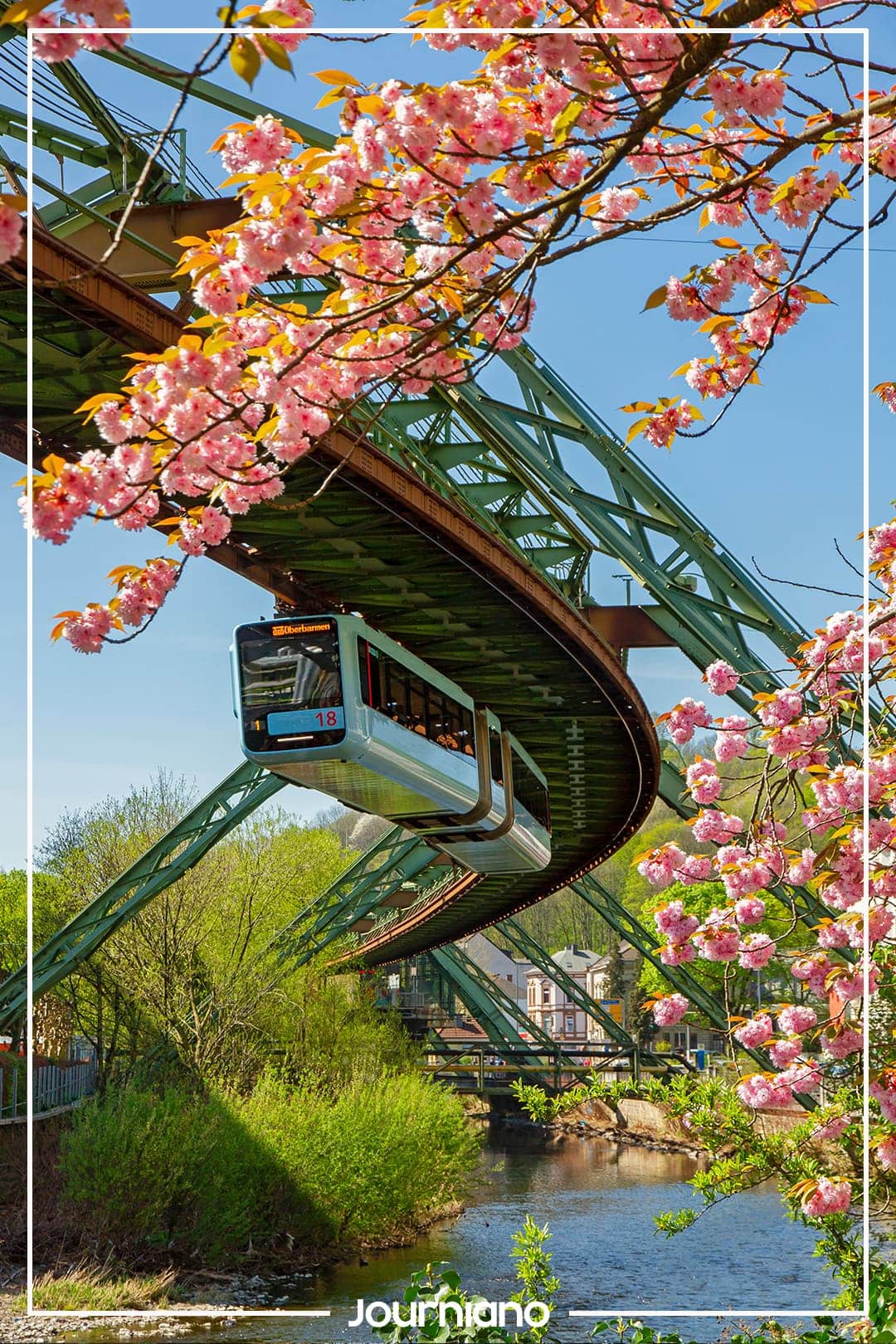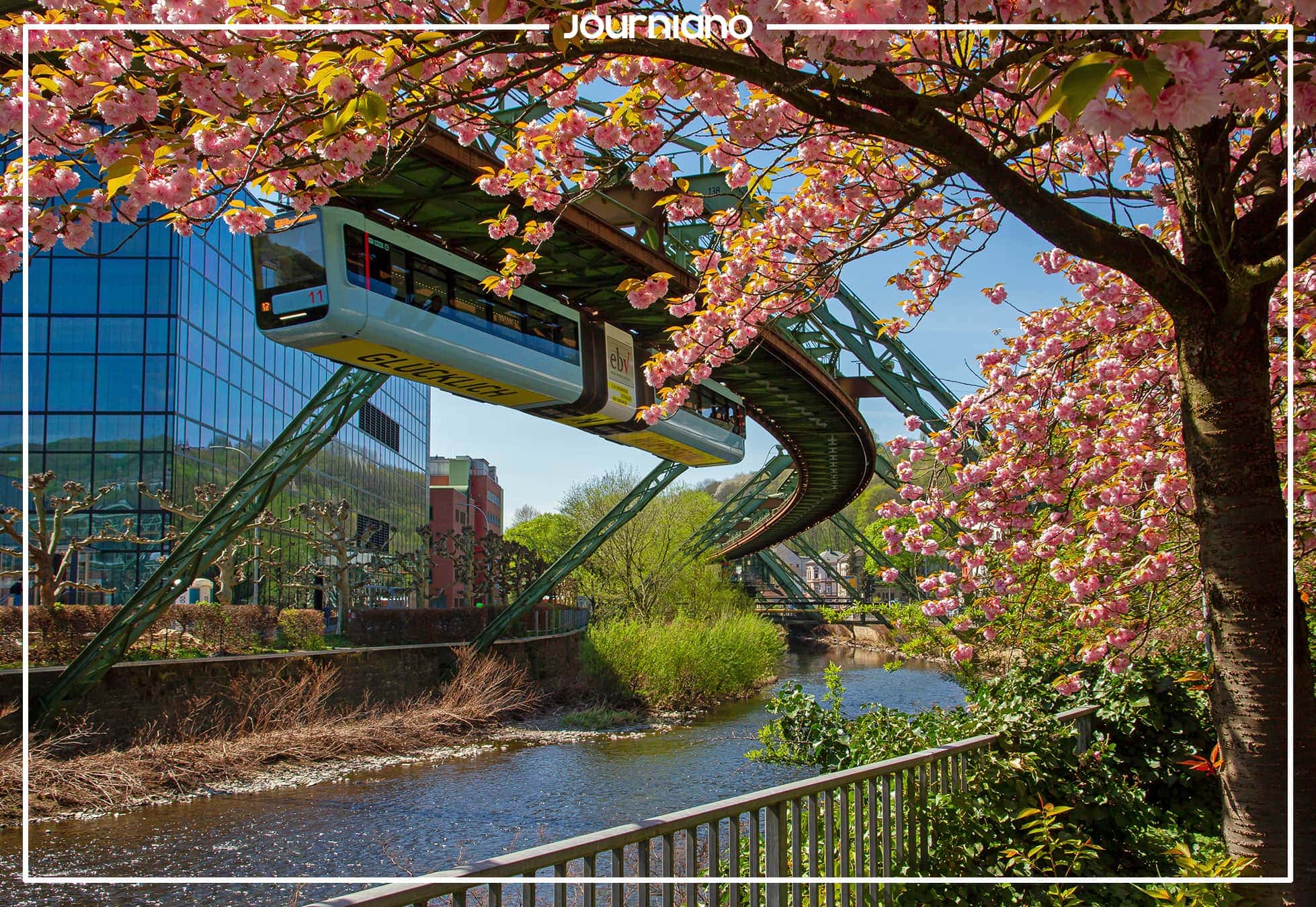 Besides that, one of Bayer's factory buildings offers a nice reflecting deep blue background. Combining these elements annuls the cherry blossom or natural dominance. Furthermore, the colour blue stands out the most. It's great to have this variety of possible photo motifs.
4.2 Turning the View eastbound
To change the point of view, there is a parking area next to the little Sakura flower park. There, the cherry blossom parade continues along the balustrade along the Wupper. Now, your perspective changes towards the east. Depending on your position, loads of ivy enrich your picture.
5. When to go there
In 2020, I took these pictures on the 16th of April. Due to climate variations every year, the blooming might start earlier or later. I'd recommend the following period to be looked at:
Just check via Instagram or other channels, if the famous spots are blooming already. Before heading towards this marvellous place in Wuppertal, be sure to have checked that.
As soon as I know that they are blooming, I'll post it in this section.
6. How to reach the Hotspot for Sakura Flower in Wuppertal
Wuppertal's Sakura flower hotspot is easily reachable. If you're taking public transports, I recommend taking the Schwebebahn to either Varresbecker Straße or Westende. When getting off from one of these, head towards the opposed station. On the way, you encounter the cherry trees immediately.
In case you prefer to approach by car, please bear in mind that the parking area right next to the Sakura flower park, as well as others nearby, is exclusively available for staff working at Bayer. Just check for parking lots along Friedrich-Ebert-Straße or Stockmannsmühle (better chances).
For the exact navigation please use the embedded map below.
7. Conclusion
Spotting the Sakura flower in Wuppertal is an original experience when combining it with the legendary Schwebebahn. The contrast between blooming colourful nature and industrial pioneer work is more harmonious as you might imagine. Should you plan unique cherry blossom tours in North-Rhine Westphalia, this hotspot can't be missed at all.