Lyon hasn't been on your bucket list, yet? Fourvière might change that for sure. Take a journey through time and see what surprises are in store at the peak of France's third-biggest city.
What to expect
1. About Lyon and Fourvière
France's third-biggest city is a topographic masterpiece for variation in the cityscape. First, two rivers flow through the city, enabling a lot of kilometres of riverbanks – who doesn't like that?
Second, Lyon is also hilly behind its old town. So, what does this mean? Probably, a lot of stairways, awesome views, and surprises here and there.
Third, that super hill is called Fourvière. And yeah, you get everything what I just assumed and much more.
2. Going uphill
The standard approach to reach Fourvière is via Vieux Lyon, the city's old town district at the bottom of the hill. Thus, there are actually three ways to get up there. However, I pretend that only two exist. Sorry, not sorry, private vehicle lovers.
2.1 Taking conveniently the funicular
From Vieux Lyon – Catédrale Saint-Jean Station a pretty classic looking funicular gets you uphill to Fourvière Station. It's definitely the fastest and convenient approach. Furthermore, the ride is also included in the day pass for public transports.
2.2 Going adventurously by foot
In case you're the type of person who likes to get rewarded after sweating, go by foot. In doing so, you can also kick-off from other points, e.g. at Saint-Georges quarter by following the street Montée des Épies. You'd definitely see a lot of interesting stuff which others miss, so choose wisely.
3. Basilica Notre-Dame de Fourvière
Once you arrived on the top of Fourvière, that white and slick basilica, which you probably see from almost everywhere in Lyon, seeks your attention so much that you'll head there first.
Notre-Dame de Fourvière, the basilica's name, is surprisingly new for such an enormous god-monument. It overlooks the city since its completion in 1884. If you observe the basilica closely, both from the outside and the inside, it's been made with a lot of love for details. Details you'd expect in much older ones.
3.1 White outside
When you approach the basilica's entrance, its ornament on the façade keeps you busy. There are sort of four variation levels of ornaments. Each of them is picturesque.
Somehow the bottom one stands out the most. While the other ornaments are mainly kept in white, the architect made the four pillars at the entrance in a dark grey tone. So, there is the first deviation of the overall white picture.
From that point on, you might think, what comes next. What can be expected inside.
3.2 Plot twist inside
The inside of Notre-Dame de Fourvière is a complete plot twist. After the grounded white outside, the interior is covered in gold. So much gold! It's literally jaw dropping.
If you leave this basilica after knowing how new it is, you wouldn't believe that so much gold has been used between the 19th and 20th century for a house of prayer. Imagine, the interior wasn't finished until the 1960s!
But still, I haven't seen such a golden decoration ever in my life before. The ceiling's design is truly astonishing. To me, it's definitely stealing the show. Funnily, I remember leaving the basilica with neck pain because I looked up too long.
Before heading to the next attraction, get sure to visit the lower level.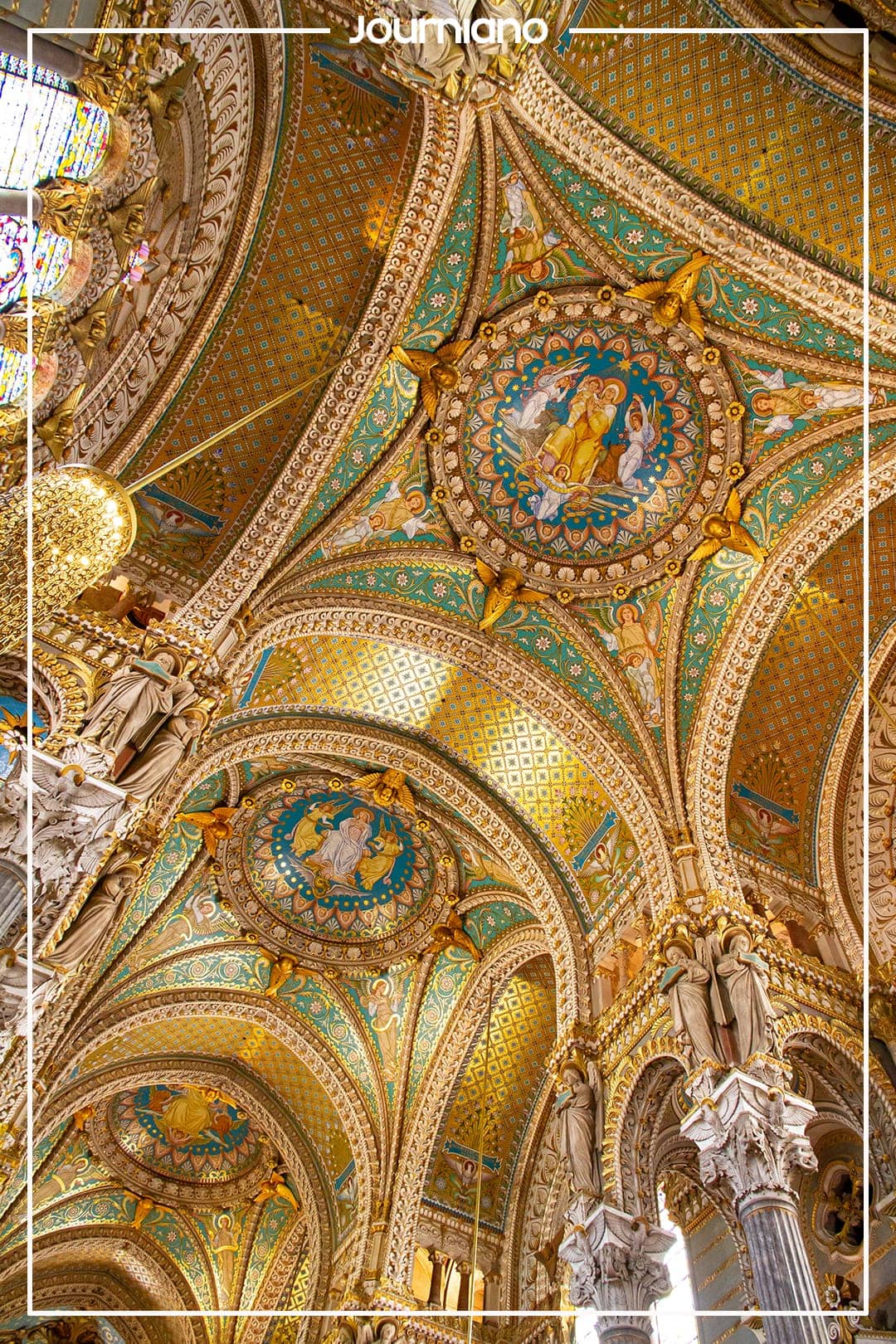 3.3 The grounded underground
So, below Notre-Dame de Fourvière there is another level of saints – a sanctuary. Other than the pompous basilica, the underground is rather grounded design-wise but shouldn't be missed.
3.4 Opening hours
The basilica is open every day from 7:00 a.m. until 7:00 p.m. Check out Notre-Dame de Fourvière's official site to gather further information about guided tours etc.
4. Majestic views of Lyon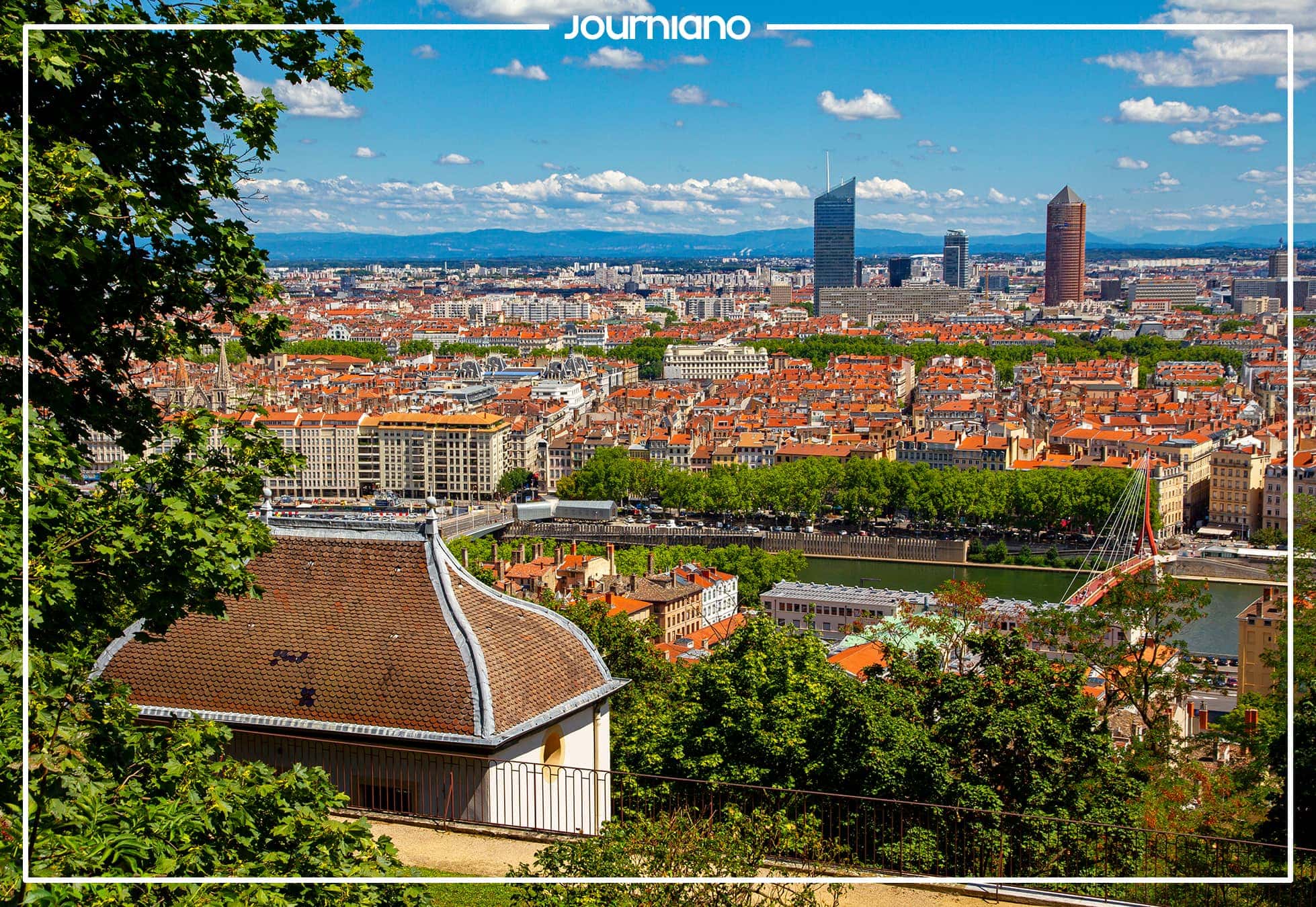 As you remember, Fourvière is literally Lyon's peak. So, if you can see the basilica from almost everywhere in the city, you might observe a big chunk of the city up there. Yup, that's how it is.
When you leave the basilica, there is the observation deck "Esplanade de la Basilique" on the left side. From there you have probably the best panorama, for free.
Seeing Lyon's highrises in Part-Dieu district standing out from the rest, is as astonishing as the contrast between Lyon's orange roofed cityscape and the post-war social housings in Lyon-Tonkin.
In addition to that, you get different and interesting views on squares, the city's biggest one, "Place de Bellecour".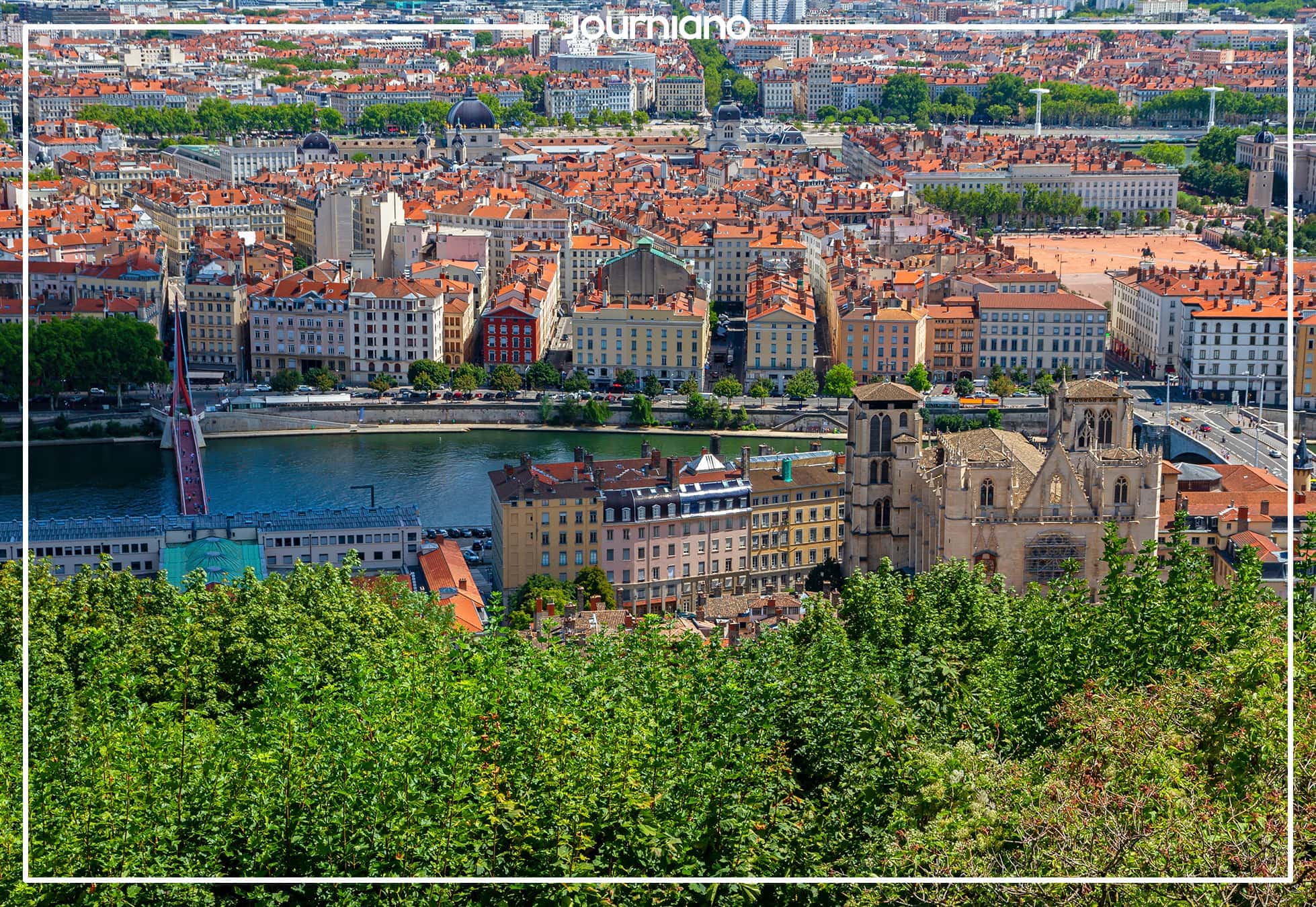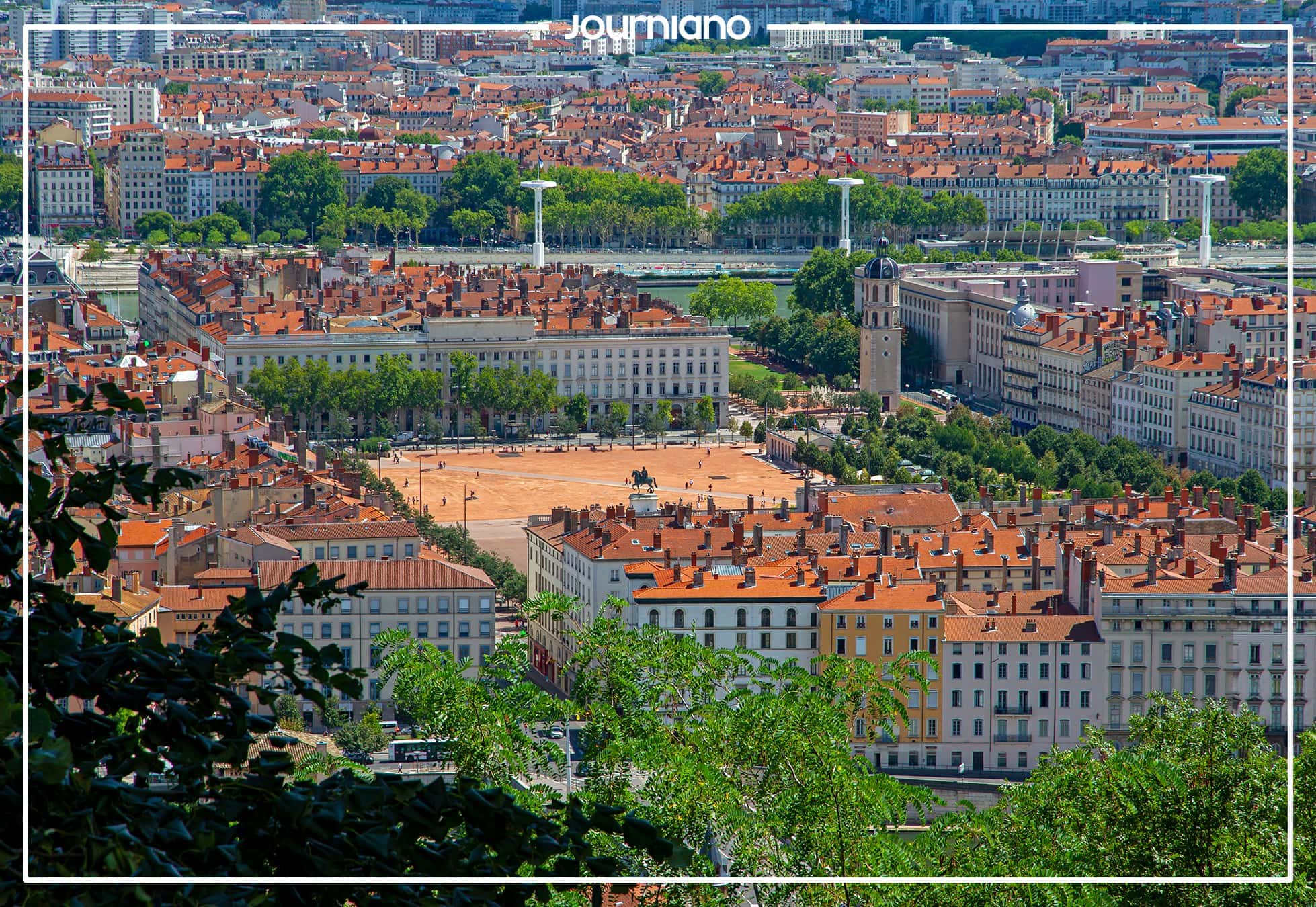 Nevertheless, the greatest detail you get from these views, is the fact that Lyon's roofscape is a sea of chimneys. It reminds me of a super-dense skyline with a lot of mini-towers. Most importantly, it looks simply fascinating.
Walk also down to "Parc des Hauteurs" to get another perspective of Lyon's panoramic view.
5. Roman Remnants in Fourvière
Just in case you think that's it for Fourvière, you can go back downhill. Well, that's what I did twice. Hell, do I regret this!
You must know, Lyon was founded by Romans on Fourvière as "Lugdunum". As Romans tent to do, they built some massive and great buildings, monuments or theatres. The latter one applies to the ancient remnants in this city.
Two Roman theatres with a magnificent view of Lyon are publicly accessible. It's unbelievable how much variety spread from the grounds of this city. Try to capture a picture where you get at least one of the theatres, Notre-Dame de Fourvière and Lyon's orange roofed skyline together. There you'd have over 2000 years of history in one frame.
Moreover, you can also visit the Gallo-Roman Museum and dive deeper into Lyon's history and its origins. For more information about the archaeological site, opening hours, etc. just click here.
6. How to reach Fourvière
As mentioned in chapter two, you can easily access Fourvière by public transportation with a day pass. If you don't mind walking uphill through wonderful alleys, go by foot. I did it both ways already and they have their pros and cons, especially during hot days.
In case you'd rather drive up yourself, there is limited car parkings available. Either way, simply navigate via the embedded map below, to get your best way towards Fourvière.
7. When to visit
Fourvière is accessible year-round and should be visited regardless of the ongoing season. However, if you have control over your possible schedule, try to avoid the months of July and August. It gets frequented by lots of people and Lyon tends to be hot during those months.
Furthermore, it's a nice feature to get your panorama of Lyon with trees packed with leaves.
8. Conclusion
Fourvière is definitely a varying district to raise your attention for considering a journey to Lyon. Even if you were already sold on this city before, you shouldn't miss the marvellous views offered from that hill. The basilica and Roman remnants are simply cherries on the cake to round up the experience.
For more information about Lyon click here.