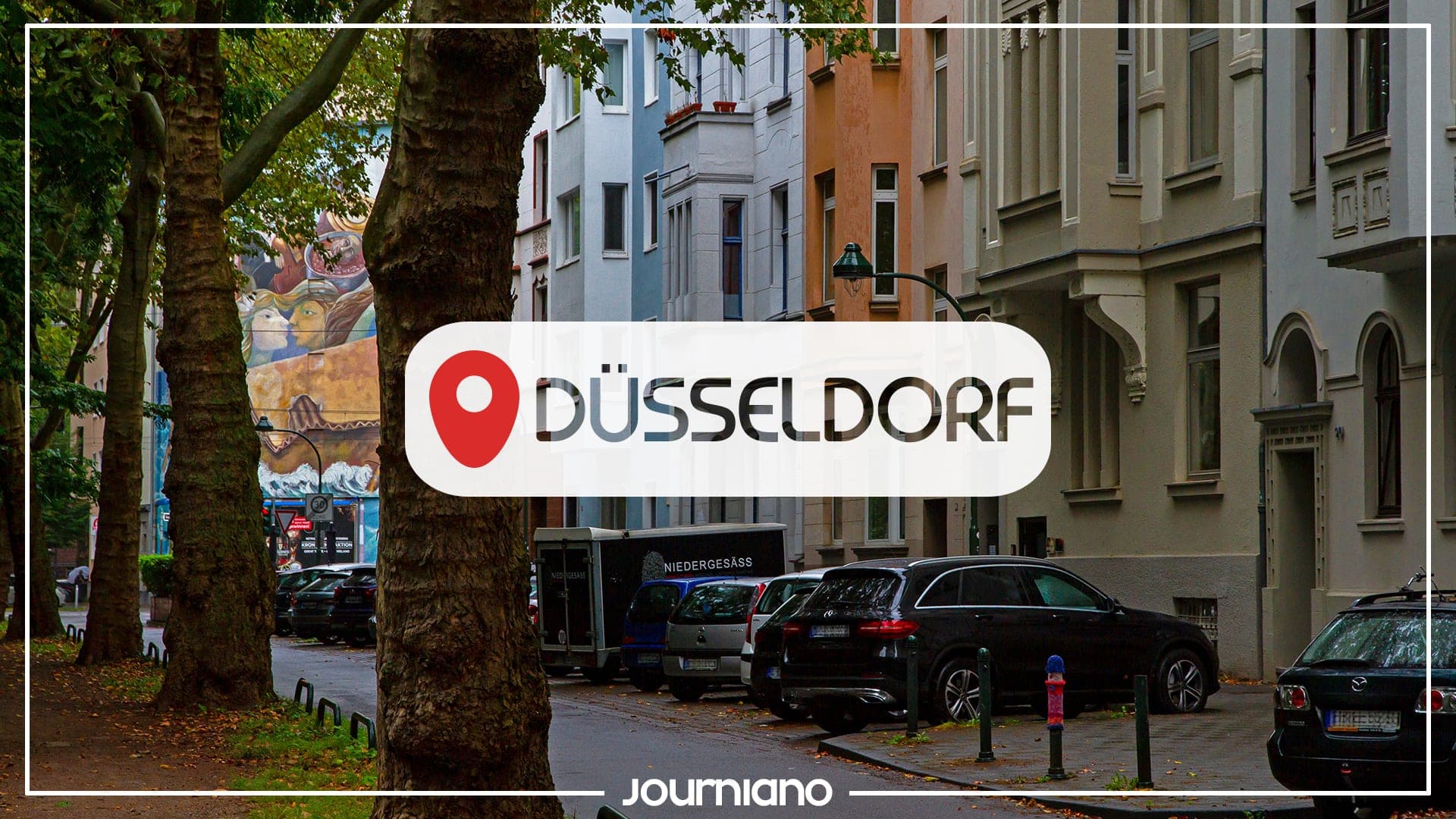 Have you ever imagined what you could experience beyond your known comfort zone? While this question is applicable for many things in life, I'm referring to your journeys – your approach of exploring your or any random city. Thus, you rather focus on city centres and mass hotspots or do trendy neighbourhoods beyond the centre's edge hold a magical attraction for you?
Well, howsoever, I'm going to show you all the alternative and unique stuff you could experience when you journey through trendy neighbourhoods. In this issue, we immerse in a trendy neighbourhood of Dusseldorf.
Dusseldorf, a city known for its majestic Rhine riverside promenade, its old town with hundreds of bars, restaurants and breweries and its precious boulevard "Königsallee". While these are the common sights which visitors see, one might wonder what lies beyond of them.
Let me assure you that there is a good number of trendy neighbourhoods existing in Dusseldorf. Furthermore, they differ considerably from each other. Let me present Dusseldorf's trendy neighbourhood Bilk – the alternative and artistic one.
Welcome to Bilk – The alternative and artistic one
When you arrive at a city, you might get welcomed by a landmark. However, once you got to Bilk, a huge colourful mural behind an old brick building welcomes you though. There you are, at Düsseldorf's alternative and artistic trendy neighbourhood.
Let's assume you arrived at Bilk by train, the mentioned mural is the first sight which strikes out the most. Go there and admire the mural made by artist "Farbfieber" more closely.
From here on you have various possible paths to proceed. However, in my point of view, continuing with Blumenstraße is the best option to go on.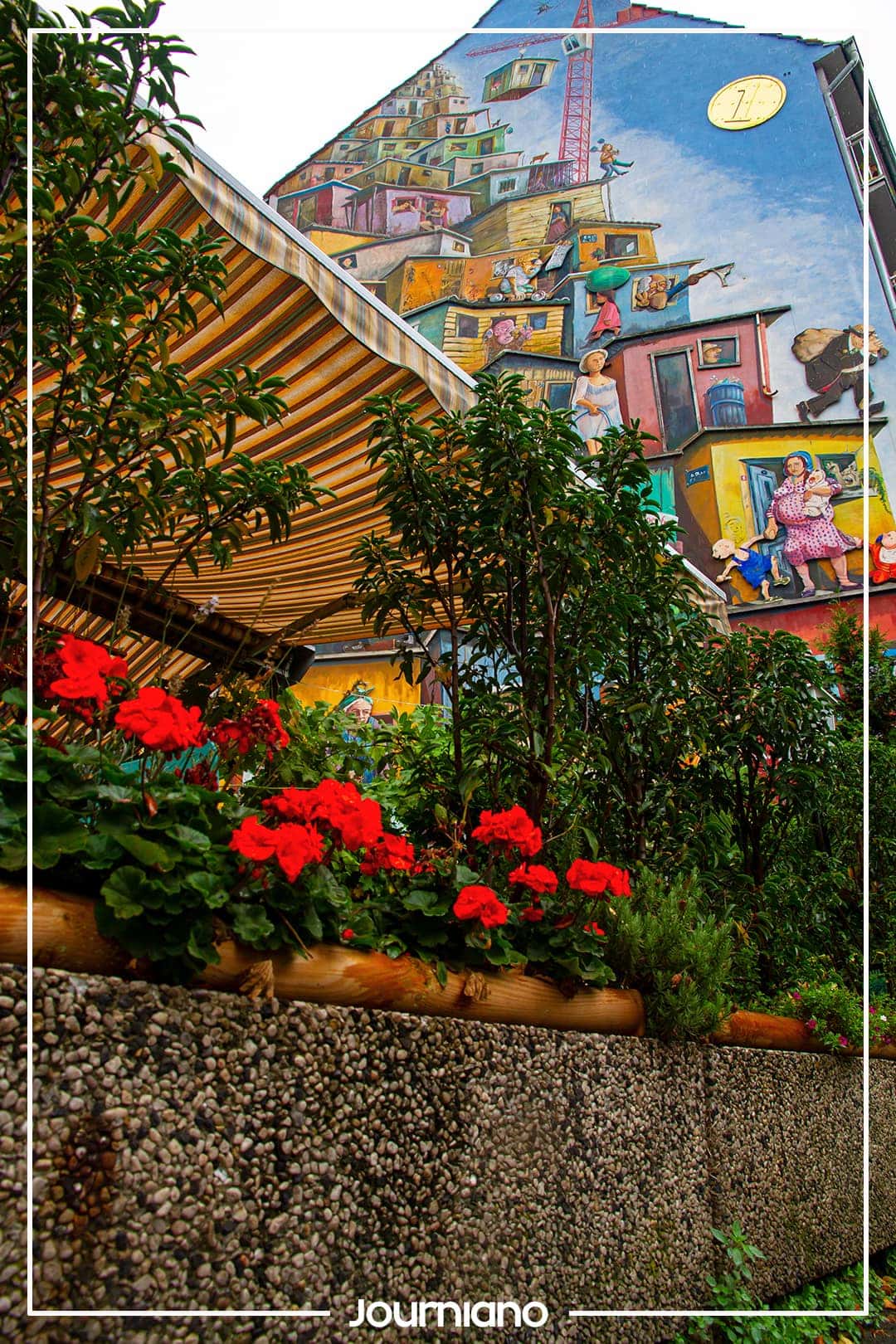 Urban vibes at Brunnenstraße
Just around the corner of Farbfieber's Mural starts, maybe, one of the most vivid streets of trendy neighbourhood Bilk – "Brunnenstraße".

As soon as you walk up Brunnenstraße, you feel those trendy urban vibes. The main reason are many little stores, Cafés and even a small cinema. Although replaceable buildings from the post war era dominate the street scene, those already mentioned factors create that special atmosphere. Moreover, street art and graffiti emphasise it and keep your view at street level.

Especially the artworks by French artist Ardif are absolute eye-catcher, as soon as you discover them. Faces of half animal and half machine are spread throughout Bilk.

Sometimes people say to never look back. This time, I beg you to look back here and there. If you don't, you could miss some great artworks, details and different viewpoints of the experience – for instance, Fin Dac's street art. The Belgian artist created a beautiful artwork, illustrating an Asian woman, on the opposite wall of one of Ardif's works.

In case you like racoons, Ardif has a surprise for you. Go to the tram station Färberstraße, If you are willing to make a short detour.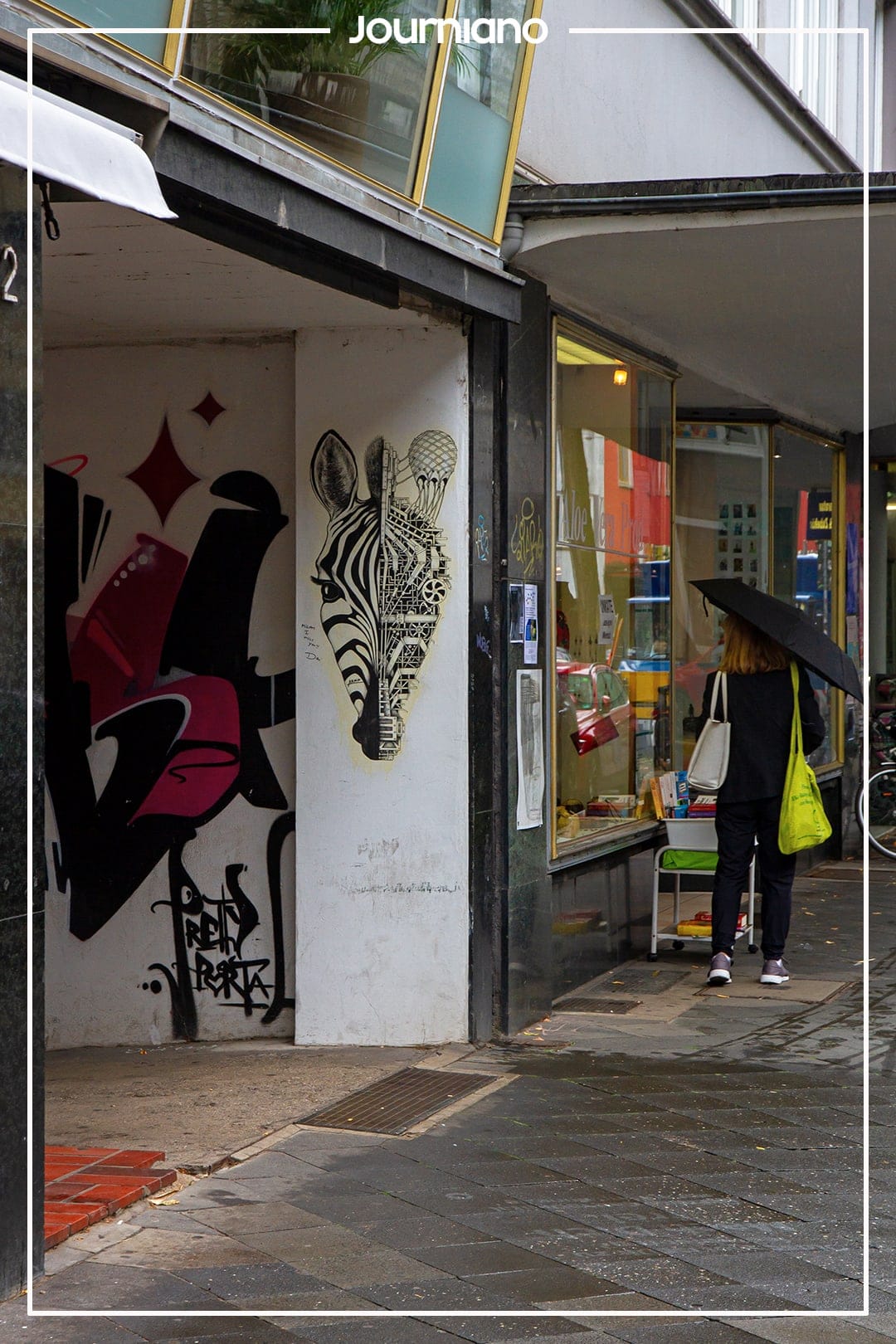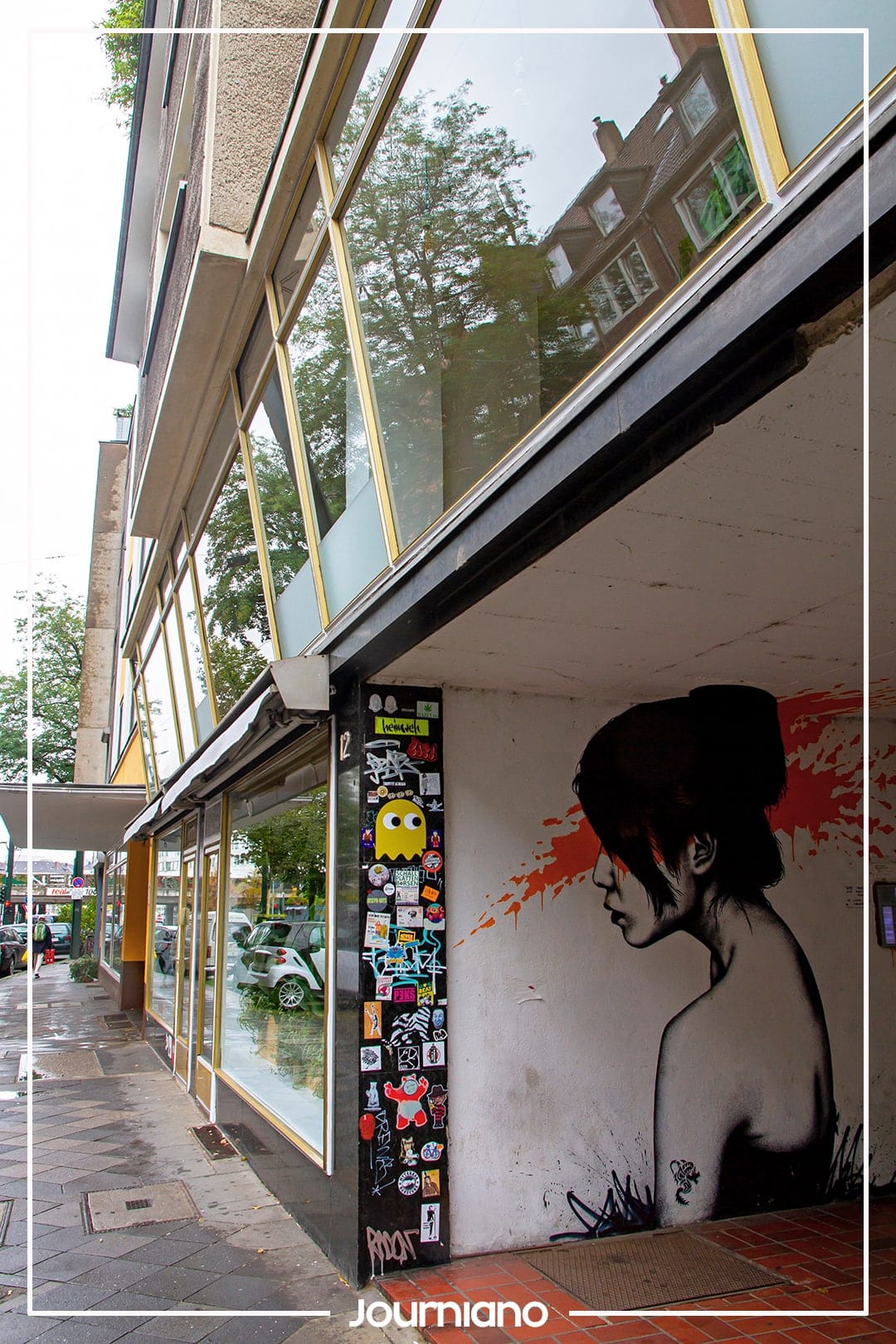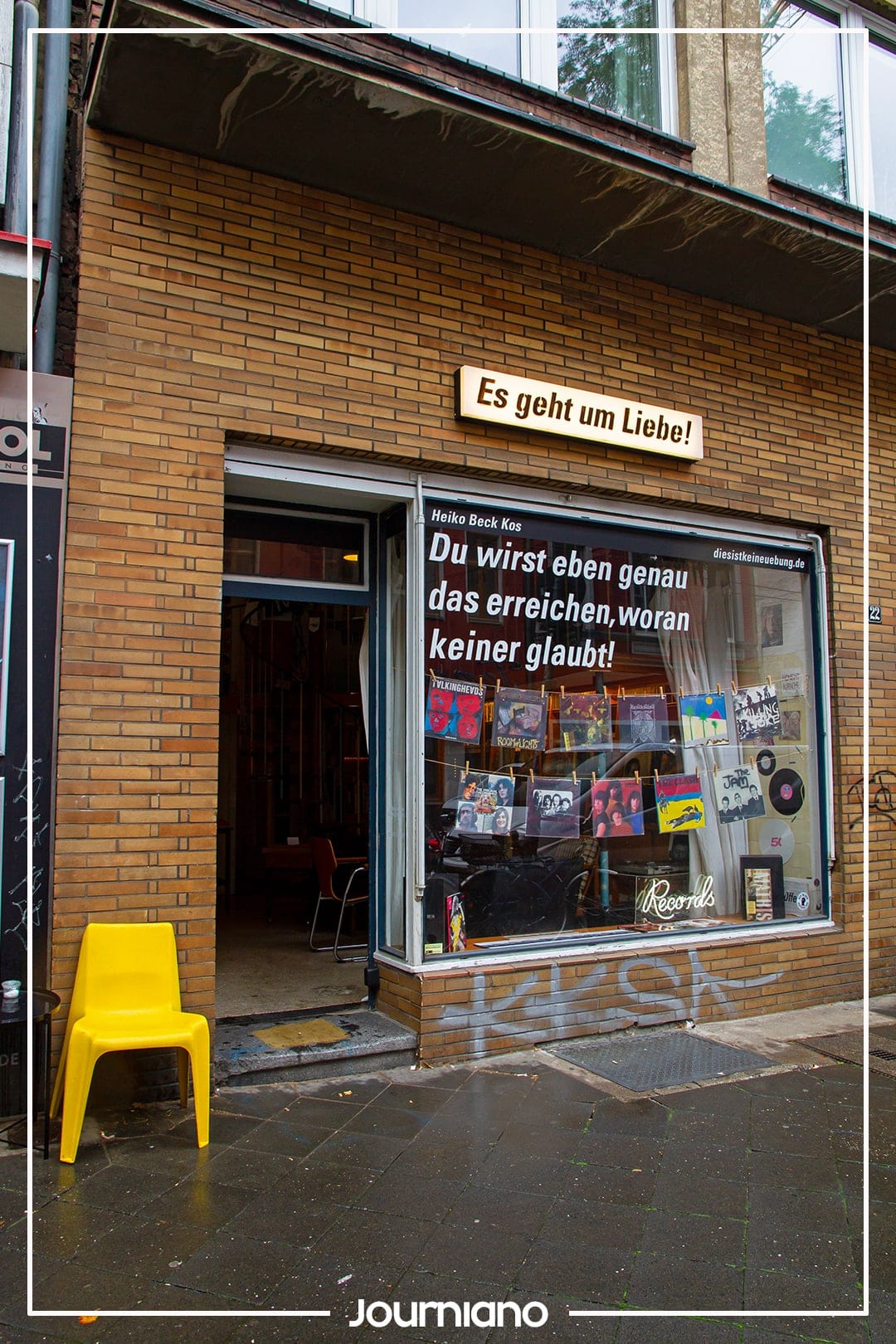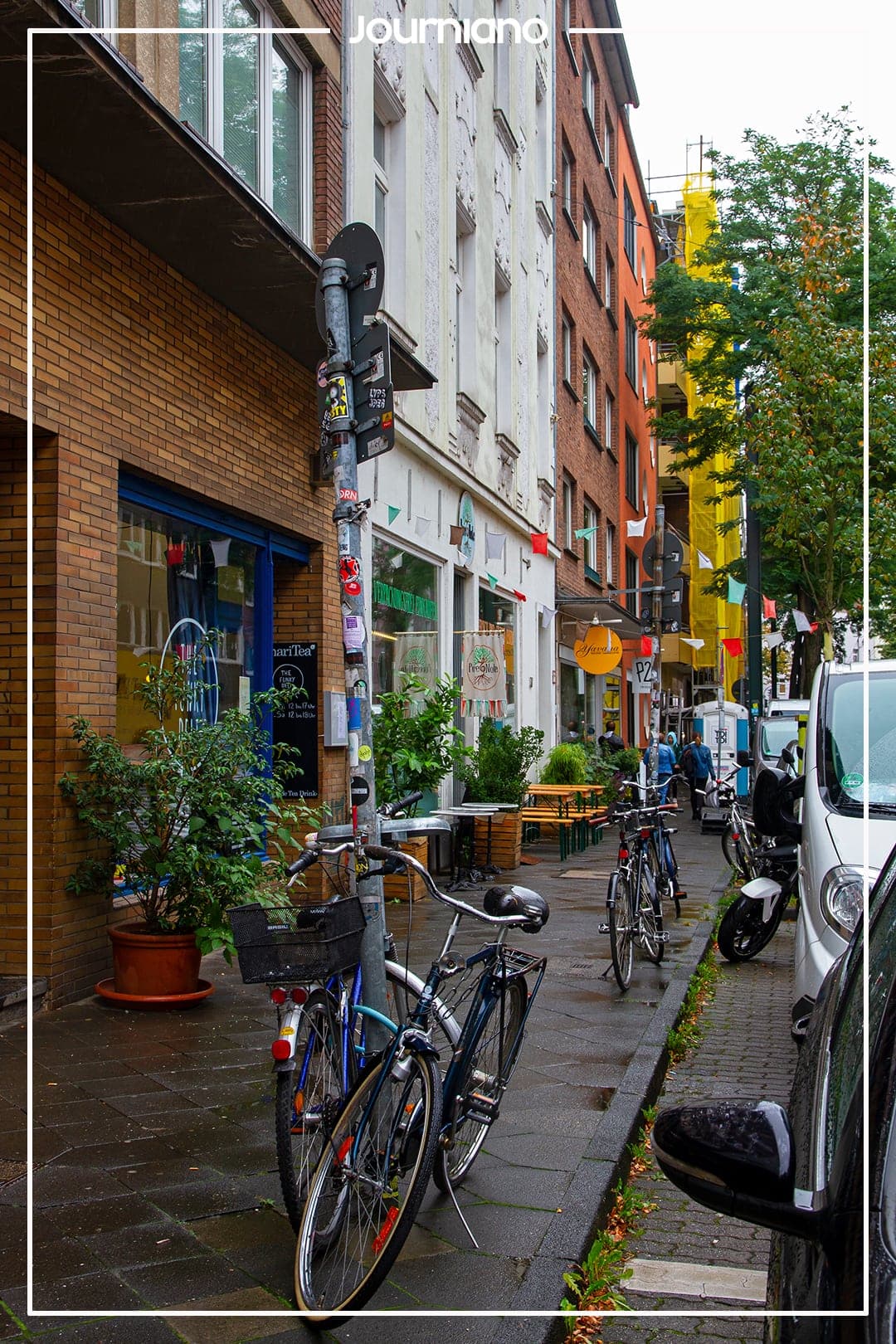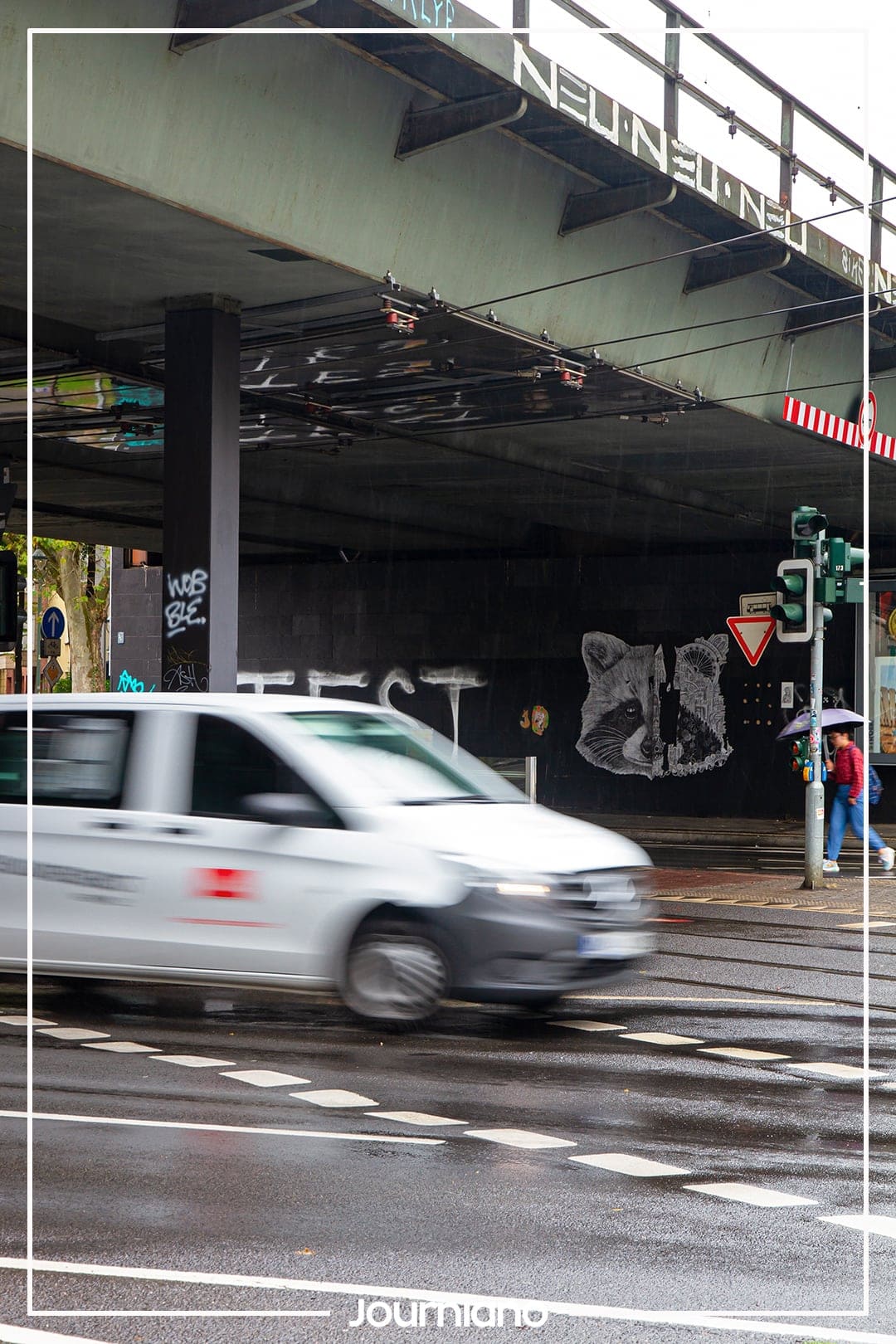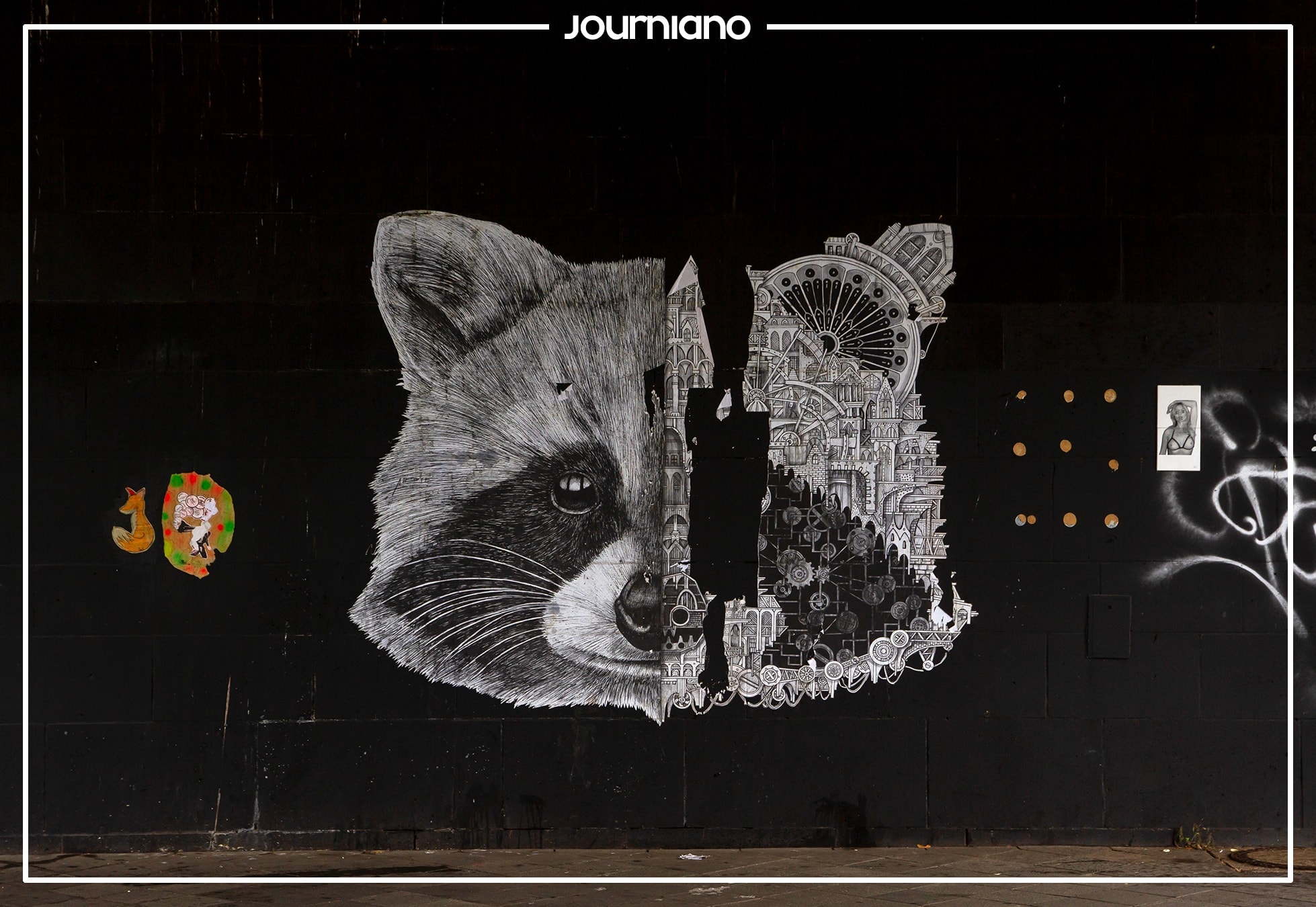 Karolingerstraße – The green lung and its artistic surprises
After a 300 meter stroll along the trendy section another street called Karolingerstraße crosses Brunnenstraße. This marks a new phase at Bilk. In fact, this is the point where the trendy neighbourhood's green lung stretches through the cityscape.

The river Düssel, the city's name giver, is responsible for having the green corridor. Hence, beautiful, elegant and colourful row of houses have been built along the Düssel. It's quite a contrast when you just left the alternative Brunnenstraße.

However, that contrast doesn't last that long – Düsseldorf's alternative spirit catches you up, again. It is that certain moment, when you notice another street art on a house corner.

At first glance you might think that it's just a birch. Nonetheless, your view changes only at second glance, when you change position and see the birch being framed by real trees from the riverbank.

When you proceed to stroll along the river heading west, another mural appears between the huge and old trees along the Düssel. Surprisingly, instead of the expected mural, you get an old bunker from the second world war era which has been gifted with street art. What a beauty!

The artist Farbfieber is also responsible for this artwork, which is called "Schutzraum" (shelter – inspired by the bunker).

Luckily, this piece of art has been saved by the locals from getting demolished. Thus, the artwork will be kept intact, while the inside will transform into a "Culture Bunker" and the Top get five apartments. This is what I call a successful urban reutilization project without losing its artistic and alternative spirit.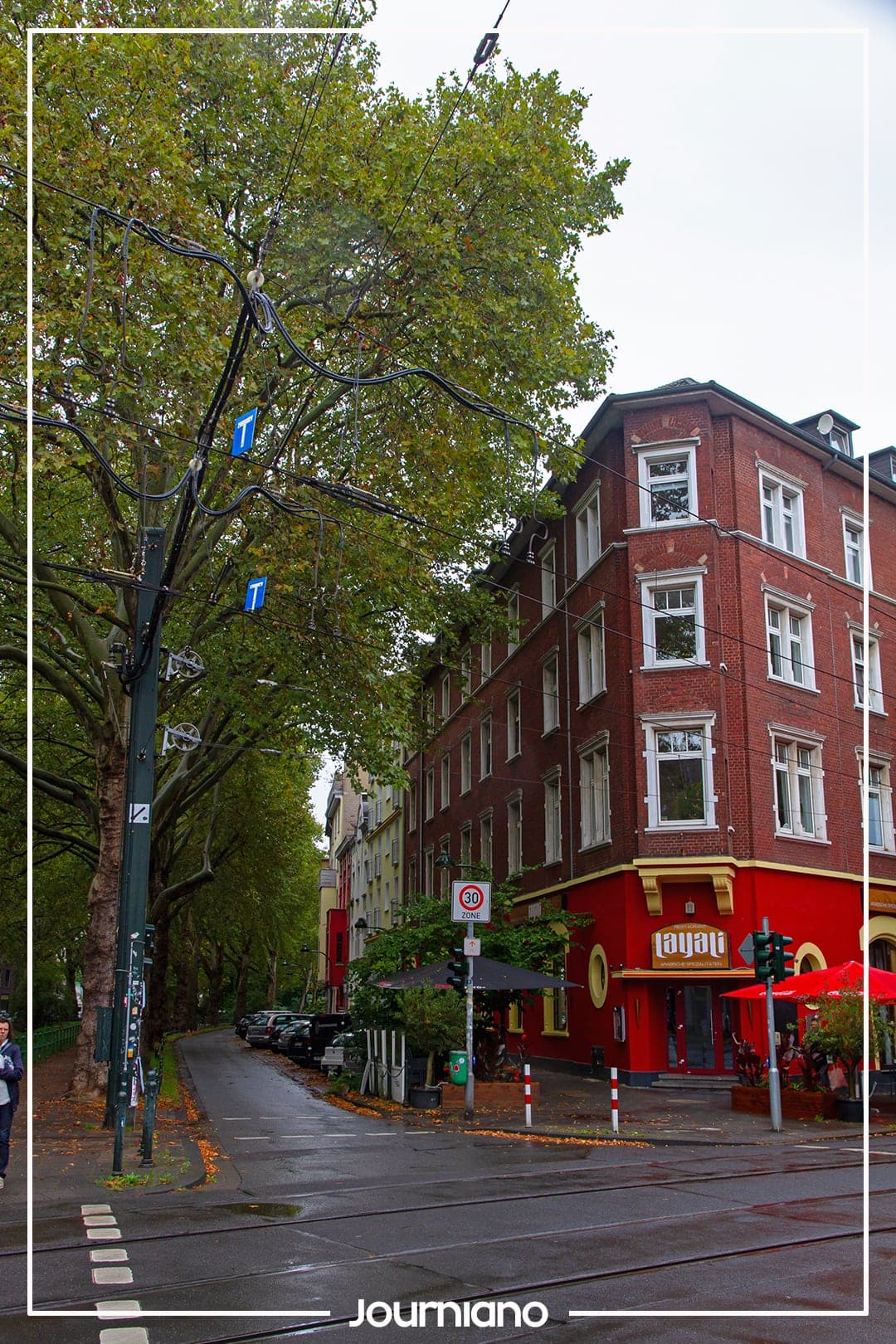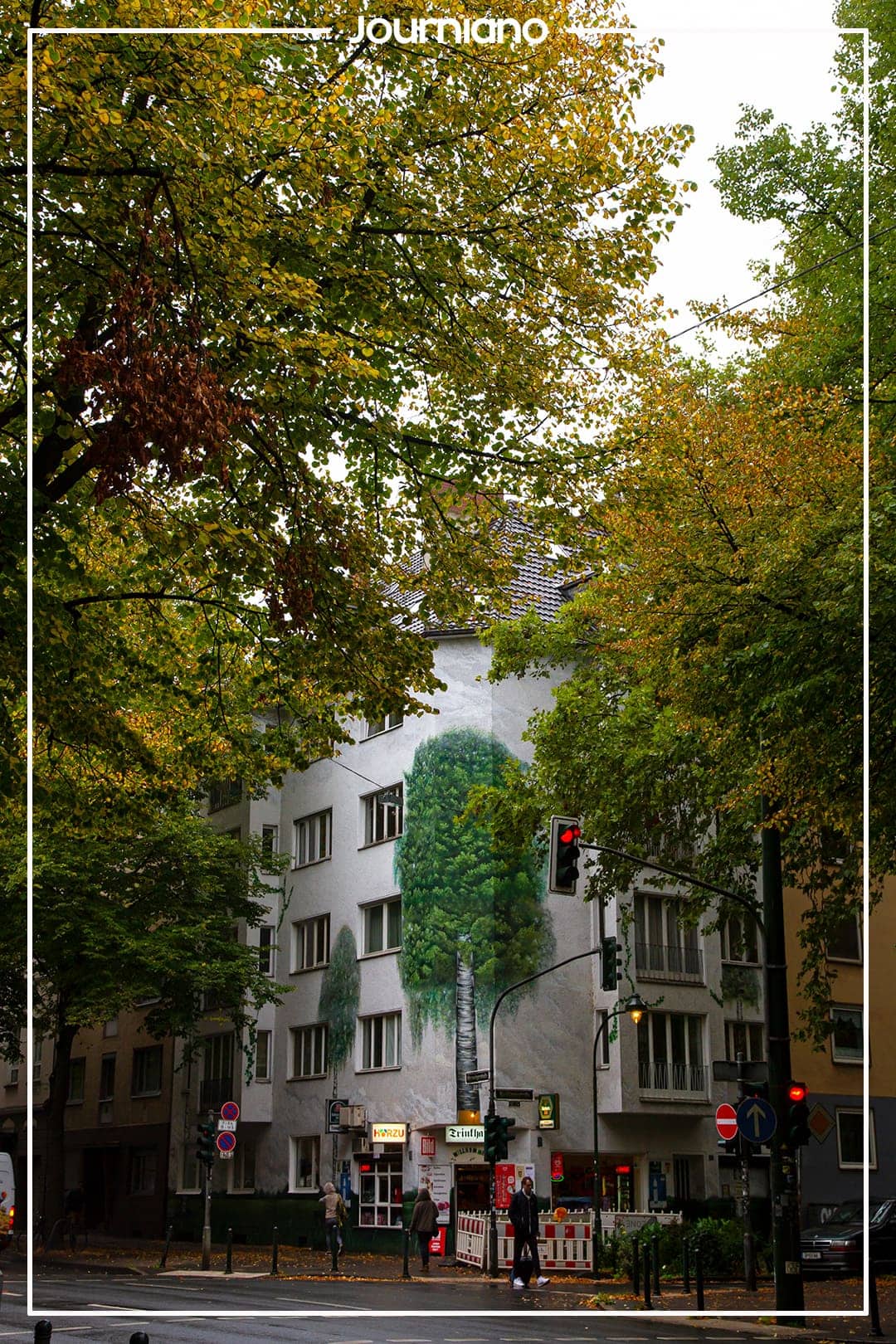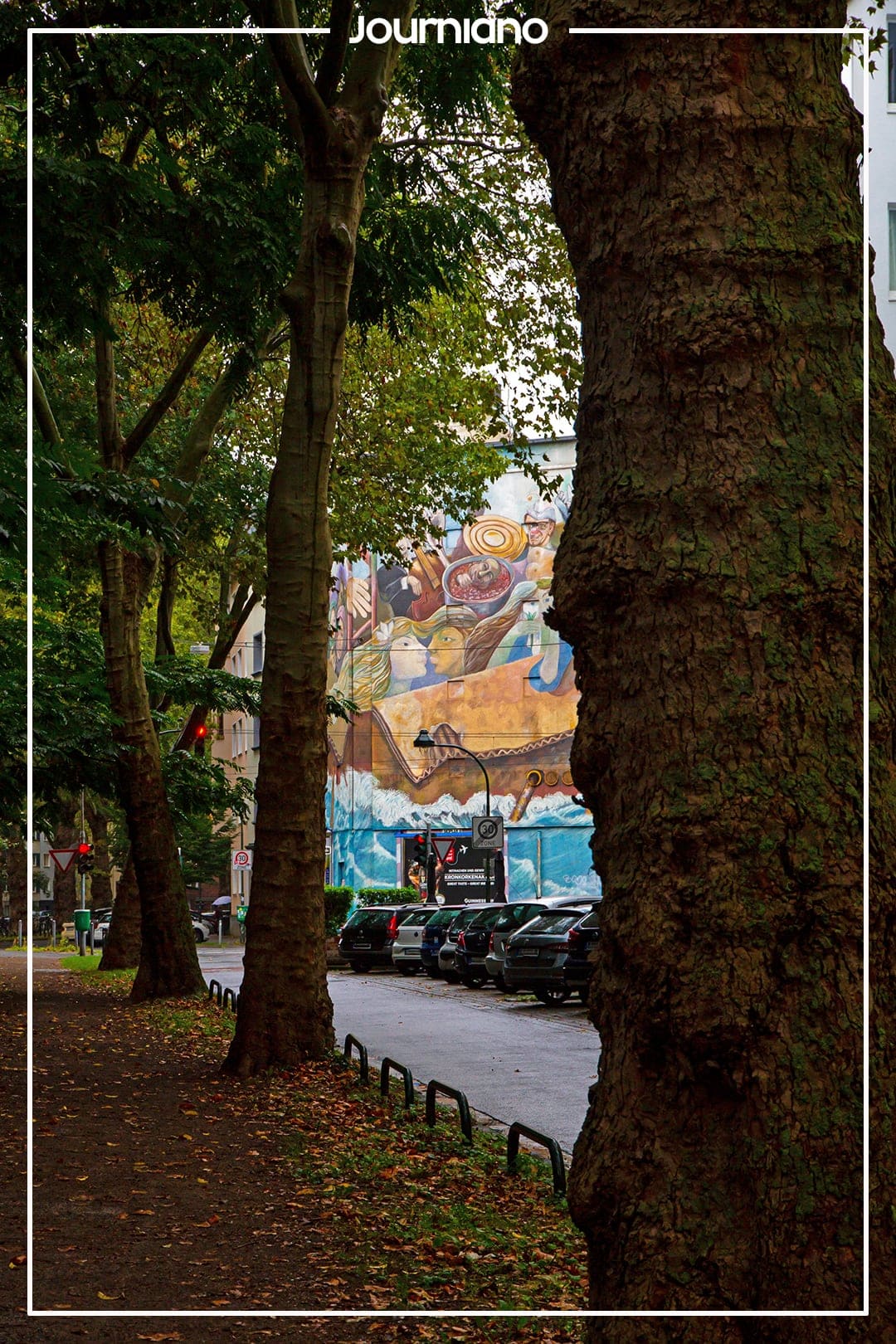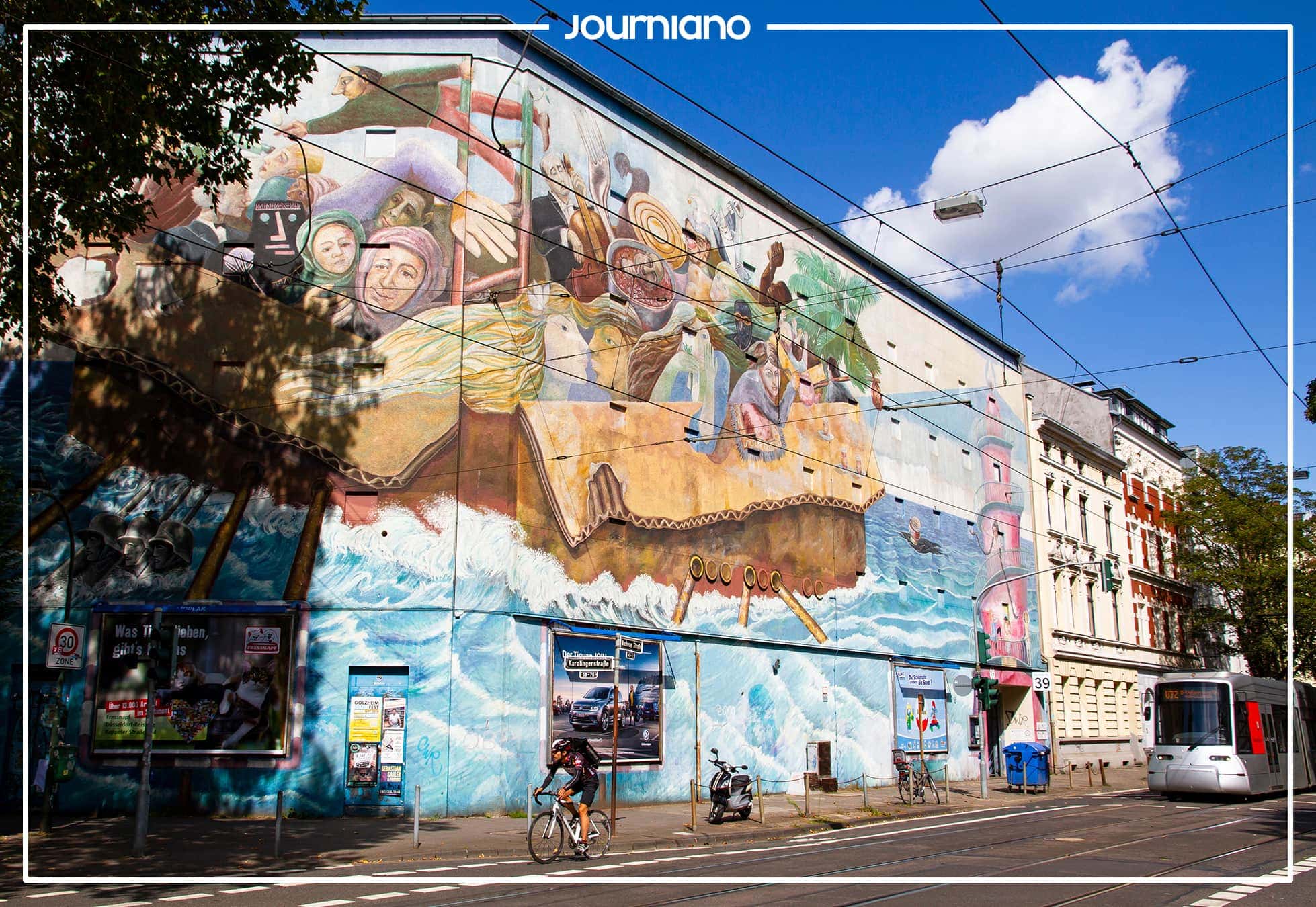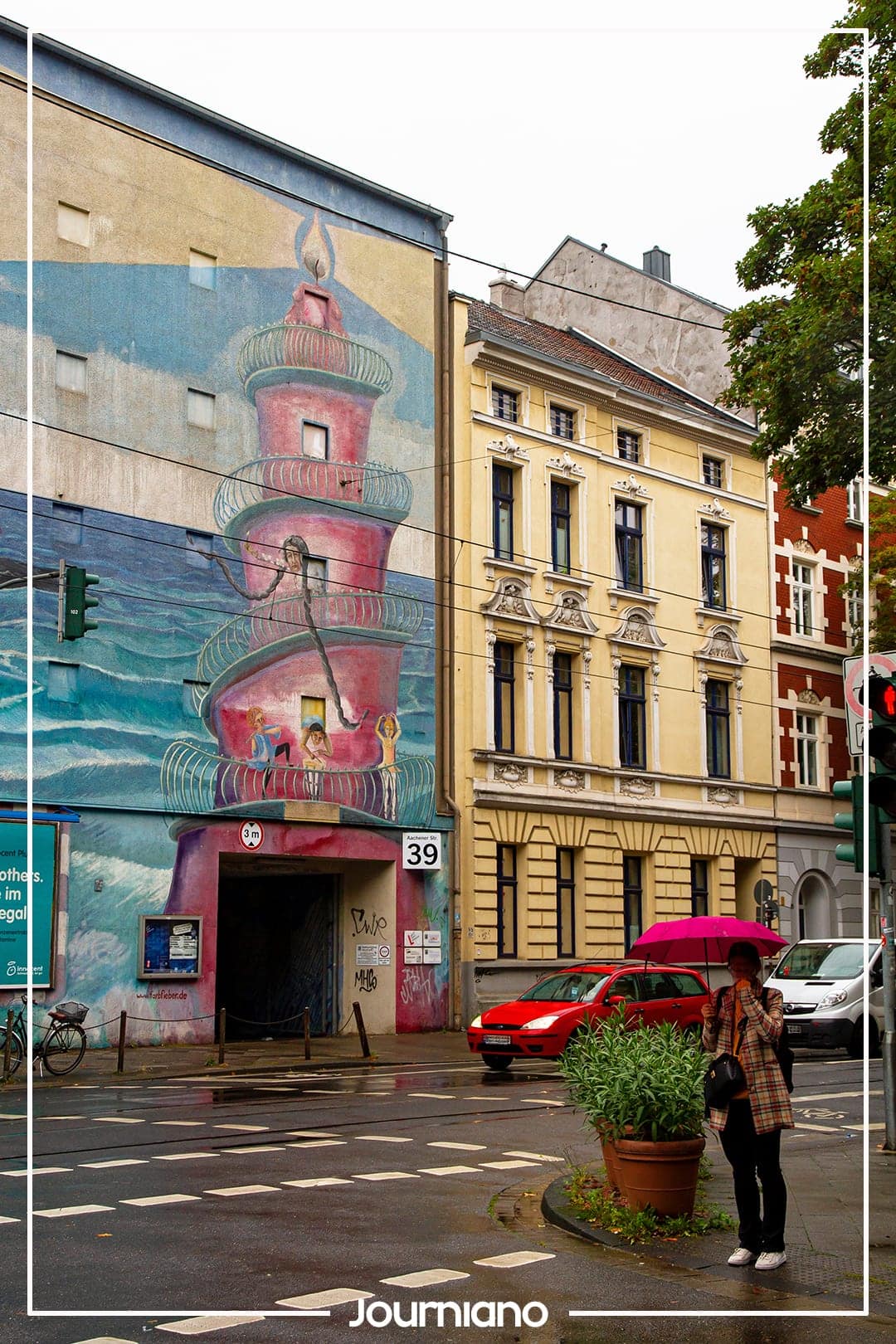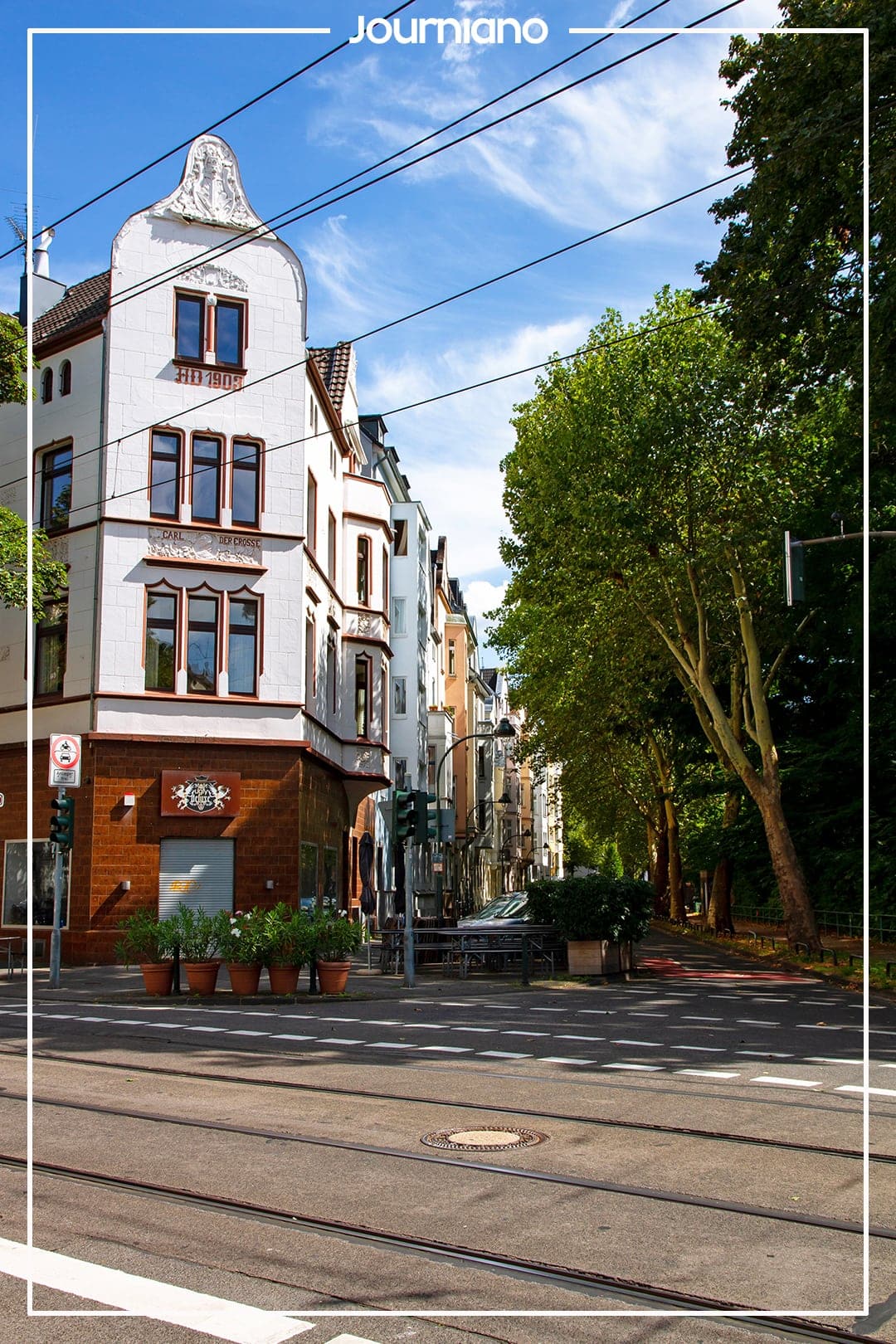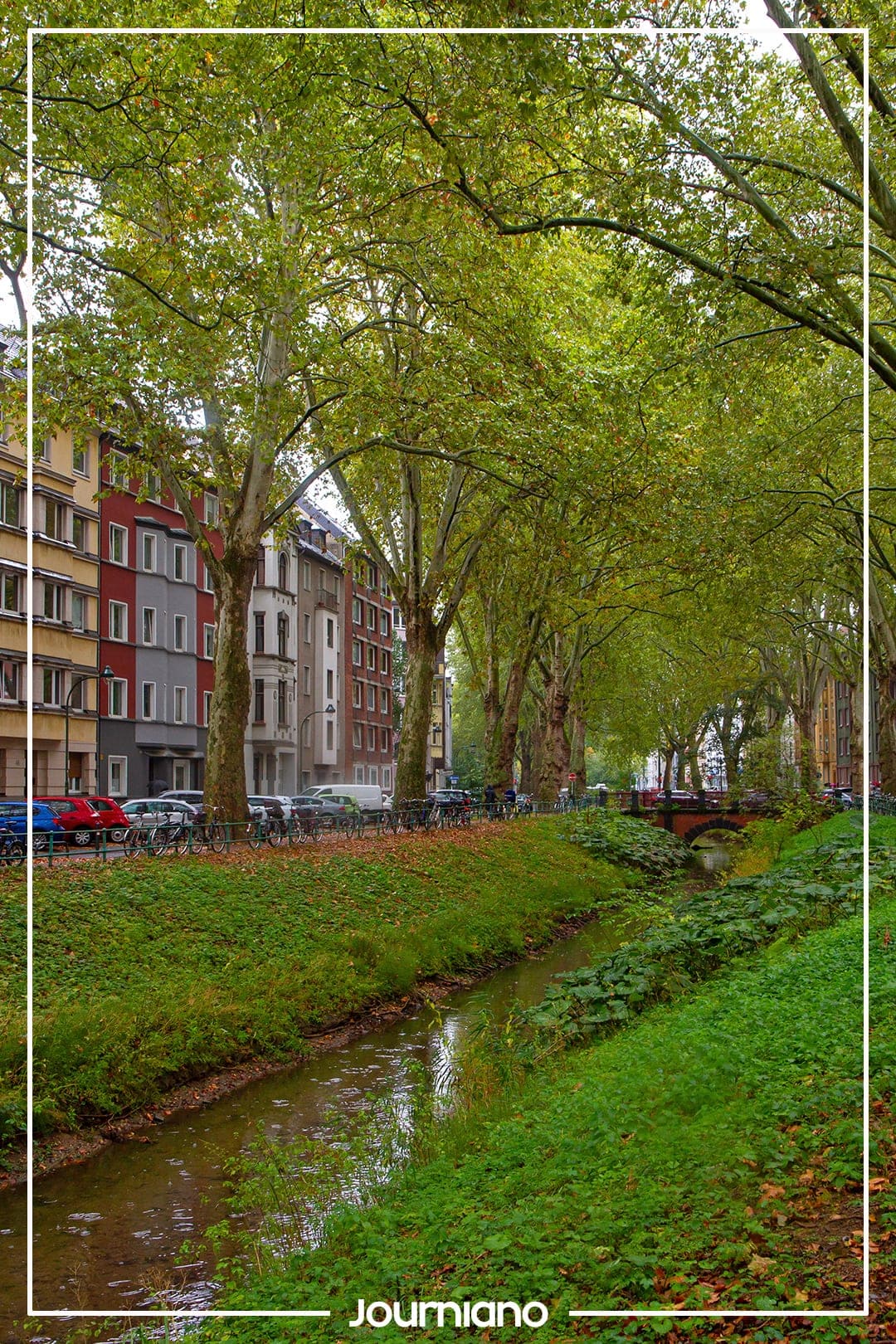 Suitbertusstraße – The end of an era
From the bunker, you make a quick jump to Suitbertusstraße, where natural street art welcomes you. Ivy, the evergreen vine, covered almost completely a corner house.

So, guess what – even nature loves great street art and tries hard to give Bilk an appropriate tribute.

When you walk down Suitbertusstraße, heading towards the clock tower of St. Suitbertus church, a huge mural will take your attention at some point. To be precisely, I'm talking about Pixel Pancho's superb "Robo" street art, which fits a complete four-storey wall.

To admire its details, you might enter a forecourt. The forecourt of Bilk's former cultural temple – Boui Boui Bilk. This was the neighbourhood's hotspot where big events like Food as well as Music Festivals, Flea Markets etc. were taking place. It was a place, where Düsseldorf's alternative subculture and niches had a stage.

Unfortunately, Boui Boui Bilk had to close its doors after the last event on September 22 of 2019. Soon the area will transform into a residential project. Thus, both the Robo and another huge and gorgeous mural by graffiti artists "The Band" will disappear between the upcomming and existing buildings.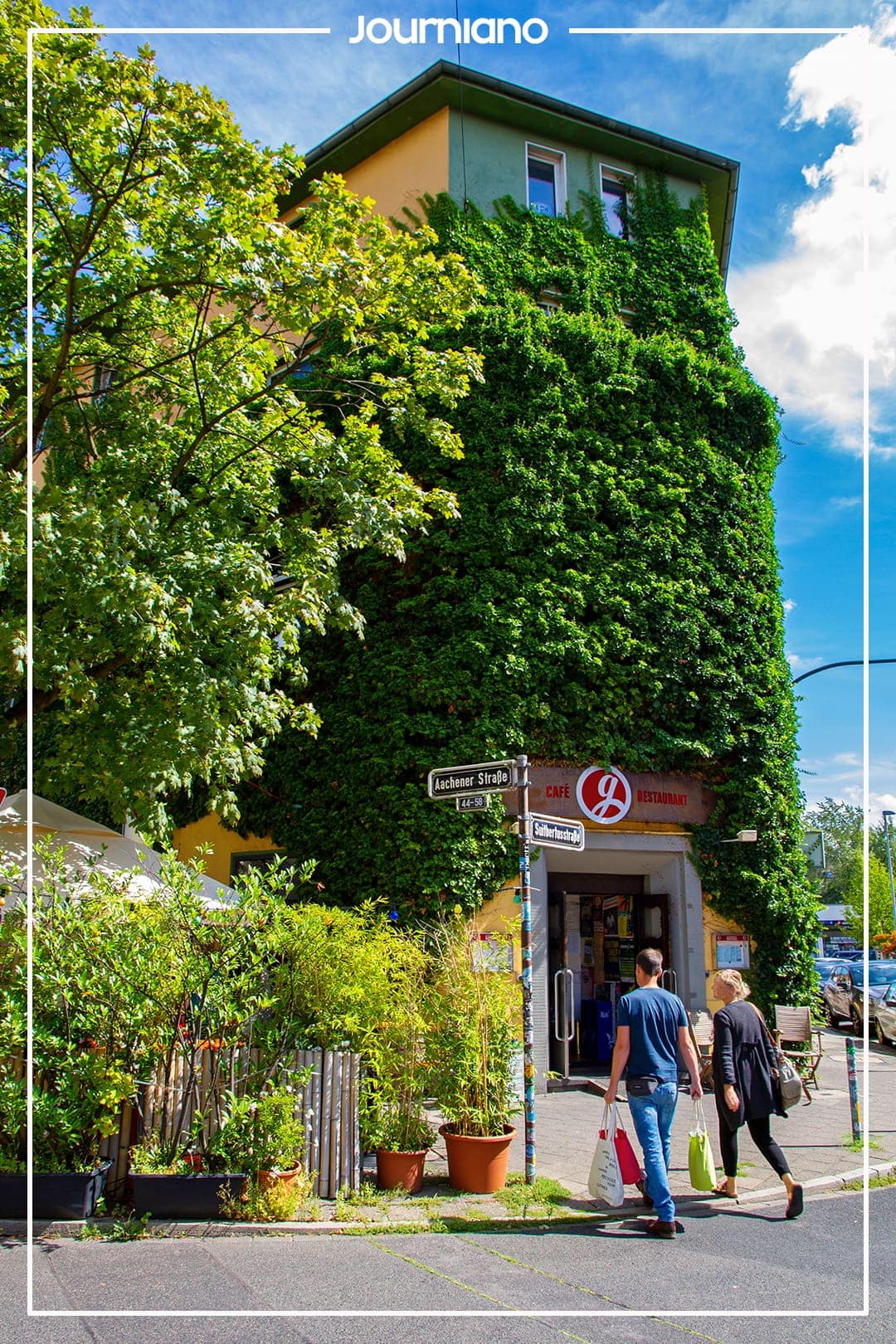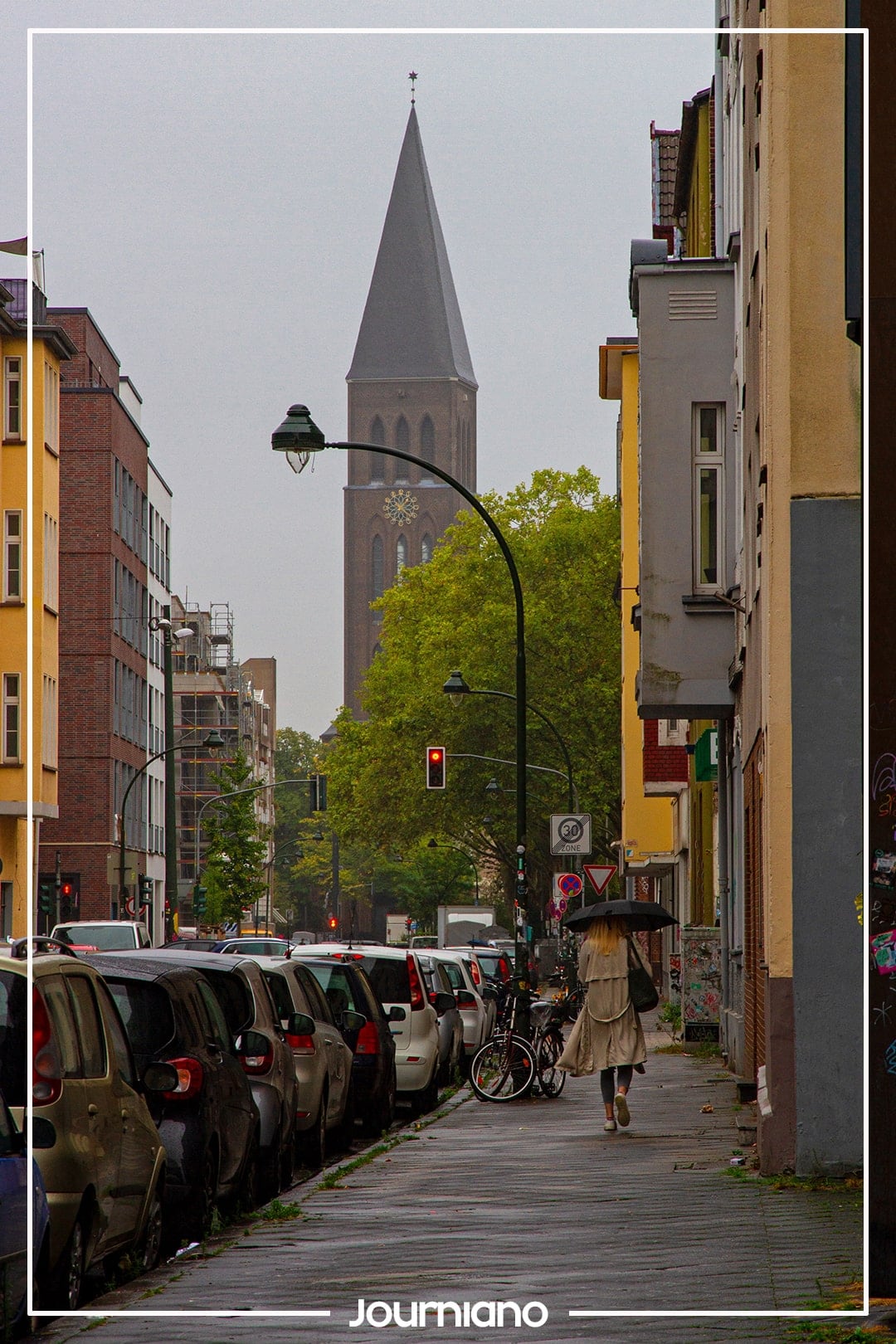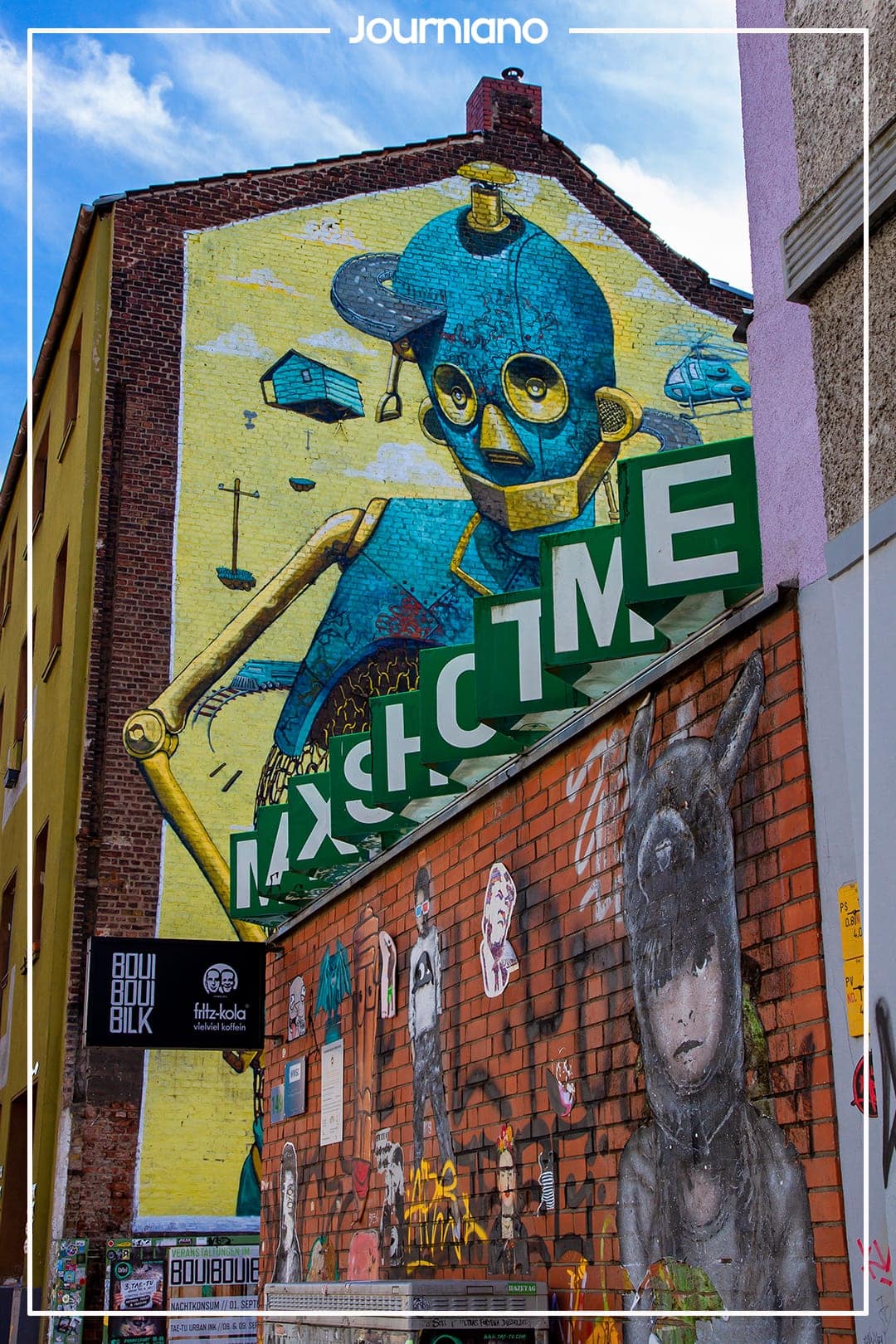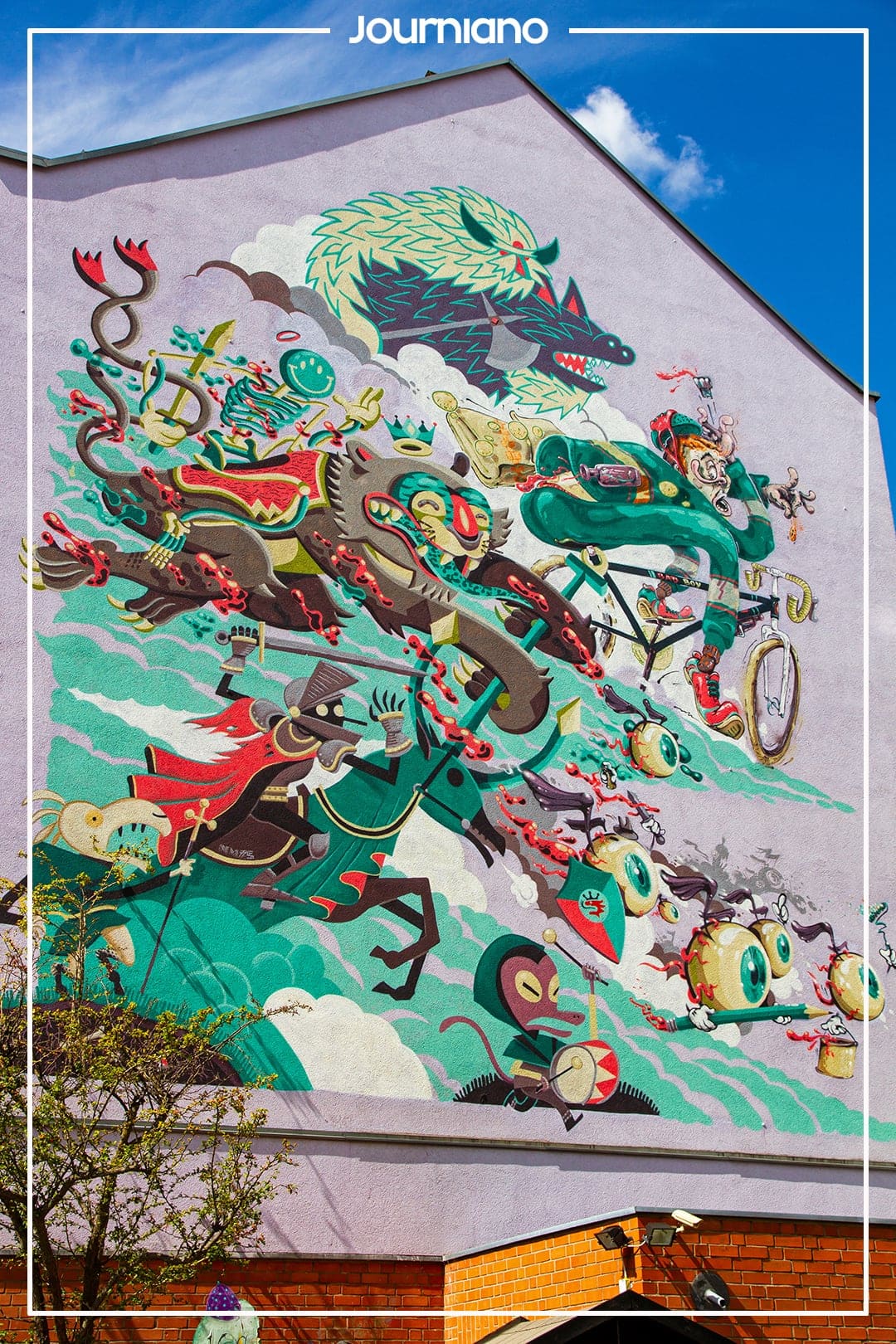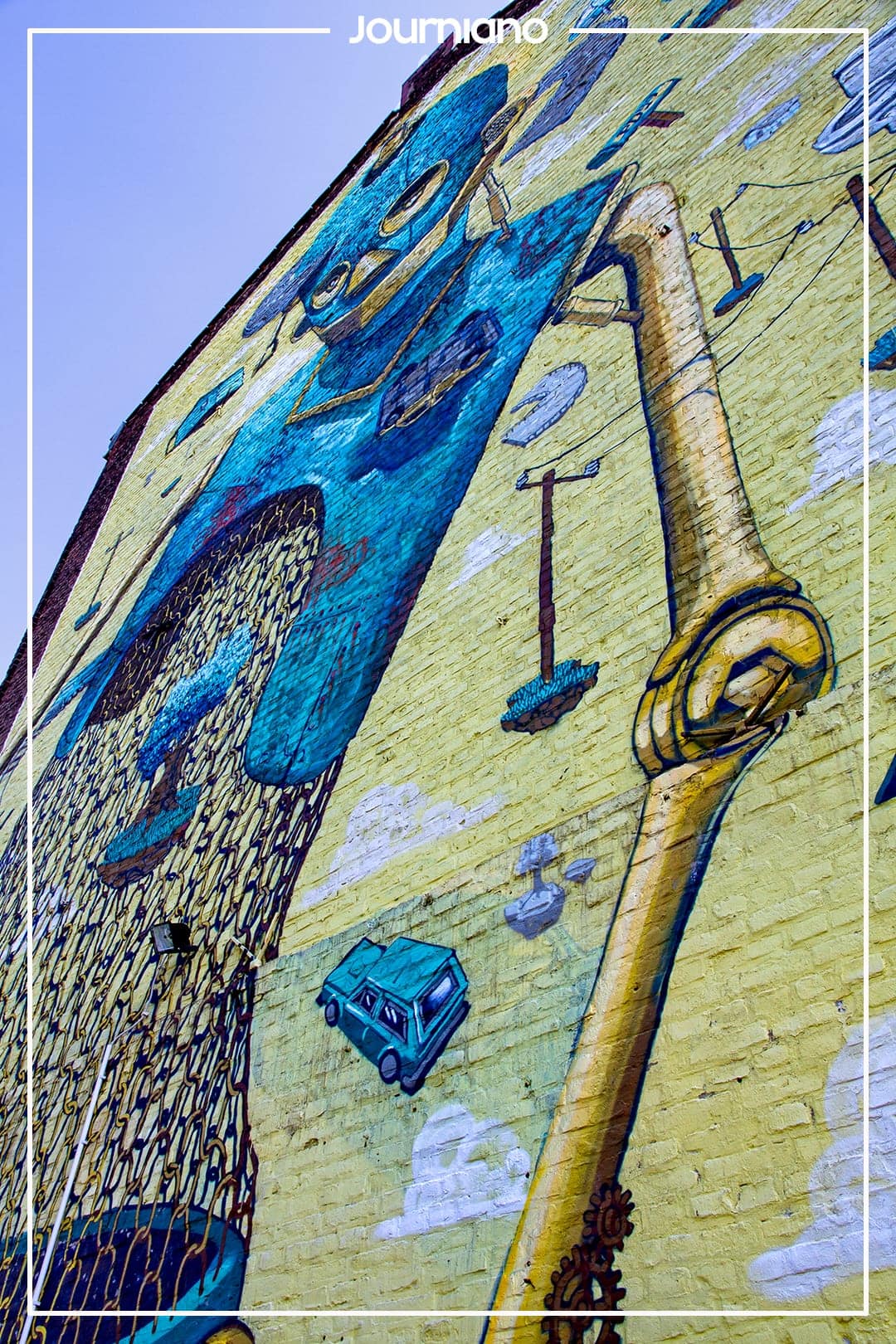 How to reach Bilk?
I recommend reaching Bilk by train or public transport. As Brunnenstraße is super close to Bilk Station, you've got many options to get there conveniently. Since constructions are already ongoing, Bilk will also be served by regional trains from Aachen, Cologne, Venlo, Dortmund and other cities in the near future.

As you may struggle finding a parking lot in Bilk, keep your car in your garage or at least head for a park & ride, e.g. at Südpark.

Otherwise, take a bicycle.
Closing words
Folks, if you are interested in discovering new and alternative areas beyond the city centres or want to see Düsseldorf from a different angle, Bilk is the trendy neighbourhood you're looking for.

Based on the above-mentioned facts, you'd experience a bunch of different sights and might strand into various attractions.

For urban street art admires, Bilk is one address to paradise. However, you should hurry up, if you still want to capture Robo and other street arts around the old Boui Boui Bilk with your own eyes, as they might disappear soon due to constructions.

At least masterpieces on the bunker could be saved by the locals, which might imply that new artworks and cultural areas will follow after the Boui Boui era. Hence, Bilk will maintain its unique trendy atmosphere.

Last but not least, after the rain comes the rainbow. The guys behind Boui Boui Bilk announced on October 1st of 2019, that there will be a future for their concept at another place in the city.

For now, Düsseldorf's Holthausen ward is the hot candidate for a continuation under a new name. Maybe the Boui Boui guys manage to transform Holthausen into another trendy neighbourhood.

If you are interested in guided tours, there's also an Urban Art Walk tour being offered here.
What to expect in the second part of Bilk – The alternative and artistic one?
Get excited for deeper insights into Bilk's subculture and its attractions like Cafés, Bars etc.