Lucio Dalla in Bologna is a massive thing. Dedicated to the 2012 deceased Italian super artist, his hometown decorated a whole street with his lyrics. Dive in deeper to experience how lovely Bologna's musical streets appear to its visitors.
What to expect
1. About Lucio Dalla in Bologna
In 2012, thousands of people bid farewell to Italian singer and songwriter Lucio Dalla at Piazza Maggiore in Bologna. During his 68 years of life, Dalla wrote hundreds of songs. Among his own songs, he also wrote the lyrics of "Caruso" for Luciano Pavarotti, for instance.
Thus, the city of Bologna dedicated an artistic memorial to him along some streets throughout the city.
2. Via d'Azeglio – The Main Musical Street dedicated to Lucio Dalla
Bologna's dedicates the important work by Lucio Dalla especially along Via d'Azeglio. Over 150 metres of this street are decorated with his lyrics and symbols of instruments.
2.1 Kicking off from Piazza Maggiore
Most of Bologna's visitors will encounter the main musical street from Bologna's massive square Piazza Maggiore. Starting with the title of one of his most important songs and a saxophone, you get a pretty overview of how many lyrics will still follow. Combined with the orange painted houses along, this view raises the excitement.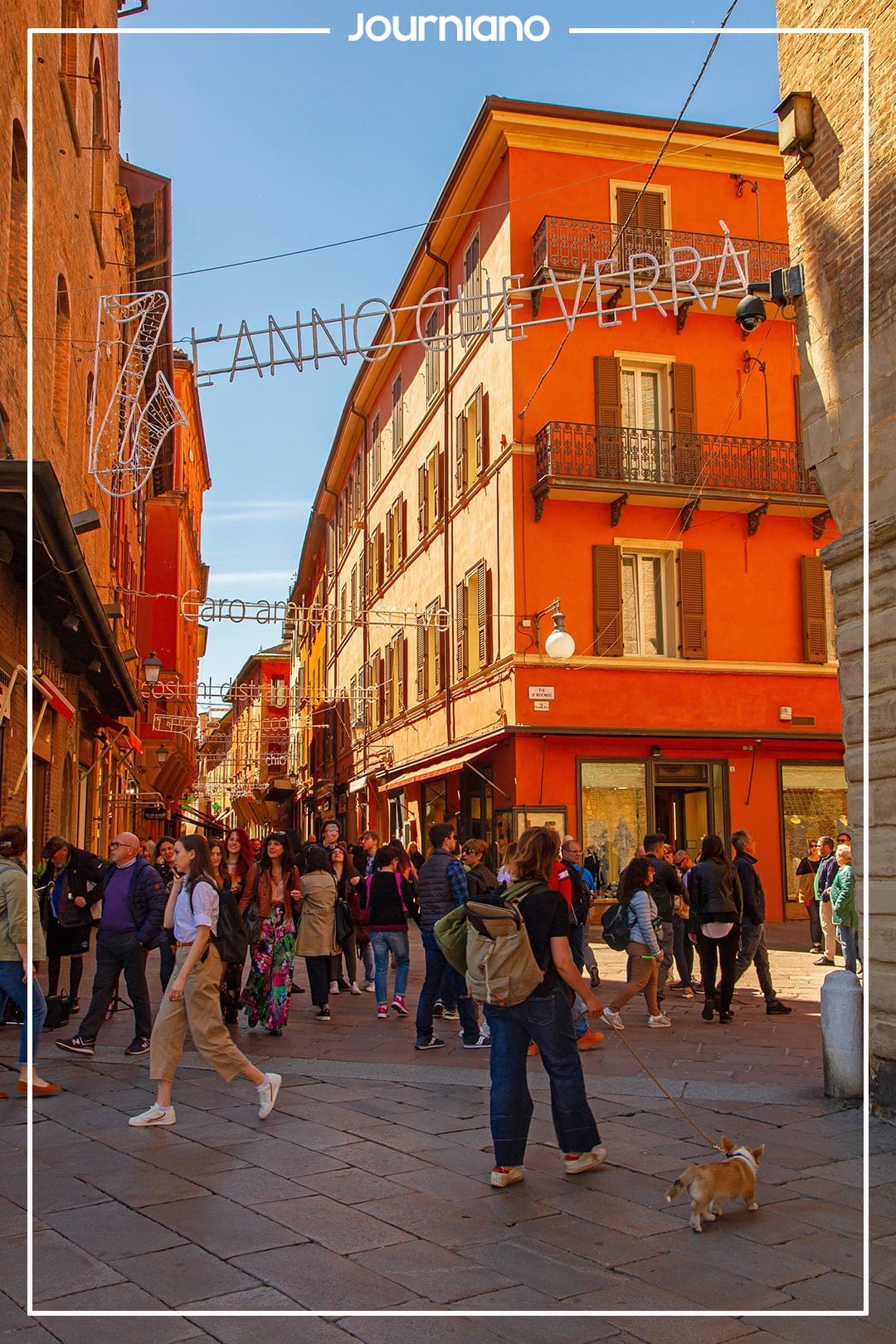 2.2 Strolling below Lucio Dalla's Lyrics along Via d'Azeglio
Strolling along Via d'Azeglio has a special vibe. Normally, this kind of neon sign decoration is known during festive periods. However, Bologna decided to celebrate its star year-round. Walking below these lyrics after lyrics makes sightseeing a deep musical journey.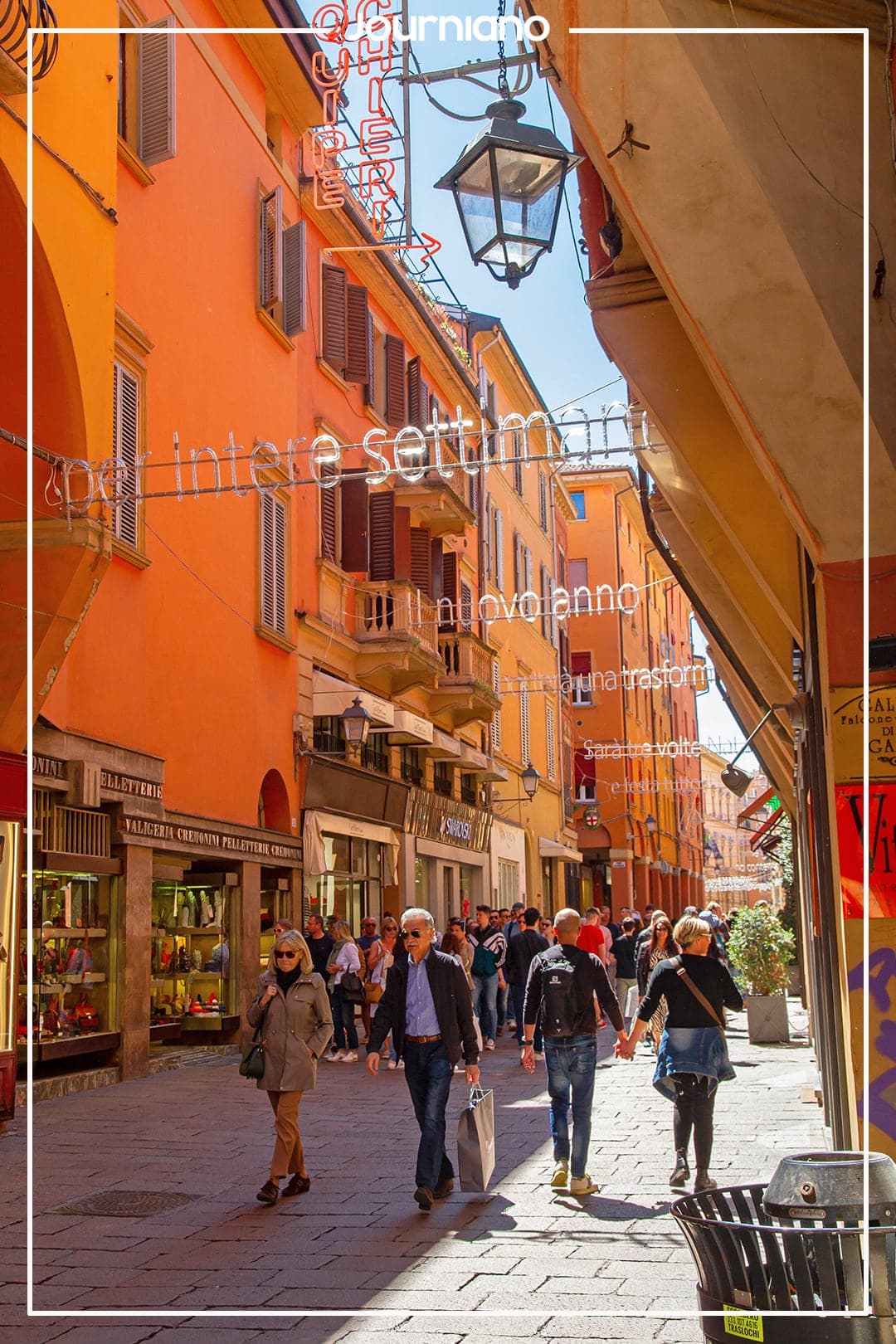 2.3 Lovely Side Streets
Besides the wide and clear street of Via d'Azeglio, some sidestreets a.k.a alleyways proceed with the musical theme. Although Azeglio holds the exclusivity deal for the lyrics, those narrow streets are decorated with neon signs illustrating instruments. Furthermore, the atmosphere changes drastically into a mysterious setting. Fancy that, how artists work on lyrics or songs in general. That uncertainty in the dark, just waiting to be brought to the brighter light of the world.
2.4 Fondazione di Lucio Dalla – The Artist's House
In case you want to dive deeper into the life and work of Lucio Dalla, there's an exhibition in his former home. You can find it here at Via d'Azeglio. Unfortunately, I missed it during my stroll, as I focussed too much on those lyrics.
3. Star of Fame dedicated to Lucio Dalla at Strada del Jazz
Last but not least, there's still another musical street that got a nice tribute to Dalla. At Strada del Jazz, you find a Star of Fame dedicated to him on the street's ground. One thing is certain: Bologna loves Lucio Dalla.
4. When to visit the Musical Streets of Lucio Dalla in Bologna
Fortunately, Bologna's musical streets are a year-round attraction. However, to experience it the best way possible, you also have to walk past during the evening. Then, the neon signs turn on and literally shine bright like Dalla's lyrics.
5. How to get there
Due to their central locations, those attractions are only a jump away from Piazza Maggiore. Please navigate yourself through the map embedded below.
6. Conclusion
When in Bologna, you shouldn't miss strolling below Lucio Dalla's lyrics. Especially during the evening, when the neon lights are being turned on, the experience becomes a lyrical and romantic journey.