Ratingen Homberg surprises with its curvy topography. Due to its hilly landscape, you feel like being somewhere else. Precisely, in the countryside of France or Italy. Moreover, the town's bell towers emphasise this picture. Thus, I call it the Golden Campagna of Ratingen. Why golden you may ask? Well, dive in deeper and find it out.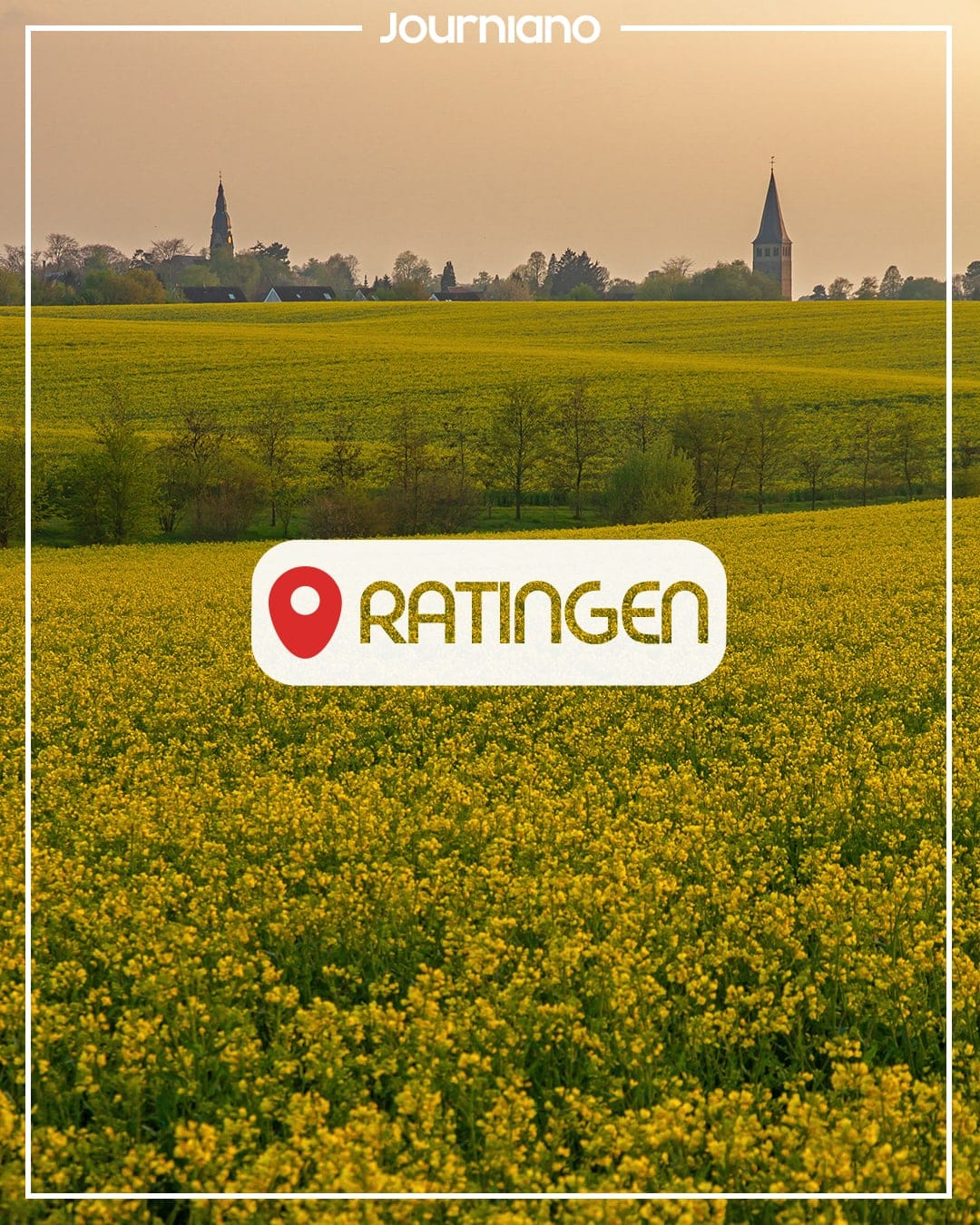 What to expect
1. About Ratingen Homberg and its hilly Landscape
Ratingen Homberg is the city's easternmost ward. Together with Schwarzbach, Homberg is heavily dominated by fields. Some of the finest regional agricultural products originate from there. Thus, the landscape is amazingly rural.
Moreover, Homberg's topography is very hilly. Especially its curvy appearance makes it outstanding among the other wards. Because of that, I would go that far and say that Homberg is sexy. Surprisingly, this spring its hilly landscape shines bright. This year they cultivate rapeseed close to the town's historic centre. Guess what, it reminds of those classic landscapes which attract thousands of visitors to France and Italian's most romantic rural places.
2. Literally the Golden Campagna
Now imagine heading to Ratingen Homberg and start your journey during the golden hour. Although the fields are packed with rapeseeds, the golden light enhances the effect. Ladies and Gentlemen, this is the golden Campagna of Nort-Rhine Westphalia.
But are the amazing light conditions and these marvellous rapeseed fields the only reason to create this picture? Absolutely not.
Like in France or Italy, the classic striking bell tower cannot be missed. Luckily, Homberg got two in close distance. Plus, they look as different as possible design-wise.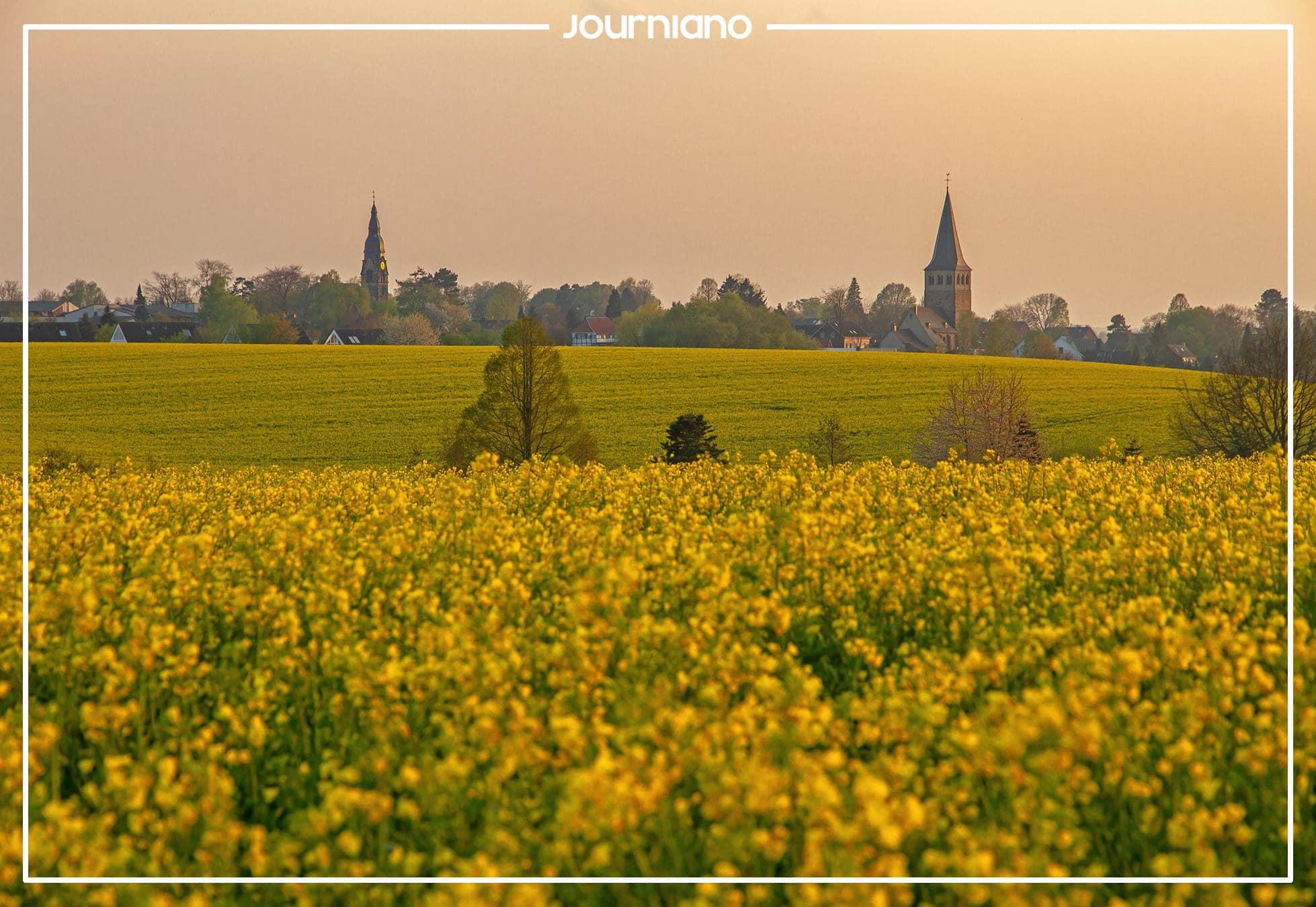 3. Amazing Overview of Ratingen Homberg
Thankfully, Ratingen Homberg is blessed with an amazing hilly landscape. Thus, it enables a number of overviews and photo motifs of the impeccable rural area. When hiking to one of the area's high altitude points, you don't get solely new scenery variations. In addition to that, you also receive a better view of the lovely old town.
3.1 Going uphill via Country Way
Although the scenery gives you Campagna vibes, it also takes you somehow straight to Ireland. As soon as you start passing by country ways, that saturated green hits right in the feels. Especially at the golden hour, the atmosphere is at its peak.
3.2 Closer View of the Old Town Alt-Homberg
To round up the romantic atmosphere, the old town of Homberg gets visible from a completely different angle. Sunkissed, the bell towers of Alt-Homberg stand out beautifully in the rural skyline. Surrounded by golden rapeseed fields, the photo motif is complete.
Furthermore, if you pay close attention to the lawn between the right church and the left rapeseed field, you might notice people and couples chilling below fruit trees enjoying the golden light to the fullest.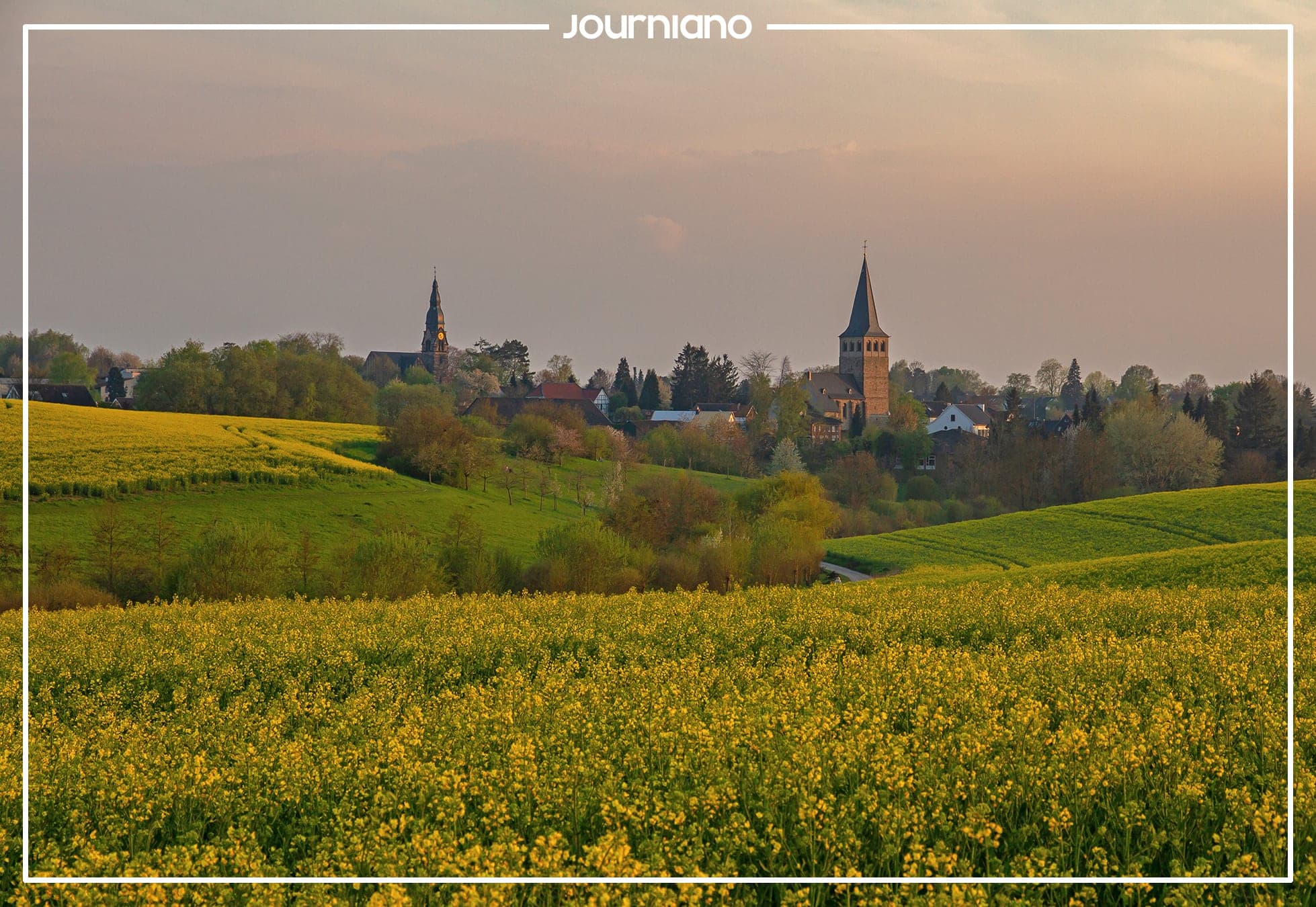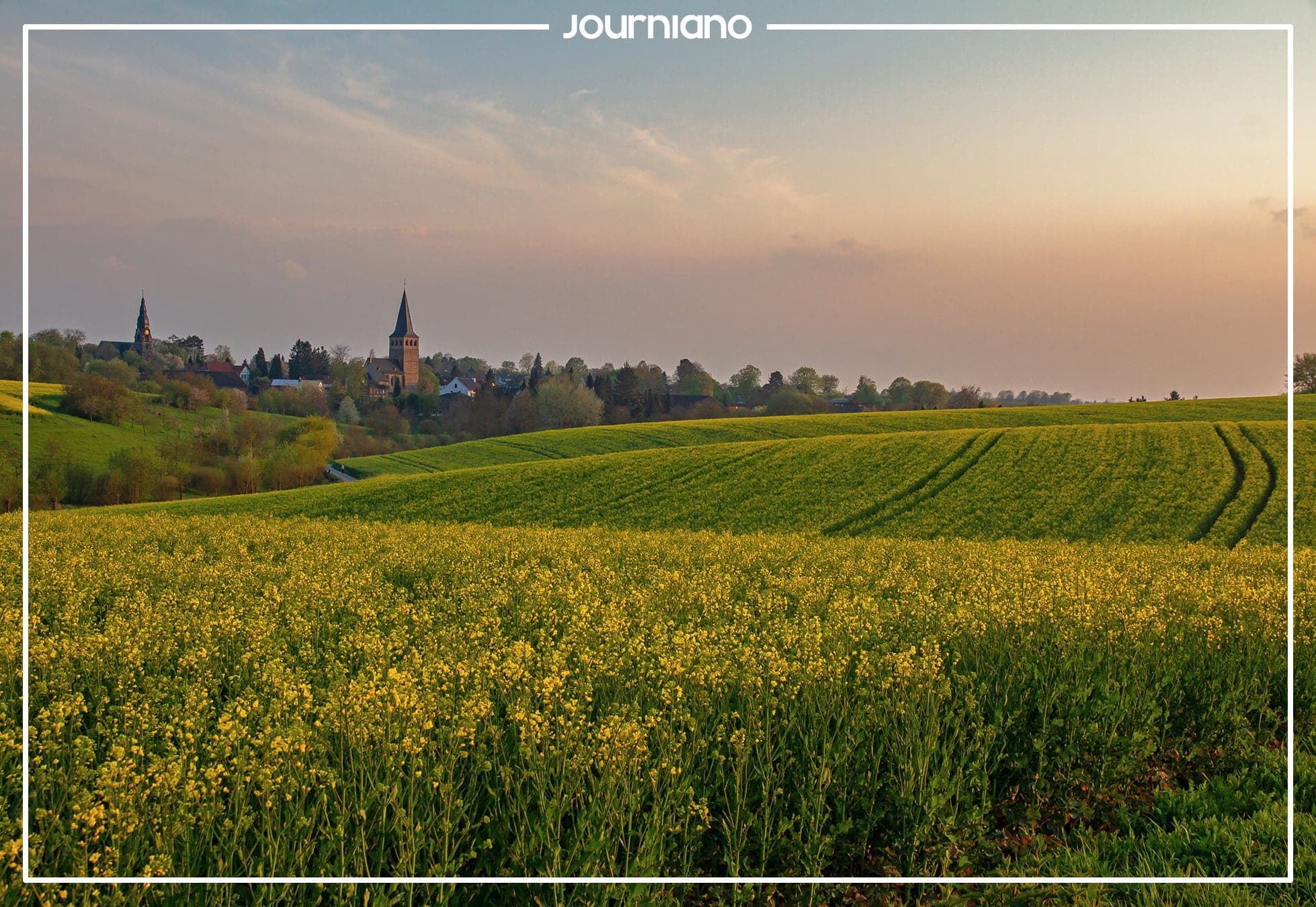 4. The hilly Peak at Lilienstraße
Alongside Lilienstraße, you get to experience amazing vistas from probably the scenery's peak.
4.1 Overview allows View to Neighbour City
From Lilienstraße, the overview is so amazing that you can even see Ratingen's neighbour city Heiligenhaus in a far distance. Plus, if you look to the country way, you may also notice the difference in altitude.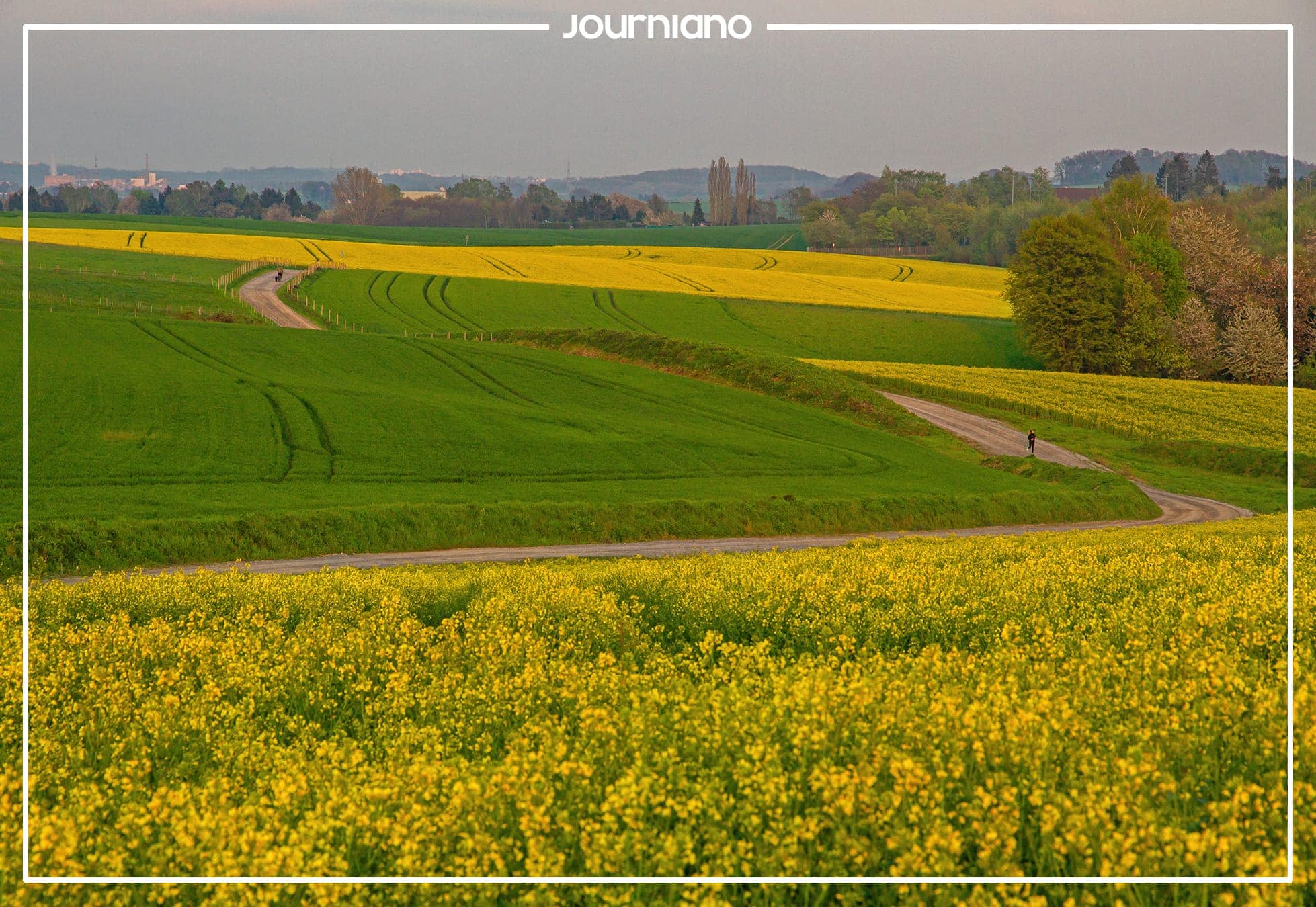 4.2 Close up of Alt-Homberg
Homberg's townscape is definitely pretty. Thus, Lilienstraße enables yet again another great angle of Alt-Homberg. Astonishingly, the noticeable timbered house spoils a little bit of the old town's potential.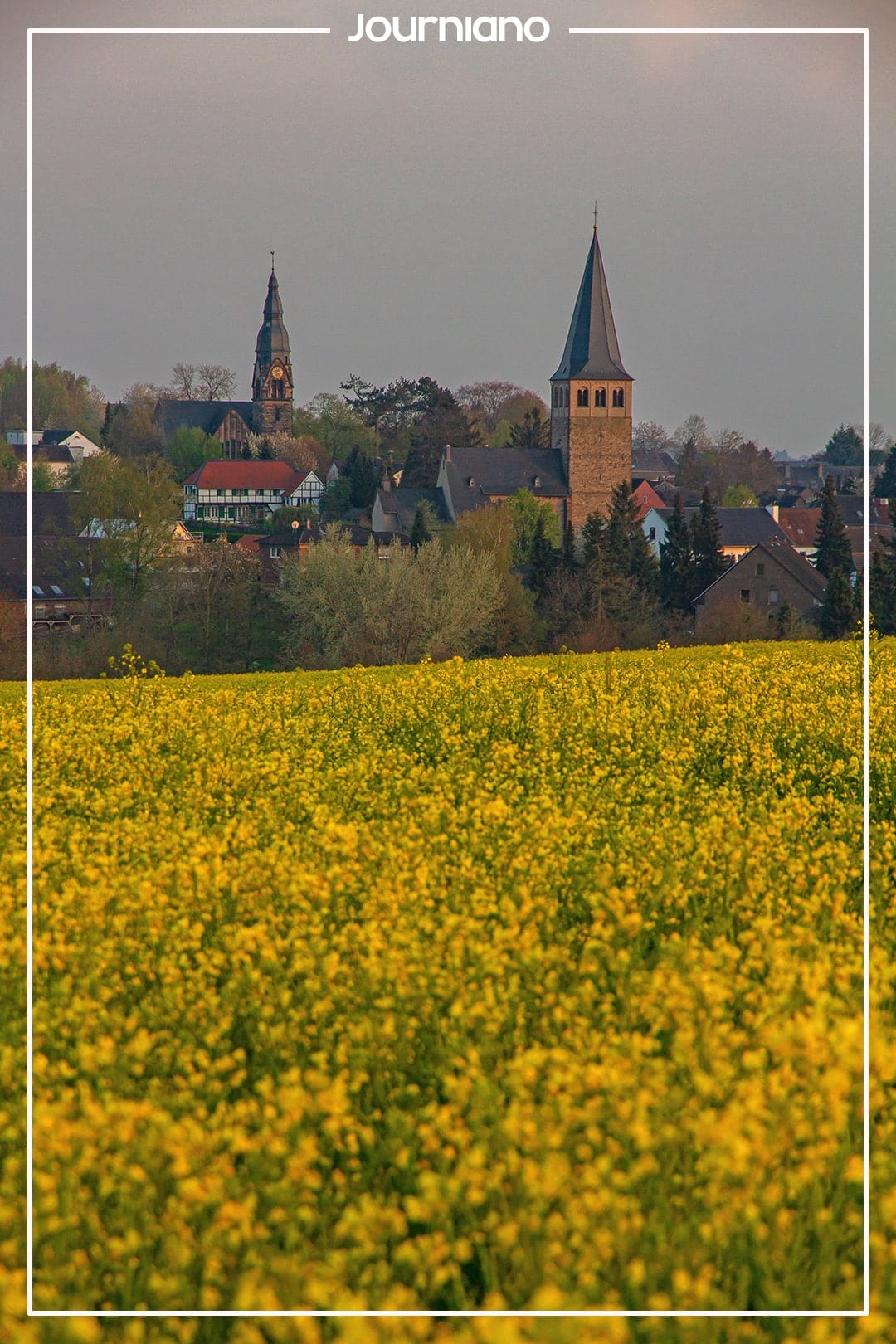 4.3 Confirming Campagna Vibes
Although the Campagna vibes have been already confirmed multiple times, there might be certain surprises enhancing the overall picture. As you will see in the capture below, a classic motorino and its buzzing sound can round up the amazing atmosphere in Ratingen Homberg.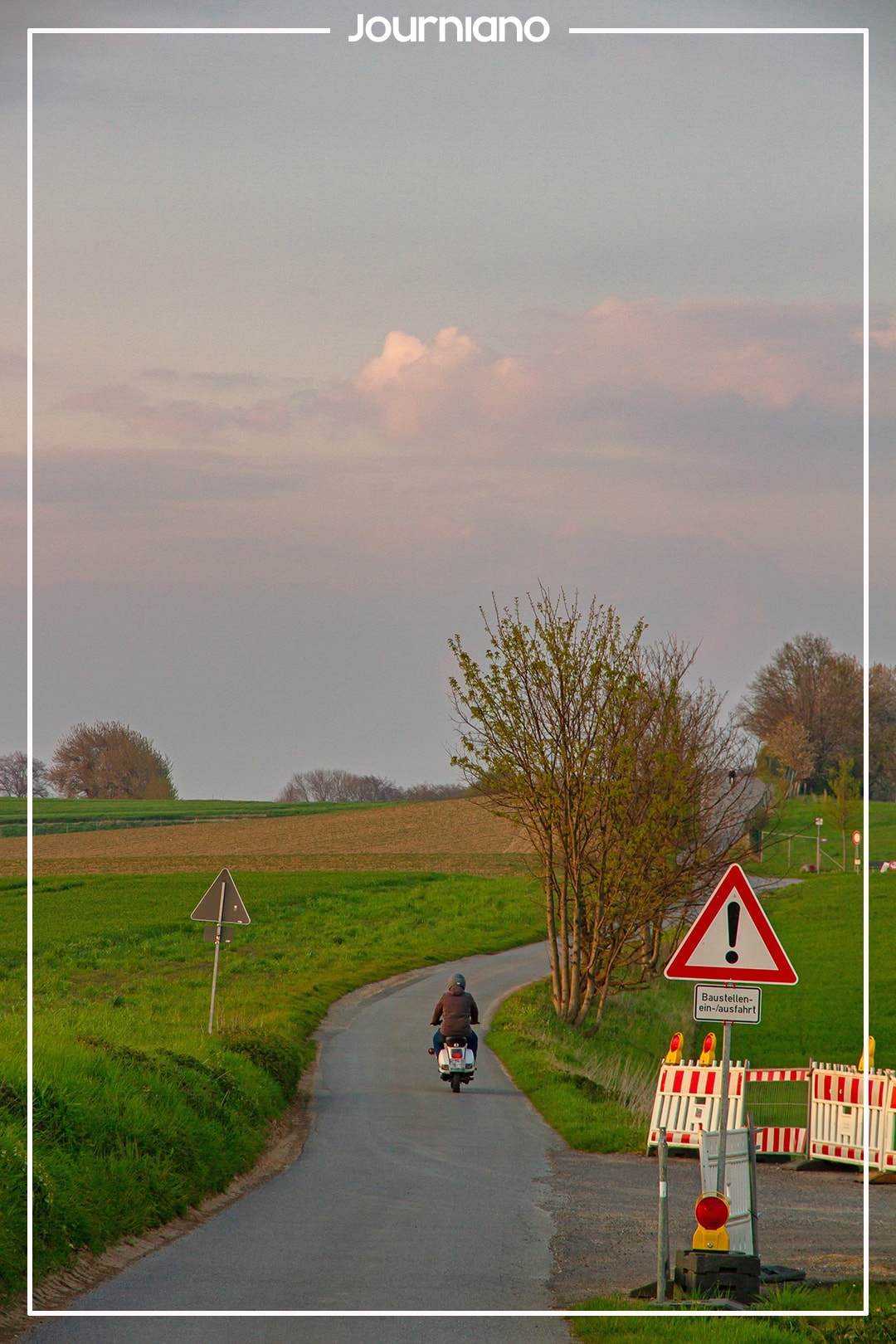 4.4 Twilight at its Best
Before leaving this spot, you should see how beautiful the twilight fits Homberg's landscape. The combination of various warm tones standing in contrast to the decent colour of the sky makes it already worth the trip.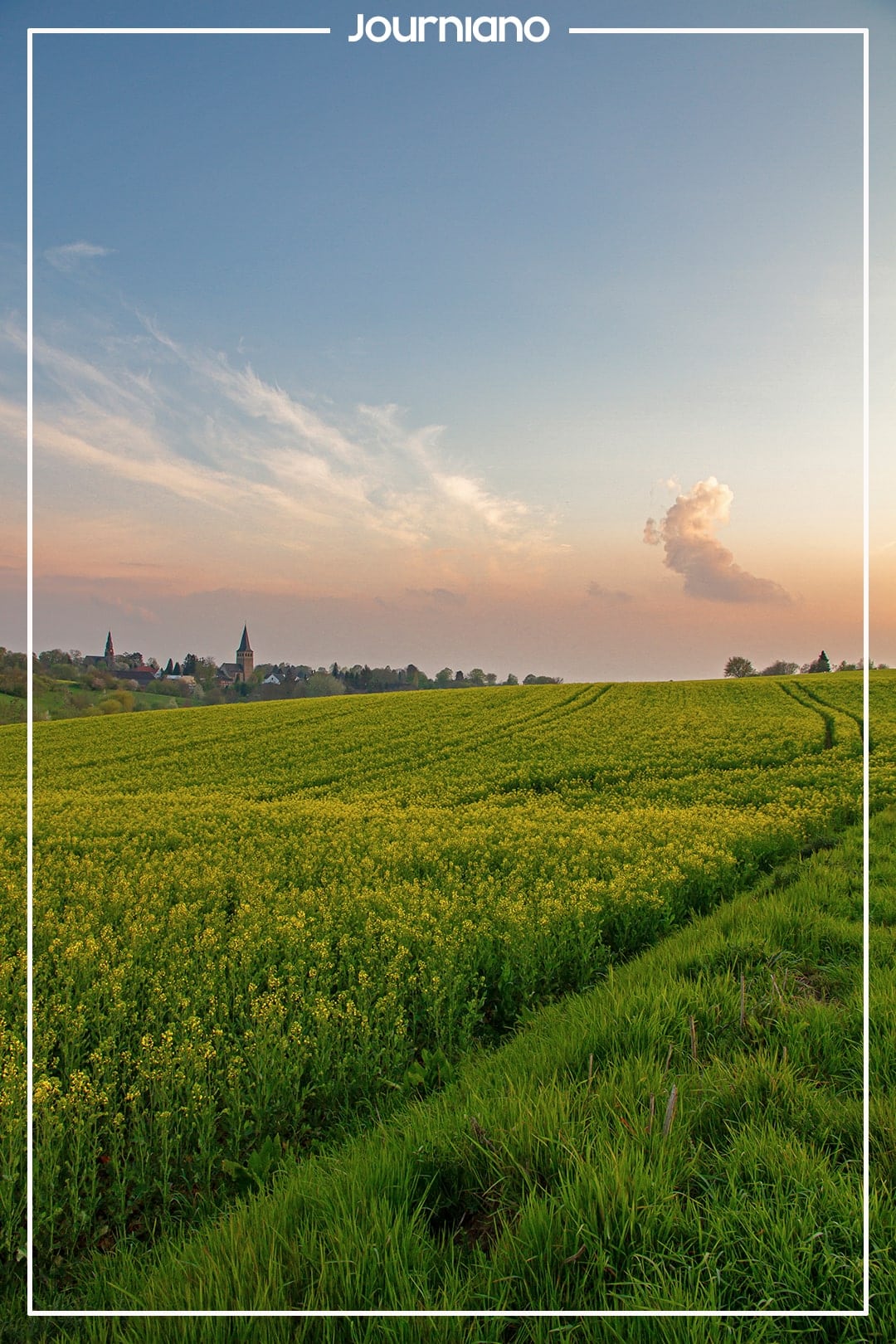 5. Sundowner as a fantastic Closure
After the golden hour, comes the sundowner. Thankfully, Ratingen Homberg's scenery allows tremendous perspectives to experience it.
5.1 On the Way back
Leaving Lilienstraße to head back offers new amazing photo motifs. Although you're leaving Homberg's peak, you probably haven't reached the most atmospheric moment yet. Thus, never forget to turn back along your way. Perhaps, you just continue moonwalking to not miss any potential view of the sundowner.
5.2 Amazing Sunset marks the Grand Finale
Where the journey started, it ends as well. From Füstingweg, you can watch the gorgeous sunset in a panoramic way. Ultimately, this marks the Grande Finale of the golden journey.
6. When to visit Ratingen Homberg and its hilly Landscape
Basically, you can visit Ratingen Homberg's fields throughout the year. However, it really gets exciting during spring when the hilly landscape shines golden. Although the rapeseed has been cultivated at this prominent spot this year, it might be recultivated at another spot next year. So, don't wait to experience this fantastic journey.
These fields were still there yesterday, the 11th of May. Thus, don't hesitate and experience it for yourself as I don't know when the harvest begins.
7. How to get there
To reach the shown golden Campagna of Homberg, there are multiple approaches possible. You can park your car at the sports ground of TUS Homberg and walk to Füstingweg within a minute. In case you approach by public transport, get off at bus stop Ratingen Dorfstraße. From there, walk via Dorfstraße through the old town of Alt-Homberg. As the small historic core is amazingly cute, you wouldn't regret it.
At the end of Dorfstraße, you decide to turn right towards Lilienstraße and start the golden journey from the opposite direction. However, you can also turn right a moment before towards Schneppersdelle. There you pass by the fruit tree lawn, which I covered earlier.
Nevertheless, to navigate the best way for yourseld, don't hesitate to use the embedded map below.
8. Conclusion
Ratingen Homberg delivers Campagna vibes in North-Rhine Westphalia. Due to the ongoing rapeseed season, the golden fields flash straight into your eyes. Rounded up by the two bell towers of the town's historic core, you feel being in the beautiful rural areas of France or Italy without going there. Last but not least, Homberg is probably one of the best places to experience gorgeous sunsets in Ratingen.