Every year, dedicated markets to the Advent season ensure that everyone gets into Christmas mood. Worldwide, there are thousands of Christmas markets – some of them being open the whole season or only for a day. Moreover, all of them are unique and different to each other.
This means that you are spoilt for choice.
However, did you know that Japan also "celebrates" the Advent season in their own way?
Maybe I can inspire you to choose the right place to experience magical Christmas markets and vibes in Japan.
How about Sapporo, the largest city of Japan's northern Island Hokkaido?
Quick Links
Hokkaido & Sapporo
Hokkaido
It has been a long time since I visited Hokkaido during the month of December – the month you expect to offer the ideal weather to feel that Christmas is coming. While Hokkaido is also very popular in the warmer periods of the year, it's better known for winter activities by people oversea.
Hokkaido is a safe bet when you want to experience the winter wonderland through e.g. skiing or onsens (Japanese hot springs) between December and February. With those circumstances in mind, its capital city Sapporo offers you a great platform to enjoy that magical time of the year to the fullest.
Sapporo
Normally you wouldn't expect the Japanese to celebrate Christmas when you have never been there before. In fact, some Japanese cities give you the impression that they do it better than some European ones.
In that case, Japan's fifth biggest city Sapporo is gifted by a town twinning with the city of Munich for decades. Thanks to the partnership, Munich sponsors a German Christmas market that has been held in Odori Park for 17 years.
Magical Odori Park in Sapporo's city core
Odori Park, also called Odori Koen by the locals, is Sapporo's largest central park and home of some of the city's landmarks. At its eastern end, the city's interpretation of Paris' Eifel Tower – Sapporo TV Tower, stands out. Furthermore it enables visitors a tremendous view of Odori Koen from its observation platform. On top of that, it watches over the city's magical Christmas market and vibes.
Sapporo White Illumination
Sapporo's first magical highlight is something you don't see that often at German or European Christmas markets – a dedicated Christmas illumination area. They call it the Sapporo White Illumination and it offers a wide range of different figures.
Normally the illumination area stretches from the east site towards the central point of Odori Park. Thus, there is a lot to see and to take pictures of (I was freezing back then, so I missed a lot, unfortunately).
By the way, this year will be the 39th edition of Sapporo White Illumination. For further information, please visit the official site here.
German Christmas Market in Sapporo
Sapporo's Christmas market consists of several stalls offering typical German Christmas goods, hot mulled wine and typical German food. While the stalls are a special attraction to the locals, there are more spectacular ones anywhere in Europe though.
Nonetheless, especially by night, it's still a neat attraction for rounding up the overall Christmas vibes in Sapporo. Furthermore, hot mulled wine is the best way to warm up at temperatures below zero degrees and snowfall.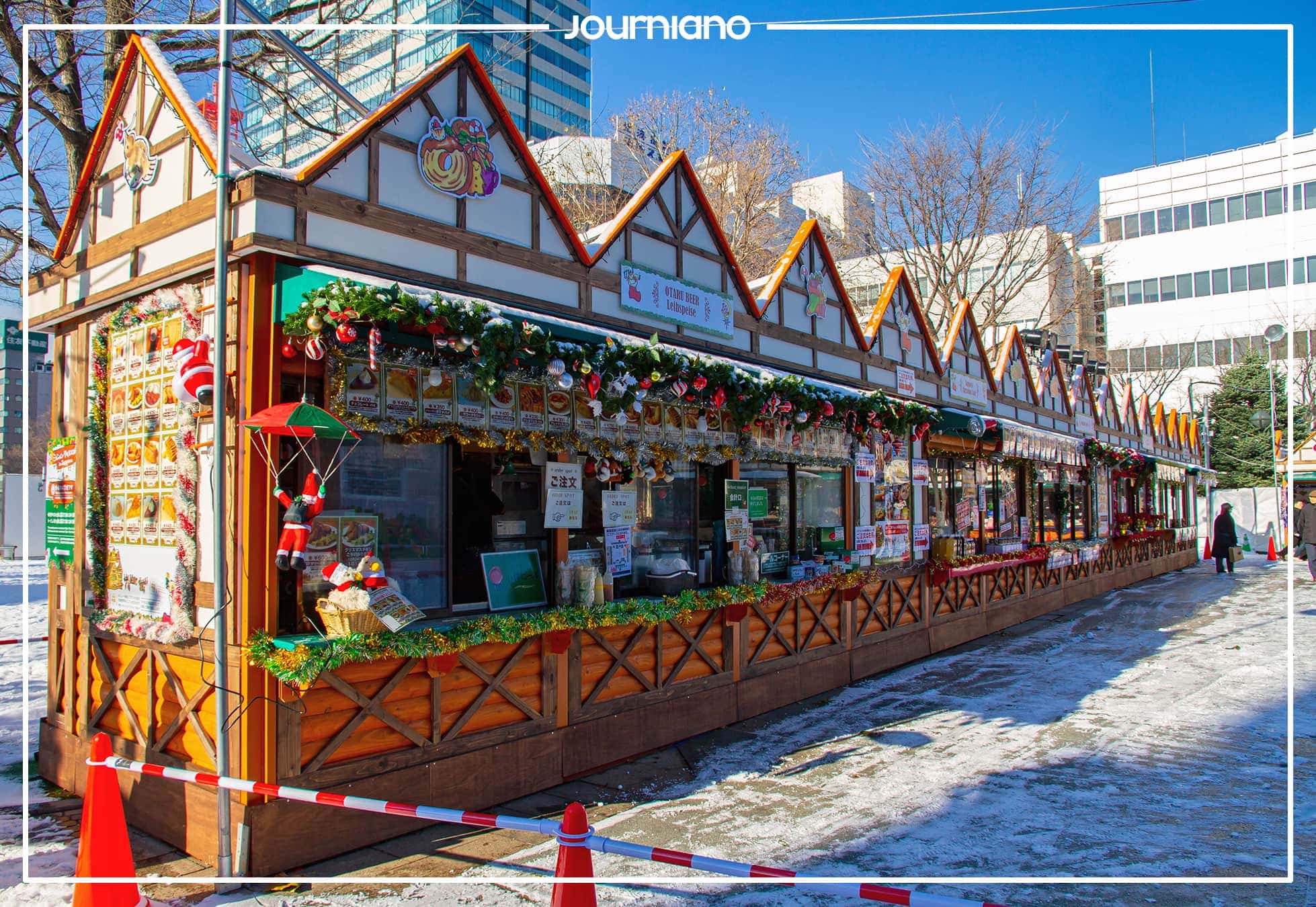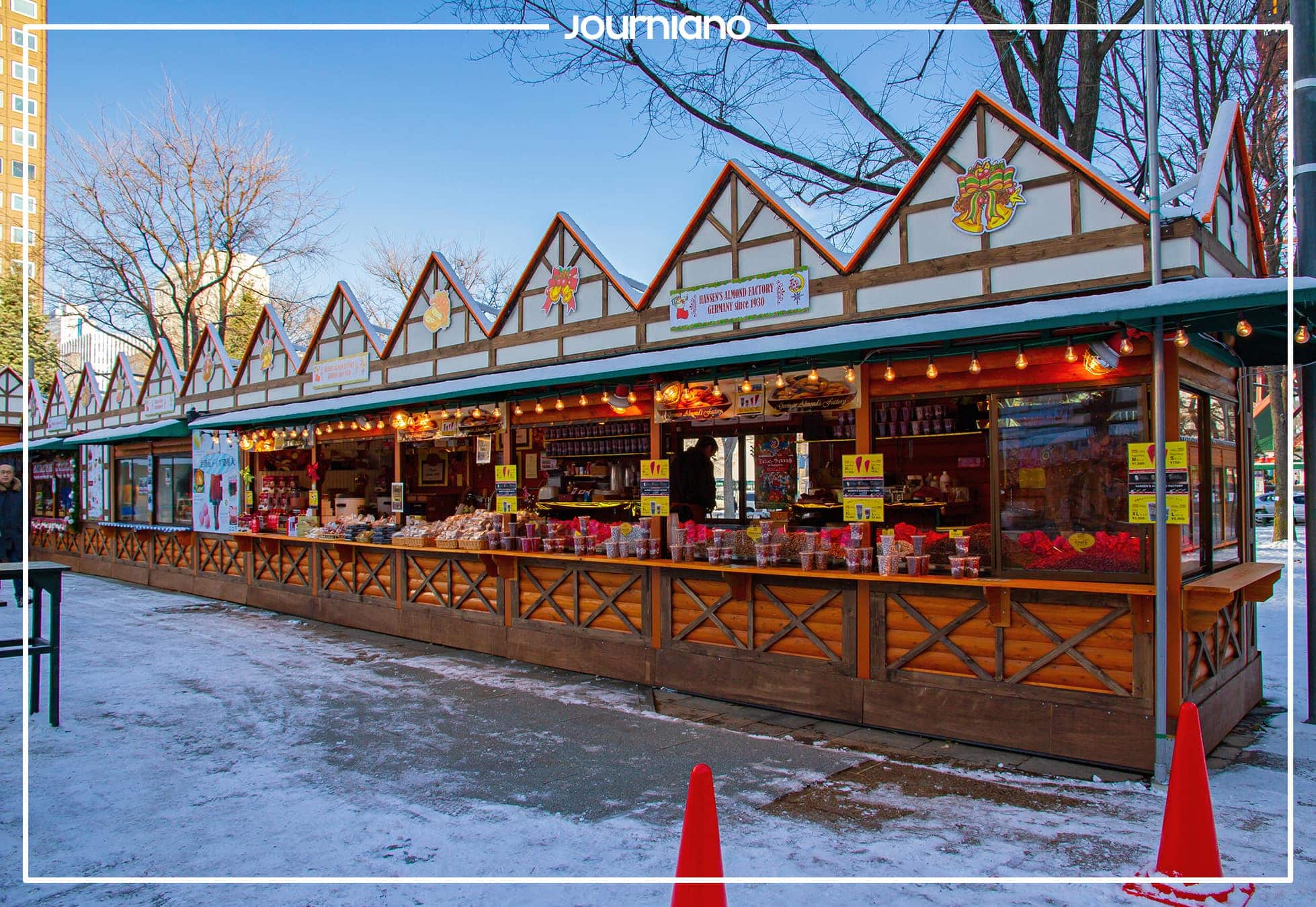 Opening hours and dates
22.11. – 25.12.
Open daily
11am – 9pm
Closing words
All in all, Sapporo is a great destination for Christmas vibes in Japan – especially due to the snowy weather conditions during the month of December. Sapporo's magical White Illumination spectacle is a way to get lost in mind or to take tremendous nighttime pictures.
Moreover, Sapporo hosts an original and authentic German Christmas Market. Even German people serve you hot mulled wine or a delicious wurst there.
Plus, did I already mention that Sapporo shares a passion for beer culture with its twin city Munich? For those who are obsessed about beer, I advise you to extend your stay and visit Sapporo's Beer Museum.