The Mohnfeld in Krefeld can't be missed if you love poppy fields. Located at Egelsberg, thousands of poppies stretch out in an amazing rural and peaceful area. Dive in deeper to get further insights and impressions of the poppy mania in Germany.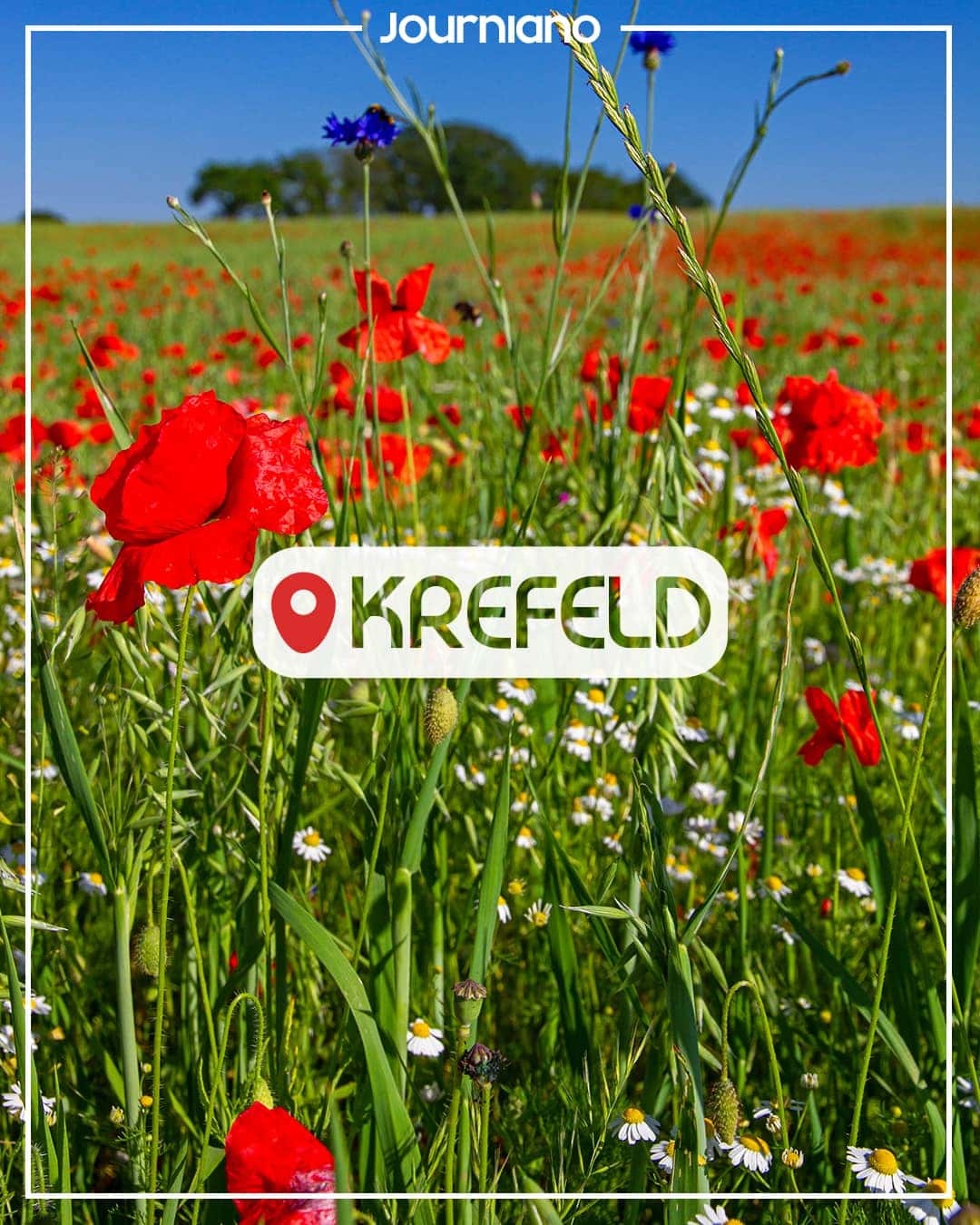 What to expect
1. About Poppy Fields in Germany
Every June, poppies rise from the grounds in Germany. Beautifully, you can catch them almost everywhere. From fields up to street sides, they appear almost everywhere. Thankfully, some farmers seeded a bunch of wildflowers last year. By doing that, bees get a higher survival chance. Fortunately, poppies belong to these types of wildflowers. Thus, some fields are packed with them in Germany. In Krefeld, North-Rhine Westphalia, you find such a gorgeous Mohnfeld (poppy field).
2. Mohnfeld in Krefeld – Gorgeous Poppy Field at Egelsberg
Situated in the northernmost area of Krefeld, the beautiful poppy field rise at Egelsberg. Although this nature reserve has already a lot of different landscapes and sights to offer, the Mohnfeld can't be missed.
2.1 Approaching the Poppy Field
Depending on your approach, you get nice previews of the poppy field. First, you see a few red dots in the cornfield. Then, they shape in the form of a flower. Still, this is not the real treat yet.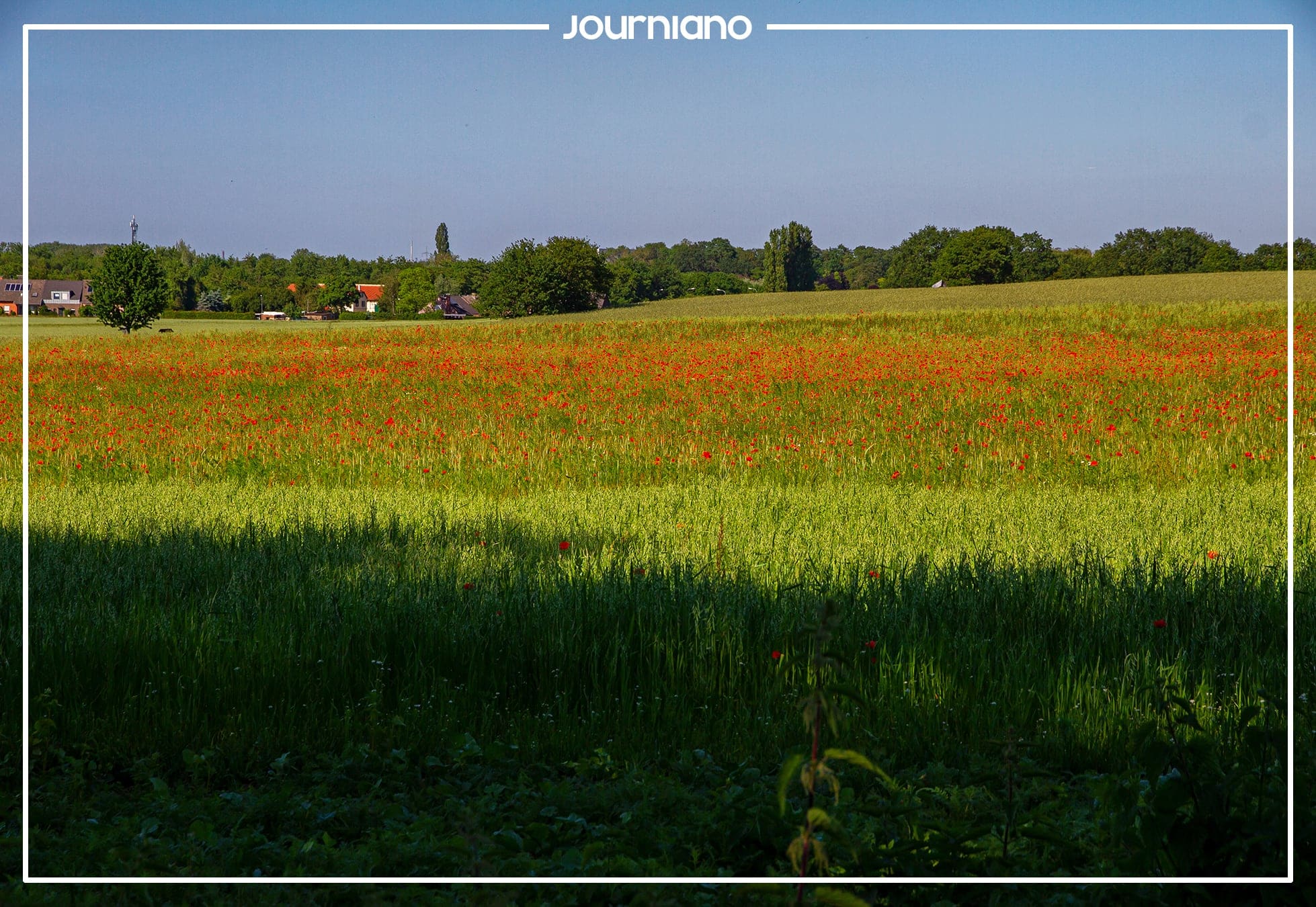 2.2 Getting a better Perspective of the Poppies
Reaching a path that leads between two fields, you finally get much closer to these red flowers. There, you get a better perspective of the lovely poppies. Furthermore, being at the bottom of a somewhat hilly field enables great shapes of the present scenery.
2.3 The full Scale of the amazing Mohnfeld in Krefeld
To enter the field to some extend, you must be a little be patient. When strolling northeast along the field, you find the sole point to access the poppy dream. Bear in mind that you shouldn't proceed more than that – keep the poppies safe and sound. Nonetheless, this spot enables the best and closest view of this amazing Mohnfeld in Krefeld. Astonishingly, it looks like a red sea. Plus, the mixture of various types of wildflowers welcomes you to take a closer look at them.
3. When to visit the Poppy Field in Krefeld
Normally, poppy fields start to appear from the beginning of June. Luckily, this was also the case in Krefeld. Yesterday, the 13th of June, I took all the shown pictures. So, don't hesitate to visit Egelsberg for its Mohnfeld and more. Unfortunately, I can't tell you for how long these blossoms will still be intact.
4. How to get there
Approaching by a motor vehicle is the most convenient way to reach Egelsberg. There are various spots to park. Either along Lillienthalweg and the Aerodrome or at Axel-Holst-Weg. In case you prefer coming by public transport, prepare yourself to walk a lot. Possible bus stops to get off are Krefeld-Winkelsweg or Krefeld-Bergsteige, for instance. Furthermore, I can also recommend it to ride your bike as the scenery looks gorgeous. Either way, to navigate the best way possible, please use the embedded map below.
5. Conclusion
Unsurprisingly, the Mohnfeld in Krefeld is a blooming red sea. Its poppies' density enables great photographs of any kind. Thanks to Egelsberg additional attractions, this journey goes beyond poppy fields. Thus, be prepared to spend a few hours there.